100 STORIES
Shopping in Hiroshima: Top Ten Places to Peruse
<pre>Shopping is one of the primary reasons international tourists visit Japan, and Japan knows and capitalizes on this fact. Whether you're in Tokyo, Nagoya, Osaka, or our Hiroshima, stores all over town have multilingual signs advertising discounts, tax exemptions, and overseas shipping services for foreigners. Most of Hiroshima's big shopping spots are located in the city center, but if visitors expand their search to the outskirts, they will find a smorgasbord of retail refuges scattered all over town. As a resident, I know of and frequent countless malls and department stores, but frankly, not all of them would impress foreign tourists, so I've managed to narrow my recommendations down to these top ten. The rankings are based on a few diverse factors that will assess these shopping centers as places rather than just what can be found within, so let's jump in!</pre>
I'll be grading all ten sites on these factors, from one to five stars:
Accessibility – How far outside the city is it, and is it easy to reach with public transport?
Atmosphere – Are the area and the arrangement of stores conducive to a positive shopping experience?
Lineup – What kinds of products and bargains can be found, and can a lot of time/money be spent here?
Variety – Is there a diverse array of goods, and what else is there to do besides shop?
★☆☆☆☆    ★★☆☆☆    ★★★☆☆       ★★★★☆       ★★★★★
Bad                   Fair                  Typical                Great                  Amazing
Needless to say, anywhere with a one-star rating won't make the list anyway.
#10: LABI Hiroshima

Accessibility – ★★★★★
Atmosphere – ★★★★☆
Lineup – ★★★☆☆

Variety – ★★☆☆☆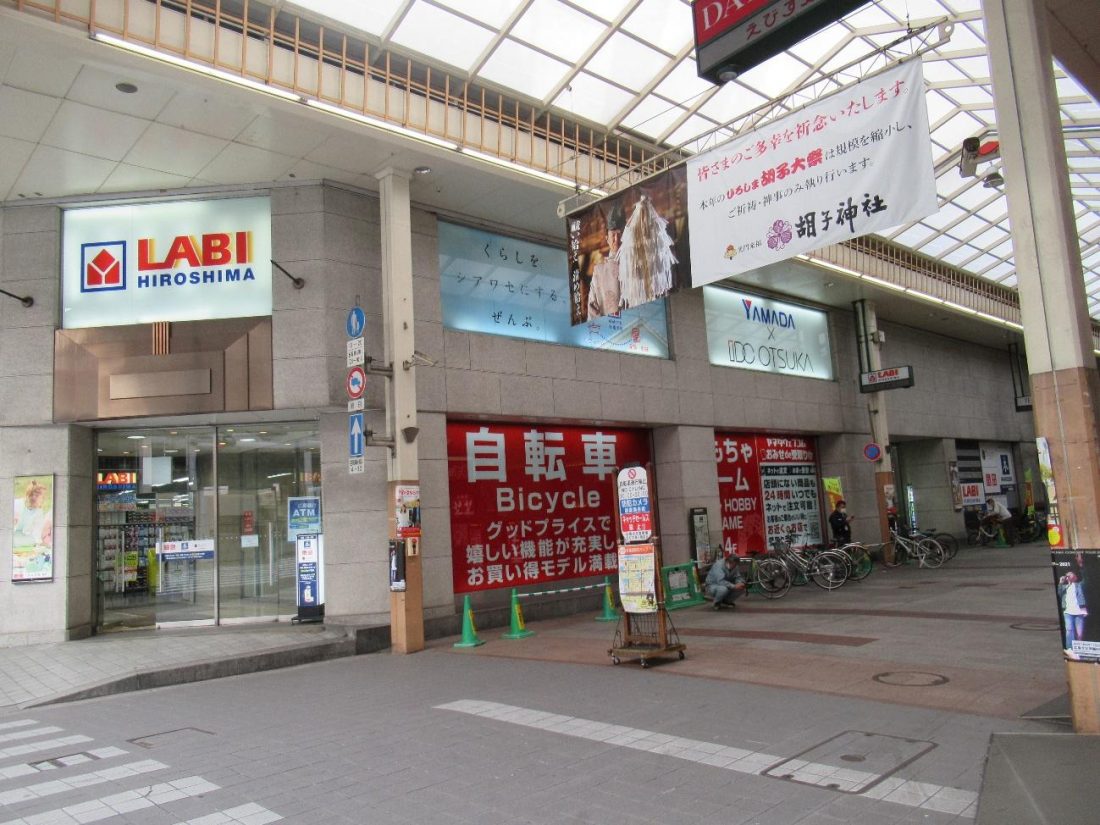 Let's face it: almost every tourist that shops in Japan is going to want to look at electronics, and while I could've included a bigger store or a more famous brand name, I chose this location because it's a little different. In a nutshell, it's a bookstore on top of a Uniqlo on top of a home goods store on top of an electronics store. I remember the days when the Yamada Denki occupying the first five floors would incessantly blast nothing but its theme song over the loudspeaker (I honestly pitied the store staff), but nowadays it's gotten relatively quiet. It's not as popular or crowded as the other electronics stores, so weaving through the aisles is relatively easy. If you need some repose from the consumerist chaos, the Maruzen bookstore on the seventh and eighth floors is virtually silent, allowing customers to browse, read, or enjoy a beverage at the café in peace. There are no dining options besides what's in the café, but at least LABI is right on Ebisu Street—which has its share of restaurants—and right by the Mitsukoshi department store, which sports a supermarket and food bazaar in its basement. Ladies, if the stores in here don't suffice (and they certainly won't), this is an ideal place to leave your husband and kids while you go check out Mitsukoshi, Fukuya, Parco, or any other store in the vicinity.
#9: LECT
Accessibility – ★★★★☆
Atmosphere – ★★★★☆
Lineup – ★★★★☆

Variety – ★★★☆☆
LECT is a recently-built shopping mall on the west side of Hiroshima City, a bit isolated from the city center and major transportation hubs. Getting to LECT without a car or taxi pretty much requires a transfer at the Alpark bus terminal where a dedicated shuttle bus takes shoppers there for only ¥100. If for some reason you're strongly opposed to going to Alpark first, you can take the number 25 bus from Hiroshima Station or downtown and get off at Kusatsucho, or you can take the number 2 streetcar to Kusatsu Station, then walk south from either. Of course, you probably won't want to walk back to said bus stop after buying stuff, which means you'll most likely be stopping by Alpark anyway.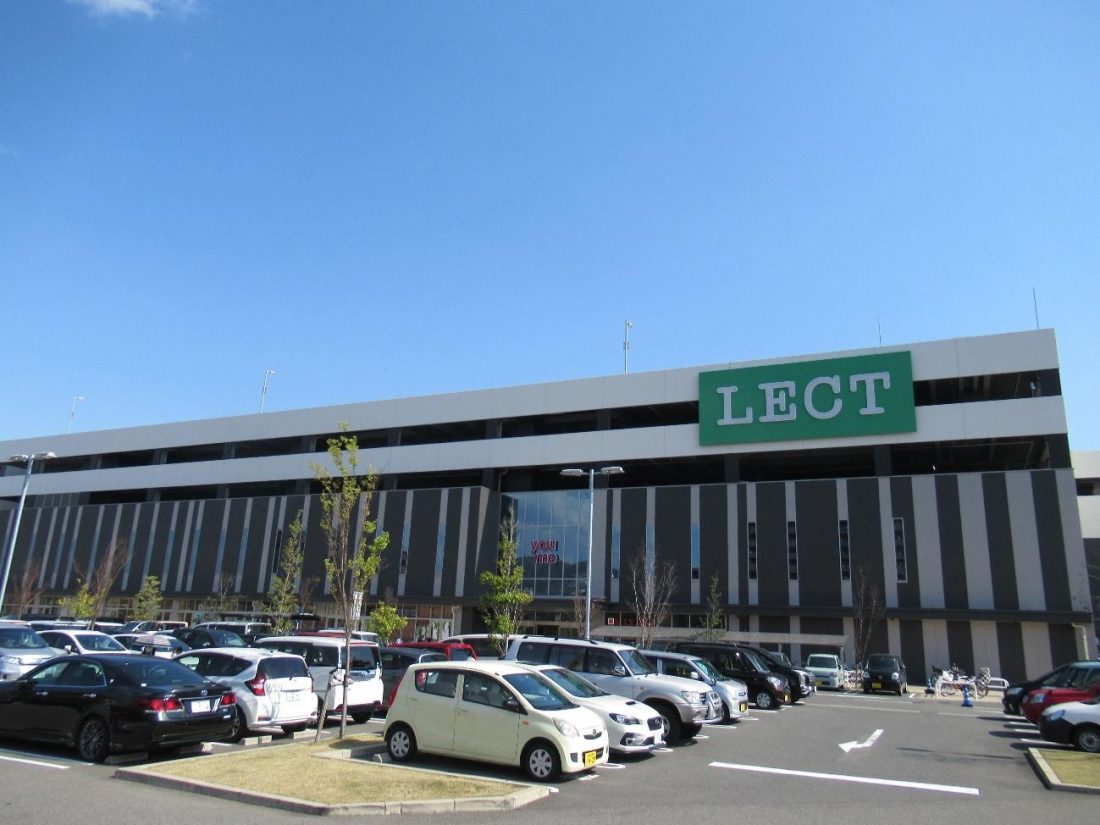 This mall only has two floors, but each floor is incredibly long and you may spend more time than you intended thanks to its three predominant stores: Cainz, Tsutaya Books (T-Site), and YouMe. Cainz is by far the largest of them all, occupying about a third of each floor in LECT. They sell furniture, outdoor goods, pet supplies, and even pets themselves! T-Site—the second-biggest shop taking up one-sixth of each floor—is a bookstore that exudes the aura of a library dotted with quaint little coffee shops here and there. YouMe is an elegant supermarket showcasing a vast range of foodstuffs and spans a little more than one-sixth of the first floor. Between these titans are a food court on the first floor, a video arcade on the second, "gourmet streets" lined with restaurants and cafés on both, and naturally, clothing and shoe stores. A trip to LECT is best combined with an excursion to Alpark, though come lunch time, the dining
#8: ekie Hiroshima

Accessibility – ★★★★★

Atmosphere – ★★★
✭
☆

Lineup – ★★★★☆

Variety – ★★★☆☆
This shopping spot will be the first one that tourists will see when arriving by train, and quite possibly the last one they'll frequent before their departure. Located on either side of Hiroshima Station's north exit, ekie can be roughly broken down into four quadrants: ekie Kitchen, ekie Books, ekie Dining, and ekie Omiyage-kan/Bar/Clinic & Service. Every part of ekie has an impressive selection, but know that you're going to be shopping alongside other tourists who just got here or are about to leave, which means you may have to battle crowds and their luggage in the aisles.
The most underwhelming of the bunch would probably be ekie Books on the second floor, which also has a 7-Eleven inside. This makes it an ideal final pit stop for snacks, drinks, and something to read before hopping onto a Shinkansen, but most of the titles are in Japanese. If you can't read Japanese, there's one small shelf of English books, but they're pricey and you can likely get them for cheaper in your home country. Below that is ekie Kitchen, an expansive delicatessen serving gourmet food-to-go for busy commuters and curious tourists. Some establishments have dine-in areas, but for the most part, these products are meant to be consumed back at the office, in one's hotel room, on the Shinkansen, etc.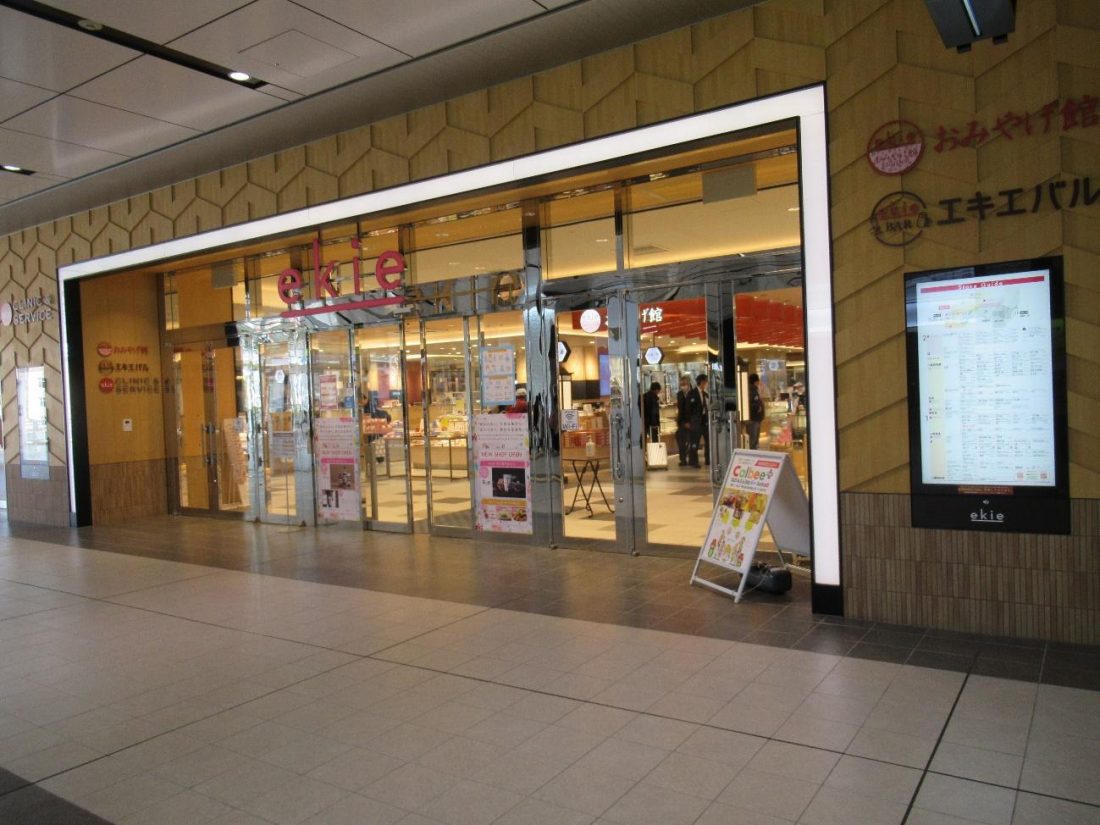 Opposite of ekie Kitchen and east of the staircase is ekie Dining, an excellent choice for dinner if staying near Hiroshima Station or for a quick meal upon arriving at Hiroshima Station. Alternatively, you could try ekie Bar right above for lunch or a round of drinks in the evening. Next to ekie Bar is ekie Omiyage-kan, which is teeming with souvenirs ranging from regional sweets to Kumano make-up brushes; it's best to save the shopping spree here for the last leg of your Hiroshima tour. Lastly, ekie Clinic & Service behind the restaurants is geared more towards locals with its doctors' offices and a cram school, and the only place tourists will find useful is the lost-and-found center. Fun fact: if you ever accidentally leave something on a JR train in the Hiroshima area, it'll eventually find its way back here, right behind these doors!
#7: Don Quijote Hiroshima Hatchobori Store

Accessibility – ★★★★★
Atmosphere – ★★★☆☆
Lineup – ★★★★★

Variety – ★★★☆☆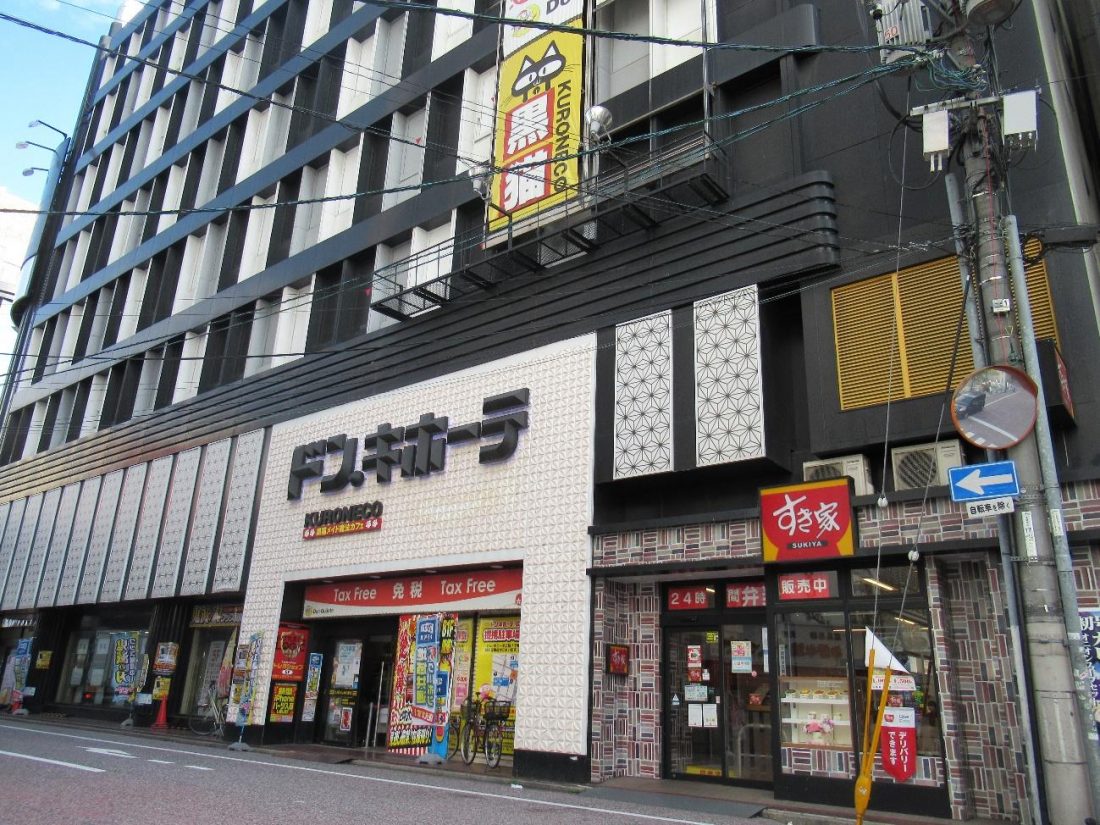 Don Quijote is a discount store chain that prides itself on selling everything under the sun at the cheapest prices possible. They know they get a lot of customers from overseas, so posters promoting tax-free and shipping services can be found all over the place. This store consists of five floors and one basement, each packed to the brim with interesting and useful merchandise, and while this may be Don Quijote's greatest strength, it can also paradoxically become the store's prime drawback. Between the narrow aisles filled with crowds of shoppers looking for a bargain and the cacophony created by the constant theme song and product promotional videos playing on an endless loop, much as I would like to stay for a while, I typically find myself wanting to finish my business and jet as soon as I can. Personal preferences aside, though, Don Quijote is a must if you're considering buying a new anything-at-all. The product lineup changes as one ascends the building, featuring things such as foodstuffs, beauty products, kitchen goods, toys, furniture, Halloween costumes, and brand-name clothes and accessories. The top floor hosts a kimono store, spas, a maid café, and some trading card stores where visitors can unleash their inner nerd at the dueling tables. In the past, the basement was a video arcade which later became a used game store, but now it's mostly under construction, with the little space available used for displaying more discount clothing. Don Quijote is a place I'd recommend after a day of sightseeing and dinner at Okonomi Village, where shoppers can walk off the calories and stock up on merchandise to haul back to their accommodations.
#6: Alpark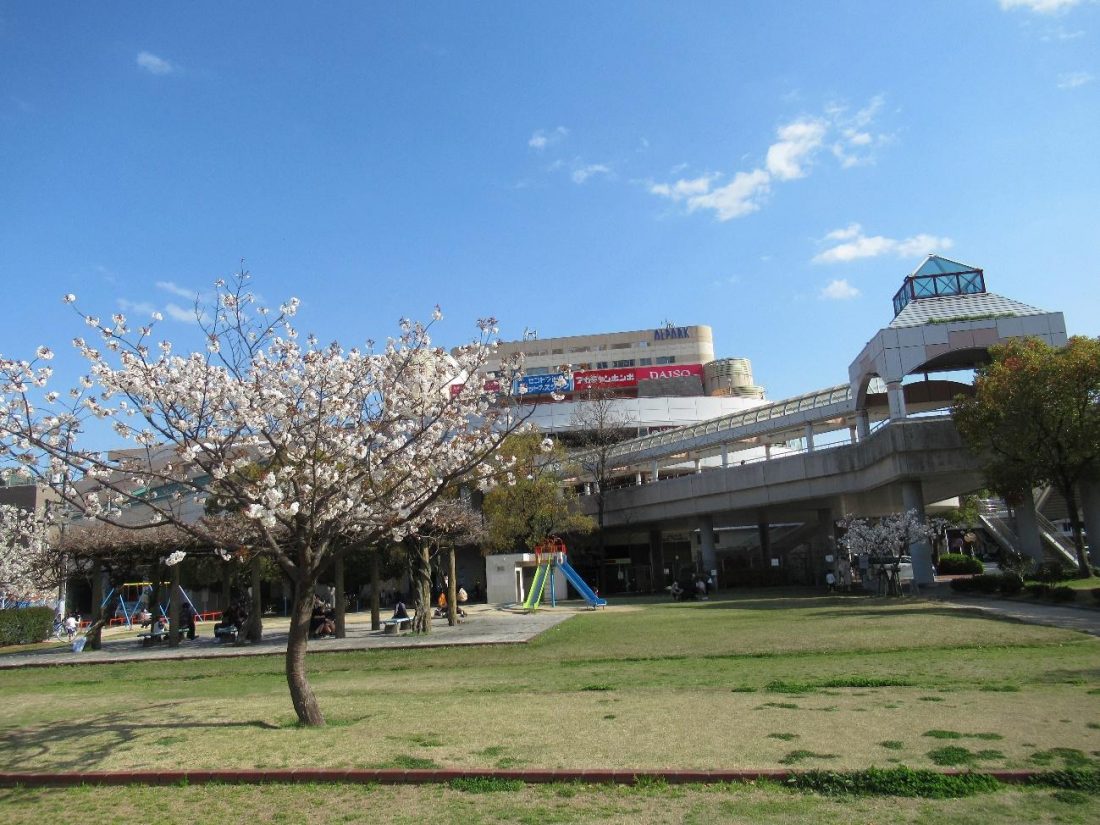 Alpark, like LECT, is also located in western Hiroshima, but is easier to reach with public transportation. You can take the JR train to Shin-Inokuchi Station, the streetcar to Shoko Center Iriguchi Station, or the number 25 bus straight to the mall itself. Alpark consists of three buildings, and shoppers can travel between them using the skybridges. Despite being a run-of-the-mill shopping complex, there is also plenty of outdoor walking space around the East Wing, and a park between the North and East Wings where children play and cherry blossoms bloom in early spring. The North Wing is my favorite part, as it houses a movie theater on top of a bookstore with a café and video arcade built right inside! Throughout Alpark you will also find clothing stores, sporting goods stores, a Daiso, a supermarket, and about a dozen restaurants, but if you ask me, I recommend taking the shuttle bus to LECT for a meal before continuing your retail adventure either there or back here.
#5: Sogo/AQ'A/Pacela Complex
Accessibility – ★★★★★
Atmosphere – ★★★★☆
Lineup – ★★★★★

Variety – ★★★☆☆
While these may technically be three separate shopping centers, they are connected to each other and shoppers who visit one will probably also hit up the others. The Sogo department store on the southern end is the biggest and most likely the first visitors will encounter. The Hiroshima Bus Center is actually on the third floor of Sogo, so tourists who come to Hiroshima by bus may very well start their journey inside this store. If approaching from Hondori or Peace Memorial Park, simply duck down into the Shareo underground shopping mall and head toward the center hub, where visitors can enter Sogo through the first basement floor. Among Sogo's assets are two basement floors' worth of food vendors, a Pokémon Center on the sixth floor, apparel and accessories stretching from the first all the way to the ninth floor, a restaurant court on the tenth floor, and a rooftop beer garden that opens in the summer.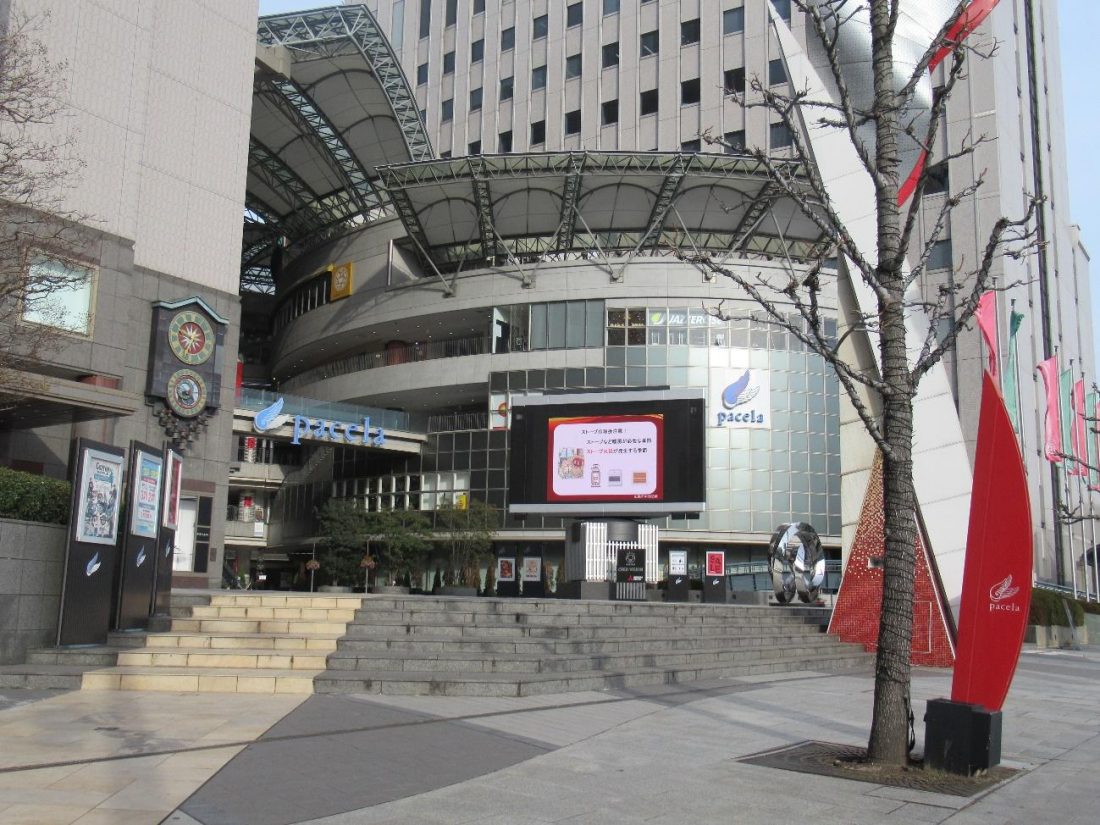 Its northerly neighbor AQ'A is also nothing meager, home to Seria—another big-name ¥100 yen store—on the fifth floor, a Kinokuniya bookstore complete with multilingual publications on the sixth, as well as its own "gourmet town" on the seventh. AQ'A connects to Sogo on the first, third, and sixth floors, but north of AQ'A is actually Sogo's newer second building, equipped with even more clothes, home goods, and other brand-name merchandise. Upon exiting this second Sogo, visitors will find themselves in the last but not least of the malls, Pacela.
Pacela may have the fewest stores of the three, but its contents are not to be discounted. Restaurants occupy the basement, sixth, seventh, and eighth floors, and in between are a slew of quaint cafés and shops selling clothes, handbags, books, medicine, and more. The front plaza pictured above is also a popular venue for seasonal events, and a miniature German Christmas market is also set up every December.
Moment of Joy: Elevating Flattery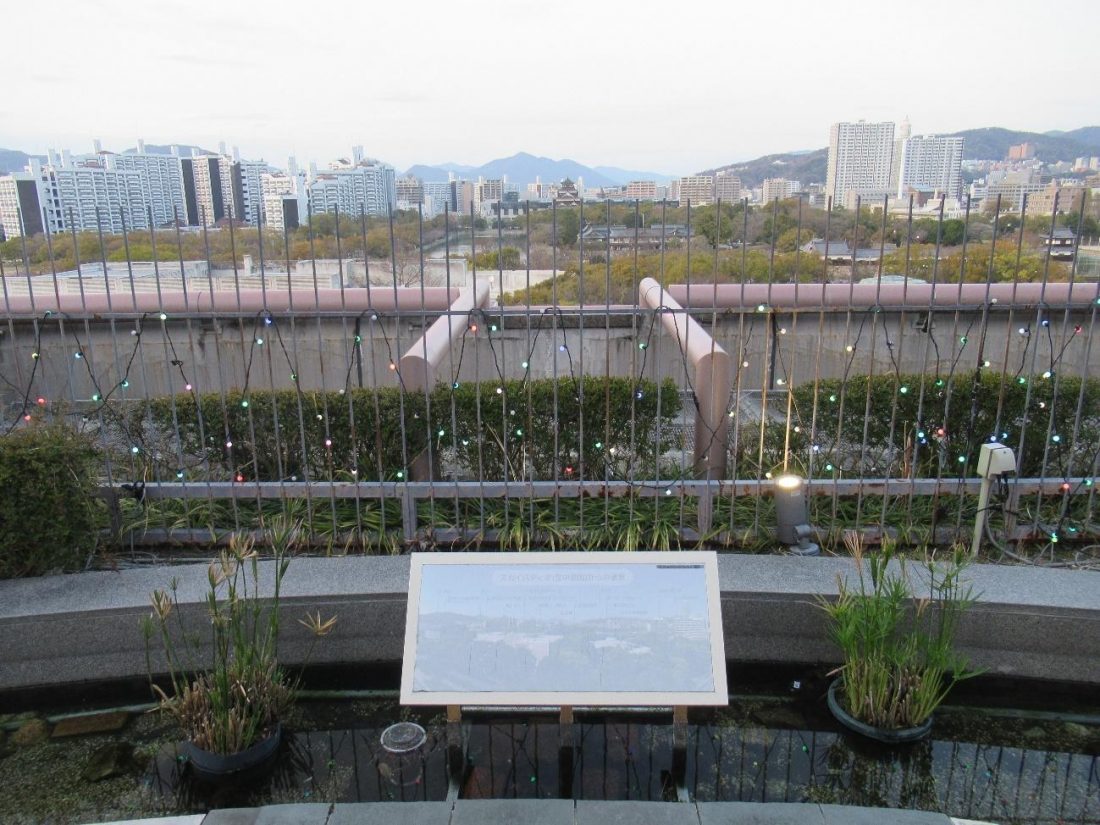 The highlight of Pacela would have to be the Sky Patio on the sixth floor, which commands a majestic view of Hiroshima Castle in the middle distance. It's also gorgeous at night, but mind the narrow moat in front of the barrier as the platform is not well lit; I didn't notice it the first time I was up here and I fell in! I once had a friend from Kyoto—a city I hold in high regard—who was genuinely flattered by this exact view, saying there aren't fancy malls with panoramas like this back there. Hearing such praise for Pacela from a Kyotoite elevated my spirits and made me even more proud to be a resident of Hiroshima. 
#4: Marina Hop

Accessibility – ★★★★
✭

Atmosphere – ★★★★★

Lineup – ★★★☆☆

Variety – ★★★★★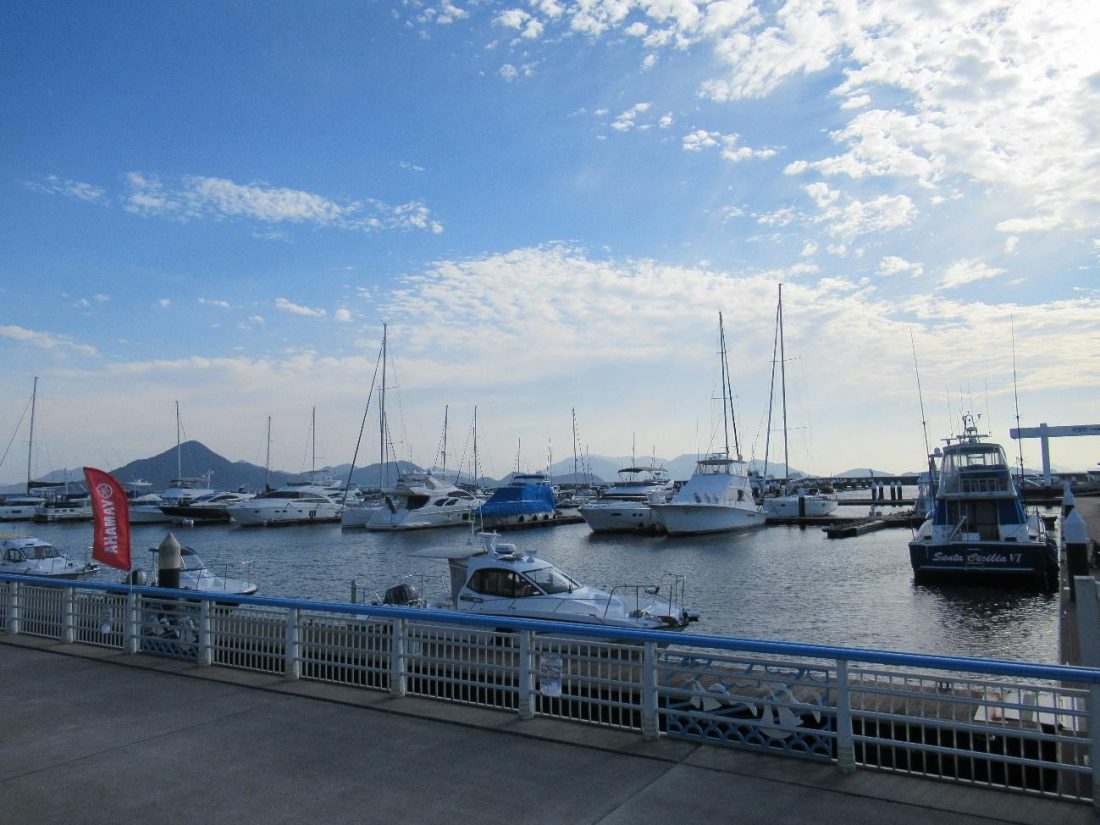 Adorned with palm trees, yachts, and a seaside amusement park, Hiroshima's Marina Hop might more closely resemble a hangout spot in the United States than a tourist destination in Japan. The shops at Marina Hop span an unbelievably wide range, from apparel to vintage snacks, from furniture to motorcycles! However, the crux of Marina Hop's variety is not about the shopping as much as it's about the things to do besides shop. Check out the Mariho Aquarium, enjoy one of the rides at Marina Circus (the iconic Ferris wheel can be seen from LECT!), or get in a workout at the gym or bouldering center. If you have kids, the aquarium, petting zoo, video arcade, or inflatable wonderland may be up their alley. For pet owners there's Pet House Mary; the Marina Hop location offers grooming services, a dog café where owners and their companions can dine together, a pet hotel, a dedicated dog park, and even an obedience school. In terms of retail stores, Marina Hop could use a few more, but I could go on and on about the other places, which warrant a separate article. Get on a number 3 bus and come for the seascape and sea life, and be sure to stay for lunch or dinner at one of the fantastic restaurants!
#3: The Outlets Hiroshima
Accessibility – ★★★☆☆
Atmosphere – ★★★★★
Lineup – ★★★★★

Variety – ★★★★★
he Outlets Hiroshima is a bit out of the way on a mountain on the western outskirts of the city, but there's so much to do here that visiting this mall could constitute a full day trip. There are several ways to get there, all of which take a while and most of which require a transfer at Nishi-Hiroshima Station. You can take the JR Red Sanyo Line or the number 2 or 3 streetcar to reach Nishi-Hiroshima Station, and then board a green Bon Bus bound for The Outlets. Alternatively, there is a Bon Bus that departs from the bus stop in front of Tokyu Hands downtown. The upper level of The Outlets is outdoors but has giant awnings around the perimeter, letting shoppers enjoy fresh air without getting drenched on rainy days. Up here you'll find the standard fare of discount clothes, watches, and kitchen goods, but on select days you may catch the street-performing duo, clowning around with goofy sound effects and making balloon swords and animals for the kiddos.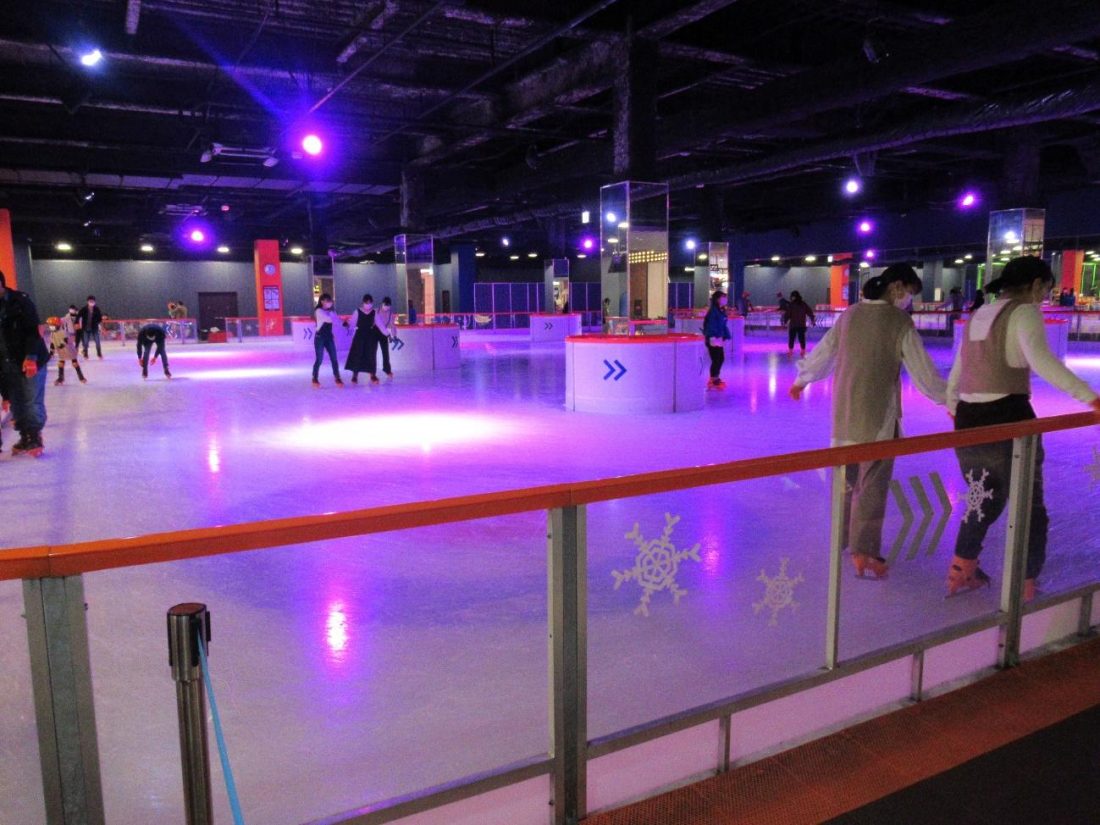 When it gets too hot, cold, or boring up top, head down to the lower level for entertainment and dining options galore! Here you'll find a movie theater, a video arcade with virtual reality games, an ice-skating rink, and a trampoline park, all adjacent to each other and bordering a gourmet city. Past that are more obscure establishments, such as a knife store, a daycare, a post office, and even an employment center! The Outlets may be in the middle of nowhere, but this is truly the only place you need to be all day.
#2: Hondori
Accessibility – ★★★★★
Atmosphere – ★★★★★
Lineup – ★★★★☆

Variety – ★★★★★
Hondori strikes me first and foremost as a place to simply walk down and admire the liveliness of Hiroshima's largest and most popular shopping arcade. To be fair, I didn't factor in places like Round One or Edion that don't touch Hondori, but even without those giants, Hondori doesn't disappoint with the sheer number of ways to lighten your wallet on goods or entertainment. This street is so wide that despite everyone congregating here, there's always plenty of room to walk while leisurely gazing at the variety of shops on offer: they've got the trendiest clothes, exclusive anime merchandise, cost-effective sundries, interesting garments, and radiant jewelry. If you're hungry, eating won't be as difficult as choosing where to eat, with fast food joints, family restaurants, cafés, izakayas, and convenience stores dotting the arcade. Feel like doing something besides shop and eat? Hondori's got you covered, and I'm not referring to the canopy that shields visitors from the elements. On this street are three video arcades, several karaoke parlors, internet cafés, a cat café, and a bar where patrons can play billiards, darts, or watch a sports game on TV with a drink in hand. Add on a movie theater and this street would be perfect! Make sure to include Hondori in your itinerary as a place to visit before or after sightseeing in the city center.
#1: AEON Mall Hiroshima Fuchu
Accessibility – ★★★★★

Atmosphere – ★★★★
✭

Lineup – ★★★★★

Variety – ★★★★★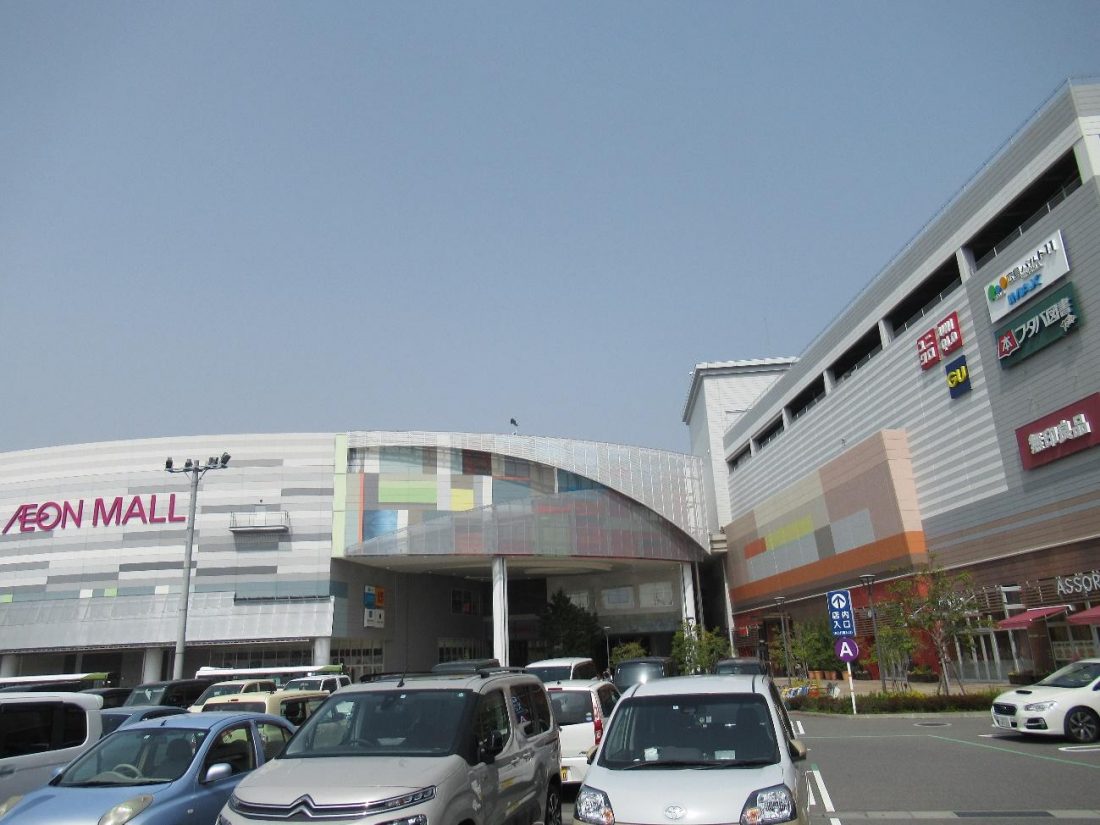 If you want to pick nits, you could say this is technically in Fuchu Town and not within the city limits of Hiroshima, but as Fuchu Town is an enclave within Hiroshima City, for all intents and purposes I consider it a Hiroshima shopping spot. AEON Mall Hiroshima Fuchu (often referred to by its old name "Diamond City Soleil") is only one stop away from Hiroshima Station; visitors can take a special shuttle bus for only ¥100 from a bus stop by the Sheraton Grand Hiroshima north of the station, or ride the JR Green Sanyo Line and get off at Tenjingawa Station before walking north to the mall. Recent construction works that finished a couple years ago made this AEON Mall the largest in the Chugoku-Shikoku area, and beats every other shopping center on this list with the exception of lacking sufficient outdoor space for strolling. Between bursts of buying up clothes, stationery, electronics, or miscellaneous trinkets, you can chill in a café, see a movie, play some games at the video arcade, or beautify yourself at a salon. The vast spectrum of other establishments is strategically arranged across four floors in a manner that feels neither linear nor polygonal when wandering throughout the mall, and the corridors are spacious enough to allow for smooth foot traffic, even on busy days. If you have an entire day to spare and want to maximize your shopping mileage in a place that's not so touristy, AEON Mall Hiroshima Fuchu is a perfect fit for you!
Closing Commentary
That concludes my long-winded and completely subjective list! It took me a while to meticulously determine the rankings of all the shopping centers in Hiroshima City in terms of whether and how they'd impress foreign tourists. There are bound to be disputes over the ratings in certain criteria (especially Variety) as well as the placement of certain establishments on this list, but bear in mind that this list was crafted by a guy who doesn't buy much, so in addition to the diversity of wares, being able to do things besides shop was a determining factor in breaking ties. If you're new to Hiroshima, this list makes for a good jumping point to exploring the retail paradises of our peaceful city, and if you're a regular, feel free to hit up all these places and compile your own top ten list. At the end of the day, if you're in Japan to shop, be sure not to discount the retail options in Hiroshima!