100 STORIES
Downtown Hiroshima: Hondori Means Business with Fun
Most normal people live in a house or apartment complex in the suburbs, spend most of their free time in their neighborhoods, and only go downtown once in a while to enjoy themselves, but I suppose that just means I'm not most normal people. On the other hand, I live in an apartment complex downtown just five minutes away from the bustling commercial centers, spend a great deal of off-time passing through Hondori while I carry out errands, and take the occasional trip to the city outskirts to shake things up. As a result of years under this lifestyle, walking down Hondori and its adjacent shopping streets turned from a thrill into a necessary evil. Commuting to work, catching a bus, or grabbing a quick bite to eat when I'm too lazy to cook oftentimes involves going onto or past Hondori, and a lot of those times I just was not in the mood to set foot there. It got to the point where I would devise specific routes to my destinations that were less straightforward but let me avoid that one shopping arcade that seemed to be everyone's favorite but mine.
Something about that place just always makes it feel excessively busy, and as wide as it is, it feels crowded even when there aren't that many people. Whenever I can help it, I try to walk down or cut across Hondori either in the morning when the shops are opening or at night once everything has closed, but a lot of the time it really can't be helped. It truly was sad how I let go of my appreciation for my location, especially considering how many people would kill to have Hondori and other downtown shopping centers as their own backyard, so to speak. I knew it was a problem, and as for a cause I came to the following conclusion: Hondori was almost never my destination, but rather a place on the way there. Thus, by merely being on the way it ended up getting in the way, and since I seldom stopped to enjoy the shopping arcade itself there wasn't much opportunity for it to leave a positive impression. With that in mind, I made it my mission to rediscover the charm of Hondori by dedicating an entire day to scoping out the numerous entertainment options on offer.
The two main ways to access the city center are by bus and streetcar. One great fact about busses in Hiroshima is that almost all bus routes will pass through downtown (Hatchobori, Tatemachi, or Kamiya-cho bus stops) at some point, so most busses departing from Hiroshima Station will be a safe bet. In addition, from Hiroshima Station it's also possible to take the #1, #2, or #6 lines on the Hiroden streetcar and get off at any of the above stations.
Pre-Gaming for the Fun to be Had
The shops on Hondori open at 10:00 a.m.; before then, the shopping arcade is still dark and barren, and cars can freely drive down the street. However, as it was a Monday, the nearby Round One amusement center was open earlier than usual, so I decided to kill time with some games before Hondori opened up.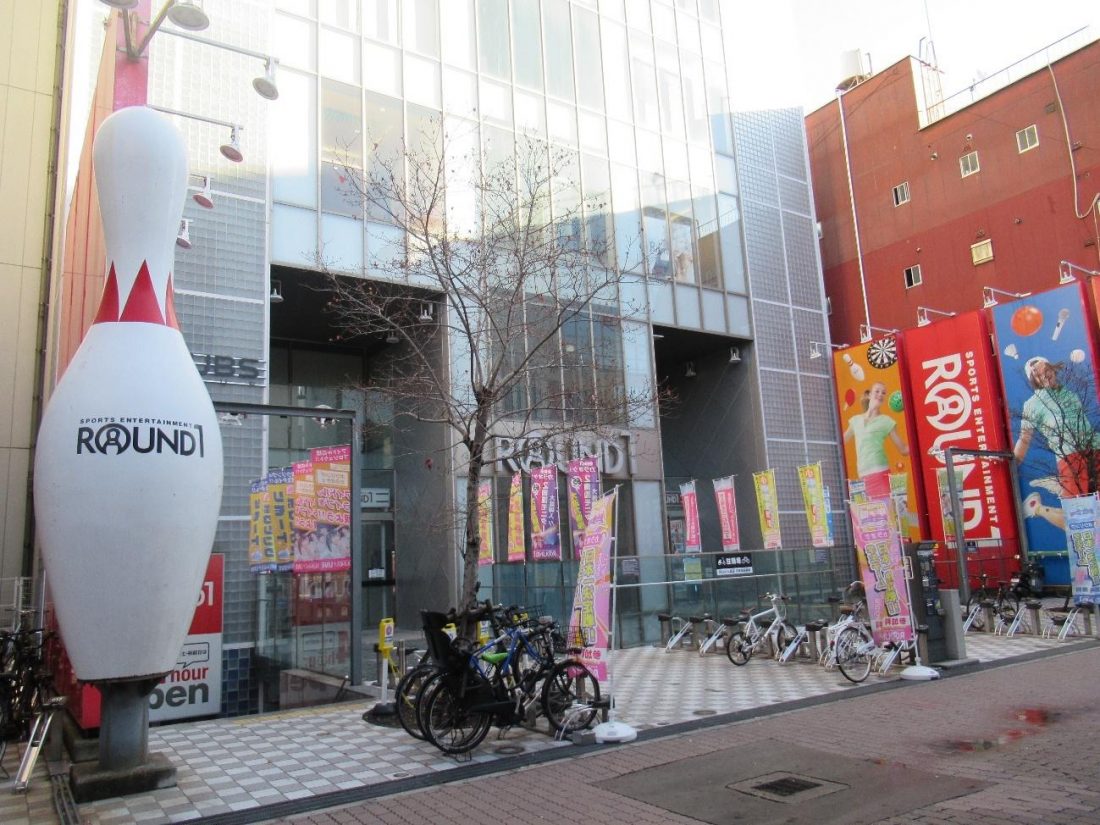 Round One sports ten floors of entertainment in myriad forms, including—but not limited to—bowling, karaoke, billiards, darts, batting cages, and arcade games. With only an hour to spare before Hondori opened, I made time to scope out two floors of gaming goodness.
The first floor is filled almost completely with crane game machines featuring dozens of cute and interesting prizes to be won. I prowled the aisles before finally deciding on one to play and test my skill (and luck). Unfortunately, as I didn't win anything and photography of the machines is forbidden, here's a picture of other prizes that can be won from typical crane games here. As a bonus, I'll also let you in on a little secret regarding how these machines tick.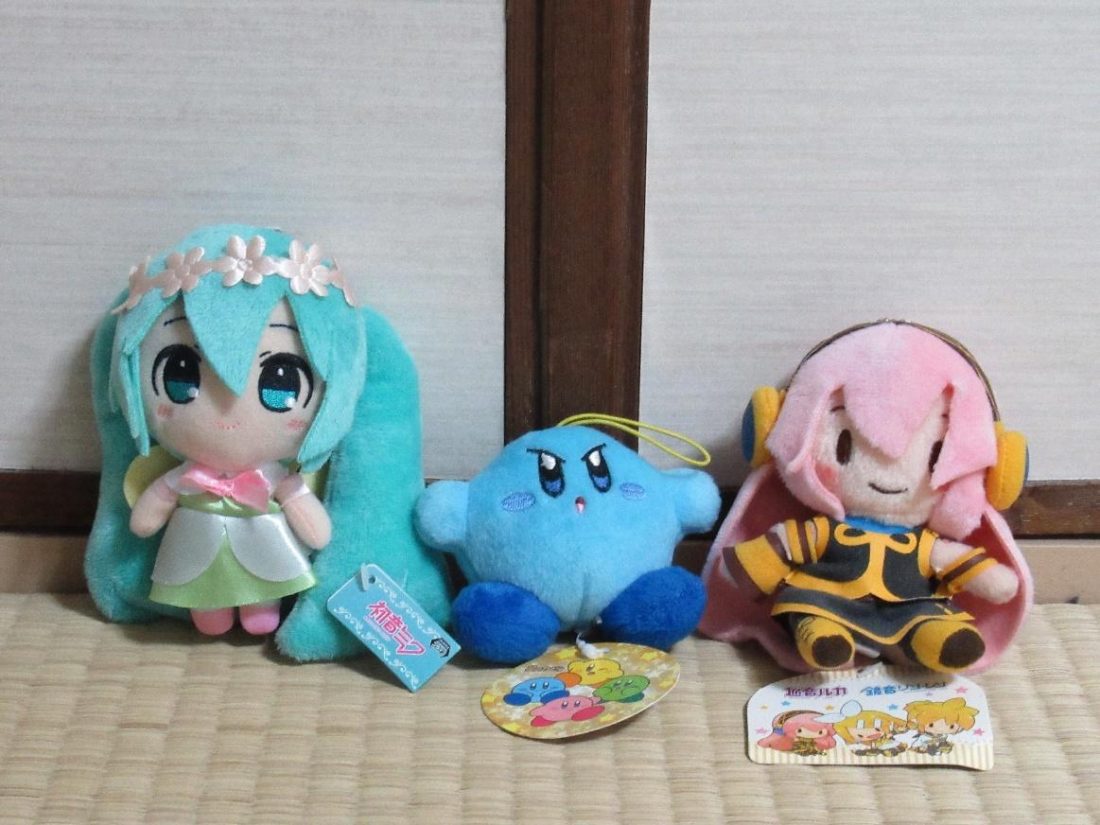 One of my friends who used to work in an arcade told me that the claw is programmed to not grip firmly enough to hold onto the prize until after a certain number of credits has been inserted. Whether it's the same person trying repeatedly in one sitting or different customers playing over the course of hours, on the twentieth attempt or so, a skilled player will successfully grab the prize. As a word of advice, if you insist on taking a certain prize home with you, I suggest having twenty to thirty coins on hand to make sure you'll be the one to activate that magical nth attempt. These days, there's no prize I want that badly, so I quit while I was ahead and went down into the basement.
The basement is dominated by a wide variety of arcade games, mostly fighting and rhythm games (my personal favorite). Japanese rhythm games come in a wide variety of forms with something new being released virtually every year, and some of them get particularly creative, from swiping a barrel-shaped touch screen to playing a pretend piano to freestyle dancing. To warm up my body in this winter weather and get in some morning exercise, I decided on my go-to machine and a tried-and-true classic, Dance Dance Revolution.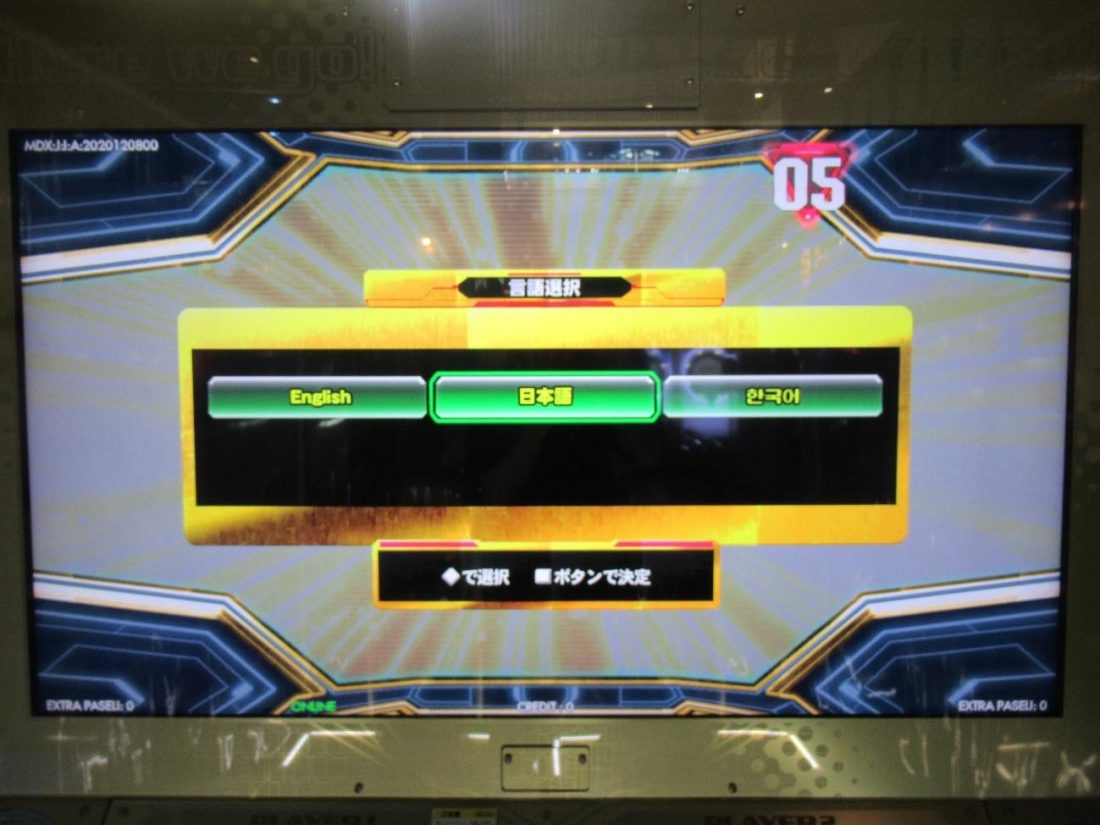 Dance Dance Revolution (DDR for short) is famous worldwide for its unique gameplay involving the player's feet as well as its ability to act as a method of exercise or even as a performing art. Naturally, it now has an international following and the newest editions of DDR have multilingual capabilities so that visitors from around the world can actively engage in the physical challenge. I myself practice DDR at arcades on a weekly basis, and this specific golden cabinet has become my preferred machine as it's fairly new and the staff seem to be performing regular maintenance on it so that our steps are properly registered when we tear it up on the dance pad.
In the past there have been tournaments and other friendly gatherings centered around this game and others on the same floor. If there's enough interest in the local community, players can request the Round One staff to organize an event. They'll make posters to advertise, devise rules for specific challenges, and have a staff member on site to record scores and act as the MC for the day.
A Walk in the Parco
Hondori was up and running by the time I was finished dancing, so I left and made my way towards the Parco department store, which is understood to be where Hondori begins on the eastern end. The north side of the main building is a common meeting point for groups of friends, and many a time have I also waited on people in front of the store, but I realized that despite years of standing in front of Parco I never actually perused the place in its entirety. Since it was the holiday season—and thus also shopping season—I figured I'd browse their selection for potential good buys.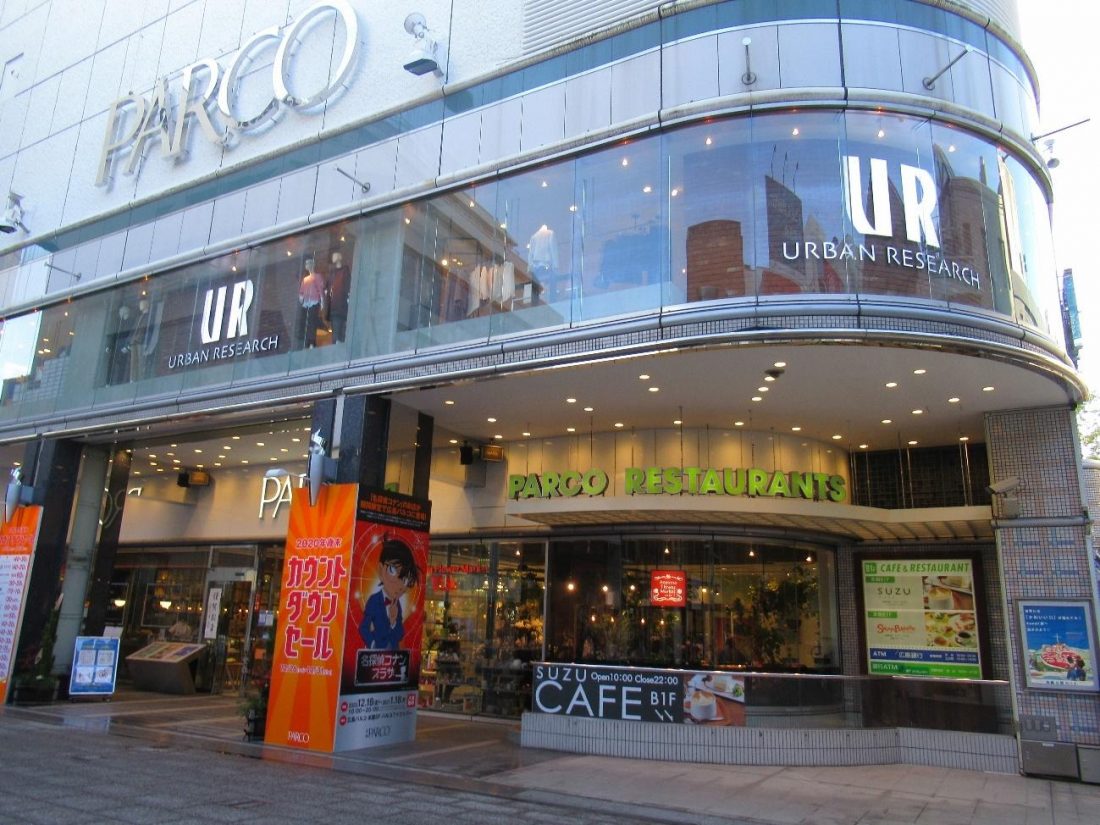 Parco comprises two separate buildings, each with nine floors and a basement and connected at the ninth, fourth, and basement floors. Most of the shops inside sell clothes, but they also have businesses dedicated to interior design, soccer merchandise, and even musical instruments! They also have a dedicated event space for showcasing limited time merchandise; this time, it was goods from the Detective Conan franchise!
To my pleasant surprise, they actually had a wide selection of men's clothing options that piqued my interest, and this is coming from a guy who typically detests clothes shopping. Most of my boring memories of clothes shopping come from my childhood, being dragged by my parents to the store because they—not I—thought I needed new clothes. However, my experiences browsing through and trying on apparel were nothing like those days. The gentleman who assisted me was extremely attentive and eager to give advice on matching articles. As I stood in the fitting room examining myself decked in store merchandise, he continued to inquire about my tastes and return with additional pieces to cater to my prospective new outfit. I ended up finding some items I deemed just right for me and returned to purchase them during the New Year's sale.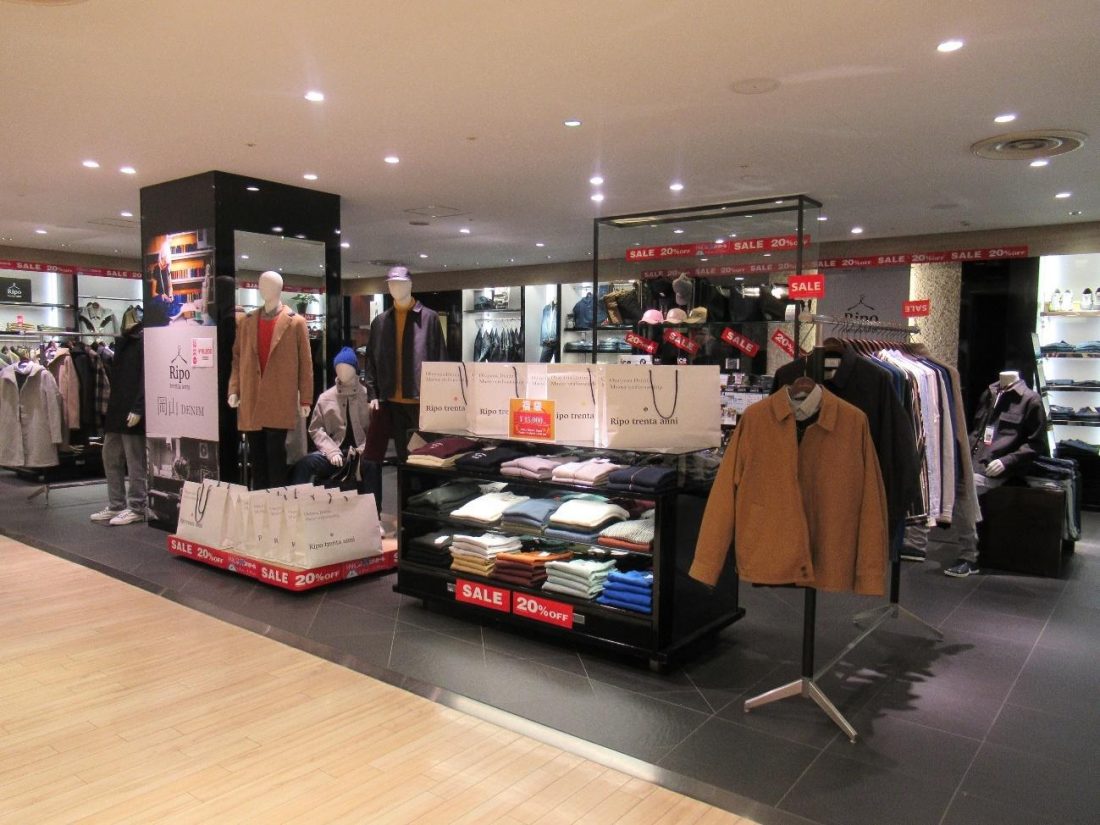 The Cat's Meow
Shopping on a shopping street is a given, so next up I wanted to find a place that was a little more entertaining and distinct. Of course, the most popular district in Hiroshima should have the coolest and most unusual places, right? Japan is famous for no shortage of weird things, one of which is the cat café. I had heard tell of one such place that opened on Hondori not too long ago, and when I finally figured out the location, I made a point to drop by this afternoon. Just northwest of Parco is an eyewear store; to reach the cat café, simply enter the eyewear store and take the elevator to the third floor.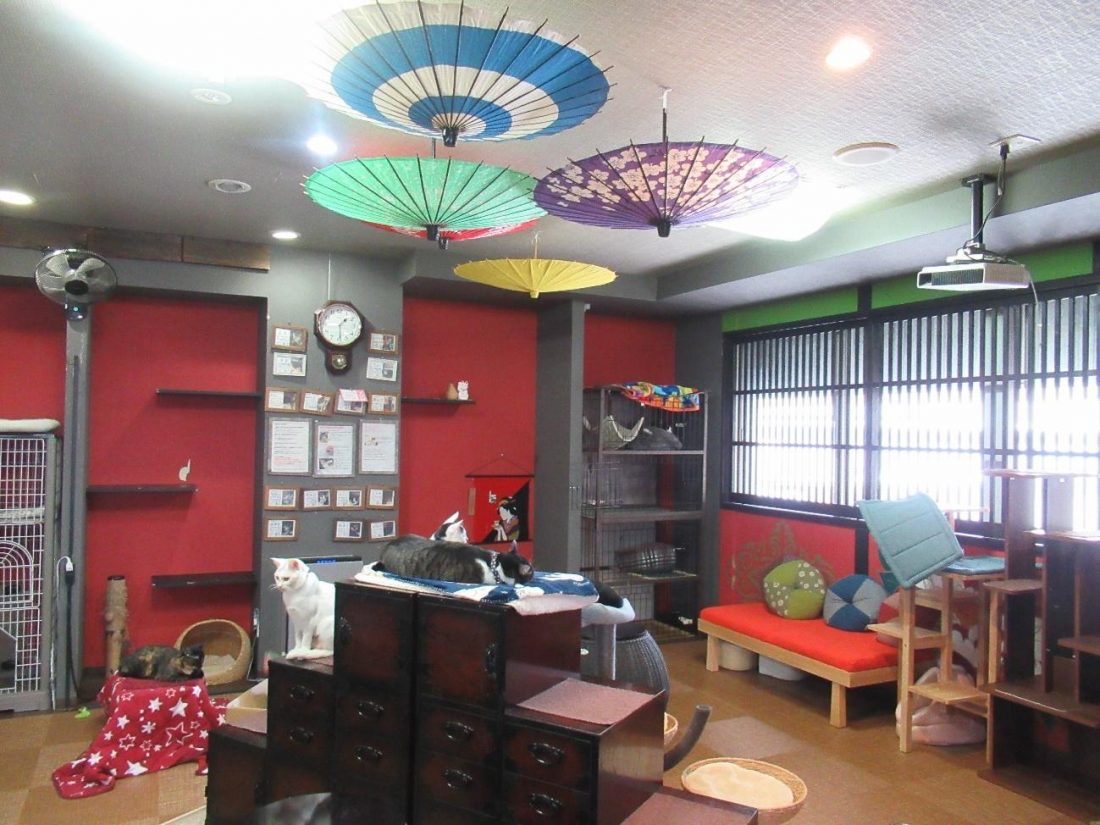 This specific establishment doesn't just make a business out of letting customers play with the cats here, but strives to match these cats with humans who are interested in adopting them as pets and giving them a new, loving home. Customers can purchase a simple thirty-minute plan or a forty-five-minute plan that includes a drink, and then are taken to this Japanese-style room where a dozen cats are lounging about, ready to play with their human visitors. I got to choose one cat toy before entering, and given the young, energetic felines that were my companions for the next half hour, that was probably all I needed for a boatload of fun with these critters. The ensuing shenanigans reminded me all too well of those cat videos that dominate the Internet.
Moment of Joy: All Cuddles, No Responsibility
Honestly, I love the idea of having a pet, but ever since I was a child, I knew I didn't have the sense of responsibility required of being an owner. It was always fun playing with other people's pets outside or at friends' houses, and my time spent in this cat café was basically that enjoyment cranked up to eleven. The peak was probably when an employee came in to distribute mini-packs of cat food for us to feed the kitties, free of charge. The feisty little critters must have been craving a snack given how engrossed they were in the package alone, biting into the wrapper and fighting each other over a chance to snag even one pellet. Cruel as it might have seemed, I ended up using this packet as an additional toy before finally opening the packet and letting them have at it.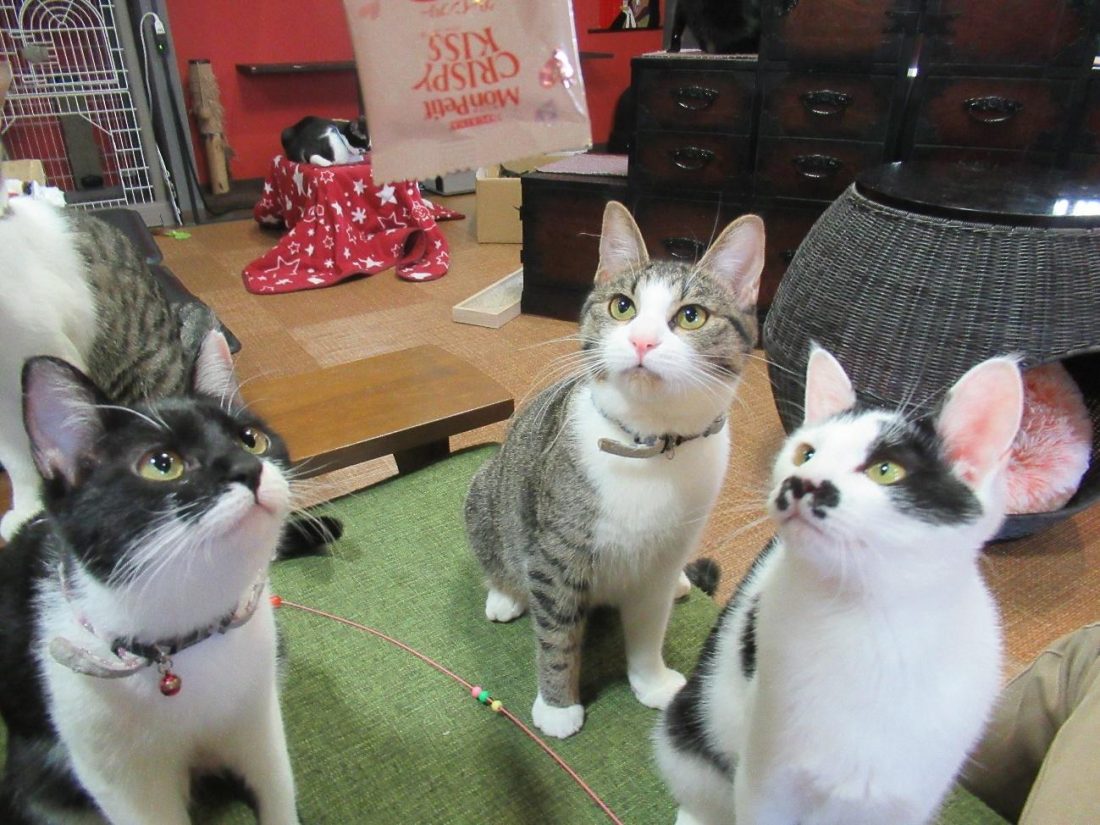 Jumping from Shop to Shop
When my time with the kitties expired, the staff called me out, I paid, and then went back to ground level to scope out some other interesting shops on Hondori. Upon exiting, one store that immediately caught my eye was the Jump Shop, a shop dedicated solely to anime memorabilia. They apparently released a new batch of merchandise today, because promotional posters were placed outside the front door and they were requiring reservations to enter the store. I booked a spot for the next available time slot and waited in line to check out what the fuss was about.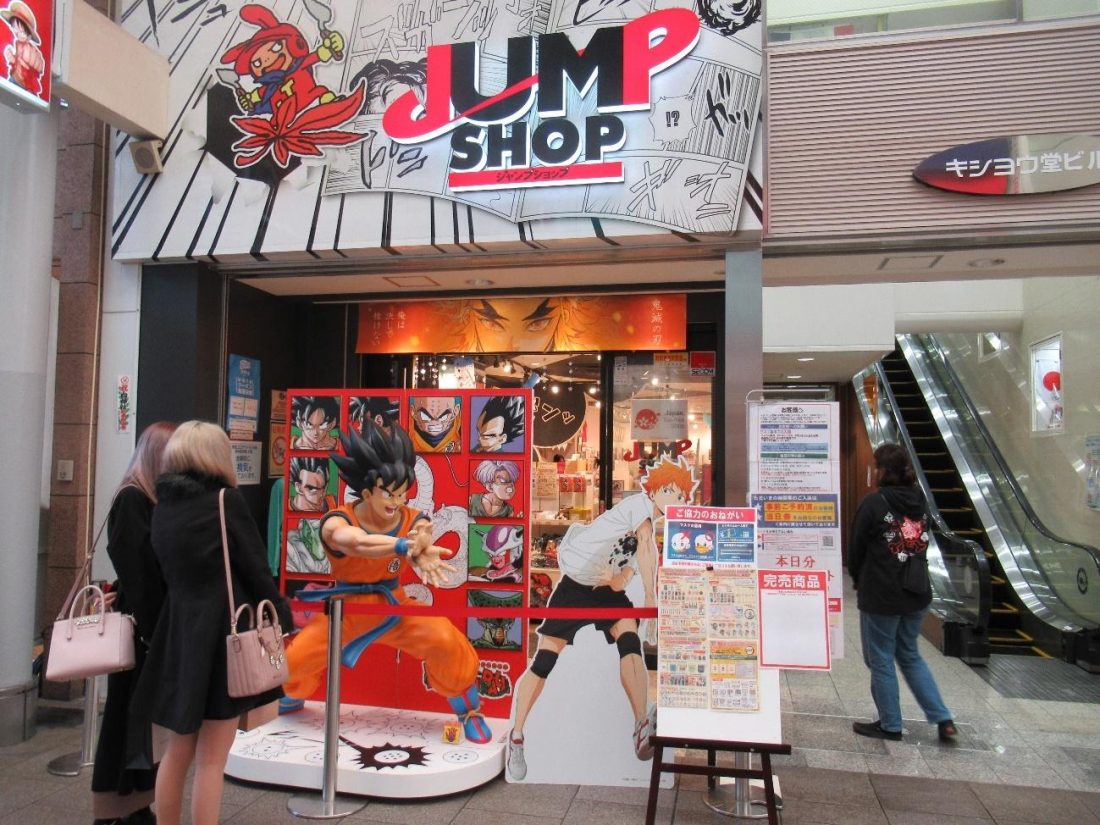 The items featured inside are basically any anime fan's dream come true. They had manga books for the most popular series, keychains and badges featuring the main characters of various shows, and other miscellaneous things like Luffy's straw hat. Photography was not allowed here either, so this picture of the storefront will have to suffice.
Hondori definitely isn't lacking in restaurants, and as I continued down the shopping arcade my eyes started scanning for a place where I could grab a quick bite. Eating and walking is accepted on a busy pedestrian street like this, and visitors will be spoiled for choice by a world's fair of snacks. Options on and around Hondori range from crêpes to gelato to French fry-encrusted cheesy corn dogs. I opted for a made-to-order, big-as-your-face fried chicken filet that's a big hit at Taiwanese night markets and finally made it to Hiroshima.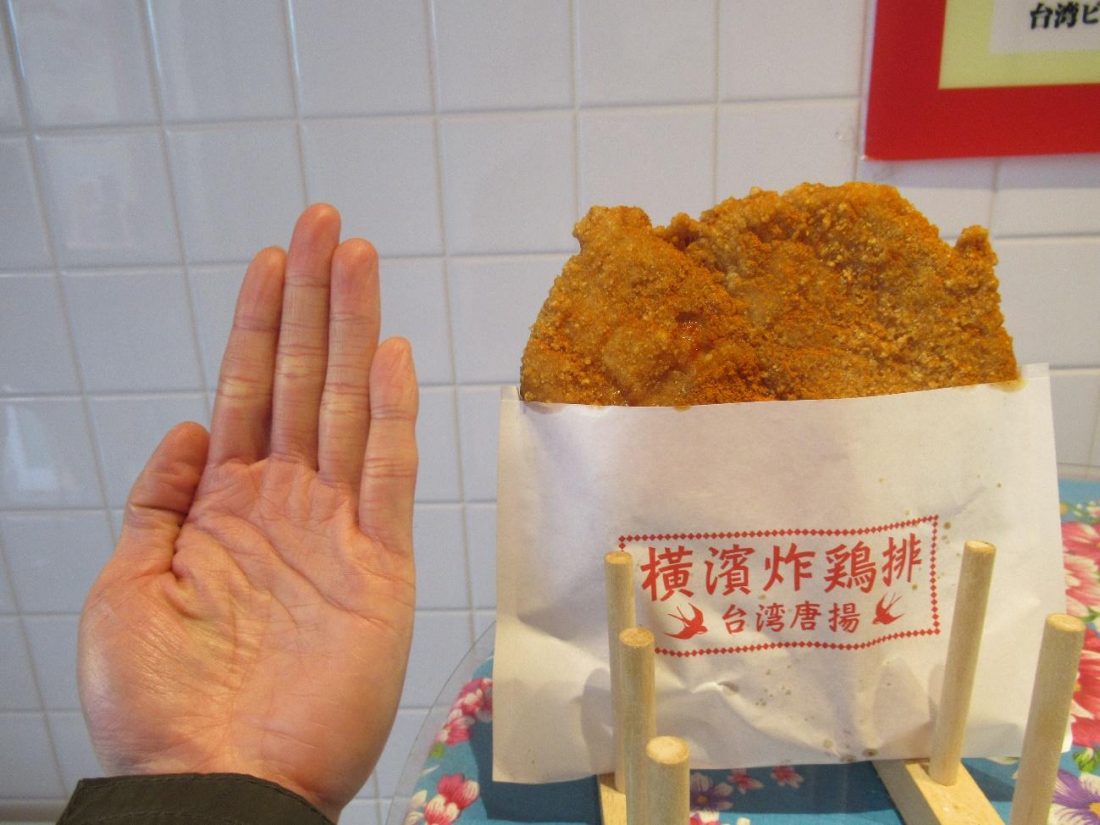 Alternatively, those who need a break from walking can duck into a restaurant and partake in people-watching. I entered my usual burger joint to buy my second snack and parked myself at a window seat on the second floor to watch the river of shoppers flow on by. Foot traffic was light today, but scenes of costumed Hiroshimarians parading on Halloween or endless opposing streams of citizens exchanging high fives when the Hiroshima Carp win a Central League championship are spectacles worth buying a combo meal just to enjoy from this very spot. Having those memories return while I wolfed down my sandwich helped remind me again of Hondori's charm and reinvigorated me to see this retail expedition to the end.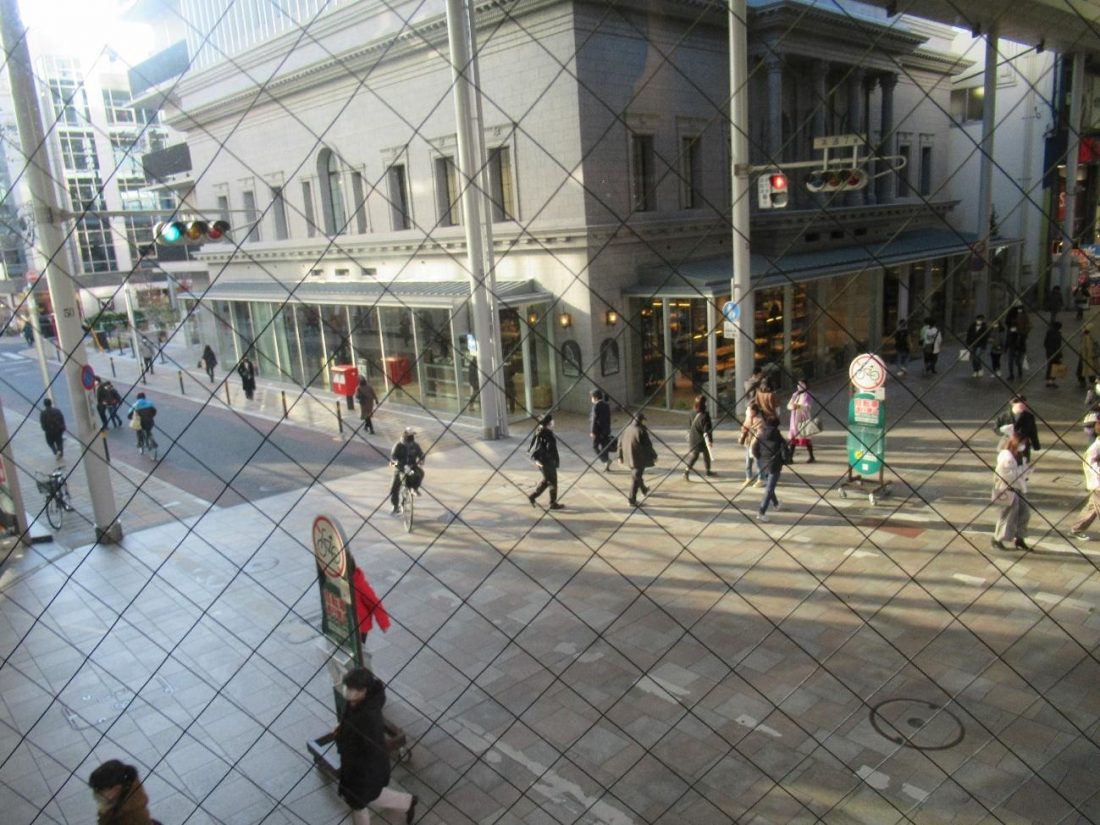 As I kept pressing forward, I encountered businesses of every sort: pharmacies, boba shops, cell phone providers, pet stores, souvenir shops, bakeries, ramen joints, and an even bigger anime goods store. All the while, it was noisy and lively as usual, but at this point that had ceased to bother me as I knew I was reclaiming my amazement and gratitude for Hiroshima's principal shopping street and loving every moment of it. It got even better, as what lies just past the western end of Hondori is the one site that's even more famous: Hiroshima Peace Memorial Park. After a jam-packed day of entertainment and consumerism, I could think of no better way to conclude my journey than with this moment of serenity.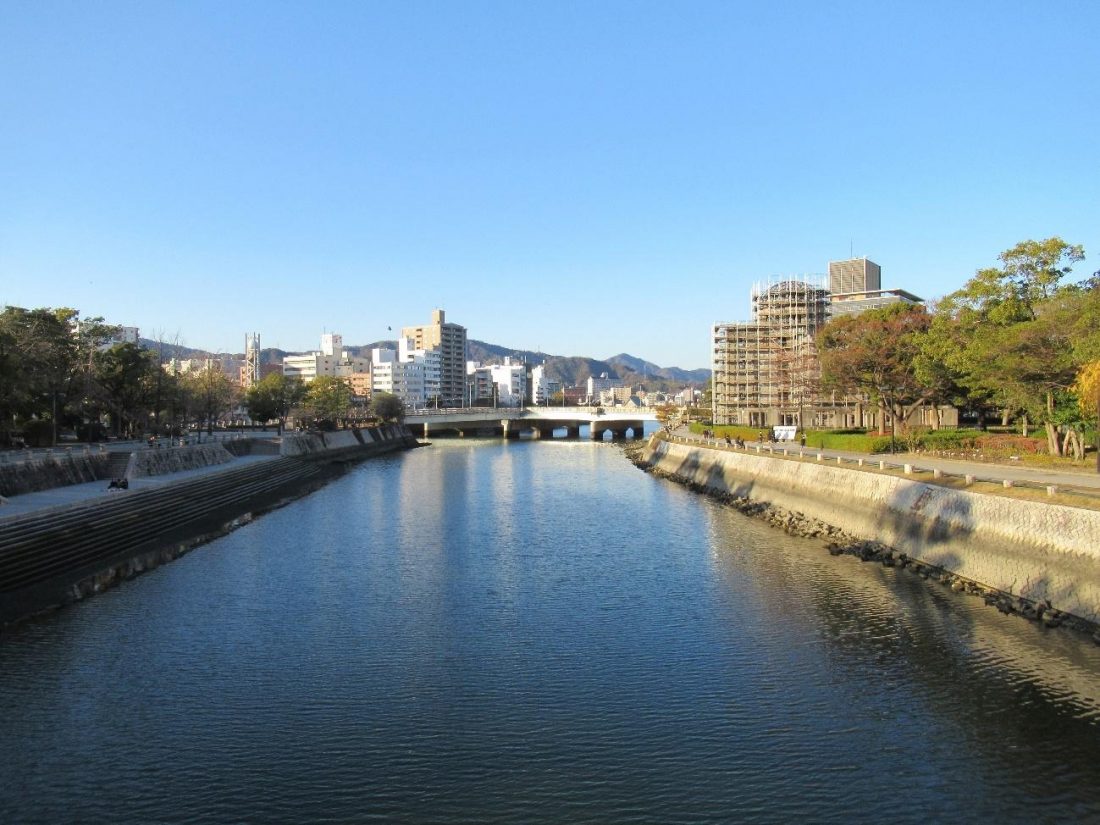 As often as I used to rush through and endure Hondori, taking out an entire day to actually see it from one end to another was an experience long overdue. The list of things to see and do in the area is inexhaustible, and all I witnessed above was just what can be done during the day. It's a completely different planet come nightfall when the bars and karaoke parlors start to see more patrons, but that clearly deserves its own article. I had honestly lost sight of how blessed I was to be able to live so close to this gem of an area, and from here on out I'll be doubling my efforts to properly explore Hondori more often to stay updated on what truly makes it special. After all, a central business district is more than just about the business, and for someone like me who takes adventure and fun seriously, Hondori means business.