100 STORIES
Hiroshima Outlets – Shopping & food & games, oh my!
Shopping, an arcade, an assortment of delicious food – what more could you ask for when looking for a fun time with a date or friends in Hiroshima? Recently, I had the chance to visit the Outlets in Hiroshima for the first time. I had heard a fair amount about this location from friends who had been there, and so, driven by my own curiosity I ventured to explore this proverbial bastion of excitement. With good company by my side, we spent an enjoyable two hours at the Outlets visiting various stores and partaking in the local activities.
How to go
By car

: If you have a car or you know someone who can drive in Japan, I recommend this option as it is the most efficient way of getting to the Outlets. From the city center of Hiroshima, you can expect to drive approximately 25 minutes (pending no traffic jams, which is what I faced) to reach the Outlets. Parking is free for all customers up to a certain amount of time.

By bus

: there is a bus route to the Outlets as well if you don't have a car. It takes approximately 45 minutes one way from the city and runs fairly regularly.
What to do:
1)     Shopping: As the name implies, the Outlets are first and foremost a place to go shopping either for yourself or a significant other. There is a decent selection of jewelry, clothing, shoes, both western and Japanese brands are available. There are also entire cars that are available for sale. So, if you are the son or daughter or a rich entrepreneur, please do consider buying one of the various cars on site! Personally, such luxuries are beyond me, but I did indulge myself in some much needed heat-tech (a form of clothing used to insulate one from the frigid winter temperatures) from Columbia SportsWear located in the Outlets. There are a variety of outdoor wear shops for those looking to prepare for a journey or hiking, something I very much enjoy.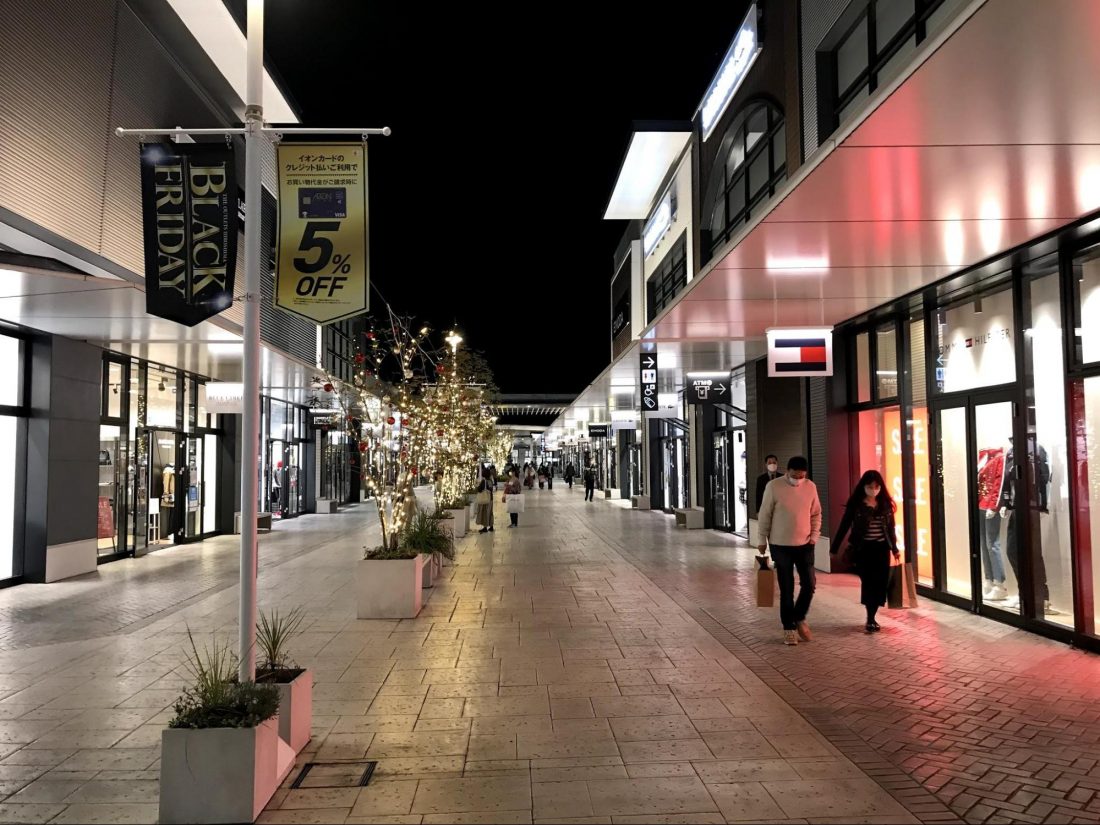 Beyond desperately searching for heat-tech for myself, I also was keen on finding a suitable Christmas gift for my girlfriend. I initially thought jewelry would be a good option. So I headed over to one of the jewelry vendors. However, after careful inspection, I realized picking jewelry for a girl with particular tastes is no easy feat, but I had a feeling chocolate would be a sure fire way to win her heart over. With my goal in mind, I noticed from the shop's catalog available at the Outlets that there was a Godiva store nearby. In due haste, I set forth to Godiva where I purchased some of the finest confectionaries. For any holiday or personal celebration, however, the Outlets will almost certainly have something that's suitable for anyone.




2)     Food & Beverages: There's a large selection of cuisines and cafes available in the Outlets. Whether you're looking to try some spicy Korean bibimbap, a bowl of Japanese ramen, or an American hamburger, they have nearly everything at the Outlets! 
3)     Entertainment: For entertainment there is the Capcom arcade and a movie theatre. While I was at the Outlets, I spent the majority of my time at the Capcom arcade trying to win a stuffed animal from one of the claw machines. I suppose the ability to win something from one of these machines is something of an inherited gift, because no amount of money I possessed seemed enough to win that small stuffed Charmander Pokémon. Until next time!
At Capcom you will also find a variety of games that are great for groups. My friends and I tried the puck hockey game for just ¥100, which was quite entertaining. Afterwards, we tried some of the racing games, which allow you to race against your friends.

Expenses

1)     Transportation:
   

By car: a round trip journey to and from Outlets from Hiroshima City will cost you approximately

¥

600 for the gas.

   

By bus: a round trip journey by bus will cost approximately ¥1,100- ¥1,300 depending on where exactly in Hiroshima city you are coming from.

   

By private charter plane: assuming you own a private jet, one would be able to reach the Outlets in roughly 30 seconds and all with the small price of ¥200,000.
2)     Entertainment: for entertainment you'll want to bring at least ¥2,000 to be able to adequately enjoy either the movie theatre (which generally costs close to ¥2,000) or to try the various games and claw machines available in the arcade area.
3)     Food & Beverages:  At least ¥ 2,000 to enjoy a decent meal.  ¥1,000 may be sufficient at some places, but if you have a little extra to spend, I recommend ¥2,000.
4)     Shopping: the sky is really the limit here. It completely depends on your budget and if you're looking to buy a nice gift for your sweetheart. You could spend anywhere from ¥5,000 for a cute scarf to ¥500,000 for one of the aforementioned cars. In either case, I recommend bringing no less than ¥20,000 for shopping purposes.
5) Conveniences: there are coin lockers for ¥100 that are available on site, so you need not worry about dragging your bag/luggage around all day at the Outlets. 
Moment of joy
A highlight of this trip was seeing my friends' enjoyment as he crushed us during the racing games. I haven't seen that level of excitement in anyone but a child's face. I even captured the moment on camera to commemorate the occasion.
Impressions
Overall, I had a fun time at the Outlets. Would I return again? Yes, absolutely. In fact, when my girlfriend comes to visit me in Hiroshima City again, I will definitely be sure to take her there. I give the Outlets an 8/10 stars. If you do venture to the Outlets, I recommend bringing company as this will significantly increase the amount of enjoyment possible there. Furthermore, I was quite impressed by the amount and variety of food available at the food court.