100 STORIES
Marina Hop: A Town for Escaping Town
Some parts of Japan are so interesting that they are worth visiting time and time again, whereas other places may be interesting but not warrant a second or third visit. This isn't to talk down about places that can be finished in one visit, but rather a matter of prioritization of the worthiest sites as everyone can only spend so much time traveling, even for those of us who call Japan our home. As a proud Hiroshimarian, I strongly believe Hiroshima fits into the former category, and that anyone planning a trip to Japan for at least one week ought to squeeze Hiroshima into the itinerary for a couple days, even on repeat vacations in Japan.
That said, one is bound to exhaust the main tourist sites of Hiroshima City—the Peace Memorial Park, Hiroshima Castle, Shukkeien, and Okonomimura—by the second visit, if not the first. After a while, even a tourist will start saying things like, "it's just Hondori," and "Atomic Bomb Dome? Been there, done that." Particularly in the case of yours truly, who lives downtown and can access all the above tourist sites on foot, there will eventually come a desire to escape the same old city center and seek out other points of interest dotted throughout Hiroshima, most of which are located a good distance away from the hustle and bustle of the central business district. While other lesser known temples or easy mountain hikes within the city limits are some of the first suggestions to come to mind, some tourists still crave the urban setting and the opportunity to shop, but simply in a different environment. That's where the Marina Hop comes in, boasting shopping and entertainment complexes that establish the sense of a completely different town on the seaside edge of Hiroshima and making it an ideal day trip for visitors and longtime residents alike.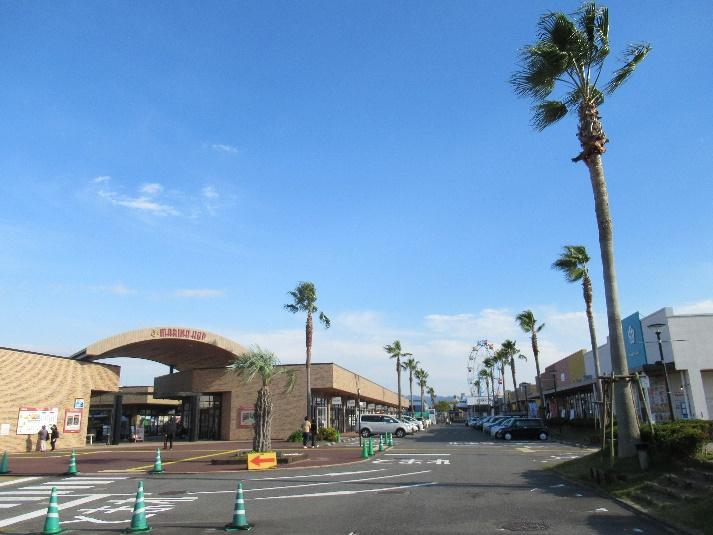 Setting A Course for The Yacht Harbor

Despite the distance from central Hiroshima, Marina Hop is easily accessible via bus as the #3 line runs from Hiroshima Station through downtown all the way to this coastal mall. From the bus stop, my first inclination was to head to the harbor to gaze upon the scenic seaside. After walking past some stores and turning right at the first restaurant, I was greeted by the sight of row upon row of boats docked and floating aimlessly, waiting to be taken out to sea.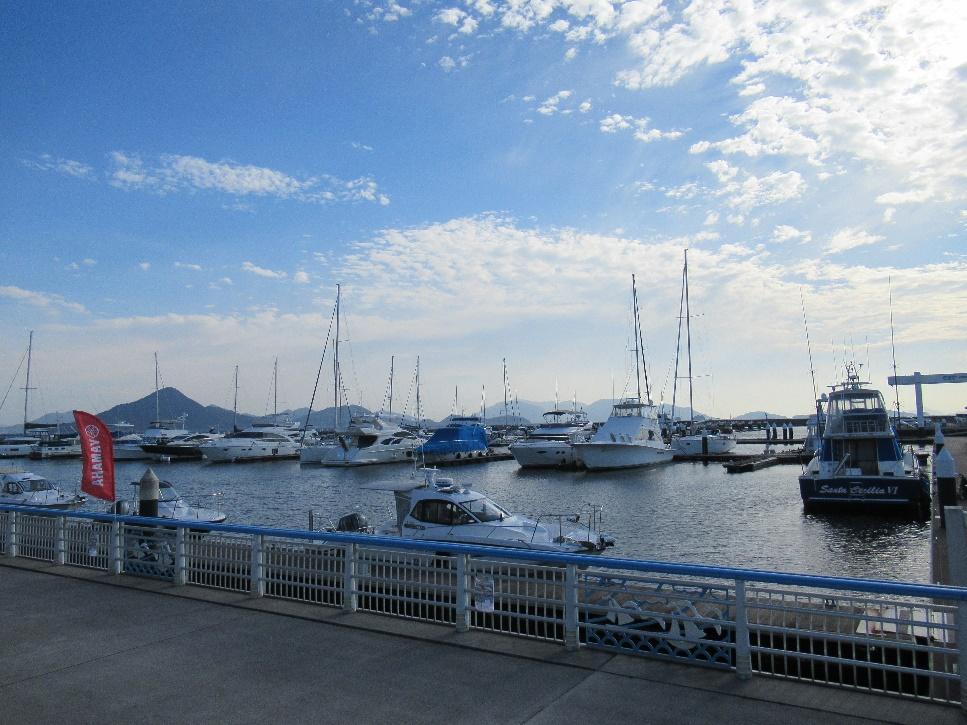 The yacht harbor makes for a picturesque afternoon stroll, but there are also some restaurants with outdoor seating that let visitors enjoy the vista at an even slower pace as they have lunch, a snack, or an early dinner. I happened to visit in mid-November when the sun sets pretty early, so I opted to have dinner indoors later, when all would go dark.
Marine Circus, A Sentimental Wonderland

After taking in my fair share of the sunny Seto Inland Sea, I made my way back to the mall side, walking in the direction of the Ferris wheel before arriving at the entrance to Marine Circus, an amusement park with a family-friendly atmosphere from a time gone by. The tracks of a kiddy coaster whizz by an indoor lot of infant rides on the left side, and progressing further into the park, one will encounter other staple attractions such as a kids' pirate ship-like ride, an anti-gravity house, a miniature log flume, and of course, the iconic Ferris wheel of Marina Hop. Past the infant rides are the classic carousel and an indoor section with a video arcade and large, individual trampolines where children can safely bounce to their hearts' content.

The Ferris wheel costs ¥500 for one person to ride, but there are discounted rates when buying tickets for multiple passengers. There are sixteen gondolas and the wheel makes one full rotation in eight minutes. It looks colorful even in broad daylight, but it isn't until the sun sets and lights on the Ferris wheel come on that it can be admired in its full glory.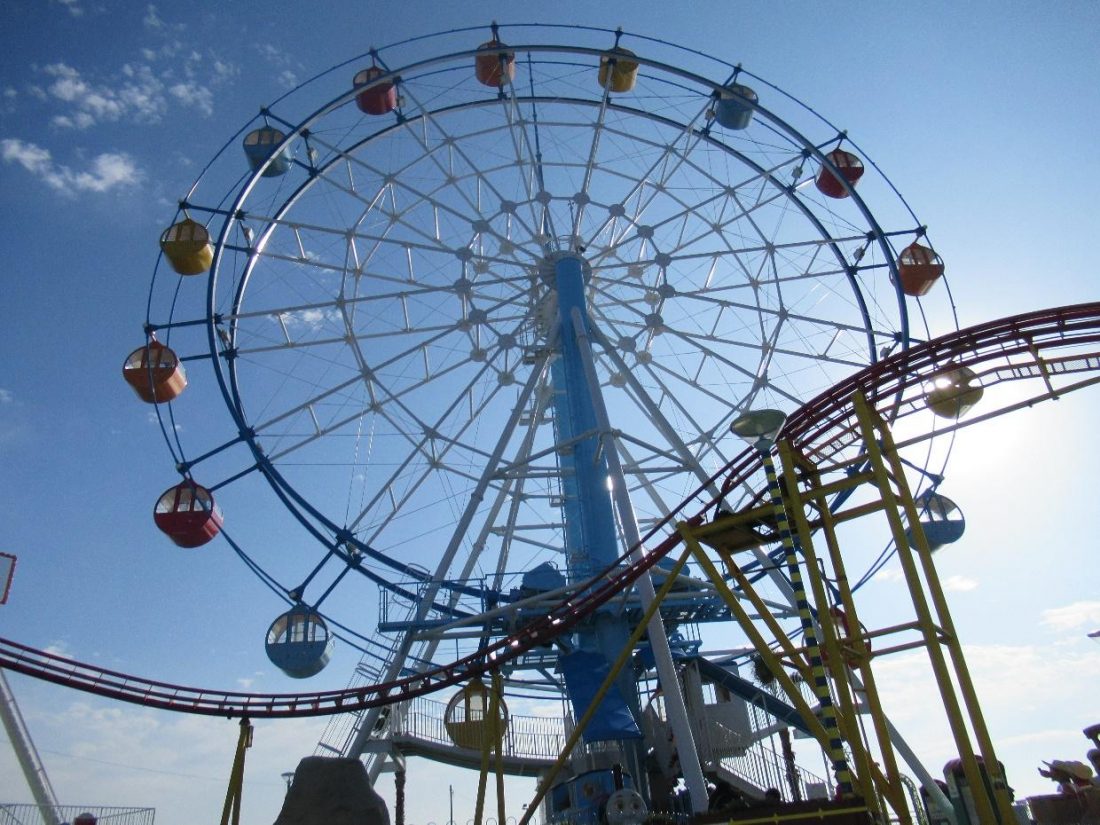 Tickets are sold for some of the other attractions too—such as the kiddy coaster or pirate ship—at ¥400 each or ¥2,000 for five, a 25% discount! I was tempted to buy a bunch of tickets to test out all the amusement rides since it was a Friday afternoon and barely anyone was at Marine Circus, but then I remembered how big I was compared to some of these rides and decided against it. Instead, I made another round through the lot of infant rides while reminiscing which ones my child self would have gone crazy over.
Moment of Joy: Childhood Memories Hit Me Like a Bumper Car
When I was a little tyke, my parents would bring us to Taiwan every two years to see our extended family. During our stay, one of my uncles used to take me to a local park with a section full of kiddy attractions, and the one of my most vivid memories was driving the miniature bumper cars. Okay, we were told not to crash them into the barrier or other cars, but they functioned all the same.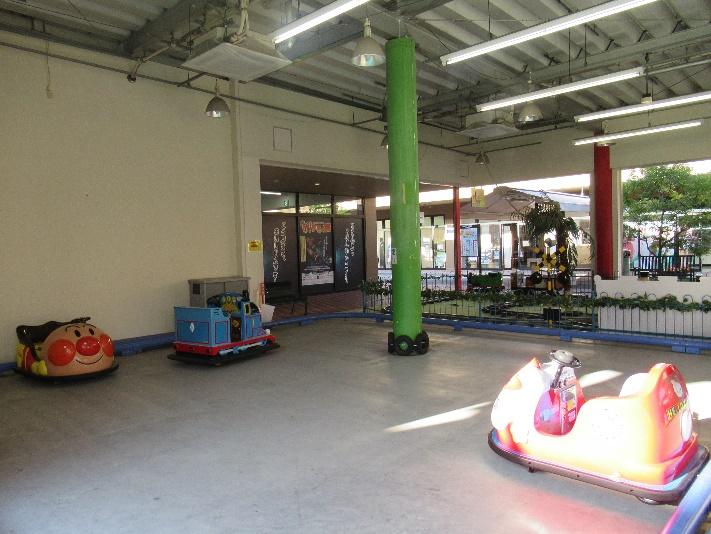 As I was wandering around Marine Circus, I had to take a minute to stare at the miniature bumper cars as I was instantly taken back to those joyful days of hot, Taiwanese summers full of family reunions, road trips, and itchy mosquito bites. Out of all the infant rides on the park grounds, this was the one that took the most willpower to resist jumping in with my knees sticking out to take the wheel and relive those childhood days. It was also in that moment that I wished my uncle were here with me to see the exact same ride he used to take me to enjoy, but as he doesn't live in Hiroshima, I knew the nostalgia trip would be incomplete and left the bumper cars as they were.
Experiencing the Mariho Aquarium

Soon after, I came across the main highlight of the Marina Hop, the Mariho Aquarium. Given that it's Hiroshima City's main aquarium with the next nearest one being on Miyajima, I was expecting this one to be rather crowded with families bringing their small children who had just gotten out of school, but to my pleasant surprise it was almost empty. I was thankful that I had chosen a weekday outside of school holidays to visit so that I could take optimal photographs with minimal intrusions.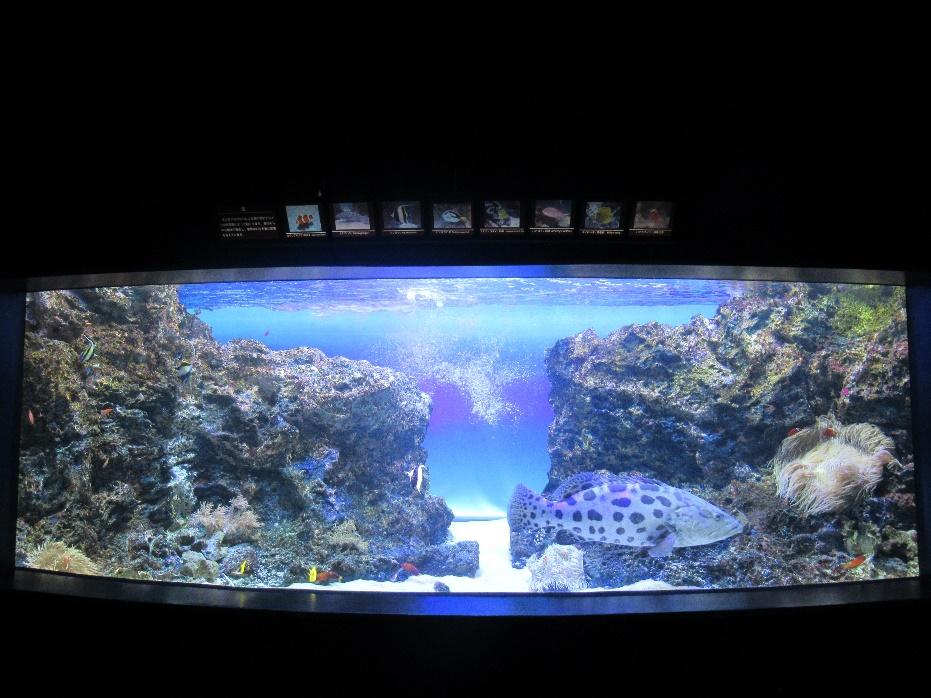 For an aquarium of its size, the Mariho Aquarium sports a substantial selection of species from a diverse array of marine biomes, and I was excited to see numerous familiar fish from a couple of famous Pixar movies.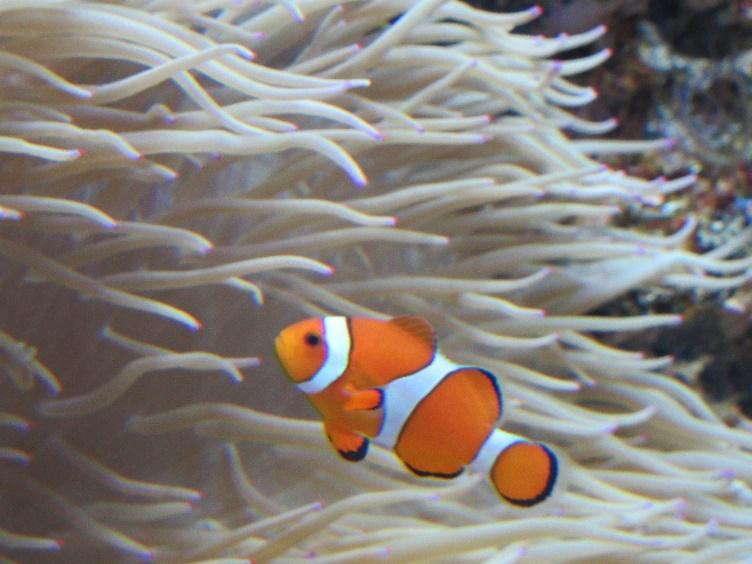 There were dozens of individual tanks for certain species with signs explaining the name and some basic information about the organism, but I found the signage to be fairly inconsistent and the information inadequate. Species names are always in Japanese and written in katakana, and sometimes there would be the name in Chinese characters and/or the English or scientific name. Seeing as every species known to man should at least have a scientific name, I see no reason for the aquarium to not include that underneath the Japanese name, and having English and Chinese names on every sign would be a tremendous help as well. In addition, descriptions are not available for every species, and are only in Japanese. That may be passable for those of us who know Japanese, but most foreign visitors will be left confused and many opportunities to educate the public will be missed.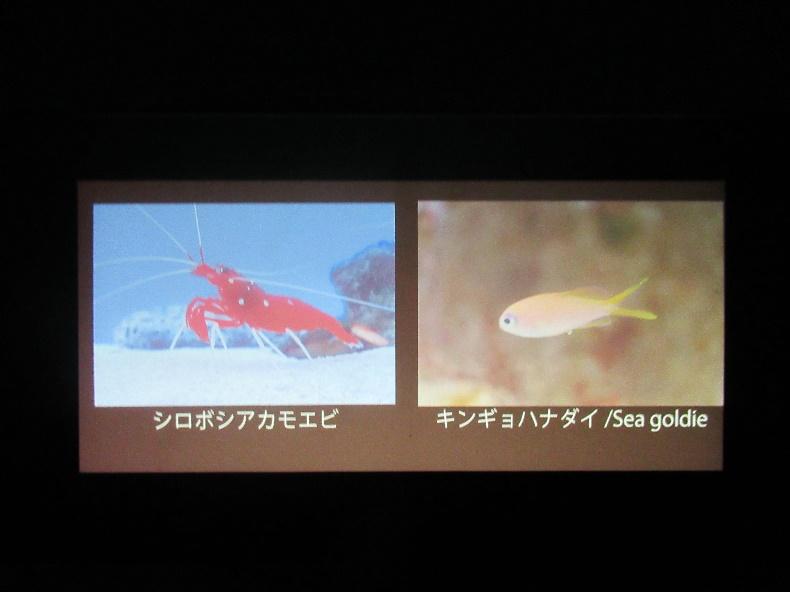 It would seem that I had impeccable timing as I was able to witness an employee feeding baby sea turtles as well as catch an animal feeding show held at least twice a day in the largest tank.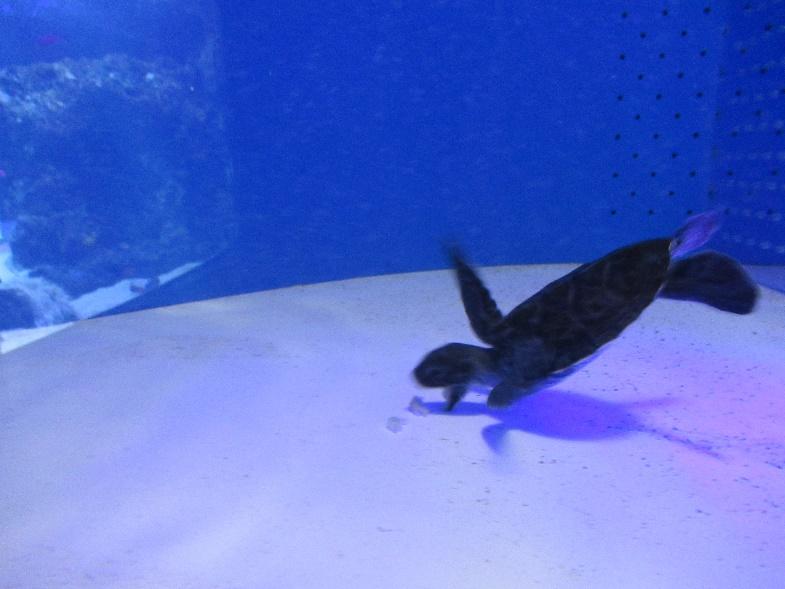 I secured myself a seat in the center, right in front of the tank where the show was to begin, and waited for the action to commence. People of all ages—from small children with their parents to the elderly—began to pour into the hall and sit either on the bench or the floor seating area. It was the most crowded I saw the aquarium that day, and even then, I didn't bump into anyone nor did I have my view obstructed during the performance.
The show featured a diver swimming around the tank with all the other marine organisms and demonstrating different ways every creature is fed. The diver brought some vegetables for the tinier fish to munch on, and buried some raw fish in the sand to show how rays can locate hidden food and dig it up to eat. For me, the most exciting part was when the diver was feeding the zebra shark and let the audience clearly see how it swallows its prey in one gulp, a moment I successfully caught on video
It was definitely a sight to behold as well as the most memorable and educational experience in the aquarium. After the show ended, the diver returned with an underwater microphone and answered questions the audience had about certain species in the tank. Although the audio was garbled due to the diver being underwater and breathing through an oxygen tank, he had a lot to say about any of the critters the kids or the show host pointed out. What sets this demonstration apart from others is not only that the diver speaks underwater, but also that he interacts with the audience and responds accordingly so that no two shows are the same. I would come back just for the chance to converse with the diver, and hopefully catch the other show earlier in the day that is different from the one I saw that afternoon.
A day ticket to the Mariho Aquarium costs ¥950 and lets customers exit and re-enter at any point in the day by simply flashing their ticket. However, a one-year pass is also available for only ¥1,800, which means it's possible to make one's money back by just the second visit. The species in the regular exhibit are rotated on a seasonal basis and there are special exhibits throughout the year that cost extra, but pass holders can view them for a reduced price. In addition, the one-year pass provides discounts for various shops, restaurants, and the nearby petting zoo for the entire period of validity, so the savings go beyond aquarium admission. What's more, if somebody happens to be on the fence about purchasing a one-year pass, they allow customers to first purchase a day ticket and think it over before deciding whether or not to upgrade to a one-year pass on the same day of purchase. After all that I experienced in just the regular exhibit alone, I rushed back to the admissions counter before closing to upgrade my ticket.
The End of a Seaside Day
As dusk rolled around and the sky went dark, I returned to Marine Circus to gaze upon the brightly lit Ferris wheel, constantly changing colors like magic. To top off my adventure at Marina Hop, I had dinner at one of the restaurants and scored myself a free drink thanks to my newfound Mariho Aquarium one-year pass. Visitors don't have to worry about staying too late as the #3 bus will keep running back downtown until almost 10:00 p.m.
The Marina Hop is an excellent destination for people in Hiroshima to take a vacation without ever leaving the city. It's one of a plethora of locales that justifies Hiroshima being one of the areas that should be visited every time people come to Japan. Despite having seen all the major parts of Hiroshima, I've got my favorites to which I'll regularly return, and in due time, so will you. As far as the Marina Hop goes, if my one-year pass doesn't bring me back soon, my inner child definitely will!