100 STORIES
Miyoshi: a culinary trip in the countrysid
Introduction: the beauty of Japan comes in so many forms
Defining beauty has been quite the topic of discussion for about three thousand years, from ancient philosophers to modern Kantian conceptions of beauty to more contemporary deconstructions of those very concepts. The bottom line is that beauty comes in many shapes: there is beauty in tradition but also in modernity; there is beauty in historical but also in contemporary events; beauty in diversity and in unity; there is even beauty in ugliness.
In any case, no matter what your specific feelings on beauty are, you might find what you are looking for in Japan. Living in Hiroshima, and having lived in Tokyo, I can assure you that Japan has a great sense of tradition, but also is an extremely modern country, whose diversity of thought and technological advancement provoke the awe of many. Japan has a fantastic history, which has been preserved in its ancient form, but also embedded in modern, even pop culture: take for example the Edo-period Ukyo-e, which fueled the very art of Manga.
So what's better to discover a fragment of Japan's beauty, than to explore all those aspects in one day? I will narrate an adventure I had through the historical and the new, though the traditional and the modern, the cultural and the diverse. Japan in its greatest light can be found in Miyoshi, an area not far from Hiroshima.
Britain in Hiroshima makes for a fantastic lunch
The first stop of the day will be lunch, which I was quite excited for after driving to Miyoshi from Hiroshima. The atypic name 'Café Mike and Shirley' gives away the kind of cuisine one might expect from this place.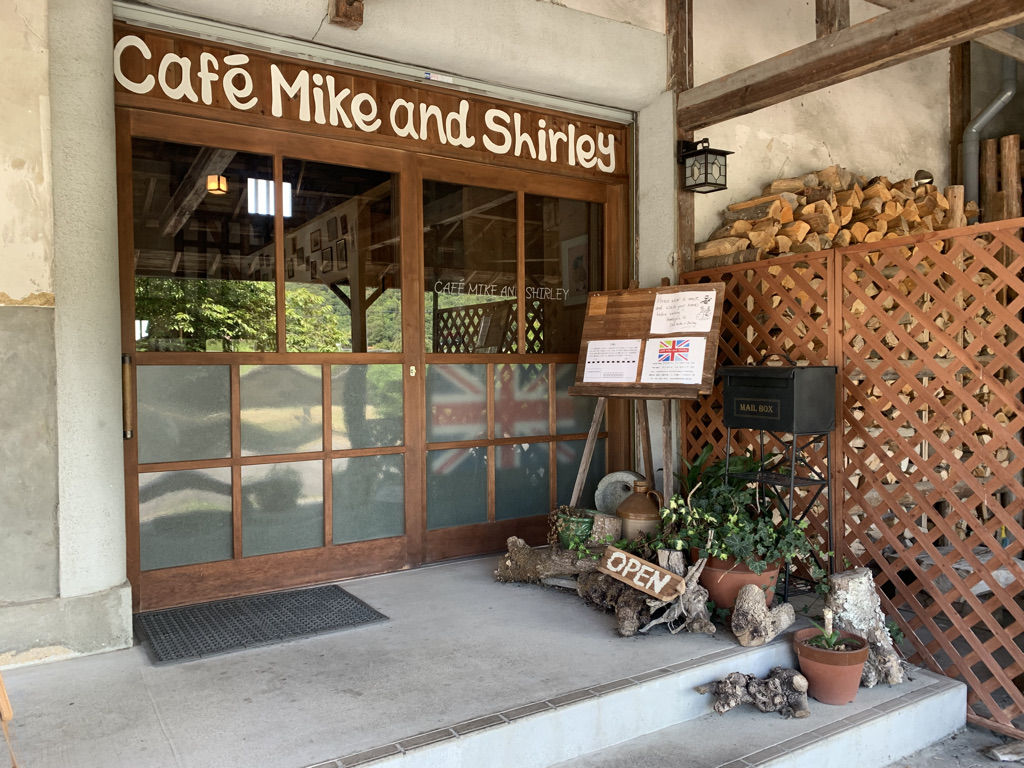 You guessed right: the Café Mike and Shirley is a fantastic British cuisine outlet that will delight you with tastes of the United Kingdom, right in the middle of the Hiroshima countryside. The inside does give out a British vibe, with posters of Harry Potter and paintings of Rolls Royce on the walls, small telephone cabins scattered around.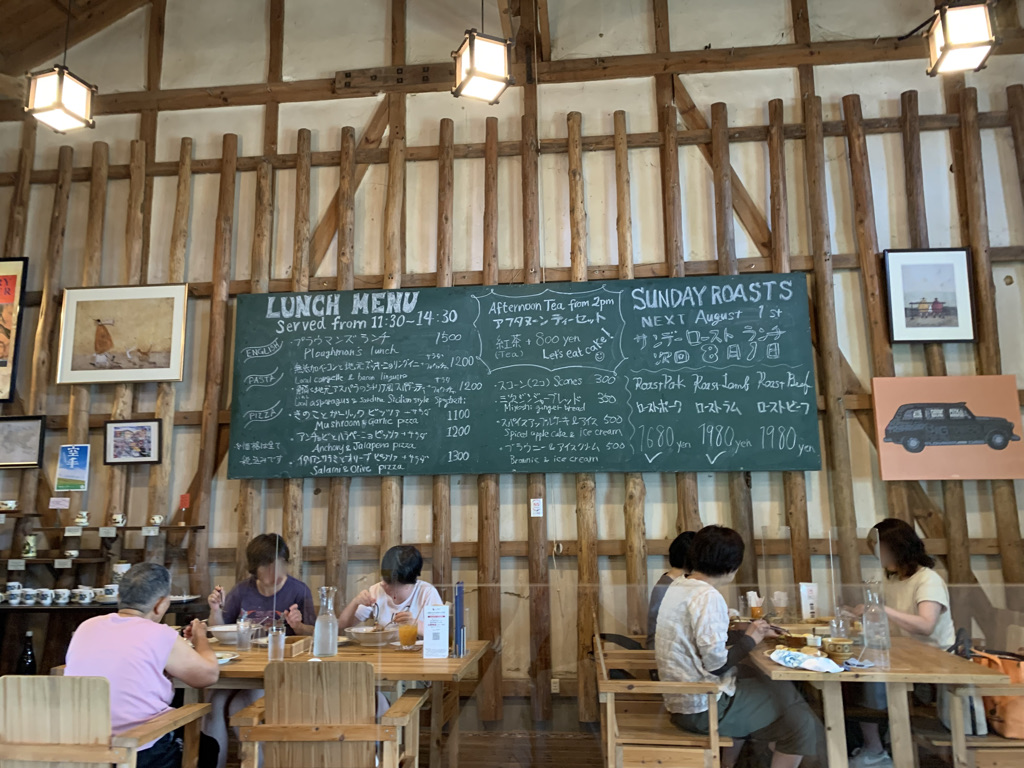 But the first thing you will notice when you enter the restaurant is the menu: a huge board on the wall displays today's lunch menu, in English (obviously) as well as in Japanese. The menu contains a mix of what you would expect in an English restaurant and things you could find in other places in Japan. 
I decided to go for the full British experience and to order the « ploughman's lunch », without any idea what that might be. It turned out to be quite exquisite, with bread and cheese, fried eggs with minced meat, ham, and plenty of other things which were meant to be spread on the bread. It was frankly delicious, I wasn't expecting to find such a place in the middle of Hiroshima Prefecture but it was a rather pleasant surprise.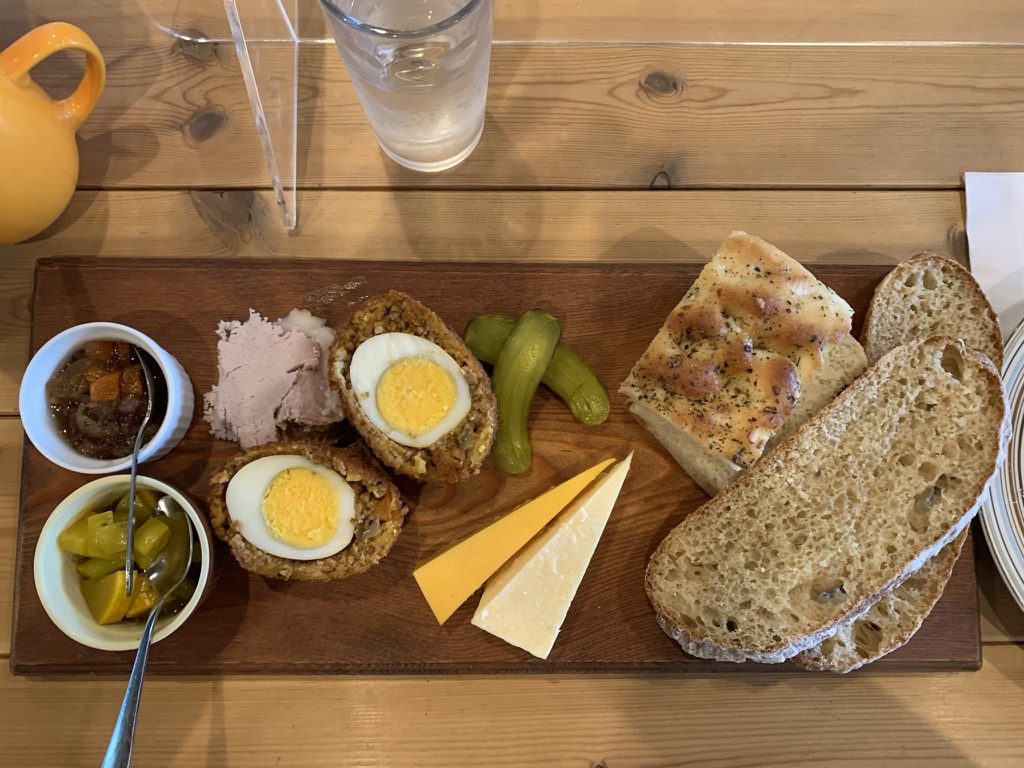 The food had a very European taste which is hard to reproduce in Japan, whilst still being adapted to the Japanese public: the result was a fantastic lunch that also, as a bonus, happened to be extremely filling. I needed that especially because the rest of the day was going to be active. I also got to have a chat with the owner and cook, who is, as you might expect, British. She is a lovely person whose passion for her work is doubtlessly tangible to anyone around her, and it was a pleasure getting to have lunch at her place.
I then went forth to the rest of the day.
Pair a good lunch with some good wine
On the way out, having had such a great lunch, I felt like cooking myself once back home. And everyone knows a good dinner should always be accompanied by some good wine. What's the point of dinner if not paired with wine? Quite conveniently, Miyoshi is also known for its vineyards. Not far from where I was, there is a famous winery, which means an opportunity to buy locally produced, and also delicious wine.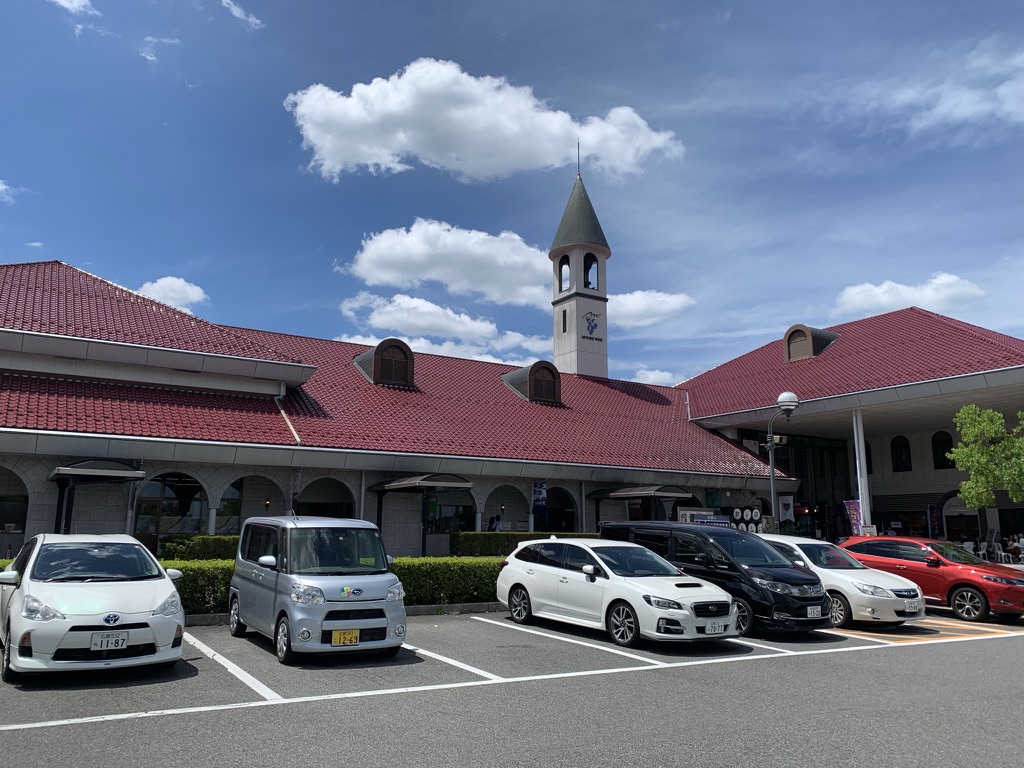 The wine store itself is called Miyoshi Wine, but it doubles as a grocery store, a café, and occasionally a barbecue.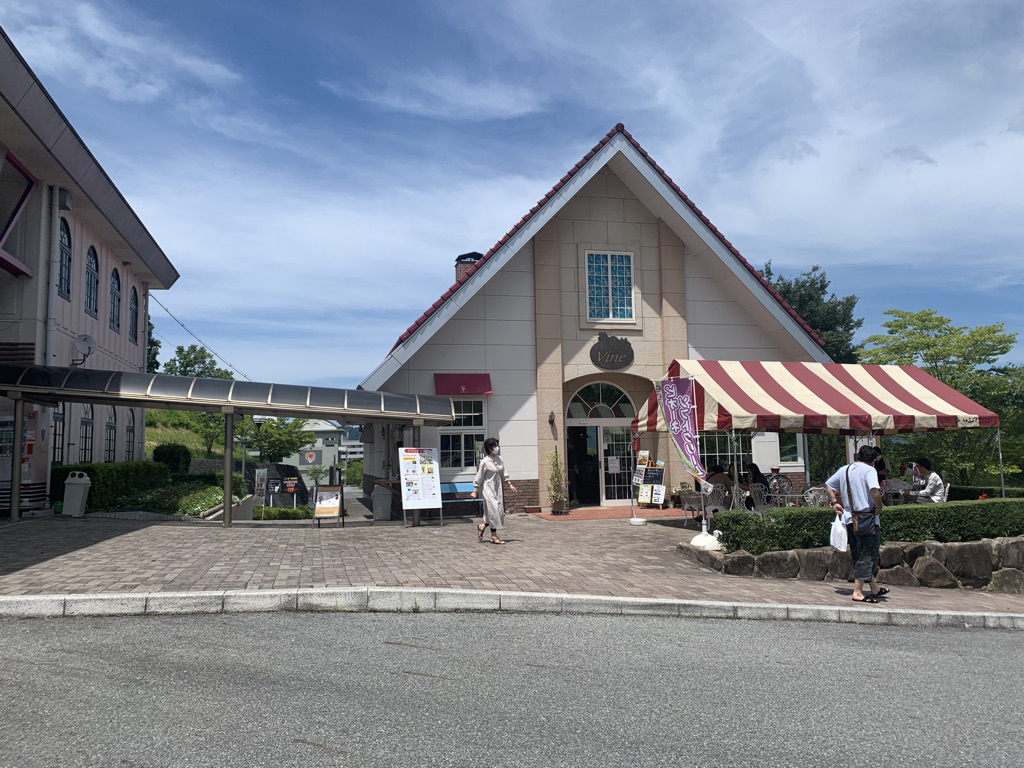 There is a large variety of wine available, made of a diverse array of grapes. The ones displayed in the main part of the store are the most 'common' bottles, whilst the temperature-controlled cave in the back preserves some of the pricier products.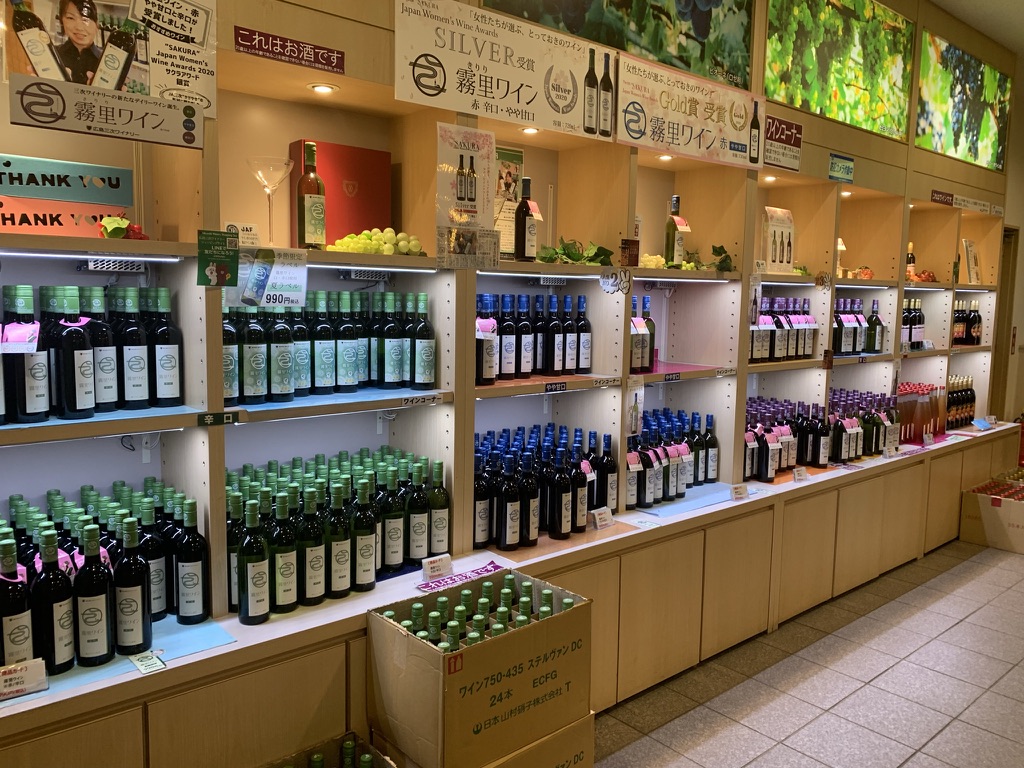 Consequently, anyone can find his guilty pleasure in Miyoshi Wine, no matter the budget. If you are eager to try before you buy, there is even a possibility to taste a cup for free. If on the way back from lunch you start planning for dinner as I was doing, you will enjoy the variety of products displayed in Miyoshi Wine, as it allows for grocery shopping at the same time. 
If you are not really feeling like shopping and simply want to have a drink, that is also possible at the café incorporated into the Miyoshi Wine complex. You might even not have had lunch at this point, in which case you might be interested in the barbecue garden event, during which you can enjoy a nice barbecue with gorgeous wine in the wide space behind the shop.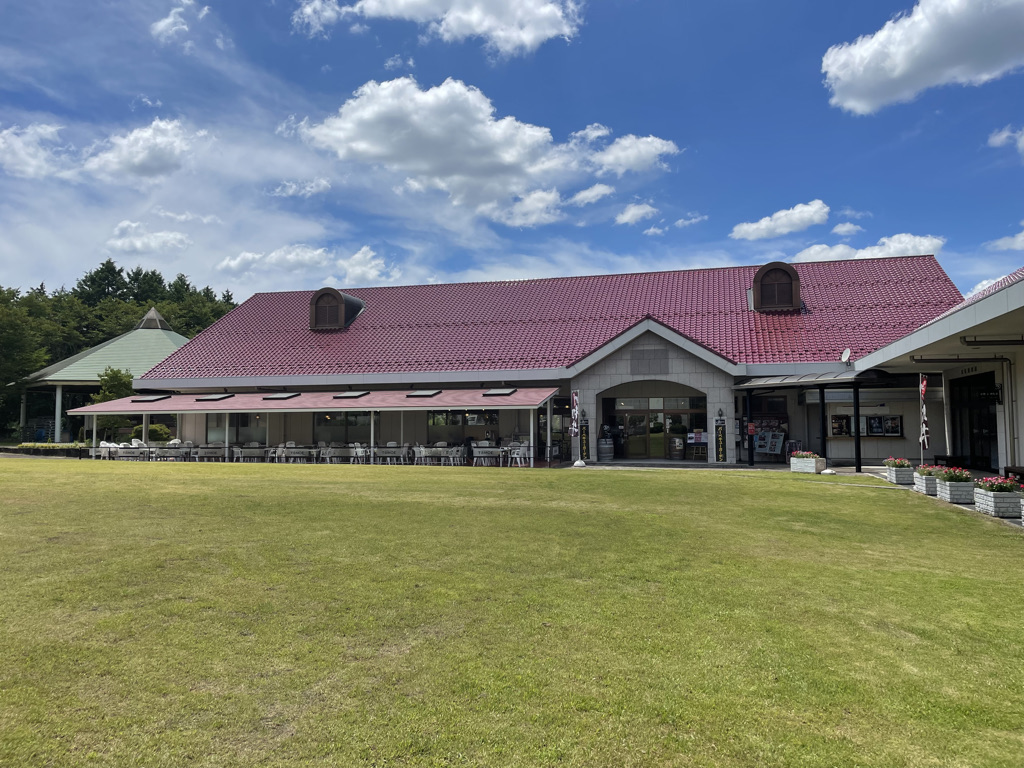 Everything was prepared to turn a fun wine shopping trip into an actual resort with multiple activities. This is truly the kind of place you don't want to miss on your way around Miyoshi!
And a spooky stop to wrap it up

Miyoshi is also well known for another spot that will be most attractive to people who, as I do, take interest in Japanese folklore and more broadly speaking Japanese culture. The Miyoshi Mononoke museum (or Miyoshi Yôkai museum) features a large collection of works from the last two centuries retracing the history of Yôkai.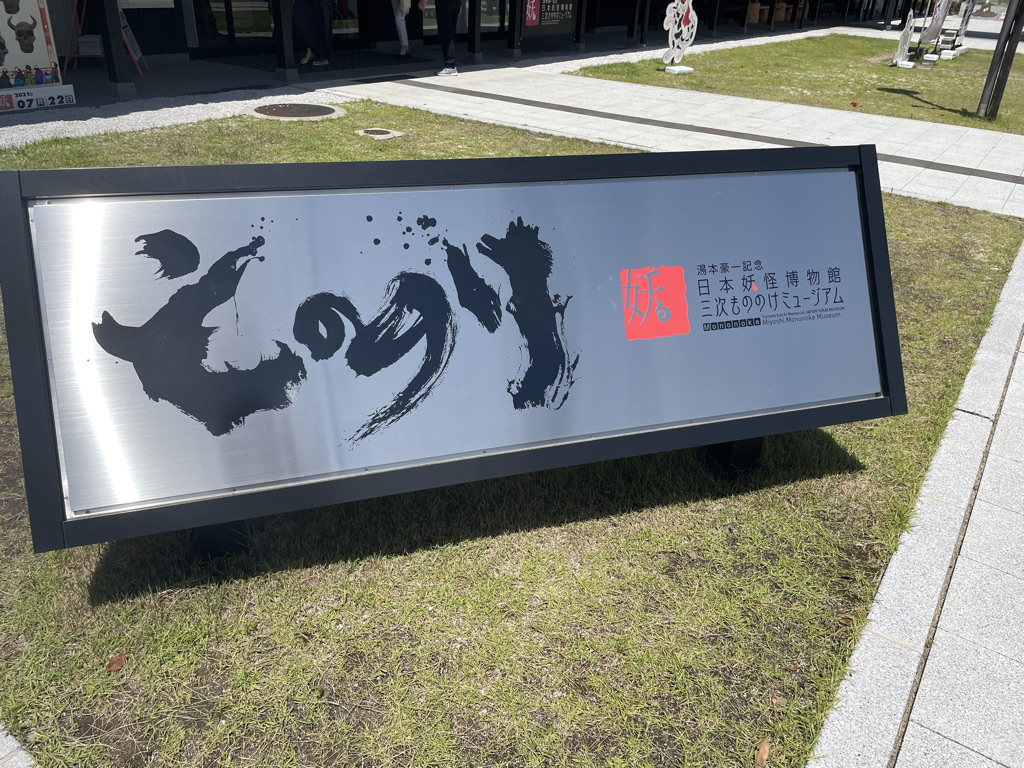 For those of you not quite familiar with the concept of Yôkai, a bit of context would be helpful. Since ancient times, Japanese history is full of records of monsters, demons, spirits, and fantastic animals; mythology and history were often entangled, explaining each other. Amongst those supernatural creatures, some categories could be drawn from the start: Oni, Tengu, Yûrei, Bakemono…
The term Yôkai was coined during the nineteenth century, and has stayed ever since, to become widely used in Japan and abroad by those familiar with Japanese pop culture. The word transcends several classes of supernatural Japanese creatures to describe every fantastic animal or beast that was created by Japanese people over the centuries to explain incomprehensible phenomena or natural dangers. One known example is the Kappa, a sort of half-human half-turtle amphibious creature that supposedly attacks humans near water.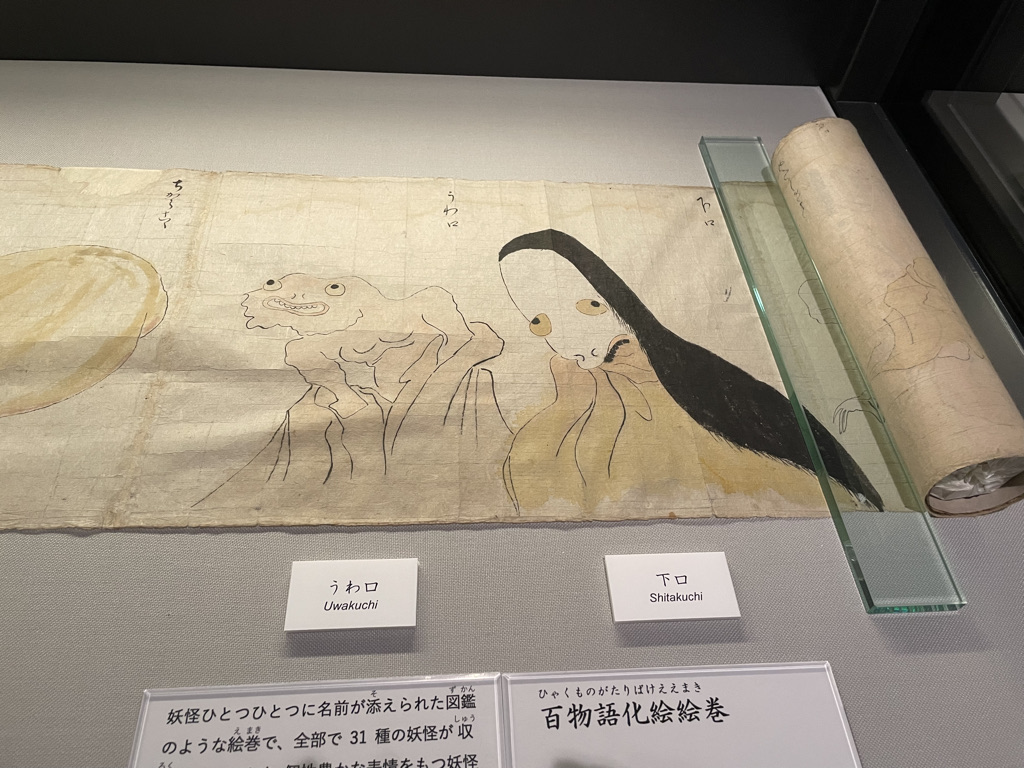 Quite a broad subject as you can imagine, and the Mononoke museum doesn't disappoint: it contains a lot of very interesting stuff, and I definitely spent a lot of time reading every explanatory sign. The museum displays both ancient sources from the nineteenth century (or even further back in time) and modern reinterpretations of Yôkai. One area for instance is filled with stamps, clothes, magasine covers and other consumer goods depicting Yôkai and mythological heroes, thus delving into the popularity of those fantastical creatures.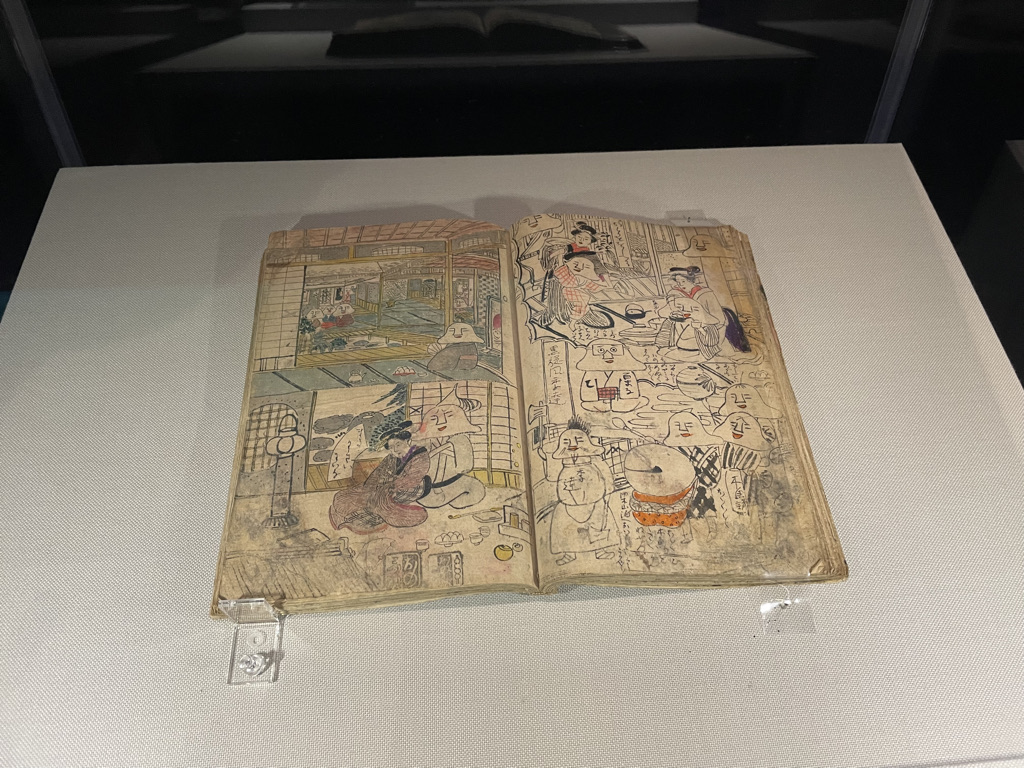 Another section introduces visitors to fake Yôkai, that is to say animal remains of skeletons that were modified to look like remains of a supernatural creatures: horns added to a skull, wings added to a rat, and all sorts of fakes were made throughout the centuries to convince other people that such creatures existed.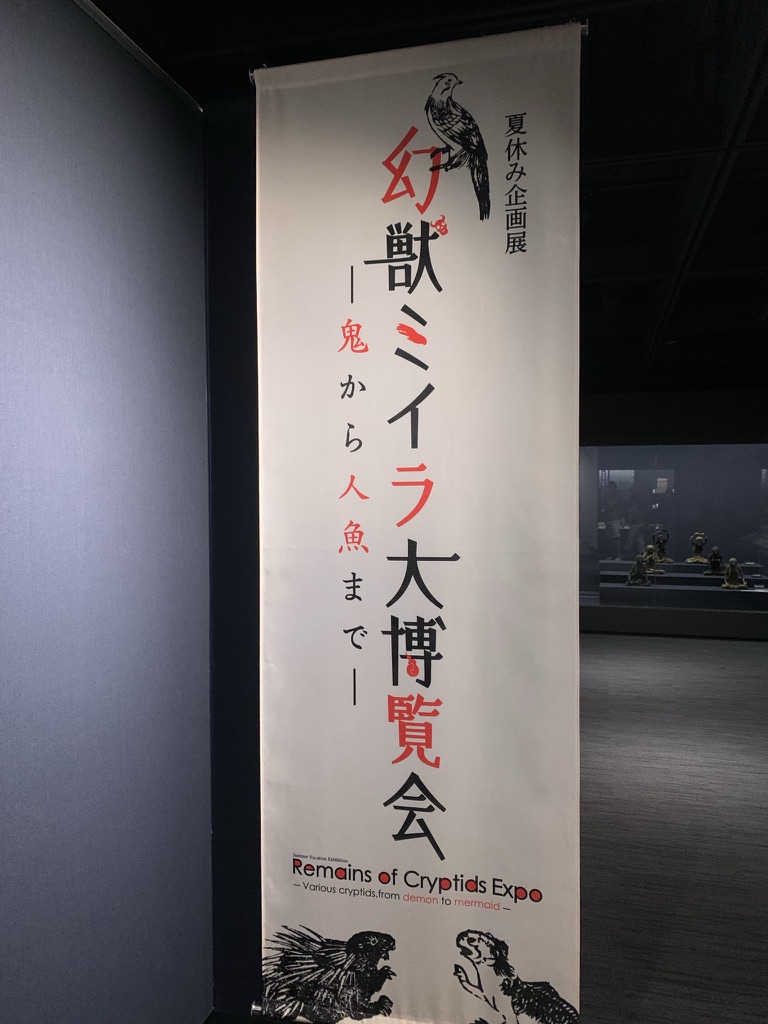 Beyond all those exposed attractions, the museum features a fun activity (especially if you have children!): a 'Team Lab' facility where visitors can colour a Yôkai on a piece of paper (the outline being pre-drawn) and then scan it. Once scanned, the drawing comes to life on the big screen and people can interact with them! This is quite fun if you go with friends or children because it gives a nice opportunity to compare each other's colouring skills. In my case, I can without a doubt affirm art is not my strong suit. Yet even badly coloured Yôkai look fun on a screen, and they even react when touched.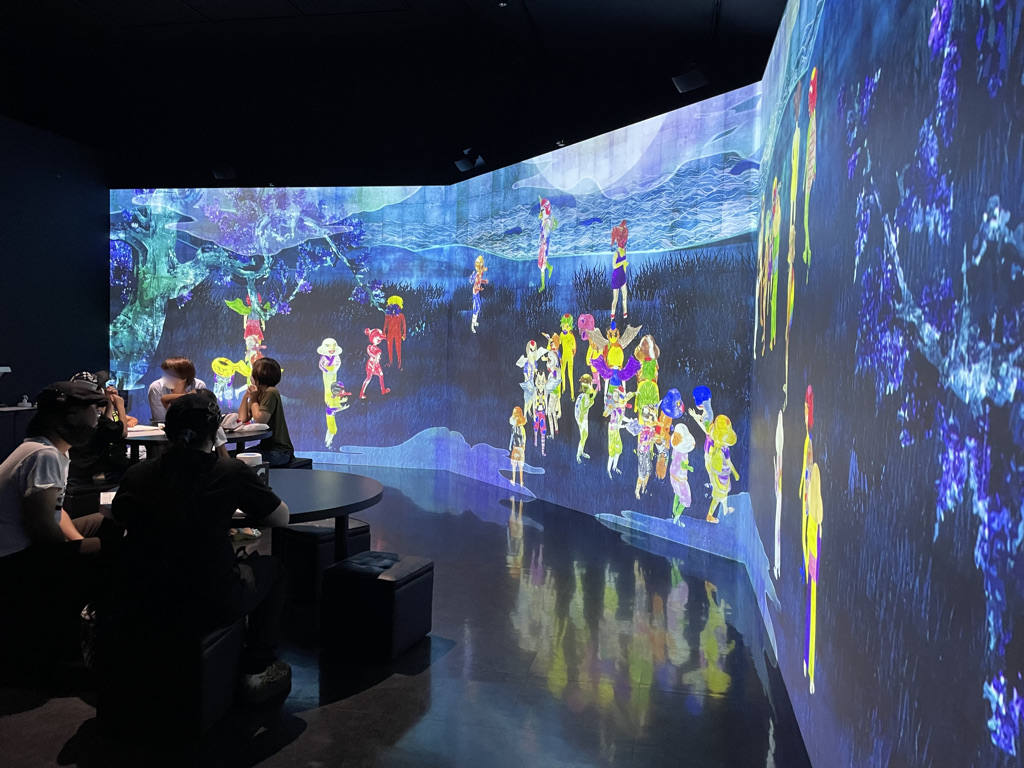 All in all, the Mononoke museum is a very interesting and fun activity, that allows you to have a glimpse of Japan's fantastically rich culture, through the popular yet fascinating lens of mythical creatures. After such cultural prowess, maybe it is time to go back to simpler pleasures and to go back to our culinary trip.
And to ease up the mind, a bit of sweetness
To go back to simpler topics, let us talk a little bit more about the delicacies one can find in Miyoshi. Amongst the many local products, this is clearly my favourite: honey. I visited only one local producer but there are many in this area, and this is frankly one of the best honeys I have tasted (topped only by the pots my grandmother used to make when I was a child). The place I visited was called Beemonte, and featured quite a wide array of honeys made in Hiroshima.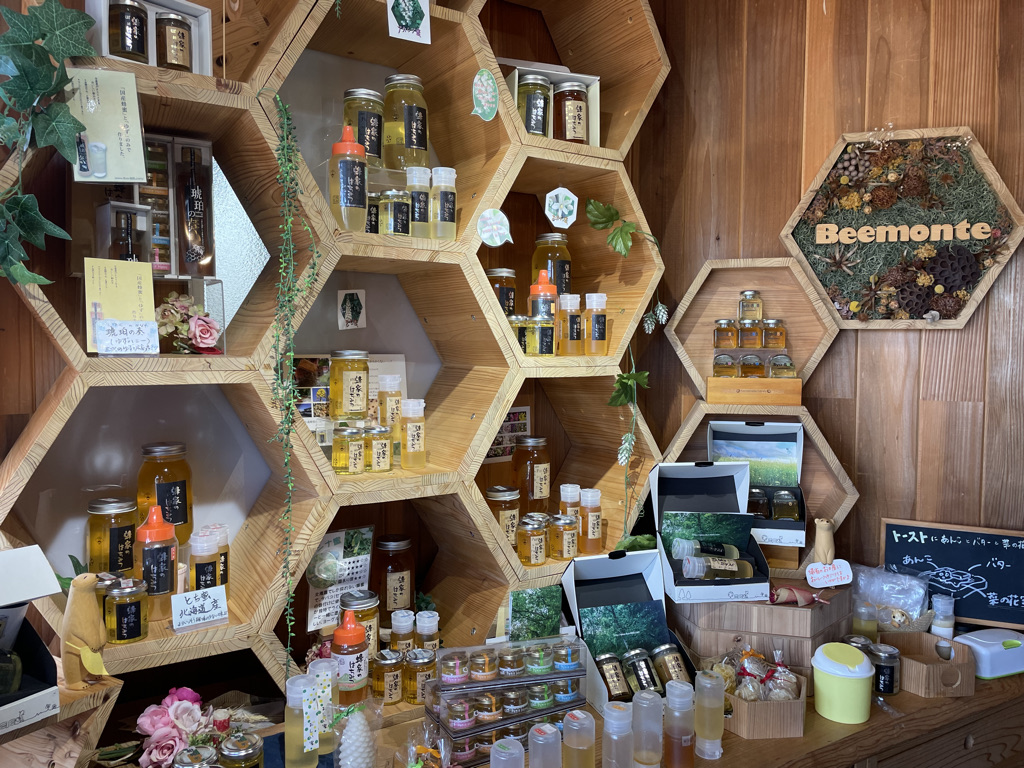 The tenant was really pleasant to talk to and had me try each honey before I made a decision. I ended up buying a few, my preference being one specific bottle that had a hint of mint in it. If you are as unsure as I was, it is possible to buy an assortment of small pots, and if you truly don't want to make a decision, there is even a vending machine outside that will give you a random pot of honey for 250 yen ($2). An actual delicacy that goes extremely well with dairy products or French toast, depending on your liking.
Speaking of which, dairy products also happen to be one of Miyoshi's speciality, with a few tasty yet affordable cheese shops that will complete your grocery shopping for tonight's dinner. There are a few local producers, but my personal selection is a farm called Mirasaka Fromage, which offers a small outlet where people can buy cheese, milk, and even ice cream.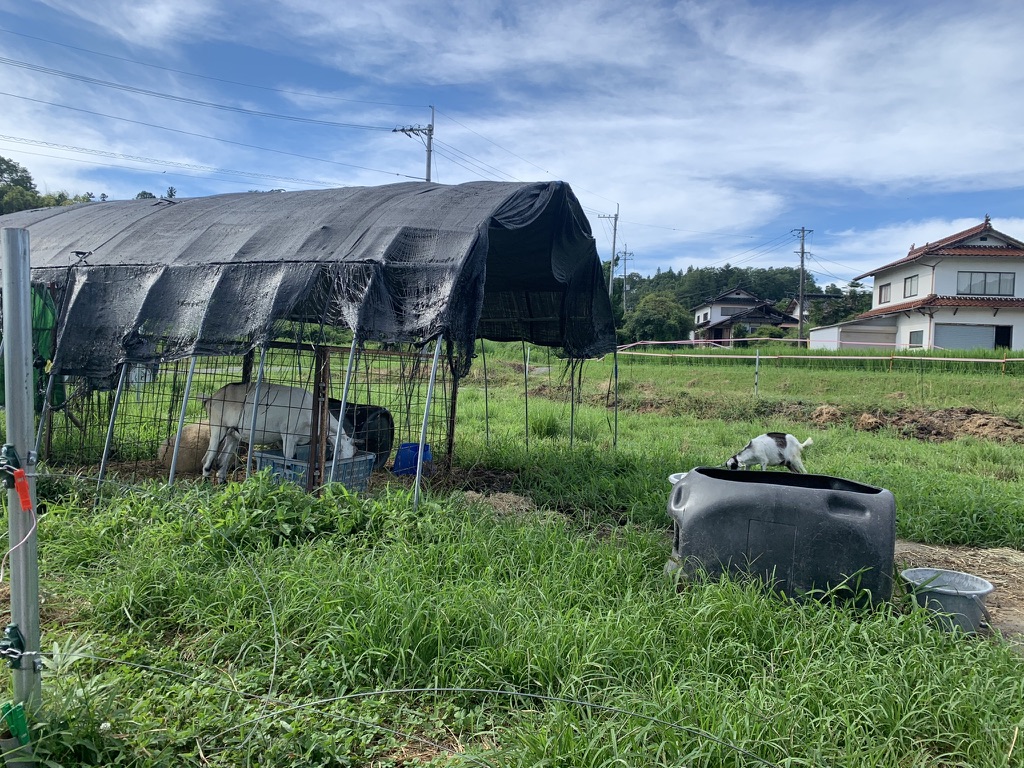 Some goats and cows are also kept nearby, so it's a great place to take children and have an ice cream, which is always a great break after a long car ride. It is also a nice opportunity to buy some very good cheese that will go fantastically well with the Miyoshi wine bought earlier!
Conclusion: All that is beautiful
Miyoshi is a great place to have a one-day trip during your stay at Hiroshima, because it contains every aspect of beauty you can expect from countryside Japan: diversity, culture, and delicious, locally produced food. You can start the day with a British lunch and end it with Japanese demons and french-style wine and cheese. The trip is most definitely worth it, Miyoshi being about an hour away from central Hiroshima by car, it is easily accessible and is filled with a ton of activity, only the surface of which I covered in this article.