100 STORIES
UBIQUITOUS OYSTER FARMS – Walking the Wooden Planks of Hiroshima's Japan Leading Industry
Hiroshima is famous for many things. It's recently been topping the list for most outside of Japan, even for many within, but it's famous for many products as well. Mazda's car company is headquartered here. Hiroshima-style okonomiyaki (a special dish sometimes described as a pancake because of the batter, and other times as pizza because of the toppings, but entirely Hiroshima's own unique taste), cosmetic and calligraphy brushes (written about elsewhere), the little, many-flavored momiji manju (maple leaf cakes), and even citrus, especially lemons.
   The production king of Hiroshima, though, the one that makes even my acquaintances in Tokyo and other areas perk up at the mention, is the ubiquitous oyster. I'll admit I am using ubiquitous here partially playfully for the way it sounds when paired with oyster, but also consider the dictionary definition of the word: "appearing or found everywhere, constantly encountered, widespread, omnipresent". Go anywhere near water around most of the Seto Inland Sea near Hiroshima, and the islands that are Hiroshima, and you'll see wooden planks, raft after raft, floating offshore. Everywhere. More so, go to a restaurant serving Japanese dishes. It's nearly certain that some dish will include oysters. And if you go farther afield in Japan but request oysters in a restaurant, there is a better than even chance that it comes from Hiroshima. Ubiquitous.
            This preamble is to tell you of a unique and delightful little excursion you can make while here in Hiroshima, that combines oysters, Miyajima and the open sea. I found it to be a wonderful morning I'd happily repeat. You can actually get a tour of one of Hiroshima's oyster farms, riding a boat out to the wooden rafts (which are actually thousands of oysters being raised), seeing some of the oysters while learning about them, and then continue on in the small, low craft, out across the way to Miyajima and its famous torii (gate). The boat will get fairly close and also provide good photo angles of the beautiful Itsukushima Shrine behind before taking you back. If oysters are your thing, there is also the Oyster Hut restaurant on premises with various dishes and even an all-you-can-eat option. However, let's not get ahead of ourselves. First let's arrange a tour.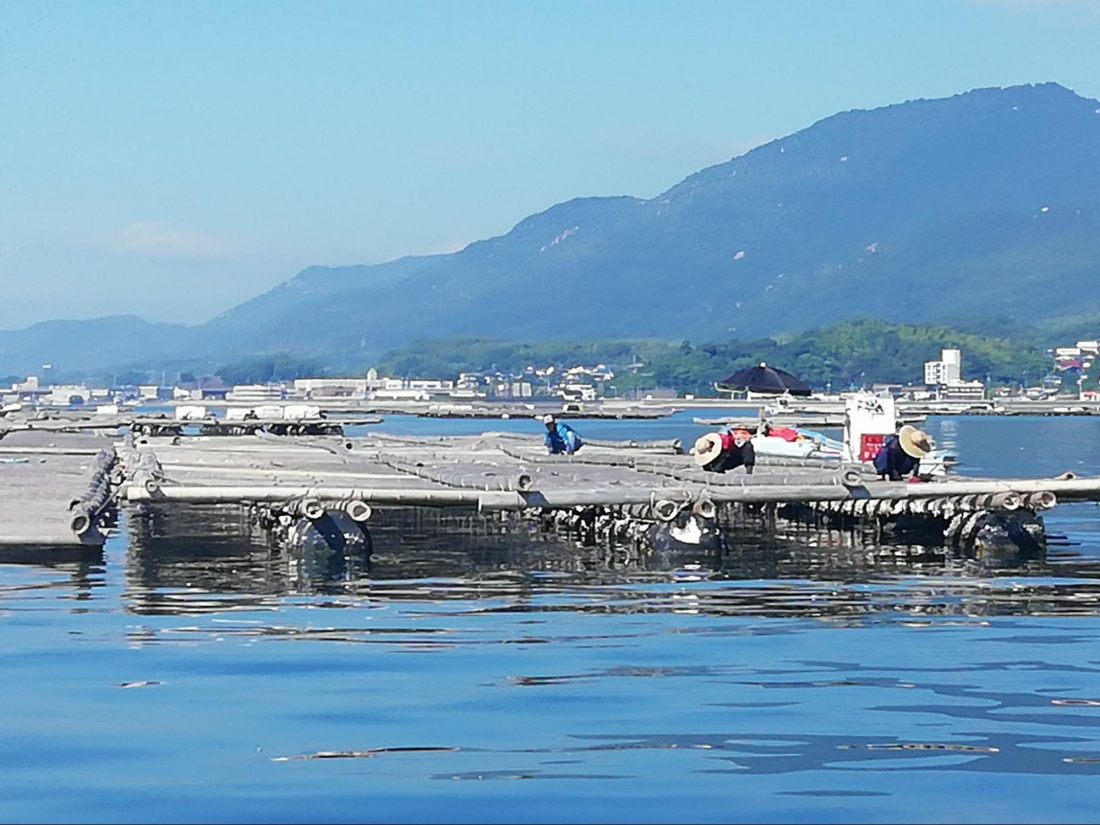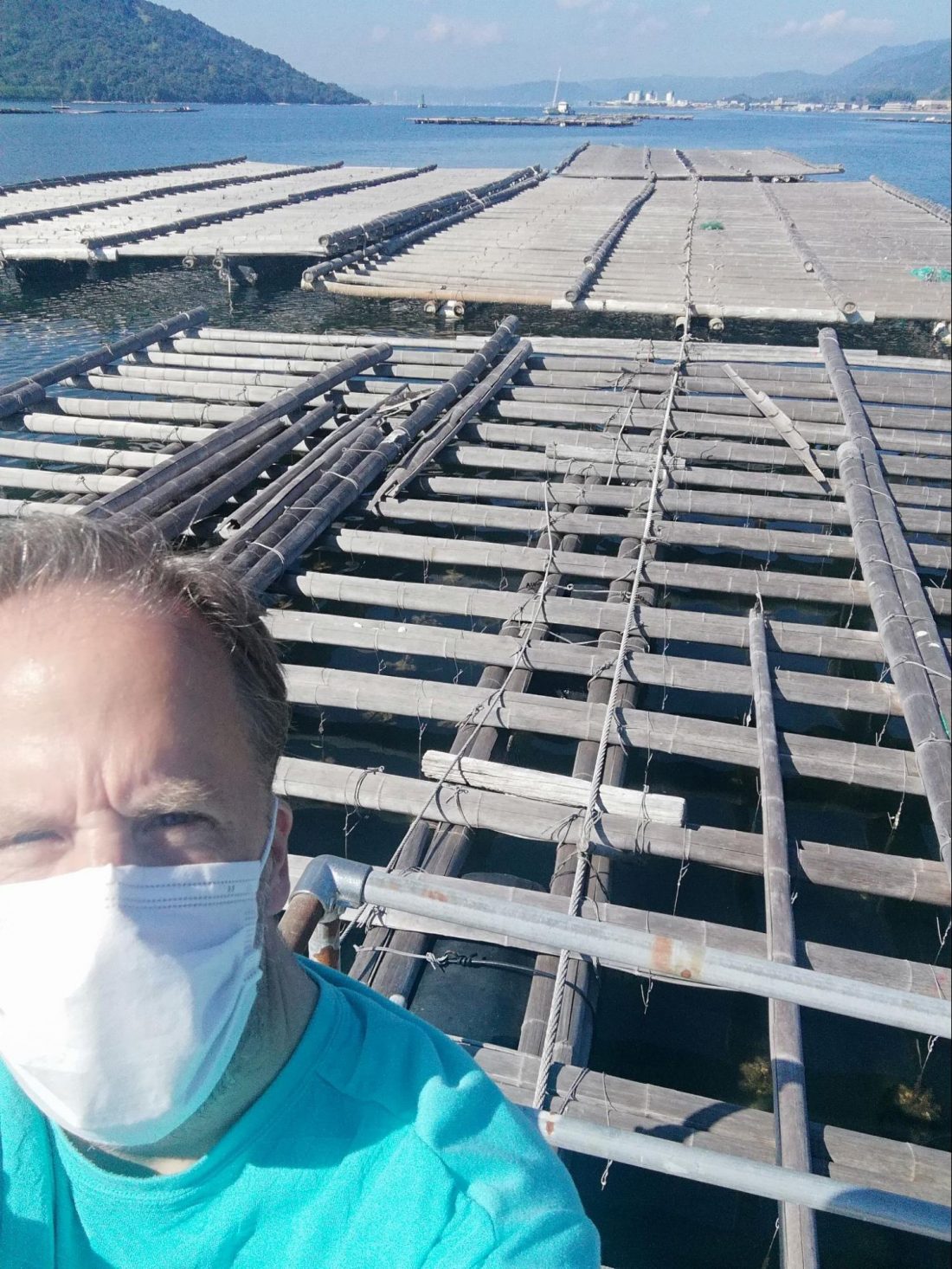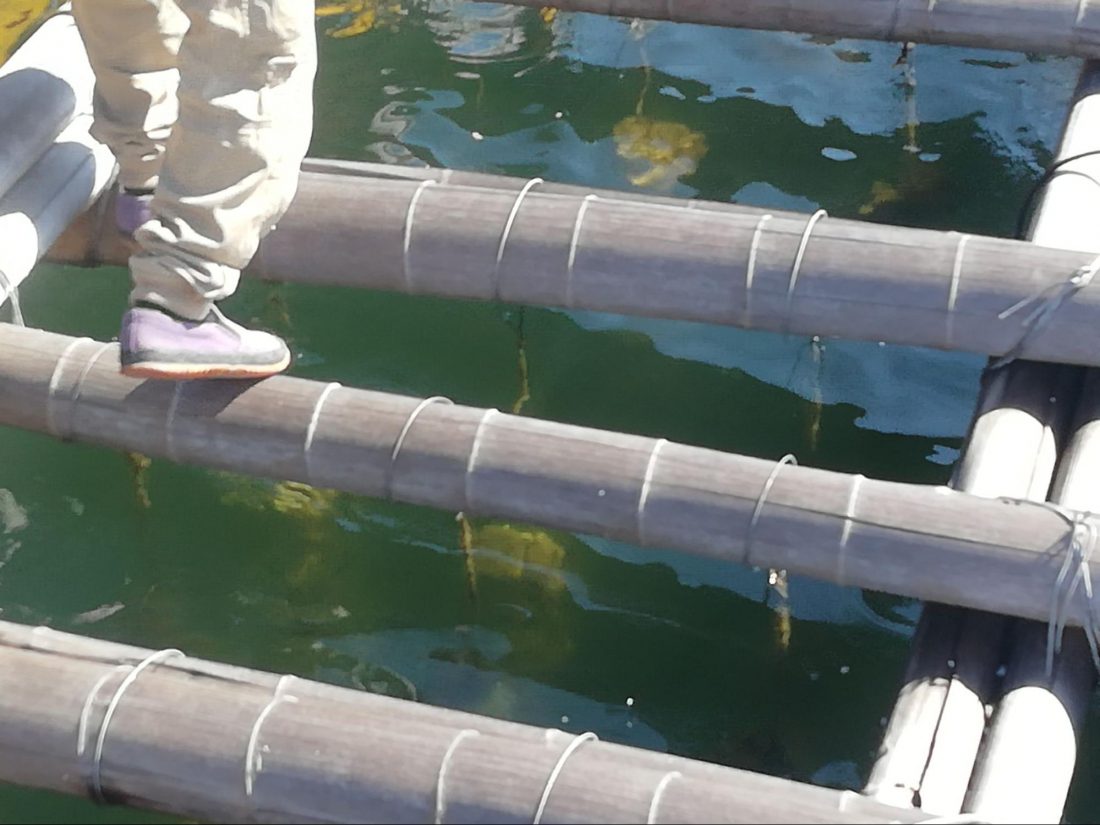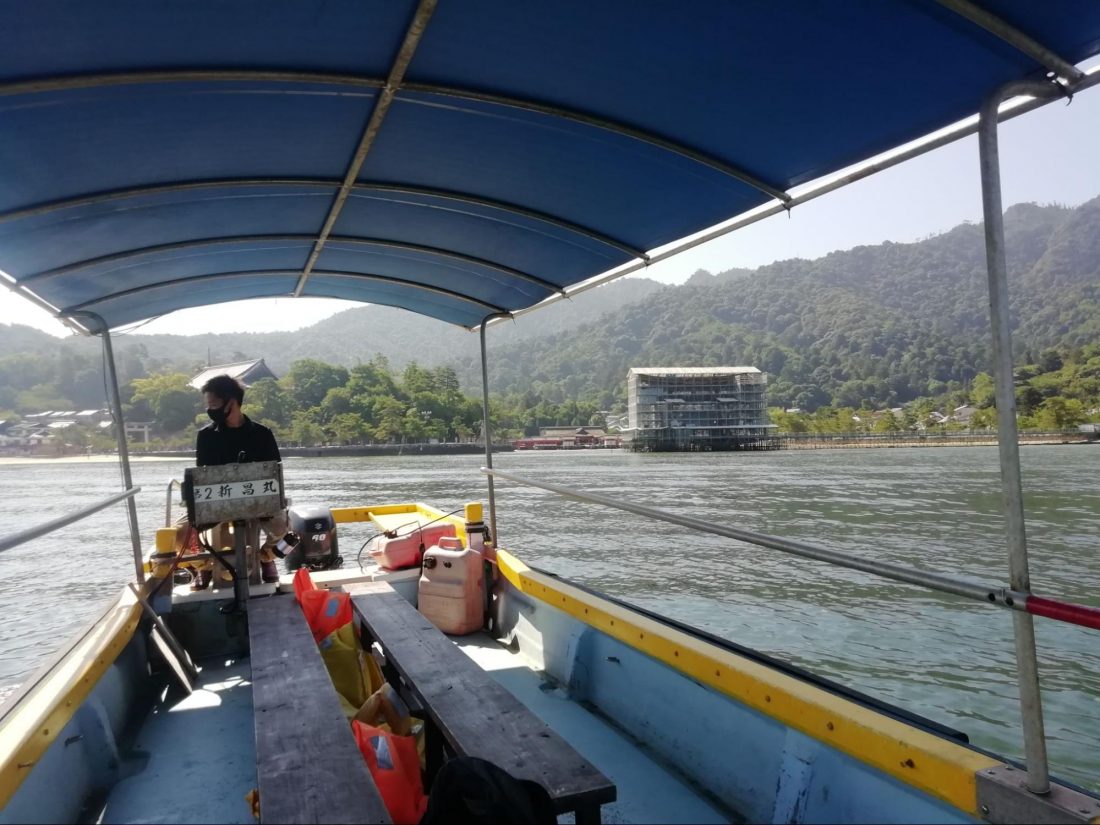 SHIMADA SUISAN TOURS
  I first discovered the possibility of such an experience when researching possible cruises in the Hiroshima area. At a travel/tour agency site I found the "oyster experience." I was intrigued so I looked into it. Of the several things I discovered, while several different companies offered nearly identical experiences, the actual Oyster Farm/Facility had its own website page, in English, describing the tour, though that site has not been updated in years. So I first thought of trying through the tour agency.
            I ran into a few roadblocks, which I freely admit are at least partially based on my personal idiosyncrasies. The first website I looked at offered the tour for 2,200 yen but insisted on a prepaid credit card payment to make the booking. I have lived in Japan a long time and have used the cash-heavy basis of this society to break myself of credit cards; I have none in my name. I tried contacting the site for a work-around, but the site is not even based in Japan, so they just said "sorry for the inconvenience." The second site raised the price to 2891. The third site listed the price as $25 American, but the booking calendar began in October (more on that below). Finally, one more site listed for 2750 and said it must be a minimum of two people. With all that, I resorted to direct calling the Oyster Farm and they were more than accommodating.
            If you don't have any Japanese skills or access to anyone who can call on your behalf, and/or if you do not mind paying by credit card, I'll include the first site at the end of this story. However, if you can also call or have someone call directly as I did, the service was fantastic. First of all, they were flexible on the time. Online sites describe a 7 a.m. departure, meaning if you are coming from Hiroshima city center, you need to be on your way by 6 a.m. When I called, I said "the morning" and was offered either 9 a.m. or 11 a.m. options.  Secondly, they just seemed happy to have heard from me, and when I arrived that day, that continued to seem the case.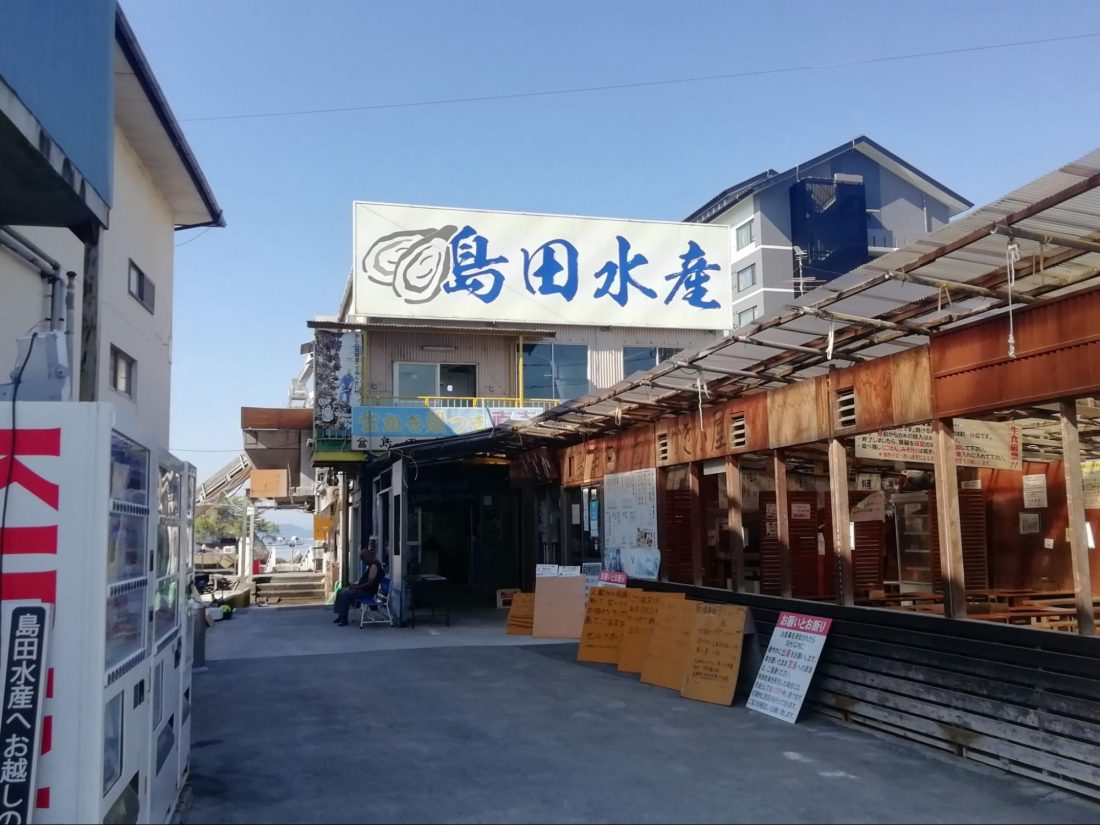 ARRIVING AND SETTING OFF
  Shimada Oyster Farm's headquarters is about a 10 minute walk from Miyajima-guchi Station, the ferry access point to Miyajima. Thus, you could easily combine this oyster tour with your visit to Miyajima, making it a preview or warm-up. It was not too hard to find. Between the station and ferry point there is one larger, busy road. Turn right on this road from the station, and just walk straight. You'll have noisy traffic next to you, and possibly be wanting to check GPS to be sure you're going the right way, but you are fine. For me, in less than 10 minutes I was there.
            To be honest, I didn't know I was there. I was somehow expecting a much bigger location. I saw a signboard for Shimada Oysters, and a map that seemed to be pointing me around a corner that didn't exist. There was also a wooden hut/shack/structure that said Shimada Oysters. Not sure whether to believe the signboard or just approach the structure that didn't seem like too much of a business, someone popped out of the seemingly one-room office and asked "Are you John? You're early." Sure enough, I had walked fast and was a full 10 minutes before the agreed upon time.
            Without a worry, it was "Shall we set off?" and I was immediately led behind the structure to the boat. I learned later that yes, the structure is simple, wooden and old, but that is because, which makes perfect sense, 90% of the work is out on the water. A simple office more than suffices for their needs. The ramshackle appearance of it is increased by the open-on-three-sides wooden awning patio, which is "The Oyster Hut", a restaurant connected to the Oyster Farm. They have a second sheltered outdoor area next to the water, as well, allowing them to host many customers at once if they get the chance. You can have a lunch added to your tour with them, if you desire, with multiple oyster dish options including an all-you-can-eat, as well as other menu items.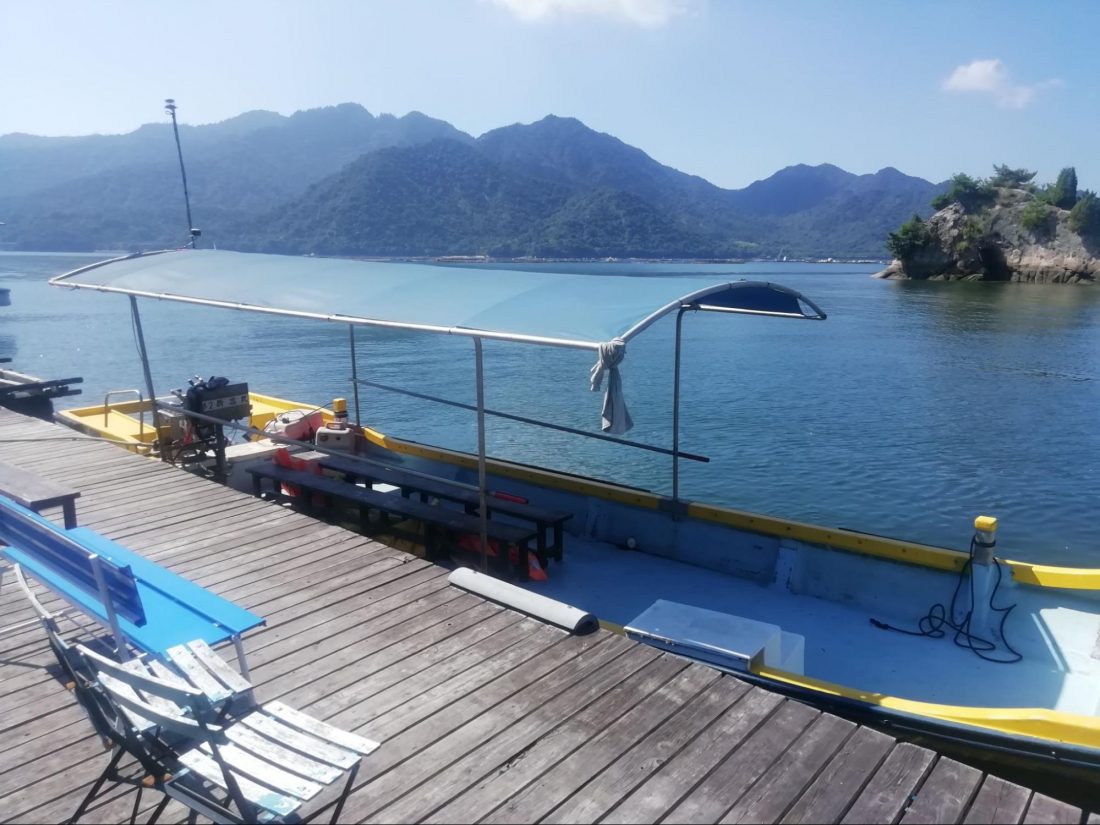 For me, though, it was all about the tour. So we went straight to the boat. The itinerary on the website for the travel agency mentioned a "safety lecture" before departure. For me, at least, the extent of it was "Do you need a lifejacket?" I didn't. So we were underway. It was a glorious summer morning when I went, and it was incredible being on the boat. Unlike riding the ferry to Miyajima, this was barely more than a skiff; just a flat, long boat with bench seating to hold perhaps 10 or so people, and a little space up front in the forecastle. Being completely open, the breeze quickly knocked away all heat, and I could have just ridden on the boat all morning. The guide and I quickly started talking about the joy of working out on the water daily, but he did remind me that much of his work is done on the wooden platforms which can get quite hot, though there still is a constant breeze. For the most part, he agreed it is a wonderful experience.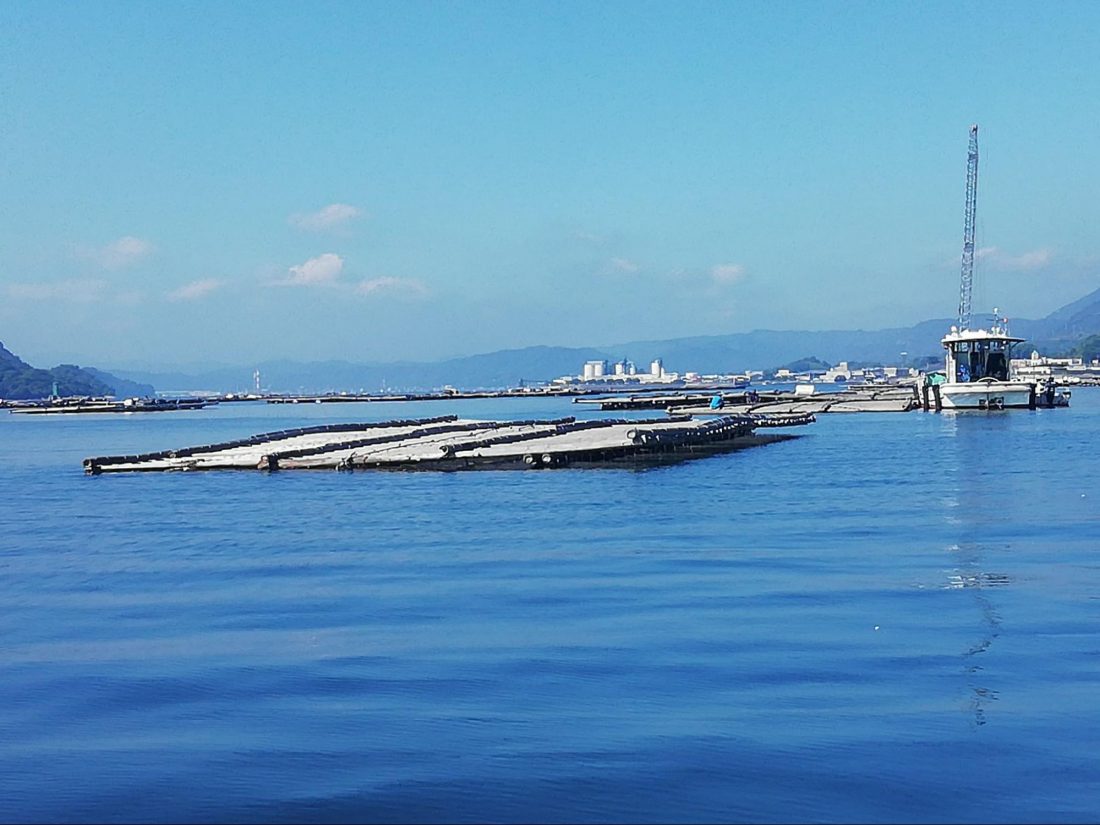 THE WOODEN PLATFORMS AND BECOMING AN EXPERT ON PRODUCTION
We arrived at one of the platforms. I have no idea how or why that one was chosen, they seemed all the same to me. It might have been random selection. However, it was still a thrill to be able to actually walk out one of these ubiquitous platforms that I had been observing for years. There is a narrow, protected center walkway, so fear not for your balance or ability. My guide, however, was hop-stepping across the actual beams of the platform like a squirrel. I secretly wanted to try it, but was afraid to ask, and assumed rejection on protocol anyway.
            He began to haul up one of the oyster lines and tell me a bit about the production. I now fancy myself a semi-expert, so I'll pass along some of the tidbits I learned. In truth, many of the facts he threw my way quite shocked me. I knew in advance from internet research that Hiroshima alone is responsible for 60% of Japan's oysters. If you're in Tokyo eating an oyster, it is probably from here. What I didn't have any way of realizing, however, was just how extensive that production was.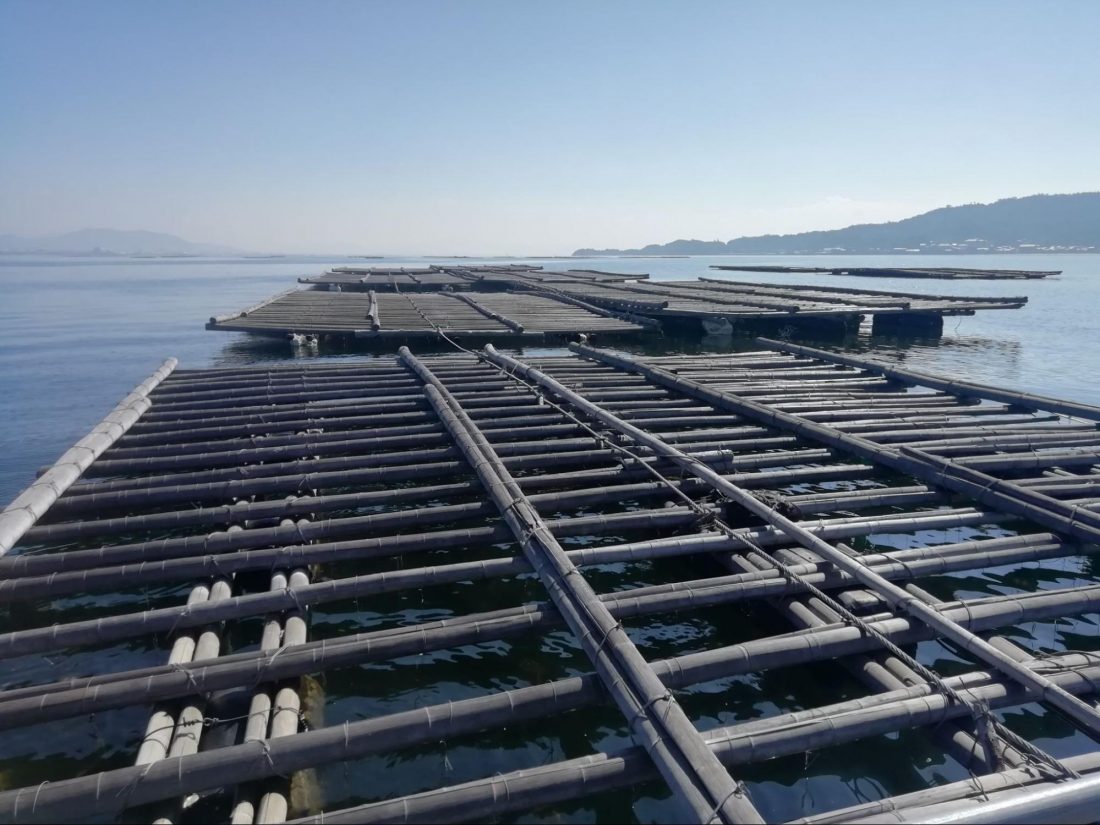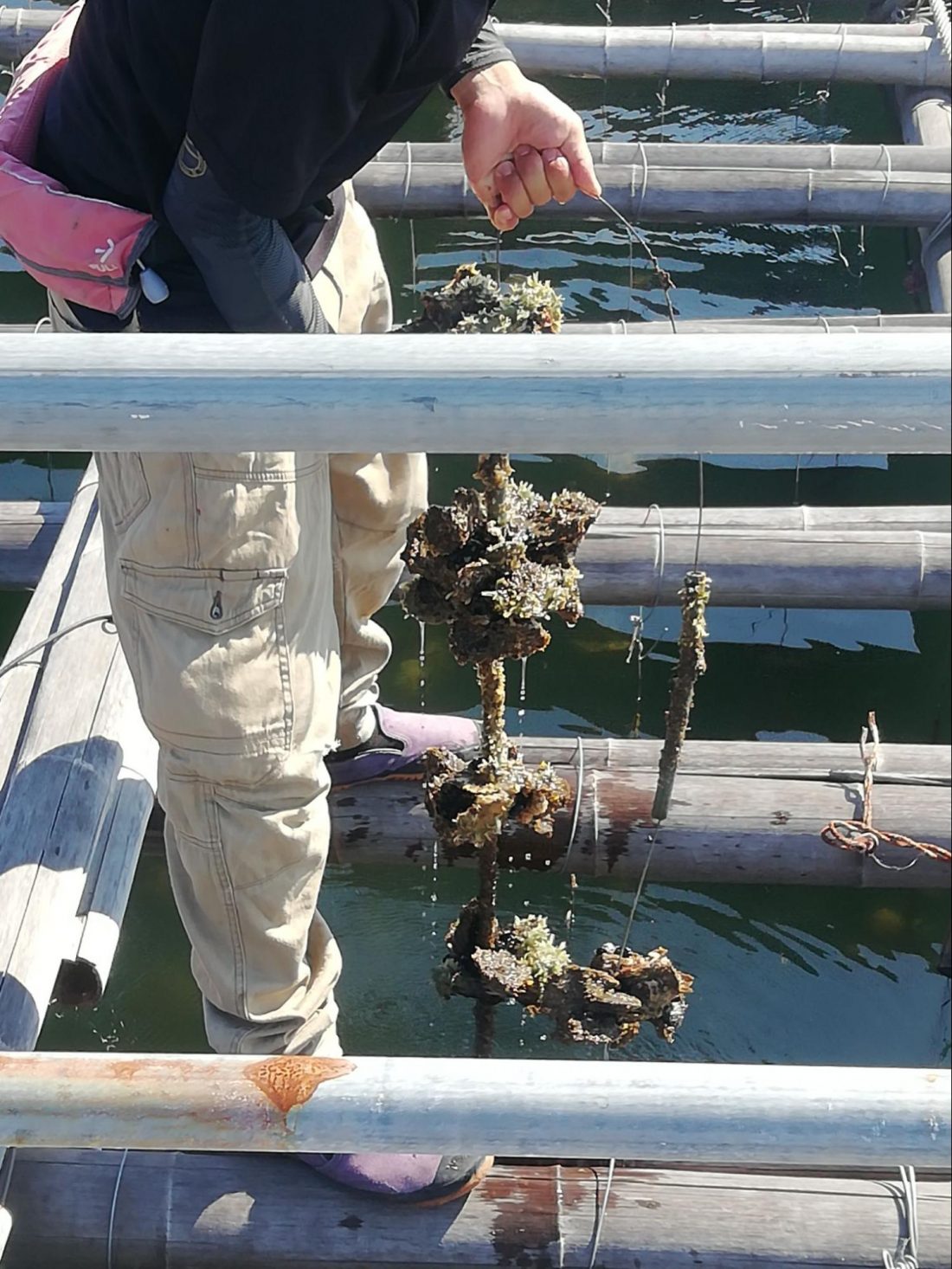 (Insert Video — Oysters 1 — Here)
One wooden platform like I was (and you will be) standing on has on average about 400 lines of oysters hanging down. I was stunned to learn that the oysters are attached by hand. What a job that must be, because each line is 10 meters long, and holds between 300 and 500 oysters! How good at math are you? Unless my understanding was off or my calculator broken, that means 160,000 oysters on ONE platform, such as I was standing on! I then asked how many platforms Shimada operates, and learned it was around 100. So Shimada Oyster Farm alone has 1.6 million oysters growing at this time! But wait, that's still not the mind-blowing part. My guide told me that while Shimada has 100, around the Hiroshima area with all the small islands that also have offshore oyster platforms, there are an estimated 18,000 platforms raising oysters right now… My smart phone calculator laughingly actually gave me an error message trying to handle that one. I had to wait till I was home to get the total of 2.9 billion oysters!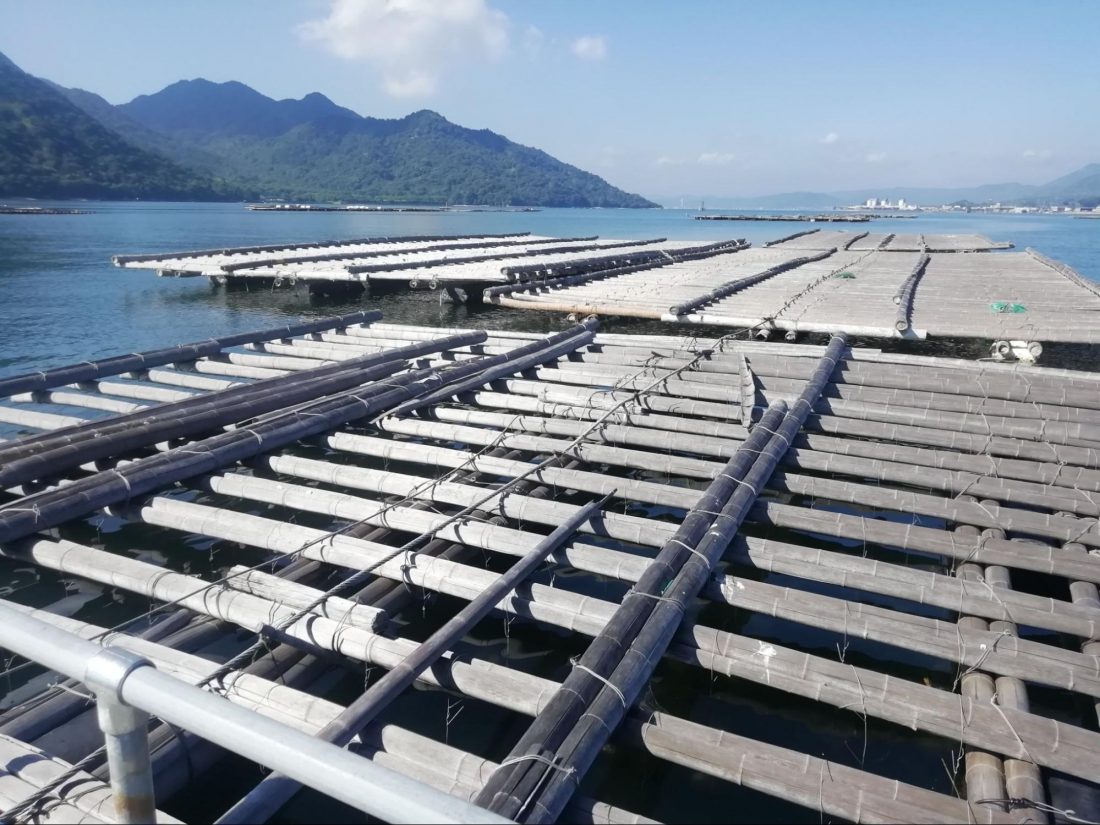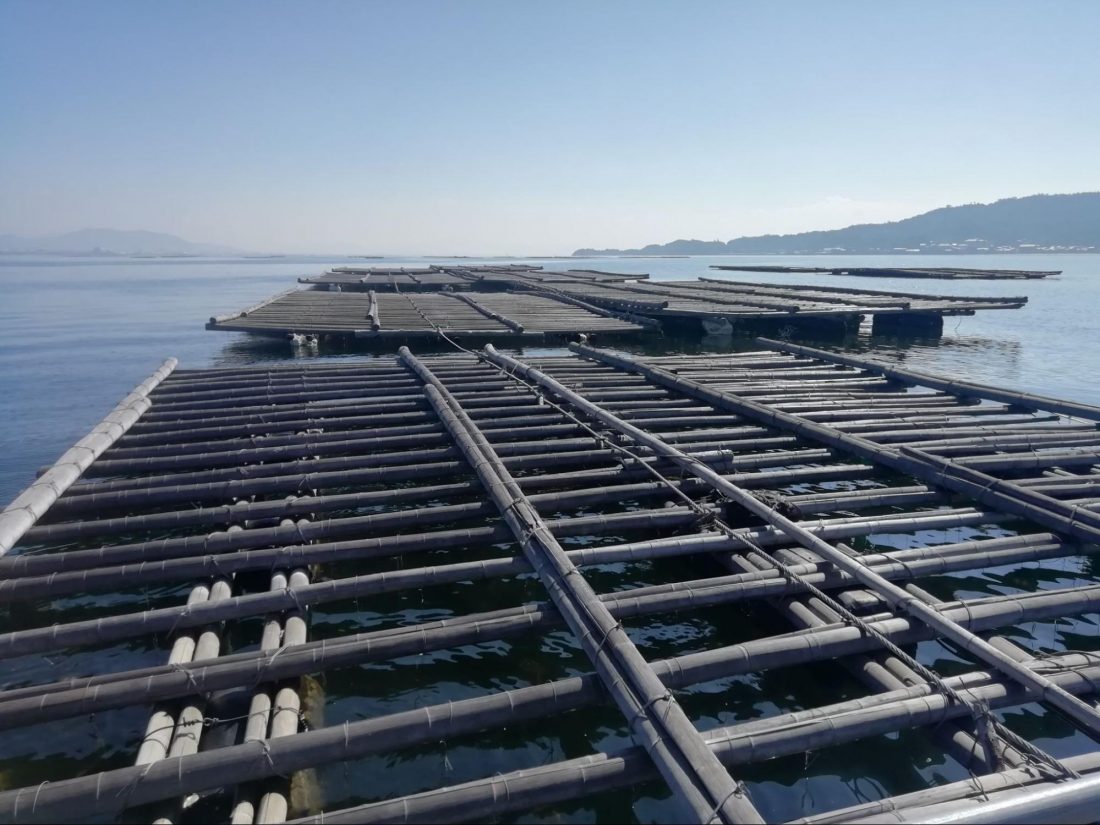 Now, one thing I learned was the raising process is about three years, so the total above needs to be cut by about two thirds for a yearly output, I imagine. Still, if I understood everything correctly, that's a billion oysters a year. Wow. One of the more interesting learning points came out of the three year raising period information. I wondered if they had some detailed map, or grid, or even computer software that helped them keep track of which platforms had one-year-old oysters, which had two, and which had three. The answer was no. Oysters get heavier as they grow. Platforms with young oysters float several inches off the water, but the third-year platforms are pulling right down flat with the sea due to the weight of their catch. I could see the difference when he showed me. So simple and elegant.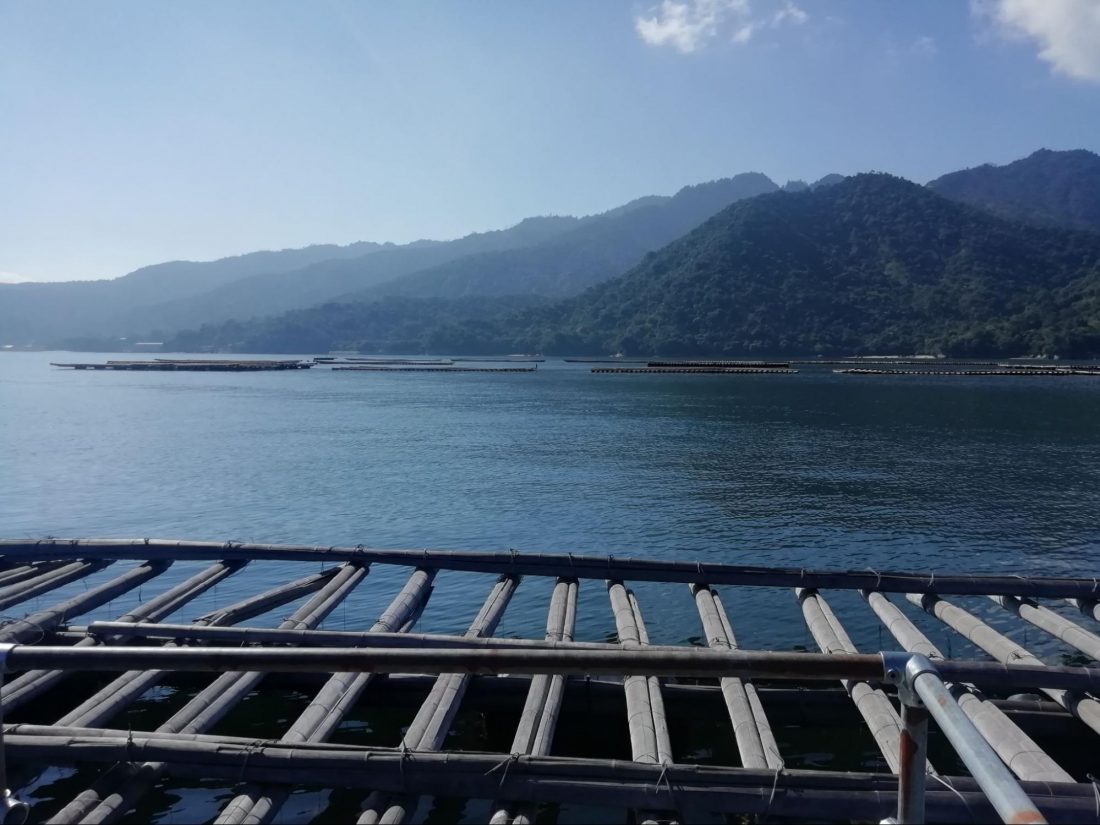 The whole idea of off-shore platforms began less than 100 years ago, it seems. Prior to that oysters production was done right off the beaches in a far more painstaking care process. Shortly after World War II, the platform idea was developed. Not only did it allow for far more oysters to be raised, but in fact they require virtually no care, it seems. They feed off of plankton in the sea, thus one the line is sunk the company mostly only has to wait three years and harvest.
MOVING ON AND MOMENT OF JOY
That's probably as much as anyone wants to know about oyster production. I found it fascinating, but I was ready to move on as well. So it was back to the boat and what became my favorite part of the tour. One the way to the platform I sat on the sheltered bench near my guide, but now the sun was calling to me. I moved toward a box on the forecastle and just gloried in the ride. I said above I could have spent all morning just riding in the boat. That feeling grew now. This was my moment of joy. Sitting in the sun, water within arm's reach over the side, legs stretched, just relaxing as the boat moved across the water. I wanted this part to last an hour or more.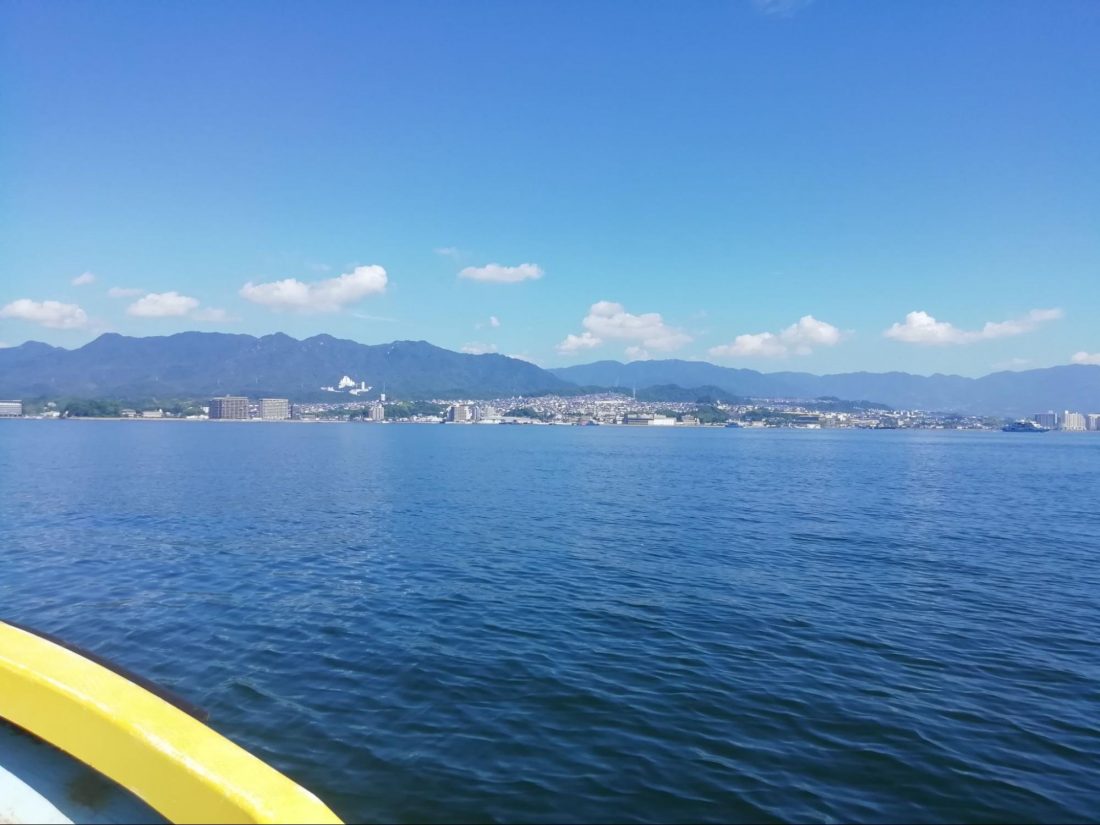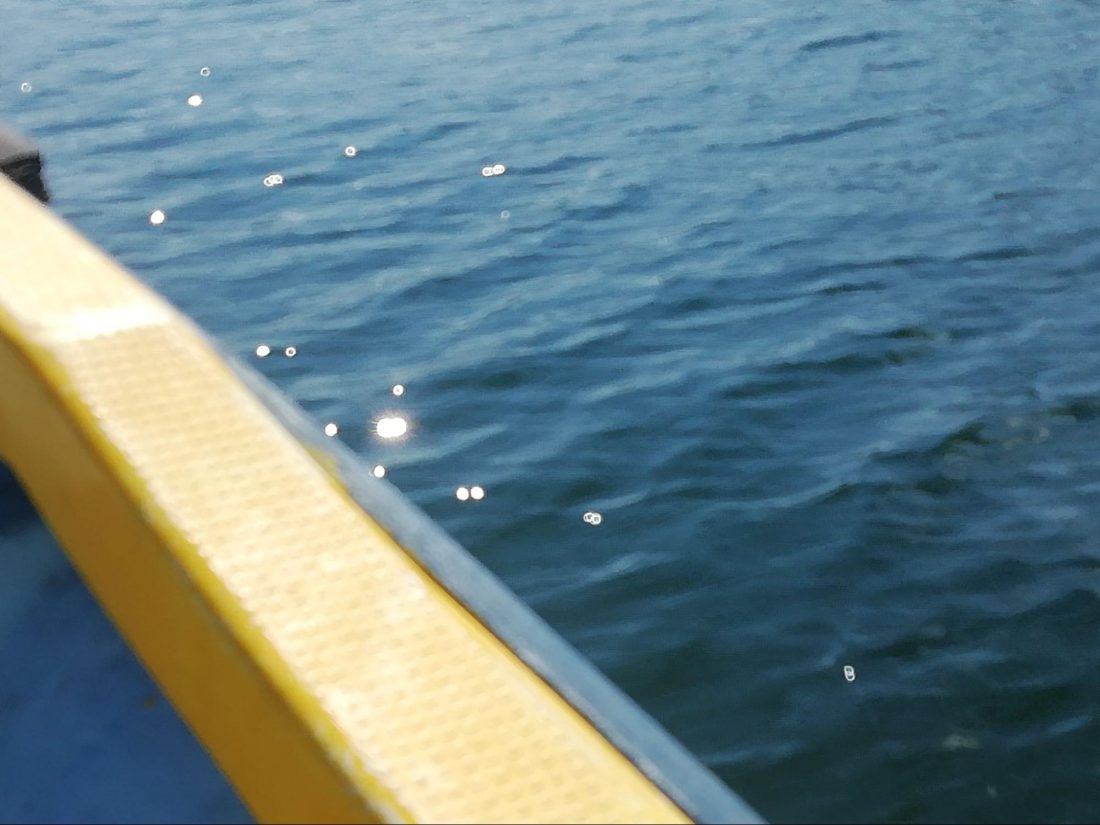 Instead it was a short trip across the bay to Miyajima and a view of the Torii and Itsukushima Shrine behind it. Though the gate is currently completely scaffolded due to repairs, it's still impressive to see, especially from a boat at sea. My guide also quite skillfully did a nice little turn and reverse maneuver that gave me the clearest angle back to the shrine behind. He understood well the kind of photo opportunities I was looking for. I appreciated how planned out even this part of the trip was for him. We even cut the engine and just talked a bit about how exciting tourism was going to be again from 2023 on when the gate reconstruction is finished and it's standing in its glorious red color again.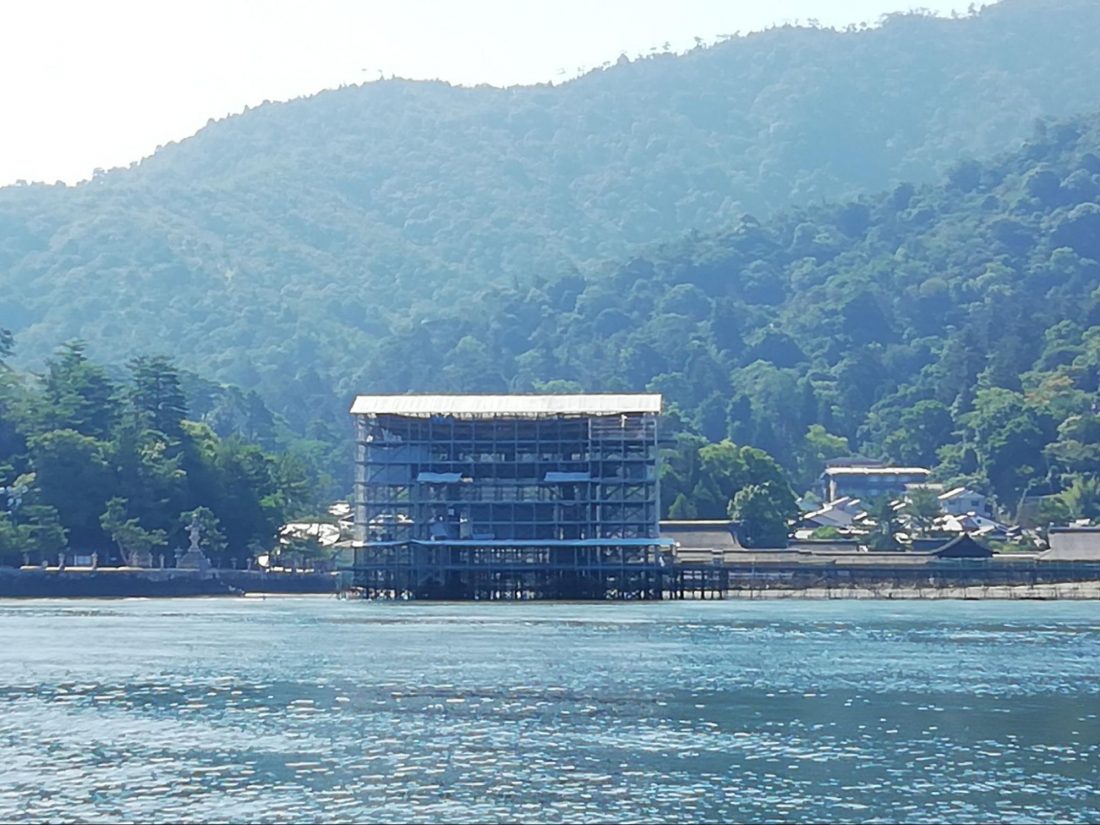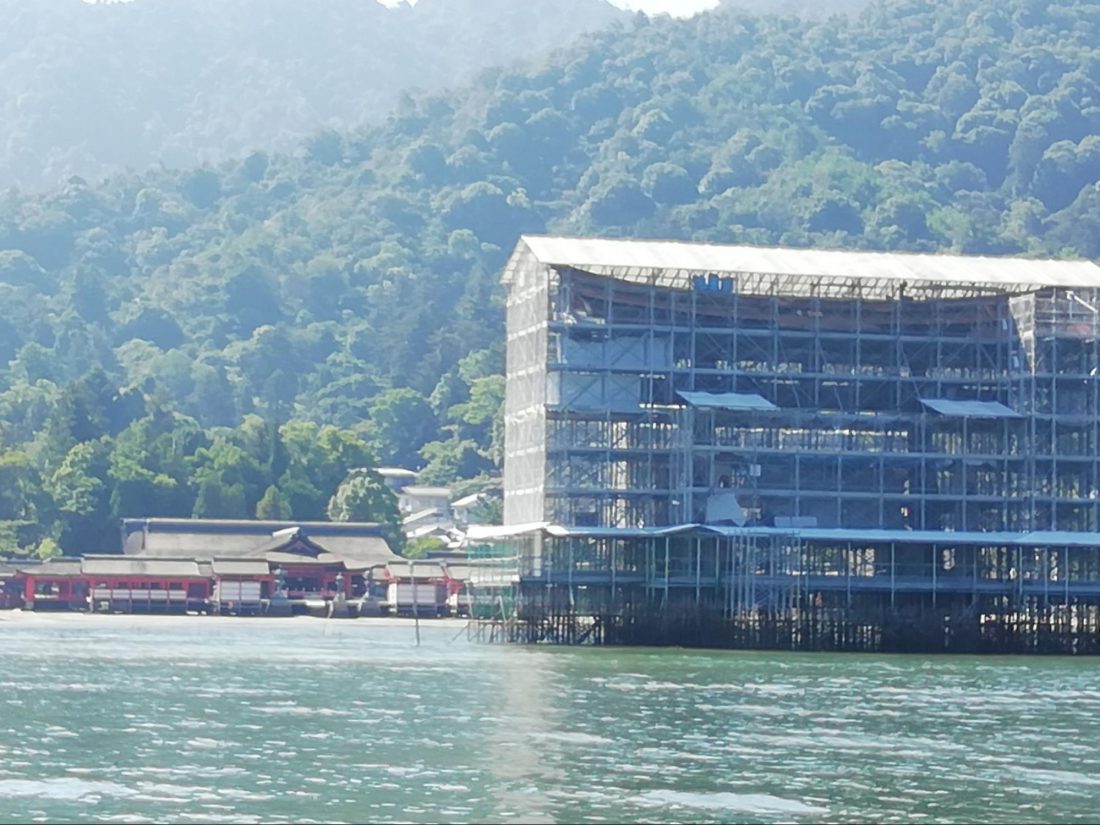 The trip ended quickly after this. Another glorious stretch back across the bay before returning to Oyster Hut dock. I made note of the number of tables and the great waterfront atmosphere. They also have two paddle boats, a swan and a whale, available for 30 minute harbor rides. Inside, I also enjoyed the souvenir T-shirt they sell with their company comic logo on it. After that it was a round of thank yous and such, and the excursion was finished.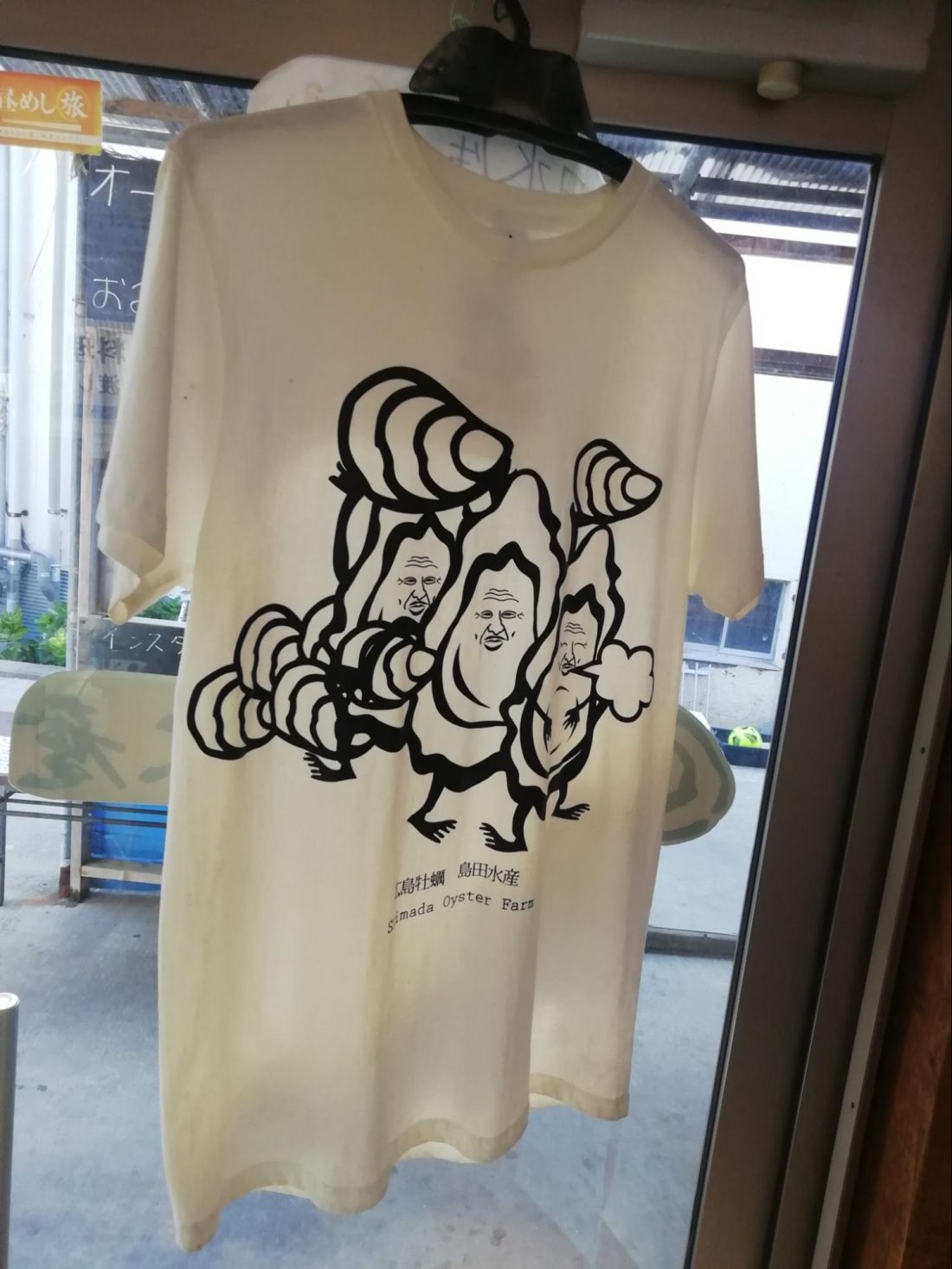 FINAL POINTS
There was a reference to October above. My guide brought it up too. October is the harvest season of the third-year mature oysters. The 10-meter lines are now far too heavy to be hauled up by hand, so they have big crane ships that pull up the lines. Apparently it is quite thrilling, so Shimada has a spike in its tours at that point. The same tour I did with the added extra of watching a 10-meter-long line of up to 500 oysters being drawn from the sea by a crane on a ship. Sounds great to me.
            I also wanted to give a travel pro tip. If time is not an issue for you, and if you are not going from Shimada over to Miyajima next (or if your departure in the morning was early enough), the directions to Shimada I gave at the beginning were on the assumption that you came by JR. However, the streetcar ride to Miyajima is far more scenic and enjoyable of a ride, though 20-30 minutes longer in duration. Coming or going, I recommend you try it out. I love the coastal views and that the line runs near the water, and also the inner city views for that half of the trip. JR is fast, but offers not much to look at. Something to consider.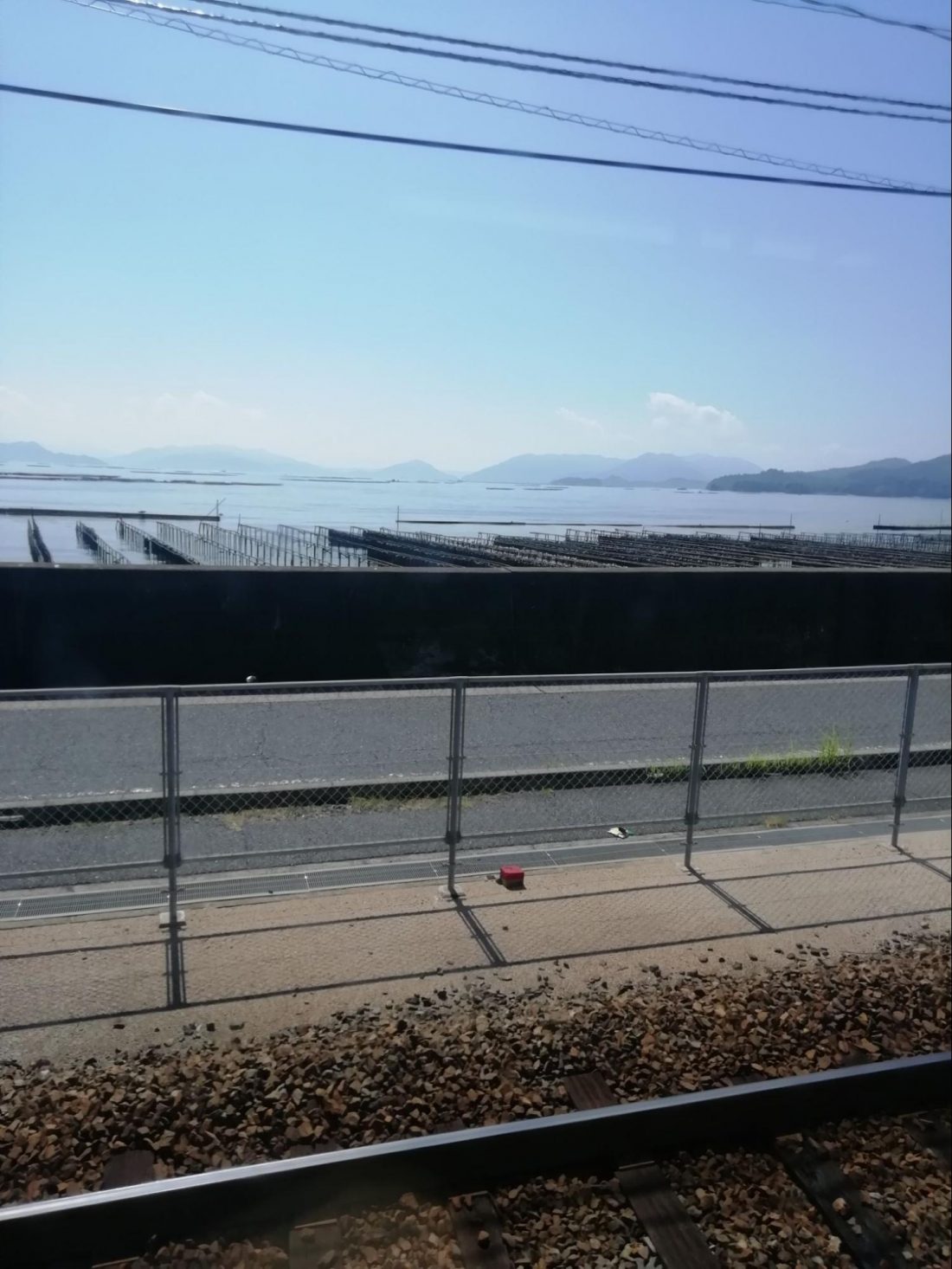 CONTACT
Direct Bookings:           Shimada Oyster Farm
0829-30-6356 (Oyster Hut); 0829-56-2004  (office)
(https://shimadasuisan.com/taiken-en.html   though as discussed above the information on this webpage is outdated by years … but there are useful pictures and such to glean).
Indirect Bookings:        just Google search "Hiroshima oyster tour"
You will see ads and sites, including "getyourguide", "hiroshimatravelandtours" "hiroshima-navi" and "japan.travel". In the end, all of these will send you to the same place, so hunt your best deal for price, payment and timing.