100 STORIES
Gardens of Sera: Gorgeous Flowers All Year Long
Japan is chock full of tourist sites, in both urban and rural settings. Sightseeing in the city comes with the luxury of an array of public transportation options, on which Hiroshima City certainly delivers. We've got five JR lines, one Astram Line, a plethora of bus routes, various ferry services, and one of the largest–if not the largest–streetcar network in Japan. However, leaving the city and traveling the countryside of Hiroshima Prefecture is a horse of a different color, as JR and even local busses may have limited reach. If you can drive in Japan, renting a car is a no-brainer, or if you know someone who can drive you somewhere, catching a ride with them is even easier, but for those of us with neither of those options, pretty much the only avenue available is to hire a taxi for the day, which costs a pretty penny. There may be bus tours aimed at rural destinations if they're famous enough, but a forced march through the sites with a guide breathing down the tourists' necks isn't everyone's cup of tea. As for myself, all I want is transport to, from, and between the sites of interest, as I can guide myself, and thankfully, such a service exists for those wanting to check out the flower gardens in Sera Town!
Wine and Dine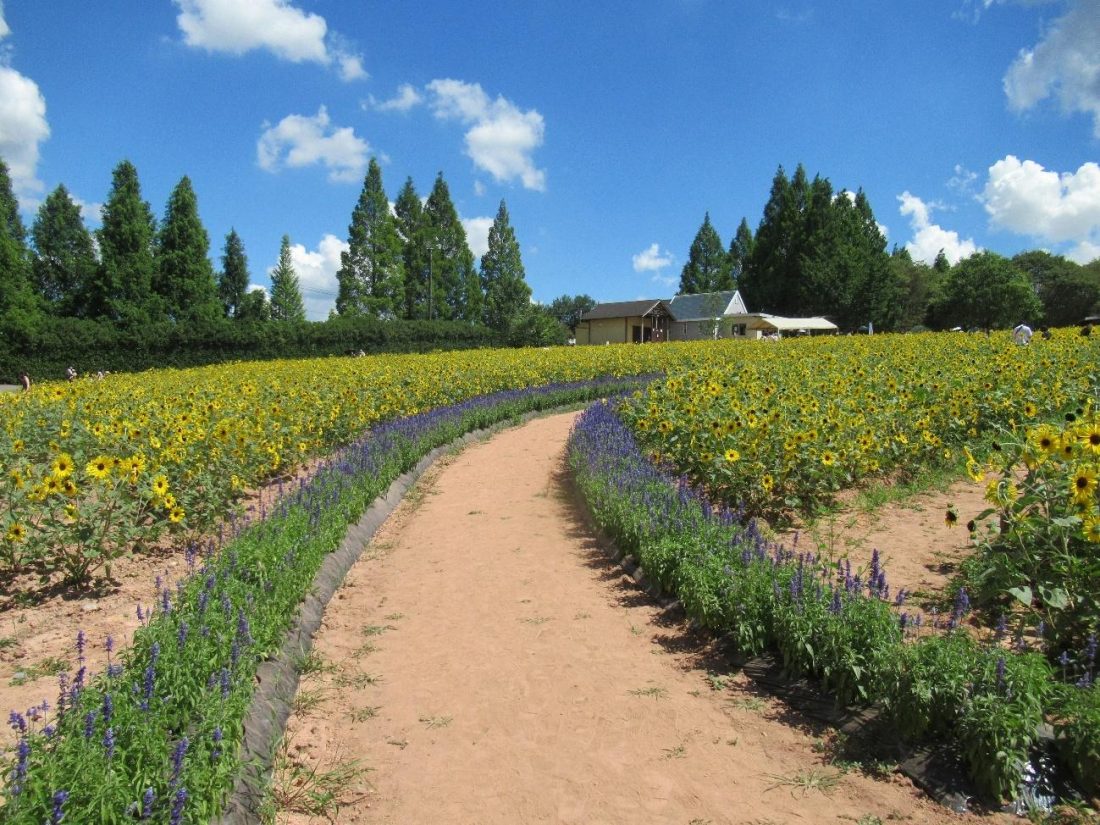 Sera is renowned by Hiroshimarians for its polychromatic fields of flowers, which vary in hue by the season as some species fade out and others take their place. The demand of city dwellers to make a day trip out of seeing Sera's gardens (and there are several of them) has given rise to the Sera No-en Hanameguri Kippu (roughly, "Sera Plantation Flower Tour Ticket"), a pass that lets tourists board a special bus that shuttles them between three different gardens–each featuring a different type of flower–as well as Sera Winery and Michi no Eki Sera, a roadside station where visitors can buy local snacks and souvenirs. The gardens that can be visited are themselves rotated throughout four specific windows of time from April to October; see the flyer available at the Hiroshima Bus Center for specific dates so you don't accidentally make plans for a day when the bus doesn't run (and the gardens are in the process of transitioning). Personally, I'm partial to August not only because it's sunflower season, but also because it's the only time of year that an all-you-can-eat blueberry picking experience is included. Do note that the fee for the ticket only includes a round trip for Sera and transportation around the area at predetermined times, so any food outside of blueberries is on the tourists' dime.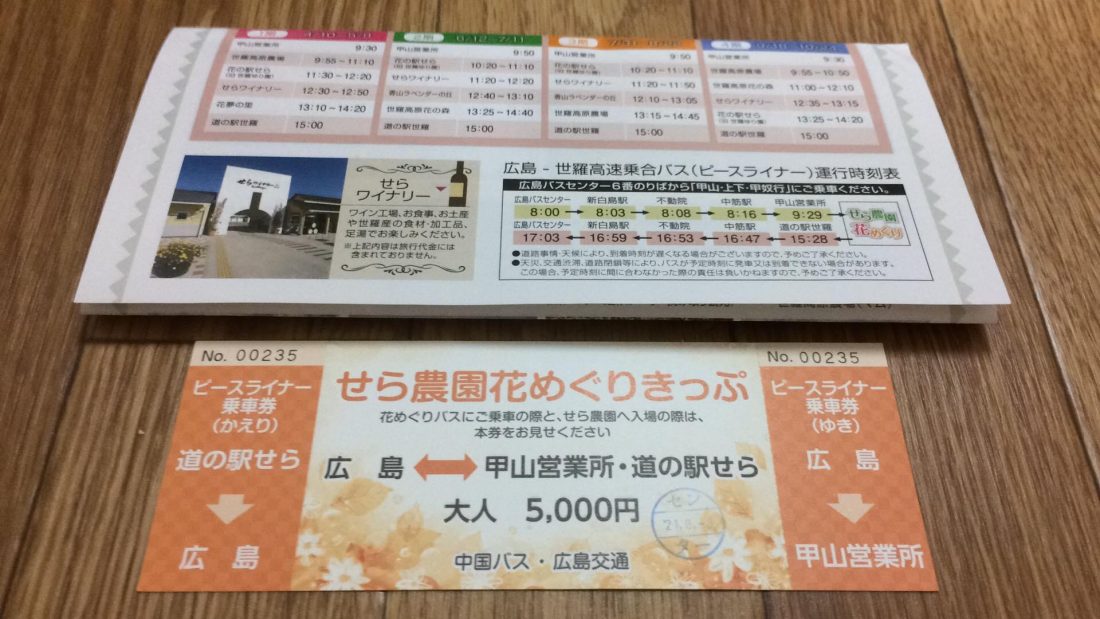 Another thing worth mentioning about the journey is that wielders of the Sera No-en Hanameguri Kippu will have to transfer partway through to get on the actual tour bus. The first leg departs from platform 6 of the Hiroshima Bus Center at 8:00 a.m. sharp, so it would be wise to buy tickets a day or two in advance. At around 9:29 a.m., the bus will make a stop at 甲山営業所 (こうさんえいぎょうしょ – Kosan Business Office), where the bus driver makes an announcement in Japanese for holders of the Sera No-en Hanameguri Kippu to alight and await the desired bus, which departs at either 9:30 or 9:50 a.m., depending on the season. I was traveling with a friend and in the midst of our conversation, we failed to hear the announcement, so that first bus took us all the way to the terminus, which was miles from where we were supposed to be. There is no other bus running the other direction that would make it to the gardens on time, so botching this transfer can potentially ruin the entire trip.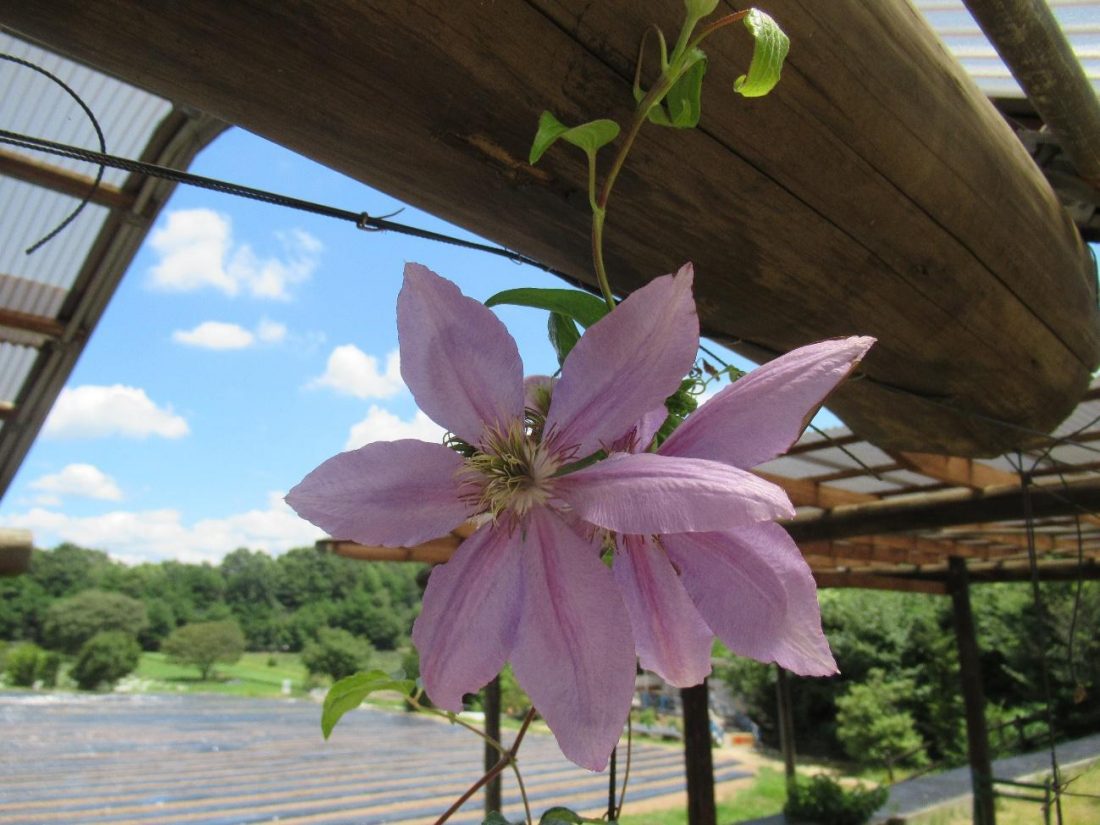 We explained our plight to the bus driver after realizing we were stranded, and he went above and beyond to accommodate us and help us reunite with the tourists that did the right thing. He summoned an emergency taxi just for us–not an official cab, mind you, just an ordinary man with a car affiliated with the bus companies. We were permitted to wait for our lift inside the bus, where the air conditioning saved us from the elements, and after our impromptu taxi arrived, we apologized, thanked each of the drivers, and got into the car that would make tracks for the departed tour bus. That driver inquired about our backgrounds and lives in Japan, made friendly banter, and didn't charge a single yen for the ride. He went so far as to drive us past the garden we missed–花の駅せら (はなのえきせら – Sera Flower Station)–but as there was no time to photograph the petunias, we took a quick peek at the entrance and bolted toward the next destination on the itinerary.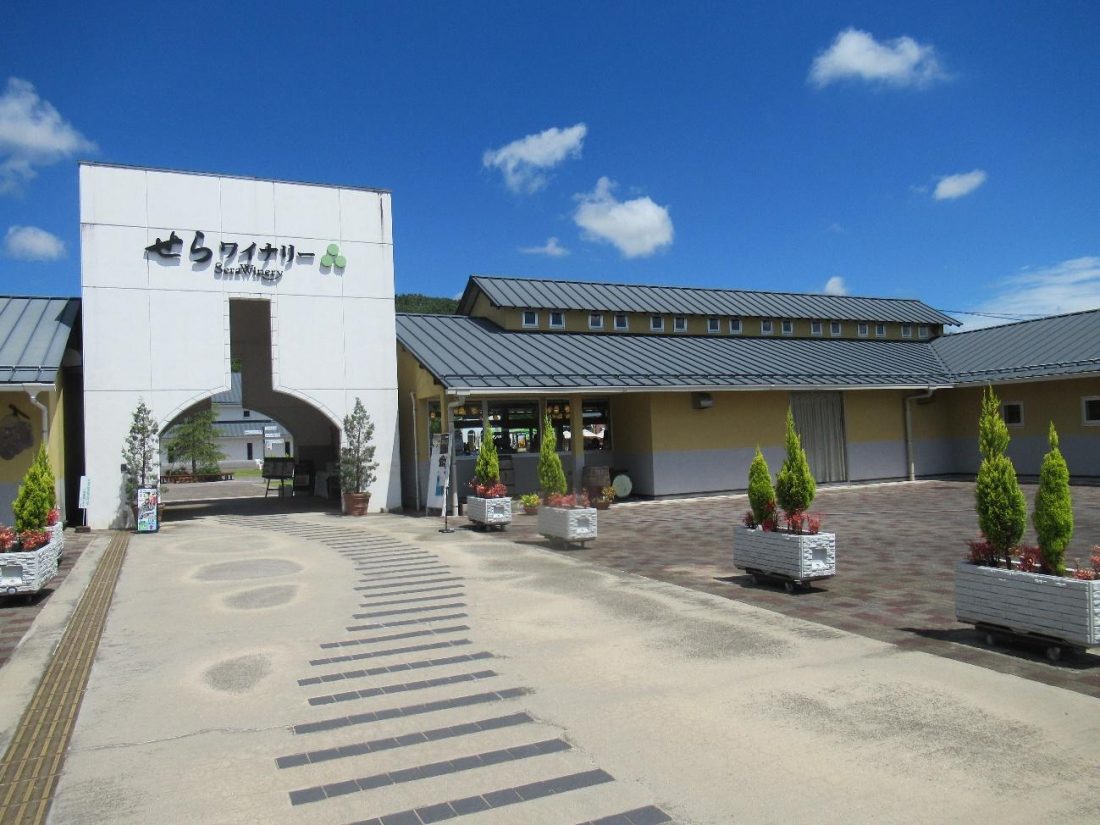 We reconvened with the tour bus and group at Sera Winery, which is more of a pit stop than a highlight. That said, it's not like there's nothing to see here, and after walking past the front entrance, we reached a sunny courtyard, surrounded by shops and a restaurant. Lunch at the restaurant isn't cheap, and we'd be stuffing ourselves with blueberries soon, so we opted for a quick snack from a food stand just to pass the time and energize ourselves for the blueberry picking session. Most of the fare from the stand is simple and unhealthy, serving up festival favorites like French fries, deep-fried takoyaki, and ice cream. I went for a savory deep-fried curry bread, then sat myself at a picnic to fuel up. The bread was probably frozen because the center was still cold when I bit into it, but at least the curry sauce was rich with spices and occasional chunks of beef, and the crunchy exterior of the fried bread had a satisfying texture.
Of course, who can visit a winery without trying one of the wine products? I'm not a big fan of wine, so I went with a lighter wine by-product: wine-flavored soft serve ice cream! The ice cream was smooth and creamy, melting swiftly in the summer heat, and had a flavor that indeed tasted more like red wine than grape juice, so I don't doubt the authenticity of the product. Afterwards, I wanted to look around the shops for other wine products that might strike my fancy, but alas, with only thirty minutes at Sera Winery before we had to board the bus, one cannot both eat and shop in depth. I suppose priority must be given to the flowers, so we finally got on the tour bus for the first time today and proceeded to the first garden we'd actually visit.
Lavender's Blue(berries)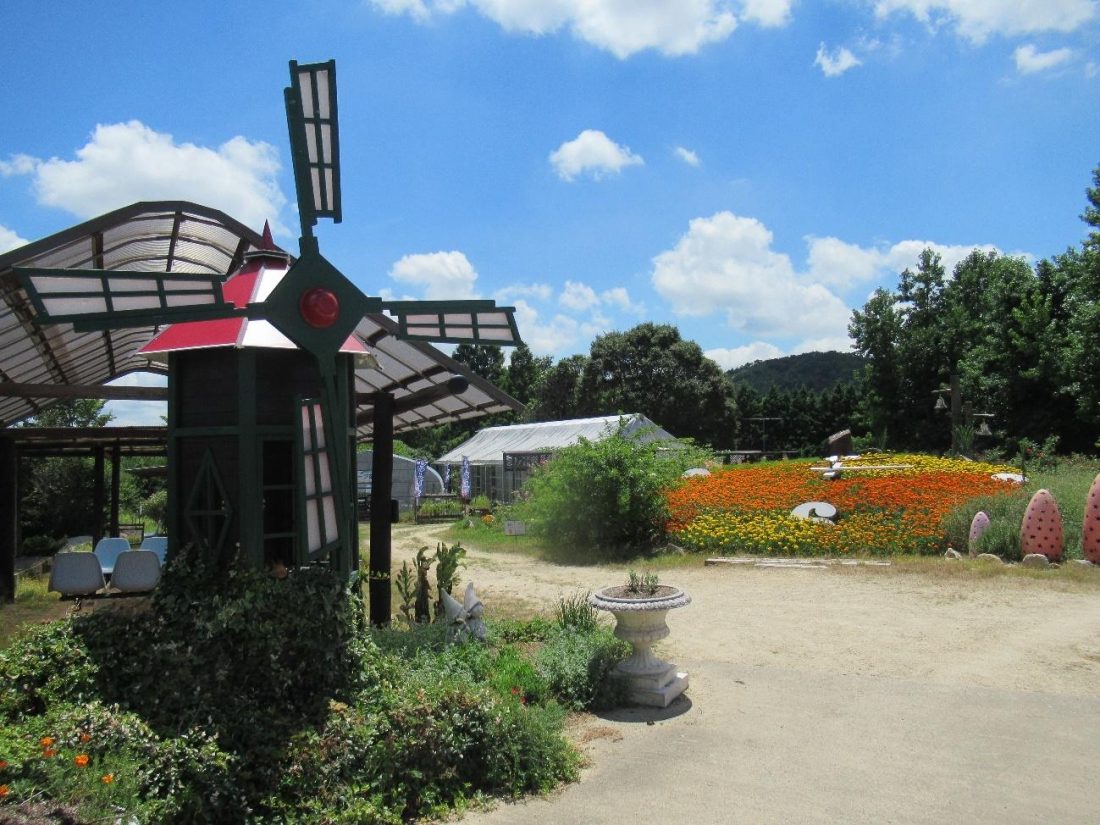 The next garden on the list was 香山ラベンダーの丘 (こうざんらべんだあのおか – Kozan Lavender Hill), but for better or worse, we weren't here to see lavenders, which flourish in July and start to wither by August. Instead, we first alighted the bus and headed to the gift shop, where various floral products are sold and instructions for the blueberry extravaganza are given. We were given a map of the plantation, a small box to take home 100 grams of blueberries (in addition to the ones we can eat on the spot), and a simple explanation about the process. Visitors are to wear a lanyard with a blueberry pass attached, walk to the blueberry bushes on their own, and have thirty minutes (not including walking time) to pick and eat as many blueberries as they can, as well as stuff any they cannot eat into the box to save for later. After receiving our blueberry passes, off we went to stuff our faces with fruit!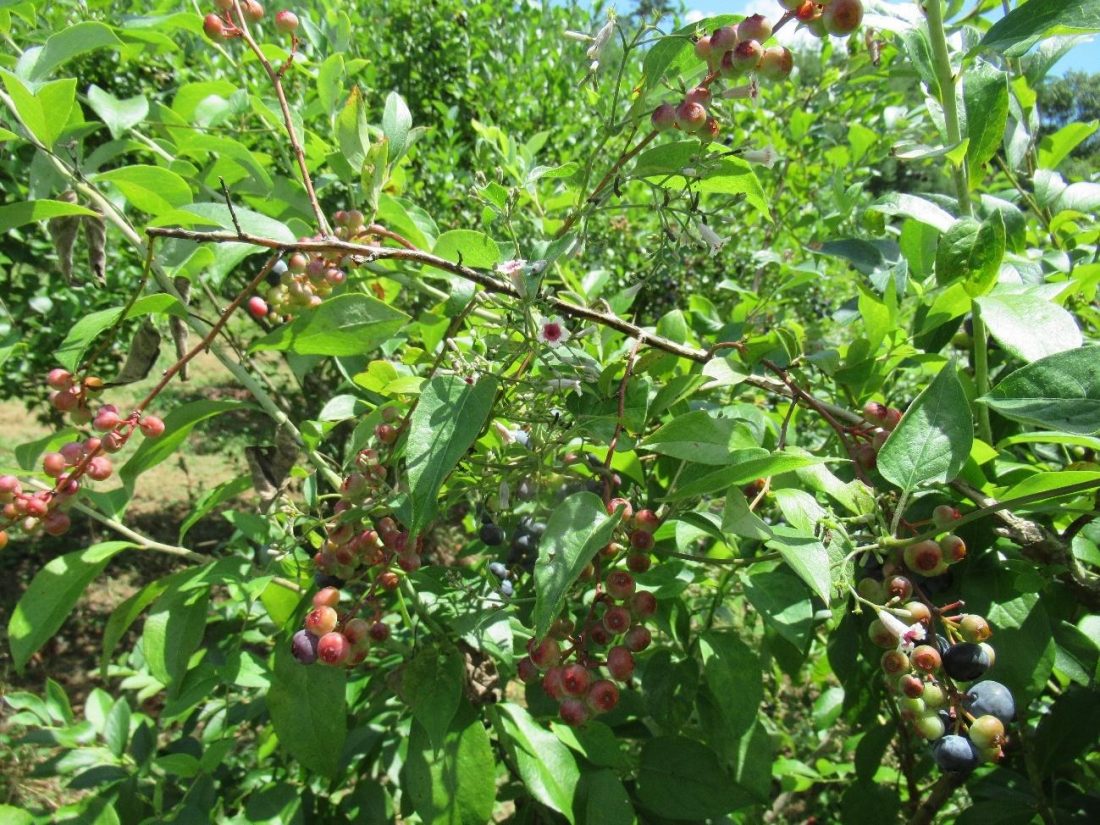 When we got to the blueberry fields, we were greeted by row upon row of bushes, each sporting seemingly endless berries in all stages of development, from budding flowers to red and green almost-ready berries to the fully-mature blue beauties. Some of them were sour, but most were plump and sweet, with barely any blueberries damaged by insects or Mother Nature. The first order of business was to cram as many blueberries as I could into my little plastic box (I later counted 105 berries), and from then on, the feast could begin!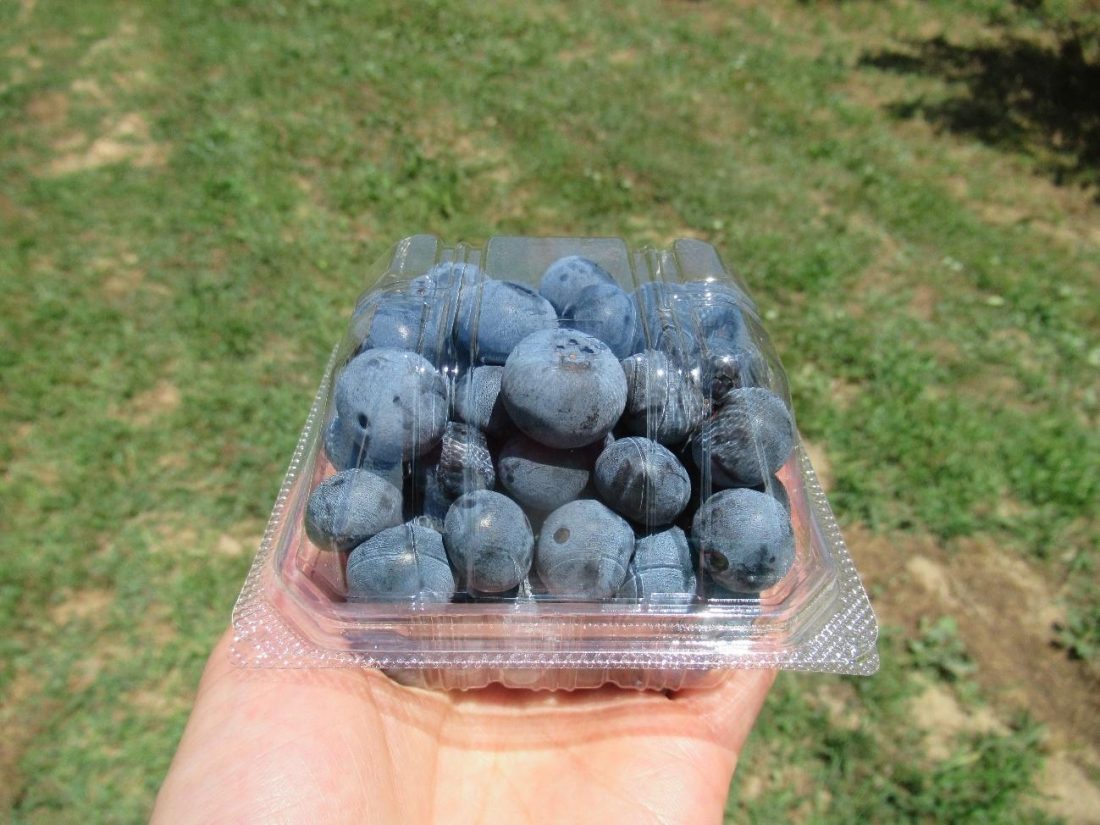 Moment of Joy: Berry Sweet Deal
As I knew I was on a timer, I was dead set on speed-eating my way through these blueberry bushes. There were so many big, pristine berries that so long as it was blue, I figured it'd be a good choice, and I was almost never wrong. It was hard to stop eating once I'd started, yet I still managed to count the berries as I was eating them. In fact, I was the last one to leave the blueberry fields after downing a record 320 of the little guys in the span of half an hour. Given how expensive blueberries can be in supermarkets, to say that I got my money's worth would be an understatement.
Sunny and Mellow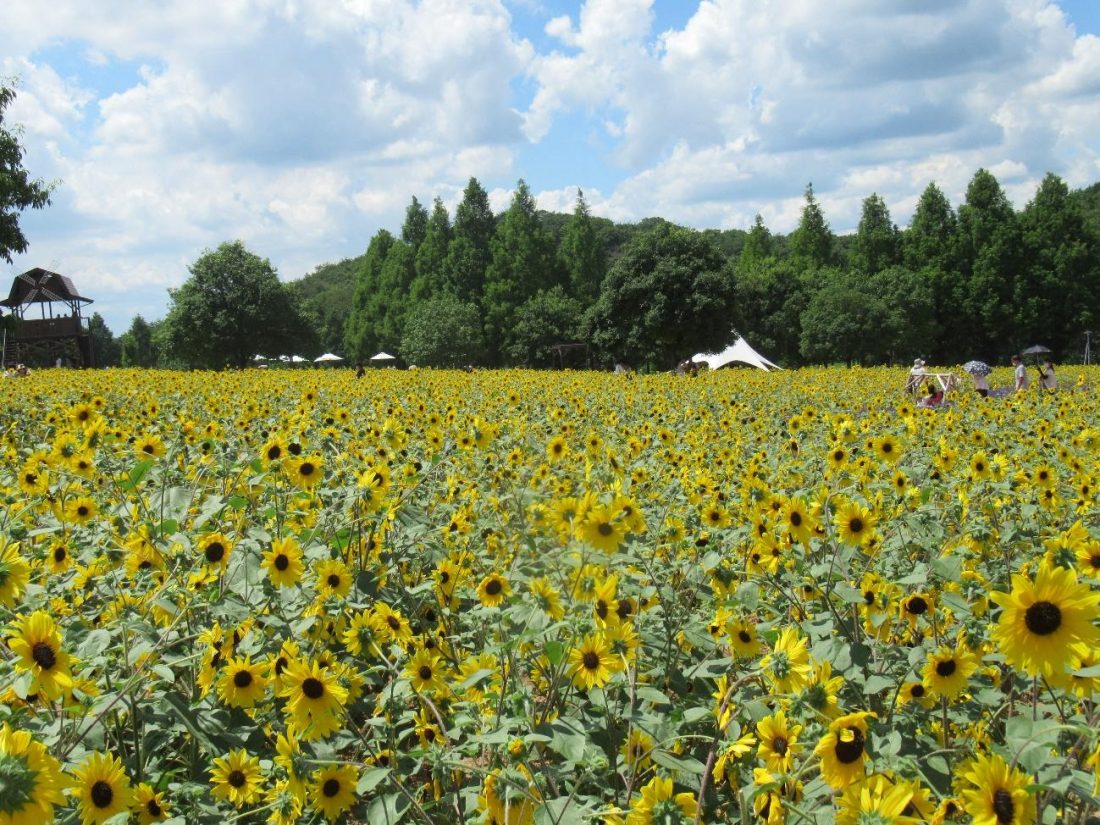 Feeling heavier after all those blueberries, I waddled back to the gift shop to return my blueberry pass, then got on the bus bound for the third and final garden, 世羅高原農場 (せらこうげんのうじょう – Sera Kogen Farm), where we'd have an hour and a half to bask in a sea of sunflowers, the pièce de résistance of the tour. After walking through the entrance and taking some pamphlets, it felt as though we had stepped into a Van Gogh painting. The sight of seemingly infinitely sunflowers was indeed mesmerizing, and visitors are able to walk into the fields to immerse themselves in what I'd call the most beautiful weeds I've ever seen, as well as take some gorgeous photos. Just make sure not to be so distracted by the suns popping out of the ground that you get burned by the sun in the sky. This garden is by far the most spacious, featuring strategically placed observation platforms, tents to escape the sweltering heat, and even a sunflower maze for the little ones, although grown-ups like us can have fun with it too.
They have multiple cultivars of sunflowers on display, and although it may take a while and the sun may be unbearable, I urge visitors to walk the entire grounds to see the sunflowers from all angles. Some are blooming to their full extent, some have only started opening up, and others have yet to shine. Look closely at each of the flowers and you might spot an interesting finding, such as dew or aphids.
If blueberries weren't enough, Sera Kogen Farm has a heap of eateries scattered around the grounds, mostly selling regional fare like burgers made with Sera beef or desserts utilizing fresh fruit from the local area. Understandably, it will be expensive no matter where you choose to eat. After all, where else are you going to get food in the middle of nowhere? I was still feeling kind of full from the hundreds of berries I'd just ingested, but since I was starting to get peckish, I went for a meager summer vegetable wrap. It was basically lettuce, tomato, corn, and ground meat in a tortilla, and given its pitiful size, I definitely got the short end of the stick. Take out the price factor, though, and it was a tasty snack that would keep me sated until I returned home.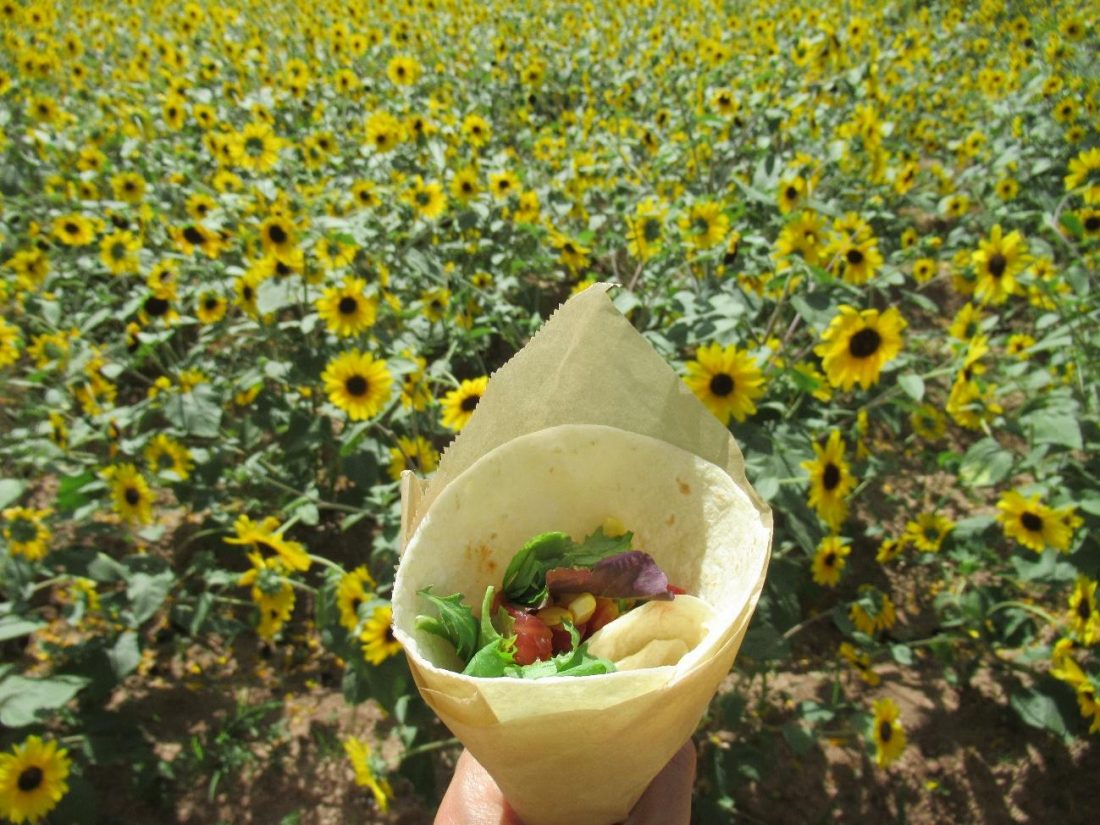 One More for the Road
Eventually, the time to board the bus again came, and after we all got on, it took us to our actual final destination, where we would transfer to a different bus to take us back to the Hiroshima Bus Center. This rural tourist attraction is called 道の駅世羅 (みちのえきせら – Roadside Station Sera), a souvenir store and rest area where travelers by bus and car stop to buy last-minute gifts before heading home. Inside, tourists will find many local food and leather products for sale, as well as a cafeteria for those who want something hot to eat. Outside, there's an abstract statue, a couple food stalls selling local delicacies, public restrooms, and bus stops to await transfers. I looked around at the products inside, and was tempted to buy a boxed lunch or some snack to take with me, but with my lack of hunger also came a lack of lust to buy anything at all, so I simply went outside to catch the citybound bus and rest my weary legs.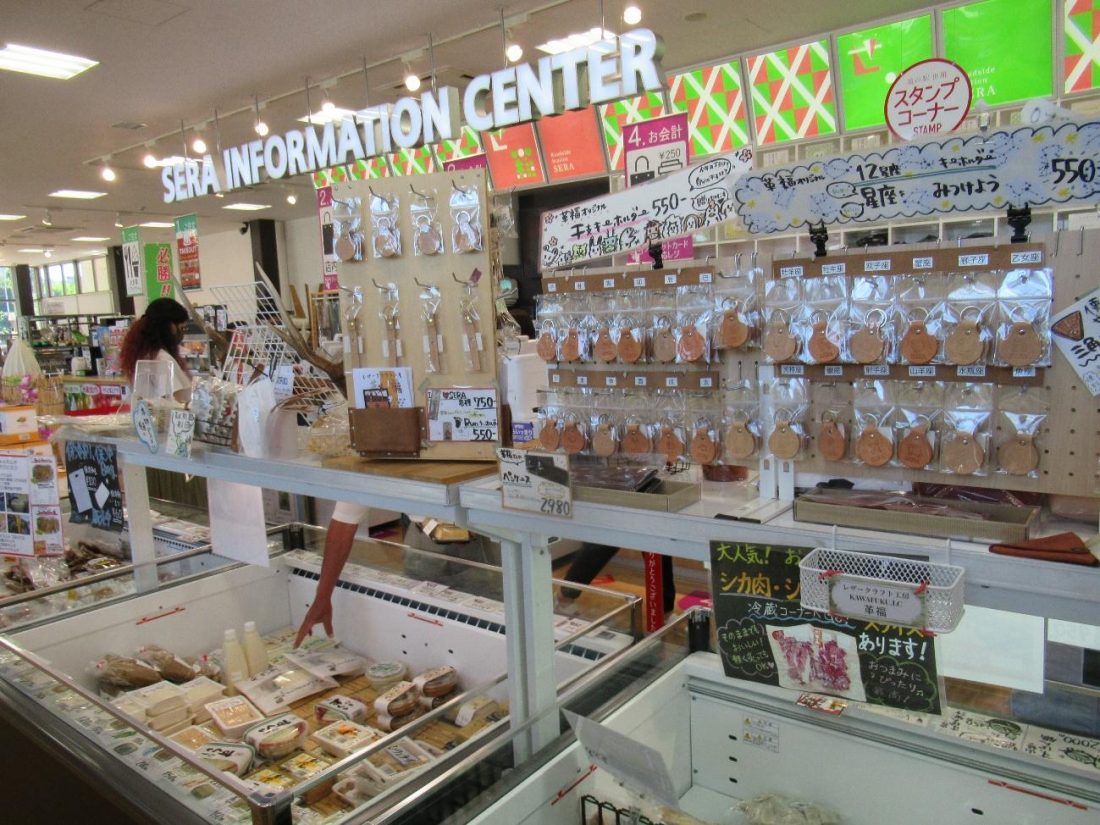 Sera's not exactly a name that initially jumps out when one mentions Hiroshima, but for repeat visitors and residents of the prefecture looking for something new, I can strongly recommend it. As there are four distinct periods in which to enjoy the colorful palette of the flora in this countryside town, this bus tour alone could potentially warrant a visit in spring, summer, and fall. The cost for the round-trip bus to Sera Town and the shuttle service between all the tourist sites is easily cheaper than any other private tour or rental car, so lacking the ability to drive is no obstacle to exploring this corner of Hiroshima Prefecture. Regardless of what time of year you choose to drop by, so long as the flower tour busses are running, the memories of Sera's nature are sure to be ingrained in your mind, like a painting come to life.