100 STORIES
RABBIT ISLAND – Combining Rabbits And History, But Mostly Rabbits
 Hiroshima is famous in Japan for okonomiyaki, oysters and lemons. Hiroshima is famous around the world for the Atomic Bomb Dome, the red Torii gate at Miyajima, and … rabbits. Multiple international television crews have come to Hiroshima to visit Okunoshima, Rabbit Island, over the years, bringing with them in response one of the most internationally diverse crowds of people. People from all over the world are aware of "Rabbit Island." If you like rabbits, you might already even have heard of it yourself.
Okunoshima, colloquially and more famously known as Rabbit Island, is a small island just 15 minutes off the coast from a small port in Hiroshima prefecture. It earned its nickname (I have friends in other parts of Japan that know "Rabbit Island" but not Okunoshima) from the bevy of rabbits that live on the island that have grown rather tame over the years, and come right up to people to be fed by hand. A resort hotel on the island allows for both day trips and overnight stays to give you your fill of rabbits. So if you love the long-eared creatures, this becomes a must visit for you and your family, especially small children.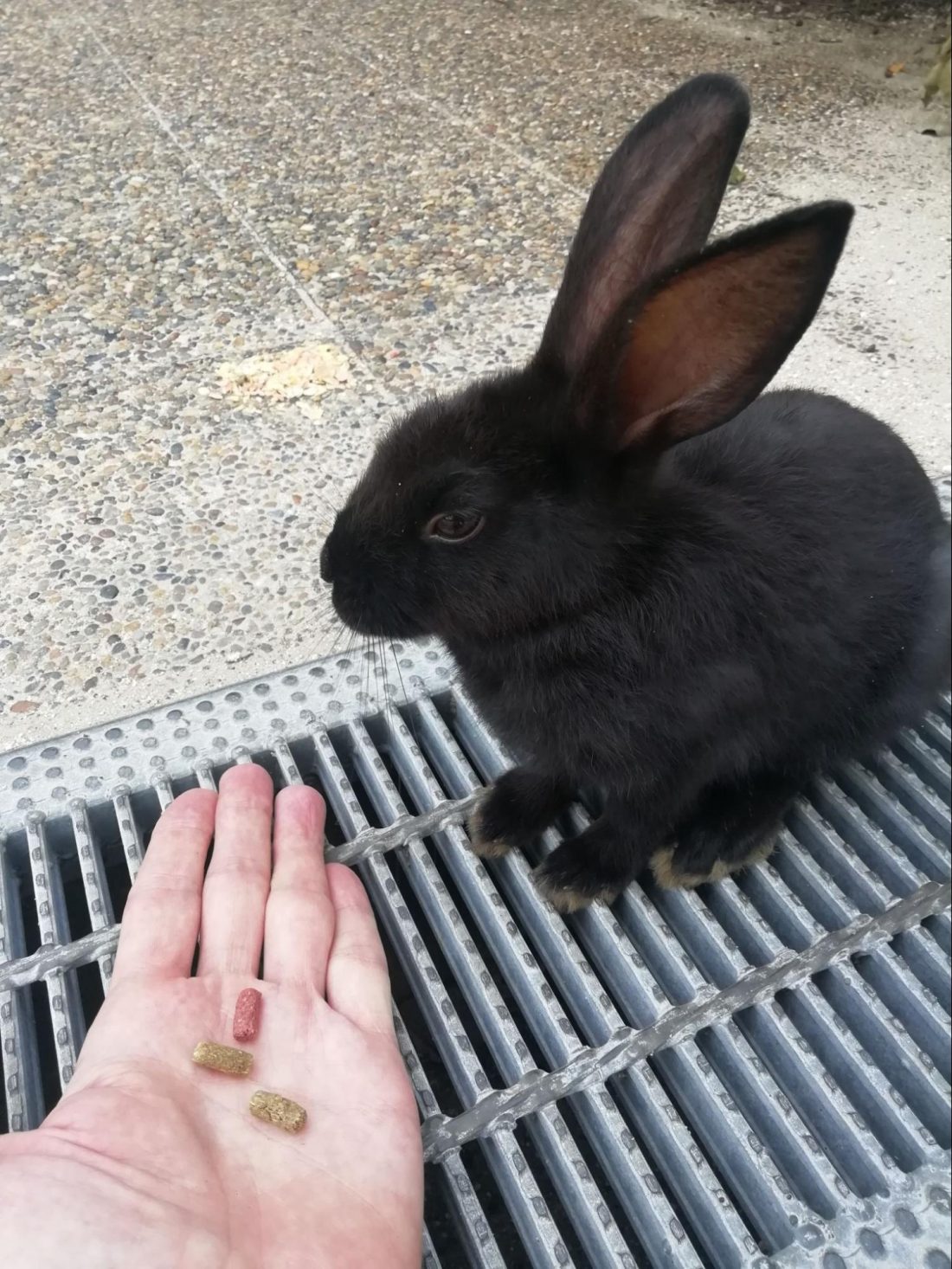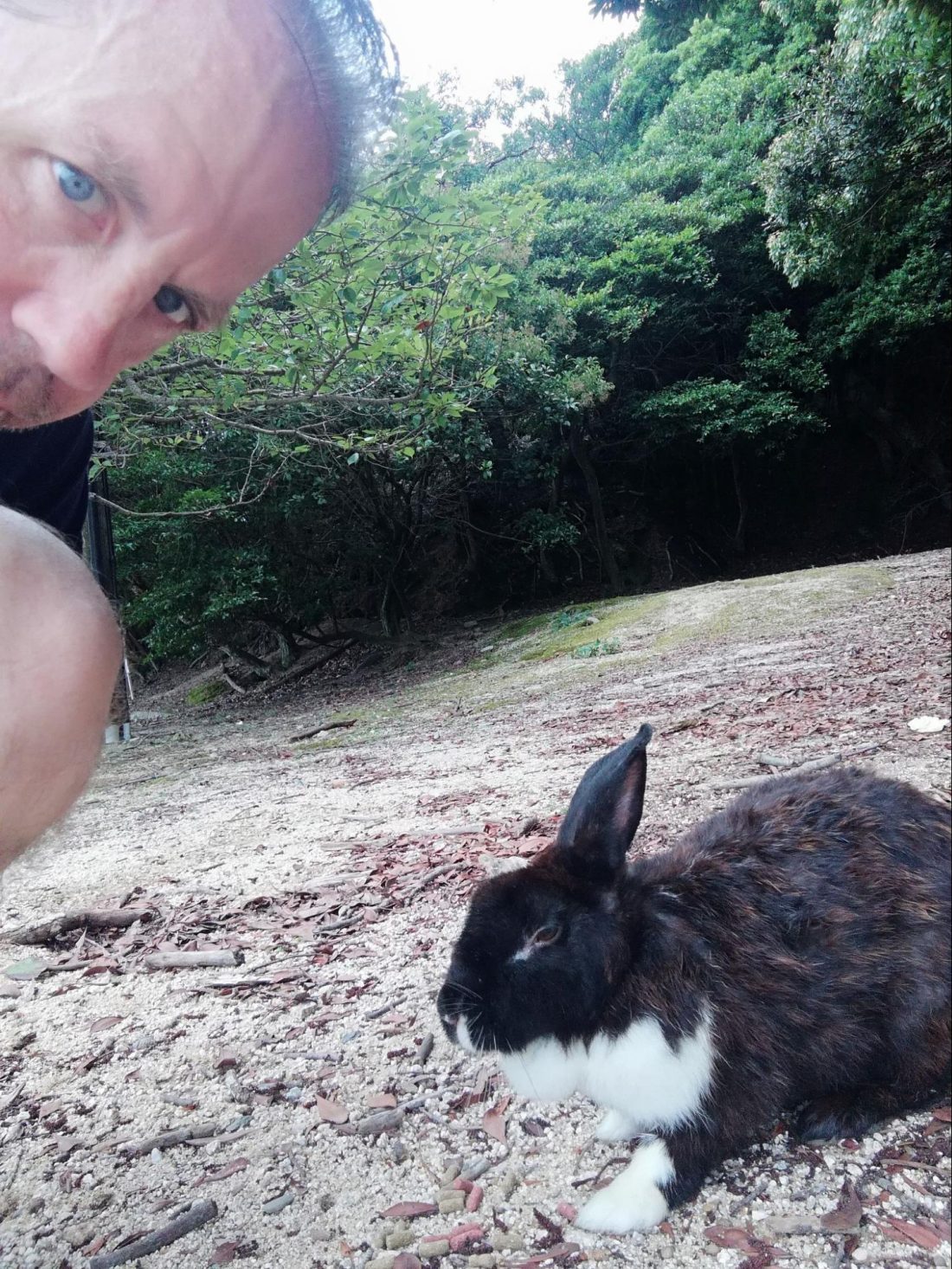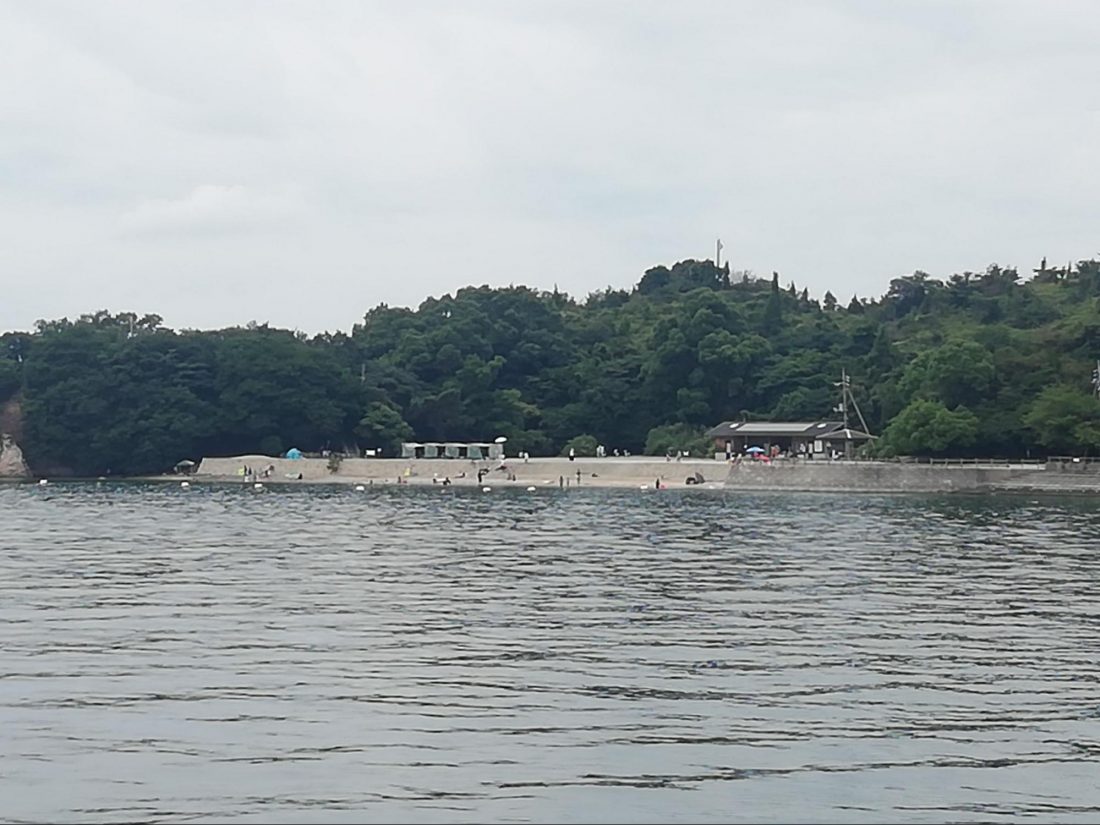 (Insert Video — Rabbit 1 — here)
THE RABBIT EXPERIENCE
  First of all, you can't miss seeing rabbits on this trip. Have no worries about your ability to find them. They are everywhere on the island. Odds are when you step off the ferry there will be several hanging out near the ferry port. Large numbers are usually in the bushes around the hotel, and on the grounds in front. When you walk to the beach there will be bunnies most of the way along the path. And when you explore the rest of the island, from here and from there, rabbits will be under bushes, next to trees, or even hopping out to greet you. There honestly are that many rabbits in (mostly) plain sight, all the time.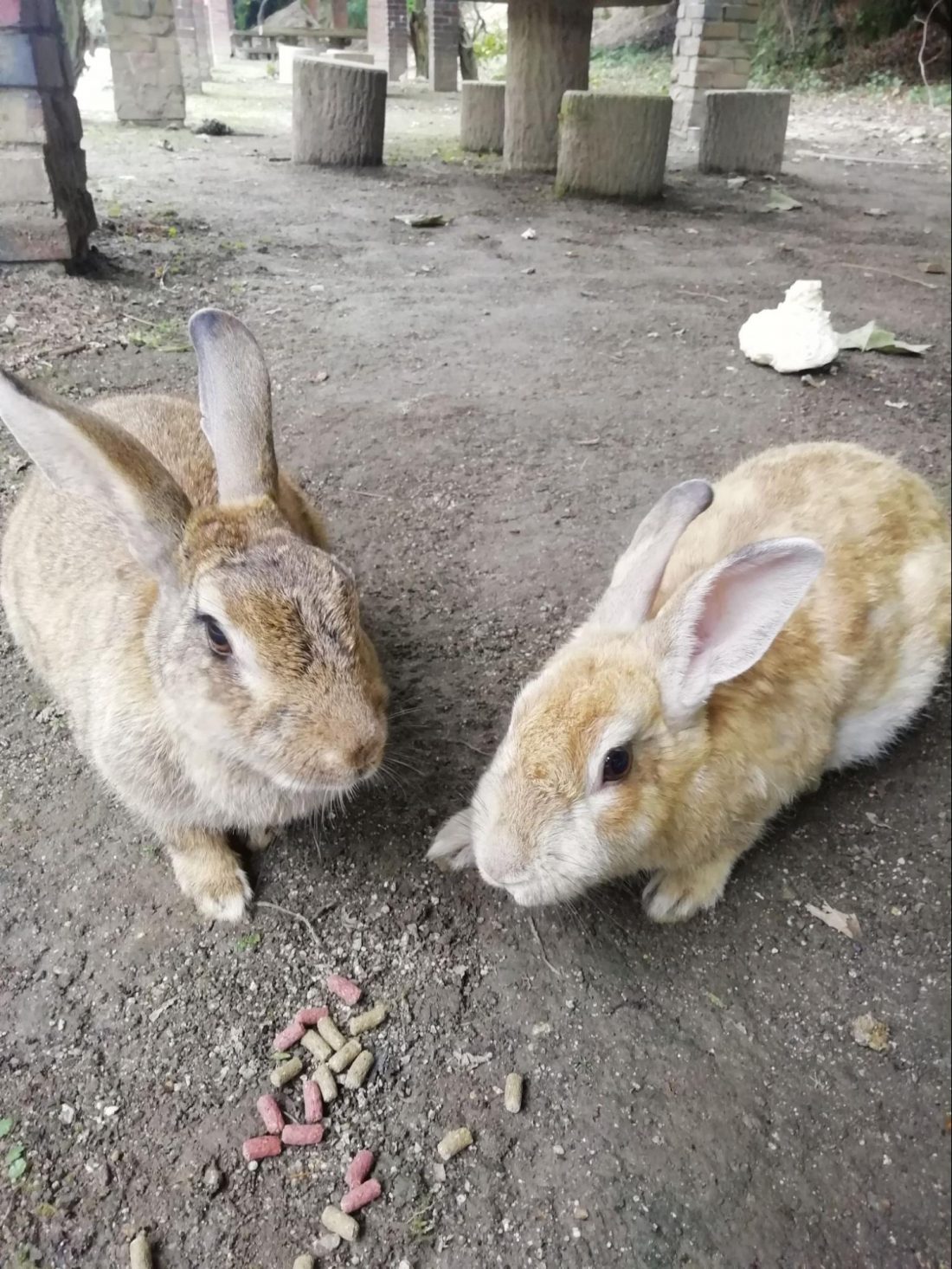 The rabbits eat most early in the day and early in the evening. However, many will be happy to eat at any point. If you are able to get there close to dawn, or have stayed overnight, the ground in front of the resort hotel often has many rabbits out in the open just waiting for you to stroll by with food. The same thing happens around sunset. In midday, many of those same rabbits will now be under bushes or in the shades of trees, but drop a little food and they'll usually come hopping out to meet you and feed. Other places around the island as well, I found that most sleeping and relaxing, seemingly disinterested rabbits, will suddenly animate when you show them food. They'll usually come running right up to you. The occasional fearless ones will even be right up on you, and many will happily eat from your hand. I should note, the resort and island caretakers do warn of being careful with your hands, but I found the rabbits eat quite gently and never felt even the tiniest nip.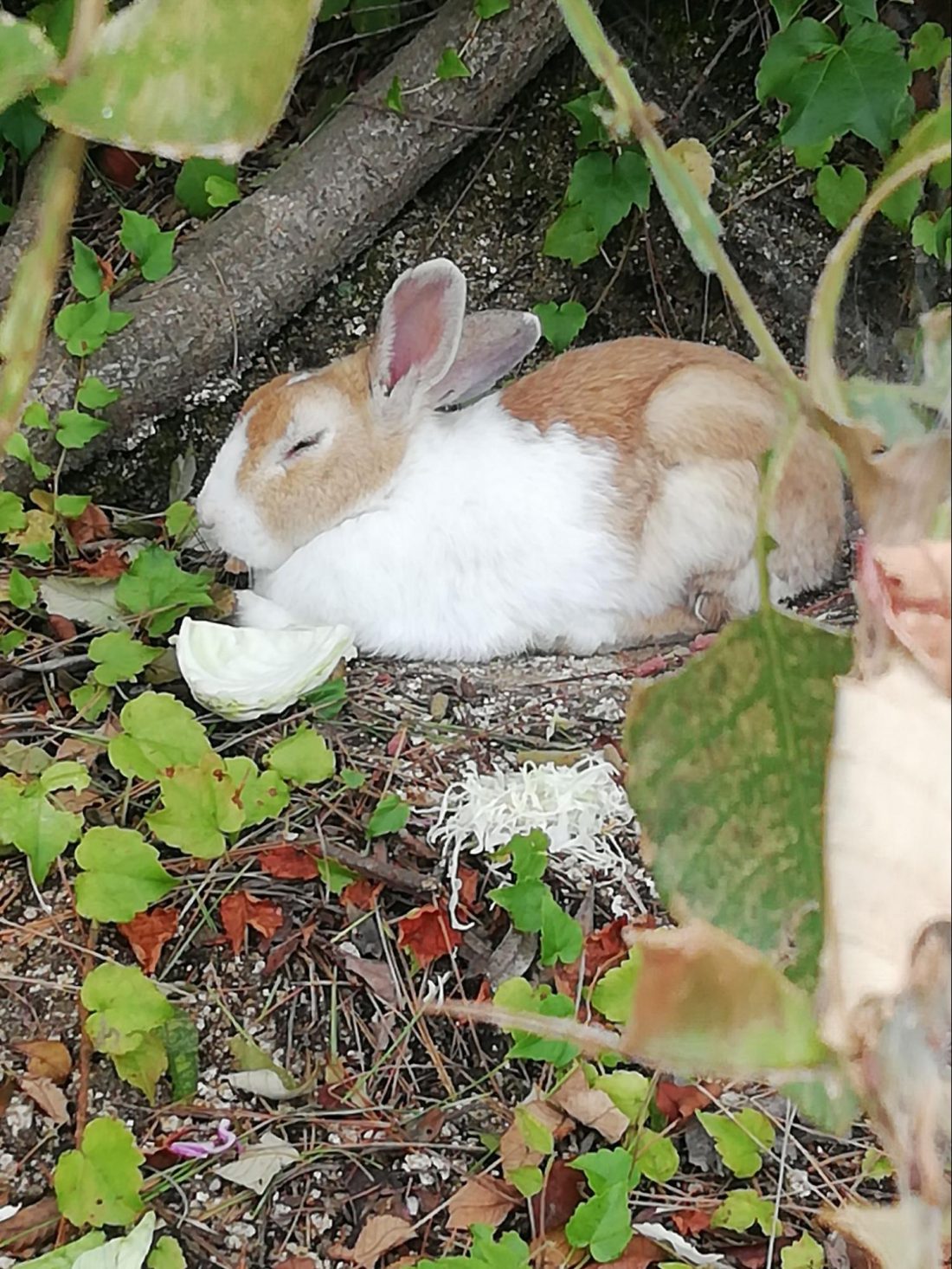 Some Dos and Don'ts provided by the island: 1. Do not pick up or hold the rabbits. While you might be able to stroke their back while they are feeding, they are afraid of being held, will struggle to escape, and can possibly injure themselves. 2. Don't feed them out in the middle of the bike path, or road. Rabbits that are feeding become less aware of their surroundings, and don't notice traffic. Always feed on the sides of the road/path. 3. Don't leave food behind if you didn't give away all your lettuce. It will just rot. And don't feed rabbits human food like bread. 4. Don't try to take a rabbit home, and don't bring and abandon a rabbit from home. Both actions are illegal and also have poor survival rates for the rabbits, as well. 5. There are water pans out all around the island. Water is a bit scarce, so one of the kindest things you can do is carry a big 2-liter bottle of water and fill up any water pans that seem low as you travel around the island.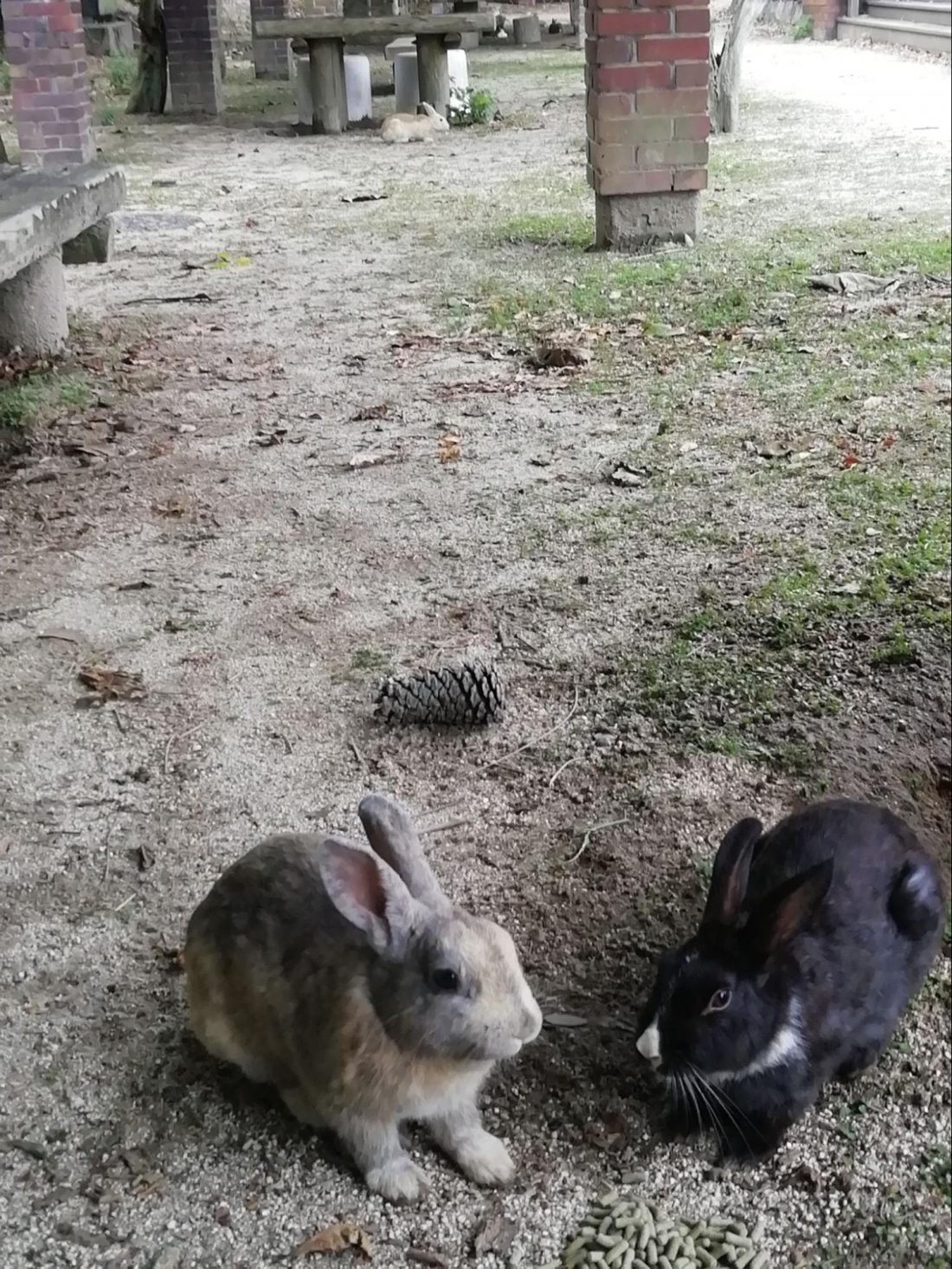 THE ISLAND EXPERIENCE
  While the rabbits are far and away the main draw, there is a lot more to do on the island. Starting with the resort hotel. If you have the opportunity to stay overnight, I highly recommend it. The hotel rooms are lovely, though simple. There is an onsite onsen bath which is very enjoyable, though sadly no "rotenburo" or outdoor bathing area with an ocean view. By the way, day-trippers may also use the bath for just 420 yen, if you want to relax after a morning of exploring the island or participating in any of the other activities the island has to offer. The hotel also features a buffet style dining experience for guests, breakfast and dinner. There is a nice restaurant available for lunch too. And there is a second café in the lobby that is most popular with day-trippers. I recommend the fried-octopus curry (don't judge by the name! The area is actually famous for its octopus, so there are several delicious octopus menu items here).
            The hotel also has a swimming pool with an ocean view that is quite popular. I saw several day-trippers get off the resort shuttle bus and head straight to the pool, so there is no need to even enter the lobby. Go swim and enjoy. Alternatively, the island also has a rather long beach just a short walk from the hotel. That area has a roped-off swimming area (the lifeguard estimated the rope was 50-meters out, though, so it's quite a spacious swimming area, however most guests stay closer to the beach). The beach also has an amenities shop, with various swim goods sold, such as floats and balls and goggles. It also has air pumps for all to use if you brought your own floats with you. There are also sheltered pavilions available for rent if the sun gets too strong for you. I've played at this beach before. The seafloor out in the water is mostly sand, a few rocks, the waves are consistent but mild. Overall I find it to be a great beach to spend the day at.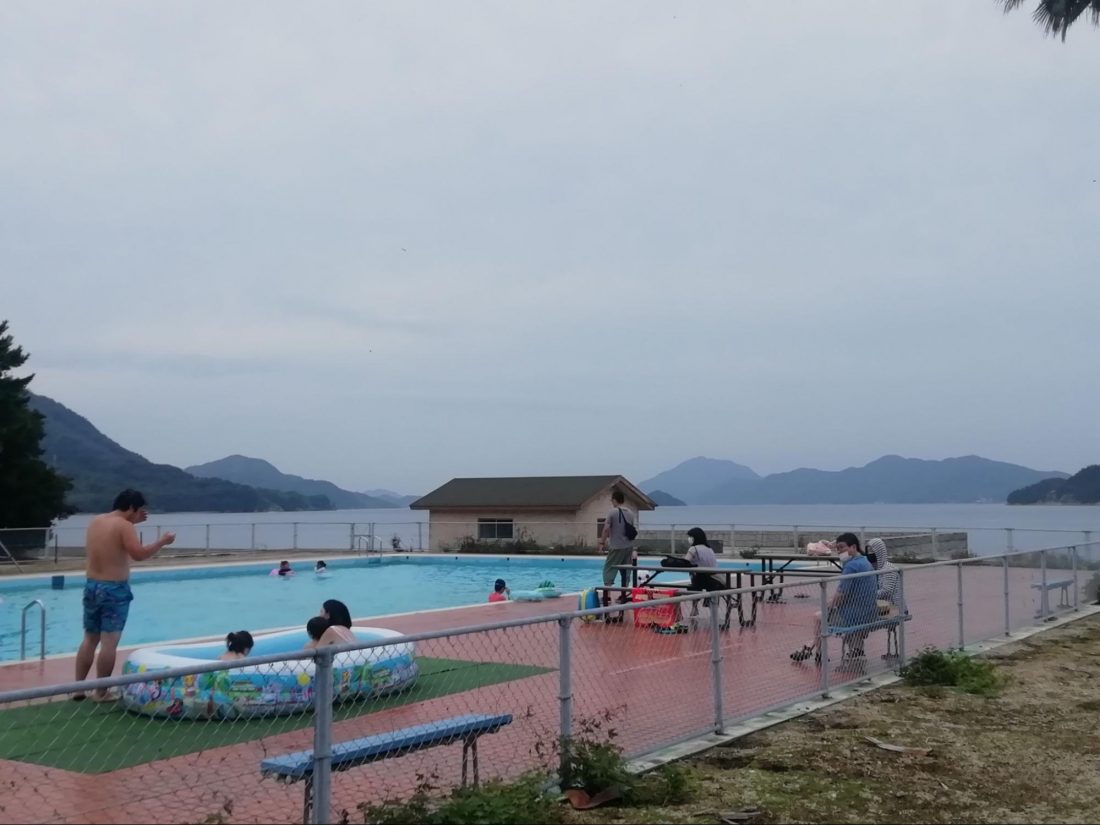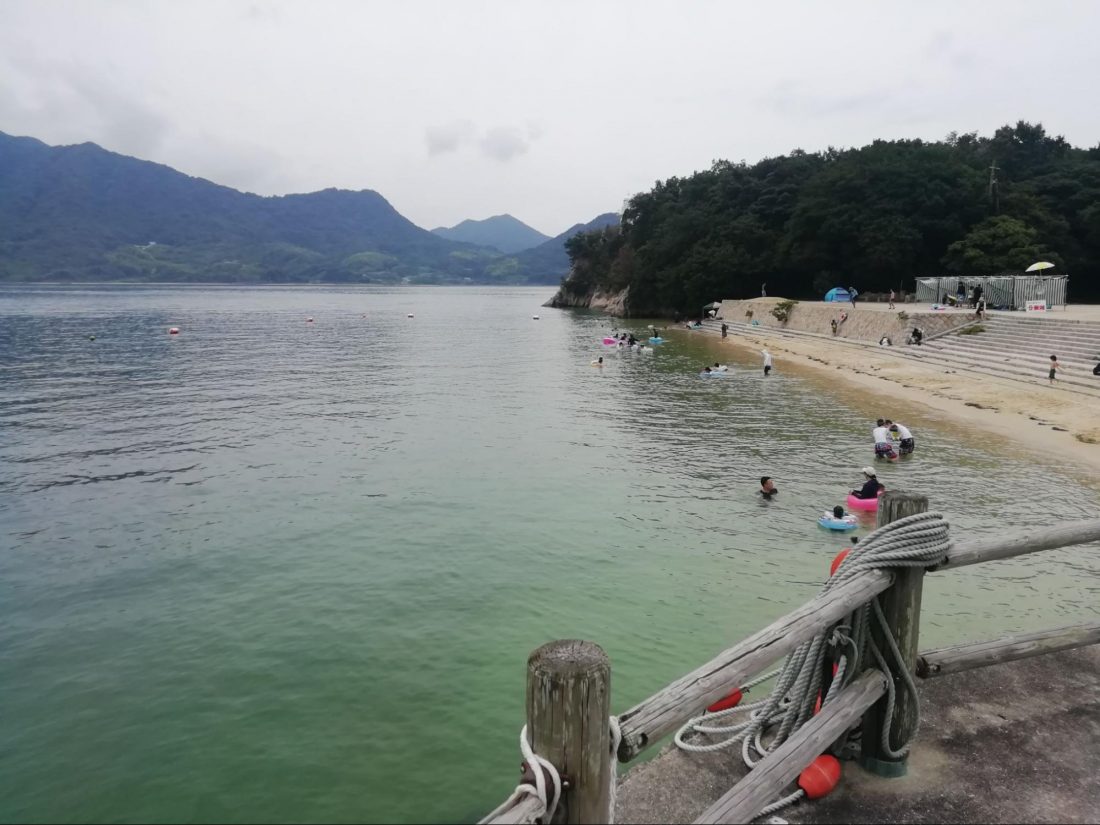 Still further, for the active people looking to make the most out of their time on the island: the hotel offers bicycles for rent; there is a tennis court; there is the possibility of ground golf (think croquet but played as golf with various holes); there is fishing gear for rent; badminton sets and even mahjong are available, too. The bicycle rental is 400 yen for two hours for hotel guests, and 600 yen for day-trippers. Don't worry about that two hour limit; you can circle the entire four-kilometer island in 30 minutes easily, so two hours is more than enough time to explore, feed rabbits and enjoy your ride. There is an option for an electric assist bicycle (the resort charmingly calls it a motor bicycle) for 800 yen, but there is only one climb of any steepness that would need a boost, so it's not really worth the bump in price. The tennis court rate is also different (double) for day-trippers (510 vs. 1020, plus 100 yen for a racket), but the badminton (200), ground golf (300), and fishing (310 for pole, 320 for bait) are the same price for everyone. There is also a table tennis option for hotel guests only.
            If you don't want to cycle around, there are several lovely walks. Truly, at four kilometers, the entire island could be hiked, though it's a bit far and hilly. Sadly, a typhoon a few years back caused major damage in the areas around the summit, so the 360 degree view from the highest point is no longer accessible. It was explained to me by staff that being an island, supplies are hard to come back and prohibitive in cost, so for now it's all roped off. However, there is a lovely flat hike along the water by the tennis courts, a walk down by the beach and the pier, and a fantastic walk that connects from behind the swimming pool to the beach, by taking you up into a forested hill. The trail leads to a very charming lighthouse, and also has one of my favorite spots on the island. It's a sunset viewing spot not really marked on the maps, but easy to find when you get up on the trail as "Hill in the Evening Sun". If you are taking a late ferry back, or staying at the hotel, I highly recommend going up this trail at sunset.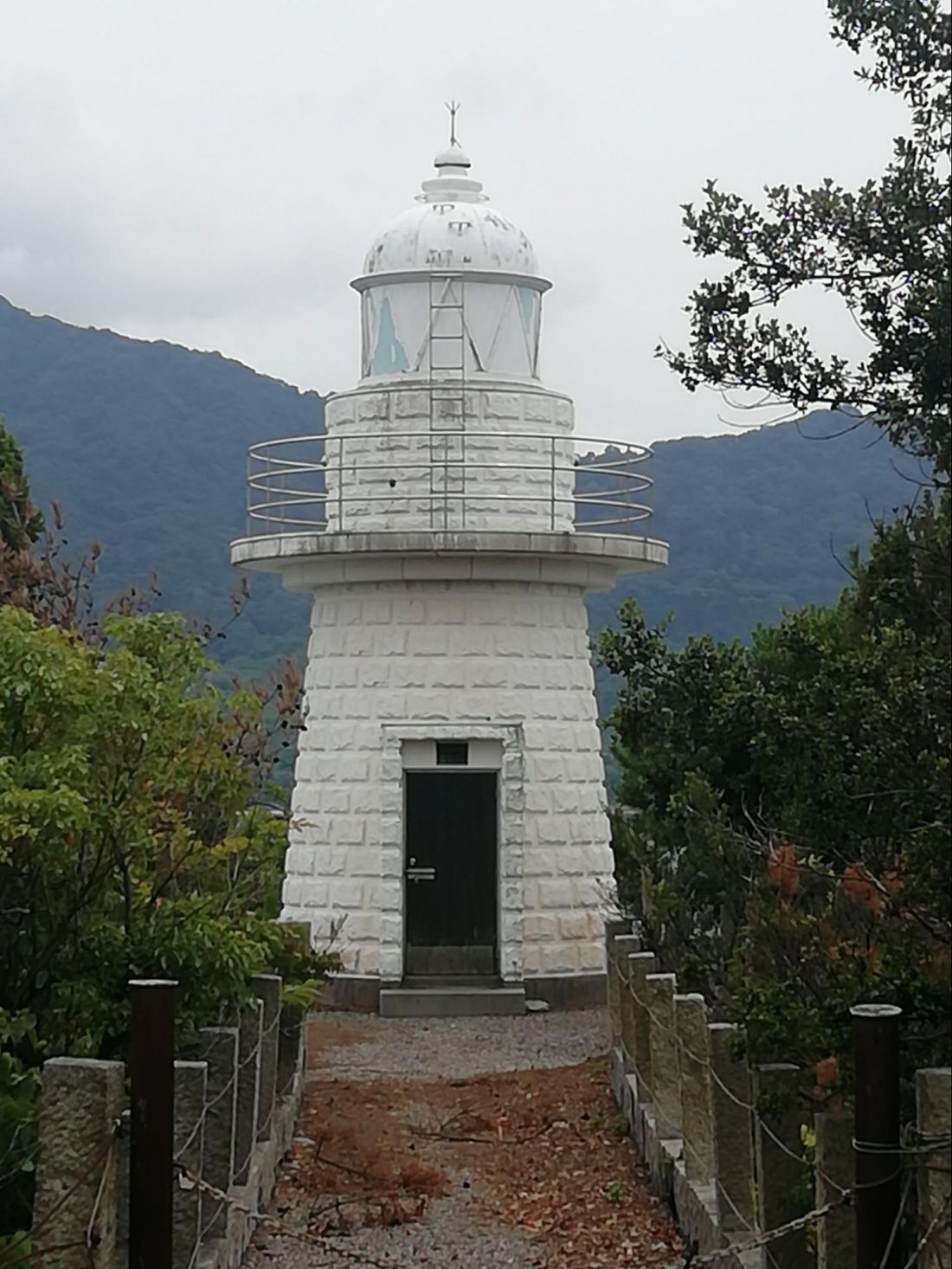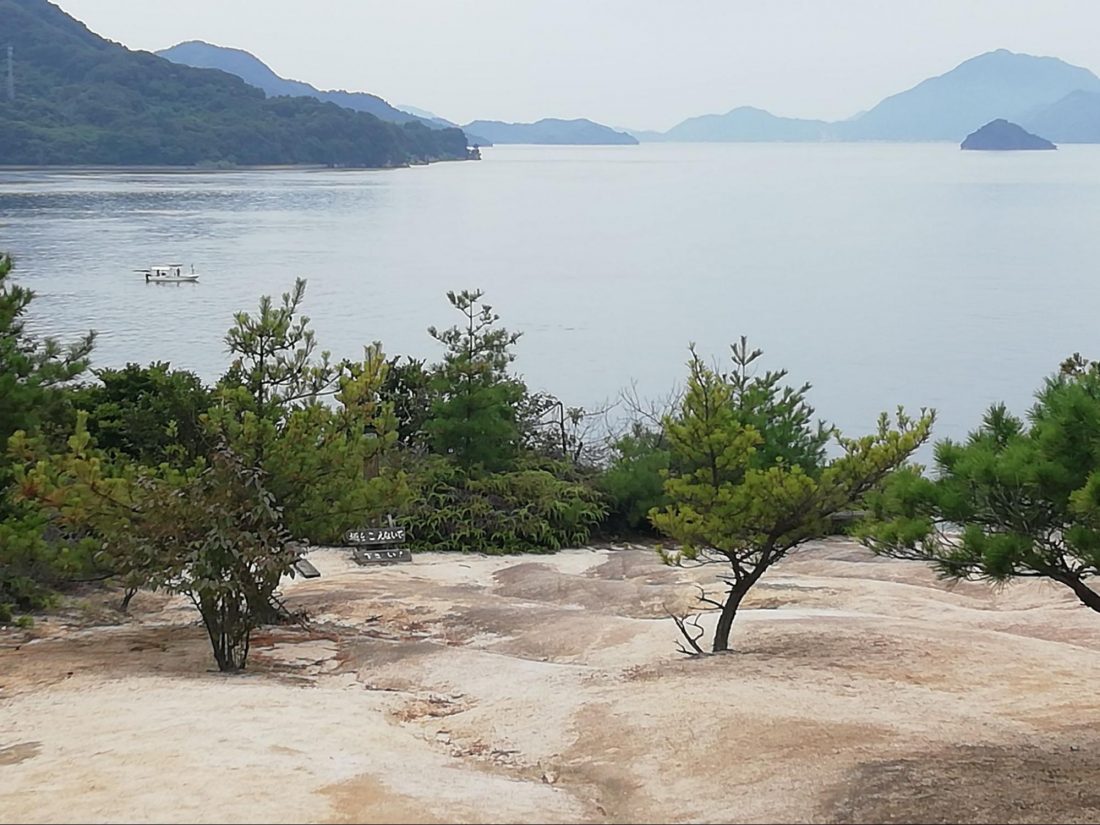 Yet one more potentially exciting option, there is a small campground right near the water. It has some prepared tents, complete with air mattresses and a hammock, for rental. It has some other tented picnic tables available for rental. And it has some open space available if you want to come and pitch your own tent. It also features a sheltered picnic area with tables and fire pits for barbecuing or making a pot of curry, and some tables in the open that also have their own fire pits. Finally there is a lovely wooden promenade encasing the whole camp area. If you like the idea of an overnight stay in a tent by the water, with rabbits likely stopping by as guests, this is ideal.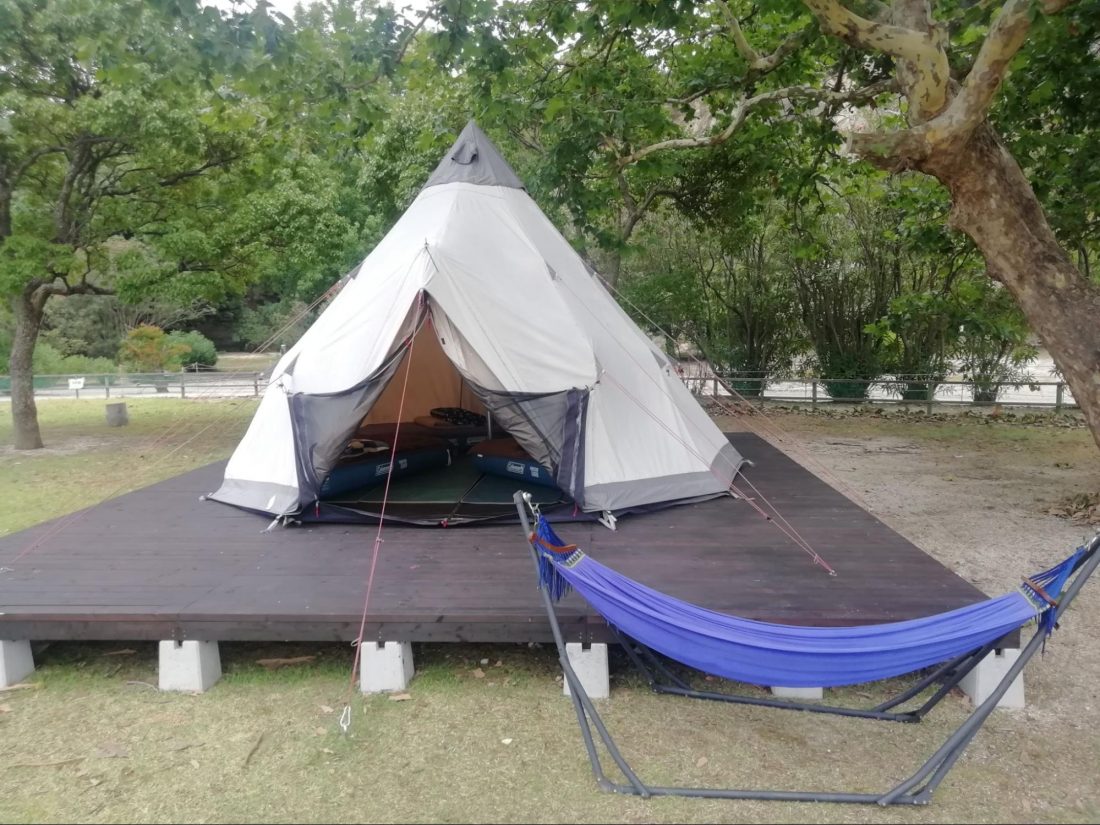 Personally, I highly recommend at the very least doing the bicycle rental. There are many things to see around the island, and many rabbits to be found away from the hotel grounds. Plus, there are some absolutely wonderful ocean views available. At the very least, all day-trippers should arrive, feed some rabbits, rent a bicycle and explore, enjoy lunch and/or an onsen bath, and then feed some more rabbits before heading home. The bicycle ride really ties in all the elements of the island experience. You'll discover more rabbits, you'll see more of the island and views, and you'll also discover the island's sordid history which will be explained next. So beach and pool, bicycle ride, assorted sports, and a spa-like bath; all of these things are available as part of the island experience even beyond the rabbits that called you here. It's really, truly a great place.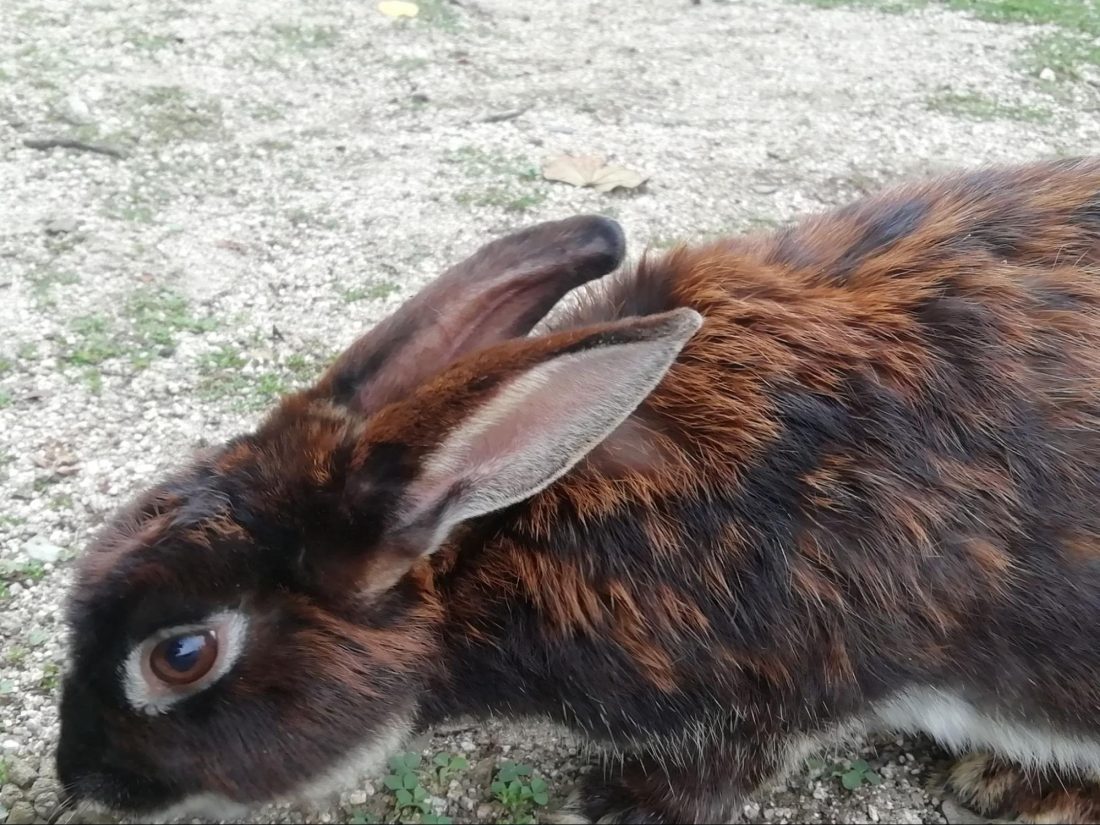 THE HISTORY EXPERIENCE
While not much is really explained about why there are over 1,000 rabbits on such a small island, there are two different historical elements to the island that have given it a more notorious name than the fame provided by the long-eared inhabitants. Just before the Russo-Japanese War (1904-05) Japan was already preparing for battles, and as such put three gun batteries on Okunoshima to protect this part of the Seto Inland Sea. The guns are long gone, but the fortifications from all three batteries remain and are explore-able. History buffs interested in over 100 year-old military history can find much to explore here on the island. There are additional elements from the war days, too. My personal favorite is the air-raid bunker that was prepared for the officers only, a network of concrete tunnels, whereas the ordinary staff had a one-meter deep foxhole only.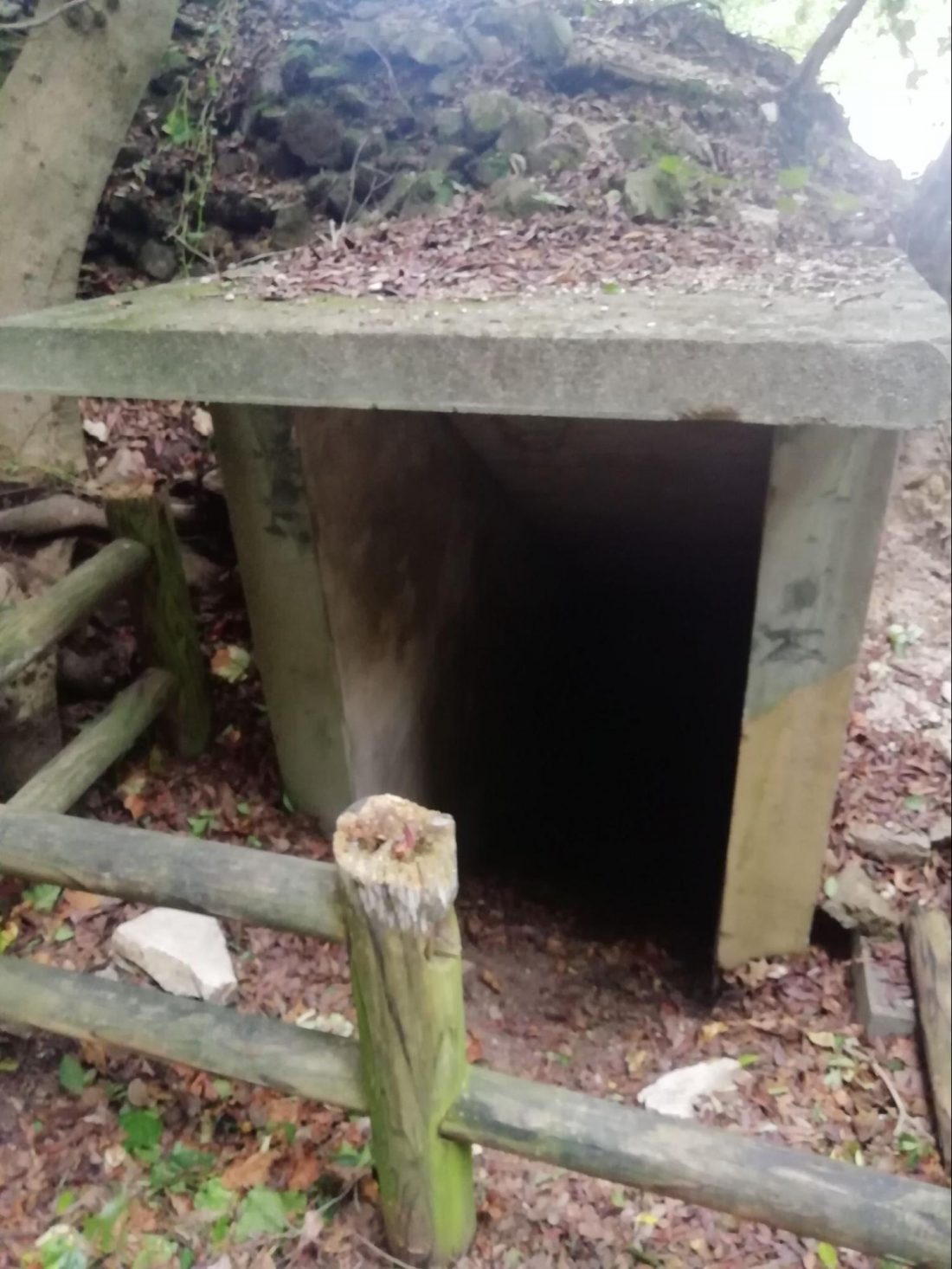 The second part of the historical experience is a little bit sadder. Between 1929 and the end of World War II in 1945, Okunoshima was the secret location of Japan's poison gas development. Many Japanese citizens brought in to work at the plant died from side effects and after effects of the chemicals they handled. There are many sites around the island to be seen, such as storage areas, and there is also a museum (ticket required) with a collection of many items donated by those who worked at the plant. There is also a memorial stone erected in the hopes that all will know the dreadful truth of poison gas and that this "odious history will never be repeated." If anyone has any concerns, the island has been tested many times since, and there are no residual harmful agents anywhere.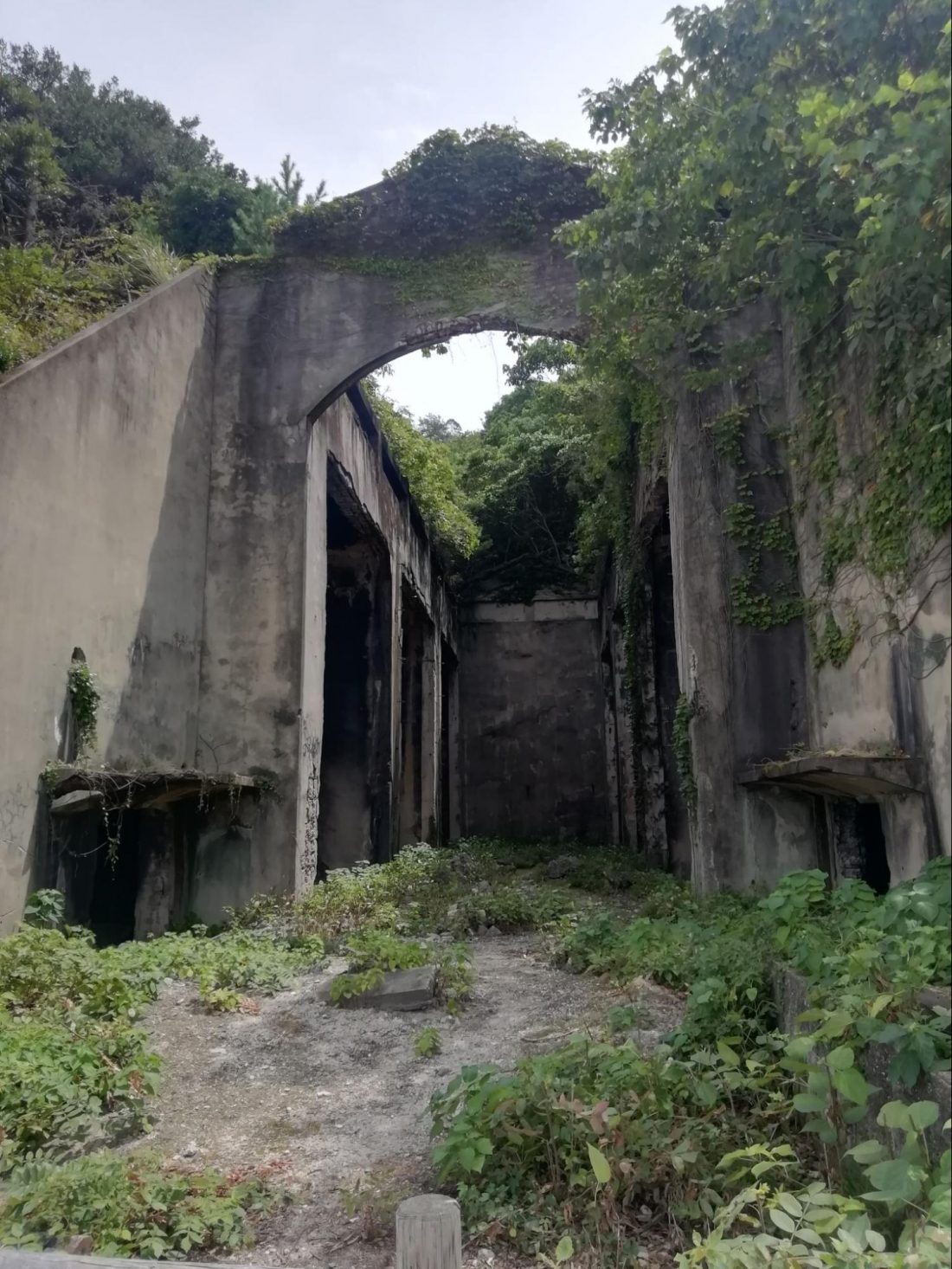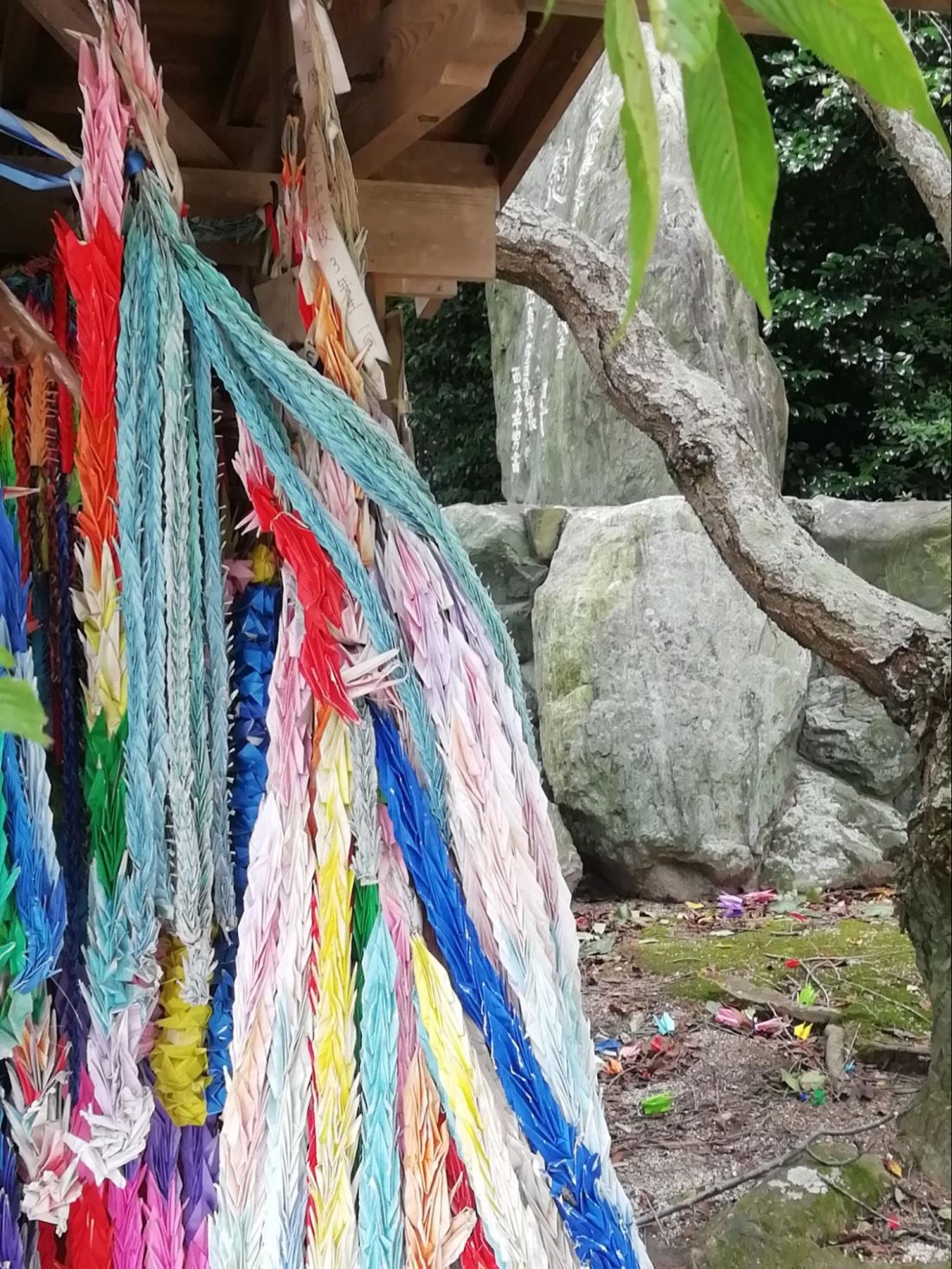 MOMENT OF JOY
   History, camping, hiking, and cycling aside, coming here is about the rabbits. My moment of joy came first with an adorable black young rabbit I found eating from my hand, but primarily my joy came from the one crazy rabbit that I actually induced to eat from my thigh, who even jumped up and over my leg once. This crazy funny rabbit gave me the most joy and my favorite memory this time around.
            There are a whole rainbow of rabbits to be found on the island. You'll find "the cutest" time and again.
(Insert Video — Rabbit 2 — Here)
SOUVENIR SHOPPING
Finally, let me say quickly about the souvenir shopping options you have. If you like goods with rabbits on them, or stuffed rabbit toys, this will be your paradise. First, the ticket office on the mainland has a really good gift shop with many, many items. We are talking, key chains, magnets, clothing, including baby bibs, coffee mugs, toys, even casual jewelry. My general impression was that the items here were a little more high-end, possibly pricier, but that's not based on empirical data, just my thoughts. I did see many items I'd be happy to own. However, there is also a gift shop in the hotel lobby area. This has far more stuffed rabbits, most of which were adorable. It also has the famous 兎人 T-shirts and hats, which literally translates as "Rabbit Person". If you know anyone who is an extreme rabbit-phile these are fantastic gifts. The island gift shop is also heavy on the food-item souvenirs that the Japanese generally prefer. Generally I prefer a key chain or T-shirt, but one of my favorite souvenir snacks is here, however. Packaged amusingly as "rabbit boogers", they are a cocoa peanut, with a hard cocoa shell rather than milk chocolate coating. They are delicious, as well as being funny, and I get them every time I visit.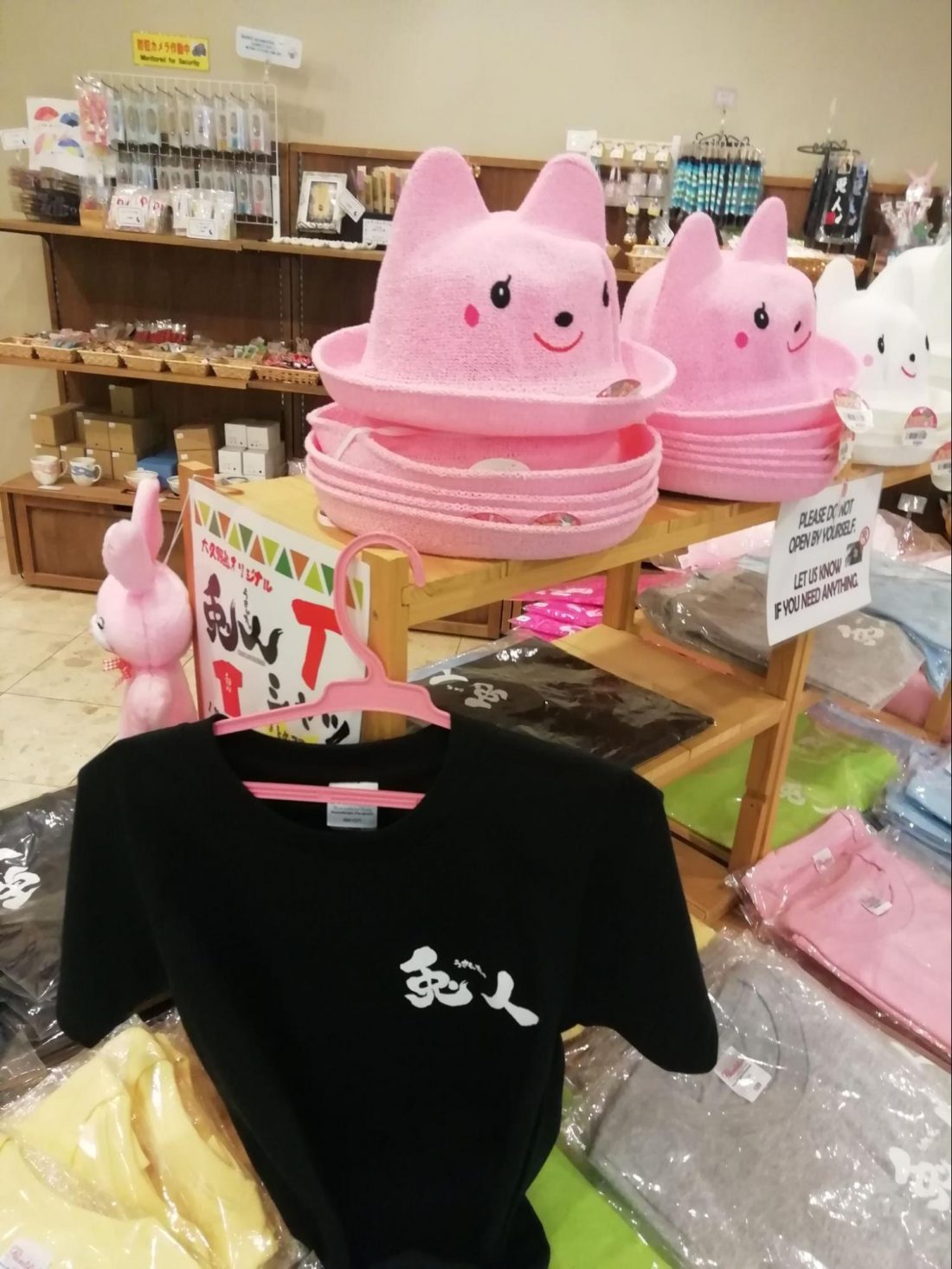 ACCESS
  It's a bit far from Hiroshima city. I wanted to be there as early as possible to see rabbits in the dawn. I took a 6:30 train from Hiroshima station, and still didn't arrive until 9:40. If you have a rail pass, it is fastest to go to Mihara by bullet train and take a local train back to Tadanoumi Station. Even by regular JR trains, going to Mihara and working back is 15-30 minutes faster. However, if you are not rushed I strongly recommend taking the "Kure Line". There is about one train an hour that goes directly to Tadanoumi, otherwise you'll have to exit and switch trains, probably at Hiro Station. But this line goes right along the ocean, and offers gorgeous views most of the way.
PRO TIP (and post trip Moment of Joy)
    Last point. In the lobby, across from the check-in desk, there is a small crafts table. There are several options, such as coloring an insert for a drinking mug, but what I thought adorable and amazing, for just 100 yen you can make your own decorative Rabbit Island knick-knack using sea shells and glue. They give you everything you need and there is a simple signboard to explain the how. My daughter had originally been meant to join me this time around, but those plans got changed. So I attempted to make something for her. It was hard waiting for the glue to dry, and nerve-wracking to get the present home without the shells being bumped off. But when you can get a teenage daughter to say "Cool" and "I love it", it's probably the best 100-yen craft experience you'll ever have.