100 STORIES
Park Away from the City – Hiroshima Bihoku Hillside Park
In the middle of a lowkey town
Bihoku Hillside Park is not one of your top destinations looking into traveling around Hiroshima, but it is one of your must-visits if you have been living in Japan for quite some time. Especially if you've made friends, you can invite them here to go camping. Or if you just want to get far away from the city and enjoy some park adventures, then Bihoku is the place for you.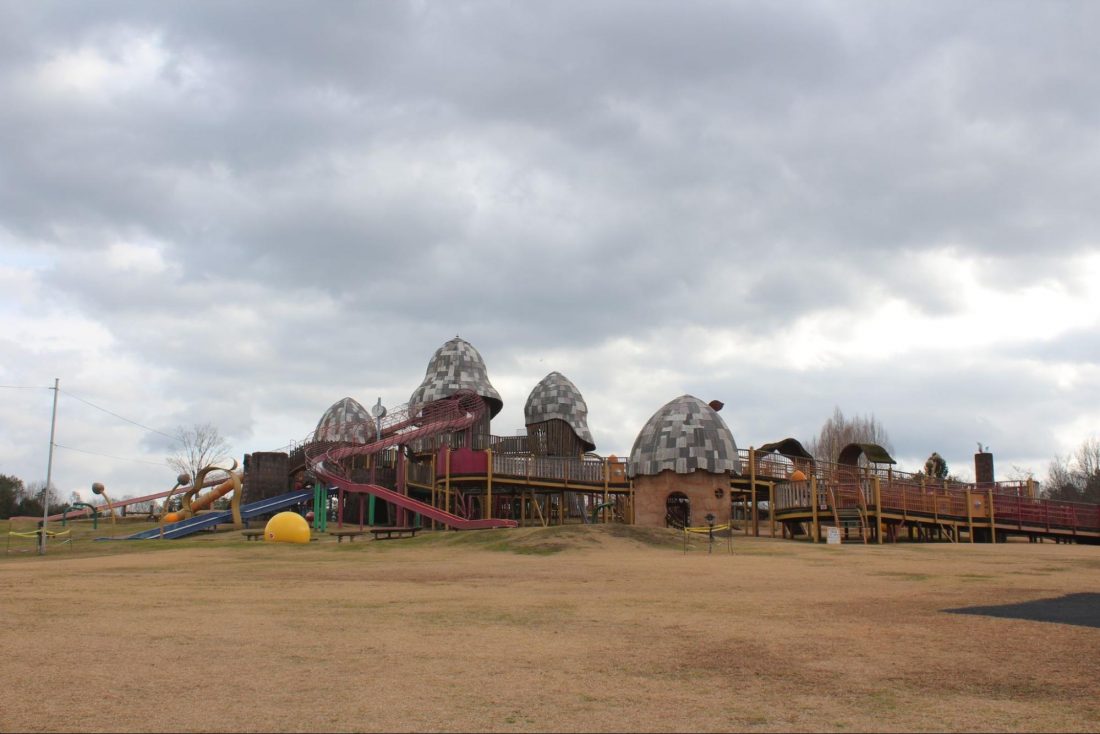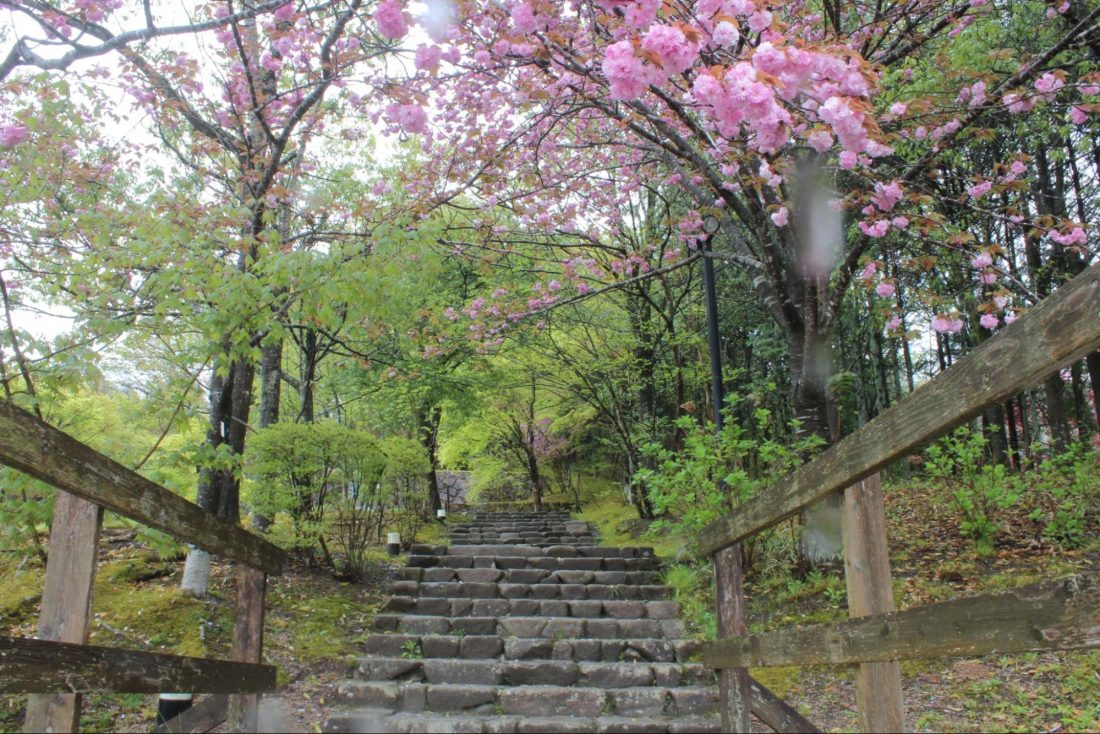 With nearly 340 hectares of land, the park offers a huge area for camping and barbecuing with family and friends. They have biking routes and bicycles for rent, golf courses, gigantic adventure playgrounds, and a hillside lawn perfect for outdoor games and setting up camp. In addition to this, they also have several classes for you to experience traditional Japanese cultural activities like afternoon tea in a traditional Japanese home and craftworks like straw works and woodworks. Depending on the season, they offer these classes regularly. Some courses will require additional payments, but some are free. In addition to that, they also put up events and outdoor sports and activities such as tree climbing and canoeing. They also have rentals available for camping and sports you might like to play when you visit.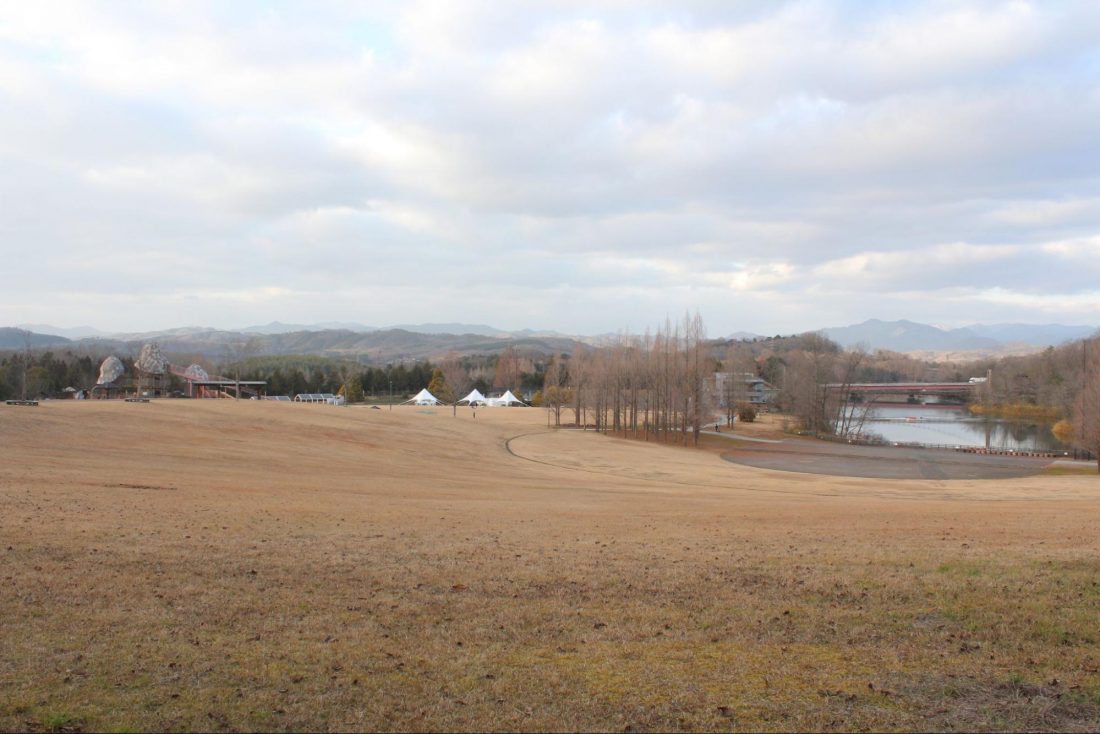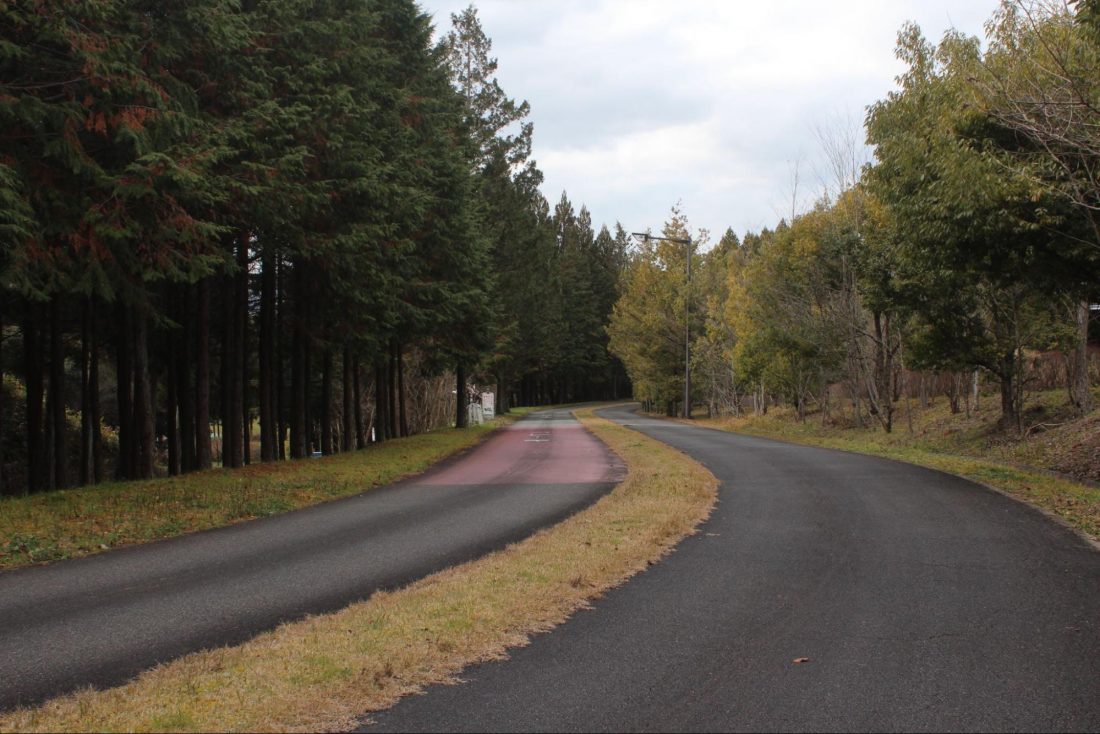 Getting to Bihoku
The best way to experience Bihoku is to travel by car. Bihoku has plenty of parking space available for campers and overnighters. If you are traveling by commute, I highly suggest you check the schedules of the train rides and bus rides. The easiest way to get to Bihoku is by bus from Hiroshima Bus Center. They have a direct route that would drop you off by the entrance of the park. The trip takes about two and a half hours, and it's a pretty chill ride, perfect for catching some sleep. While getting to Bihoku is accessible by bus, make sure to double-check the schedules of your ride home because the bus comes by in long intervals. And if you're only visiting for a day, I suggest taking the train, which is a bit of a walk (about 20 minutes) that goes straight to Hiroshima station. If you miss this train, which comes around in long intervals, you can take a bus to Miyoshi station and take another bus to get to Hiroshima station. The one-way commute costs about ¥2,000. 
The park entrance is very affordable at ¥450 for adults. For first-time visitors and one-day visitors like me, I highly recommend taking the road train around the park. For ¥320, you get to have a tour of the park. It roams around the park every hour, and it's an excellent way to get an idea of what the park has to offer and which activities you'd want to try and do first. They just have so much, and the park is so huge that it's best to get this tour to get to know the place. They do have a pre-recorded tour of the park while you ride the train. However, it is in Japanese. The train conductor will also ask you if you want to get off in one of the park areas if you're going to start your adventure already.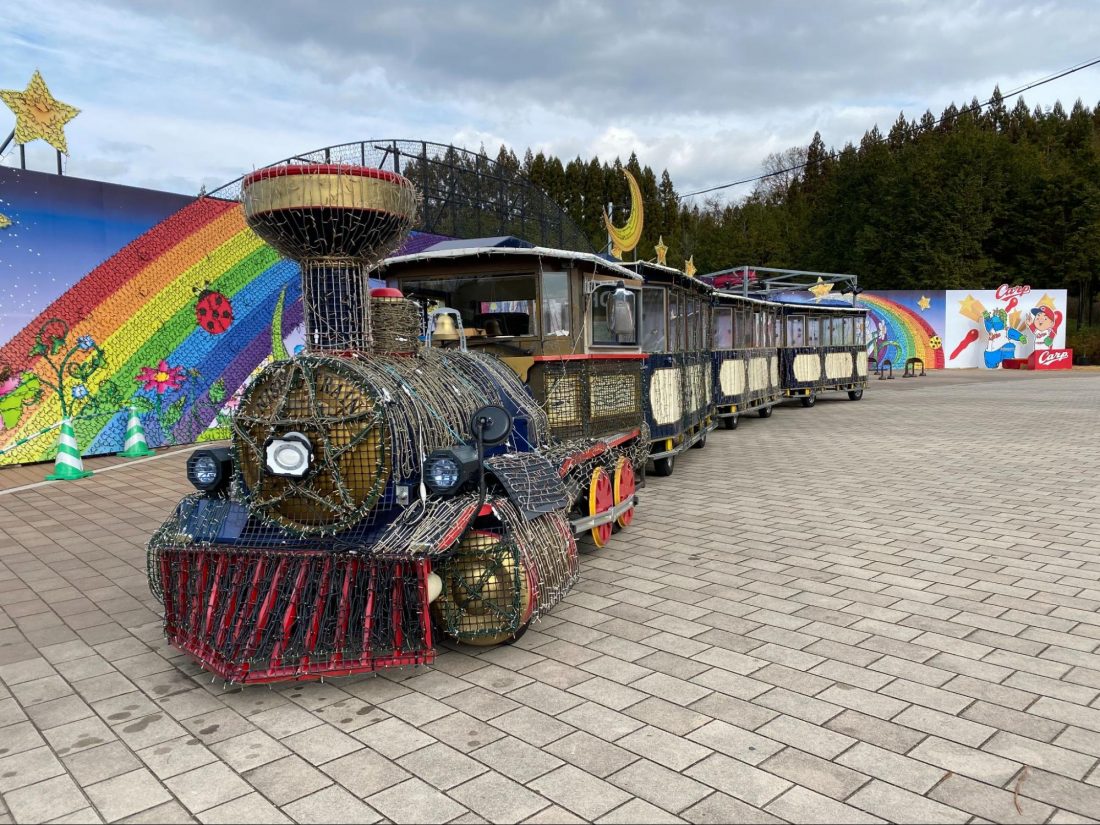 Once you get to see the park, you'd understand why this place is truly best enjoyed with a couple of friends. Most especially, family and friends who love to play in jungle gyms, play golf, ride a bike, run around the park, enjoy some cultural experiences, camp, canoe, barbecue, and so much more.
Winter Illumination
While Bihoku may not be one of your typical destinations around Hiroshima, Bihoku is famous for its Winter Illumination. Coming to the park on December 26th of 2020, I was half expecting it to be your typical Christmas tree, a garden covered with colorful Christmas lights, and some illuminated reindeers. However, Bihoku went beyond the Christmas lights and instead had put on an incredible show that transports you to a magical experience. 
There were rainbows, butterflies, flowers, a horse, and a carousel illumination that took my eyes off the giant Christmas tree by the entrance. Then, around Hiba no Sato, the experience village, they put on Christmas lights on this willow tree they put in the middle of the pond. They also had Chinese lanterns elegantly decorated on the next pond. It was indeed magical to watch and experience.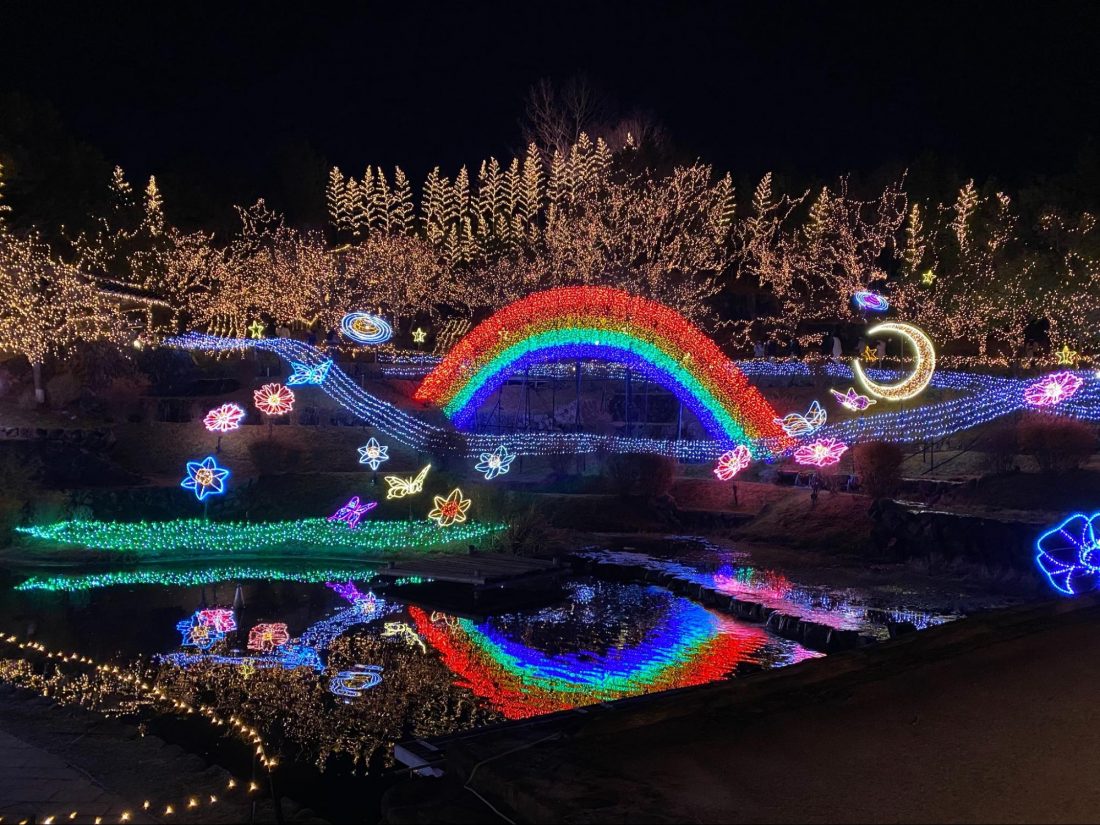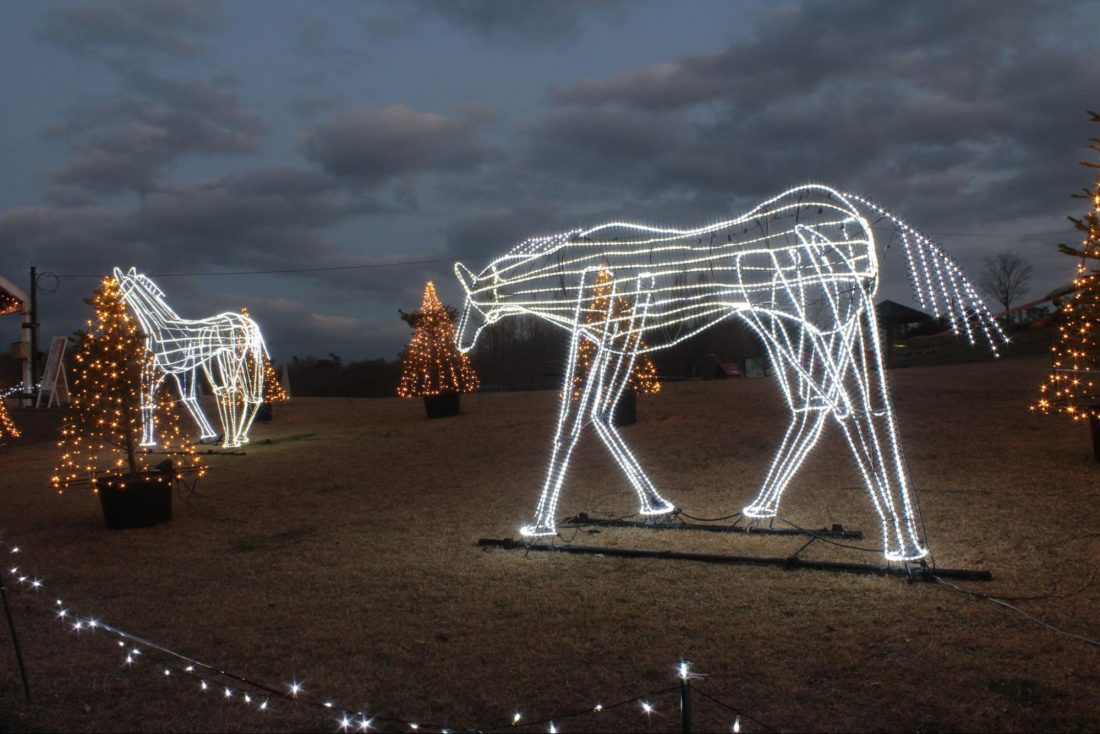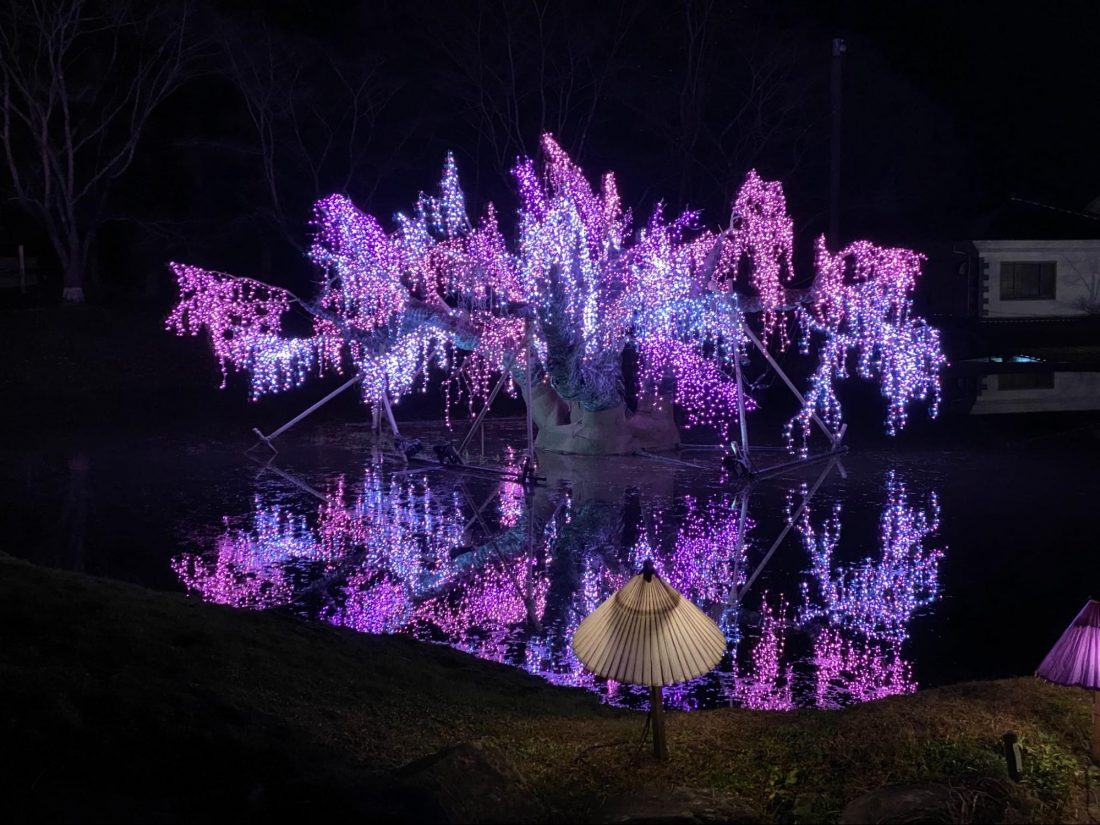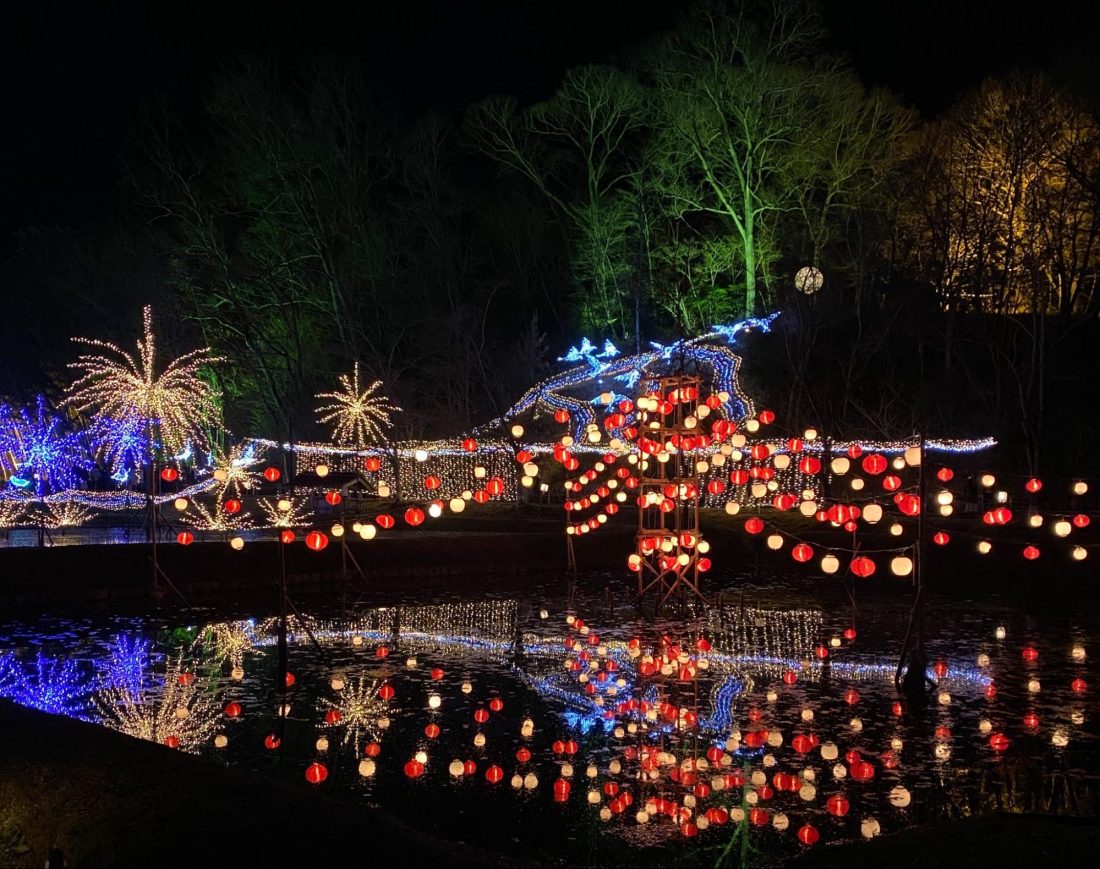 One of the coolest displays I have ever seen was the stack of wine glasses that were shaped into a Christmas tree. It looked so cool and the lighting was so vibrantly colorful. I just had to take a couple of pictures.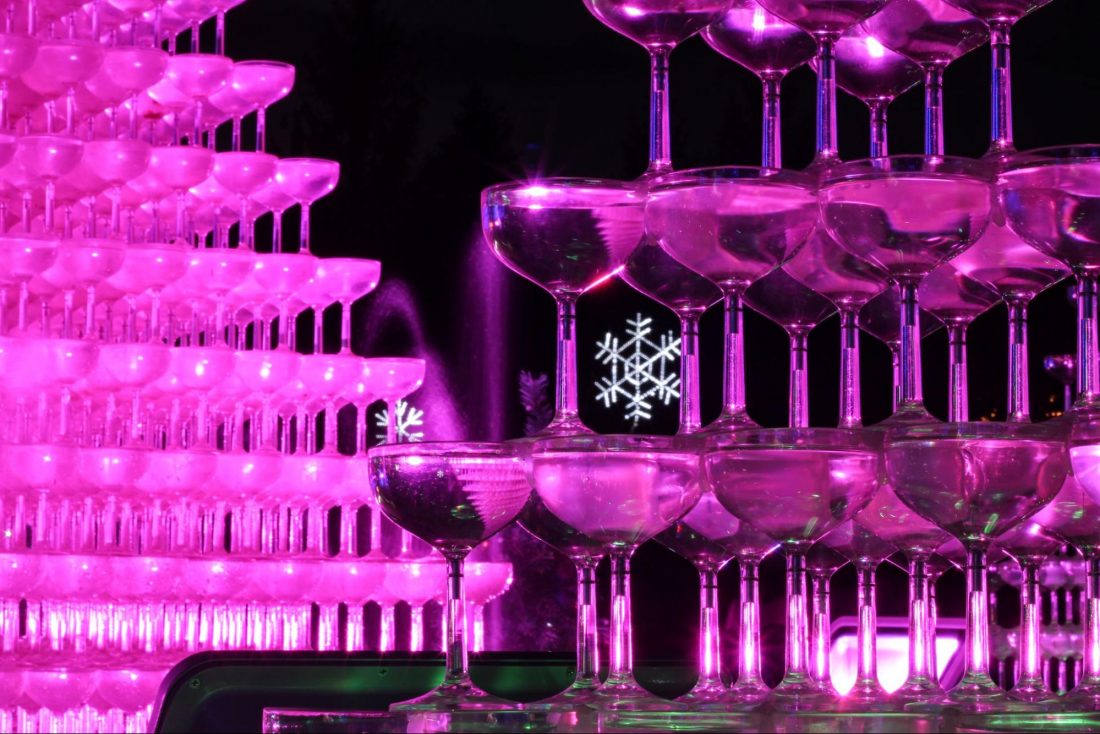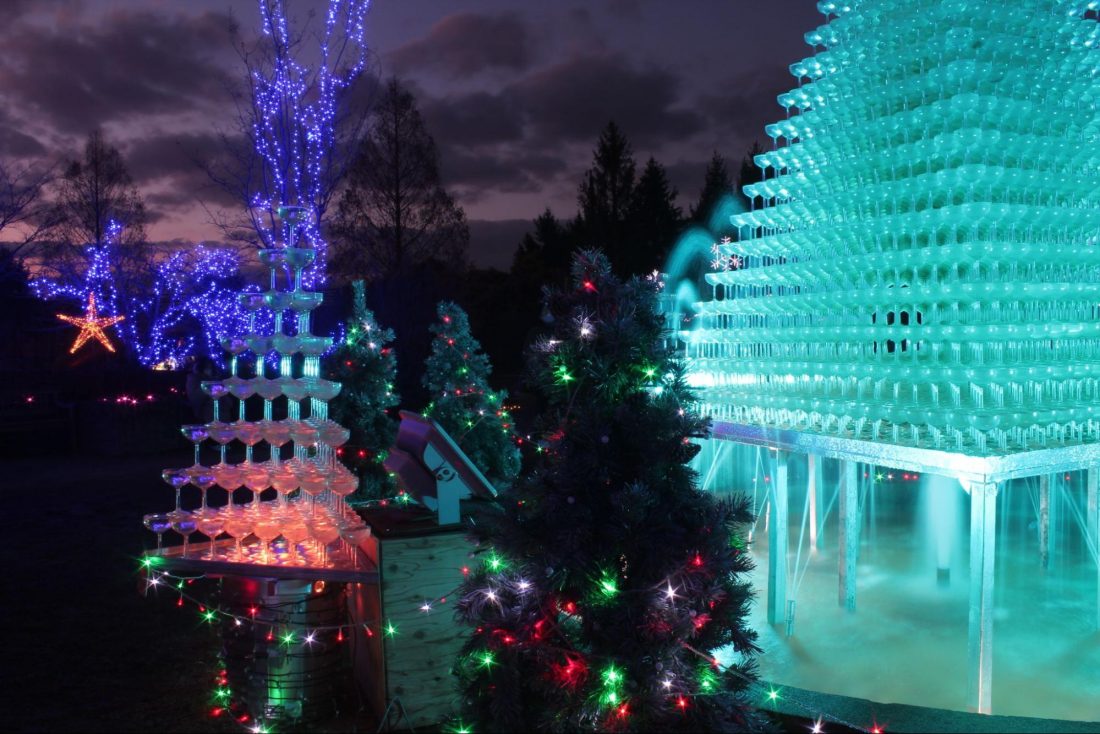 The main event was at the center of the park. A beautiful arc and enchanting music will welcome you to their fantasy displays. There were huge disco balls along the path that were beautifully lit by spotlights. At the center aisle, colorful lanterns and smaller disco balls gave life to a serene garden pathway, offering a trance-like illusion to curious visitors. And by the end of the path is a geometrical dome shining at the center, surrounded by smaller domes lit by colorful lighting patterns.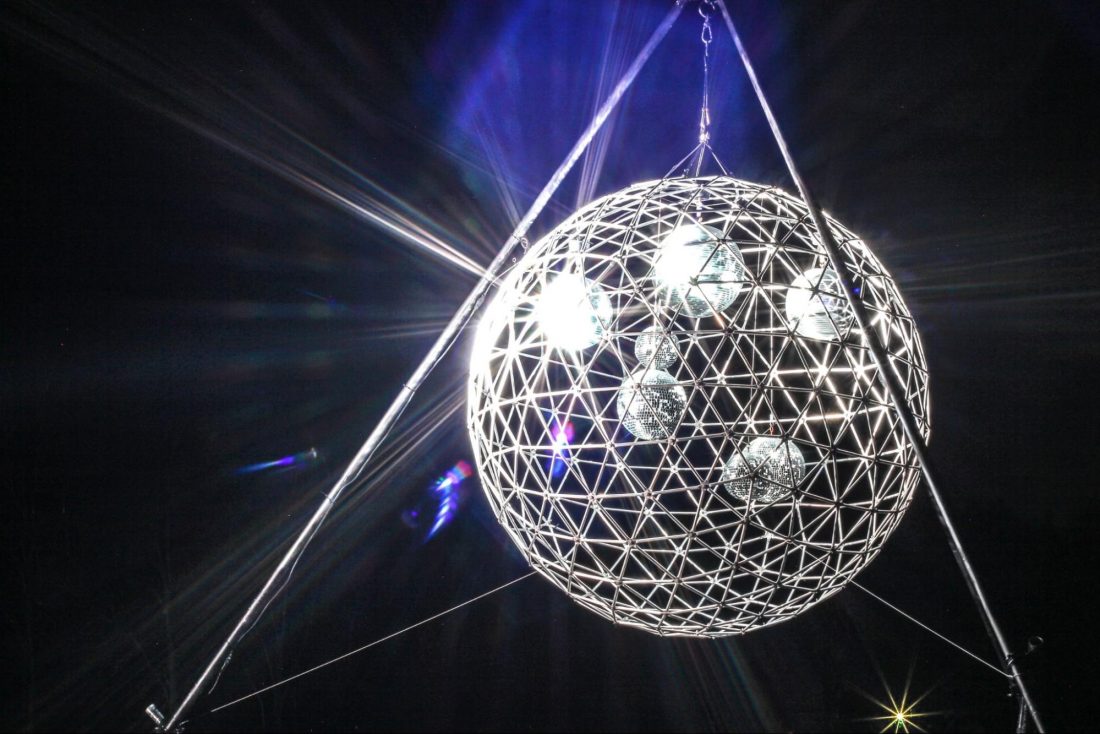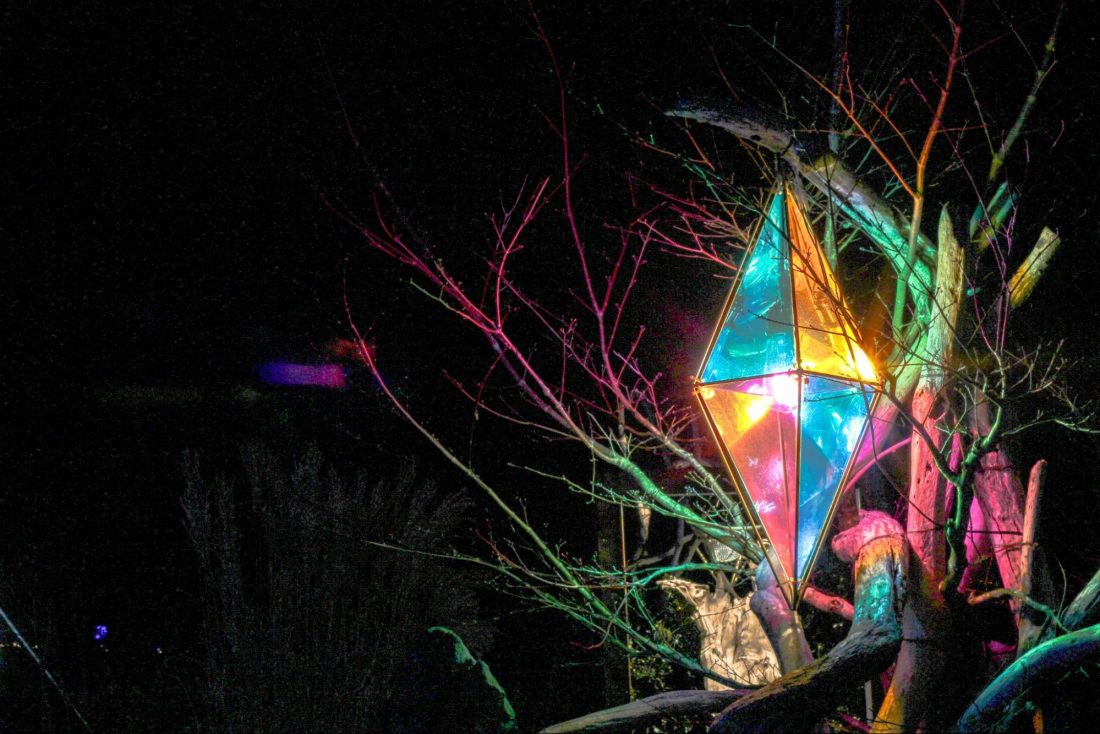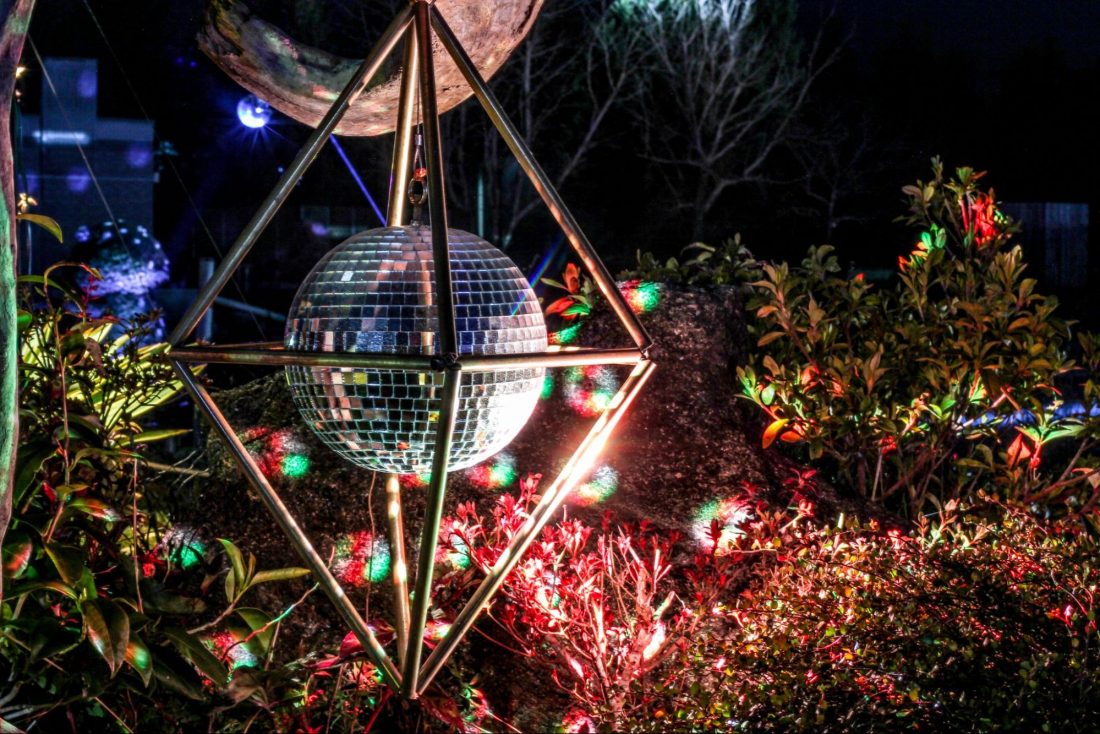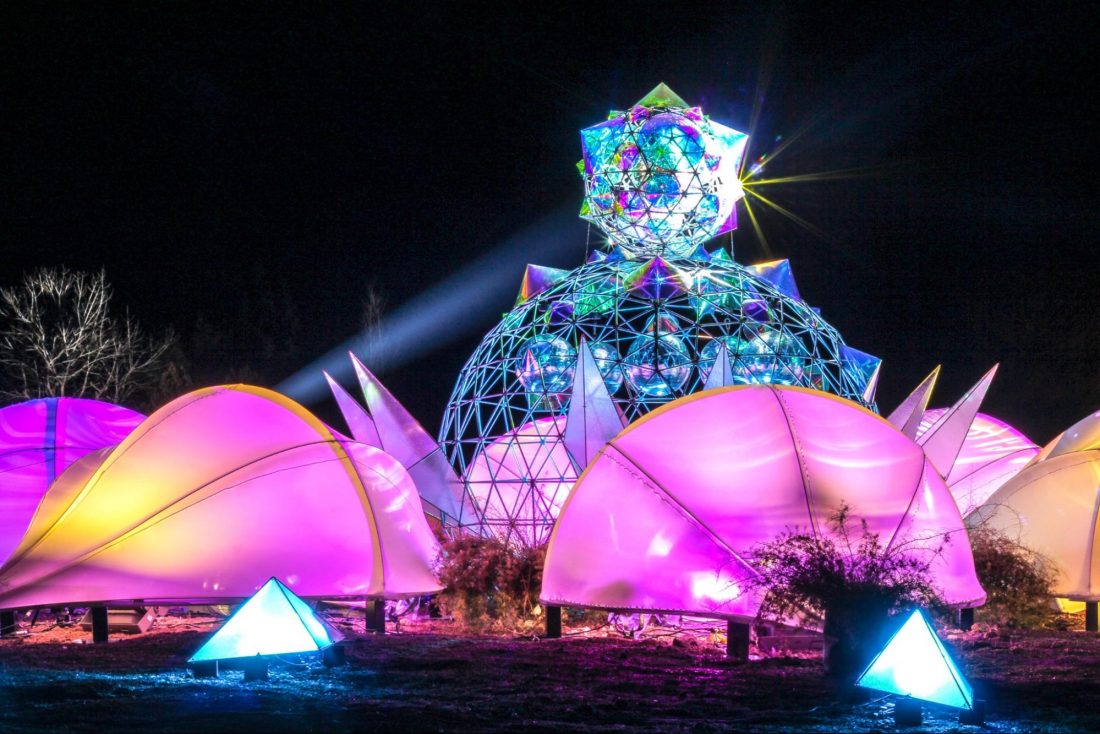 Moment of Joy: The winter illumination show was simply mesmerizing. It had truly transported me to an enchanting trance that made me feel like I was in a different world.
Spring Visit
Whenever I visit parks and gardens in Japan, I am never let down by the variety of flora they have to offer. Looking at them is simply mesmerizing. In my recent visit to Bihoku on the 17th of April of the year 2021, I got to see the most vibrant red tulips I've ever seen. Then, they also had animal displays made of grass that were all so cute.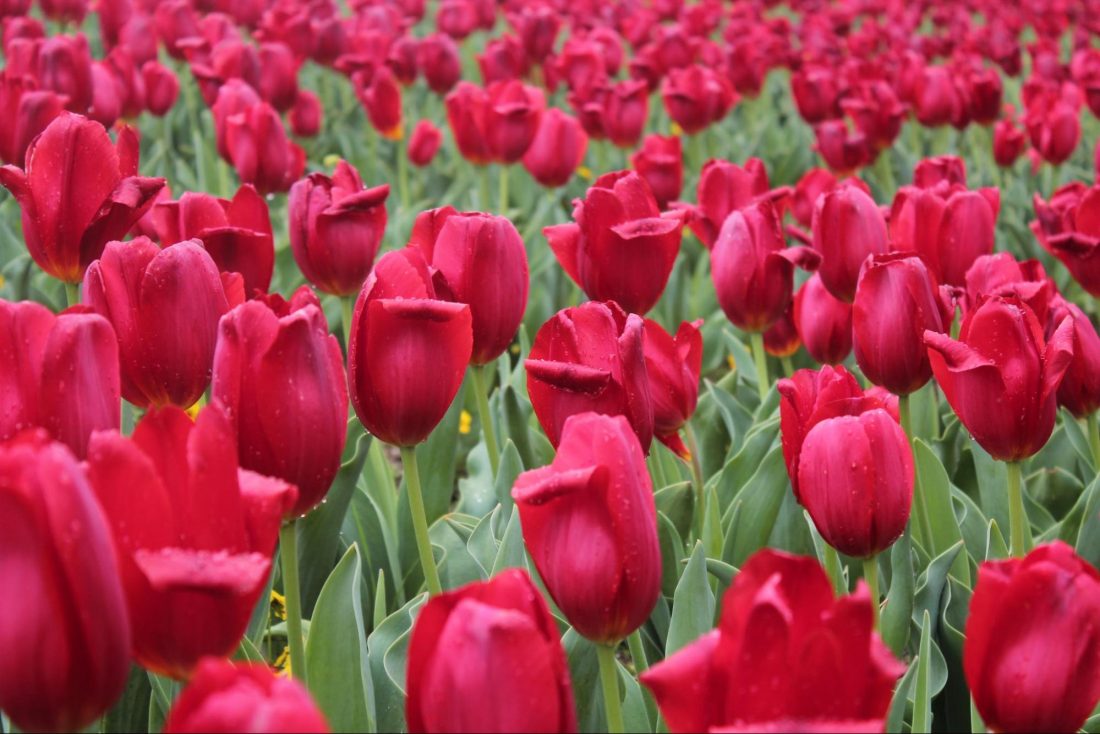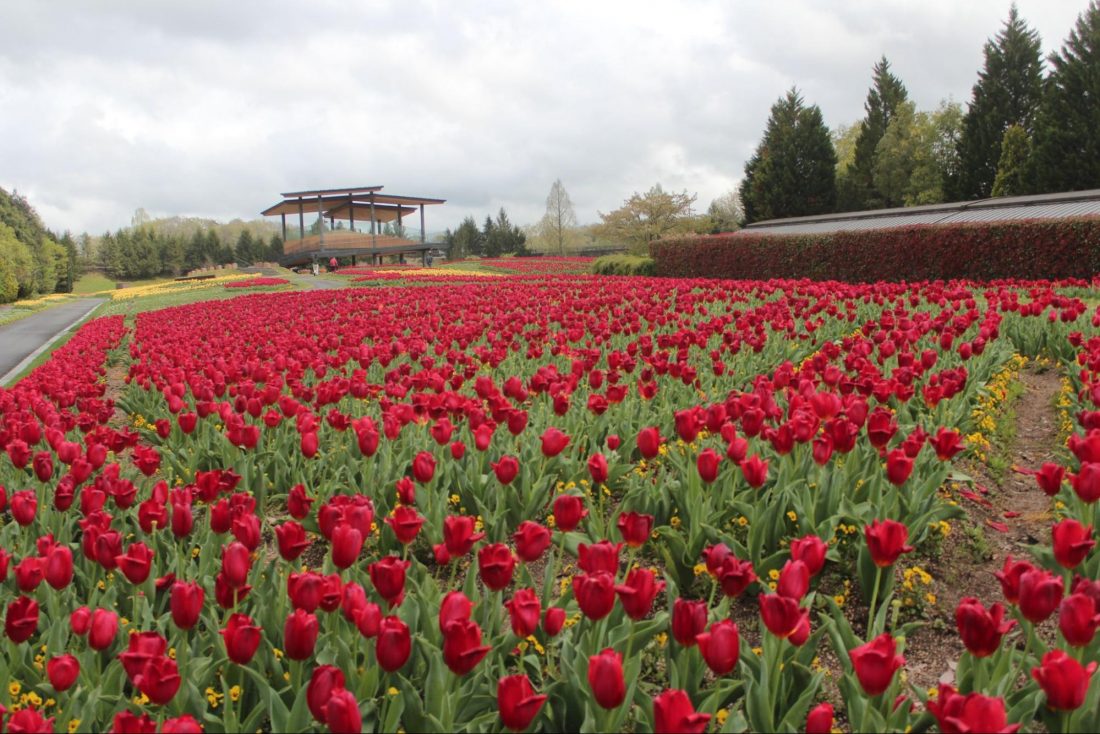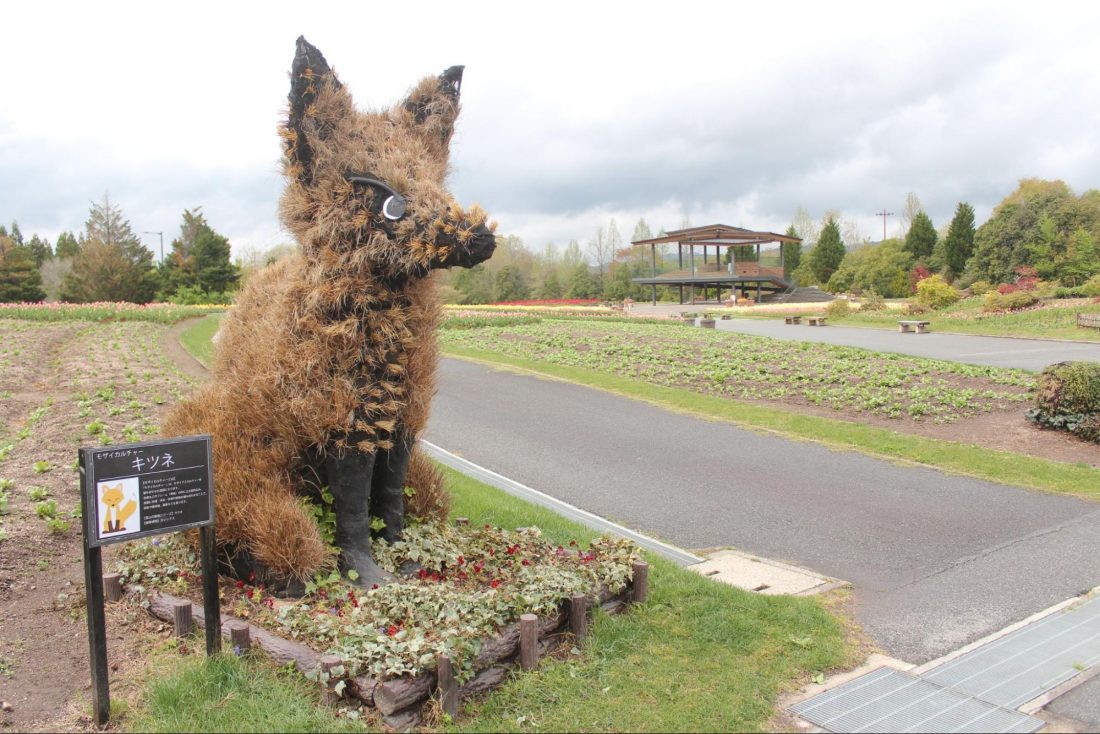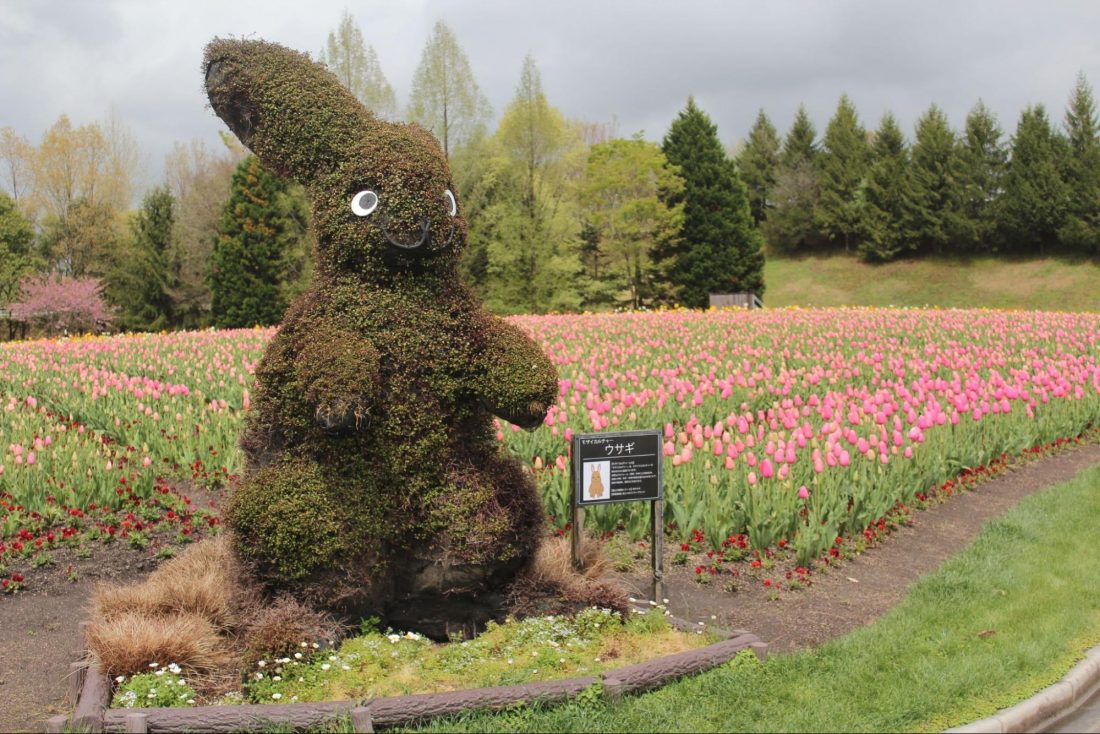 The athletic playgrounds or the jungle gyms are gigantic and fun, even for adults like me. One of these jungle gyms is right at the center of the open hillside area. There are ropes and tunnels you climb to get to the slides. There's a mini zipline and a climbing wall you can dare to try. You can also find huge swings by the hillside. And gym balls you can throw and chase around the hillside lawn. Or perhaps a game of dodge ball?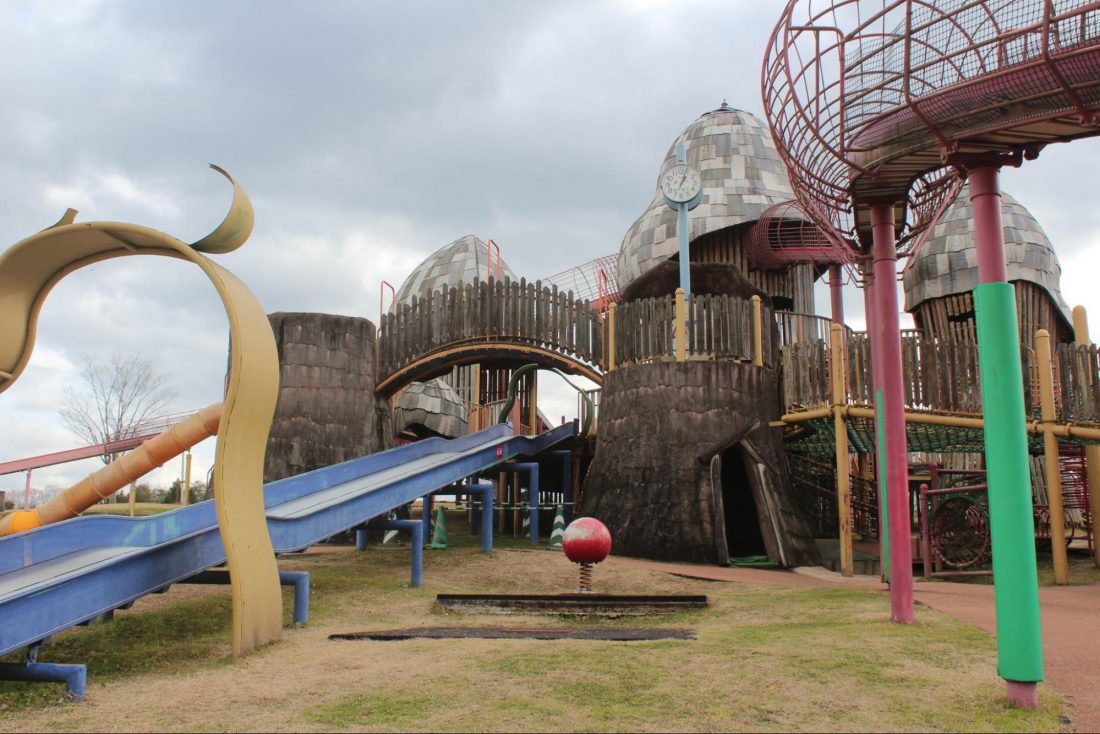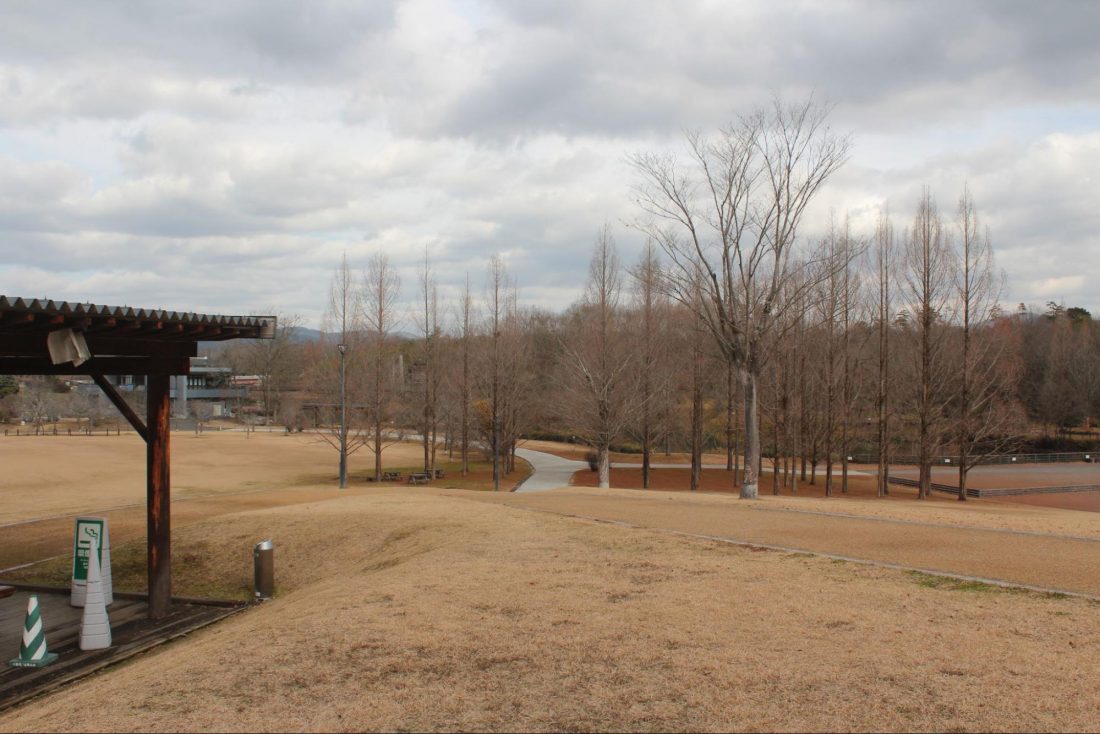 I also got to try the afternoon tea experience inside a Japanese traditional home. I sat on the tatami, cross-legged, and I enjoyed my cup of tea and the sweet rice cakes with a view of a zen garden.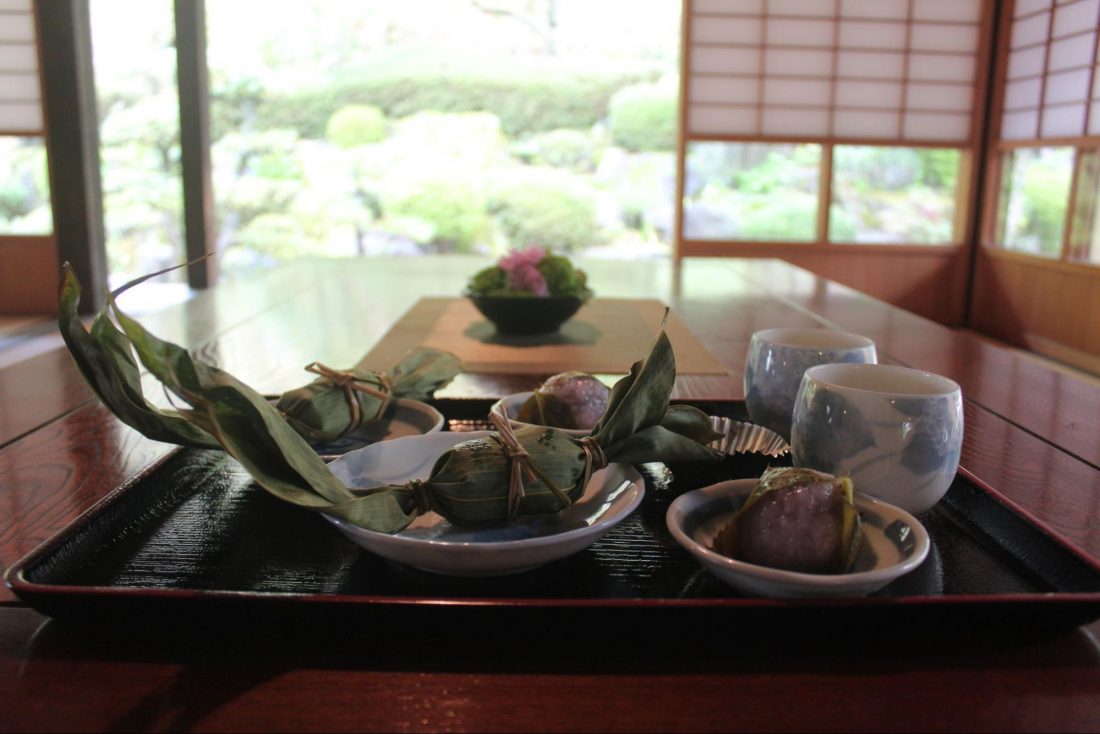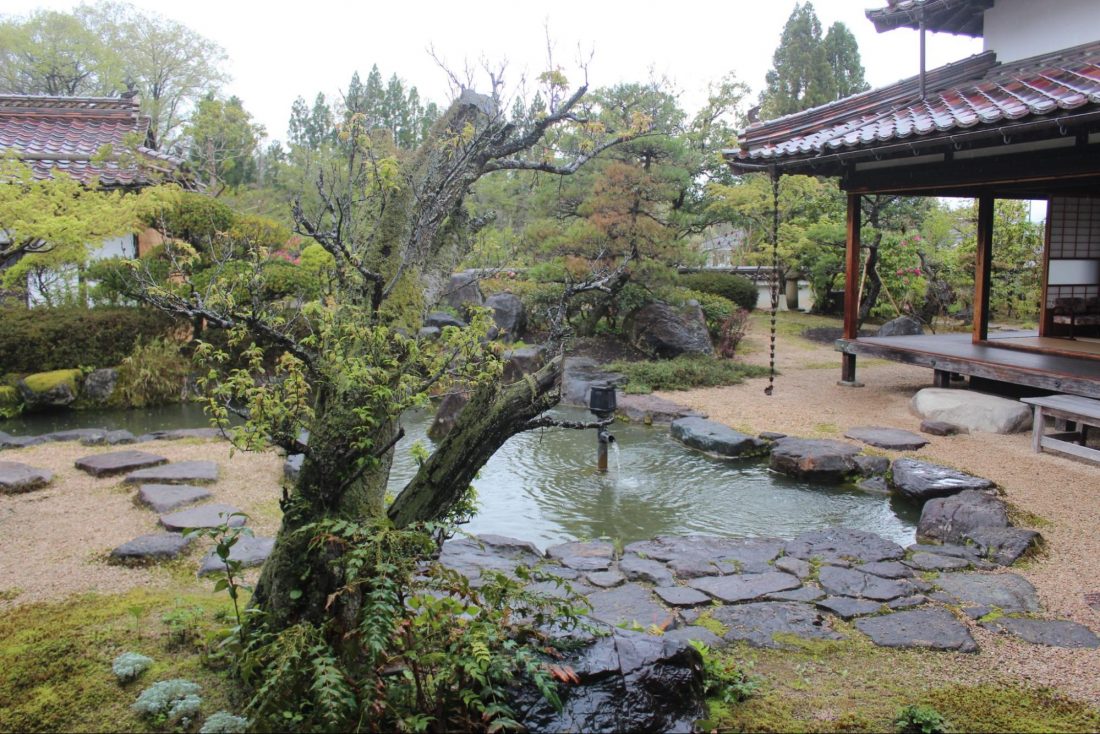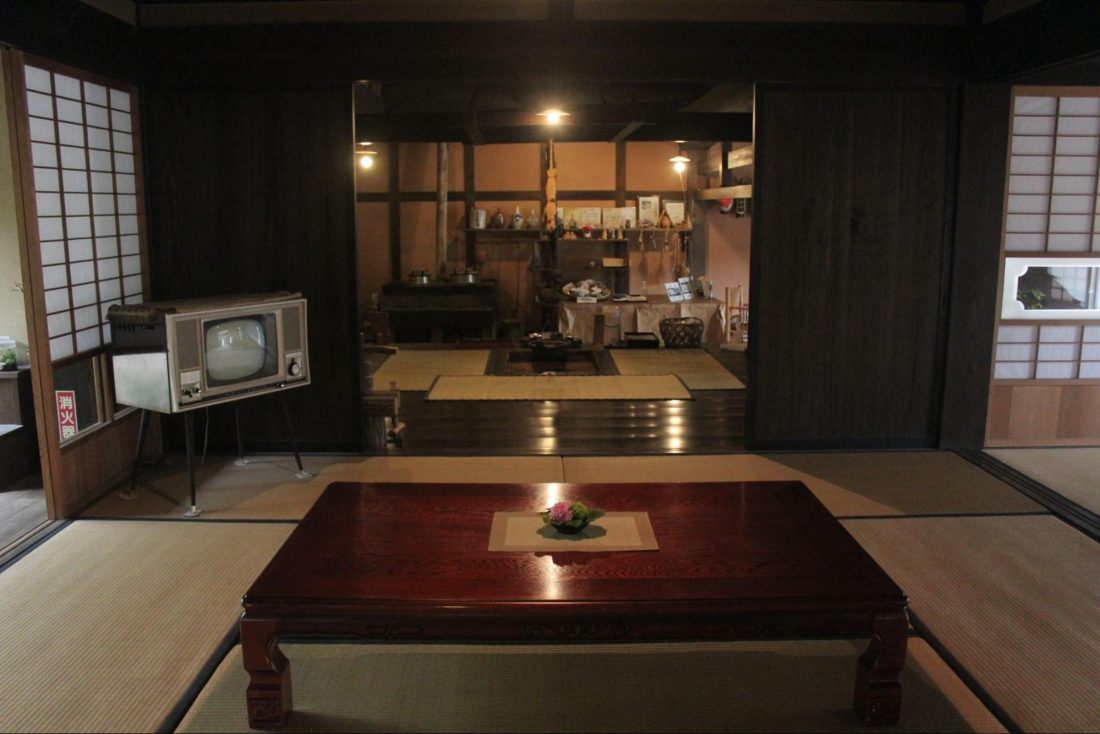 Right after my serene afternoon tea, I tried one of the crafts workshops they had. I did the straw workshop where I made a doll out of straws and a piece of cloth. In the Japanese culture, they used to make these ghost-like figures out of tissue paper or cloth. They call this the teru teru bozu, and they would hang it on their windows. The Japanese staff told me that instead of simply making them with a ball of paper and cloth, they wanted to do something more creative. So, they designed one using straws. Mine turned out cute than scary. The staff who taught me how to make this also gave me one of the straw brushes she made. She made me use it to clean up the mess from all the cutting. She was so kind and so sweet.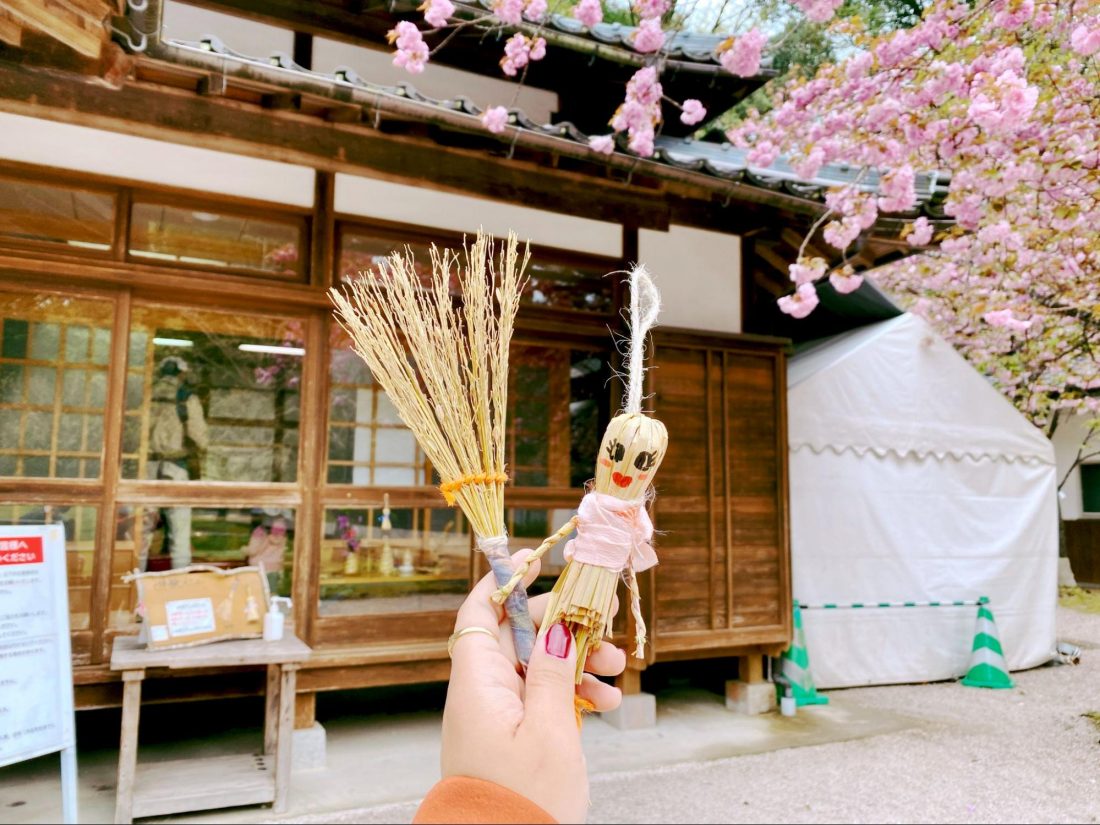 Due to the schedule, I was only able to try this one. But they have more workshops available such as bamboo cutting, weaving, pottery, ceramics workshop, mountain souvenir making, handmade soba making, and many more. Just make sure that you check their calendar if there's anything specific you'd like to try.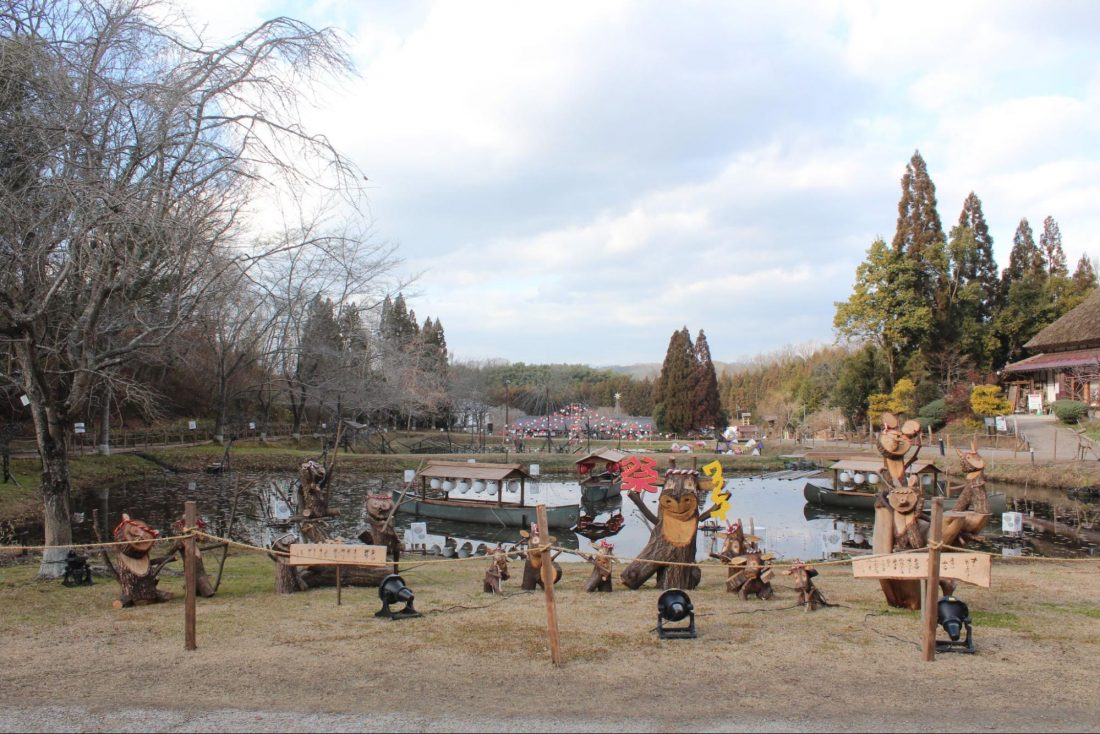 Amenities

As I have mentioned, the park is pretty huge, and one of the things you'd be happy to hear is that they have comfort rooms nearly everywhere. However, I should warn you that they are mostly Japanese-style comfort rooms. So, if you're not so comfortable with this, you might want to take note of this. There are smoking areas around, too, along with the vending machines ready for when you get thirsty from all the playing and running around the park.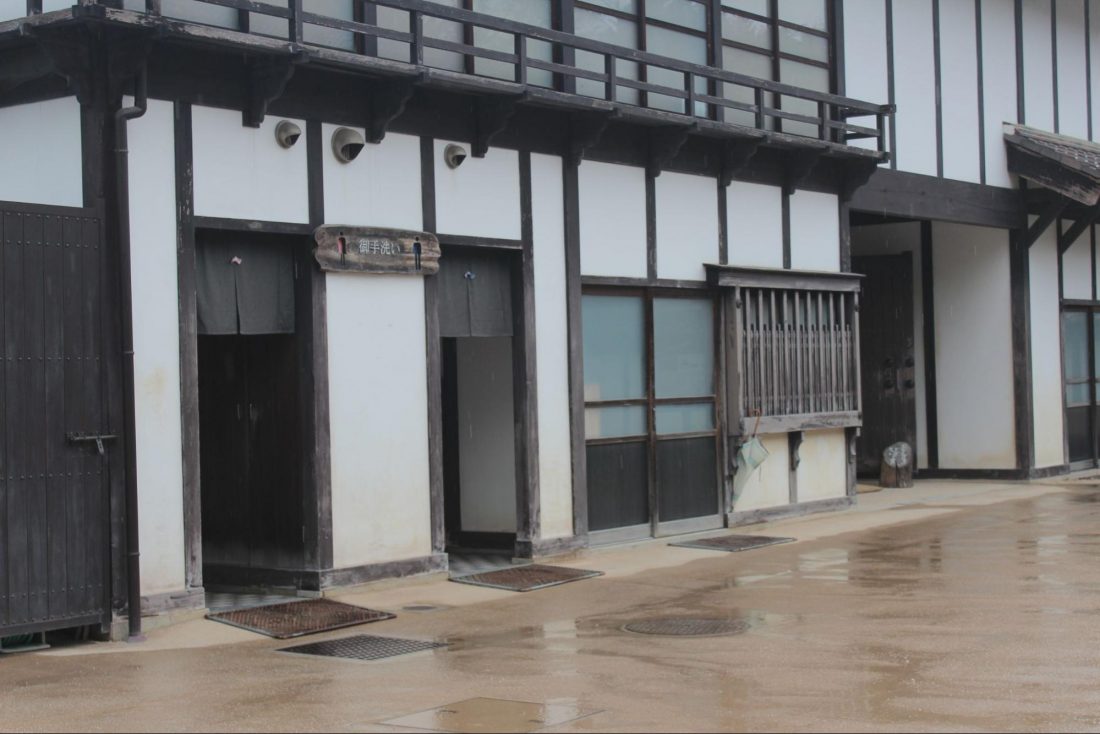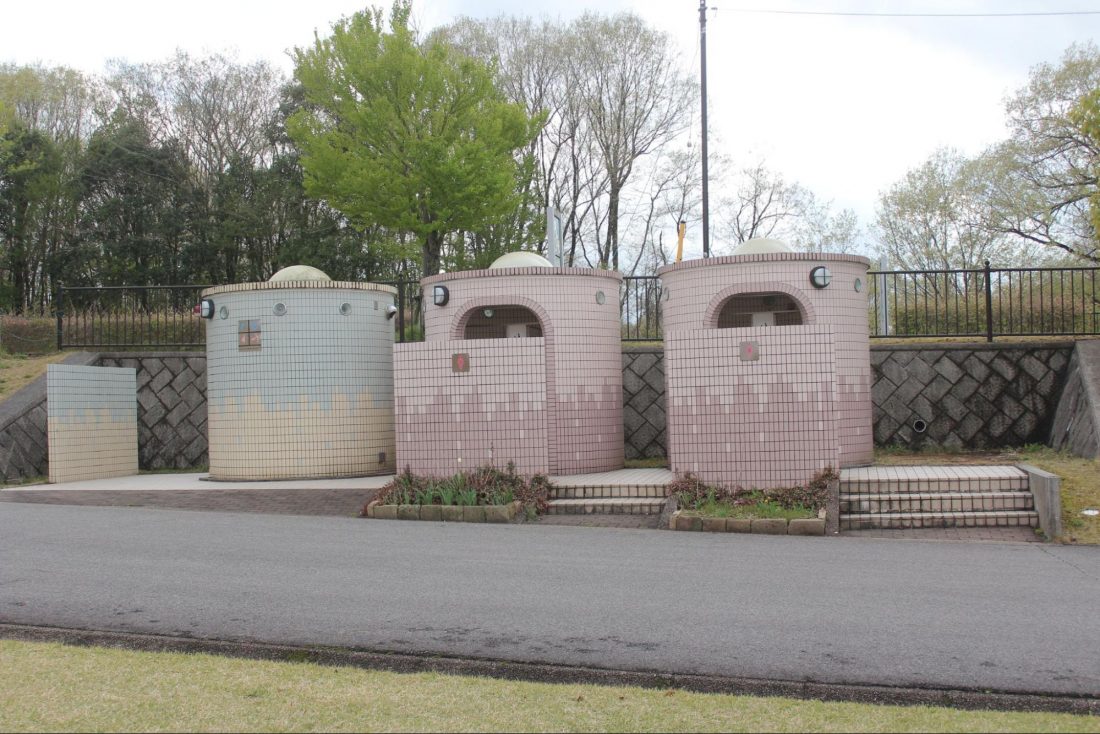 There are restaurants in the park, but they are mostly like food courts or cafeterias. They serve your usual Japanese dishes such as curry rice, ramen, udon, and takoyaki. They also serve french fries and ice cream. Then you have your vending machines for drinks. When they have events, they have food trucks coming to the park, offering various festival foods. However, I have yet to experience bringing my own food and doing a barbecue and camping overnight for a full experience of the park.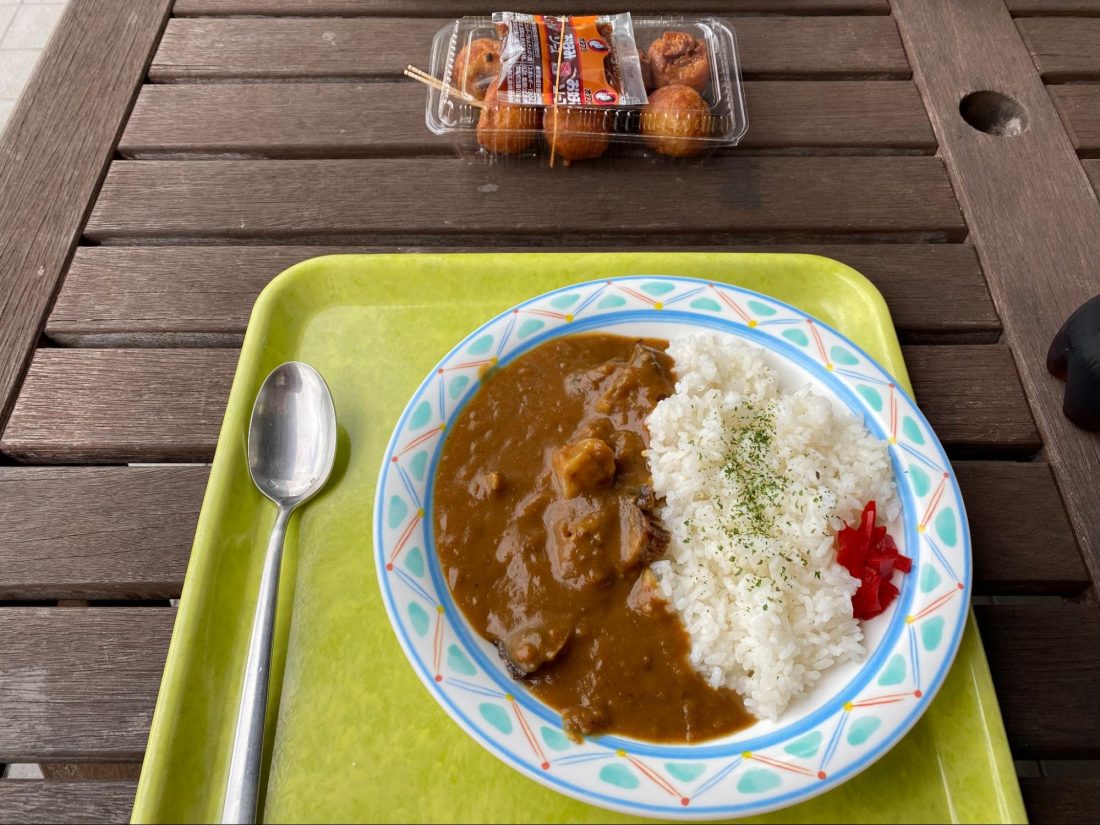 Camping Park

One thing I've learned from my two visits two Bihoku is that this place is truly best enjoyed for camping. A day is not enough to spend trying all the fun this park has to offer. The park has rentals available if you don't have your own tents. They also have lodges and dormitories you stay at. This park is also perfect for school retreats where children could enjoy a weekend away with their friends and schoolmates and do team-building activities. 
Overall, Bihoku is a wonderful place for family and friends. Every season, the park offers different activities for you to enjoy. You can never run out of things to do over breaks when you want to get far away (but not too far away) from the city.