100 STORIES
Ekie and EKICITY Hiroshima: Food and Fun Around the Station!
When you hear the word 'station,' what do you think of? Do you imagine packed trains coming and going, carrying people from different cities, countries, or continents to far-flung places across the country? Or do you imagine a hub; a meeting place where those same people can take the time to enjoy themselves and discover something new?
Ekie and EKICITY
Hiroshima Station has, over the past few years, transformed into one of the best hubs in the city. Now, rather than immediately hopping on a streetcar and heading to the Hondori Shopping Street to lighten your wallet, you can and should take time to enjoy what the area around Hiroshima Station has to offer. The Ekie (stylized as ekie) complex and EKICITY Building are two nearby hotspots that have turned Hiroshima Station into somewhere worth visiting, whether you have a train to catch or not. Ekie has dining, souvenirs, snacks, and sweets aplenty, while Tsutaya Electrics inside the EKICITY building is a modern and stylish blend of bookstore and electronics store where you can spend ample time relaxing or shopping.
I recently visited Ekie and EKICITY on a quiet Sunday in the first week of February 2021. Before I moved to Hiroshima, I used to often spend time around Hiroshima Station when I came to the city to visit my then-girlfriend, now-wife. Now that I'm living here, I haven't had as many chances to spend time around the station, even though I always discover something new each time I visit. On that weekend, I had to catch a bus to my wife's hometown from one of the bus stops in front of the south entrance of Hiroshima Station, and so an opportunity I didn't want to pass up presented itself to me.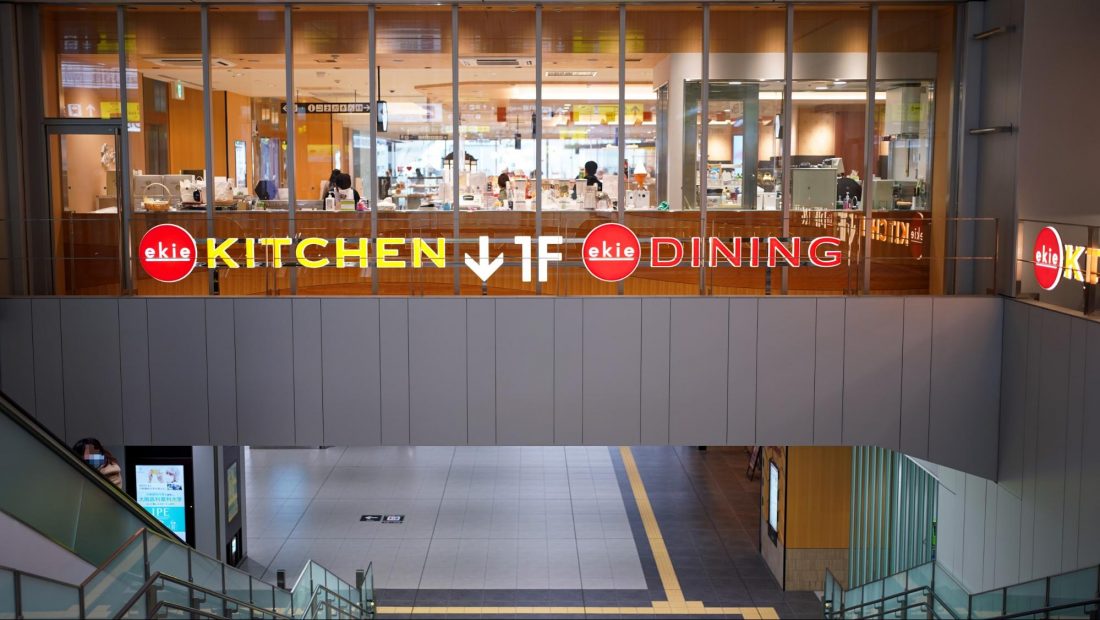 Ekie was the first stop on my list upon arriving at Hiroshima Station. Ekie is divided up into different sections, so it is easy to follow signs and find what you are looking for. It is also part of the Hiroshima Station building, and so it is almost impossible to miss. As you exit the JR West ticket gates, turn right, and you will see a large sign for Ekie Dining and Ekie Kitchen, and an equally large arrow beckoning you to head downstairs to find something to eat. I arrived at Hiroshima Station just before lunch and, stomach rumbling with anticipation, I followed that arrow downstairs.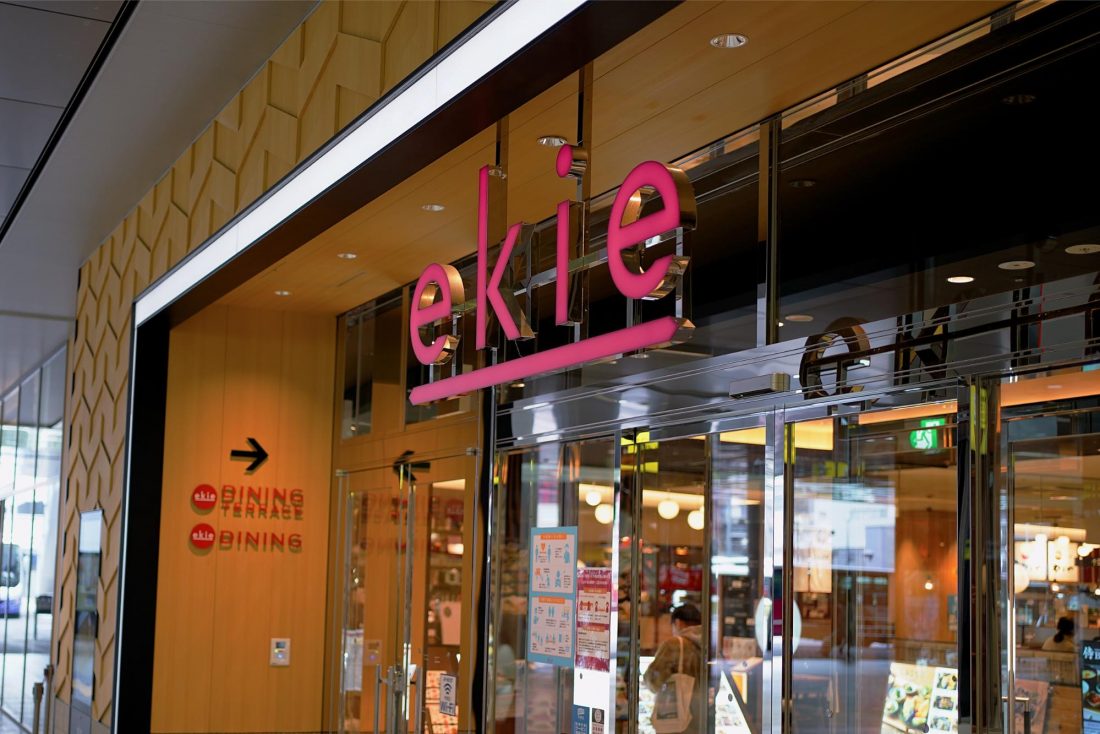 Ekie Dining: Time to Eat!
Despite being inside a station building, the atmosphere of Ekie Dining is stylish and inviting. The lighting is soft and warm, creating a classy vibe that lets you feel like you're searching for a fine dining restaurant. In reality, you don't have to worry about breaking the bank just to eat–unless you opt for one of the more expensive options. 
I was there early for lunch, so Ekie Dining wasn't too crowded. By the time I left some of the restaurants were developing long lines outside, crowding up the hallways. If you are planning to eat lunch or dinner there, I recommend arriving earlier unless you want to wait to be seated.
At Ekie Dining, if you are in the mood for something, chances are you can eat it there. On the first floor, you'll find every kind of Japanese food that you can think of. I wandered past sushi and sashimi, restaurants serving anago-meshi (broiled conger eel served on rice; a delicacy around Miyajima), and of course oyster restaurants. Oysters are one of Hiroshima's specialties and are usually eaten boiled, fried, or raw. Sadly I can't eat oysters, but if you can, I highly recommend trying them in Hiroshima. There is also one hallway dedicated solely to Hiroshima-style okonomiyaki; a savory dish sometimes likened to pancakes. Beyond the Japanese offerings are Chinese and Western-style restaurants as well. You could also visit Ekie Beerhall on the second floor, which has even more restaurants that are more focused on eating and drinking with friends, family, or coworkers.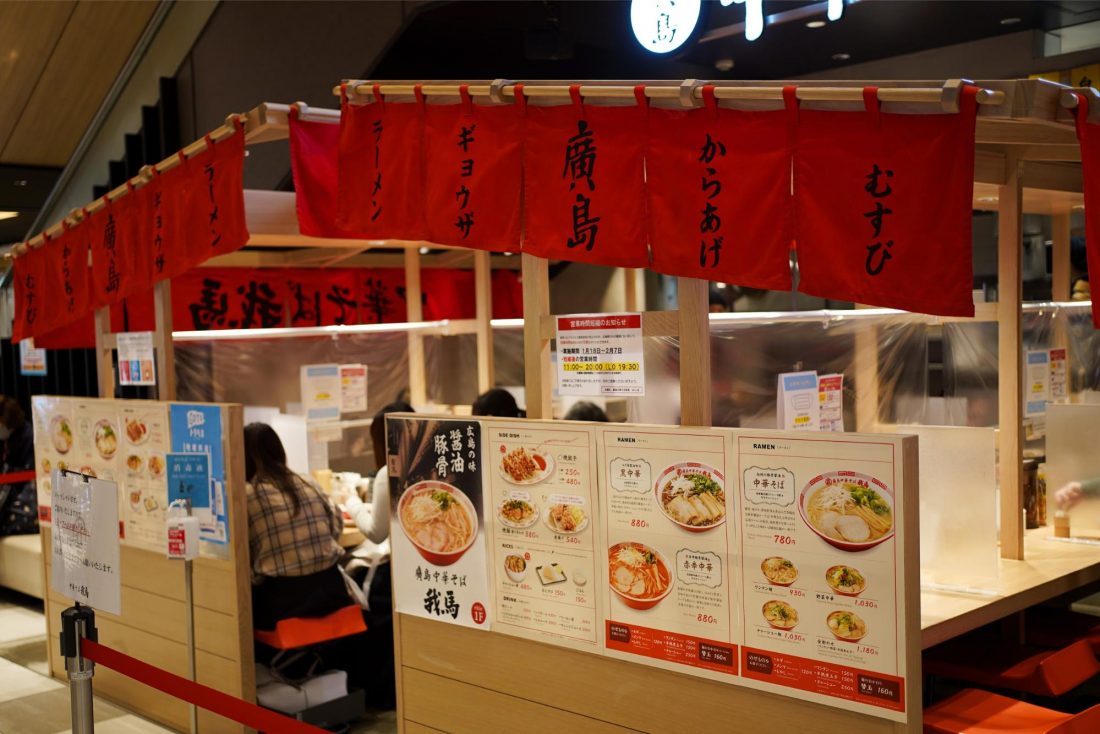 I opted to have ramen at GABA, a Hiroshima-based ramen chain that specializes in tonkotsu (pork bone-based) ramen. I had eaten at different GABA locations before, but never the one in Ekie Dining. The seating is a little tight and you might, like me, be eating right next to strangers, but that's part of the charm of these styles of ramen restaurants. 
Having already tried their tonkotsu ramen, I decided to try their kuro (black), soy-sauce-based ramen. They also have a spicier aka (red) option, which I'll have to make sure to try the next time I go. After ordering from the upbeat staff, I sipped complimentary water and enjoyed the ambiance as I waited for my meal. I really didn't have to wait long before I had a piping-hot bowl of goodness sitting in front of me, so my compliments to the staff there–they work fast.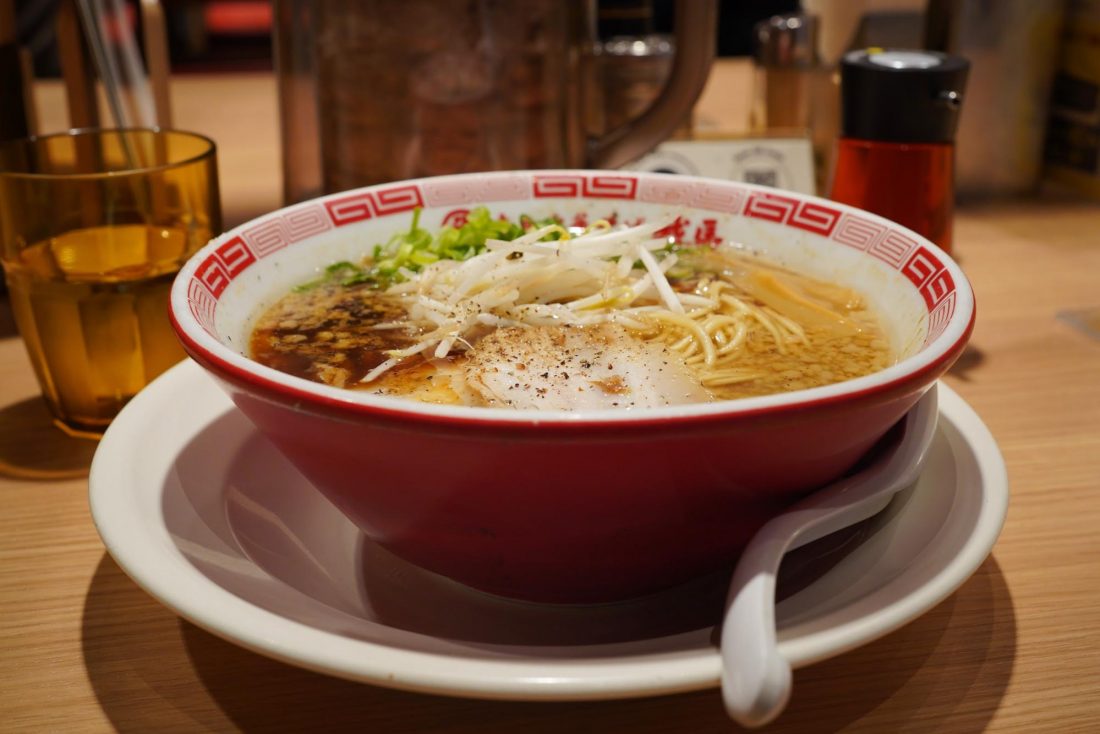 Whenever I have the choice between ramen or other kinds of Japanese noodles, I choose ramen. There are no good ramen restaurants near my apartment, so I relish every opportunity I have to eat it. GABA gave me a wonderful lunch thanks to their simple but delicious ramen. The noodles are firm and tasty, the soy sauce broth is fantastic, and the toppings add great flavor. I left the restaurant deeply satisfied and ready to come back again soon.
Souvenirs and Snacks Galore
After finishing my deeply satisfying meal, I headed back upstairs to check out the souvenirs available on the first floor of Ekie. In Japan, station shops are usually the best places to buy souvenirs if you want snacks or sweets, and Ekie is no exception.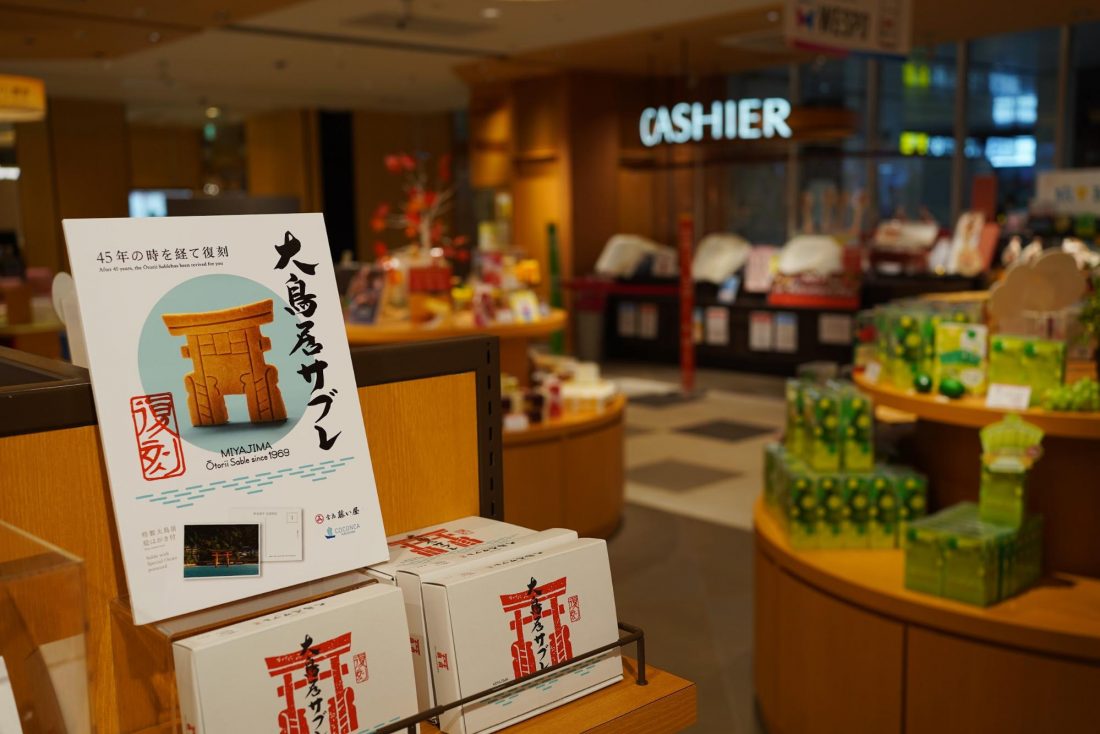 I wandered around the displays piled high with cookies, tarts, and traditional sweets. Hiroshima (in particular Miyajima) is famous for momiji manju (a buckwheat and rice cake snack shaped like a maple leaf), and so there are tons of different kinds available to buy and bring home. You can even get momiji manju flavored Kit-Kats, which I think is a more fun option. I didn't buy a box for myself this time, but next time I'm around Hiroshima Station I might not be able to stop myself.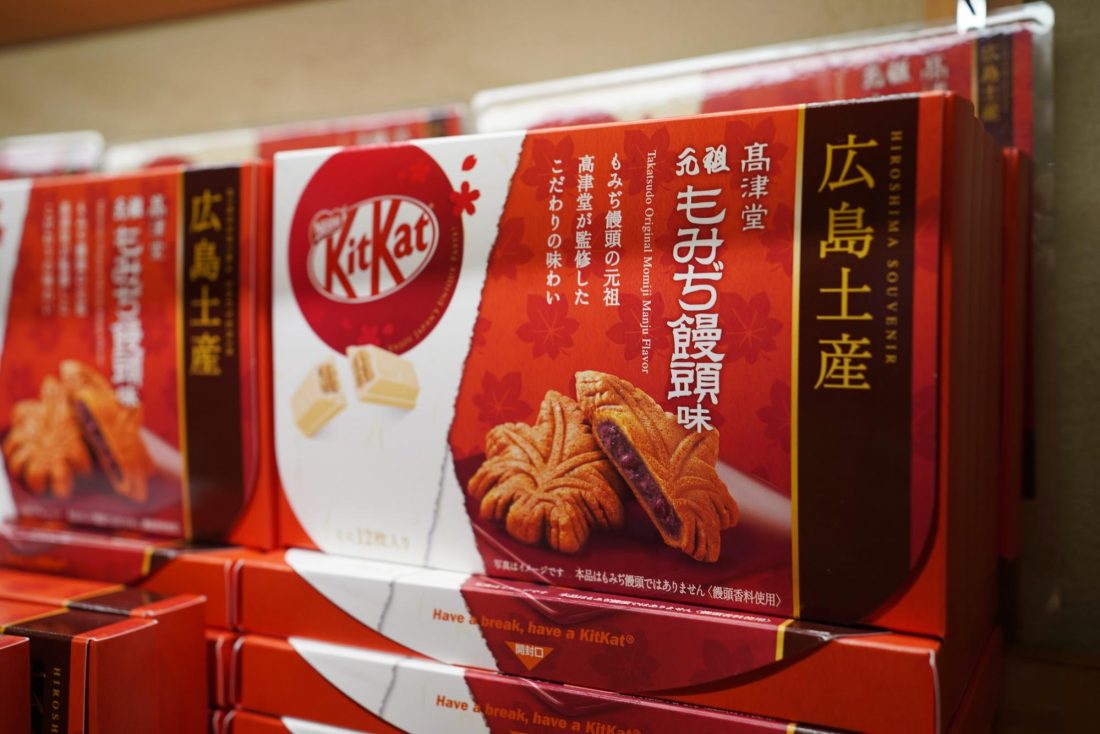 People from other countries coming to Hiroshima might have heard Hiroshima is famous for okonomiyaki, momiji manju, or oysters, but it's also very famous in Japan for lemons. That means that Ekie also has many lemony souvenirs available.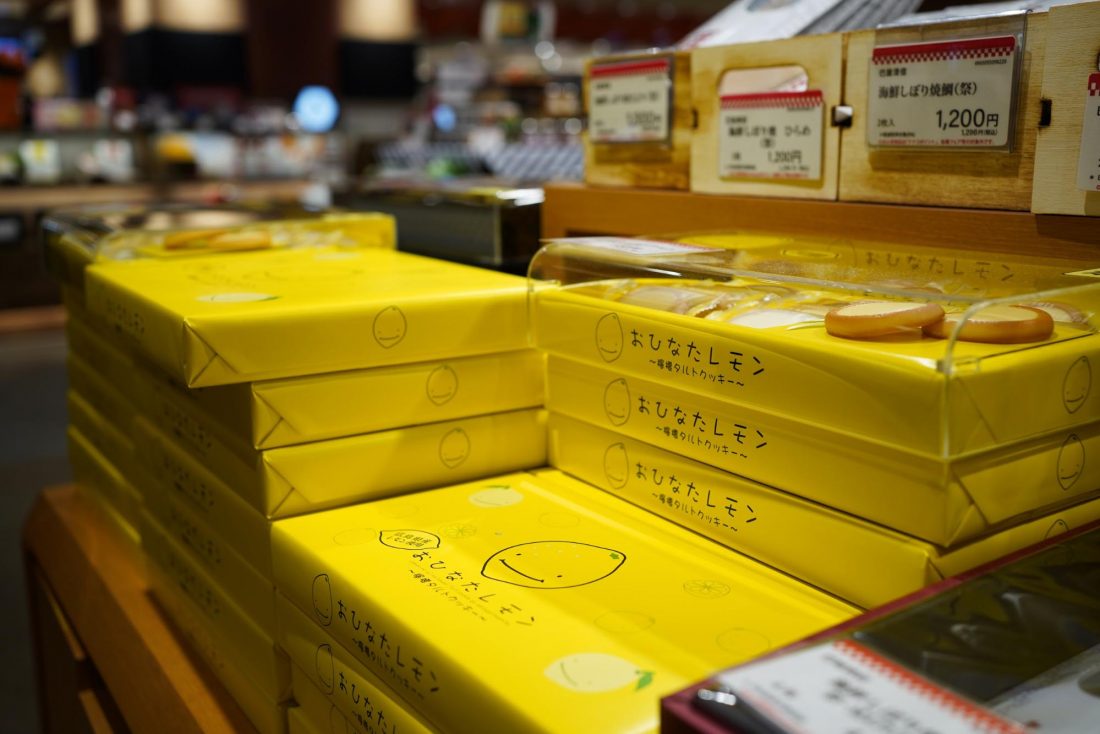 Ekie Kitchen: Meals and Desserts for the Road
After checking out the souvenirs, I decided it was time for a snack. I went back downstairs, but instead of turning right into Ekie Dining I turned left and entered Ekie Kitchen. Ekie Kitchen is full of small stores that sell pastries, cakes, and savory food like rice balls or Japanese fried chicken that you can take home with you. There is a small seating area in front of a cafe around here, but besides that, there isn't much in the way of seating in this part of Ekie. I'd recommend making this your last stop before leaving Ekie, and take a tasty treat home with you.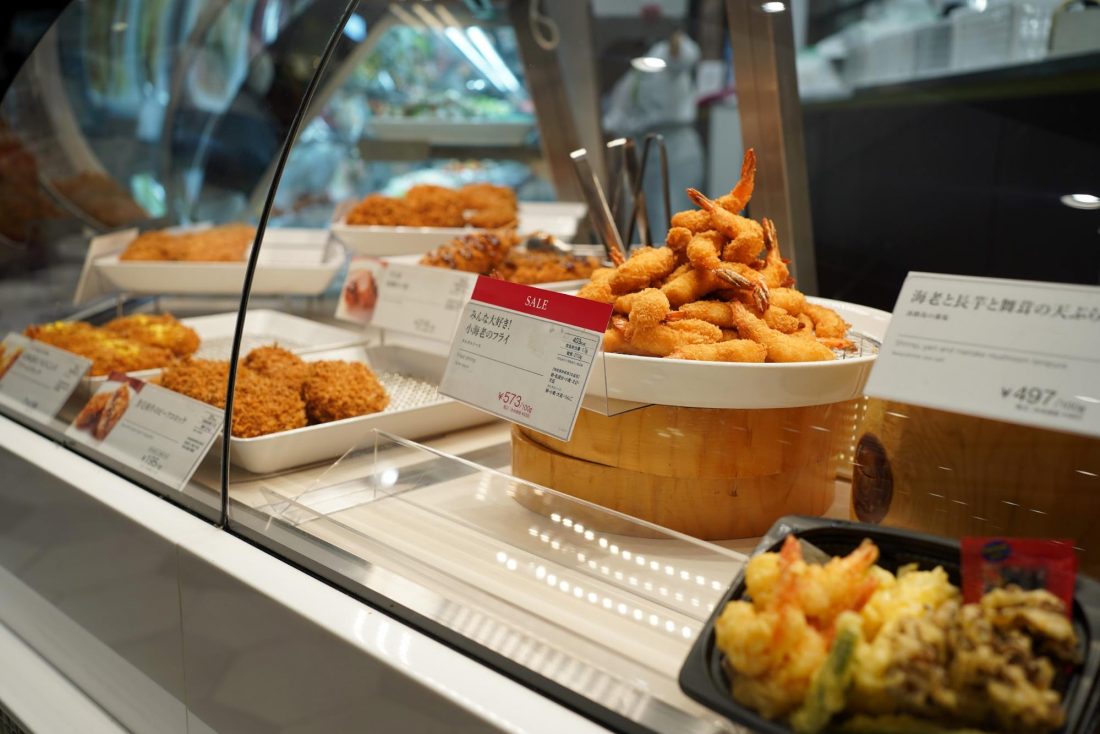 I wandered around here for a while, trying to make up my mind about what I wanted to eat. Since I was going to be taking an hour-long bus ride to my wife's hometown, I decided on something sweet. This led me to BAKE, which sells one of my favorite desserts: cheese tarts. I was only going to buy one regular cheese tart, but my self-control failed me and I bought a lemon cheese tart too (as I said, Hiroshima is famous for lemons). Trust me, you shouldn't skip this shop.
Moment of Joy
I absolutely adore cheese tarts, and the ones from BAKE are  absolutely wonderful. The cheese is creamy, the pastry is crispy, and the lemon flavor in the lemon cheese tart is prominent but not overbearing. Having the chance to enjoy such delicious pastries was my favorite part of my day trip.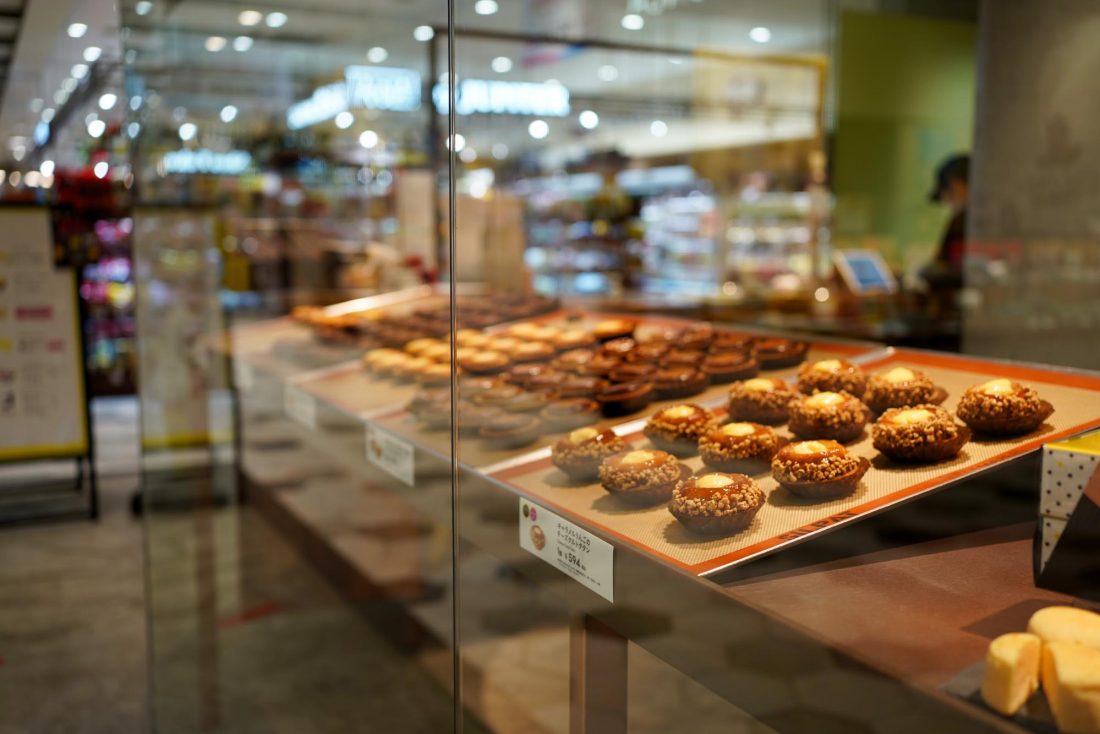 Tsutaya Electrics: Bookstore, Electronics Store, or Both?
As the boarding time for the bus I needed to take grew closer, I headed toward the south entrance of Hiroshima Station to check out Tsutaya Electrics before hopping on the bus. EKICITY is also very easy to get to if you are arriving at Hiroshima Station by bullet train or JR train. When you exit the ticket gates, just turn left instead of right and follow the signs for EKICITY until you find yourself outside. Once outside, you'll be able to see the EKICITY building on your left. While many of the upper floors are just offices that don't offer much of anything of interest to the average person, the massive store occupying the first floors–Tsutaya Electrics–is one of my favorite places to wander around, do some window shopping, and enjoy some coffee.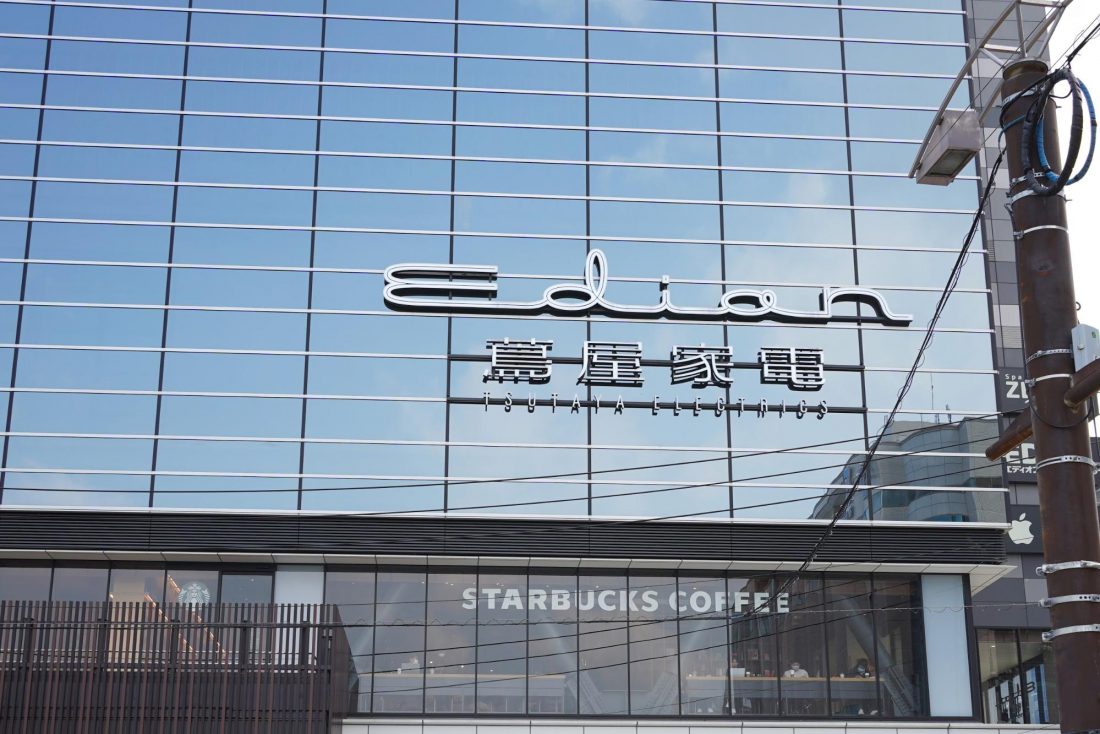 Tsutaya Electrics is a unique mix of bookstore and electronics store. When you walk in, you feel like you are in a bookstore. Walls are lined to the ceiling with all kinds of books and magazines, while tables on each floor are covered in the kinds of trinkets, accessories, stationary, and so on that are commonly found in bookstores in Japan. Wandering around, it's easy to feel like you are just in a normal, beautiful bookstore. But then you take the escalator upstairs and find yourself looking at a space selling televisions and pianos, and you realize that this is no normal bookstore.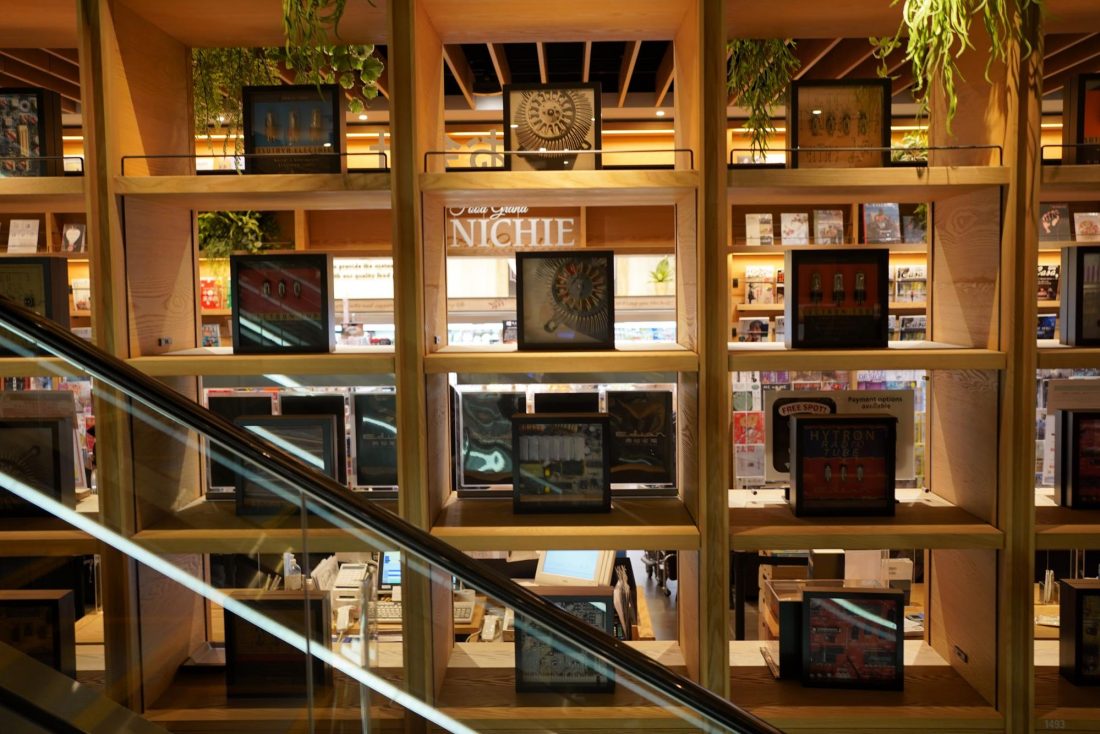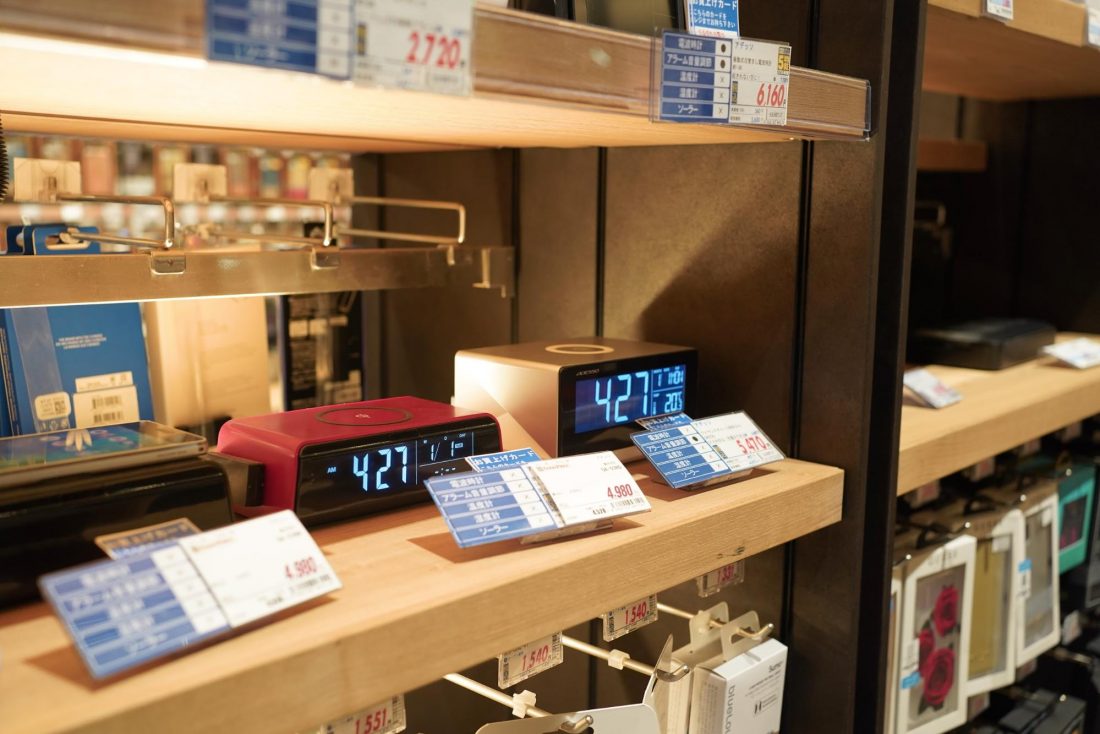 There are sections of Tsutaya Electrics dedicated to everything from cameras to video games to vacuum cleaners. If you are in the market for a phone charger, a portable speaker, or even a full speaker system, this is the place to go if you are around Hiroshima Station. Tsutaya Electrics is a one-stop shop for absolutely any kind of electronic or appliance that you need.
While most of the books lining the walls here are Japanese, they do have a good selection of English books; mostly guidebooks, Japanese phrase books, or books themed around Japanese culture. If you forgot your guidebook at home or want to learn something about Japanese culture or history, you can find those things here.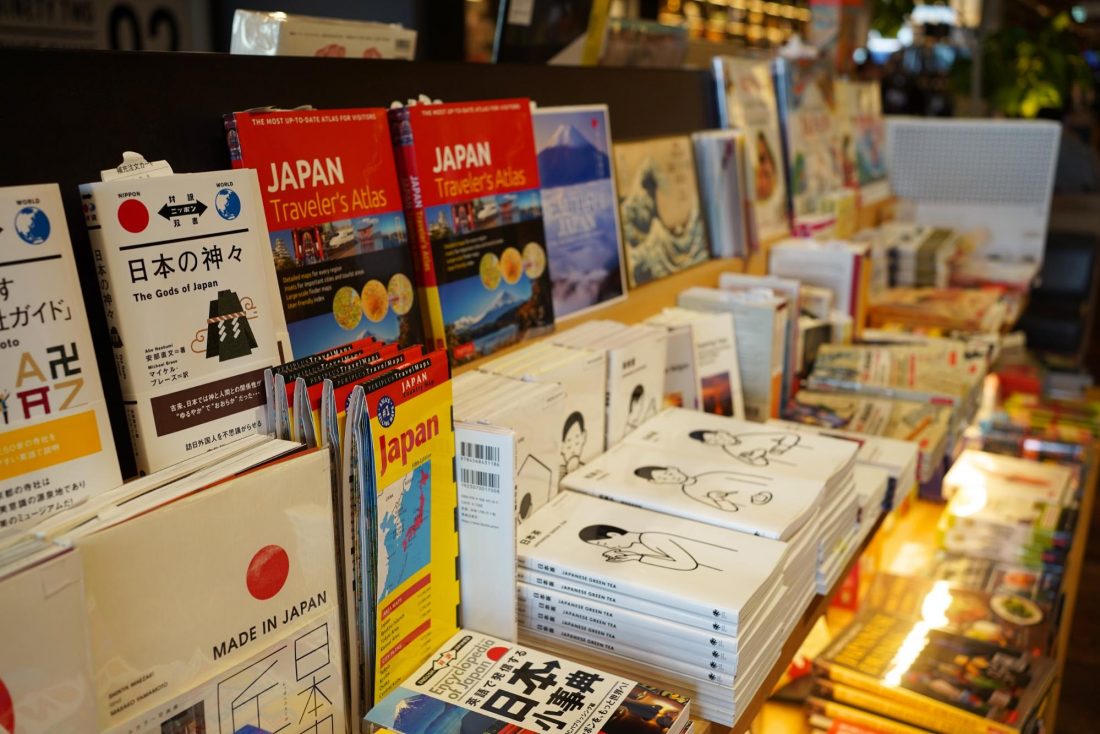 After wandering around for a while and and having my fill of window-shopping, I quickly stopped into the Starbucks on the second floor to grab a coffee for my bus ride out of town. The EKICITY building is always fun to visit because it really feels like it has everything in one relatively small, easy-to-navigate area. And since it's so close to the station, it's a fantastic place to spend time if you have some time before you have to catch a train or bus. You might find a good book to read while sitting in one of the many chairs around the store, or a good deal on an electronic device you have been looking for.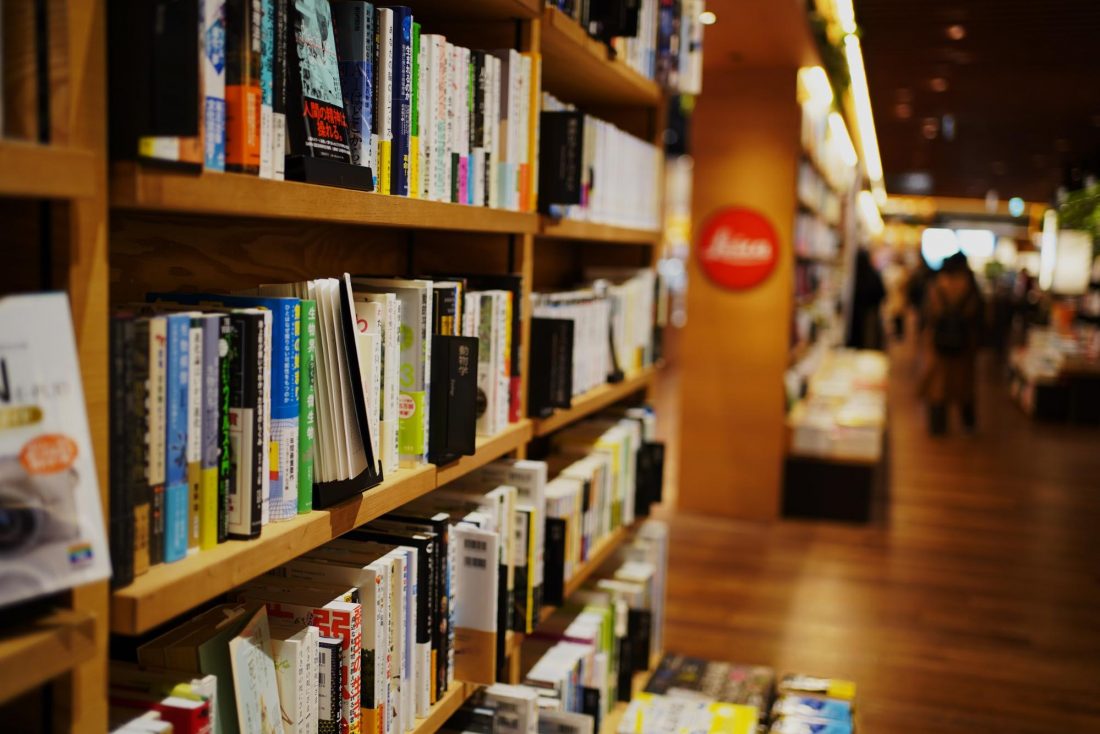 Getting There
Ekie and EKICITY are both very easy to get to. If you are coming to Hiroshima by bullet train or JR West train from anywhere in Japan, just leave by the main ticket gates and turn right to go to Ekie, or turn left and head out the South Exit to find EKICITY. There are lots of signs in both Japanese and English to guide you to both. Hiroshima Station is the terminal station for all of Hiroshima's streetcars, so it is also easily accessible that way. Again, just follow the signs and you will have no trouble finding Ekie or EKICITY. 
One word of warning though: if you're spending time at Ekie and EKICITY, make sure you keep an eye on the clock if you need to catch a train. I spent too much time looking around and had to sprint to catch my bus. Luckily, since EKICITY is in such a convenient spot, I managed to make it to the bus stop right before it left. I'm sure I'll be rushing to catch a train or bus again sometime, since I had such a good time this time. If you find yourself around Hiroshima Station, don't just hop on a train and leave. If you take the time to explore Ekie and EKICITY, I guarantee that you'll have a great time.