100 STORIES
A Lunch Play Date at Pacela
Join me on my day out with my baby and learn a little about what Pacela has to offer.
Want to kill a few afternoon hours with foreigner-friendly shopping?
Built in 1994 in a central location, Pacela is easily accessible by bus, streetcar, taxi, bike or foot. Coming from anywhere in the downtown area, you can take a streetcar to Kamiyacho-nishi or Kencho-Mae station. There are a number of bus routes that will drop you off in front of Pacela as well. If you're coming from a hotel in the Hiroshima Station area, it'll take about a half hour by foot or a 10 minute taxi cab ride. You can rent a bicycle from various docking ports around the city, and return them to any docking port you like (https://docomo-cycle.jp/hiroshima/en/). Pacela is one such location, so it could make for the start or end of a biking trip.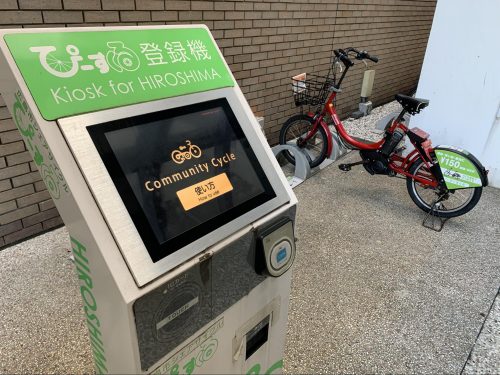 Pacela is actually right next to the Hiroshima Bus Center, so it could also make for your first or last stop in Hiroshima.
Pacela is a shopping mall with 11 floors and a basement level. There are high-end shops like Bottega Veneta and various fashion boutiques, a fitness level with a Gold's Gym and even a beauty salon. Personally I don't do my shopping here since things are on the pricey side, but one store I think is worth checking out is "sofa HIROSHIMA", a combined bookstore, cafe and random goods shop on the 3rd floor. There's lots to look at and my little one and I spent a good half hour there browsing. 
We live a little to the north of downtown Hiroshima, and came by bicycle on a hot Monday at the end of August. There were people milling about but it wasn't too crowded. On the weekends there are of course more people, but I've never seen Pacela packed. There's bike parking around the left side if you're facing the front entrance. It costs 100 yen for the day. You find a spot to park and then pay when you leave using the machine.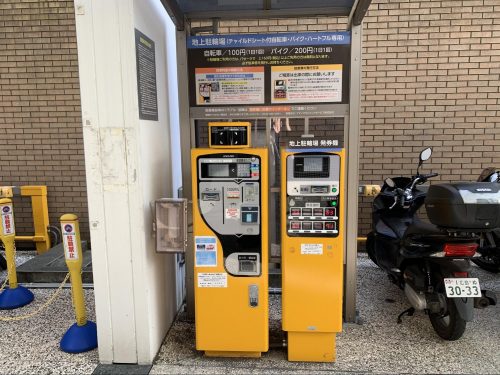 If you spend 2,000 yen or more on goods and services in the mall, you can show your receipts at the Information Desk and receive a voucher for free parking. Speaking of the Information Desk, there are various brochures you can pick up, like a Restaurant Guide that's in English.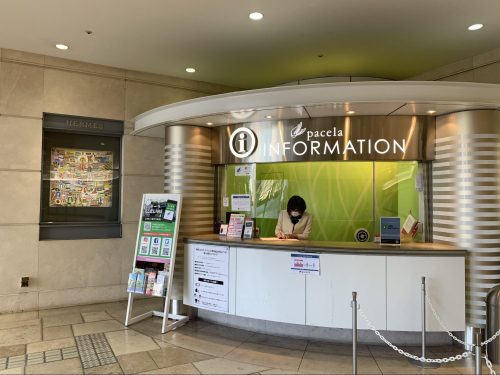 Best part? There are words and phrases printed on the back that you can point to and use in restaurants, even if you know no Japanese! This would be a great thing to keep with you, especially if you plan to keep traveling around Japan.
How about finding a nice place to go out to eat?
The restaurants are mainly found on the basement level, 6th and 7th floors, with some cafes on the 5th. One of my favorites is Miss Hoa (6th floor), a Vietnamese restaurant with yummy bowls of pho noodles and a really cool interior atmosphere.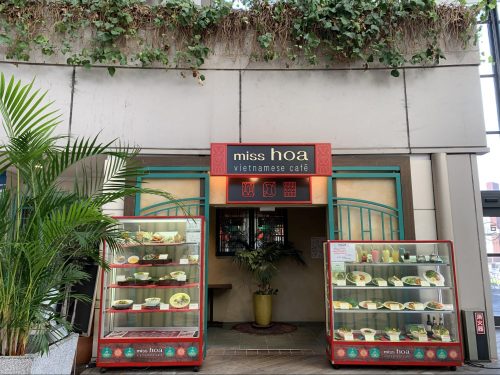 I've gone there with friends numerous times, and it's pretty kid-friendly as well, with big comfy couches that everyone can enjoy. Another recommendation would be Chapeau Rouge on the 7th floor.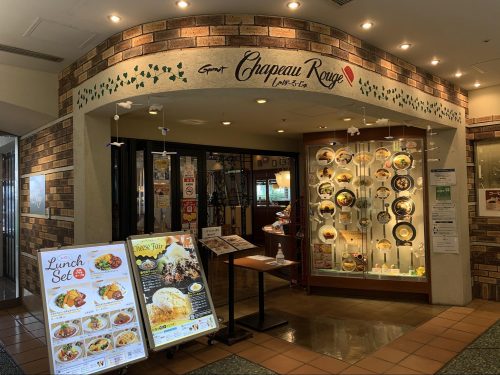 It mostly serves the classic Japanese dish of "omurice", or rice omelets, which is way better than it sounds. It's basically seasoned rice with a light and fluffy egg covering, with different sauces and glazes on top. I like the eggplant and bacon tomato sauce topping (937 yen). I'm a big fan of bubble tea, and there is a place that serves it on the basement level called Arapaima, but the portions are small for the price, there's too much ice for my liking and the flavor is just so-so. If you're looking for bubble tea in Hiroshima, I recommend you go somewhere else (like Gong Cha in the underground Shareo shopping mall: https://goo.gl/maps/2UuhpJzTiaL8Ub5D8). 
When my daughter and I visited this last time, we decided to try Korean Kitchen Shijan on the 7th floor. Korean Kitchen Shijan has both menus in English as well as a QR code on their regular Japanese menu that will link to more languages, like Korean and Chinese. There is free wi-fi available. The network ID and password are posted around the restaurant. We ordered cold noodles and bibimbap, and having lived in Korea for two and a half years, I can report that it was delicious and authentic.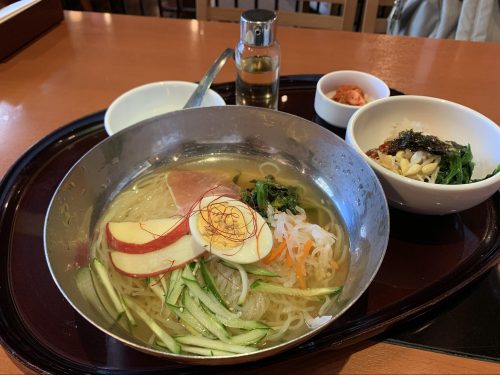 Of course it's higher priced than what you can find in Korea, but that can't be helped. We spent 1,000 yen on our meal and stayed about an hour. 
As a side note, toilets in Pacela are clean, modern, and equipped with changing tables, child toilet seats and rests, and places to throw away diapers (something that can't be found everywhere in Japan). Every floor can be accessed by elevator. There are also shopping strollers you can pick up from the connected Sogo Hiroshima Department Store.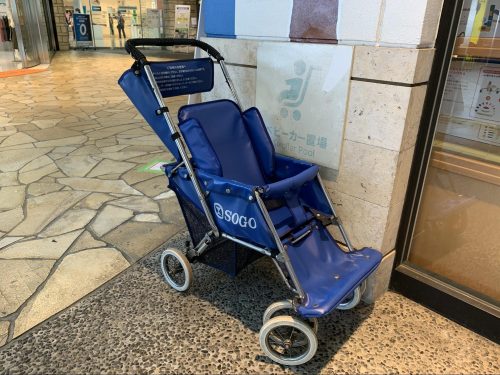 Looking for a place where the kids can play and explore?

 As a mom, the best part about dining out at Pacela is the places to take the kids to play before or after eating. They can all be found on the 6th floor. First up, if the weather's fine the "Sky Patio", adjacent to Miss Hoa, is open from 10am-11pm and has outdoor seating as well as a small kids play area.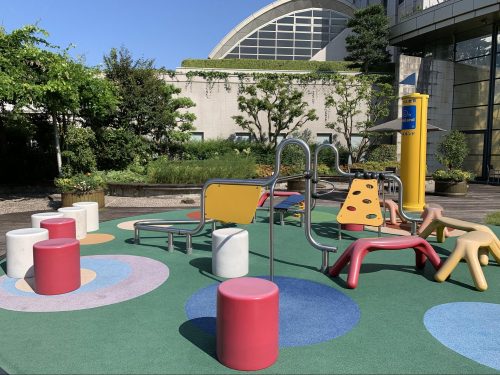 Bornelund is an awesome indoor play area. There are all kinds of themed toy areas, like a dress up play house with clothes to try on and a kitchen set up with play cooking gear and foods. There are jungle gyms, a large trampoline area, inflatable rolling wheels and more. This is a place where I can almost guarantee your little one will have a blast. The downside? Playing here will set you back 600 yen per child and 600 yen per adult for 30 minutes of play time, and it goes by quick! If you want to stay longer you can but it costs 100 yen for every 30 minutes extra. For another free option, out in front of Bornelund there is a play space that looks like a train.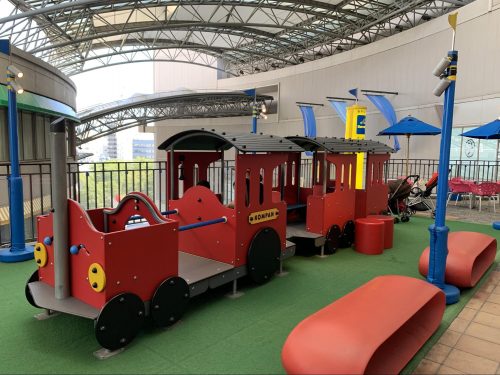 This is actually a great place to hang out and meet local families. Every time we've come we've had the chance to interact with new people, which is always a great experience. This last time we played with a little 4 year old boy and his mother, who taught us the sounds trains make in Japanese. (Apparently, instead of "choo choo" it's "shoo shoo".) Even if your Japanese is limited (or non-existent), why not spend a half hour or so and see who you meet? 
"Moment of Joy"
One thing that sets Pacela apart from other malls is its architecture. It is an indoor/outdoor experience that feels very open with lots of natural light, water installations and vegetation.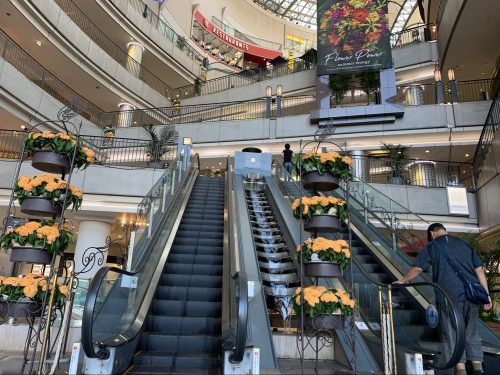 Even on a hot day, walking between shops feels cool. At Pacela, I don't get that same suffocating fluorescent lighting and cement wall combo that wear on me after a while at other malls, even when I stay here for hours. My toddler and I had fun just riding up and down the escalators and looking at the water falling – something I can't say would be part of the shopping mall experience elsewhere. If you're going to spend part of your day in Hiroshima at a mall, I think Pacela is a great choice that will leave you and the family feeling refreshed.