100 STORIES
Yuki Onsen: Touring the Outskirts of Hiroshima
Hiroshima may not be the biggest city in Japan, but most travelers and residents such as myself fail to grasp Hiroshima's actual size. When we talk about the city of Hiroshima, most of us imagine Hondori, the Atomic Bomb Dome, Hiroshima Castle, and the area around Hiroshima Station, but the city limits extend beyond the urban sprawl and into quiet suburbs and mountainous retreats on the outskirts, where a good number of Hiroshima's often overlooked tourist sites can be found. One such far-flung site is Yuki Onsen, a hot spring resort technically located within Hiroshima City's borders, but has this feel of a distinct, countryside village. I went in the middle of summer, and while people strive not to go outdoors during the hottest time of year, this season just might be the most ideal for taking a dip while marveling at the lush greenery. Despite the distance from the city center and the somewhat long journey to get there, Yuki Onsen is actually quite accessible via public transportation, and can either make a good day trip or overnight experience.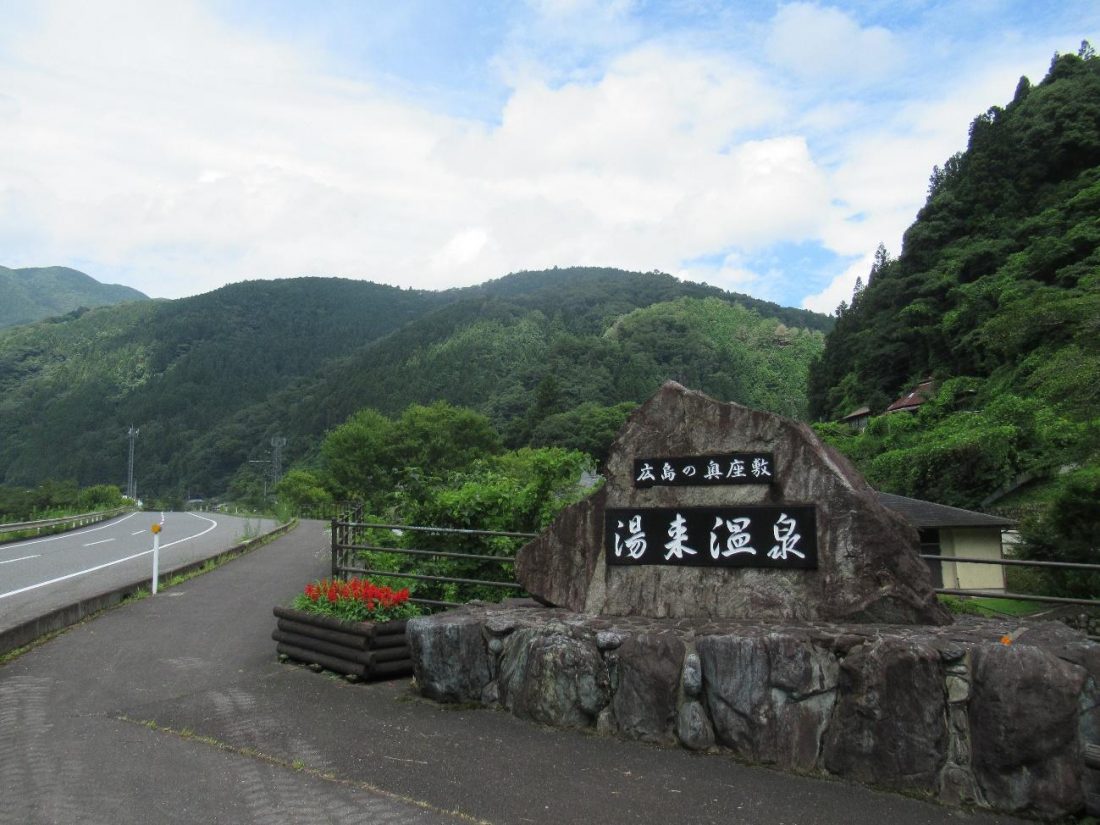 To get to Yuki Onsen, one can either take the JR Sanyo Red Line to Itsukaichi Station or the number 2 streetcar to Hiroden Itsukaichi Station. They're technically different stations operated by different railway companies, but they're in the same building. I went to Itsukaichi one early July morning to get there before it got too hot, and from Itsukaichi Station, I hopped on a bus bound for Yuki Lodge, a resort in the hot spring area. It takes quite some time for the bus to arrive, so try to board an early one if you can. Busses run at earlier times on weekdays, and Yuki Lodge is less likely to be crowded if you go during the week.
Country Roads
The bus dropped me off right in front of the building, under the roof so guests won't be scorched by the summer sun. I quickly entered the building to cool off with their air conditioning, but caught sight of a billboard at the entrance. In addition to simply having hot springs, Yuki Lodge also hosts seasonal events throughout the year, usually on weekends. These can range from cooking and craft workshops to hiking tours to kagura performances on site. If you do your research ahead of time and can nab a reservation, you too could join in on one of these fun events.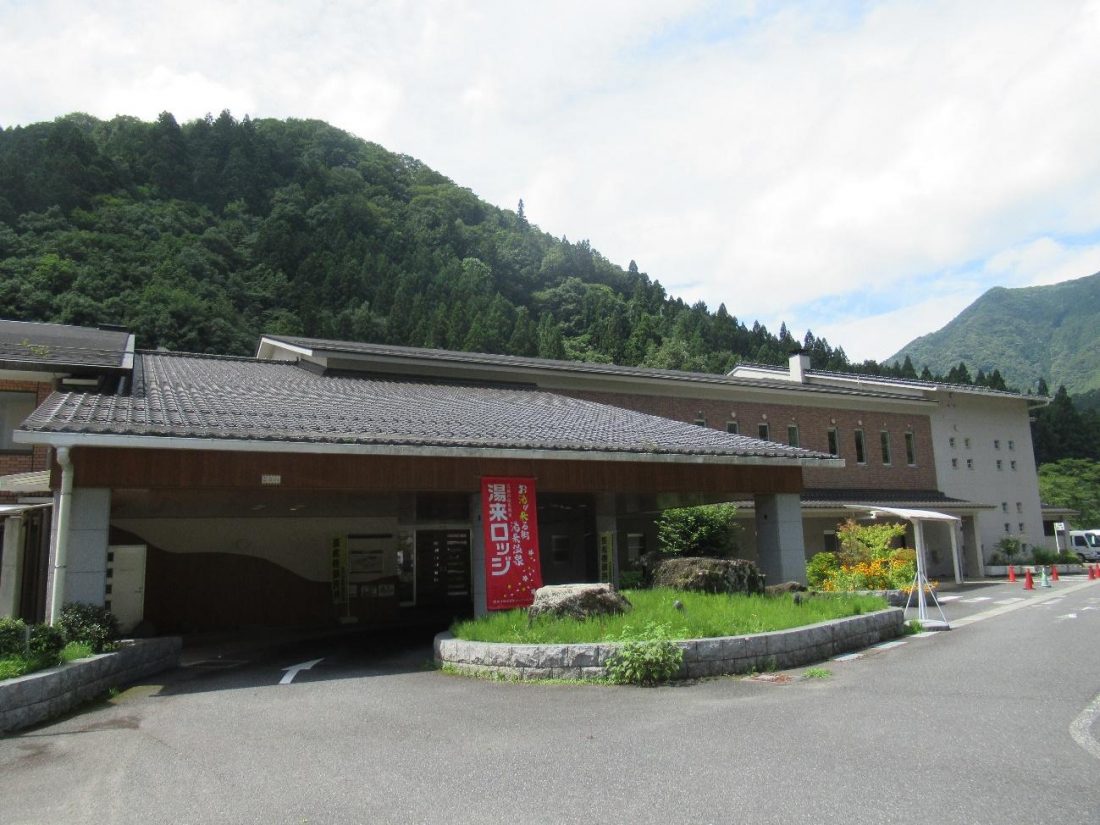 After reading the billboard, I entered the main lobby, which didn't have that many people at this time of day. To the left, they had a gift shop sporting some intriguing souvenirs, and right next to that was the restaurant. The restaurant wasn't yet open, but as I had caught wind of more delicious sources of food in the vicinity, I knew I wouldn't be eating there anyway. Of particular interest is a nearby fishing hole where I could have my catch cooked on site to eat, so I decided that that's where I was going to have lunch. It was still far from lunchtime, but I knew that by the time I got there and starting catching fish, the timing would be perfect!
I left the building and immediately turned right, where it'd be a bit of a walk to the fishing hole. On the way, I passed some restaurants right across from Yuki Lodge, the sign welcoming me to Yuki Onsen, and lots of countryside scenery. Temperatures were scalding, and I was really tempted to scoop out some cold water from the stream beside me. I definitely underestimated the distance to the fishing hole, and at some point, wondered if I should've just taken a bus instead. At this point, however, I figured I might as well keep trudging towards the destination and enjoying the journey as much as I could.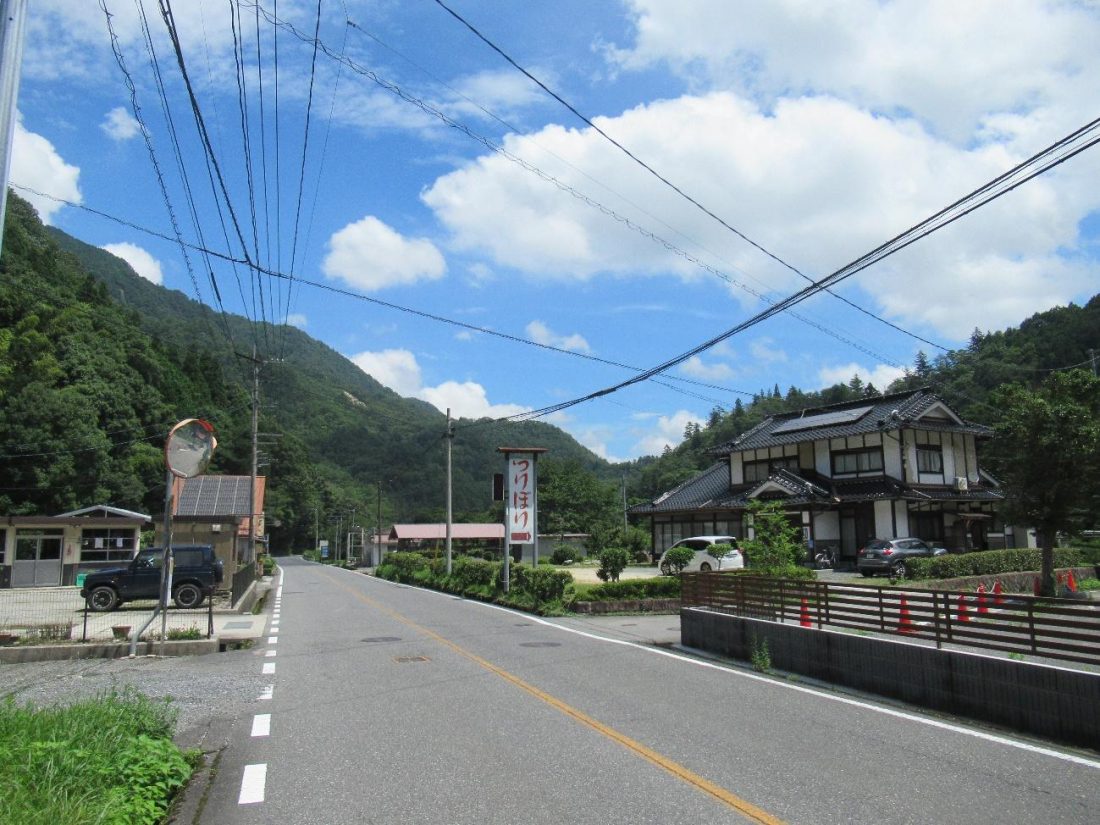 About an hour later, I finally saw the sign for Yuki Tsuribori, where I would catch my own lunch! Right outside the facility, I found a bus stop called 石が原 (Ishigahara), where I realized I should've alighted if I wanted to go fishing first. I highly recommend taking the bus here either before or after heading to Yuki Lodge to bathe; saving a few hundred yen isn't worth running the risk of heatstroke and sunburns.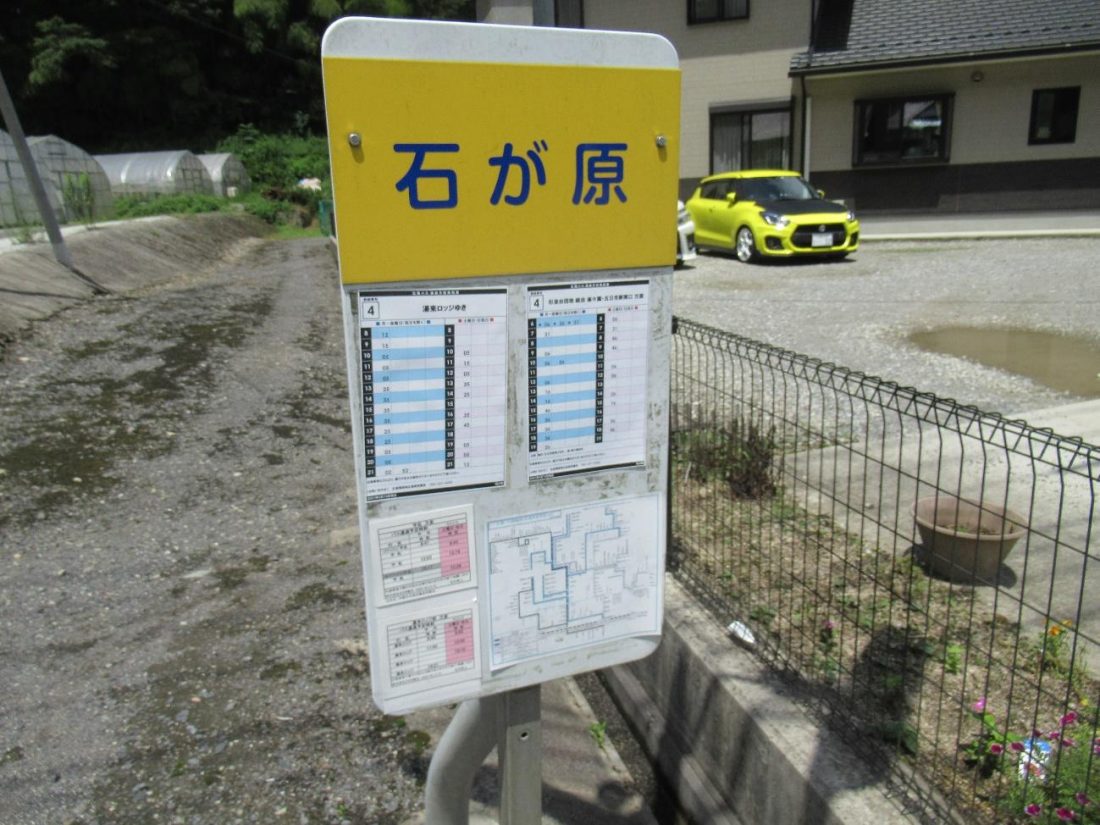 Go Fish!
Yuki Tsuribori is an expansive fishing ground with several ponds featuring different species of trout. They've got tables with canopies for sitting, a barbecue space available for rent, and a restaurant where visitors can buy drinks to beat the heat and have their caught fish cooked. Do note that there is no shade by the water's edge, so applying sunblock is of paramount important if you don't want to be baked red like I was. For a small fee, aspiring fishers can rent a fishing rod, which comes with a small cup of bait. I'm not entirely sure what the bait was, but it looked and felt like a pile of dung; I dared not bring it up to my nose to smell it. Upon catching fish, the customer is charged by the weight of each fish, and that rate goes up if the staff cook them as well.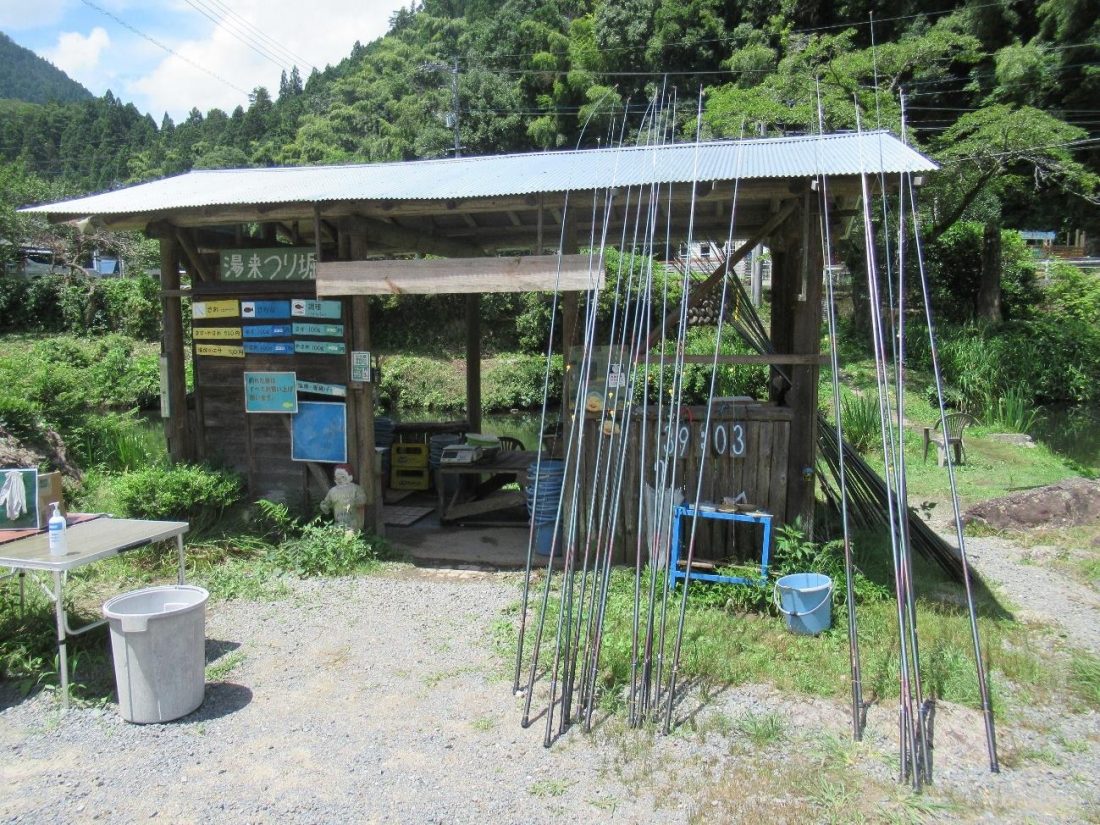 After paying for the rod rental and some bait, the man working at the fishing hole took me to a pond where the sea trout were, as the other species would most likely be hiding from the sweltering heat. He then demonstrated how to apply the bait to the fishing hook and cast the line. First, break off a piece of the brown mush and squeeze it into a cube. Affix the cube to the hook and press firmly around the hook to maintain the cube shape and ensure the bait sticks, even when underwater. Look at the silhouettes underneath the water's surface to gain an idea on where to cast; the bigger trout (the only fish worth eating) tend to hang out in the background, so that's where I threw my hook and bait. At the first sign on a tightened line, yank on the pole, and hopefully, there'll be a fish caught onto the other end.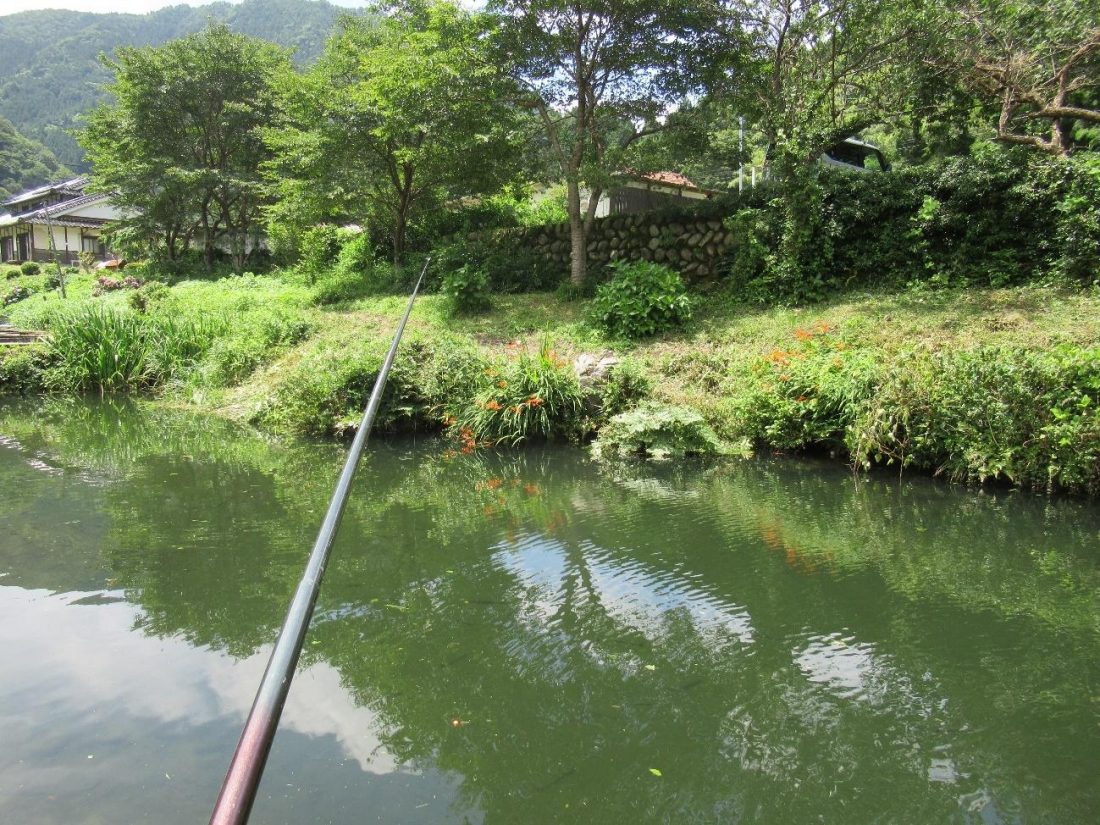 When a fish is pulled out of the water, it flails vigorously, and coupled with the long fishing line, might be tricky to get a grip on. The man provided me with a bucket filled halfway with water for me to deposit my fish once I pried the hooks out of their mouths. Taking out the hook is typically easy once you have the fish still in your hand, but at times, the hook is buried too deep, and you may hurt your fingers reaching in too far for the hook. When that happens, the man explained, take a single disposable chopstick (provided on site), press the fishing line down on it so that they're parallel, and jiggle in a circular motion. As the hooked fish rotates, the part of the line close to the fish will wrap around the chopstick, and the hook will naturally dislodge itself from the fish's mouth, as demonstrated in this video.
With my first successful catch, he took a picture of me and the trout for his blog, and then left me to fish alone. I always had this impression that fishing was a long and boring ordeal, but that day, I was casting and pulling like a well-oiled machine, burning through the bait like gasoline. Many a time my bait was lost to the depths or taken by a clever fish, making me think my first catch was beginner's luck, but I didn't give up, and halfway through my pile of bait, I achieved my second catch. I settled on a goal of three trout, which would make for a sufficient lunch.
Moment of Joy: Last Ditch Effort
There's this proverb that advises archers to only hold one arrow at a time when shooting. It makes the archer treat every arrow as if it were the last one, and I believe the same advice applied to me and my fishing bait. As I was gradually running out of brown mush, I was worried about not meeting my goal, but I remained serious and optimistic until I used up my last wad of bait, when lo and behold, I caught my third trout with it! I proudly took my catch back to the rental hut to have the fish weighed, voraciously anticipating the piscine feast that was to be my reward.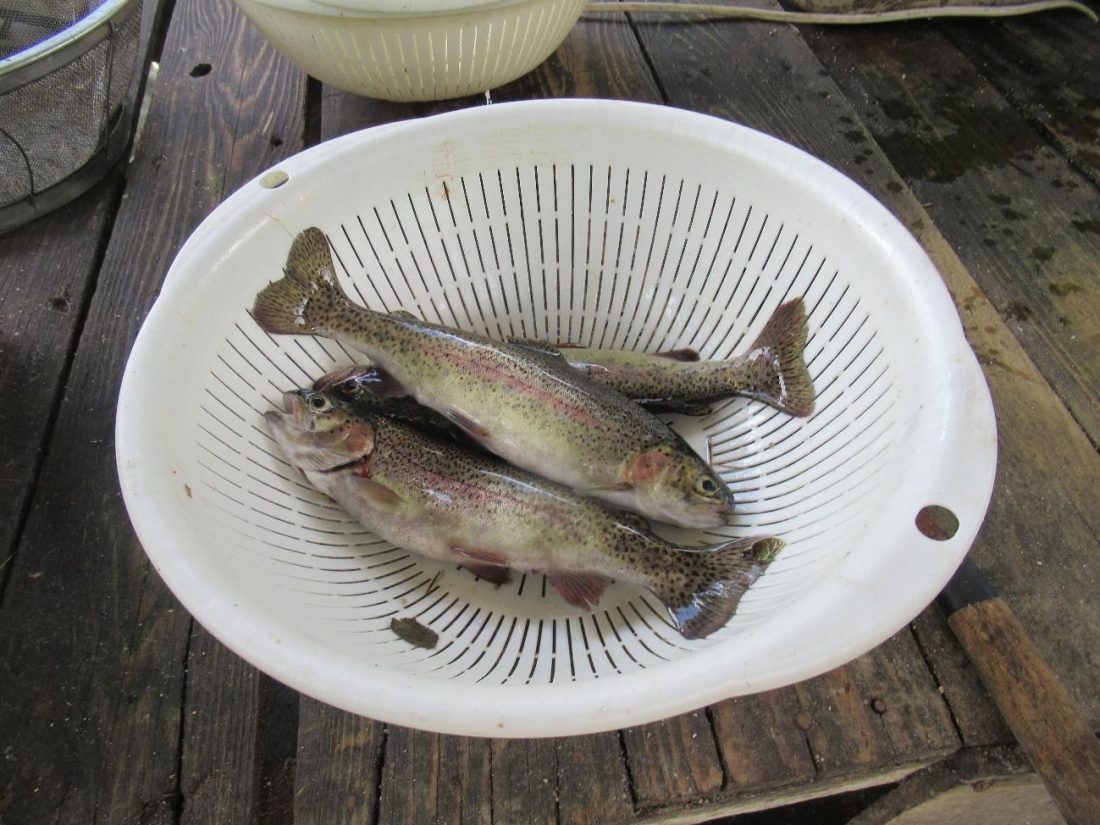 Fisherman's Feast
The same man who taught me to fish congratulated me on a job well done, and asked me how I wanted my fish cooked. Customers have the option of having their trout prepared as sashimi, shioyaki (covered in salt, skewered, and grilled), or karaage, with karaage being the recommended recipe for this species. I was notified that the sashimi option wasn't available, so I requested one trout be grilled shioyaki-style, and the remaining two be fried as karaage. He told me to wait inside the restaurant as he gutted the fish inside the hut. Once inside, I was able to cool off with an electric fan and an ice-cold drink.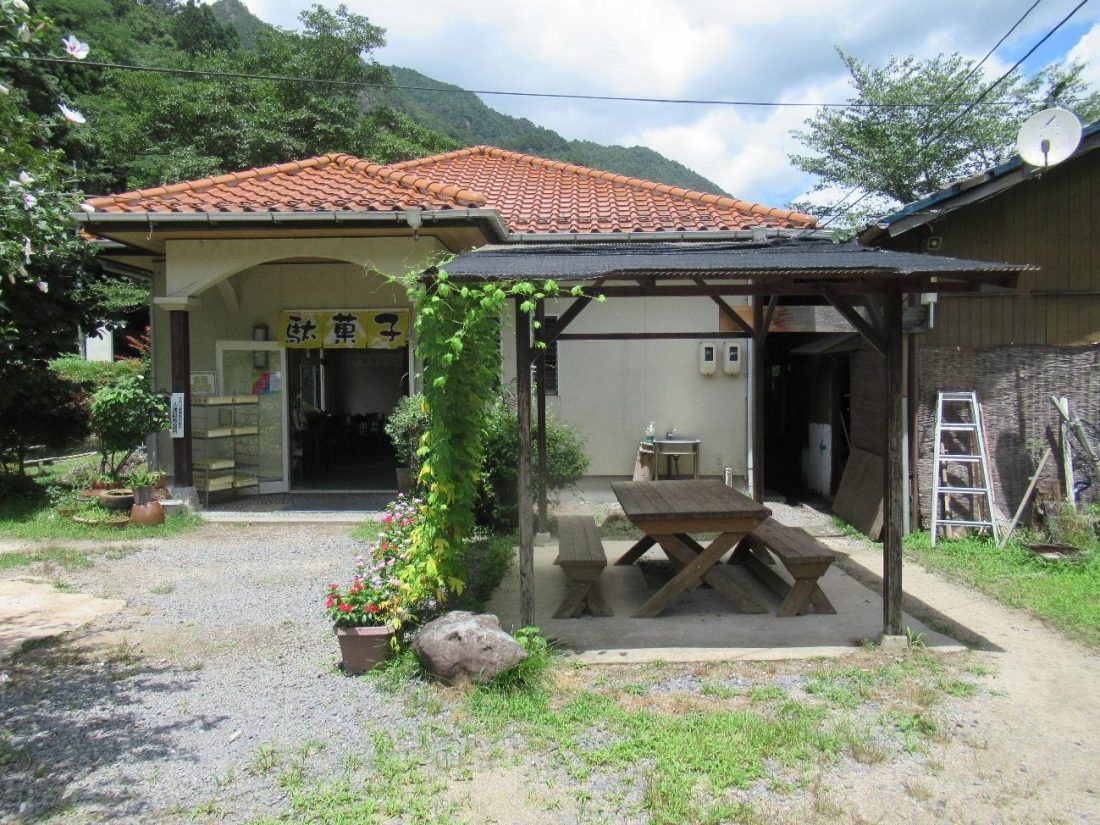 When the man entered the restaurant with my gutted fish, I asked if I could photograph and videotape the cooking process, to which he agreed, and invited me into the kitchen to watch. First up was the shioyaki trout, which was impaled on two skewers and exposed to an intense infrared lamp. It would take a while to boil the oil before it was possible to make karaage, so in the meantime, we made small talk.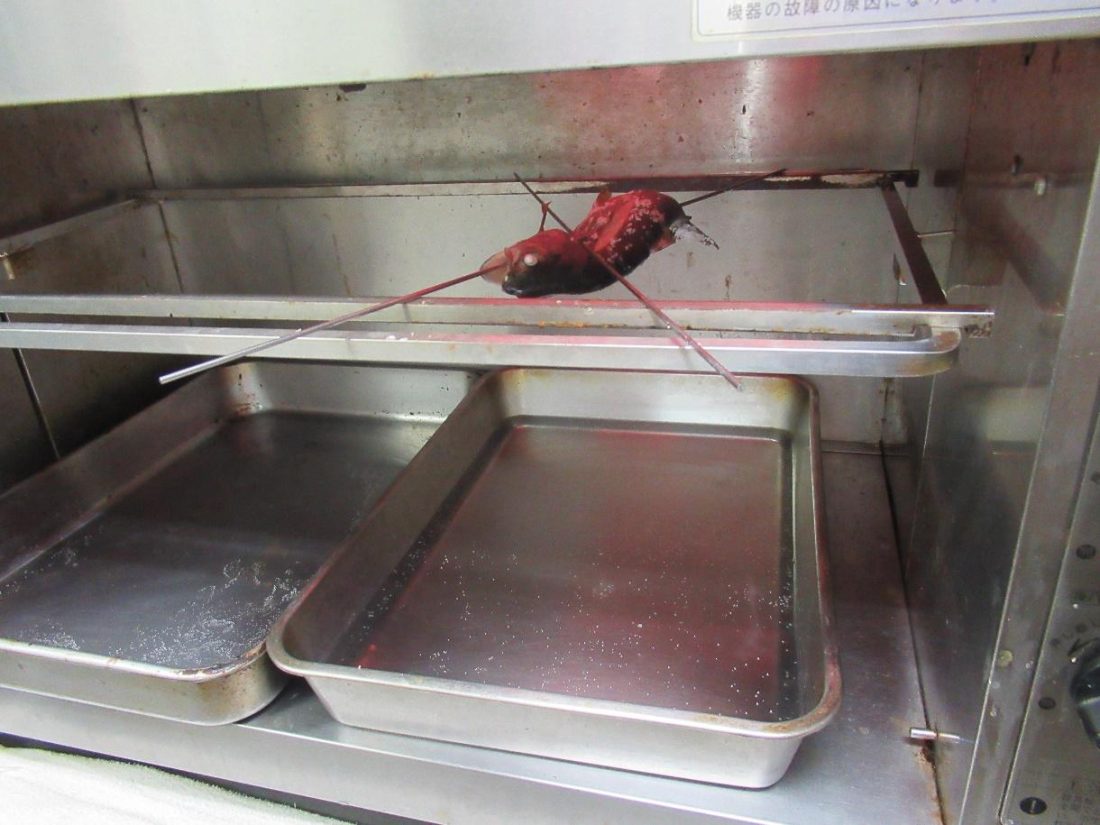 He picked up on my foreign accent and asked me where I was from, among other questions. I went ahead and told him my life story since moving to Japan, tales of past travels throughout the country, and the nature of my work. Before long, it was time to make the trout karaage, so he beckoned me to the deep fryer where he coated the fish in flour and dropped them into the vat of boiling oil. The sound of the trout frying and getting crispy was music to my ears, and I was also amused watching the tail curl and the body shrivel up in the vat over time.
At last, my meal was ready to be served. Each fish was placed on a separate plate and accompanied by a lemon wedge, and the trout karaage even came with a side salad. These little guys looked meager when I fished them up, but three plates of fish now looked more than substantial. I first dug into the shioyaki, whose charred skin was savory and delectable. Past the dry, salty skin was moist flesh, and I made sure to pick out the sharp bones before putting the tender fish meat into my mouth. After picking that trout clean, I went for the karaage, which was crunchy all the way through. It's actually safe to eat the bones of these fish, which have a consistency close to chips, so the only things to leave behind would be the head and tail.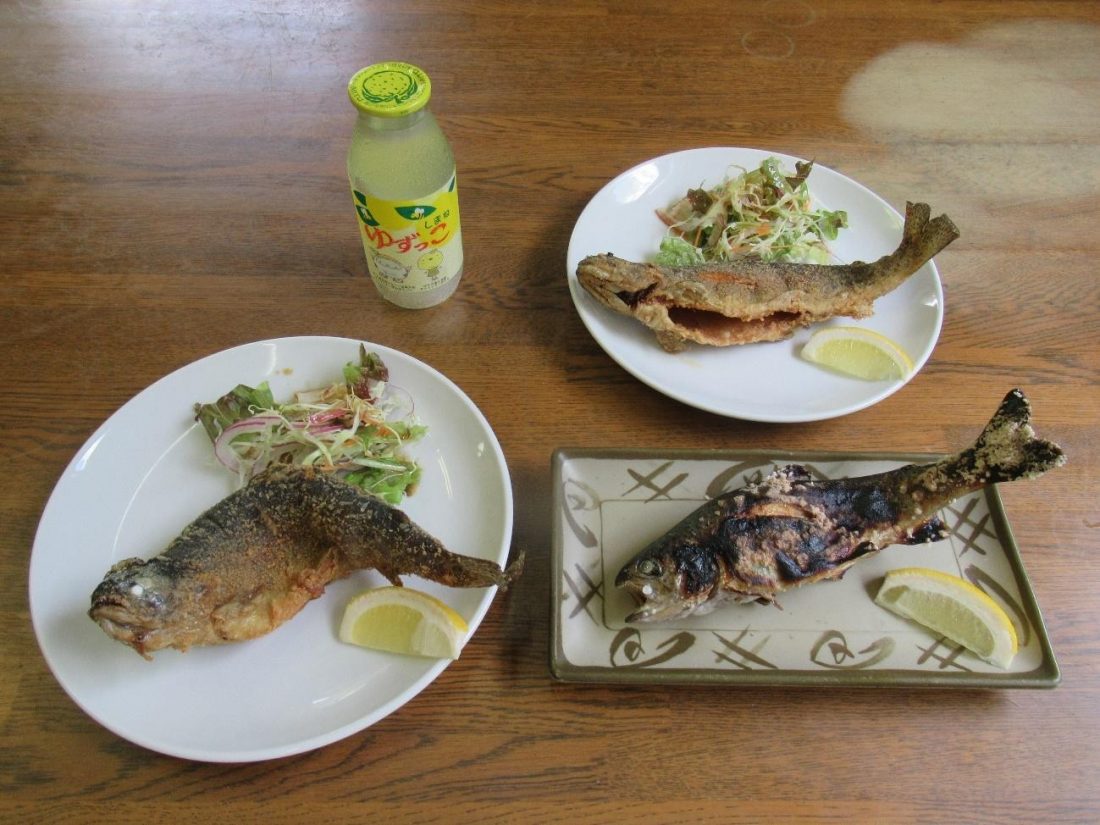 In addition to fish, customers can also order starchy items such as rice balls, udon, and curry and rice to top off their bellies. I picked up an order slip and put in a request for a bottle of juice and a bowl of cold udon while I waited for the fish to cook. Shortly after the fish were served, the man got straight to assembling my summer noodles and placed the bowl on my table. My udon came topped with seaweed, green onions, mushrooms, kamaboko (pink and white fish cake), ginger, and tenkasu (crunchy balls of fried tempura batter). Mixing all the ingredients and slurping up the cold noodles and broth rounded up my rustic lunch perfectly!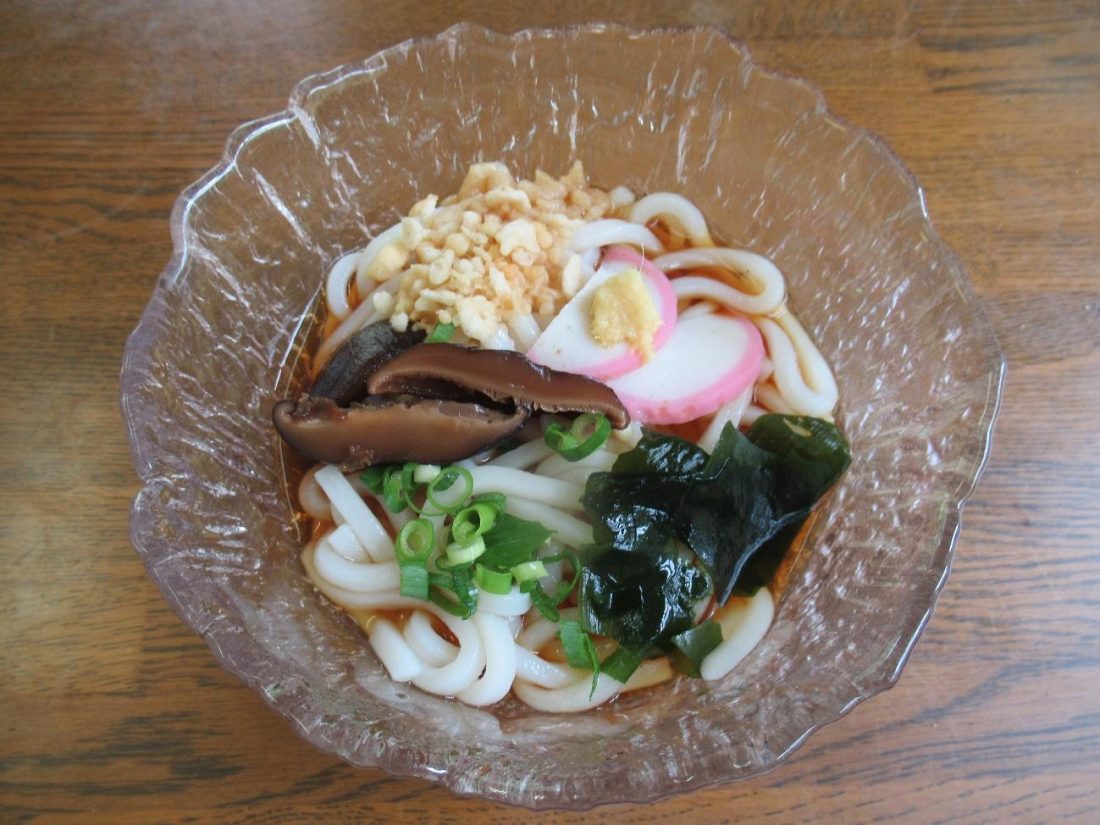 Yuki Lodge
In an attempt to burn the calories that I had just consumed, I opted for the forty-minute walk instead of the bus back to Yuki Lodge to bathe in their hot springs. Yuki Lodge has two separate bathing facilities with differing scenery for men and women, but the facilities swap genders daily so guests can potentially see the interiors of both. Each bathing facility is equipped with an indoor bath, an outdoor bath, and a sauna, so inequality is never an issue. I made sure to look up the next bus back to town beforehand so I could rest easy until it was time to depart.
Aside from the long times spent on public transportation, a day trip to Yuki Onsen isn't too time-consuming, and if starting in the morning can still leave visitors with a couple more hours of daylight downtown. In fact, I had work that same evening, and I got home early enough to put down my things, chill, and change clothes before heading off to my job as usual (just with some additional sunburns). Even us locals forget the sheer size of Hiroshima City, and an excursion to Yuki Onsen can serve as a helpful and fun reminder of how big it is. Once you're through with Hiroshima Castle Park, Shukkeien, and other centrally-located sites, come join us on the outskirts. I'll slip an extra trout on the barbie for you!