100 STORIES
Street Base Camp – Camping in the centre of Hiroshima
I have always been a huge fan of barbecuing and camping – I absolutely love the idea of drinking and eating outside whilst surrounding a fire with friends. However, those events take a WHILE to plan in Japan. To have a barbecue in Japan, you first have to plan, which involves finding a place hours away from home (because no one has a barbecue set in their back garden), planning out the day so that EVERYONE is open, preparing lots of things to take for the barbecue, etc. Upon arrival, there's setting up, cooking and then cleaning and driving hours to get back home. It creates some of the best moments, but it's also a hassle to get through. That's why I was so excited to find out there was actually a "camp site" right in the centre of Hiroshima! Say goodbye to the hours of planning, preparing, driving and cleaning up and say hello to only the best moments of barbecuing – eating and drinking!
Street Base Camp
I genuinely found out about this place when I was desperately looking around for somewhere I could grab drinks and food outside (like a rooftop bar), after having been cooped up inside all day. The name of the place was called "Street Base Camp", with the description of "a camping style, roof top bar", which immediately caught my attention. Hiroshima is pretty well known for having a lot of open terrace seats at restaurants but I'd genuinely never heard of "a camping style, roof top bar" and I quickly set up a date to visit this new found location. 
The place was a little difficult to find as there were many buildings and restaurants scattered across each street, but I managed to find it at the end of Yagenbori Dori after a good ten minutes of going back and forth. I urge you to properly check it out on google maps before going because I missed the building at least four or five times before I realized it had been there all along. It was that inconspicuous. 
Because it had taken so long to find it, and also because I was also very hungry from a long day of working, my hopes were a little crushed when I wasn't immediately greeted by the scenery from the pictures I'd been staring at all day long from instagram.
Instead, I was greeted by a huge sign: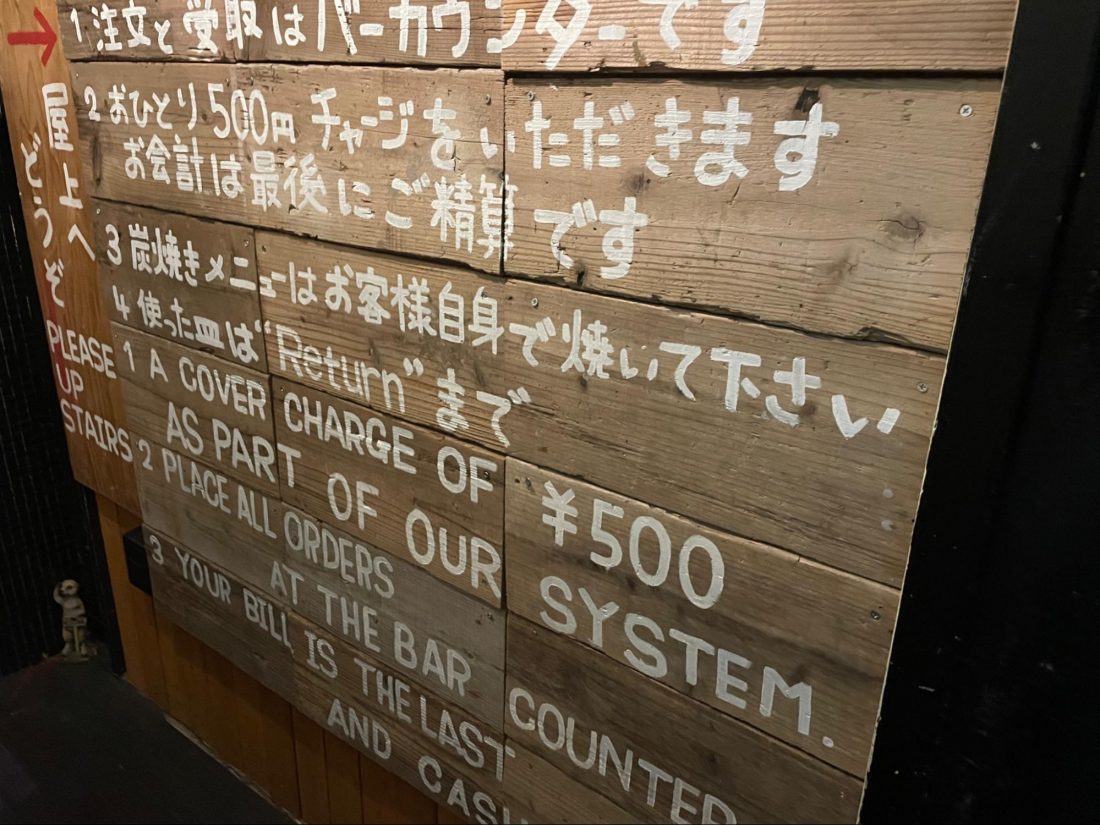 ① A cover charge of ¥500 as part of our system
② Place all orders at the bar counter
③ Your bill is the last and cash (I think it said only)
The Japanese says:
① 注文と受け取りはバーカウンターです(Place all orders at the bar)
② お一人500円チャージをいただきます (There is a cover fee of 500 yen)
③ 炭火焼きメニューはお客様自身で焼いてください (Some menus you must cook yourself using the fire)
④ 使った皿は"Return"まで (Return all plates to "return")
And there was just a simple sign pointing to the roof, to which I grudgingly complied and climbed yet another flight of stairs.
And then when I reached the top, I was blown away.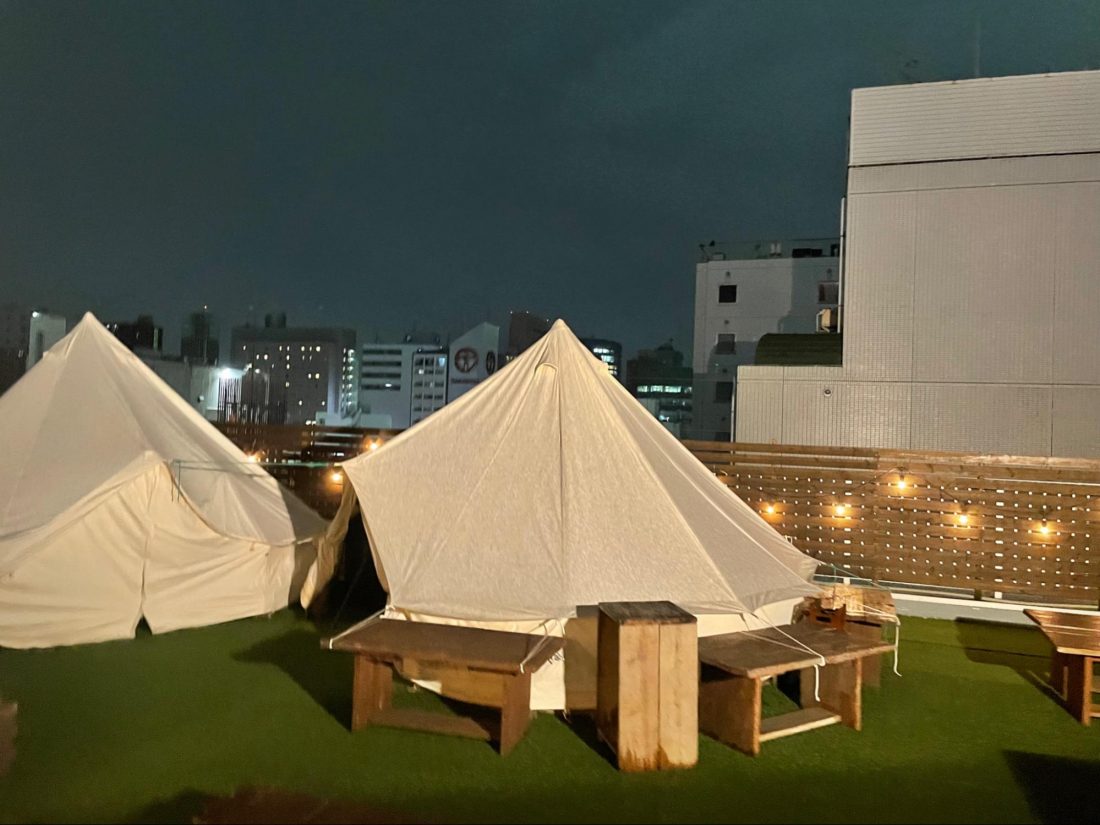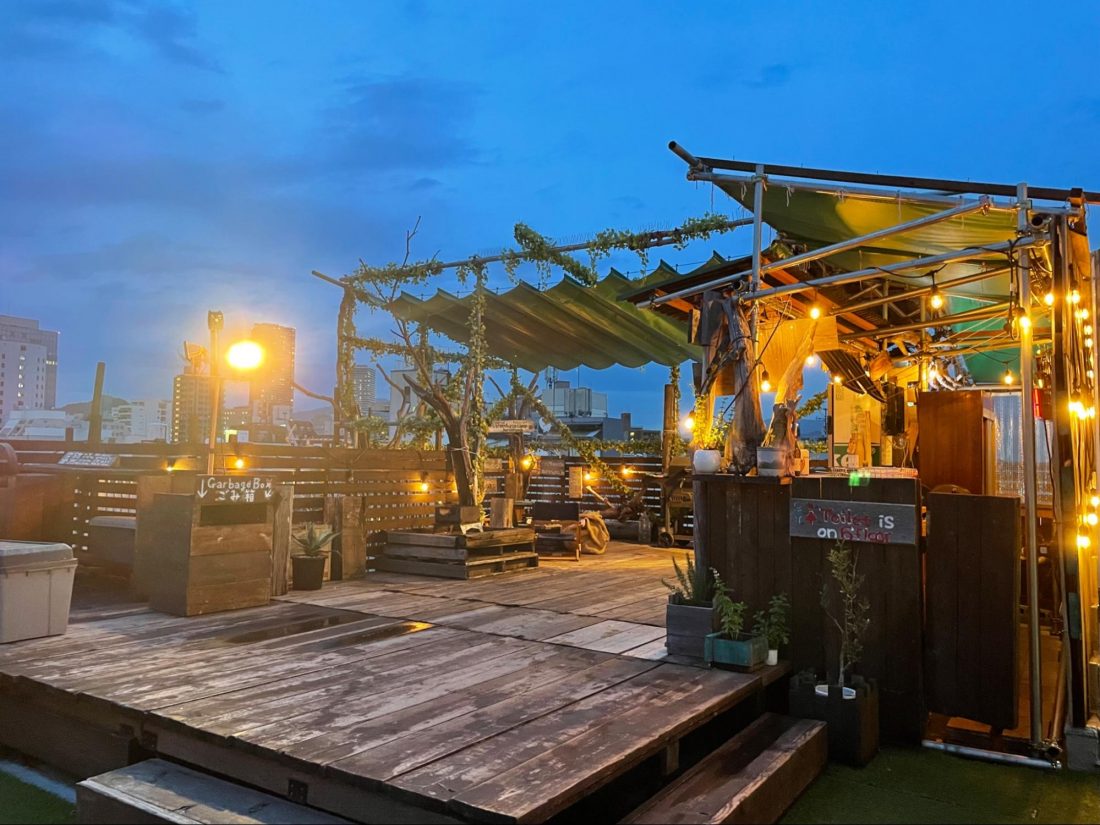 It was beautiful!
I could see the sun setting over the streets of Hiroshima and the fresh evening breeze hit my face as a reminder that the day was ending. There was a crackling fire in the corner under a wooden roof, just as the pictures had promised and there were white tents across the roof where one could go inside. 
I decided I would try the tents that day, although it was also the perfect weather for eating outside, because I was just so intrigued by what it would look like inside.
I wasn't let down.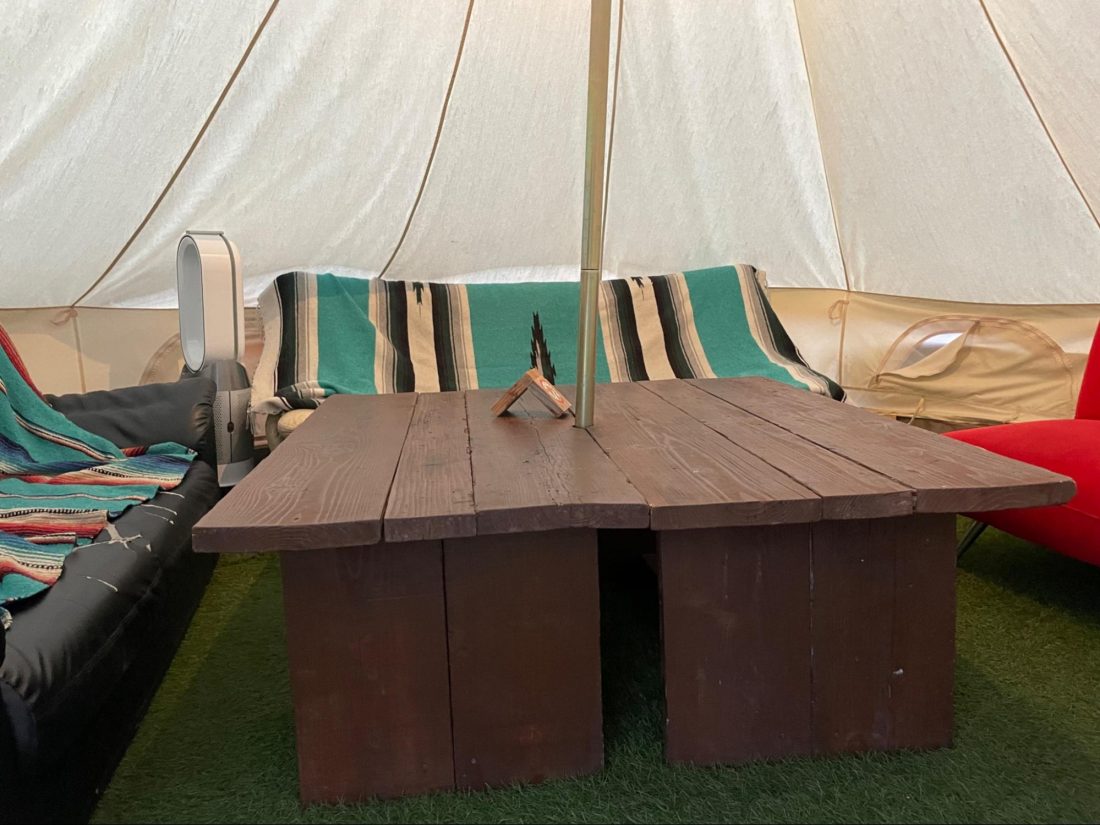 It was a moment I could only describe as a "Harry Potter moment", when Harry enters Perkins' tent at the World Quidditch match. The tent, which had been charmed by some spell, was considerably larger than what it appeared to be from outside and this was exactly what it felt like when I first took a look inside. (I had to look up this reference for the proper name and event, so fingers crossed that you know what I'm talking about!)
From the outside, it looked like the tent would only fit in like one or two people, but the inside could definitely comfortably fit at least four! There were two strong fans keeping the air coming in and out, so there was never a moment where I felt hot or uncomfortable.
The most important part: the food
For food, I ended up ordering:  the 'appetizer plate', Rib Steak, Popcorn Shrimp and fried avocado.
I was a little surprised at first with the price, but was genuinely convinced as to why once the food started arriving because there was much more one each plate than I'd expected. 
First, the appetizers.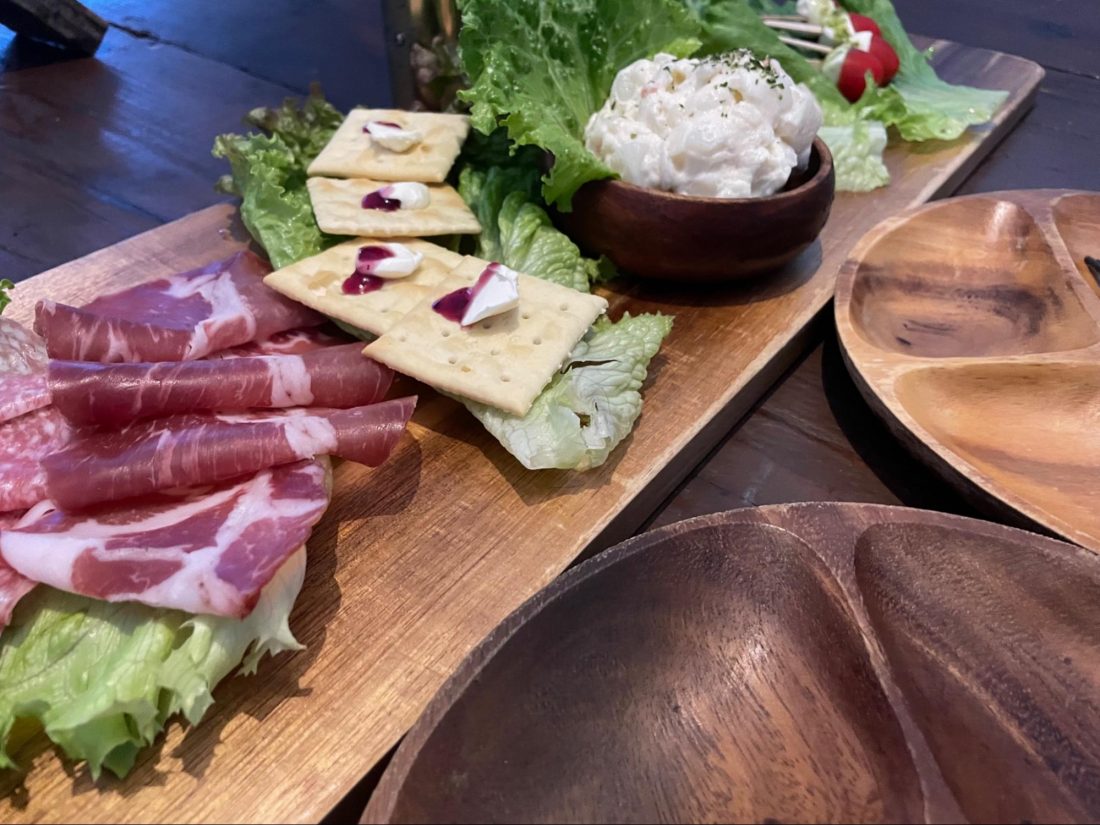 Today it was two types of ham, potato salad, salty eggs, crackers and tomatoes dipped in cheese. It was pretty good, and very enjoyable with a cold beer! It was also quite large and probably enough for around four people. I think I would recommend this dish to everyone who visits here as it was a great starter for the evening. 
Next, the ribs. The ribs were also much more in amount than I'd expected and I struggled to get through to the end. It came with a barbecue sauce, but because there was enough taste on its own, I ended up enjoying most of it without the sauce.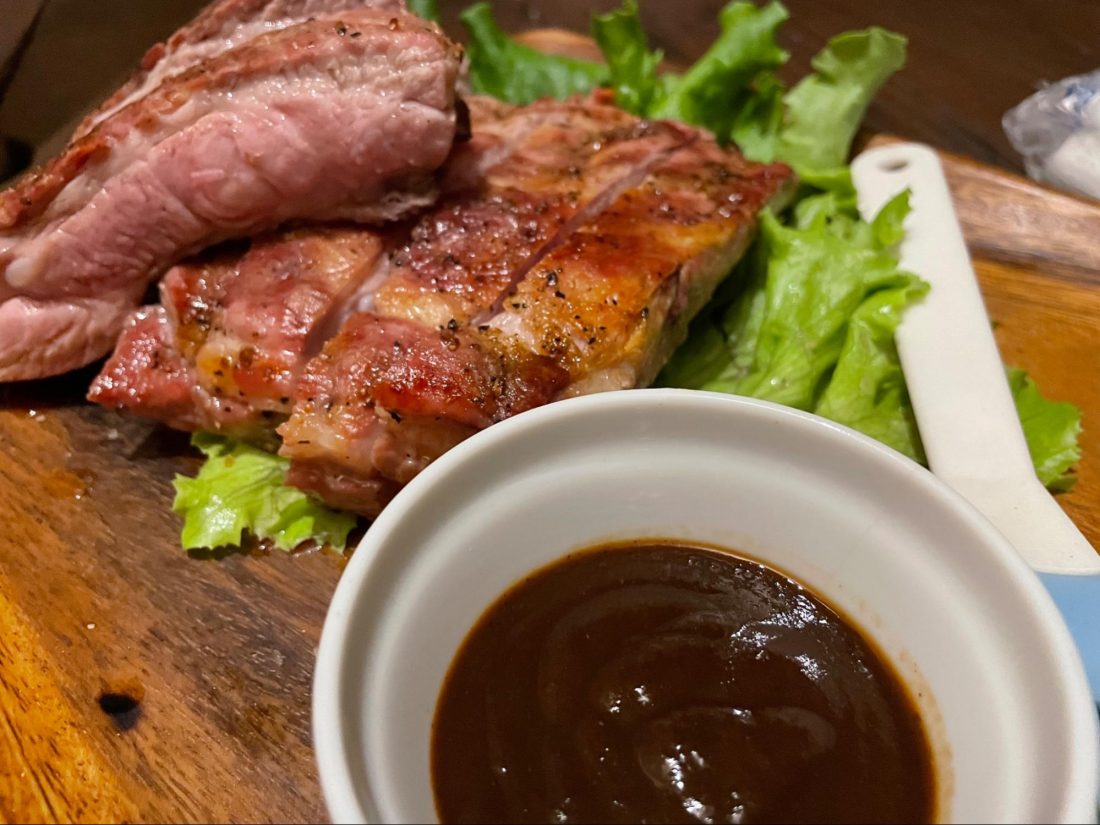 Popcorn shrimp and fried avocados are actually two dishes I really love but can't really get usually, so it was a pleasant surprise when I saw them both on the menu.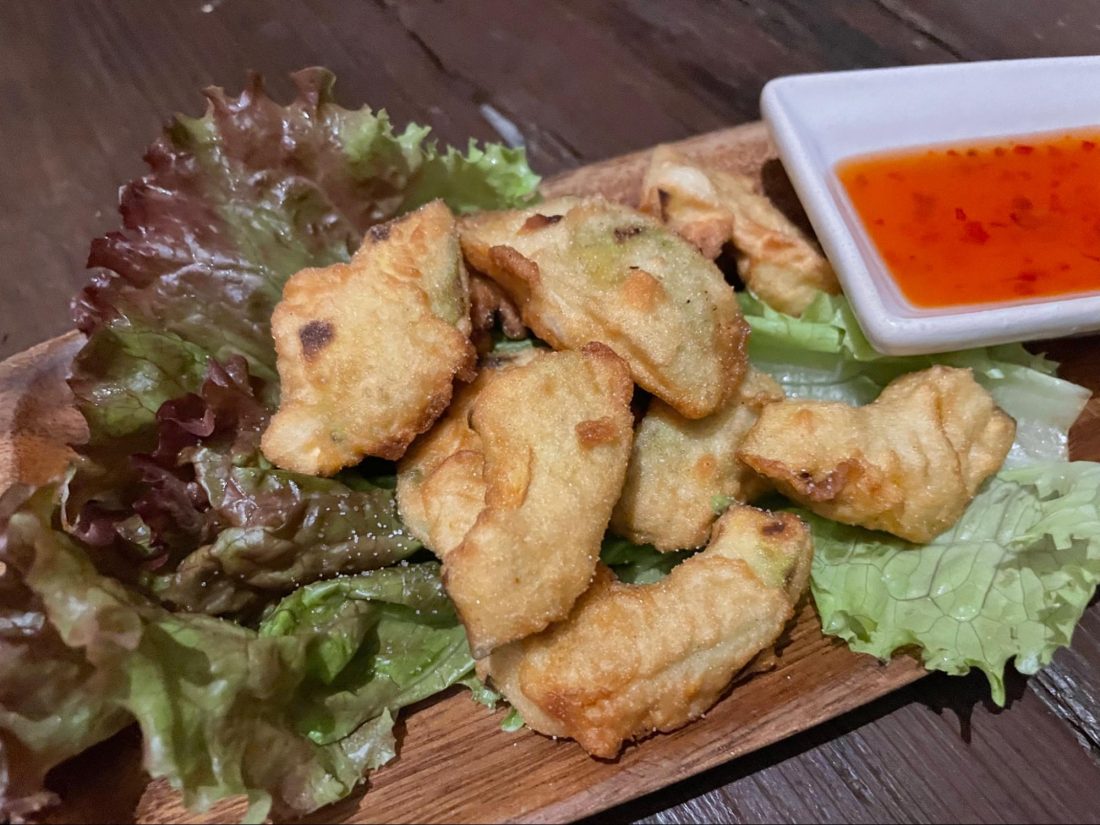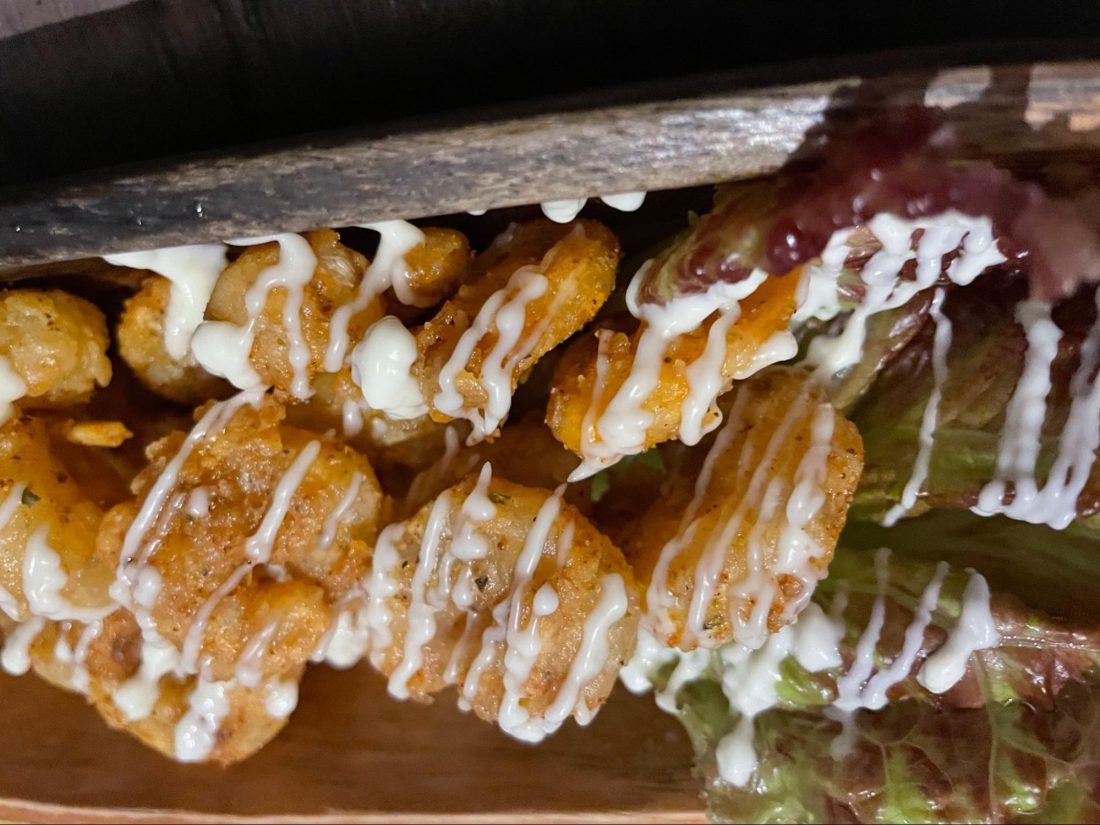 Moment of Joy
The moment of joy for this day came when I'd just finished most of the meal and was hanging out outside of the tent across the edge of the railings, looking out to the vast scene of the city. Not having to worry about the usual troubles that came with barbecuing made the experience all the more better, and made things a lot more enjoyable. I will never stop planning barbecue events, but it was great to know I had access to one, right in the middle of Hiroshima city.
There was also a cozy area behind the bar that was completely secluded from outside so you could enjoy the camping feel without having to be bothered by the weather. So even if it rains, no need to cancel!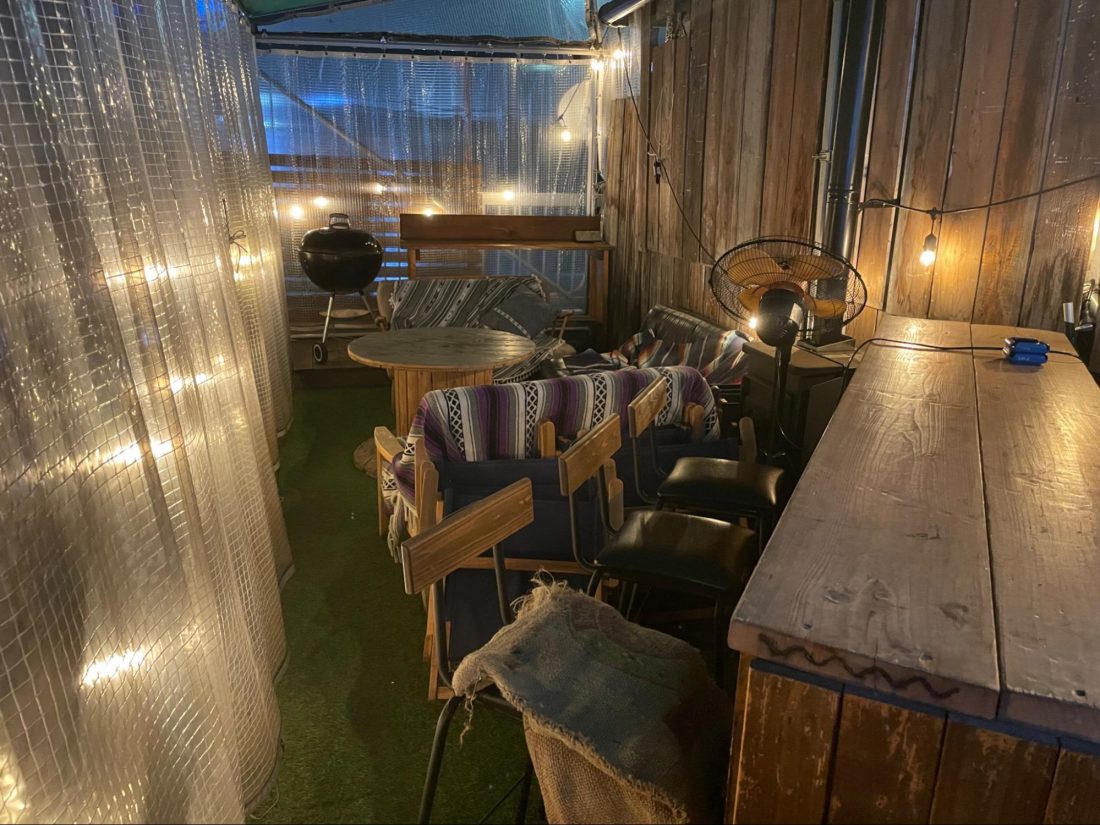 I do however recommend reserving one of the tents – it really makes you feel like you're out camping and makes the experience all the more relaxing since you're not constantly being watched by other people. To be honest, it nearly felt like I was having a barbecue at home because it was a such a comfortable and cozy space.
How to get there
Street Base Camp is very easy to get to. Just take the bus to Kanayamacho (銀山町) and walk five minutes! You can also just walk from Hacchobori if that's closer – it only took about ten minutes to walk straight there. Just a friendly reminder however, that the building is a little bit difficult to find. Again, make sure to do a quick check of where it is before you go!
What's close by?
Immediately close by is one of my all time favorite Mexican Restaurant Borrachos! Whenever I have a craving for my all time favourite Mexican food, I come straight here to order their famous burritos and buffalo wings. If you've never been but you're a fan of Mexican food, here is definitely the place to go: https://borrachos-hiroshima.jp
One of my other favorite places nearby where you can order drinks outside is 'New York New York' near PARCO – where you can taste all sorts of delicious American meals, but also a wild variety of drinks. This has been one of my all time favorites since moving to Hiroshima, and when I can't find a new place to eat at, I usually end up visiting here. You can eat inside, but I usually enjoy eating out on the street.
https://tabelog.com/hiroshima/A3401/A340114/34002981/
And just a final tip for those hoping to enjoy a little more barbecuing: "Hiroshima Under the Sky " is a restaurant located on the 10th floor of the Fukuya Department store in Hacchobori. The menu changes depending on the season, but my favorite is usually their beer gardens during the summer where you can enjoy some barbecuing and an all you can drink bar on their outside terrace. It's great for if you are looking for a fancier place to do a little fancier version of barbecuing.