100 STORIES
Shukkeien Hanami: Seizing Life's Precious, Fleeting Moments
Despite living in the same city in Japan for a number of years, no two years were ever the same. The more time I spend in Hiroshima, the better I get to know it, but like the cyclic seasons, people come, people go, and the scenery changes constantly, leaving me on my toes at all times. This impermanence of things in life reminds me of how important it is to cherish moments while they last, for it's only a matter of time until they vanish. During my time here, I have been applying that mindset to the relationships forged with the people I've met as well as to key places that leave an impression on me. One such place is Hiroshima's Shukkeien, a well-known landscape garden located downtown that always has some form of noteworthy vegetation on display throughout the year, but limited windows of time for most of its species.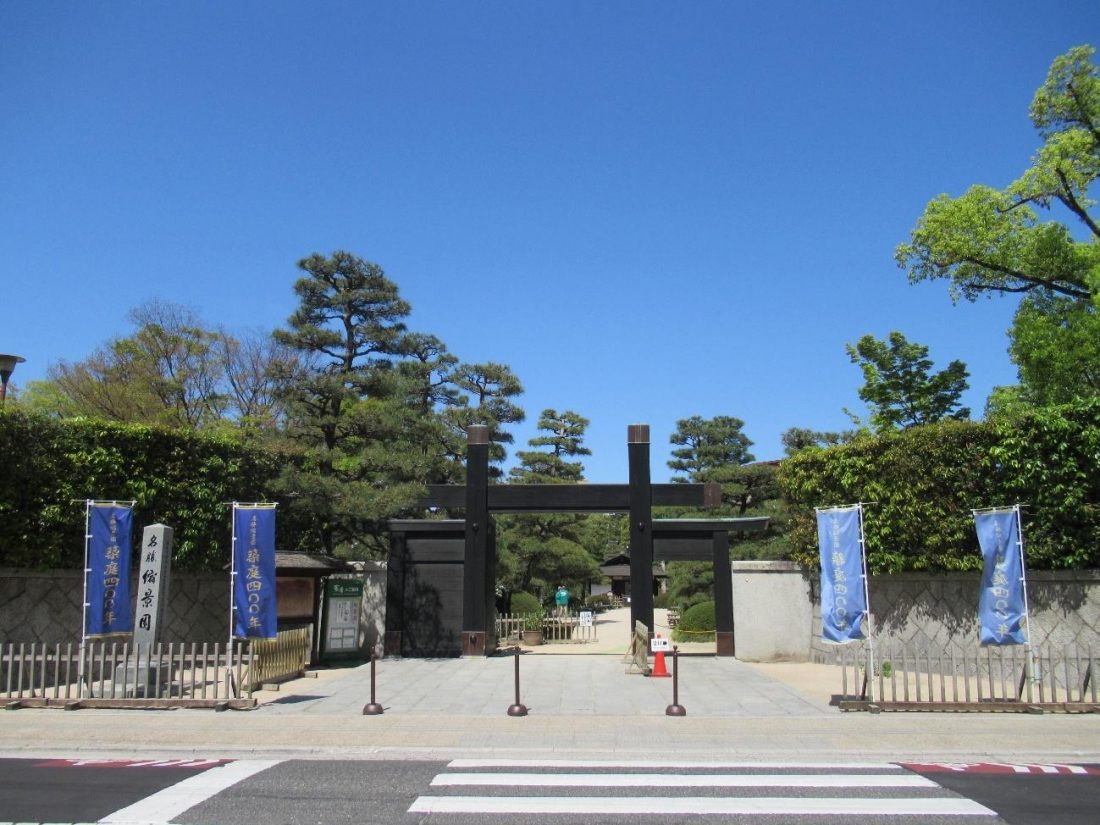 If approaching from downtown, Shukkeien is a straight shot north of Ebisucho Station and the Mitsukoshi department store on foot. Alternatively, for those who would rather not walk, it's possible to take the number 9 streetcar to Shukkeien-Mae Station and then walk east of the Hiroshima Prefectural Art Museum, which is conjoined with Shukkeien. If coming from Hiroshima Station, you can take the Meipuru-pu sightseeing bus Orange or Lemon Routes straight to the Hiroshima Prefectural Art Museum (the Green Route stops there too, but takes a detour through downtown first).
Alternative Hanami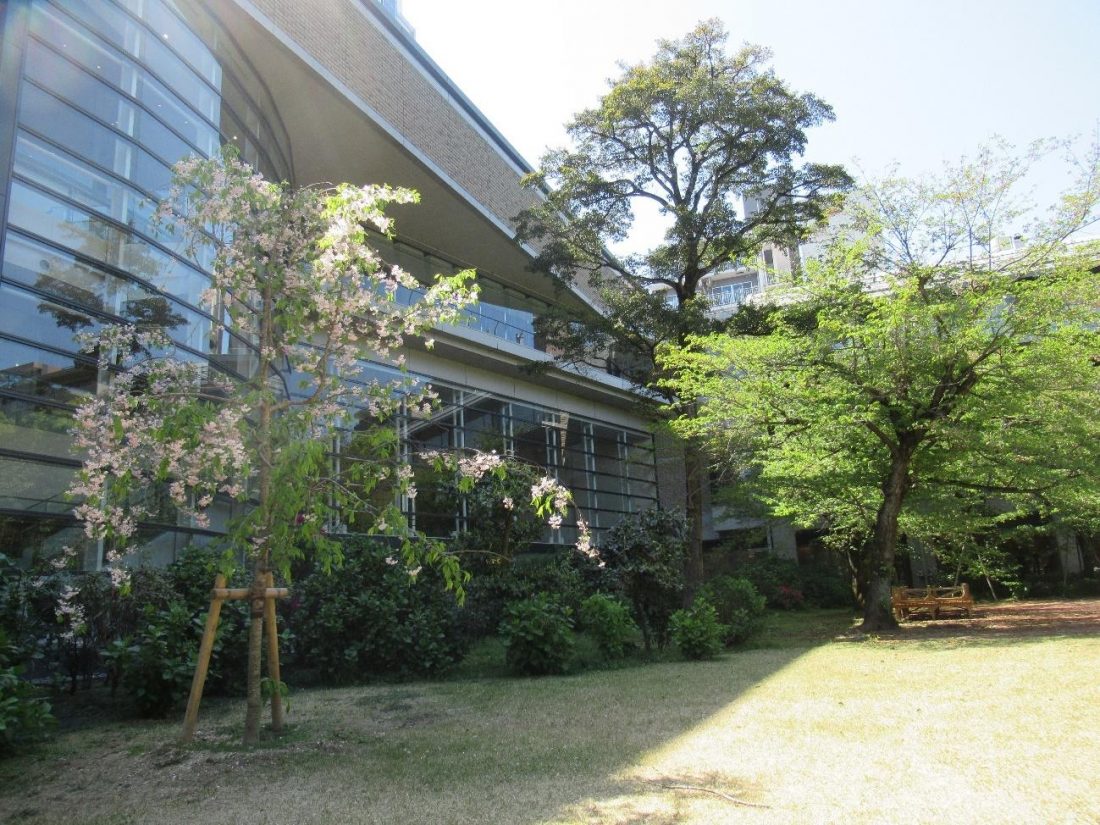 Shukkeien celebrated its 400th birthday last year, but banners were still up by the front gate commemorating the occasion. In accordance with traditional holidays or what plants happen to be in season, the garden may put on special events, such as tea ceremonies or illuminations with exclusive nighttime hours. However, since I came here at the tail end of sakura season, I missed the illumination and can only enjoy the cherry blossoms that remain on trees that are now greener with leaves than they are pink with flowers. Moreover, the picnic space that's normally allotted for guests to freely use for hanami (flower viewing) parties is off-limits for picnicking this year, and visitors are also banned from bringing their own food and drink into Shukkeien. That means the only place where I can eat today is at the Sensuitei café near the front gate, so the picnic and viewing aspects of my hanami will be mostly separate.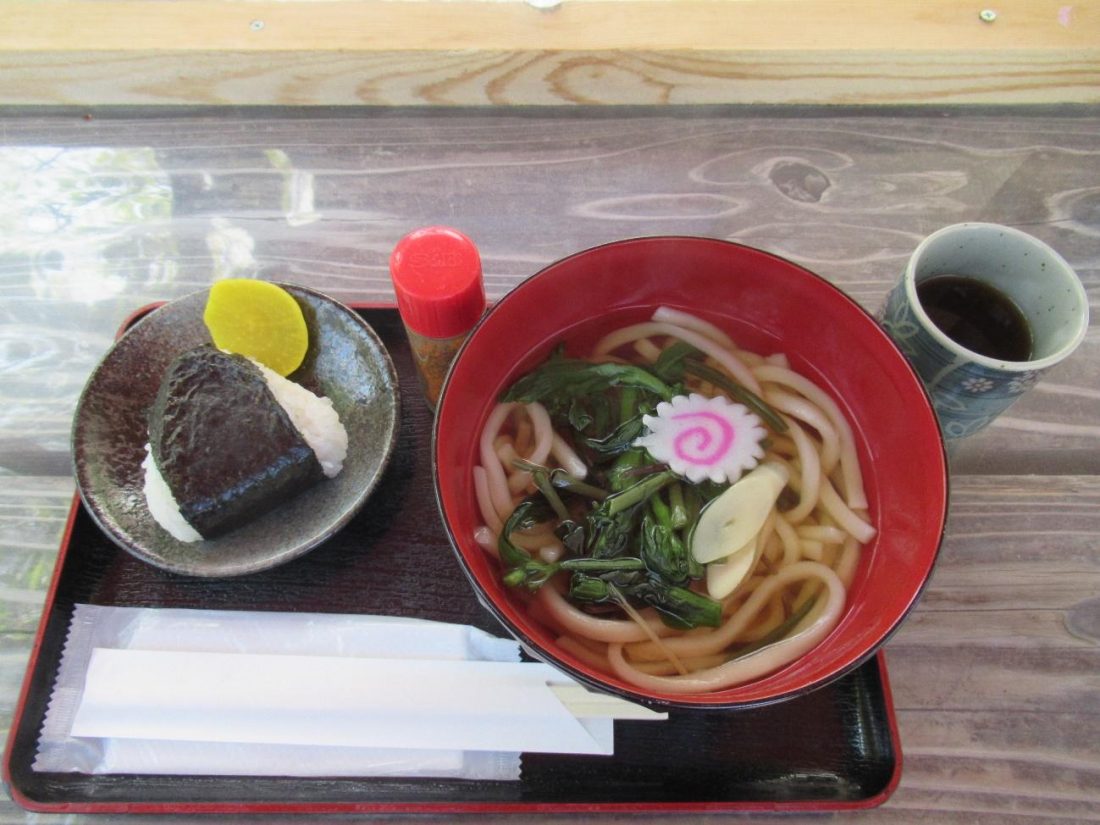 Sensuitei is a gift shop that doubles as a café, and sells light meals such as udon and rice balls, but for a garden picnic, that kind of food is all I need for lunch. If you decide to take a break later in the day, this place is also a good stop for a cup of green tea with traditional Japanese sweets. My lunch set consisted of a bowl of udon topped with wild mountain veggies and a narutomaki, accompanied by a rice ball, a slice of pickled radish, and a cup of hot tea. The seating is entirely outdoors and every table is equipped with a parasol for days when the weather is not so beautiful. I wasn't able to see the sakura from here, but I could still enjoy my meal surrounded by greenery, sitting next to some potted plants for sale, such as this gorgeous peach blossom.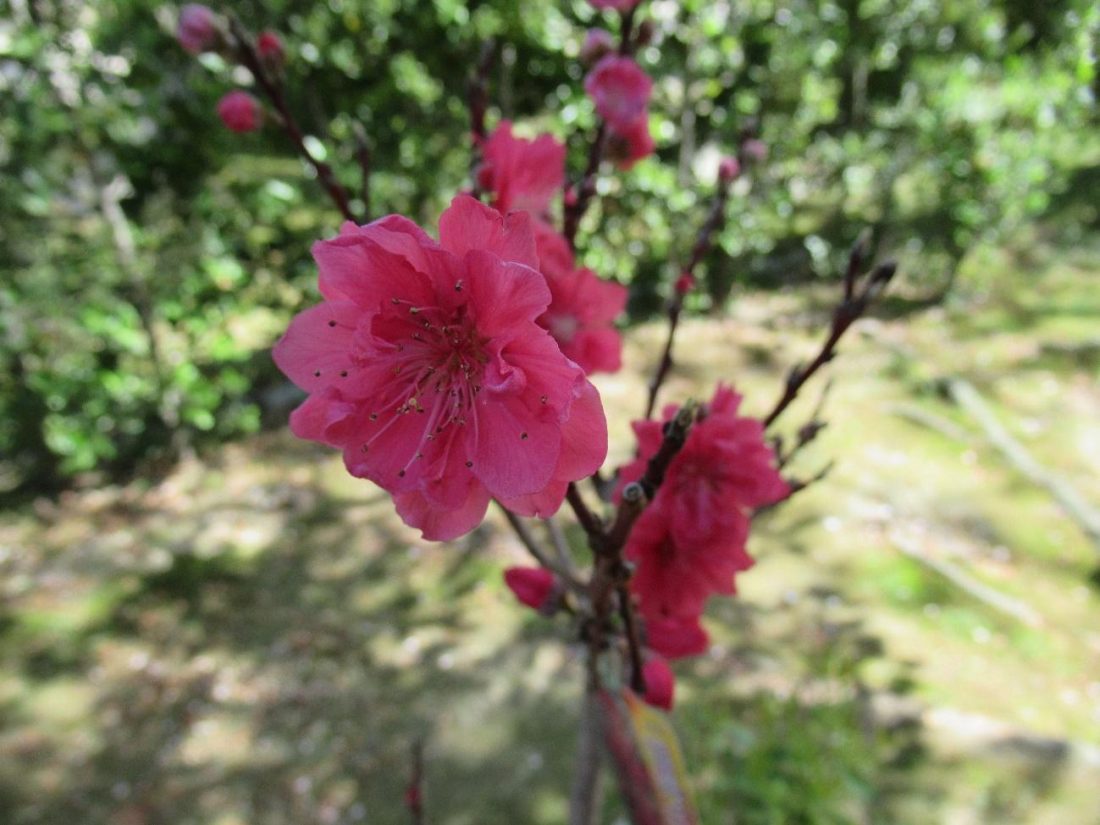 With my belly full, I now had the energy to explore the rest of Shukkeien and spot as many sakura as I could. Unfortunately, most of the cherry trees featured here start to lose their petals in early April, so while there were still some cherry blossoms left, the scenery wasn't exactly ideal. For most of the trees, I had to zoom in real close on select branches to get any captivating photos, and even then, the sight of leaves replacing petals and what looked to be the beginnings of fruit was inevitable. However, the sakura at this stage do have a distinct beauty of their own, and all around the garden are other varieties of spring flowers getting ready for their time in the limelight.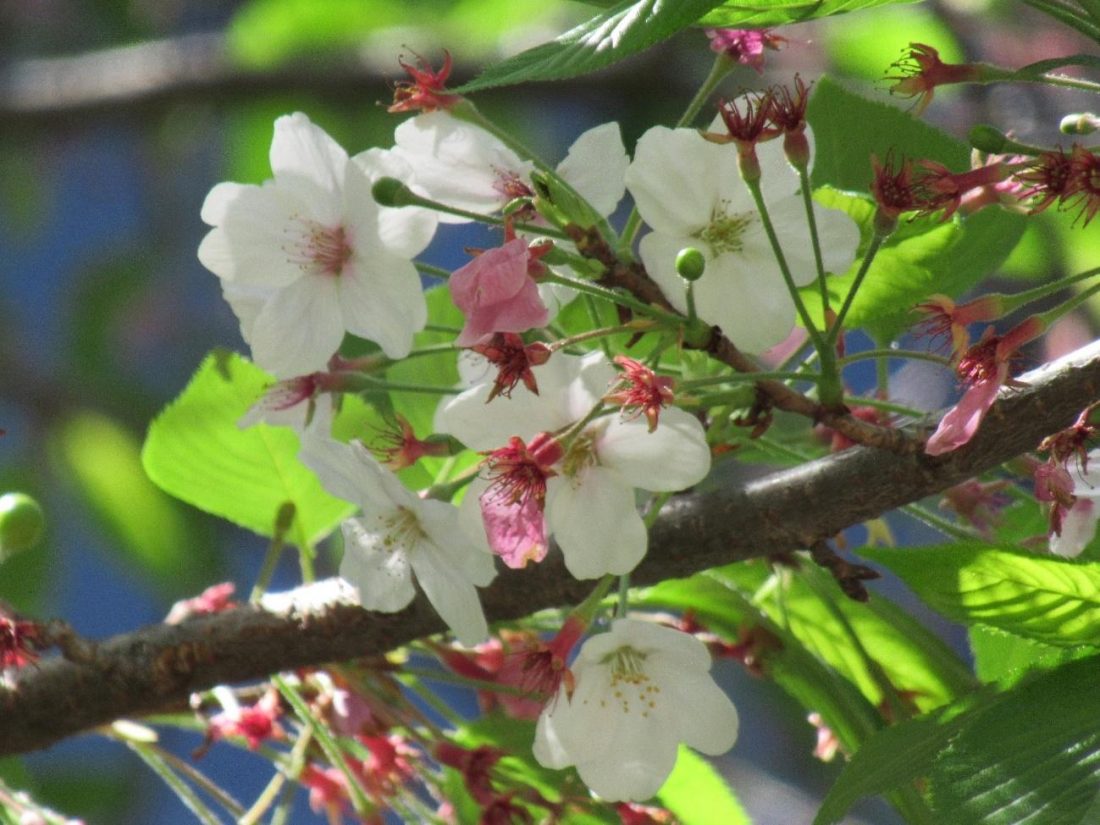 Although the point is to see the flowers during their peak, there is something to be gained from seeing a different side of them out of season. For instance, what were plum blossoms in February are now actual plums growing on trees, soon to be pickled or made into liquor. Not every flowering tree bears fruit, so this too is an uncommon sight.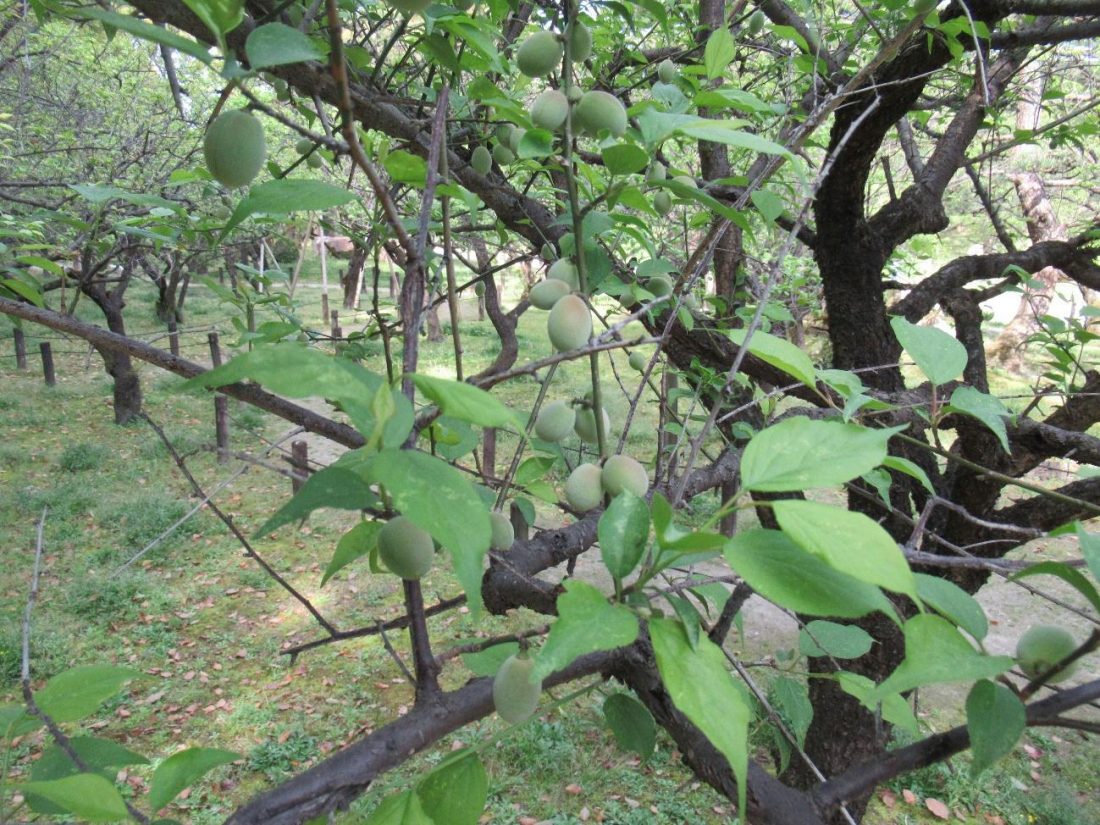 On the other hand, Hiroshima's famous maple leaves, which are normally most vibrant in November, jump out at the viewer with a vibrant, verdant hue that can only be appreciated during the warmer months. All the while, I took a giant lap around the entire garden looking for cherry trees still in bloom, admiring the enormous pond filled with carp and surrounded by all sorts of vegetation. The paths in Shukkeien are numerous and wide, making the entire garden spacious enough to speed walk or jog through, a brilliant and picturesque way to get in some exercise after lunch.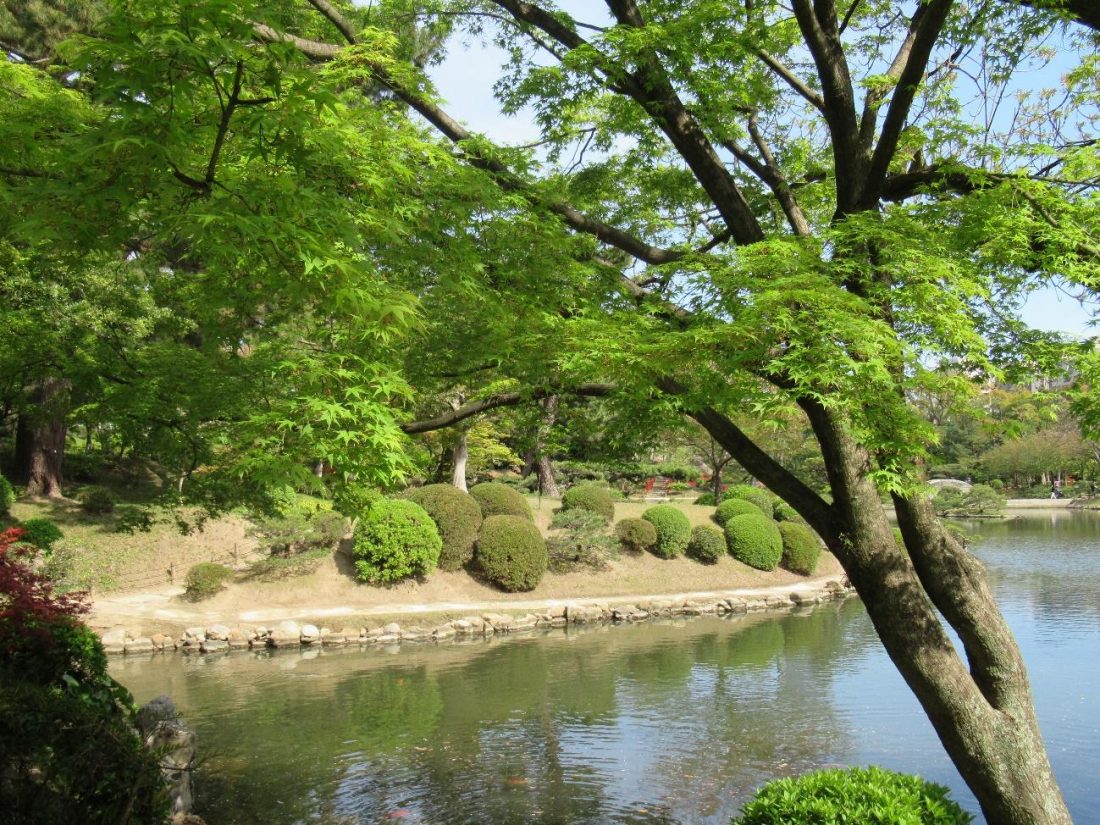 Moment of Joy: My Old Buddy, Kanzan
Everywhere I went, I had only seen cherry trees with their petals almost gone, and was ready to accept that there were no more fully-pink trees in all of Shukkeien. The most common cultivars of sakura in Hiroshima tend to have their petals drift away by the first week of April, but there are other cultivars that only reach full bloom by the second week.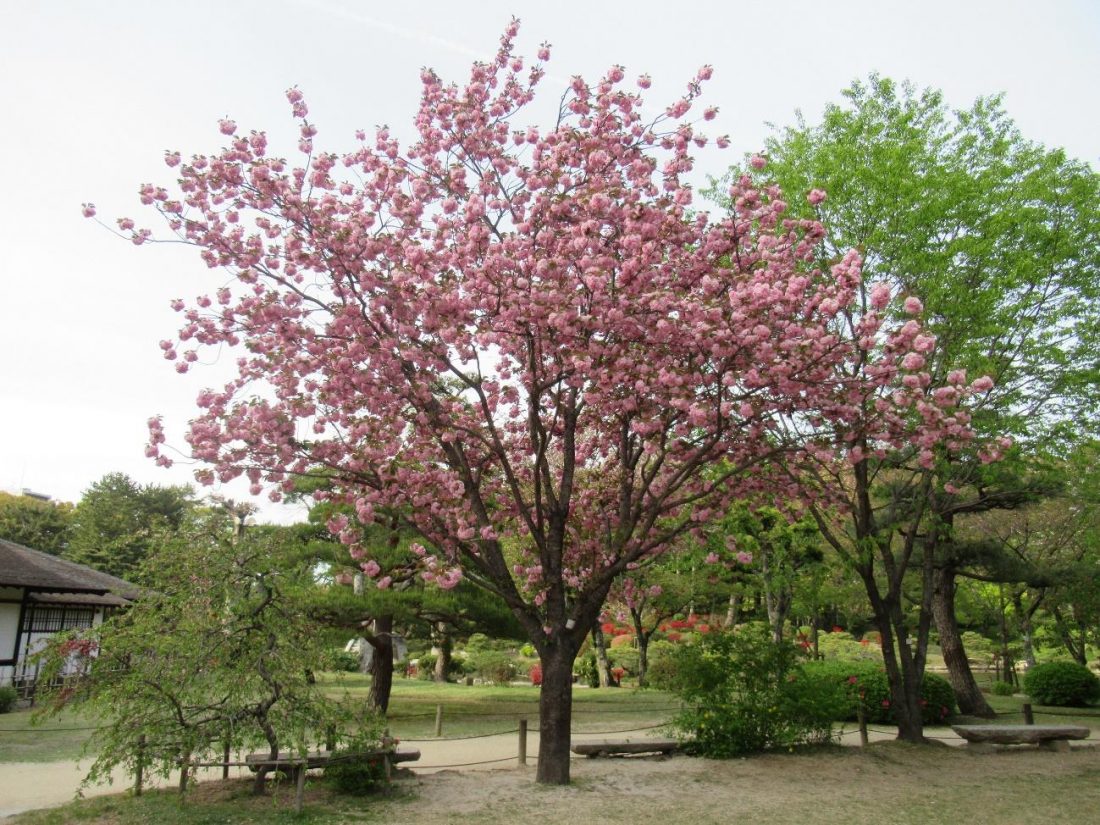 Shukkeien has one such tree growing a cultivar called "Kanzan," and as soon as it entered my sights, my eyes lit up and I paused to stare in disbelief. Finally finding what I was looking for gave me that same moment of joy I get whenever I bump into a longtime friend who departed from my life some time ago, but was brought back before me by destiny.
Inner Beauty
At this time of day, the weather was getting fairly hot, so I decided to take a break from the great outdoors to seek out some marvelous landscapes indoors by ducking into the Hiroshima Prefectural Museum of Art next door. When entering Shukkeien, it's possible to buy a combination ticket at the counter that will allow admission into both the garden and the main exhibit, as well as unlimited passage between the two facilities all day. When entering or exiting the museum through the back door, there is a scanner placed inside the chamber adjacent to the garden. Simply scan the barcode on your combination ticket when crossing over from one place to the other. However, although you can enter the museum building multiple times, you are only allowed into the main exhibit once, and there is no re-entry after leaving.
The main exhibit consists of four galleries that are toured in a linear fashion. They've got paintings, ceramic works, and some unusual three-dimensional pieces that make use of resources like wood and metal. Artists from all over the world and various eras in history are featured here, and you may even recognize a certain work or two. Do note that photography is not permitted for every single piece, so be on the lookout for a camera icon inside a blue circle on the description plaque. After exiting the main exhibit, guests can wind down at the tearoom on the third floor, the museum café and gift shop on the first floor by the front entrance, or—if you feel like splurging—the fancy Italian restaurant at the back of the first floor.
Second Hanami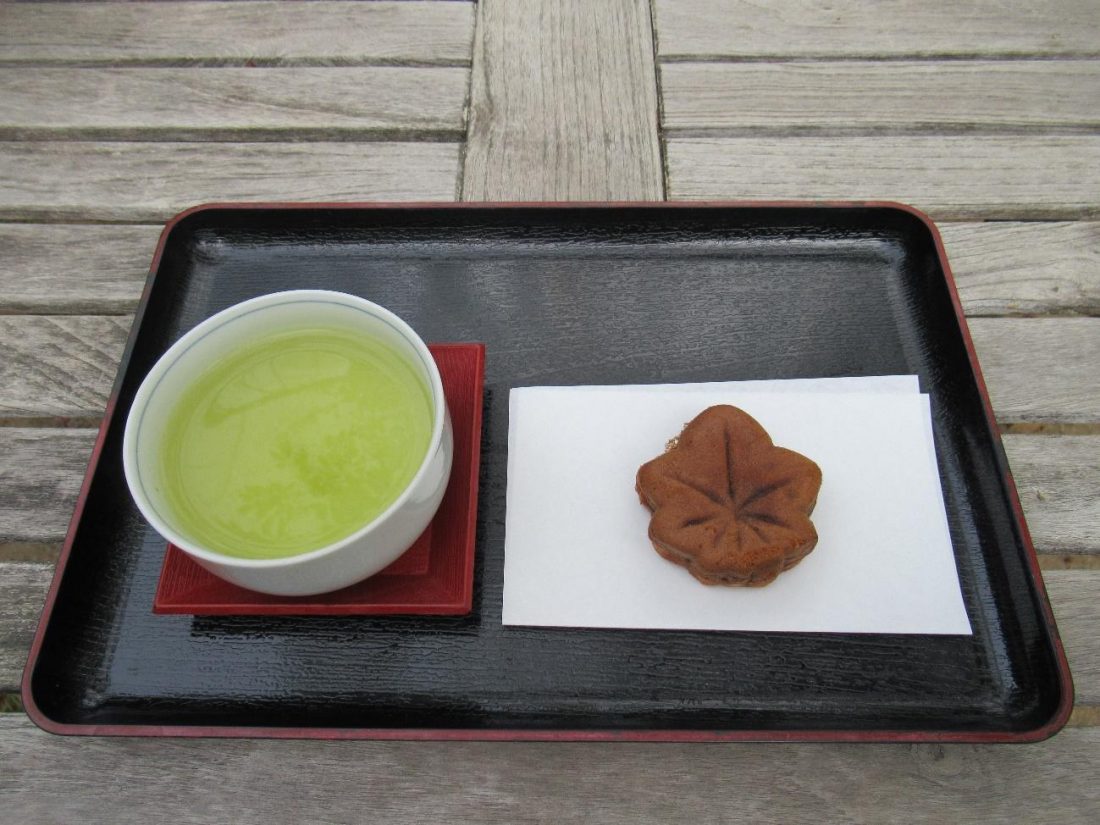 Coincidentally, I was starting to feel my stomach emptying up, but rather than have my tea time inside the museum, I chose to dine again at Sensuitei outside. When I bought my combination ticket at the counter, I was given a coupon that could be used on a drink and dessert set at the museum tearoom, museum café, or Sensuitei. I figured that since the weather was now cooler, my second round of eating and looking at flowers would be more pleasant than before. This time, I went with a cup of organic sencha (the opposite of matcha) paired with a seasonal Japanese sweet snack. The snack is rotated periodically; the one pictured above is the tried-and-true Momiji manju, a fluffy and not-too-sweet baked good filled with mashed azuki bean paste.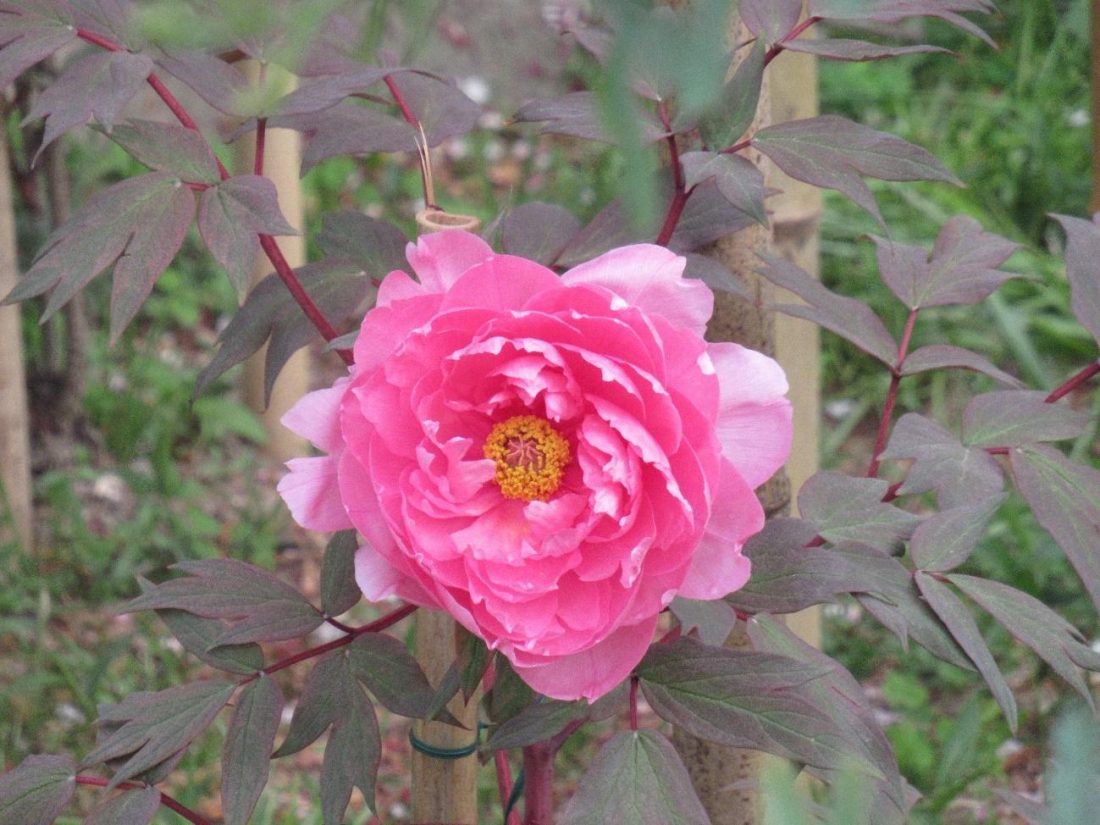 Even though Shukkeien has a remarkable selection of flora dotted throughout the entire garden, but only a handful have a dedicated section. Among them are the plum blossoms, cherry blossoms, maple leaves, tea leaves, bamboo, and peonies. Peonies, also known as "botan" in Japanese, supposedly reach their peak around the end of April, but most of them were already blooming extravagantly like the one above, and today was only the tenth. Should you miss sakura season by a long shot, you can take solace in enjoying botan season, where these beauties chill underneath the protection of umbrellas in their own little garden just northeast of the ticket counter.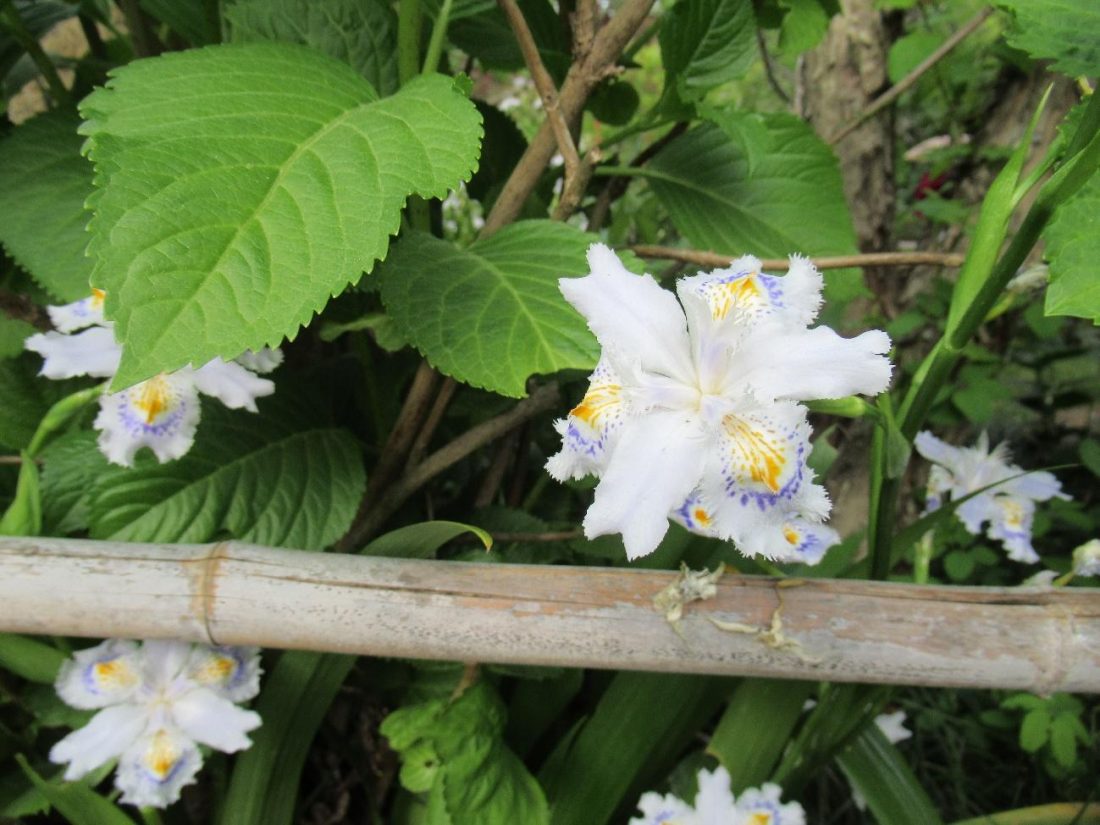 Springtime in general is truly chock full of these limited-time flowers, including camellias, irises, flowering dogwood, and wisteria, just to name a few. Irises in particular are of interest because they come in a complete spectrum of colors. My favorite species of iris would have to be the fringed iris, which features white petals covered in yellow and purple spots, and has a feathery appearance eerily similar to the wings of a moth or butterfly. The wisteria flowers grow in the picnic area right behind the Hiroshima Prefectural Art Museum, right above the picnic tables. Despite being most commonly associated with sakura, a hanami party can be held for any type of flower, so come May during a time when usage of the tables is allowed, I highly recommend a wisteria hanami in this exact lawn area.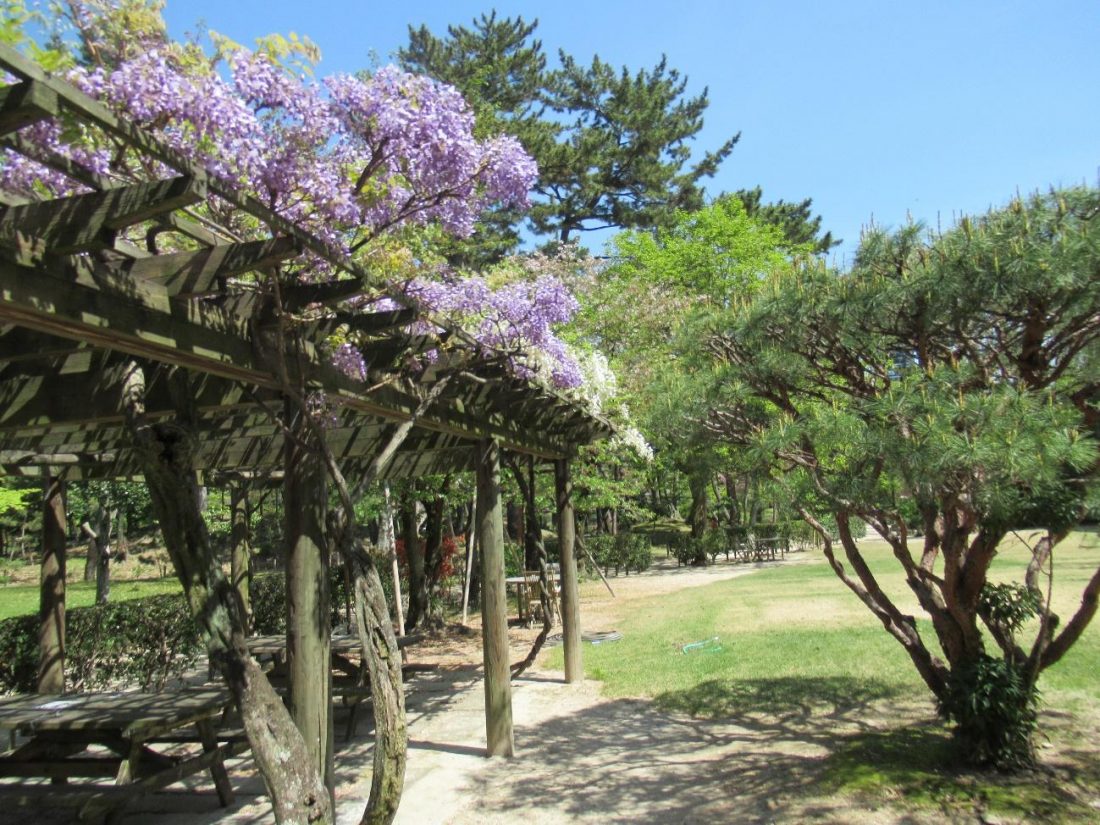 Frolicking Fauna
Naturally, any place with this much plant life will also be a host to some animal species, and Shukkeien has no shortage of fauna in every corner. The gargantuan pond stretches through the entire garden and is predominantly inhabited by carp, but visitors may also catch the occasional turtle swimming or sunbathing on one of the rocky outcrops. They sell bags of food meant for feeding these ravenous fish, who can get quite aggressive when humans approach them, simply assuming all people are there to feed them. Turtles may occasionally attempt to grab a bite to eat, and even pigeons have been known to drop by for a piece of the action. Your fish food will disappear rather quickly, but even without food, these big, scaly swimmers are still friendly towards humans and get close enough for you to pet them.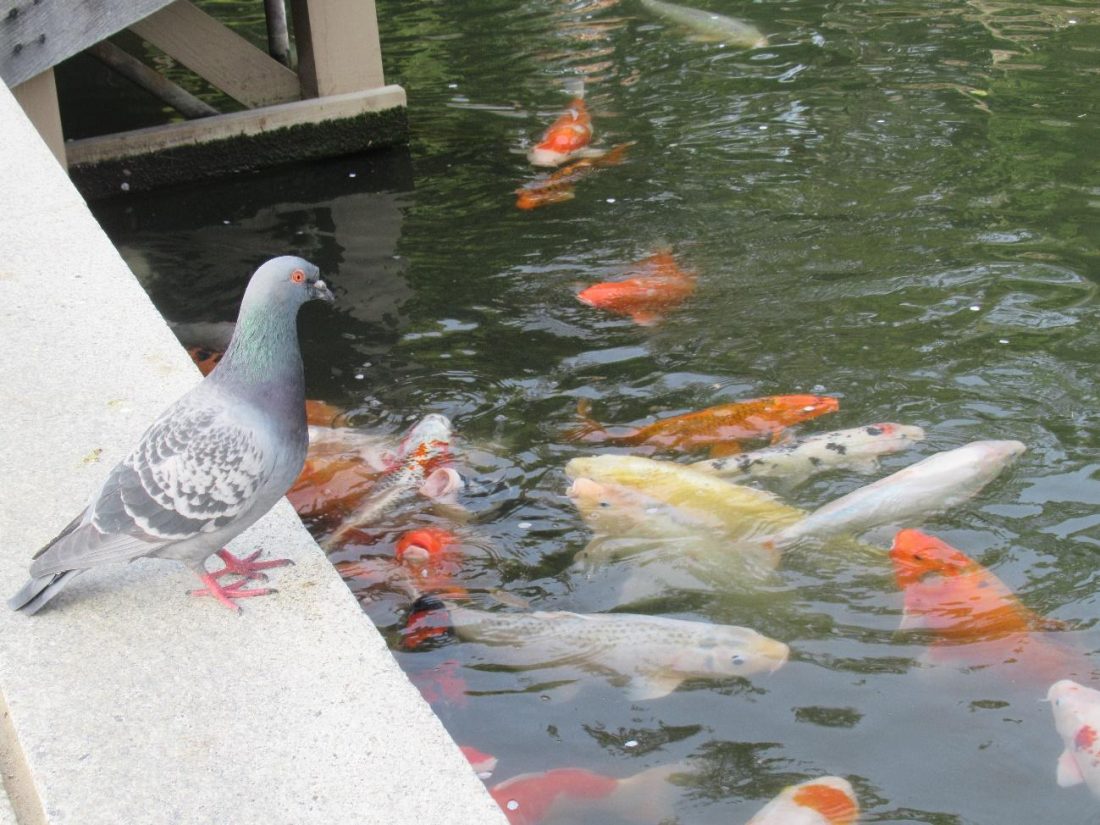 The carp can be fed from any part of the garden that touches the pond, but there's no better place than the central bridge that bisects the pond and has two paths on it: one arched and one flat. The flat side is where the most carp tend to congregate, and any food thrown from here is bound to be lost in a whirlpool of fish, so throw wisely in different spots. Given the number of tourists who file across this bridge spoiling the carp with generous amounts of rations, it's no wonder these critters grow as large as they do.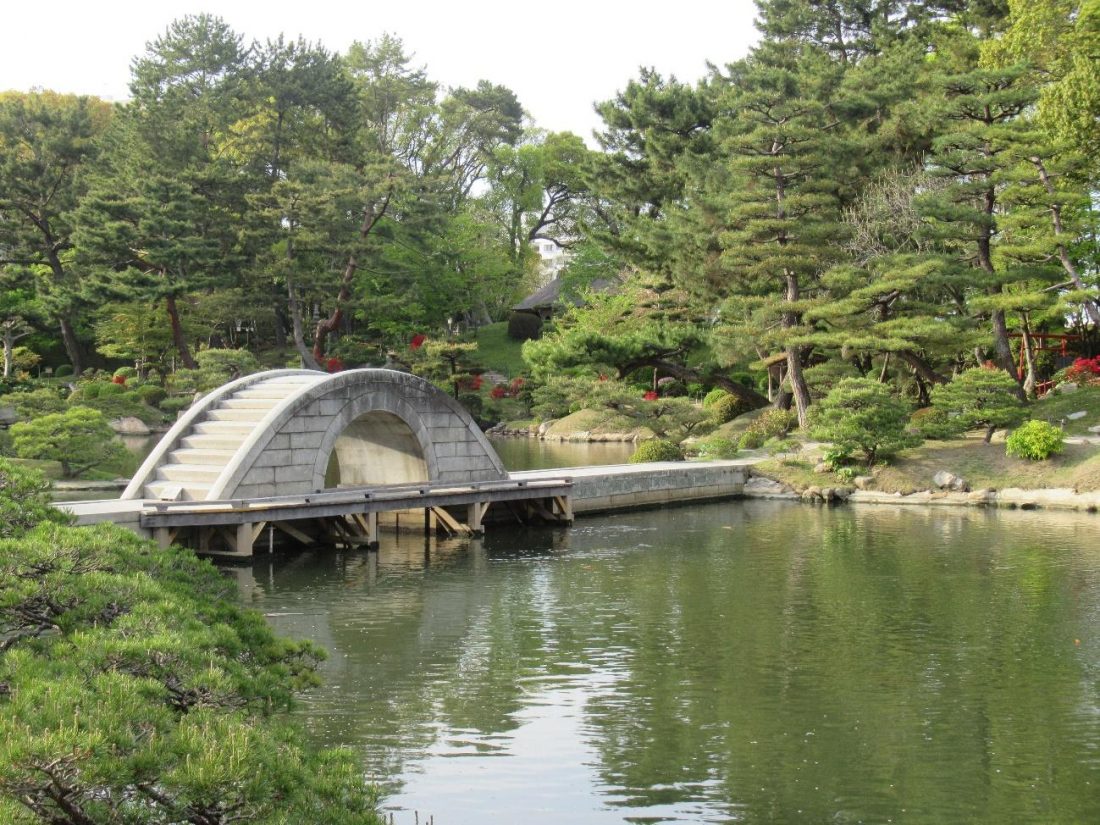 Exercise caution if you wish to cross using the arched path; it was steep, with slippery stairs but no railing, and if you're careless, you just might fall into the pond. Once you get to the highest point, though, you'll have an unbeatable vantage point of the pond as a whole, and be able to see almost every corner of Shukkeien from this pivotal spot. When I was at the top of this arched bridge, the vegetation, wildlife, and people in the distance all looked tiny, and the garden around me turned into a microcosm of nature itself. In addition, every few minutes or so while I was up here, one particularly energetic fish would leap out from the pond several times from seemingly random spots, creating aesthetic ripples on the surface of the water akin to blotches on a canvas. Captivated by the mystery of the jumping carp, I refused to budge from my spot and stayed until closing time, trying to predict where the fish would appear next and catch its athleticism on video.
I was able to draw an extremely relatable analogy from my hanami at Shukkeien today: my life is to a garden as friends are to flowers. Just like how I never have to wonder if the blossoms will sprout again in spring, I have no reason to doubt that I will inevitably be reunited with old friends who have wandered elsewhere for the time being. People should waste no opportunity to seize these fleeting moments, be they with loved ones or unforgettable scenery, but at the same time, the seasons have taught us that nothing is a once-in-a-lifetime phenomenon, so no need to stress out either. Through recurring cycles of growing flowers and leaves before shedding both, the trees get bigger and more accustomed to their surroundings, and my personal growth in Hiroshima has undeniably mirrored theirs. I suppose that's what nature—consistent yet unpredictable—does to all living things, and only time will tell how I'll evolve in the years to come.