100 STORIES
Restaurant Miya – A seaside paradise
I won't lie, I was definitely first compelled to visit Restaurant Miya because we shared the same first name with the exact same spelling (I've met a lot of Mias in my life, but never a Miya). And then I saw the menu, the photos of the restaurant, the photos of the sea and I just could not afford not to go. 
My first time

The first time I went, I was quite surprised by how easy the drive was. It's actually just a little further away from Miyajima, and half the drive was by the sea – which was a great plus considering I was used to either seeing lakes, rivers or mountains most of the time.
The restaurant was a little difficult to spot at first because the small, boxy restaurant suddenly appeared on the right (route: City → Miyajima) and I remember I had to make a few u-turns before arriving. Parking was also very difficult, so I recommend parking across the street as they have extra spaces there. (I definitely forget about this every time I visit, so I end up getting stuck trying to park the car for about a good fifteen minutes).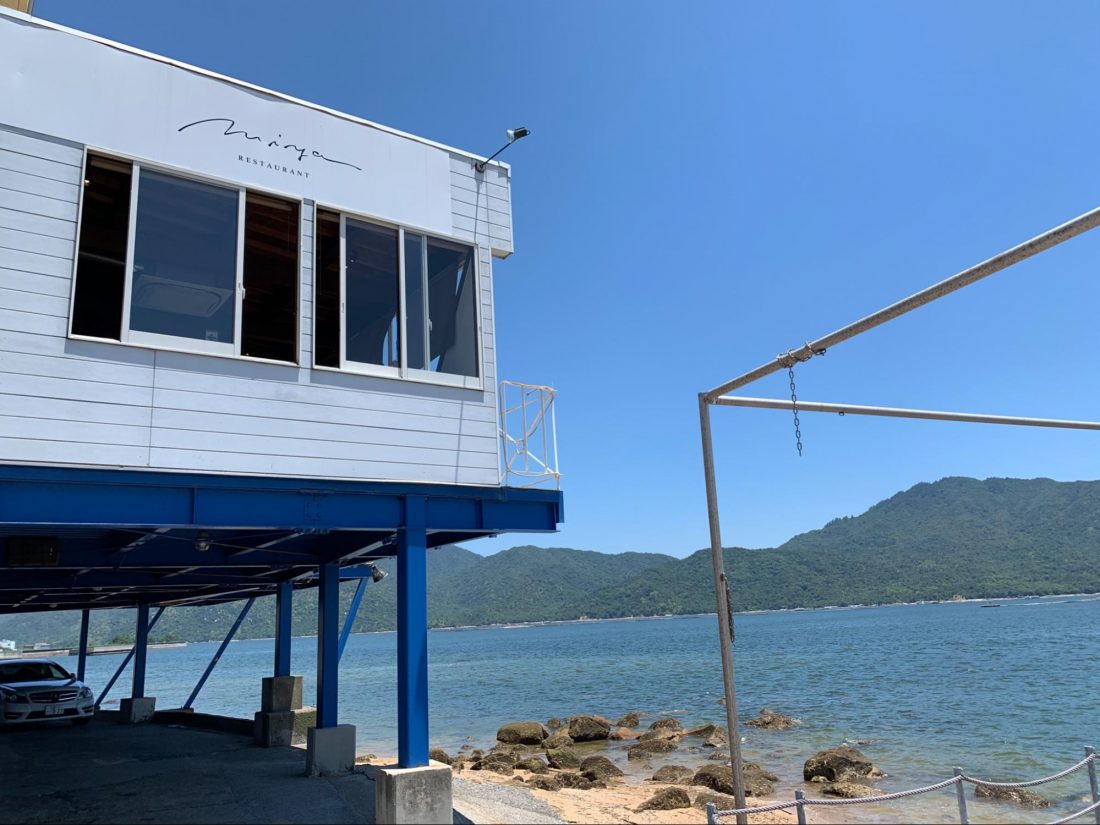 From the outside, the restaurant didn't appear so fancy, but the moment I stepped inside, it was paradise. The seats were evenly spaced across the floor, and even though the room wasn't so big, the huge window walls made the restaurant seem so open and spacious. The whole place faced the sea and it felt like I was walking above the ocean.
My first time visiting was genuinely quite magical!
During the summer, the windows are wide open and I enjoyed eating a lovely meal literally right by the ocean. During the winter, the windows are closed but it is still very possible to enjoy the seaside view.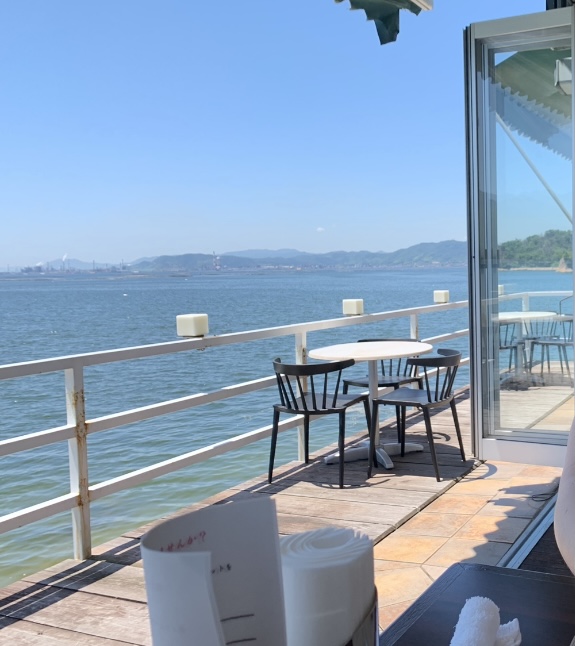 Food

All meals are set course meals so every time I visit, I have to be prepared to enjoy a full meal.
There is also a lunch menu and a dinner menu, but my personal favorite and recommendation is the lunch course at ¥4390 called the "Italian course" (it goes up to ¥7690 – "Luxury course of Japanese beef and fish"). And even if you choose the Italian course, you are also able to upgrade separate dishes; for example, you can choose a higher priced appetizer if you wish for something other than their original fish plate (although this is very much recommended, I do persuade you to try the original plate as well). 
There is not a whole lot on each plate, but the Italian course comes with:
Seasonal Potage (always a refreshing dish to start off with)
Appetizer
Japanese beef steak (rib roast) or Fish (you can only choose one type within the group)
Seasonal pasta (changes depending on what is most delicious during the season)
Dessert
Coffee or Tea
And it is genuinely very filling. 
It might be a little pointless to say at this point, but every dish is very, very good. Restaurant Miya makes it their speciality to choose the correct foods and fish for each season, so it's really impossible to get anything even better. They also manage to get the perfect taste for each dish, and makes me crave for more each time I go. 
Unfortunately, most of the menu changes every season, but I will add a picture of the Japanese beef steak (rib roast) as it is (probably) always available.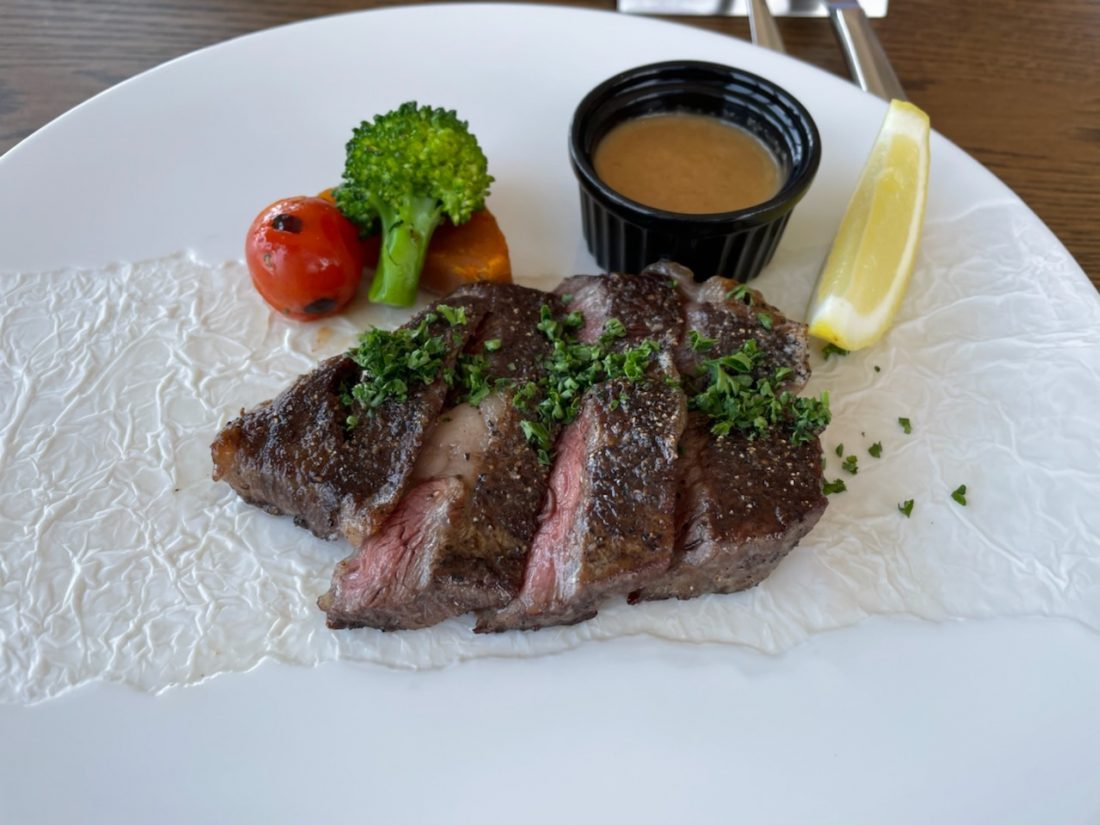 Moment of Joy

Right under the restaurant is a little area where you can walk to the beach, and my moment of joy is when I've filled my stomach with good food, great drinks (and dessert!) and am walking across the ocean, feeling the lovely breeze of the sea. Words can not express this bliss!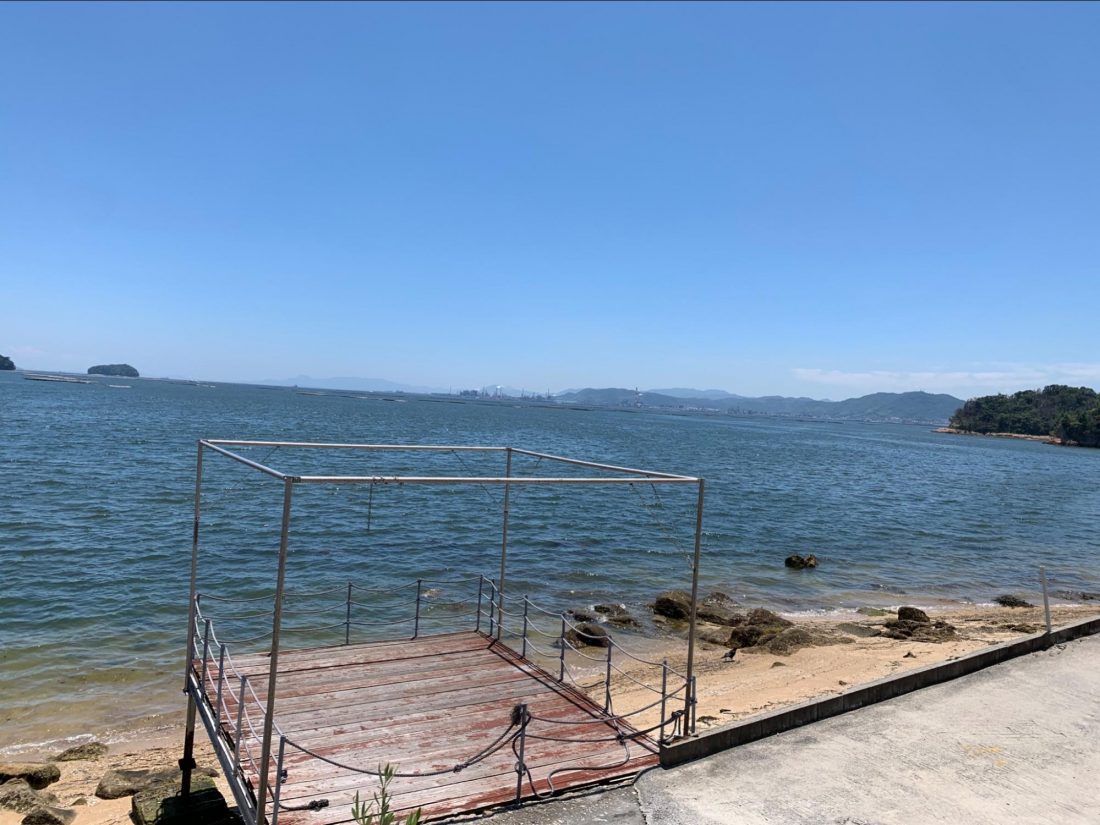 Suggestions

I am absolutely in love with this restaurant but there are two downsides:
It's far and only accessible by car → No drinking

It's expensive (it's the same price it would be in Tokyo…)
I suggest that if you are looking to just enjoy a nice meal, go for lunch, as it won't be as frustrating not being able to enjoy a nice, a little expensive, meal without a good bottle of wine or champagne. Even for mother's day. I took my parents for a lunch meal because I thought it wouldn't be as fun if I couldn't join them for a quick drink.
IF however, you are planning a nice occasion (anniversaries, birthdays, etc) I recommend booking a hotel nearby and going for dinner! Reserve for the evening and you'll be able to enjoy a beautiful dinner while watching the sun go down – it will literally be first class seats for you and your entourage. 
Miyahama Onsen

So, which hotels to book? Fortunately, there is a famous onsen nearby called Miyahama Onsen, so there are a lot of hotels to choose from. Miyahama Onsen was opened in 1965, and the onsen is slightly alkalic, so it has a smoothing effect on the skin. It also contains a high amount of Radon, which helps with stress, neuralgia, cold sensitivity, and much more. You can read all about the good effects of Miyahama Onsen here: https://hatsu-navi.jp/visit/hot-spring/miyahamaonsen/
My personal favorite is Miyahama Grand Hotel. http://miyahama.com
Their onsen is actually made like an infinity pool, so it genuinely feels like you are one step away from the onsen! I took this picture using a film camera, so it's a little grainy, but I hope it shows how lovely it really is.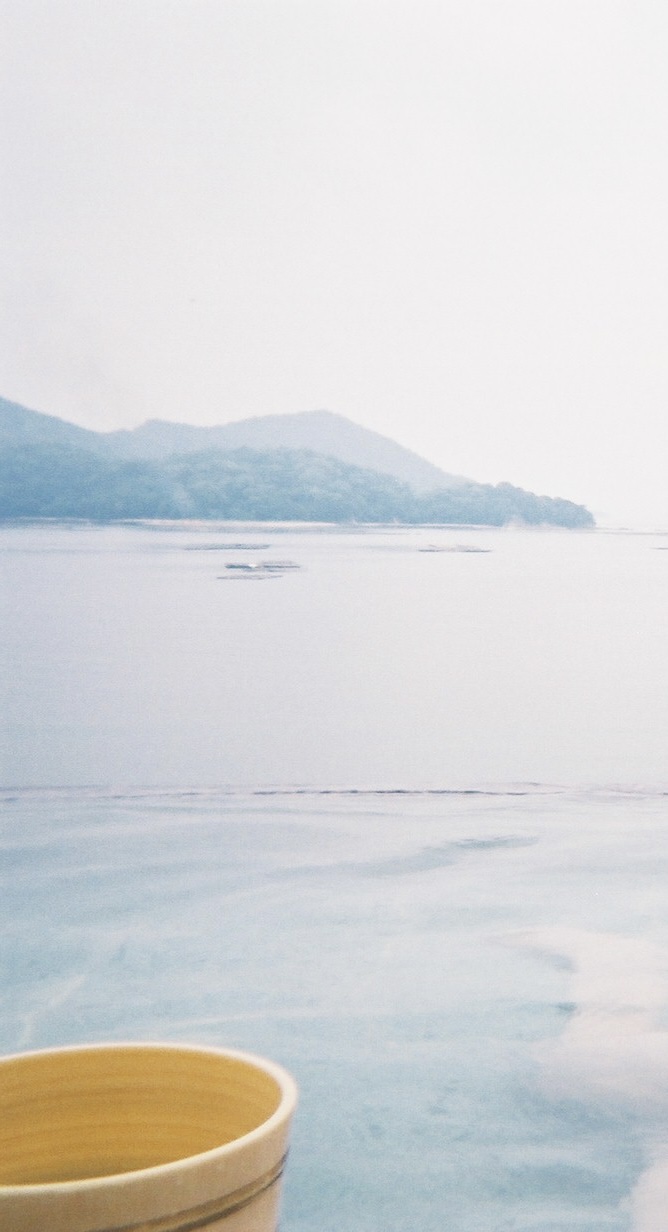 Please be aware, however, that the onsen baths change between male and female depending on the day, so it is not always that you get the rooftop onsen. 
Miyajima
And not to forget, restaurant Miya is very close to Miyajima, so you can visit both on the same day without much inconvenience.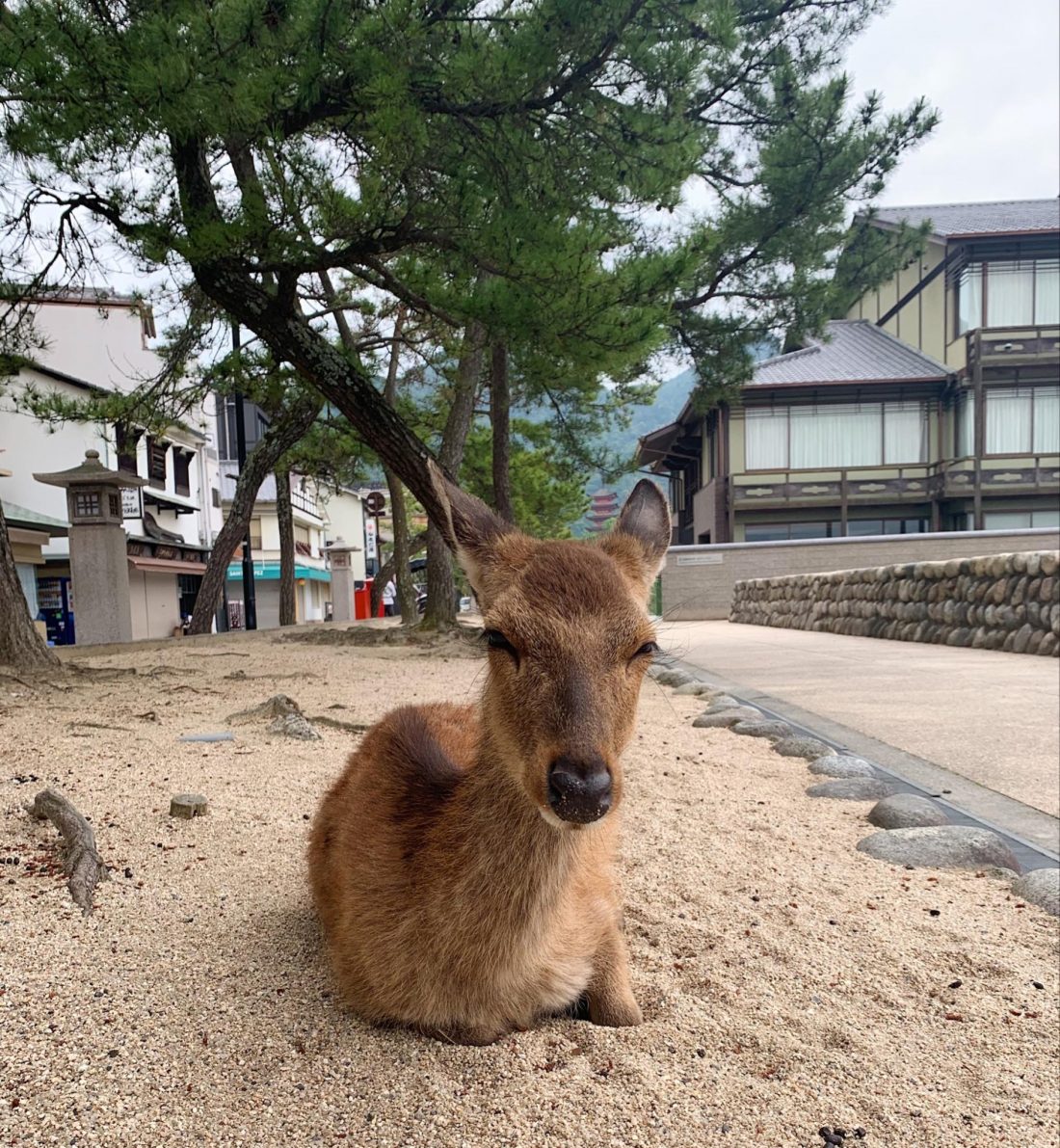 How to get there

The closest station is Ono-ura Station(大野浦), but it is approximately a twenty minute walk from there, so I definitely suggest getting there by car, especially if you are planning to do a full day visiting Miyajima, the onsens, and this restaurant. 
Please also make sure to reserve before going! It is not impossible to get a seat upon arrival, but the restaurant has said that they prefer reservations in advance. 
You can easily book a date, time and course meal from their website: https://restaurant-miya.com and they will send you a confirmation email, and will also ask for your main dish choice.
There is no video for this article as it has been written from memory!