100 STORIES
Introspective Shinshoji: Finding Your Zen in Fukuyama
It doesn't take a genius to figure out on the first visit to Japan that Japanese cities are overwhelmingly busy places, and that city dwellers have schedules packed to the brim with work, family obligations, and fun outings with companions. Long hours coupled with strict deadlines, the scarcity of time off, and even an employer's intrusion into workers' private lives can be the source of stress for any Japanese company employee. In my experience, working life seems to get crazier the closer one gets to Tokyo, but even in far-off Hiroshima, companies drive their employees crazy, and to achieve some semblance of balance, a vacation out of the city and into a rural area becomes necessary every once in a while. Luckily, Japan's countryside has no shortage of said spots where locals and visitors can recharge their metaphorical batteries in nature.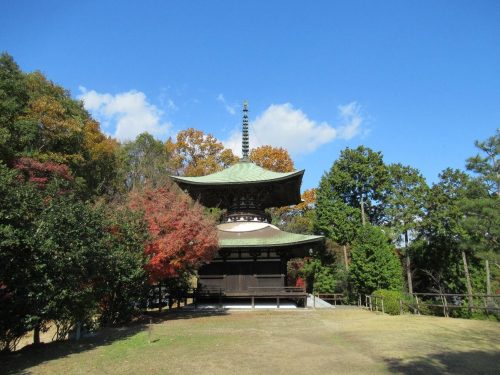 Buddhist temples are a prevalent choice for a retreat as they present countless photo opportunities and generally emanate a calming vibe all over the grounds. Most people simply drop by to take pictures, say a quick prayer, and take in the fresh air, but other visitors insist on something deeper. Various temples all over Japan offer temple stays wherein tourists spend the night and get an inside look at life with monks, and these overnight vacations are becoming increasingly popular with tourists from overseas. Here in Hiroshima Prefecture, Shinshoji in Fukuyama offers such a service, with the choice of an overnight stay, a full day experience, or a la carte workshops.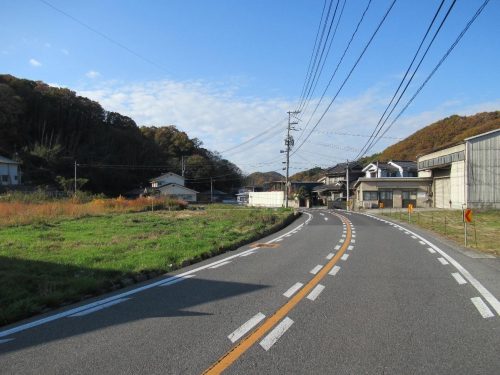 Because Shinshoji is a common destination in Fukuyama, there are direct bus services departing from Fukuyama Station on Saturdays, Sundays, national holidays, and miscellaneous days when there's no school. Getting to Fukuyama Station from Hiroshima City is easy thanks to the Shinkansen (not every eastbound Shinkansen stops at Fukuyama, though), but those with less money and more time on their hands are free to use the slower, regular JR lines to get there. If you happen to be visiting on a weekday like I did, get on a bus from platform 6 just outside of Fukuyama Station's south exit, and disembark at 山南農協前 (やまみなみのうきょうまえ – Yamaminami Nokyo-mae), from which it should be a 20-minute walk to Shinshoji. Of course, always factor in extra time in the event you lose your way, but I'll try to prevent that from happening with some directions. First off, from the bus stop, walk to the house with the black roof pictured above, at which point, turn right and keep to the left side.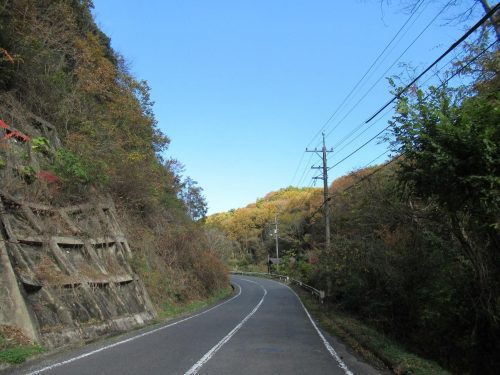 When the street feeds into a busier road, turn left and keep to the right. Watch out for cars, but drivers are considerate and take precautions to avoid you. You'll hit another fork up ahead, but you'll also see a sign indicating Shinshoji's parking lot, so just follow that and you'll be at the front entrance.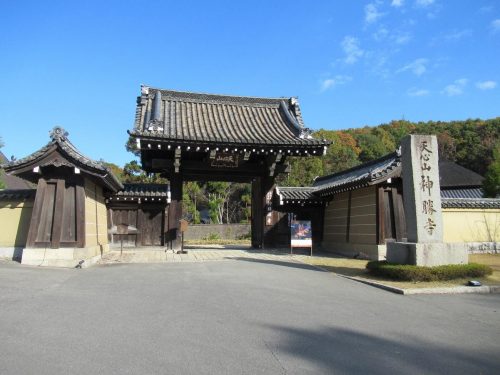 Zen Meditation
My morning would start with a Zen meditation session with a Buddhist monk, so I entered the temple, confirmed my reservation at the counter, and paid the admission fee before waiting for the session to begin. Reservations are required to participate in meditation at Shinshoji, which can be done on the phone or via email. There is at least one English-speaking monk at Shinshoji to assist international tourists, but he isn't always available, so definitely call ahead to inquire about his schedule. Even if he is present on the day you intend to visit, the monks' duties are rotated daily so there's no guarantee he'll be hosting meditation on your date of reservation. The few minutes before the monk shows up are your chance to use the restroom and check out the scenery, both of which I promptly did. When I finally caught a glimpse of the monk in blue coming out of the blue, I returned to the counter to meet him and the other participants.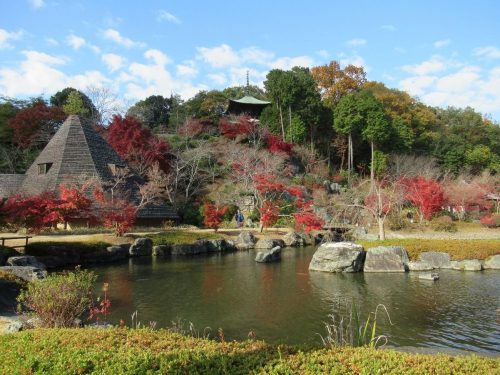 Since the other participants were Japanese and I could speak it as well, the monk of the day was not the English-speaking one. We were taken to the International Zen Dojo, whose access is reserved solely for those participating in Zen meditation so that everyone can fully concentrate. The building in which we would meditate apparently used to be in Kamakura before being uprooted and placed at its present location. We all put on slippers and were taught the proper way to enter before stepping inside.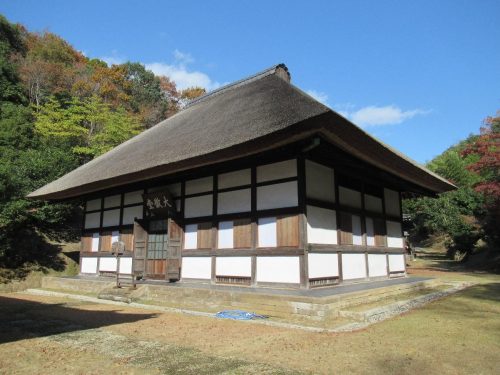 The entire experience, from start to finish, lasts about ninety minutes, but the actual meditation time was only forty minutes, broken into two segments. A lot of explanation happens before, in between, and after the meditation blocks, the most important of which was how to meditate. I picked a blue cushion, removed my footwear, and sat cross-legged near the back of the cushion. The cushion is set up so that when sitting correctly, the body leans forward, and the knees and tailbone act as a tripod of sorts, evenly distributing body weight through three points.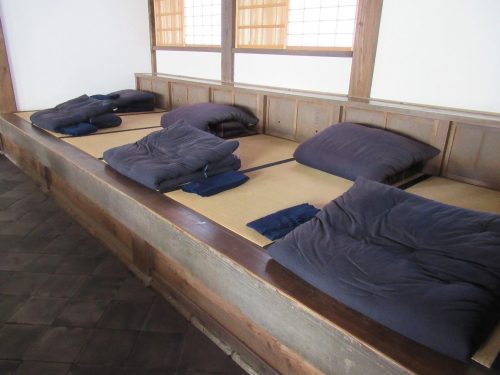 There are many ways to position one's hands while meditating, but we were instructed to lightly grasp the left thumb with the right hand, close the left hand, and relax our shoulders, setting our hands on our laps. Next, we were taught the "hangan" technique, which involves participants keeping their heads up but fixing their gaze diagonally downwards with eyes half shut. Having one's eyes half shut is essential for maximizing inner concentration, as having eyes wide open would invite more distractions from the outside world, and having eyes fully shut would tempt one to fall asleep. The most complicated lesson was on breathing technique: we had to focus on our stomachs, the only part that should be expanding and contracting. There was also a certain rhythm to it, where we would exhale for seven counts before inhaling for three counts, and repeating the process.
Finally, the monk introduced a concentration tool, which was a long, wooden stick used to strike participants whose form was slipping. Those who consent to being struck can put their palms together in a prayer position to invite the monk over, then bow forward with arms wrapped around the torso to minimize pain as the monk strikes you twice below each shoulder. Personally, I tend to be bad at meditation, so I found myself needing to be struck multiple times to set me back on track, hopefully with improved meditation technique. Although each meditation block felt long and my mind wandered occasionally, I found that I did manage to forget about the concept of time and focus on being there in the moment, at rest yet aware of all that was going on around me.
Rare Scenery
Eventually, meditation time was over and the monk saw us back to the entrance of the International Zen Dojo, where he left us to our devices. From here, I took it upon myself to see the rest of the temple grounds, including this magnificent pond where tourists can buy fish food sticks to feed the resident carp.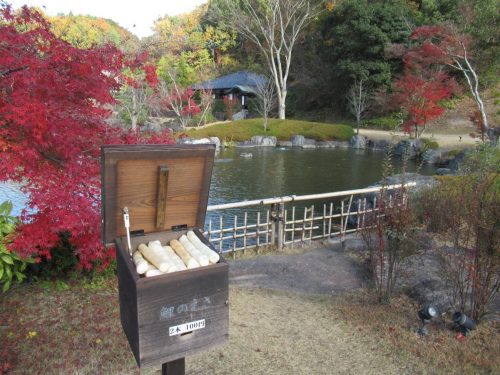 Other noteworthy sites at Shinshoji include the main hall where one can feel the healing impact of Hakuin's artwork, teahouses where visitors can repose with some green tea and sweets, and even a bathhouse where tourists can escape the chilly weather with a hot soak. Vibrant trees showcasing foliage in a flaming spectrum of hues can be found all over Shinshoji, but when I climbed some stairs and walked across a bridge passing over the street outside the temple, I was greeted by a most bizarre sight: cherry blossoms and scarlet maple leaves thriving side by side. Being able to enjoy spring and autumn highlights simultaneously reminded me of the illusion that is time; the seasons may take turns shining, but none of the seasons actually goes away at any time of the year, instead staying put until the time to shine again rears its head.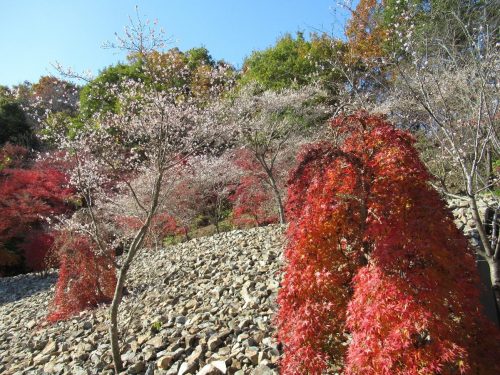 Otherworldly Kohtei
Past the pink and red trees and up a slope was another one of Shinshoji's most prominent buildings, known as Kohtei. Its shape is strikingly different from that of any other building on the temple grounds, and it can only be entered via a narrow bridge. From a distance, Kohtei resembles a spaceship, and there's a special show put on several times a day that plays with the visual effects of shining light on the surface of water in the dark. Showtime was starting right when I got to the bridge, and as I entered the building, I felt less like I was at a Buddhist facility and more like I was joining a UFO cult.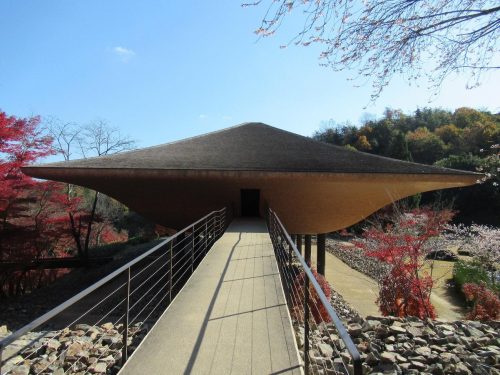 All guests were given a miniature flashlight to help them find their seats once inside, and as soon as everyone was seated, we were instructed to turn off the flashlights. Photography and videography of the show are forbidden, but since it was pitch black, there's really nothing a camera could capture anyway. I could feel myself drifting off to dreamland even during the spectacle, but by employing the hangan technique that I learned during meditation, not only could I stay awake, but I was able to enjoy the light show on a more profound level with my limited gaze focused solely on the dazzling reflections before me. It gave me an idea of what finding Zen is supposed to look and feel like, and honestly, Kohtei could have served just as well as a place for meditation.
Moment of Joy: Living Zen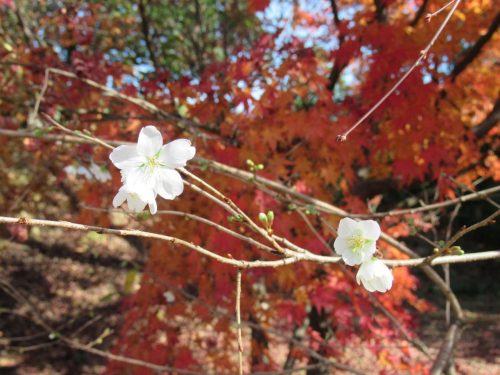 Inside Kohtei, as well as everywhere else on the temple grounds, I had this feeling that I was constantly alert despite my fatigue. However, it was this state in between wakefulness and sleep that made me aware of the illusions of the world around me, such as the illusion of seasons. Every corner of Shinshoji had something that warranted further reflection, and I found myself wanting to forget about the time of day and stay as long as I could. Shinshoji is unlike other temples in that the concept of Zen can be seen in front of one's eyes, and it felt like a privilege being able to experience it live here.
Shinshoji Udon
There may be many things that feel like an illusion at Shinshoji, but one thing that was undeniable was my afternoon hunger. Those who are looking for lunch will find only one item on the menu: Shinshoji udon, which is to be eaten at Gokando, the temple restaurant. Do note that the noodles take twenty minutes to prepare, so time your visit accordingly.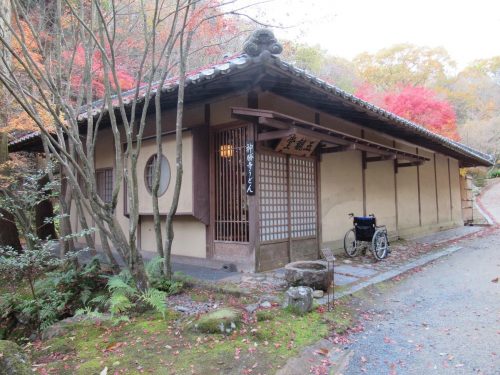 I went in and was immediately seated at a table where I could gaze out into the garden. As I awaited my meal, there was a sheet of paper on the table with a special prayer the monks recite before they eat. In a nutshell, it mentions being thankful for all parties involved in the creation of the meal, to only eat as much as needed, and to eat in order to do good works. The Japanese used in said prayer was somewhat archaic, so translations in modern Japanese were provided by each line. At long last, my udon set came, and I couldn't wait to dig in (after attempting to say the prayer, of course).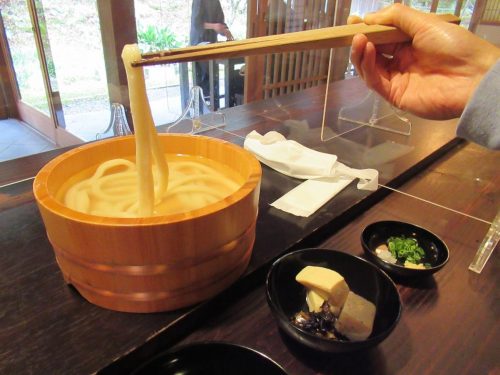 The most obvious difference between Shinshoji udon and regular udon is that the noodles are fatter and harder, to be eaten with equally fat chopsticks. For my entrée I had some locally produced tofu, hijiki salad, and a block of konnyaku. The noodles were to be dipped in a separate dish filled with a soy dipping sauce and garnished with green onions, grated daikon radish, and grated ginger. Lastly, there was a dish with yellow Japanese pickles, which were important in the post-meal ritual. When all the other food is finished, the pickles are used to scrub the inside of a dish clean so that not a single morsel is wasted. Following that, the diner pours hot green tea into the dish with the pickle and swishes the mixture around, transfers it to other dishes to repeat the process, and finally drinks the resulting mixture, leaving nothing behind.
In conclusion, if a tourist to the Hiroshima area were to hit up only one temple here, my first recommendation would be for Shinshoji. It's perfect for anyone–Japanese or not–who's burned out by city life and looking to escape reality for even half a day. While you're at it, be sure to take the time to check out some of Fukuyama's other sites, such as Miroku no Sato, a theme park close to Shinshoji, or Fukuyama Castle, which stands right outside Fukuyama Station and whose renovations are to be finished next year. Despite Fukuyama being significantly smaller than Hiroshima City, it provides natural, historical, religious, and family-friendly sites in great numbers so that a visit there never gets boring. Having so many types of sites creates that balance that we all need to improve that quality of a vacation in Japan, or simply just to save from our hectic everyday lives once in a while.