100 STORIES
Etajima : living the island life without the trouble of crossing the sea
Japan has one of the most diverse landscapes any country may offer. I was taught throughout my whole secondary education that my home country, France, was characterized by a large array of different landscapes, ranging from snowy mountains to hot deserts and tropical islands; still, I believe that Japan is doing better than most countries in that regard (and so many others). As a matter of fact, Japan allows one to travel from one environment to the other in the blink of an eye: one can escape the sea of concrete that is Tokyo by simply hopping onto a train towards Mt. Takao: less than an hour later, the dense residential areas are replaced with a dense forest extending towards the horizon, filled with plurisecular, often sacred trees. Similarly, the dense city of Tottori slowly fades into a desert as one gets closer to the sea, and cars are replaced with camels. Since I moved to Japan, I have been constantly amazed by the way the country feels like so many dream worlds, fused into a single archipel, allowing one to leap from a paradisiac landscape to another with no effort.
Especially consubstantial to Japan is the transition between land and island, the whole country being an archipelago. Some of said islands are quite far (going to Okinawa takes a while), whilst some of them are pretty close to land and linked to the mainland with bridges, which allows to preserve the essence of the island whilst making tourism and local life much easier.
Etajima is one such island, as it is located only six kilometers from the shore, and is linked to the mainland through the Hayase Ôhashi bridge, which permits one to get there quite easily.
A romantic getaway, a stone's throw from the city
The best way to enjoy the island is to spend the night there, so you can spend the day doing activities (which I will cover later), and the evening relaxing, having a drink on the shore, enjoying the sunset. I recommend one specific hotel, which I went to, called Uminos. The hotel is located one the shore of the island, and features both Japanese and western-style rooms, and a few rooms with a direct view of the sea. The hotel is quite superb, it reverberates an aura of isolation, in the most romantic sense, meaning that it gives customers a powerful feeling of having finally reached a place where they can relax, free of worries.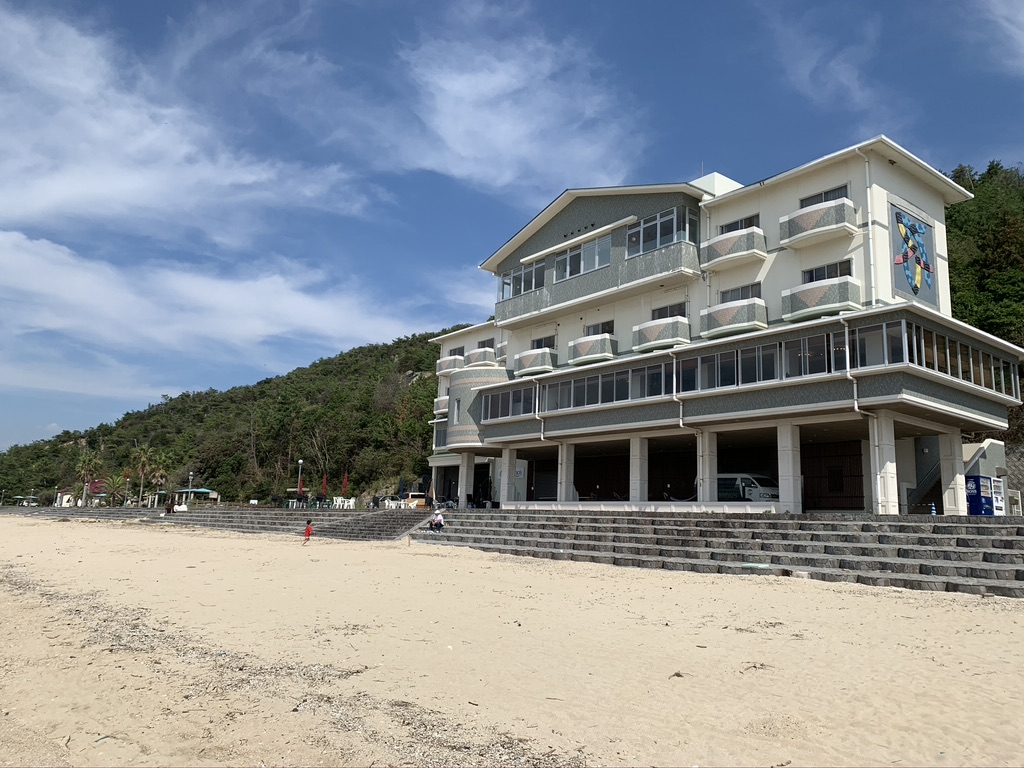 Despite the white walls and minimalistic architecture, the inside is quite modern and will definitely provide all the comfort you need. Plus, the rooms are gorgeous, featuring in my case a balcony with a wonderful view, as well as every appliance you could possibly need, from air conditioning to television.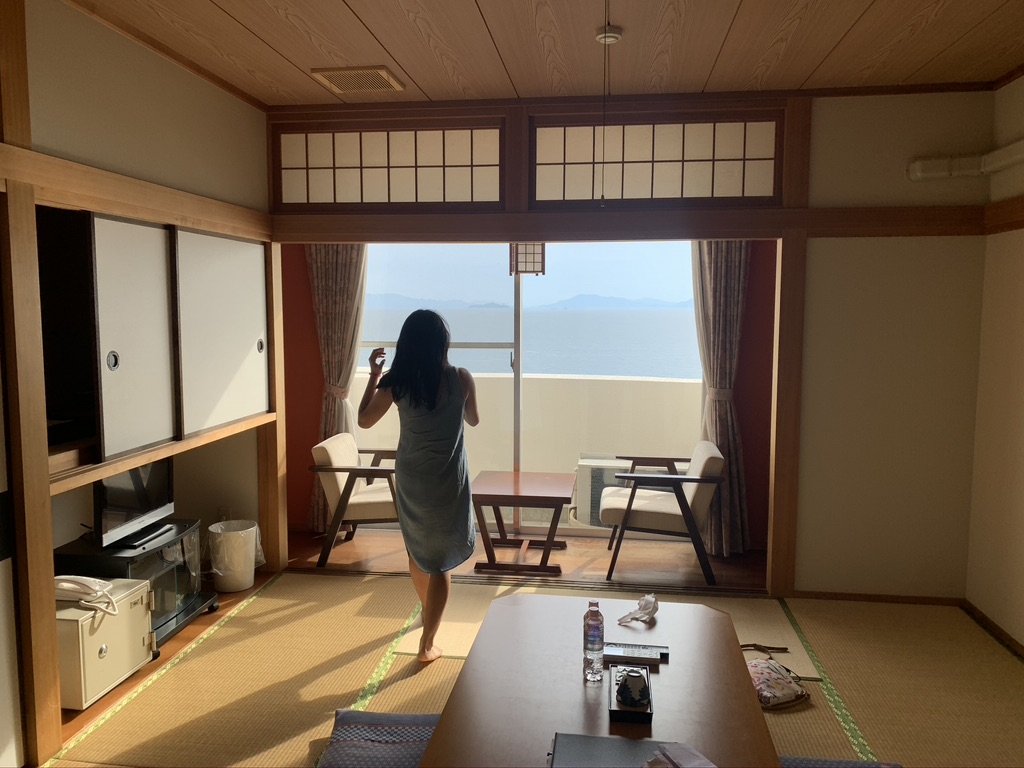 That way, once you're done with the day, you can enjoy a nice walk on the beach, maybe dip your feet in the water for a bit, before going to dinner.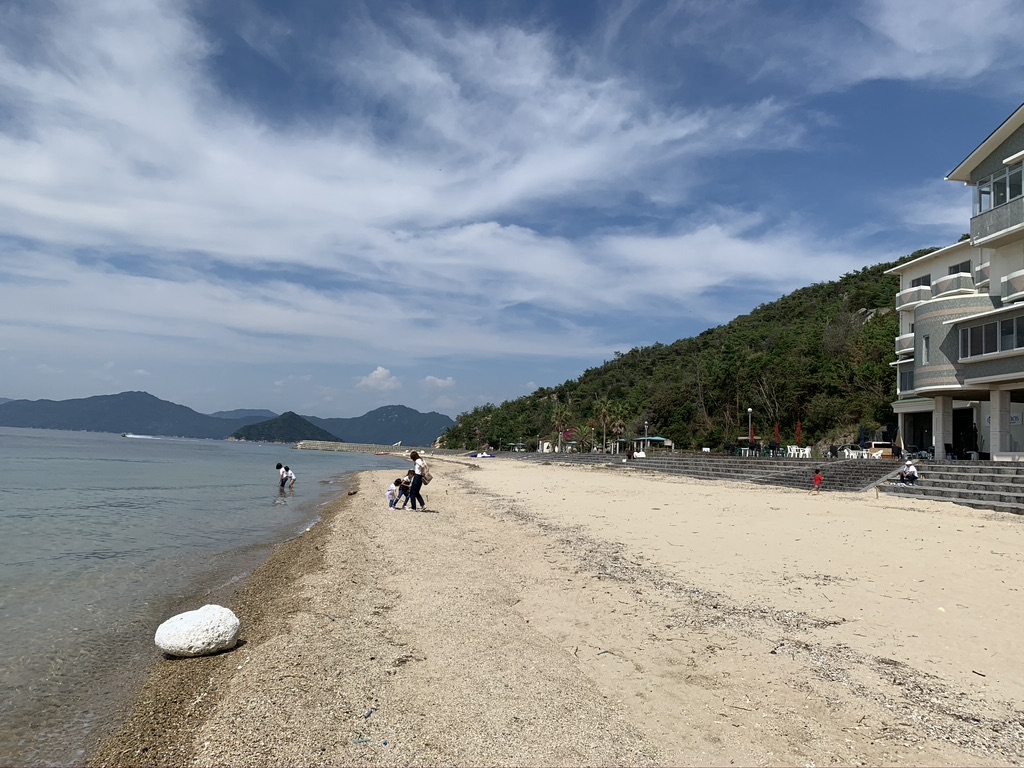 Dinner time: summer vibes and barbecue
There are several dinner plans included within Uminos, but my recommendation is, without hesitation, the barbecue on the shore. Specifically, I had the opportunity to order the dinner course with an all-you-can drink option, which means seafood and meat, barbecued on your own, and unlimited cocktails on top: could one dream of a better deal?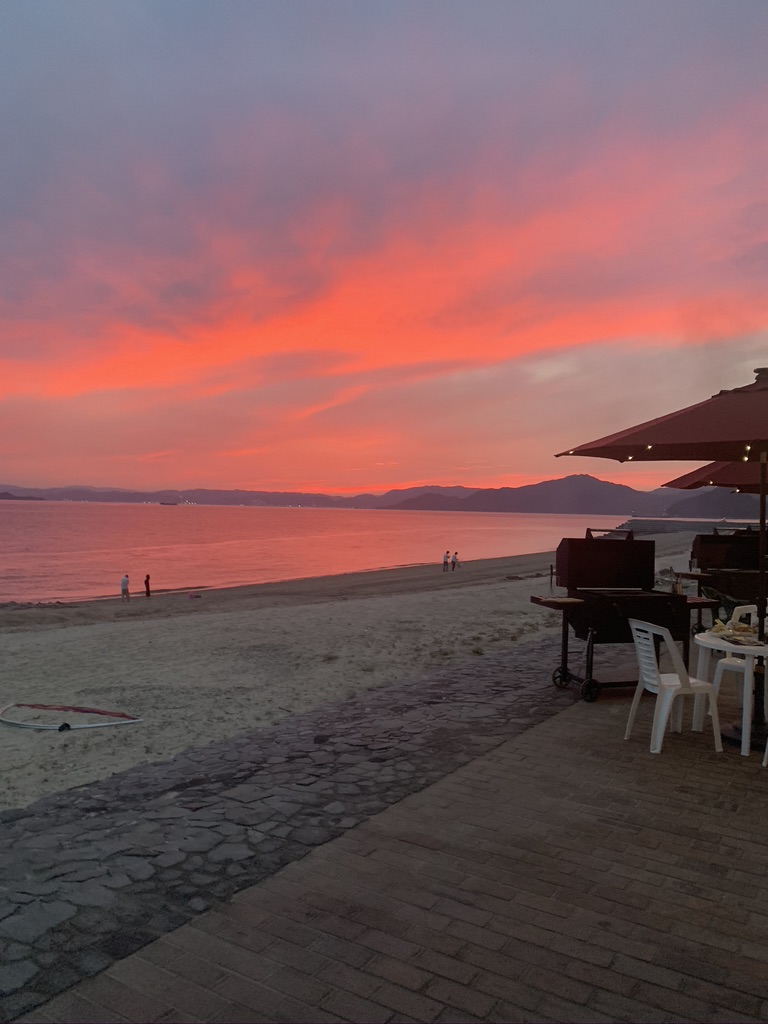 The food is genuinely delicious; it's extremely fresh due to the proximity of the sea which is literally right there, and the opportunity to barbecue it yourself is very alluring. On top of that, the whole thing takes place next to the sea, which means that I got to eat whilst the sun was diving into the horizon, giving the sky a marvelous pink colour.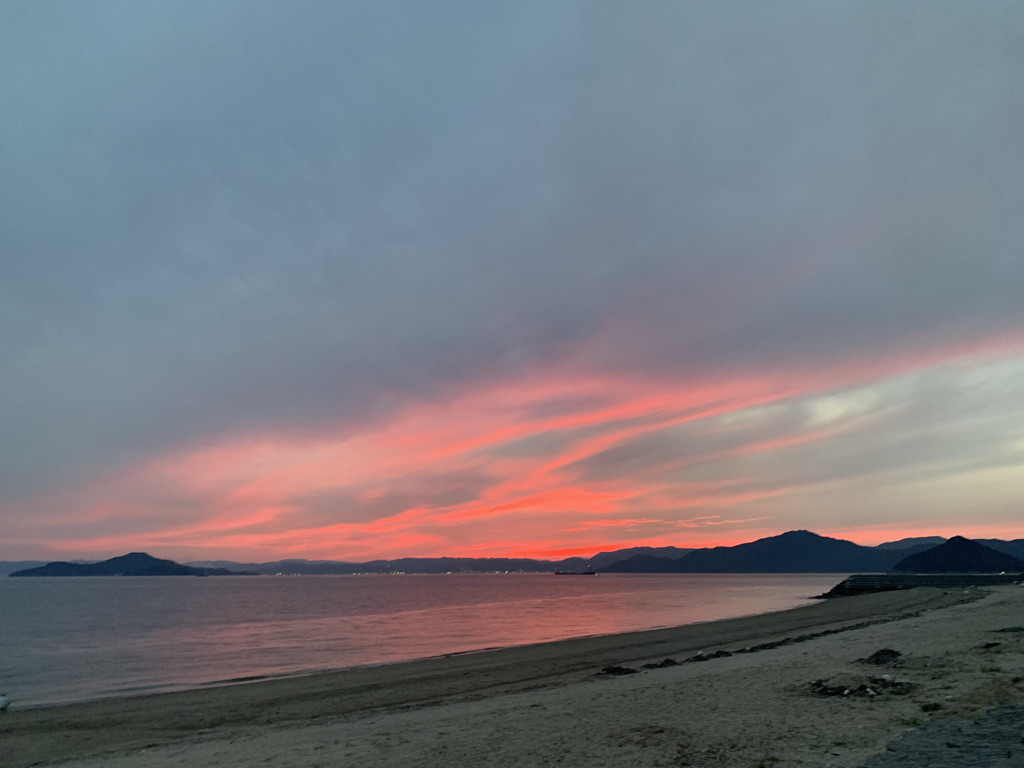 Music was playing in the background, a fire pit was lit not that far away, and overall the experience really felt like what one would expect from being on an island: festivity, exoticism, and absolute wonder. It's a fantastic moment that will almost make you regret not coming here sooner.
A day full of activities: living the island life
Etajima offers many activities that anyone can expect an island to provide. It is obviously possible to roam around the island in a boat, or to go hiking or cycling. There are multiple companies offering plenty of plans in that regard. I personally wanted to try something a bit different, which is paddling. I went to a nautical club called Etajima SUP which specializes in this kind of activity, obviously oriented towards tourists. I was very excited to try because I never did anything like that before. I did paddle once before many years ago, but I had virtually no experience; still the instructor was very sweet and went out of his way to make sure I could stand on the paddle, maintain balance, and enjoy the experience as fully as possible.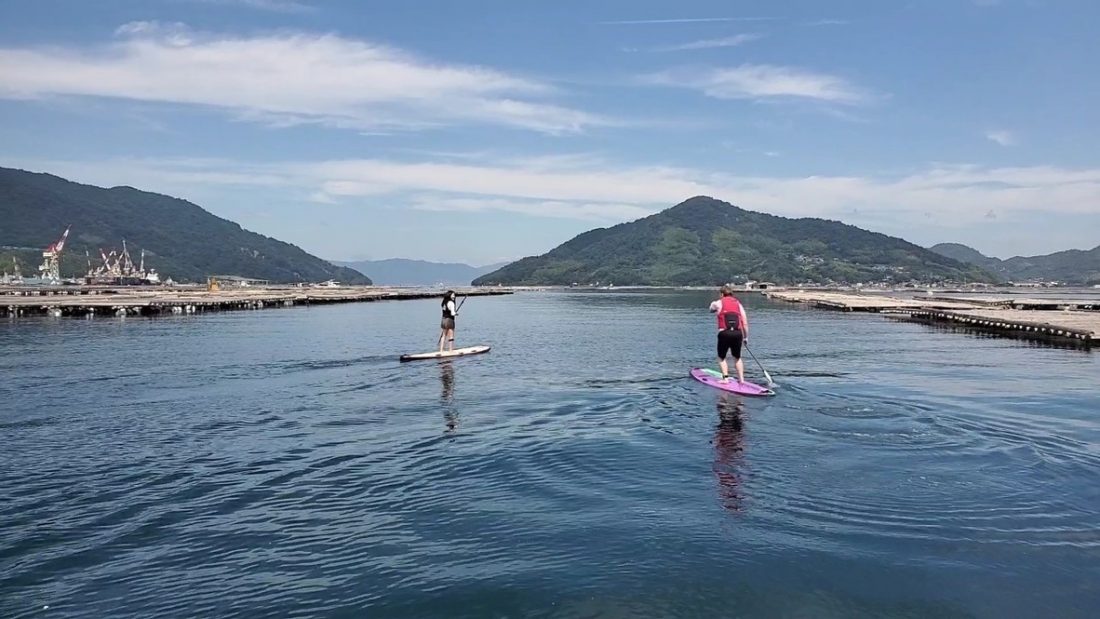 The tour is actually quite long, the instructor took me around the bay, showed me a few places and told me about the history of the island, whilst teaching me paddling tricks, which I would be unable to reproduce as I'm writing this article, but which I enjoyed thoroughly. Obviously I fell quite a few times, but in all honesty with the summer heat that is not a huge issue. I got to see a lot of awesome scenery that I wouldn't have been able to access in any other circumstance, and it's also a great workout!
Moment of joy: the wonders of Japanese islands
Paddling was honestly a wonderful experience which I enjoyed thoroughly top to bottom. There was nonetheless one specific moment which absolutely filled me with joy, when the instructor took me to the hotspot of the tour, the one most tourists wish to go to: a shrine in the middle of the inner sea, isolated from the rest of the world.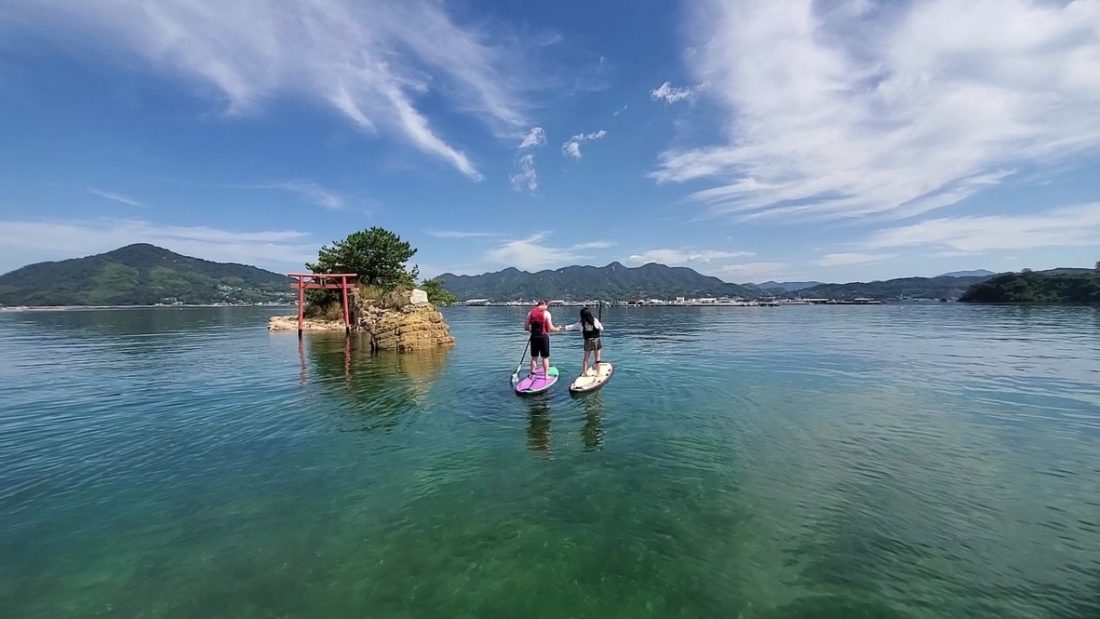 Paddling next to the shrine reveals the whole scenery behind it, which includes radiant waters and majestic mountains, and suddenly I took in this image and it hit me. This shrine was the perfect synecdoche for Japan as a whole: a majestic, beautiful place isolated by a large body of water. Hidden, only initiates may find it. Protected, it preserves the old to make it all the more magnificent as time goes by.
Passing by the shrine whilst paddling made me feel like I had reached a place only few could, and it added to the wonderful scenery a subtle sense of accomplishment that can only lead to a genuine sentiment of joy.
Conclusion: a day on an island might just be the getaway you need, and it's not as far-fetched as it sounds
Clearly, Etajima has a lot to offer; I couldn't cover everything in this article because my experience is limited, but I can still recommend Etajima as a getaway destination, with beautiful scenery and plenty of activities. 
Etajima is also a strong recommendation of mine because it provides so many opportunities for fun and romanticism at very low costs: there is no need to ride a boat for hours, to take a plane, or to go that far really. If you want to drive there it's completely possible by taking the national road 487 and by going over the Hayase Ôhashi bridge. If you don't want to drive it's also perfectly possible to ride a ferry there, which you can take from Hiroshima or Kure (or Matsuyama if you happen to be in Shikoku at the time). 
In any case, I can vouch that you won't regret going, so don't hesitate to take a break from the city, it is much easier than it seems.