100 STORIES
Deliciosisimo: The Best Mexican Restaurants in Hiroshima
I need to eat Mexican food to live. It is by far my favorite style of cuisine, to the point that nothing else comes close to competing with it. I was exposed to Mexican food from a young age by my mother, a Latin-American, and when I lived in Toronto I worked at a Tex-Mex restaurant for three years. Even now, living in japan, I try to cook Mexican food at home regularly. All this is to say that Mexican food has played an essential role throughout my life. It's my comfort food.
So, when I first moved to Japan, one of my first and biggest concerns was that I wouldn't be able to find good Mexican food. I'd been told that Mexican cuisine wasn't particularly popular in Japan, and has proven to be true, for the most part. Perhaps it is because most people have this image of tacos burning your mouth off with every bite because of blazing hot chili peppers, and Japanese cuisine is generally quite mild. Perhaps it is just an issue of ignorance–if you ask someone from Japan about Mexican food, the only word they know is usually "tacos." Either way, it quickly became clear to me that I wasn't going to find Mexican food waiting for me on every street corner in Japan. 
All that being said, I did manage to find a couple of good and fairly authentic Mexican joints when I lived in Osaka. Since I lived within an easy train ride from these spots, I frequented these restaurants almost weekly. So when I decided to move to Hiroshima, a smaller city than Osaka, I was a little apprehensive. I was worried that I would be back at square one, stuck in a place where I wouldn't be able to put meat wrapped in tortillas into my eager stomach. 
Luckily for me, that didn't turn out to be the case! Hiroshima does indeed have restaurants serving great Mexican and Tex-Mex cuisine. While I haven't had the time to visit all of them, I've sampled tacos and other dishes from some and can say that they successfully honor Mexican cuisine. When you find yourself visiting Hiroshima, these are locations that I, as a resident Mexican food expert, can heartily recommend. So if you will, please join me on an adventure to discover the best Mexican that Hiroshima has to offer. 
Cantina 23: Fantastic Tex-Mex Cuisine and a Great Atmosphere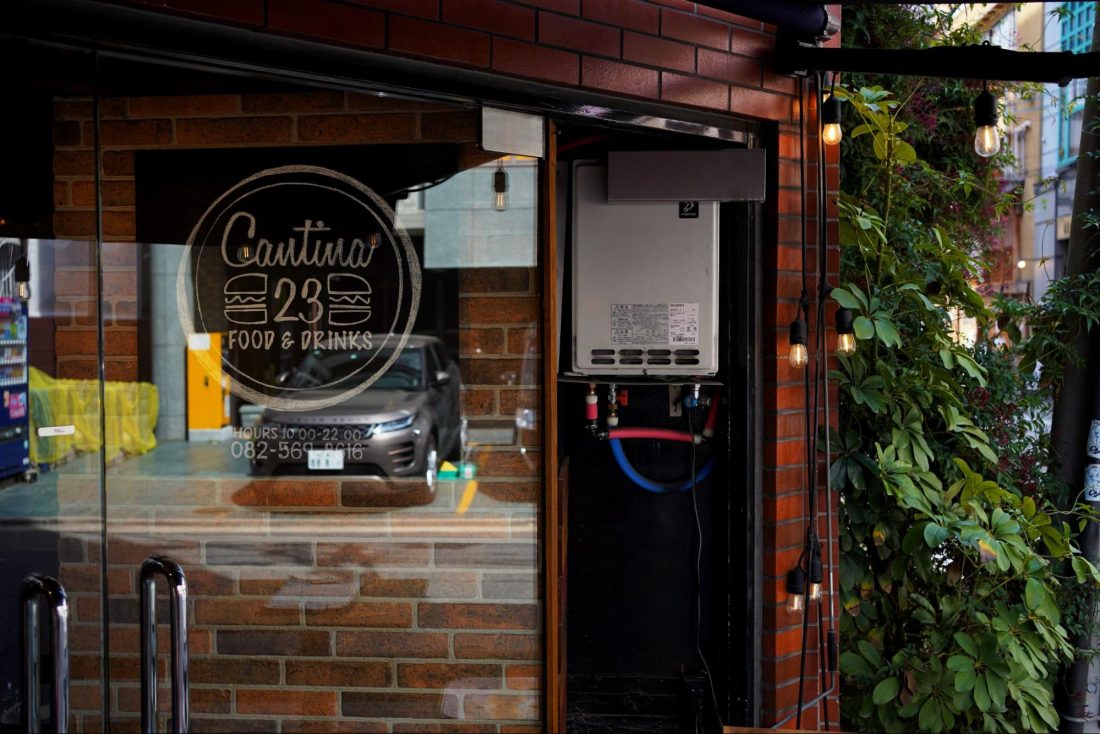 I most recently visited Cantina 23 for lunch after finishing some work in April 2021, though it was certainly not the first time I visited this restaurant. This small, stylish diner-style restaurant is located on a side street in Naka Ward, right in downtown Hiroshima. It's about a ten-minute walk south from the Hatchobori streetcar station and a roughly five-minute walk from the PARCO Department Store. Because it's on a side street, it could be missed if you don't know to look for it. The brown brick building does stand out from the other nearby buildings, but it's very possible to miss the turn. I would recommend searching for directions using your favorite map app and use that to make sure that you don't accidentally pass by the street this restaurant is waiting on. Trust me: you do not want to miss this place if you like Mexican food.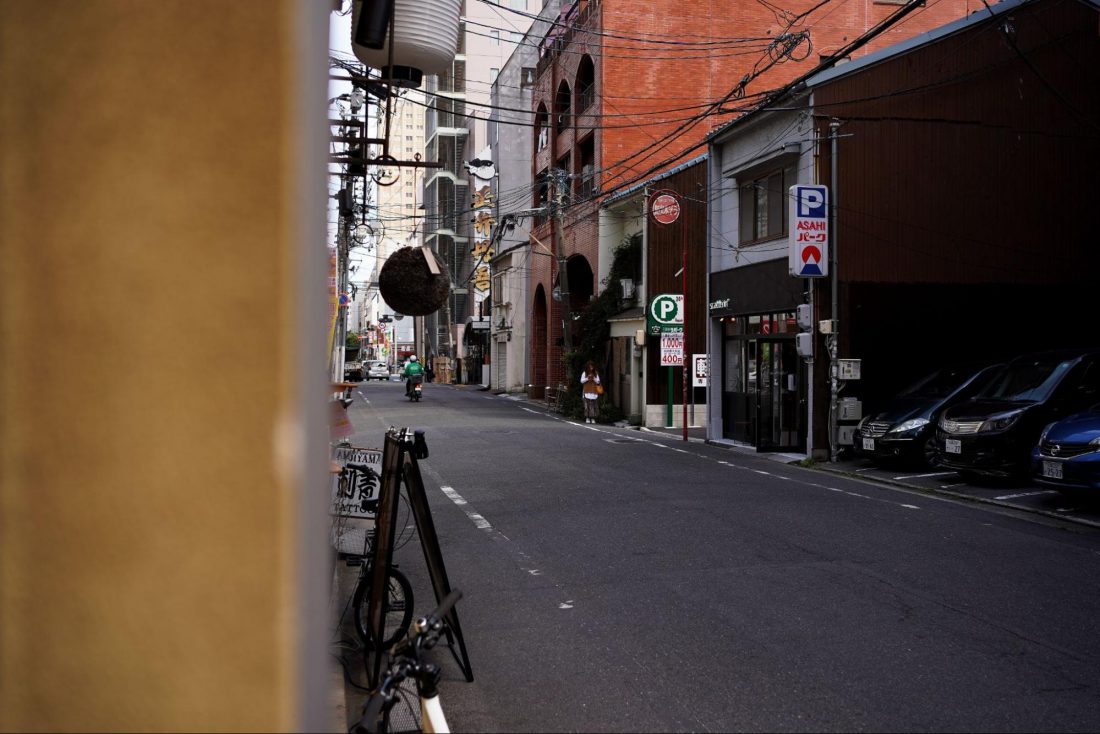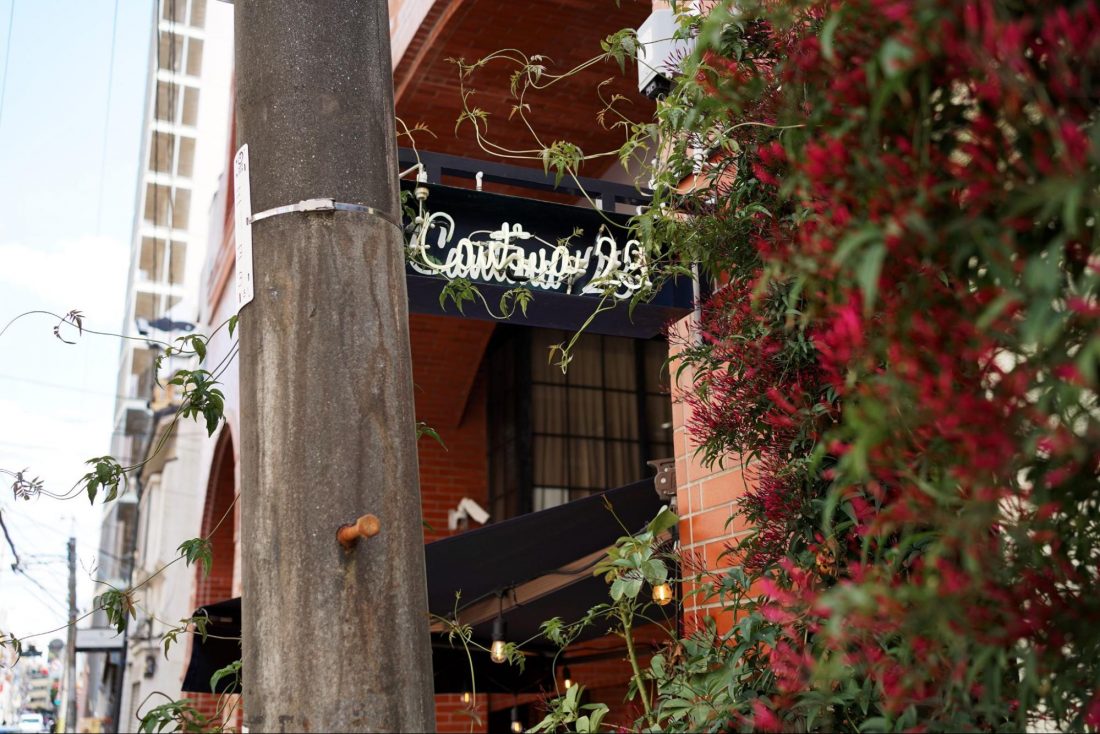 Once you do find the restaurant, you'll be greeted by a small but very cool neon sign and a very stylish brick building with big glass windows. The restaurant inside is quite small, with only a few wooden tables and a bar that seats around four or five people. Despite the small size, Cantina 23 is cozy, the interior design is cohesive and the dim lighting provided by hanging lightbulbs gives off a relaxed atmosphere. It very much feels like a small American bar in the heart of Hiroshima.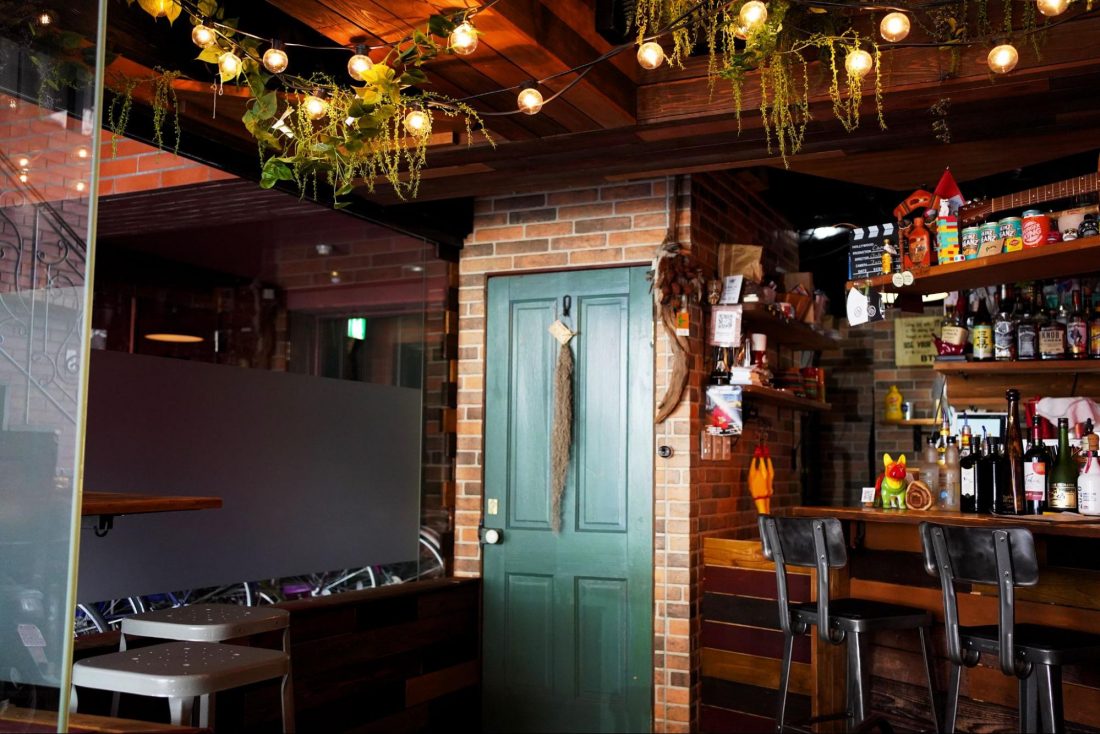 At lunchtime on a Friday Cantina 23 wasn't very busy, so it was easy for me to sit down and have my order taken by the friendly waiter. The menu is available in English, and the restaurant's owner can also speak English, so you won't have to worry about not understanding or being understood. This time, I ordered the chicken tacos, though Cantina 23 also sells burritos, nachos, quesadillas, tortilla chips and guacamole, and so on. If you like to drink, they have a large selection of cocktails and beer, including Mexican brands like Tecate and Corona. In short, they have most of the standard Tex-Mex fare you would expect at this kind of restaurant in America, though the selection is somewhat limited.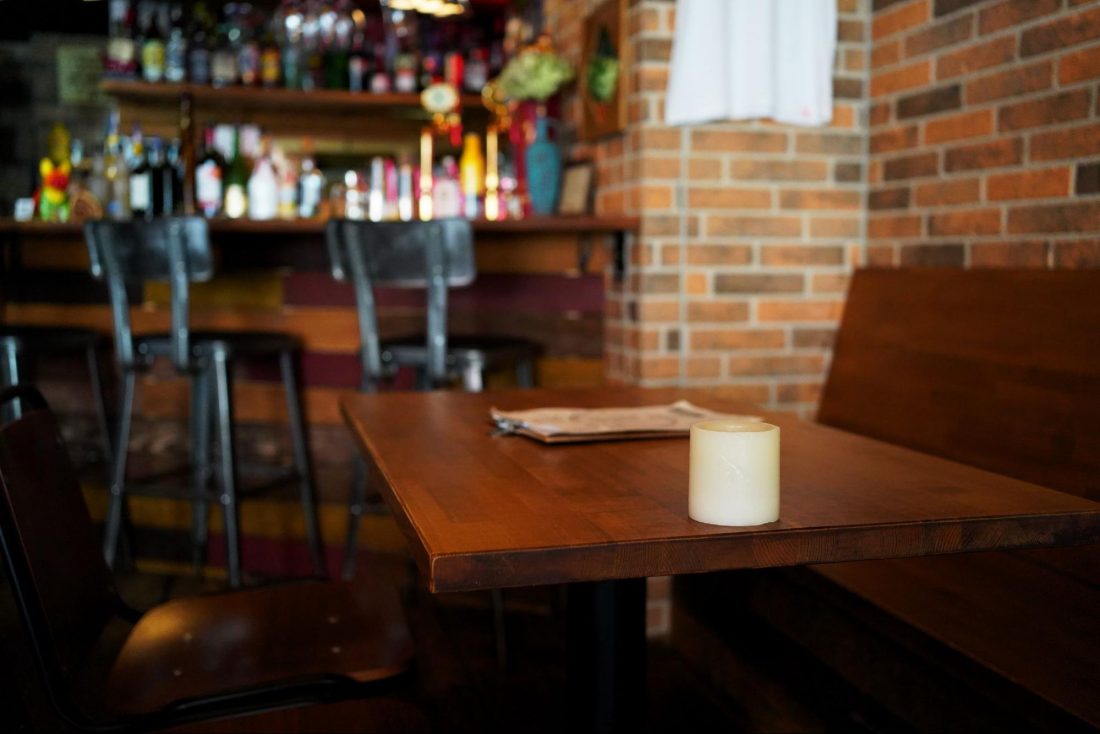 It is worth mentioning that Cantina 23 is not a dedicated Mexican restaurant. It specializes in American sandwiches and burgers, of which I would also highly recommend their pulled pork sandwich. Despite my undying love of Mexican food, I often find myself ordering the pulled pork when I go to Cantina 23–it's that good. But just because the Tex-Mex cuisine is not Cantina 23's primary focus, that doesn't mean that it's any less delicious than their sandwiches. 
My order came with two chicken tacos, seasoned tortilla chips, and hot sauce on the side. The tacos were made with warm, fresh flour tortillas, cilantro, pico de gallo, veggies, cheese, jalapenos and a lot more marinated grilled chicken than I was expecting. Plates like these in Japan tend to be on the smaller size, but I was pretty surprised by how big the tacos were.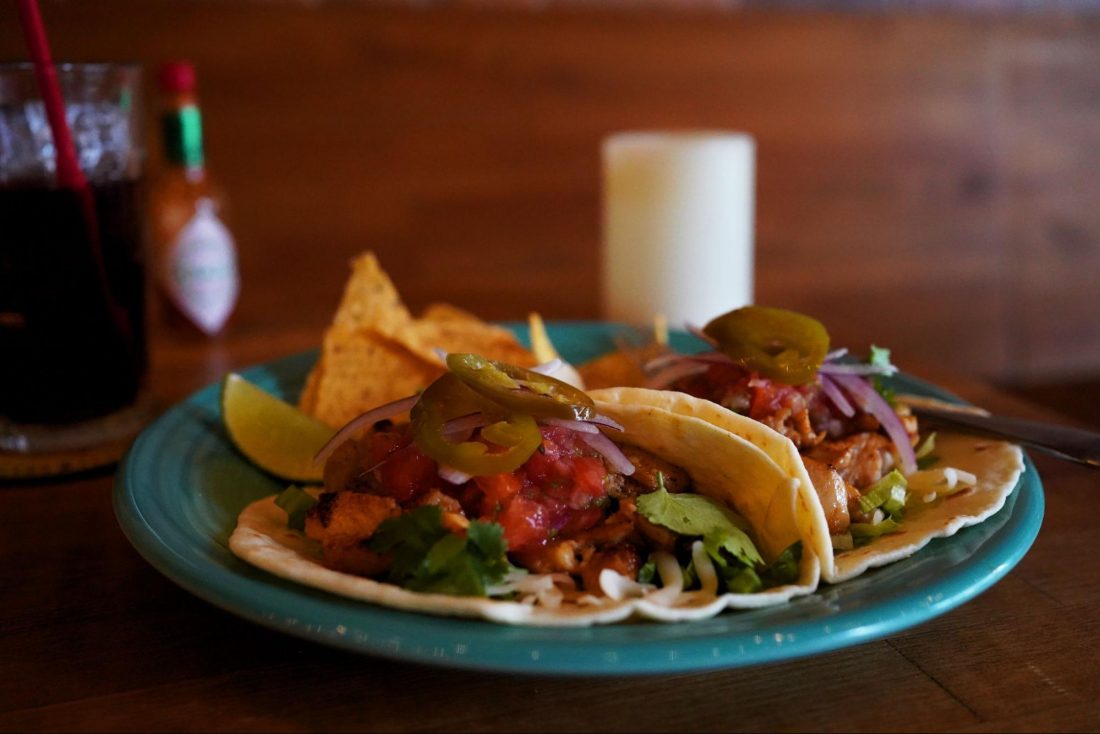 I'd summarize the flavor of Cantina 23's tacos as: awesome. The chicken was juicy and full of flavor, and thanks to all the veggies, the tacos tasted really fresh. The tortilla chips were warm and crunchy and a great accompaniment to the tacos. The tacos weren't spicy, so I would recommend adding the hot sauce they provide if you need some heat with your tacos. My only real complaint, cliched as it is, is that I wish there had been two more tacos on the plate so that I could have eaten those too. 
Cantina 23 can be found at 10-23 Mikawacho, Naka Ward, Hiroshima, 730-0029. For more information about the restaurant, including the menu, you can check out their website at https://www.cantina23.com/ (in Japanese and English).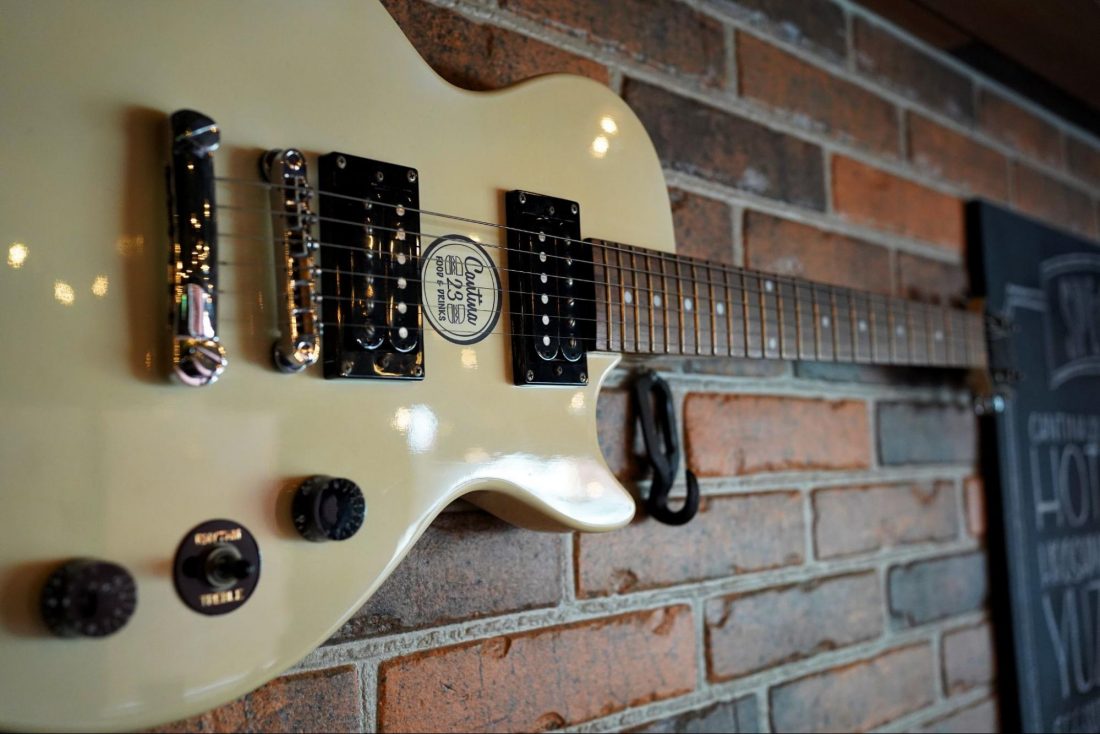 Graffity: A Mexican Diner with Huge Variety

Since Mexican food is essentially my lifeblood, it doesn't take long before I start craving it again. Two days after eating at Cantina 23, I was already finding myself thinking about tortillas, meat, and salsa. This time, I enlisted my wife to assist me in checking out another Mexican restaurant for the first time; partly so that I could have some company for lunch, and partly so that I could use her as an excuse to try more items on the menu. I couldn't really justify ordering too much food for myself, after all. 
Together we hopped on the streetcar and headed back to Naka Ward downtown to check out Graffity Mexican Diner. This restaurant is an easy five-minute walk from Hondori streetcar station or about ten minutes from Kamiyacho-Higashi station. It's just a bit south of the Hondori shopping street, so it's also convenient to get to. The restaurant can be found in a small building that is somewhat unremarkable from the outside, but big signs out front will catch your attention and point you in the right direction. Take the elevator or stairs up to the fourth floor, and you'll know you've found the right place right away.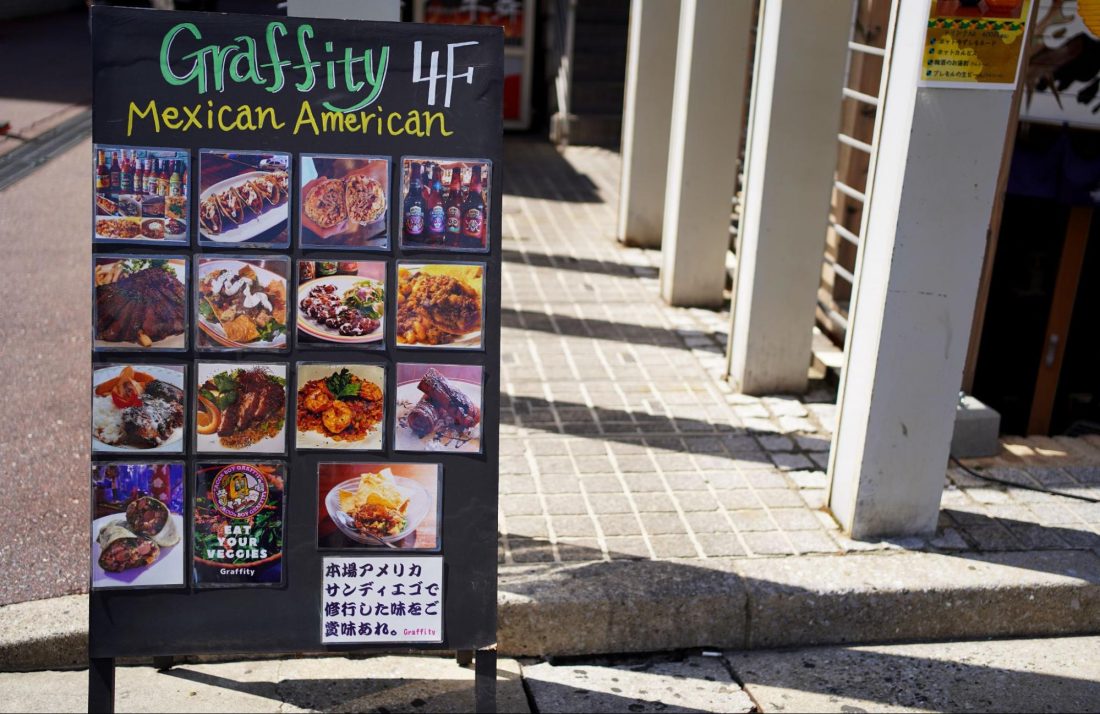 Graffity has a unique atmosphere for a restaurant in Japan. The walls are covered in graffiti and messages written by former patrons of the restaurant, which has included many foreigners over the past thirteen years that Graffity has been open. There are license plates from different American states mounted on the walls and counters, along with countless liquor bottles and Mexican knick-knacks. Stepping into Graffity feels as though you are being transported through a magical doorway that teleports you away from Hiroshima's downtown straight to a Mexican bar and restaurant in the heart of San Diego.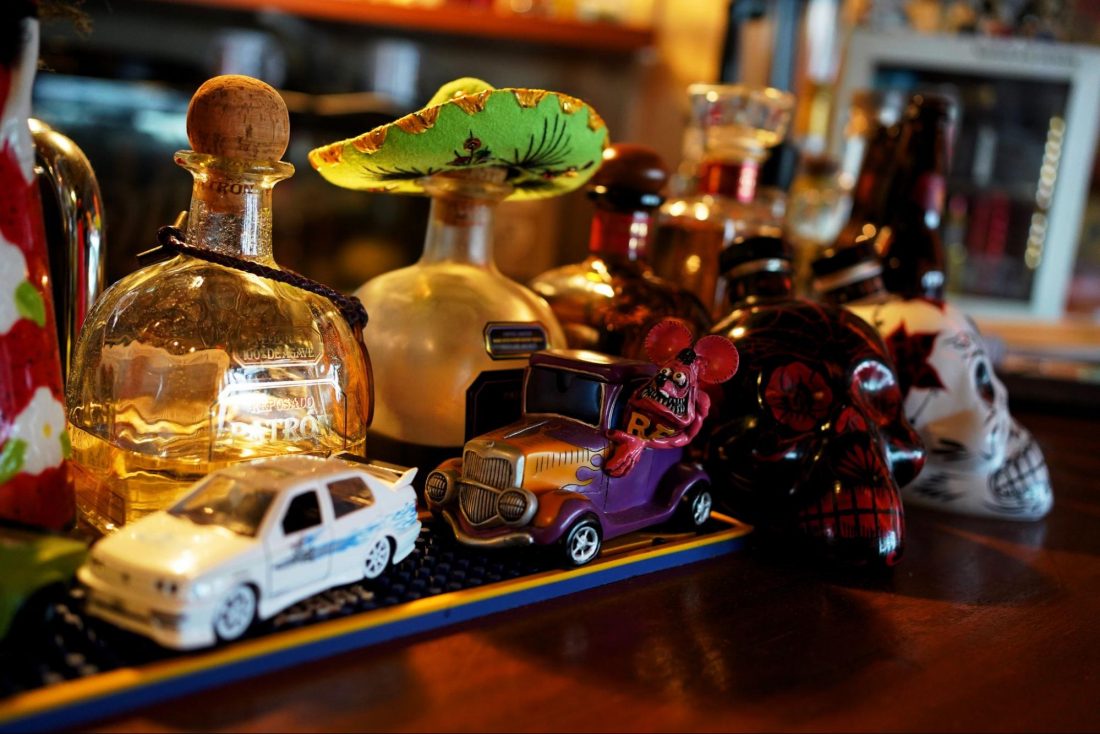 This atmosphere is certainly what the owner of Graffity wants you to feel when you're there. The owner and some of the staff speak English, so like Cantina 23 navigating the menu and ordering are both very easy for visitors to Japan. The owner was kind enough to take some time to speak to my wife and me about his experience and the restaurant. He and some of the chefs lived in San Diego for a while and learned much about Mexican and Tex-Mex cuisine there. They continue to take trips back to America and Mexico to buy ingredients (including spicy chili peppers that are difficult to come by in Japan) and to sample different dishes that they can possibly import to Japan. They take care to try to add items to Graffity's menu that will both satisfy foreign guests but also satisfy the Japanese palate as well.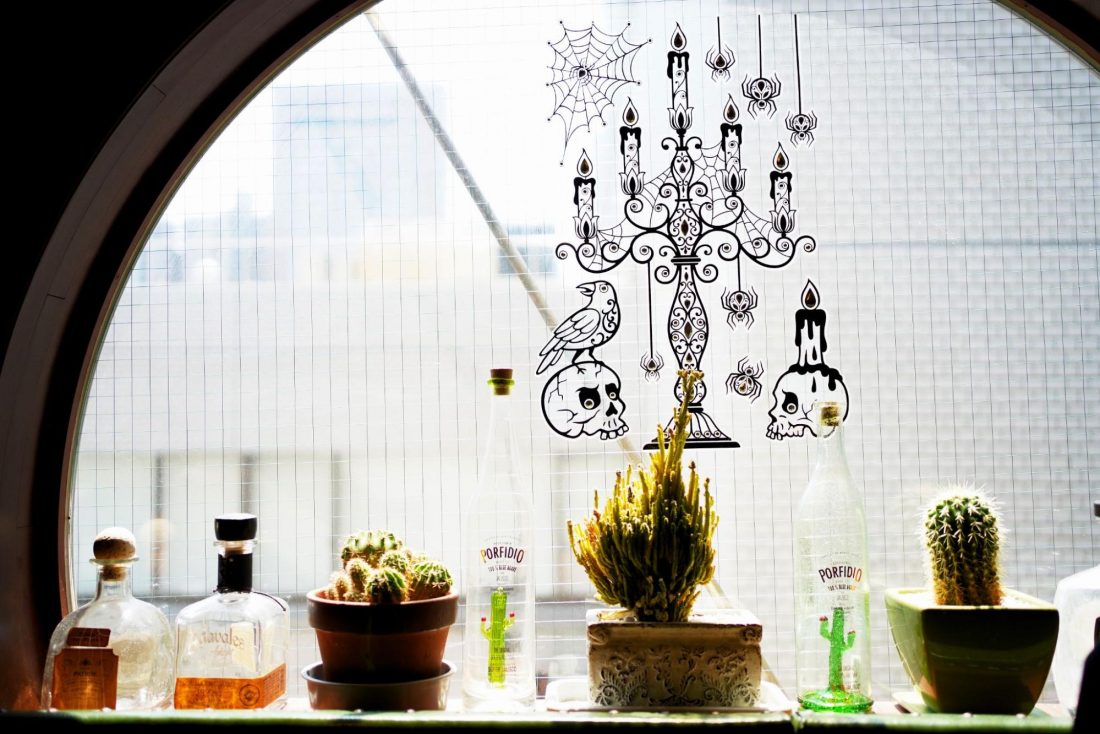 I was honestly shocked when I first opened Graffity's menu. It's huge and features a wide variety of Mexican, Tex-Mex, and American dishes. There's everything from tacos to chimichangas to buffalo chicken wings to pollo en salsa mole on this menu. There are also some Japanese adaptations of classic dishes, including pork cutlet burritos that I'm sure are worth checking out sometime too. They also have a wide selection of Mexican beer and liquor. There are so many choices that I ended up going with one of the easier choices: the lunch taco special.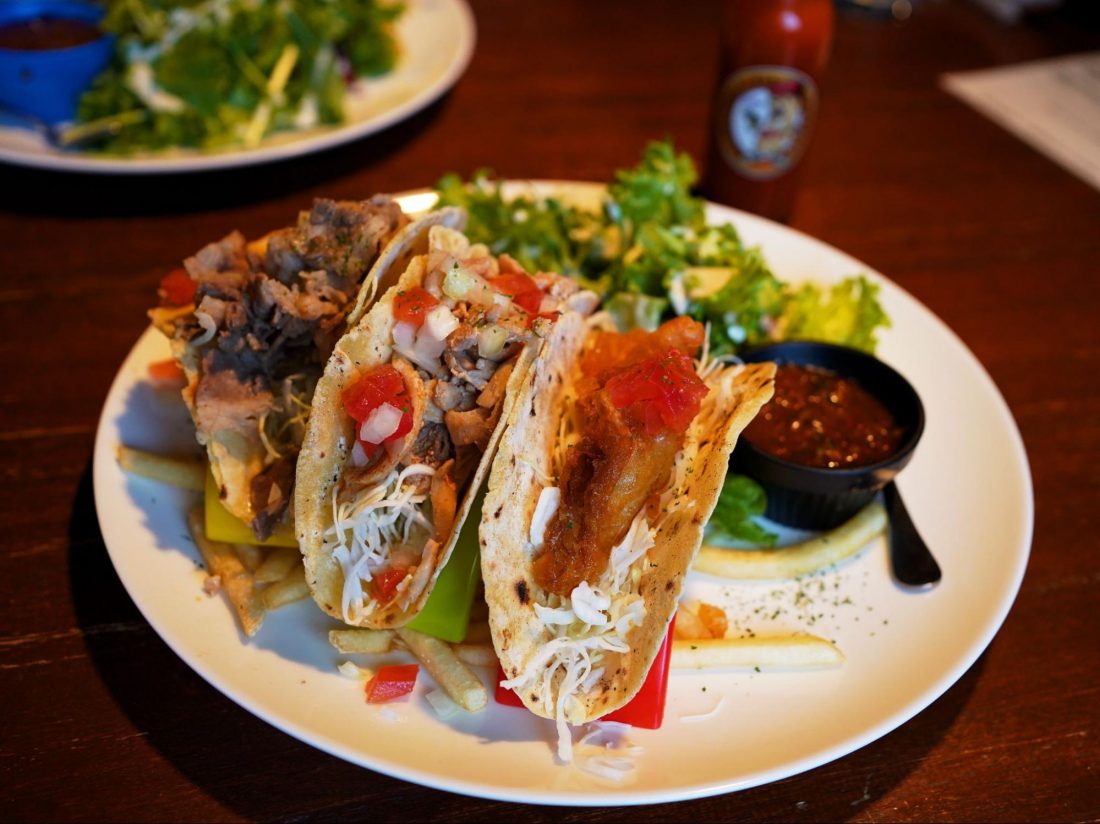 To sum up Graffity's tacos: also awesome. The lunch special came with much more food than I expected; it again felt like I was eating at a restaurant in America and being given American-sized portions. The special included a beef taco, a fish taco, a spicy chicken taco, sides of french fries and salad, and salsa for dipping or adding to the tacos. The tacos were made with tasty corn tortillas, cabbage, pico de gallo, and the different proteins. I liked all three of the tacos, but the spicy chicken taco was the one that truly won me over. I understood why the owner brings chilis over from Mexico because this taco was pretty spicy. I cleaned my plate in record time and felt full and satisfied after. That being said, I enjoyed the food so much that I happily ate the leftover taco and half of a burrito that my wife couldn't finish. 
Graffity can be found at 6-4 Fukuromachi, Naka Ward, Hiroshima, 730-0036. You can also find the restaurant on Instagram at https://www.instagram.com/graffity_hiroshima/?hl=en.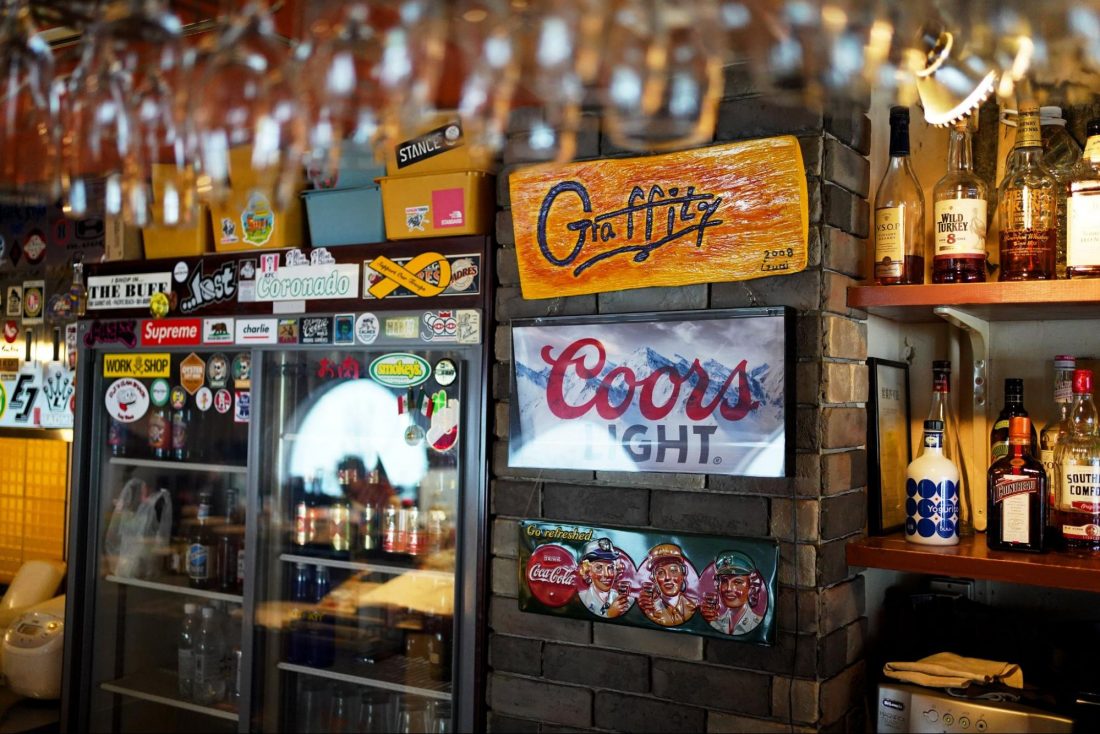 Moment of Joy
Both restaurants I visited were absolutely delicious and left me excited to come back and try something else on the menu. I think that's one of my favorite parts of visiting a restaurant: the anticipation of coming back again and finding something new to sink my teeth into. I'm already more than ready to return to Cantina 23 and Graffity and try more of what their menus have to offer.
There's Still More to Discover
While I love Mexican food, I still haven't visited every Mexican restaurant that can be found in Hiroshima. One is named Borrachos, which can be found in the Yagenbori entertainment district downtown. This restaurant is only open in the evenings–from six until five in the morning. As such, it's a very popular restaurant for those who want to go out for Mexican and enjoy a night on the town. Their website claims Borrachos has over thirty kinds of tequila, so if you like to drink then this may be the Mexican restaurant for you. 
Borrachos is located at 6-5 Yagenbori, Naka Ward, Hiroshima, 730-0027, and their website can be found here:https://borrachos-hiroshima.jp/.
If you find yourself in the Ujina district of Hiroshima, near the Hiroshima Ferry Port, it might be worth checking out Comer Mucho, another Mexican restaurant. They have a wide variety of tacos, including classic tacos al pastor. I haven't had the chance to visit this restaurant yet, but it's on the list of places I need to check out soon. Since it's located near the ferry port, Comer Mucho would be worth visiting if you are planning on travelling around the Seto Inland Sea by ferry, but it's a little out of the way compared to the other restaurants I've mentioned. 
Comer Mucho can be found at 6 Chome-2-4 Ujinanishi, Minami Ward, Hiroshima, 734-0014, and on Instagram at https://www.instagram.com/comermucho_tacos/.
Can You Find Good Mexican in Hiroshima?
Yes.
If you know where to look, Hiroshima offers some excellent Mexican cuisine. There may not be as many restaurants in Hiroshima compared to bigger cities like Osaka and Tokyo, but the ones that are here should not be overlooked. They are run by good people who understand and respect Mexican and Tex-Mex food, and they are doing their best to successfully replicate the best Mexican dishes in such a way that both Japanese people and visitors from abroad can both leave the restaurants fuller and happier than they were before going in.
So if you find yourself in Hiroshima, and you need Mexican food as much as I do, make sure you visit some of these restaurants. If you do, there's a good chance you'll see me there.