100 STORIES
CHUPEA PARK — Pools and Putts for Family Fun
 There are some things in Japan that are undeniably seasonal, and treasured for just that reason. The most famous is cherry blossom viewing in the spring. There are a few things in Hiroshima as well. Of these, summer swim locations are probably number one. There are several locations that open only for summer vacation. It's a bit of a shame, as they can be a lot of fun. My family's favorite summer location is Chupea Pool, a part of Chupea Park.
  Chupea Pool is a water-slide and water park. It's located not too far from Miyajimaguchi, the ferry entrance to Miyajima. If you happen to be visiting Miyajima in August, you could easily spend a great morning, afternoon or day in the water and on the slides. If you are traveling with small children they will surely love it.
            If you and your children happen to be in Hiroshima during a different time of the year, Chupea Park might still be able to entice you to visit and enjoy a round of SNAG Golf. This is a fun and simple version of golf designed to introduce children to the sport in a fun and safe way. It features Velcro balls that need to strike and stick to, be snagged by, the "hole", thus the name SNAG golf. In fact, it's a bit more than that, but I'll explain further below.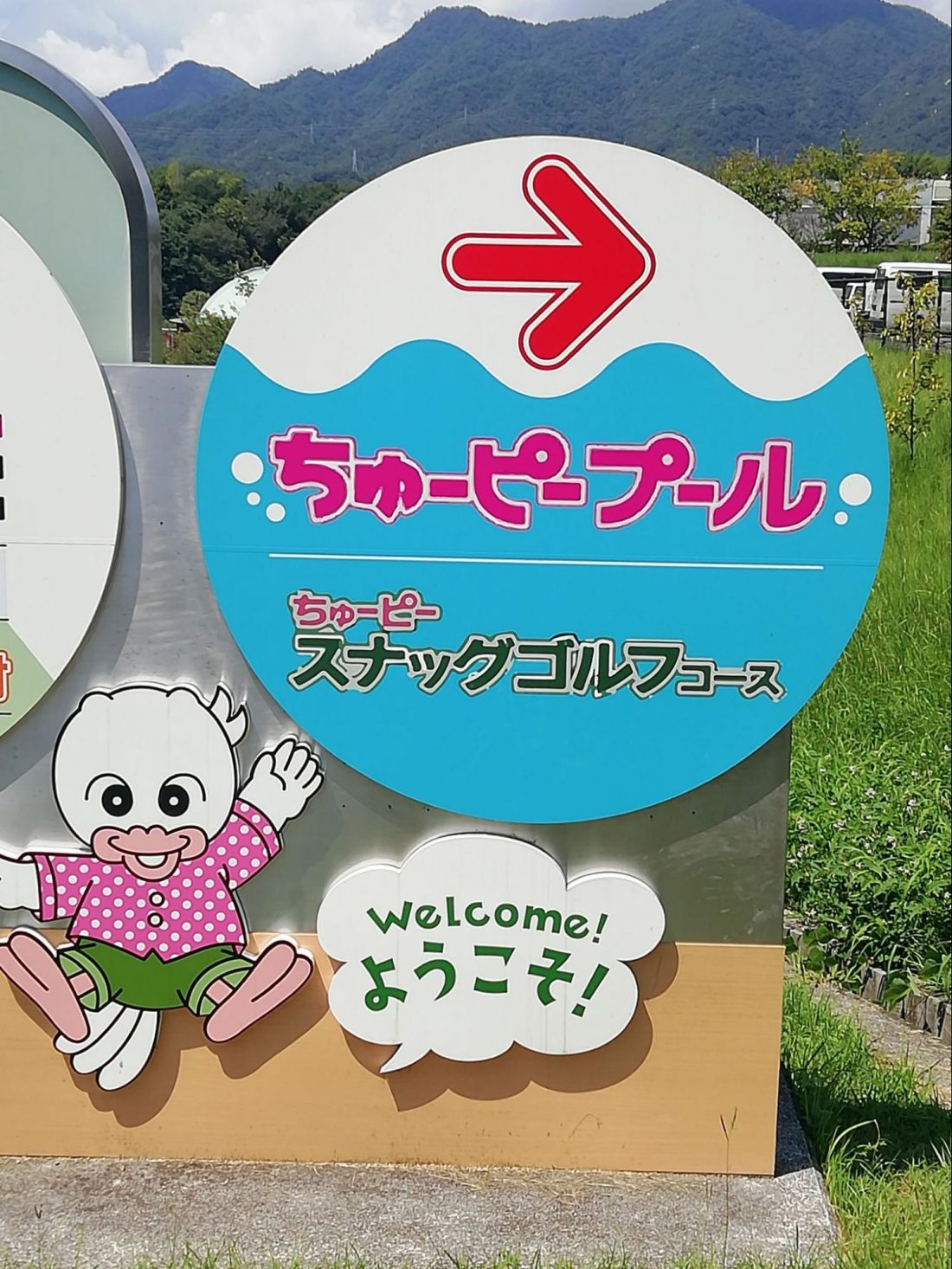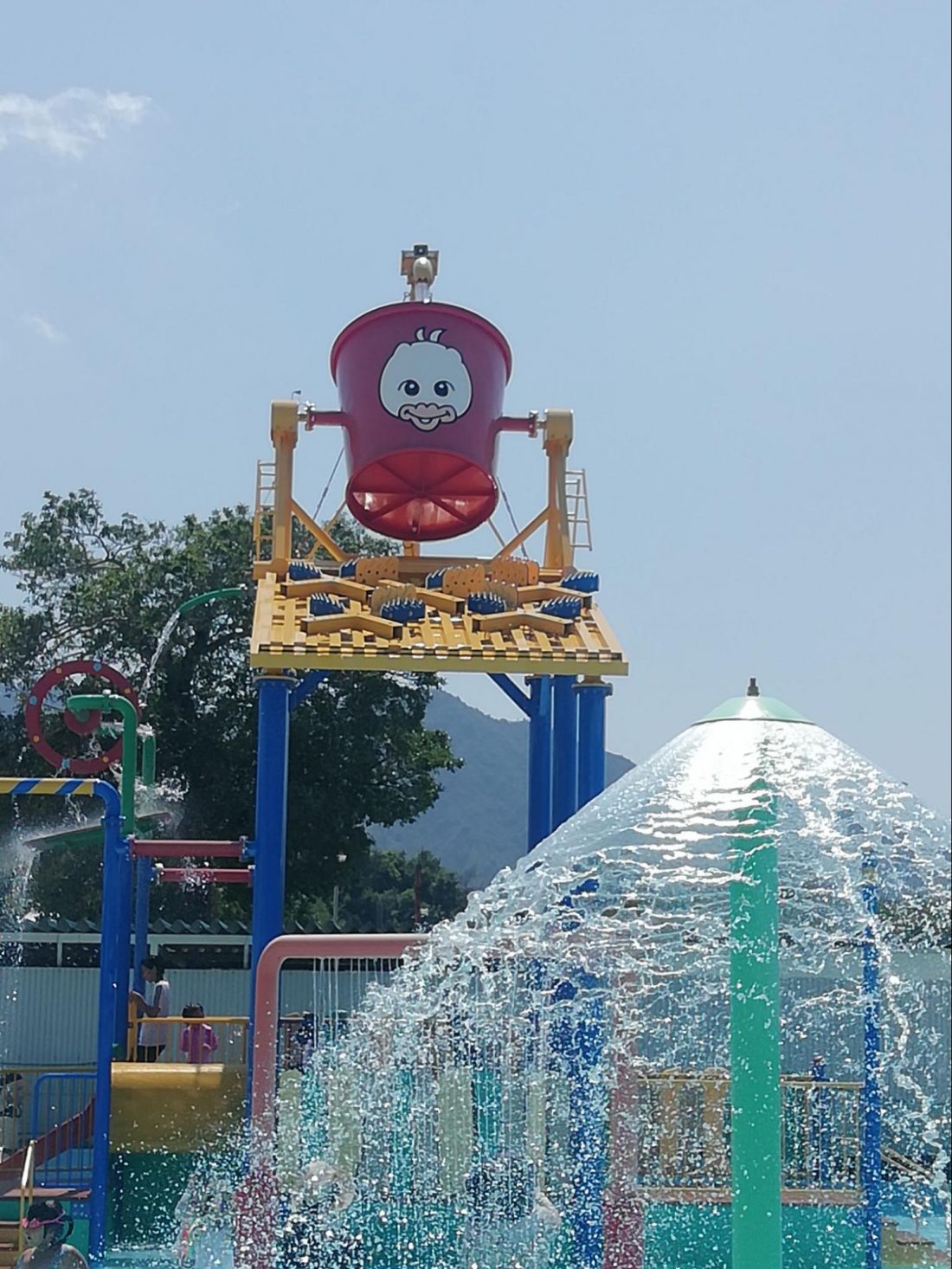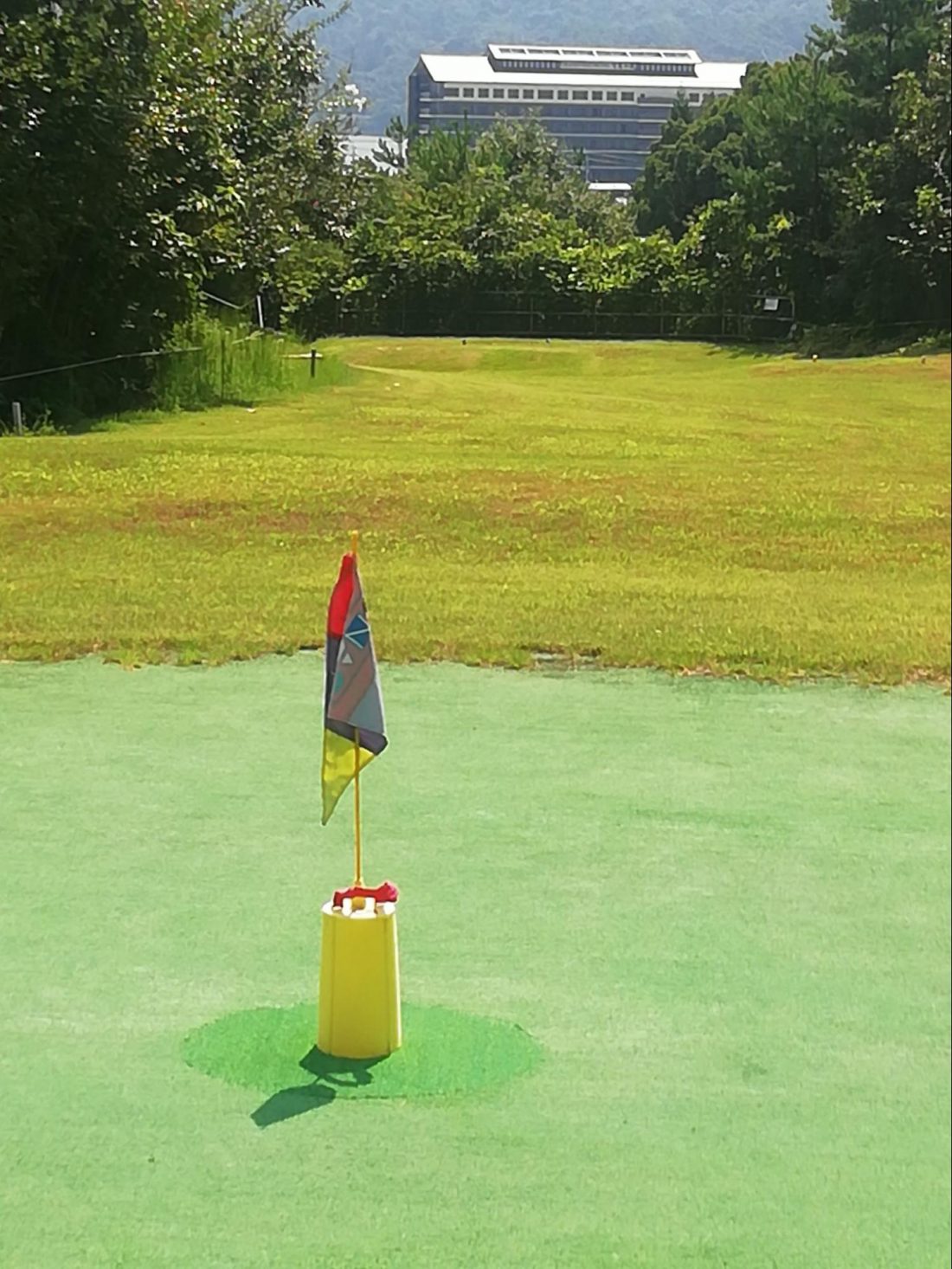 INSIDE THE WATER PARK
     Including the water slides, Chupea Pool boasts of eight different pool areas, designed to entertain and delight different age groups and provide many different ways of having fun in the water. For the mommies and daddies, and the older children, the water slides are probably the highlight.
            Set back in the far edge of the park, these two intertwined slides are between 100 and 120 meters long (330 to 390 feet), and drop you into an 80 cm deep pool (2 ½ feet). Thus no swimming skills are needed to enjoy the ride, and there is not much to fear of the drop at the end of the run. However, the slides are a bit fast and throw you around a bit (in an exciting way), so they do have a minimum height requirement of 120 cm (4 feet) to go down. I remember the one year we went where my son was just tall enough but my daughter was around 118 cm… That was a bit stressful and required some quality parental negotiations, so please be aware of your child's height and this requirement.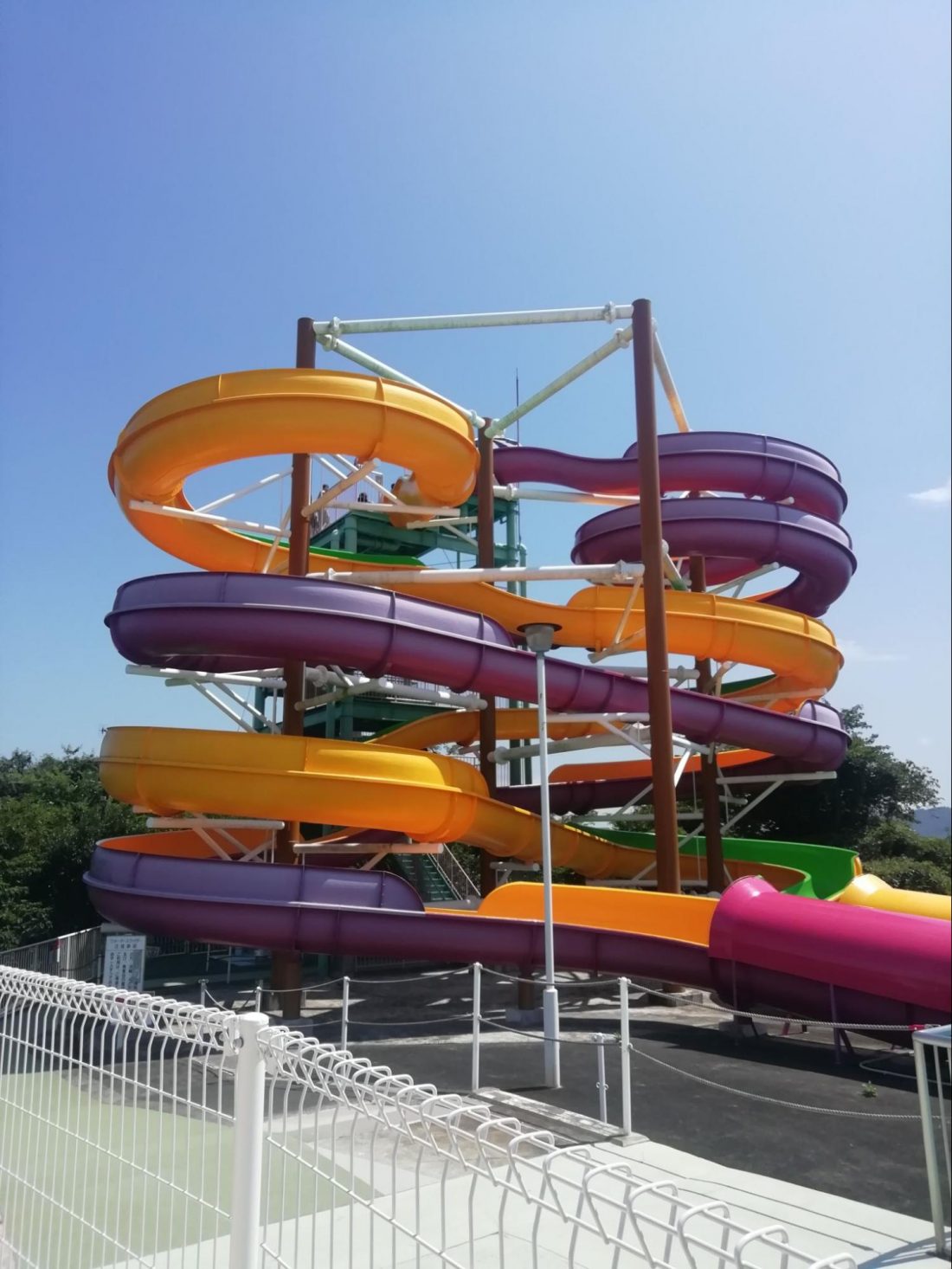 Undoubtedly over the years, the favorite attraction of my children, both before and after they could go on the water slides, is the "Bikkuri Bucket", or Surprise Bucket. Technically part of the "Kids Pool", the Surprise Bucket is a large bucket on top of a play structure at the edge of the Kids Pool. Designed so that water is pulled up and dropped into it, when the amount of water reaches a tipping point, it dumps its entire contents creating an instant waterfall. Beautifully set up so that music begins playing just before it tips, people rush to gather under the drop point and get the thrill of having what feels like Niagara Falls drop on you in an instant. Any number of times my children would simply be walking by, recognize it was near the tipping point, and rush to get into place and get splashed, before then continuing to wherever they had been headed. It's quite a clever attraction.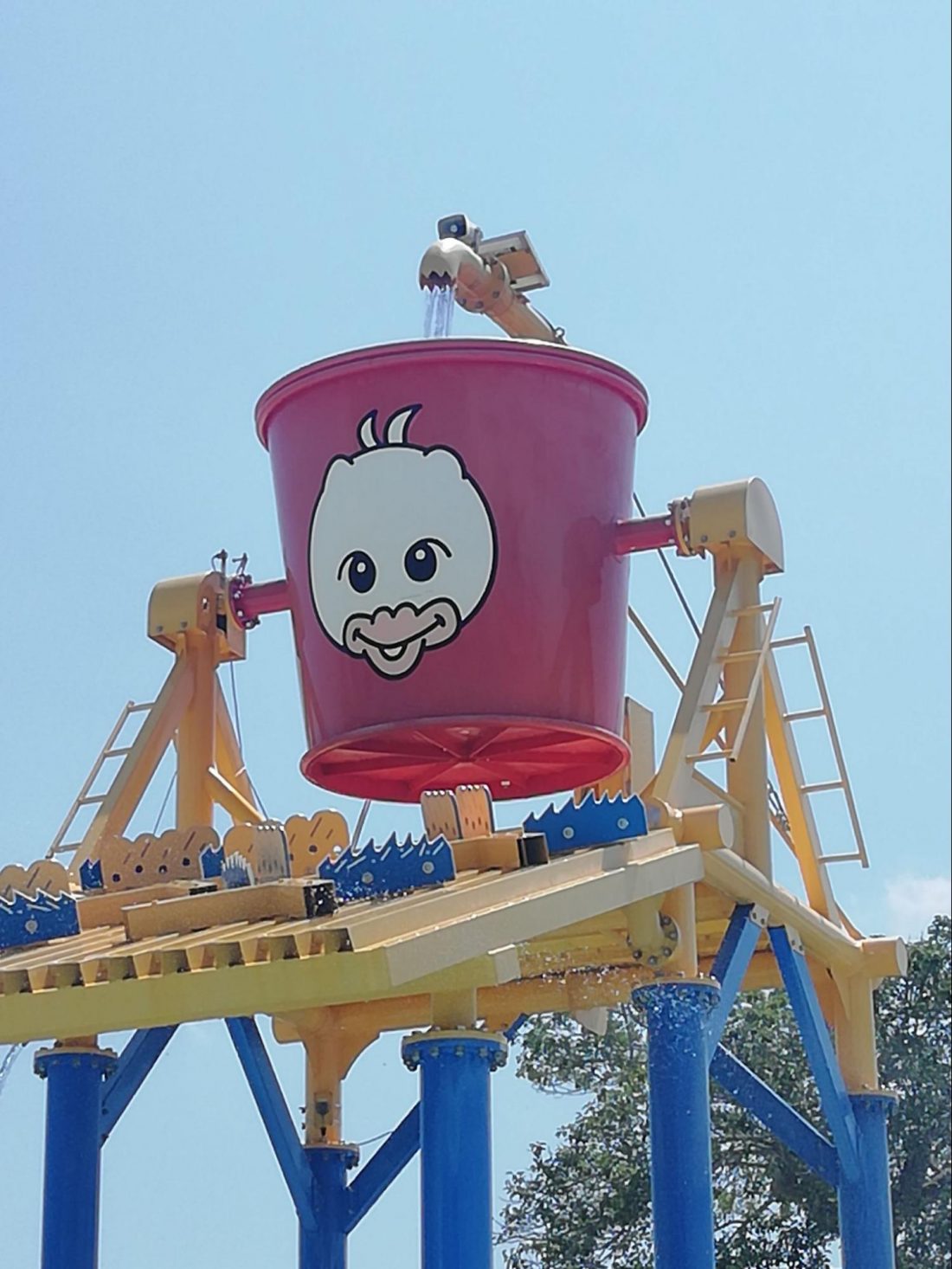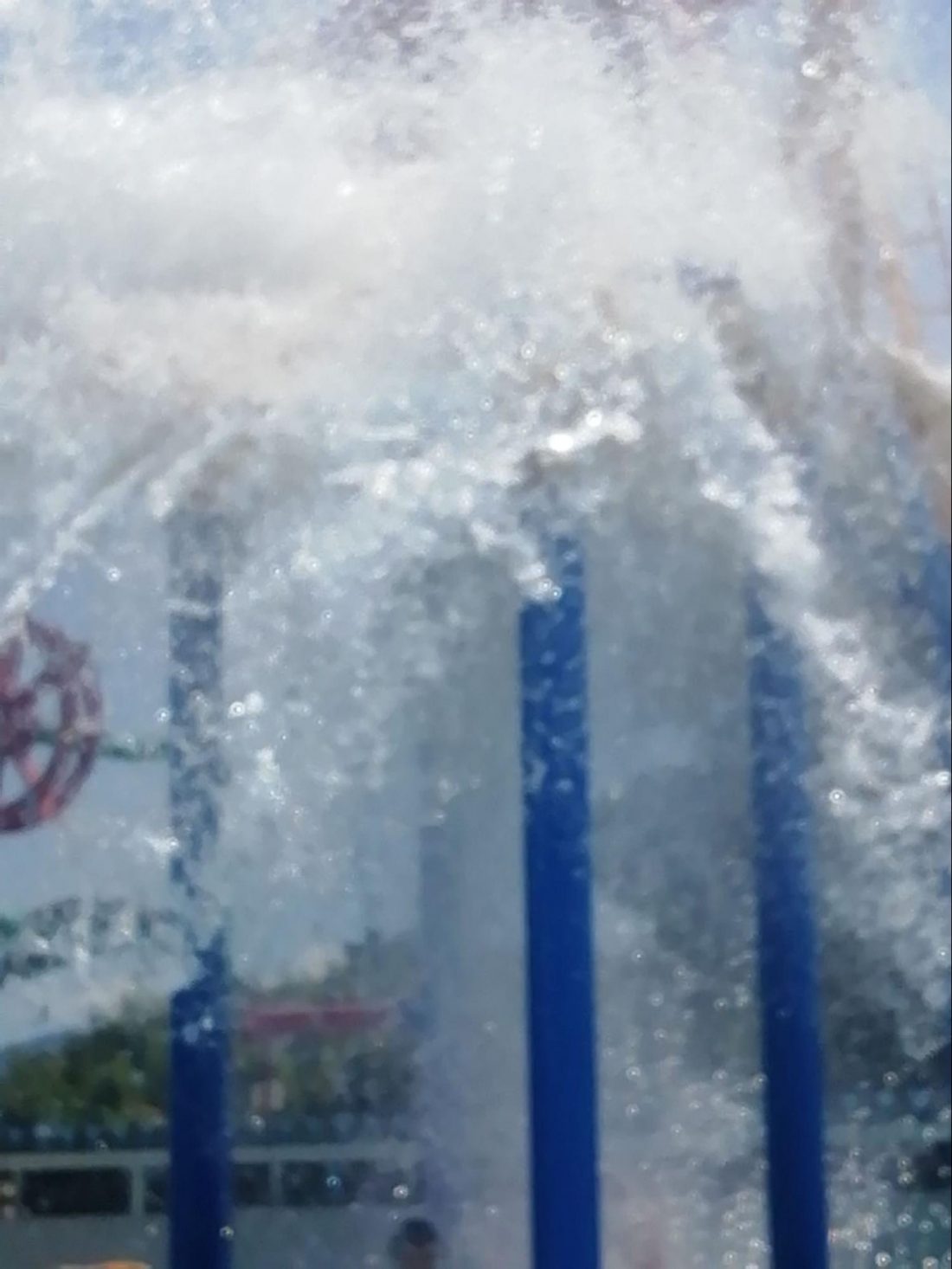 Third on the list for my family is the Nagare Pool, or Flowing Pool. This is a 200 meter long (220 yards) circuitous pool of flowing water, about 100 cm deep (about 3 1/3 feet). The flow of the water means that if you have some sort of float to ride on, you'll just be carried along for the ride. Great relaxation for adults, if you can get the floats away from the children, but also adored by the children. They generally love riding floats in the water, but they also love swimming here, too, as the flow gives them extra bursts of speed. Thus, chase games are really popular, with the extra challenge of having to do your chasing through great throngs of floats and other swimmers, as the Flowing Pool is usually the most crowded.
            The fourth pool is also extremely popular five minutes at a time. It's the Nami Pool, or Wave Pool. At 15 and 45 minutes past the hour, every hour, the pool generates large waves for children to enjoy bobbing up and down on. Up at the front wall, where the waves are generated, the water is 130 cm (over 4 feet) deep, so you'll need floats, tall children, or children good at treading water. It's also quite popular down at the edge of the pool, too, where the waves crash like onto a shore. Many smaller children thrill to jump in the cresting waves there. At the deep end, you mostly just ride high and dip low with the waves, but it's quite popular. The waves last for exactly five minutes. Many people watch the clock, get in just before the waves, ride them, and then move on.
            Also popular is the Children's Pool (different from the Kids Pool). Its fun comes from being a sunken pool with high netting around the sides making it the perfect place for beach ball games in the water. In fact, there are several basketball-style hoops set into the walls. Next to this pool is the Diamond Pool (for its shape). I watched many people here playing with beach balls as well, only to have to constantly get out and chase their ball after mishits and wind gusts. The Diamond Pool is beautiful water, but for beach ball fun I'd choose the Children's Pool.
            Finally, there is a 30 cm deep (1 foot) Baby Pool, and nearby, the Mini Whale Slide, for the fun of the smallest children. The Mini Whale slide is a fun, wide, and not-at-all steep slide that comes out of a whale's mouth (complete with spray as if from its blowhole) that sends kids down into a pool only 20 cm deep (less than a foot). Even when my children were aged 10 or so, they still often went down the Whale Slide at least once a visit, as much for nostalgia as for thrill. It's a great introduction to water fun for the littlest ones.
CONCESSIONS
We cannot talk about this water park without also mentioning the soft-serve ice cream. Originally this park was opened and owned by Chichiyasu, a Hiroshima-based dairy company in existence since 1886. The park itself opened in 1964, and until 2005 it was known as Chichiyasu High Park, until the company was forced to diversify, and sell off the park to Chugoku Shimbun (Newspaper), leading to the current name Chu-pea Park. Many Hiroshima natives still know it better by the name Chichiyasu.
            This is important background knowledge because with being a dairy company, Chichiyasu produced a phenomenally delicious tasting soft-serve ice cream, thanks to the richness of its milk products. Though it is now Chupea Park, Chichiyasu does retain one ice cream booth just inside the front gate. In my mind, it's a must stop location at least once during your visit.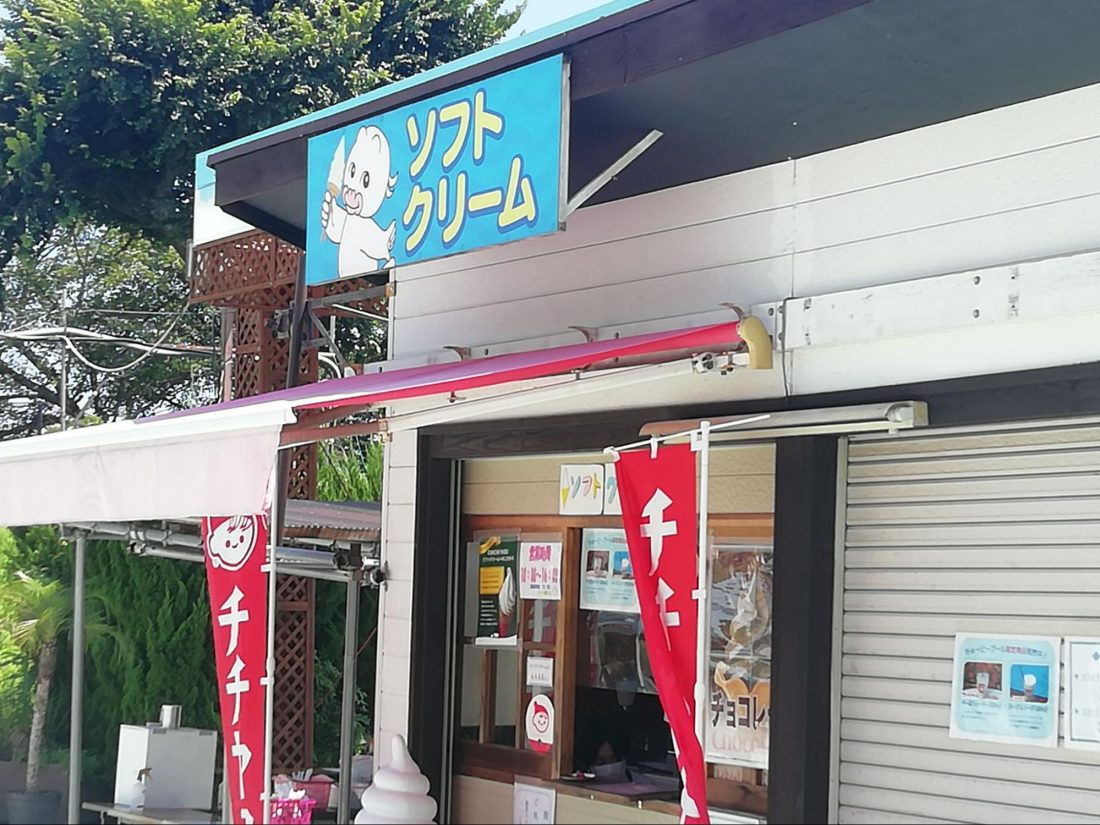 There is plenty else to eat there for the family that is spending the day there and bringing its wallet. Most items are very reasonably priced, but your kids are likely to be asking for many items that might eventually add up. It's all very scrumptious fare, though. I noted curry, dry curry, pilaf and fried rice, fried chicken, French Fries, frankfurters, spicy German sausage, pasta, pizza, ramen and soba noodle dishes, and corn dogs, as well as shaved ice for dessert, if you want an ice cream alternative. My own personal favorite menu item is the fried cheese sticks, made from a crunchy "gyoza" shell, rather than breading. Yummy.
MOMENT OF JOY
   For me it's all about the soft-serve ice cream, though. The day I was there they even had a special-of-the-day chocolate flavor. Sitting near the diamond pool, in sight of the water slides, eating a sweet, rich chocolate flavored ice cream… JOY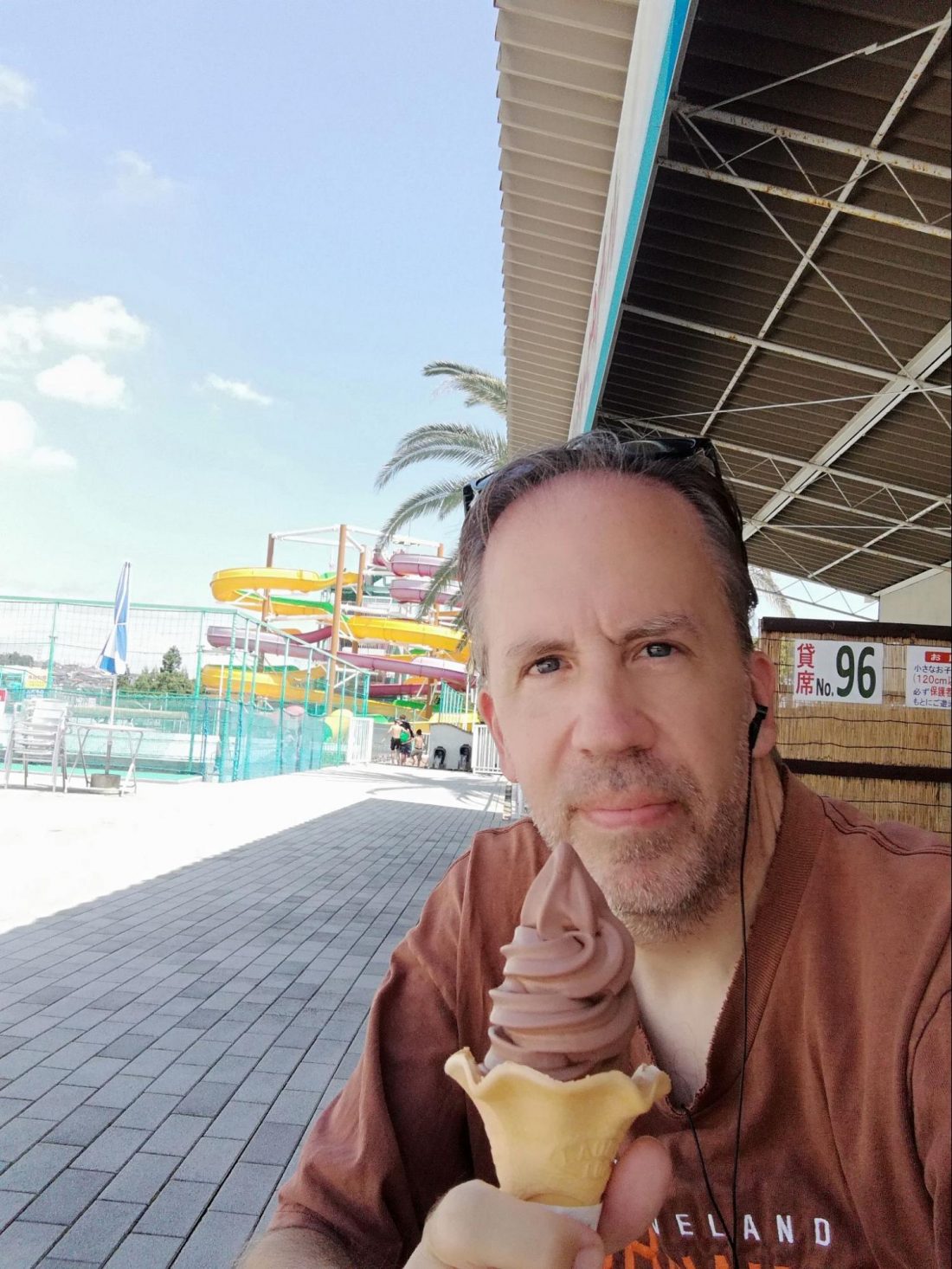 SNAG GOLF
The other part of Chupea Park is the golf course. According to the park history, it was originally a very short course for real golf. From what I saw it must have been 9-iron and putter only, but it is a lovely location amongst trees with a view of Miyajima from the 9th hole, even. When the park was taken over by Chugoku Shimbun, the company president, an avid golfer, wanted the course to be a place to appeal to children, as much as anyone else, and to be a place for children to both learn golf and learn to love it.
            Then he discovered SNAG Golf. While the object of this sport is to have your Velcro ball "snagged" by the hole, that's actually a happy pun. In fact, SNAG is an acronym for Start New At Golf. According to its website, SNAG Golf is for the teaching and building of fundamental golf skills. Its simplified learning system means that anyone can learn, and anyone can play. Its equipment is designed to be portable, and to be playable outdoors, or indoors. Apparently there are elementary schools around the world now making use of this fun and simple introduction to golf.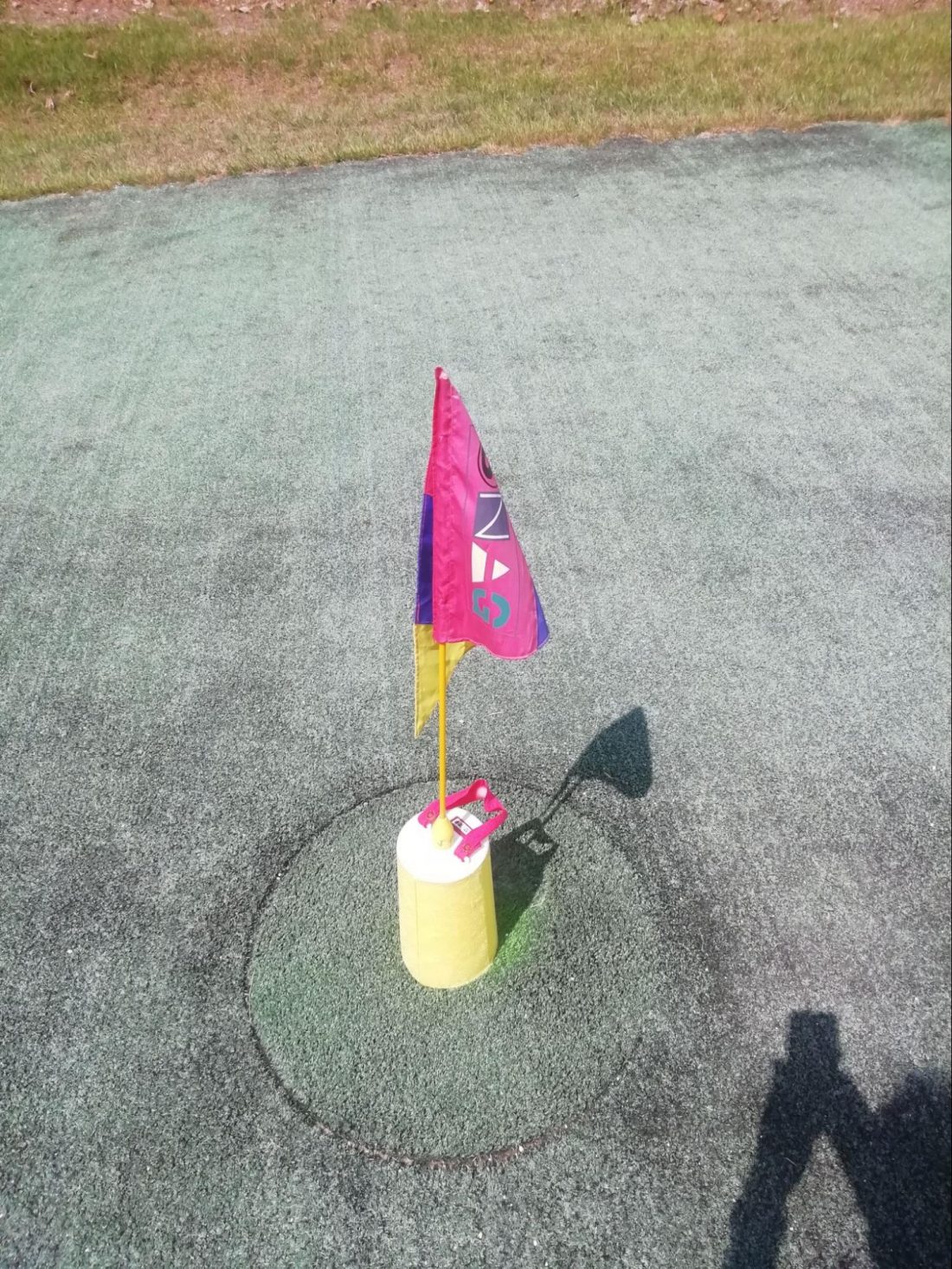 Here at Chupea Park, it's a step above that, in my opinion. From that introduction on the website, and combined with another popular sport/hobby in Japan called ground golf, or gate ball (a combination of croquet and golf), I was expecting a wide open space with some randomly placed targets that could loosely be called "holes". Like when as a child my friend and I played "Frisbee golf" by declaring "that tree over there" as the next hole. This was completely erroneous on my part.
            Since it was originally designed as a golf course, Chupea Park maintains that design. So you'll be playing SNAG Golf on genuine holes of various lengths and complexities. It's designed to be a true par-36 course, so there are two par-5s, and two par 3s, as any 9-hole course would have. Several holes have you hitting downhill with narrow fairways. One hole has you hitting almost completely uphill, which made judging necessary power and distance needed refreshingly challenging. My favorite hole even features a dogleg right, with a sharp enough turn that you cannot see the "green" from the tee. It's truly a beautiful layout.
The game is played with just two clubs, the launcher and the roller. Easily understood, the launcher is for your tee shots, and any additional shots you need to get to the "green". The green itself, often simply a mat of some kind depending on location, here is closer to actual greens, being a designed sodded area with the sodding trays left in place to keep it an even surface. It is that surface that allows the "roller" to help you putt toward the hole. The holes, as stated above, are in fact cones wrapped in Velcro for your ball to stick to.
            While primarily designed for children, I still found it quite enjoyable, especially when using the launcher. The roller and sticking my ball to the Velcro hole seemed odd, but stepping up to that first tee and hitting 40 yards downhill to the green was nearly as satisfying as real golf. On the dogleg right, I hit my drive long enough for a straight shot to the pin, and then I lucky-bounced my second shot onto the cone for my only "eagle". That came close to being my moment of joy, providing almost as much excitement as a true eagle on a "real" golf course.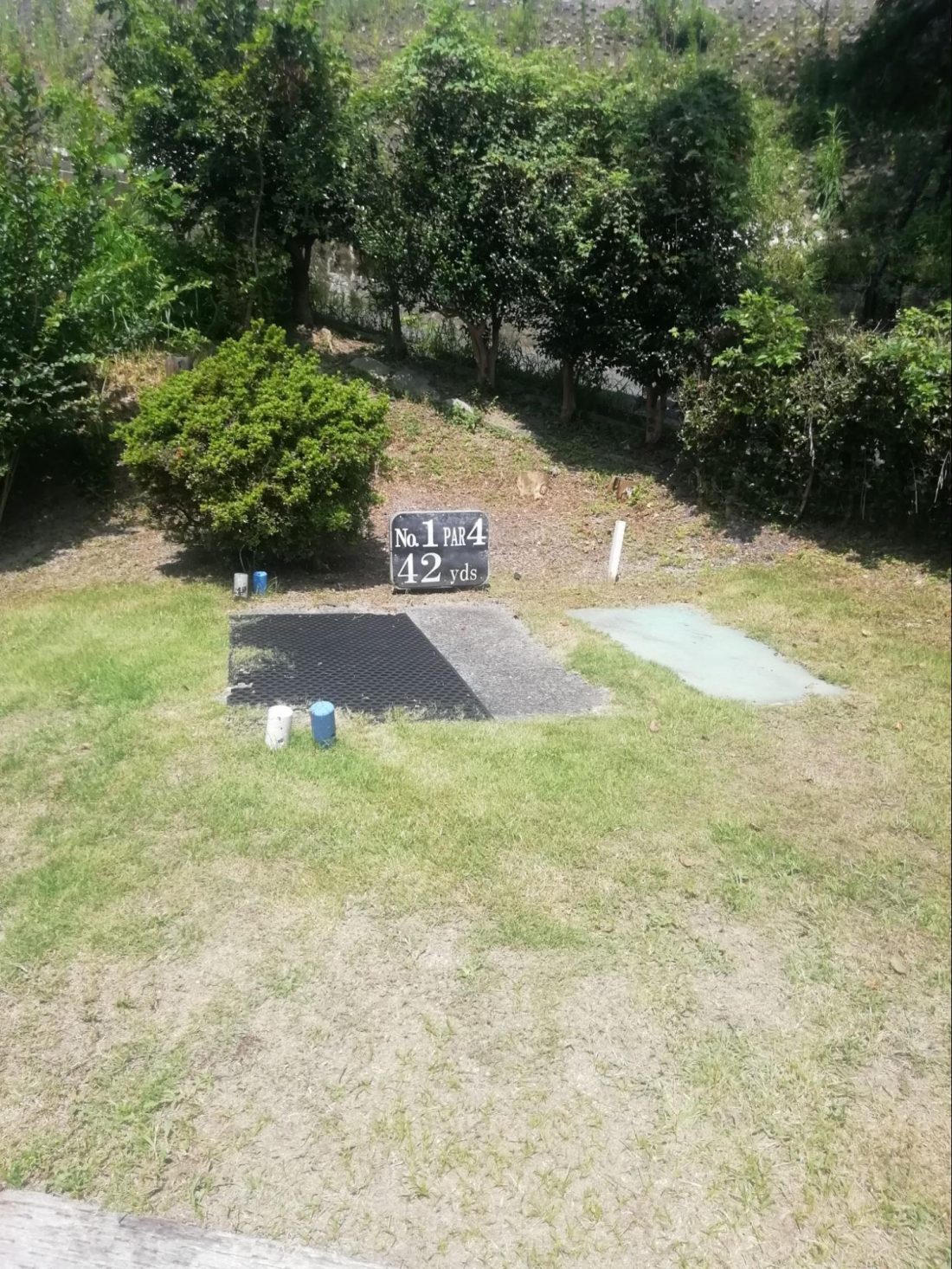 Also, the nature around the course is just beautiful. Every hole is tree-lined. The fairways are real grass. The final hole has the view of the Inland Sea and Miyajima across the water. There were also many butterflies around the course, and one landed on my outstretched hand. Overall, it was quite a pleasant way to spend some time. I can see where it would be a fantastic way to spend time with young children and introduce them to golf.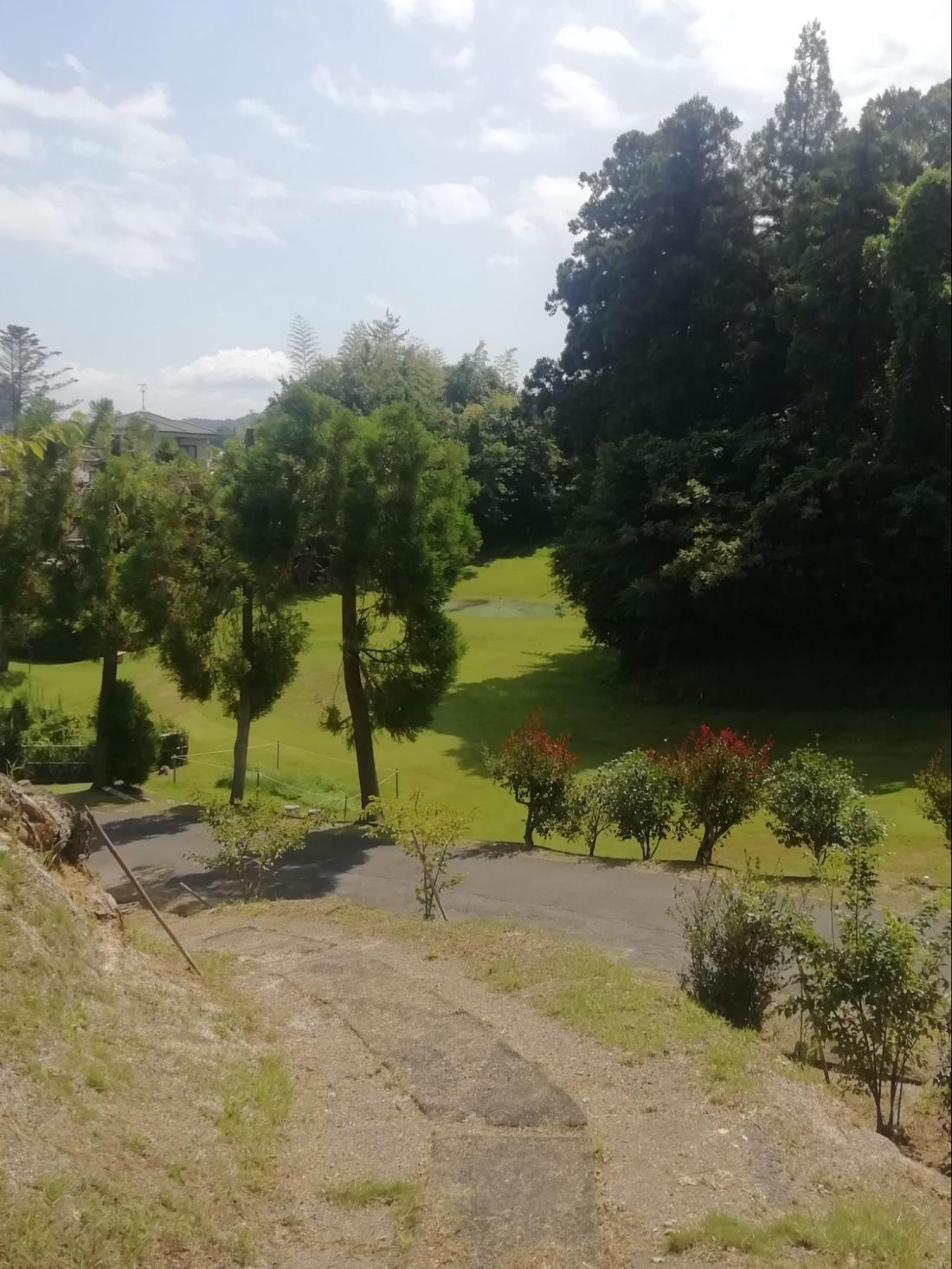 FINAL NOTES
The water park, this year, was open from July 22nd to August 31st. Those dates will be roughly the same every year. It's only open during children's summer vacation. It's open 9 a.m. to 4 p.m. weekdays, 8:30 to 5 on weekends. It costs 1800 yen (2000 yen weekends) for adults, 1400 (1600) for elementary school aged children, and 700 (900) yen for smaller children. The park also has rules about tattoos, and unaccompanied children to be aware of. You cannot bring your own tents or parasols, but they have tented pavilions and tables with parasols available for rent.
            SNAG Golf costs 500 yen for the course and 500 yen for the rental of the roller and launcher. Elementary school children must play with their parents. As with normal golf, foursomes are a maximum, including parents, so large groups will have to split up.
            Access to Chupea Park is easy by car, being right off National Route 2, soon after Miyajimaguchi. If you are coming by train, it is still fairly easy, being about a 10-15 minute walk from Maesora Station (one stop past Miyajimaguchi). It's a little confusing when first leaving the station because there are no signs at the station itself, but if you consult a map ahead of time, to get you pointed in the right direction, closer to the park the way becomes well-marked with signs so that you can't miss it.
            And you really don't want to miss such a fun way to spend time with your children. To be fair, the pool area seemed popular with many couples, too. All-in-all, it's another hidden secret gem of Hiroshima.