100 STORIES
A BRUSH WITH CRAFT – An Experience Of Hiroshima Brush-Making
       Among the things that Hiroshima is famous for, slightly less known, unless you are an artist, is brush-making. Calligraphy brushes, paint brushes and makeup brushes of all sizes. It doesn't have a fame that rivals okonomiyaki and oysters, or even lemons. It often seems to get listed last when people are challenged to name the products of Hiroshima. But, to be clear, Hiroshima brushes are actually renowned in the art world, and in the cosmetics world.
So, when I was offered the unique experience of being able to participate in the finishing processes of making one of these brushes, I happily said yes. I really didn't know what it would entail, but it sounded intriguing. The caveat, of course, is that even as a preschooler Arts and Crafts was my least favorite activity, and as an adult I generally avoid any "craft" hobbies, as well. So I was a little nervous about whatever results I would come up with. But it seemed a chance not to be missed, so off I went.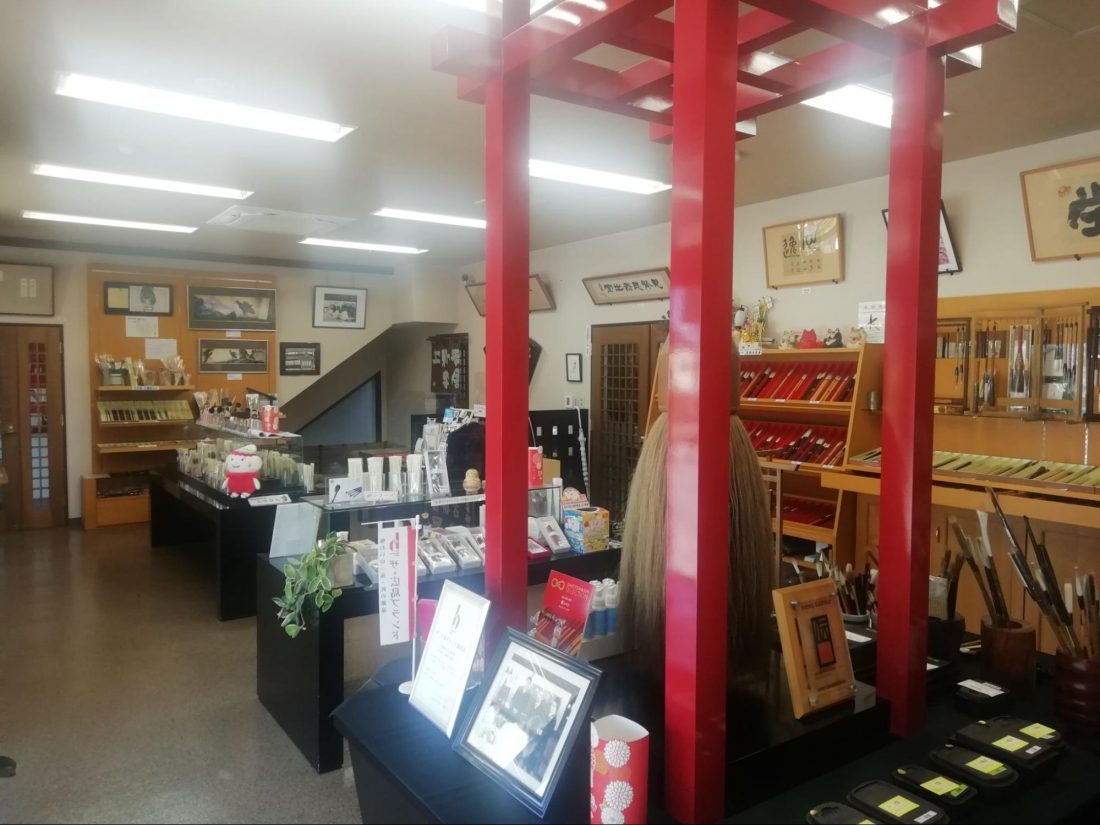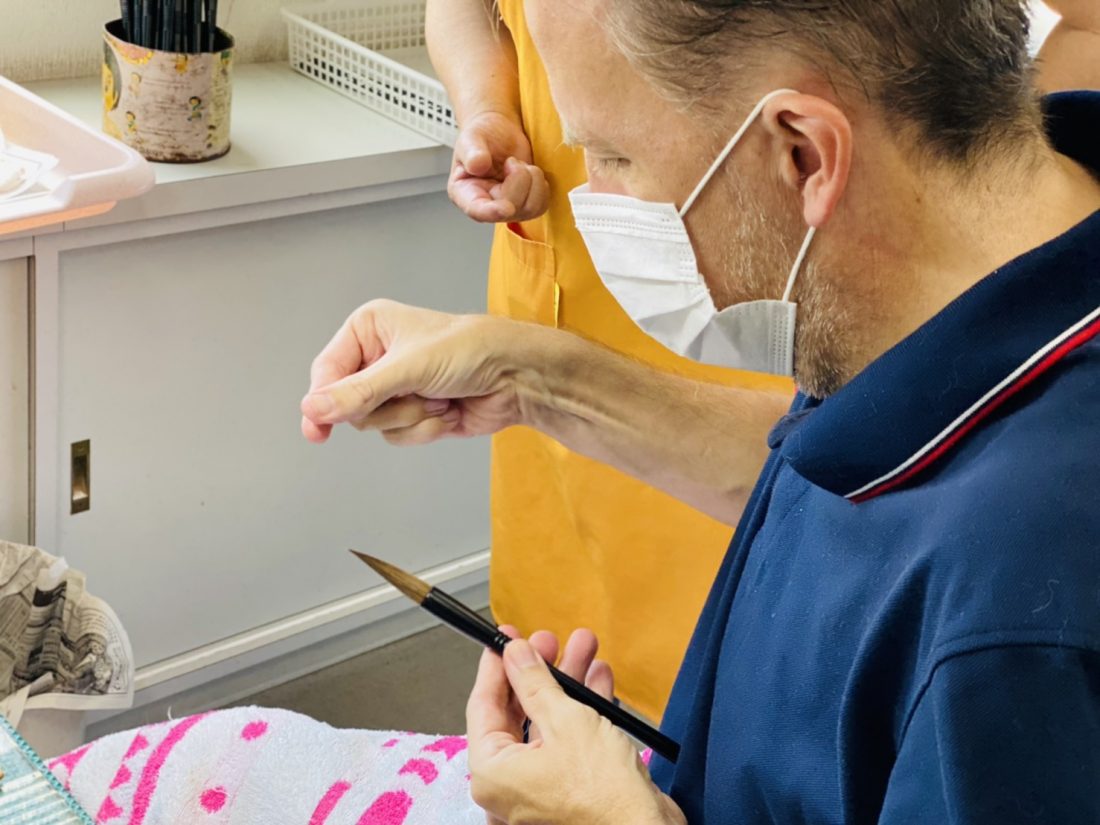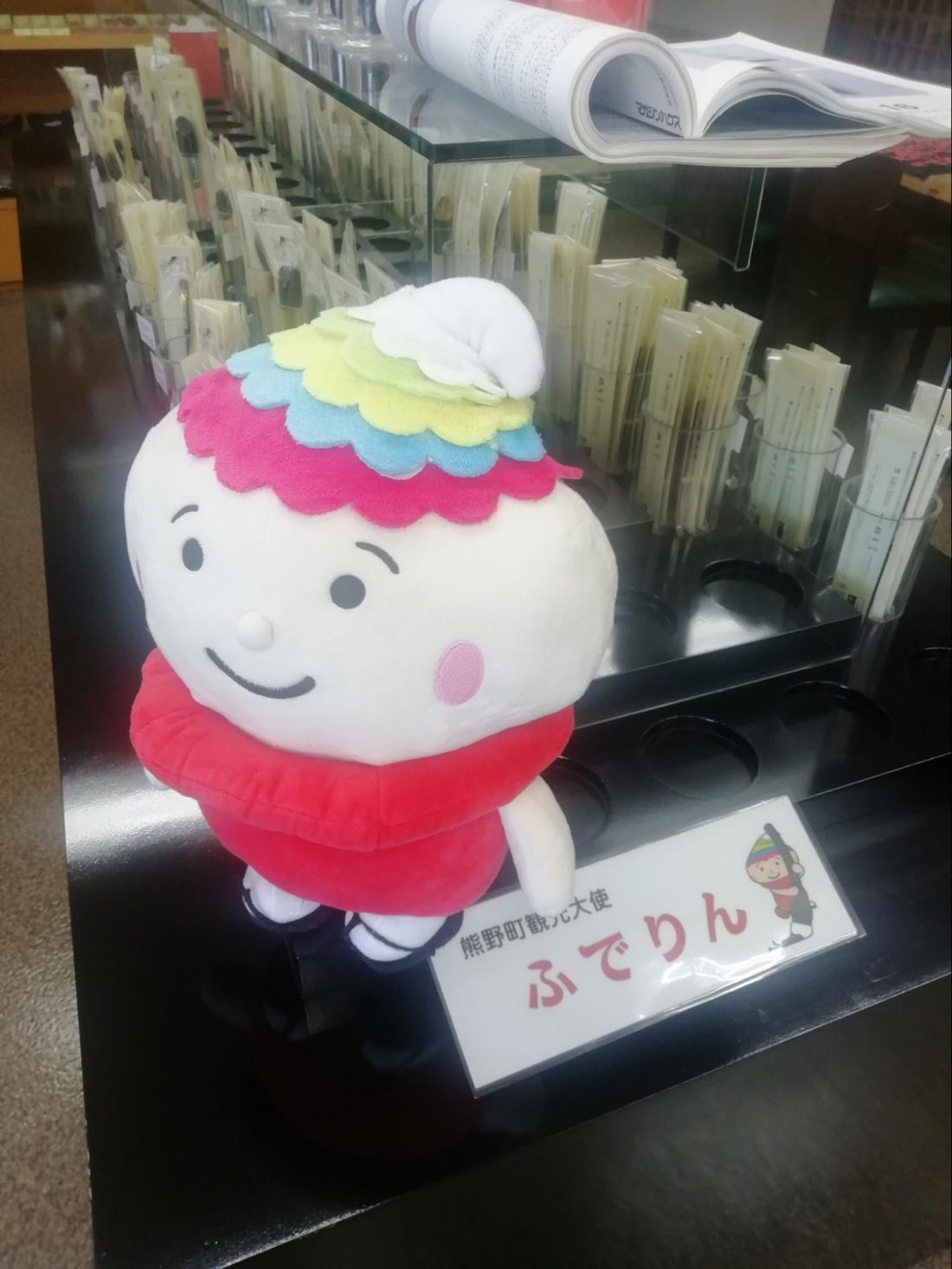 ARRIVAL AT HOUKODOU BRUSH COMPANY

  There are several places offering similar experiences in the area. All are slightly out of town, so you'll need to be able to navigate trains and busses with minimal English support. Personally, I was on my way to Houkodou Brush Company (and it'd be a great choice for you, too). Houkodou recently celebrated its 120th anniversary of business. It's one of the mainstays of Hiroshima's brush industry. I was excited to be going to such a venerated shop with a proud history. It's only a two stop train ride from Hiroshima station, and then a very short bus ride. The bus stop is also very close to being right in front of the brush company. So you'll have no trouble getting there. Also, the staff was beyond courteous, especially the wonderful Ms. Ihara, making me feel like a VIP, so if reservations are made expect great assistance in helping you find the place.
            I'll admit to a lot of naivety about the process before going. The primary example was that I expected a large factory style building with machines churning out brushes. Instead I arrived at a modest three story building, of which the first floor was a shop and the second floor the workspace. The third floor is a gallery space and rest area. Instead of the dozen or so workers I expected, there were four lovely ladies seated and working on brushes, while a fifth, the "master", was off that day. So, pre-assumptions chucked out the window, it was time to learn about brushes.
            First, an impression of walking into the shop space on the first floor. I'm not a calligrapher, so I was rather blown away by the number of brushes on display, and primarily by the fact that there were so many different sizes and styles presented. Going back to me being naïve, when I think of calligraphers at work, or see pictures of artists working on a canvas, I always just kind of assume the brush they are holding is the one and only brush they used to create their entire work. That notion was allayed quickly in this shop, and I can begin to see that artists are probably hoping for exactly the right size brush for the strokes they are making and the detail they are looking for. I was to learn here at Houkodou that it's the texture of the brush that matters as well. In other words, the type of hair used to make the brush makes a difference in the outcome of the stroke as well. So this great variety of brushes on display is exactly what true artists are looking for. Just one of many things I was about to learn.
            Did I say "hair"? Yes. Yes, I did. The next thing I learned was that I was also wrong in assuming these brushes were made with some kind of synthetic fiber. Every brush produced by Houkodou (and I imagine all the brush companies in Hiroshima) uses animal hair. No, I cannot be more specific. Apparently just about any kind of animal hair can be used, each with their own characteristics, and producing different styles of brushes. So, name a common animal. There is likely a brush made with its hair. In fact, that was one of my favorite moments of my tour and experience, seeing the row of animal hairs on display, and seeing the wild variety of textures that are indeed presented by these differing hairs. On the shelf I observed: dog, cat, horse, mouse, rabbit, and deer; a bit more surprisingly, squirrel, badger, weasel, pig, wild boar and raccoon dog; and exotically, swan and ox ears! It was fascinating to see the differences. By the way, the staff wishes me to assure any readers, "No animal is harmed in any way during the retrieval of hair, and certainly never killed." Be at ease, animal lovers.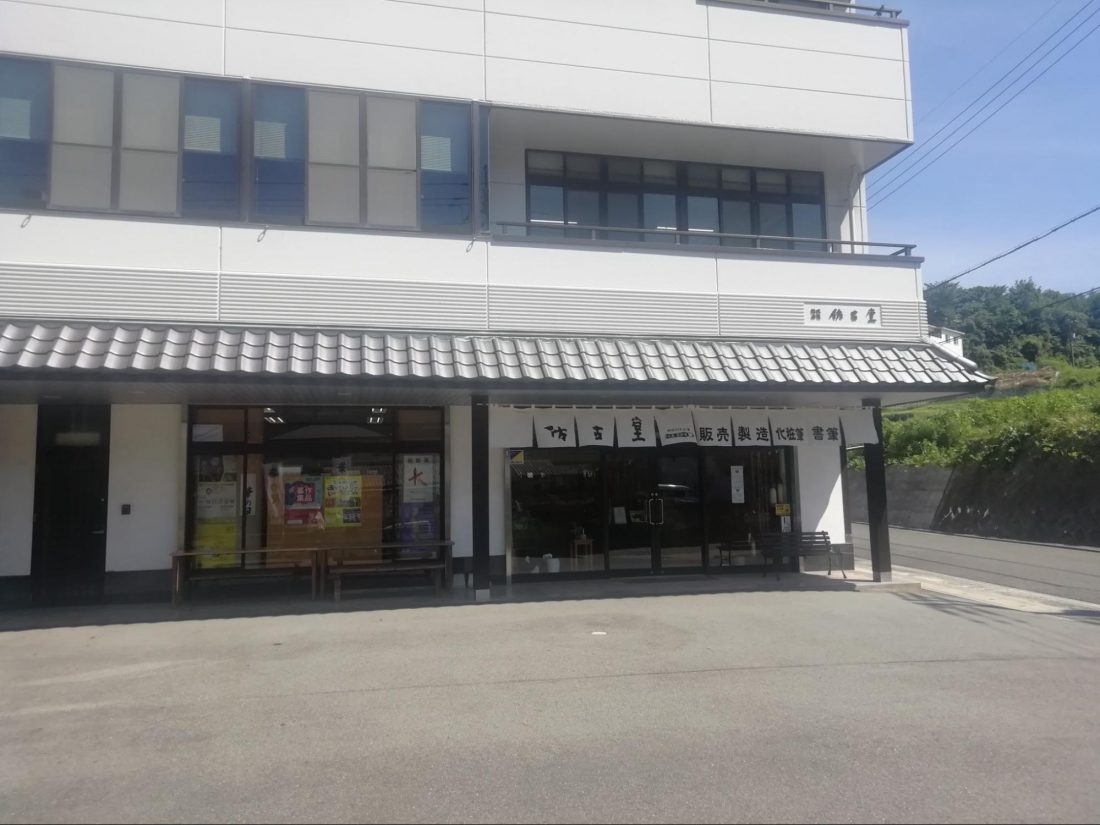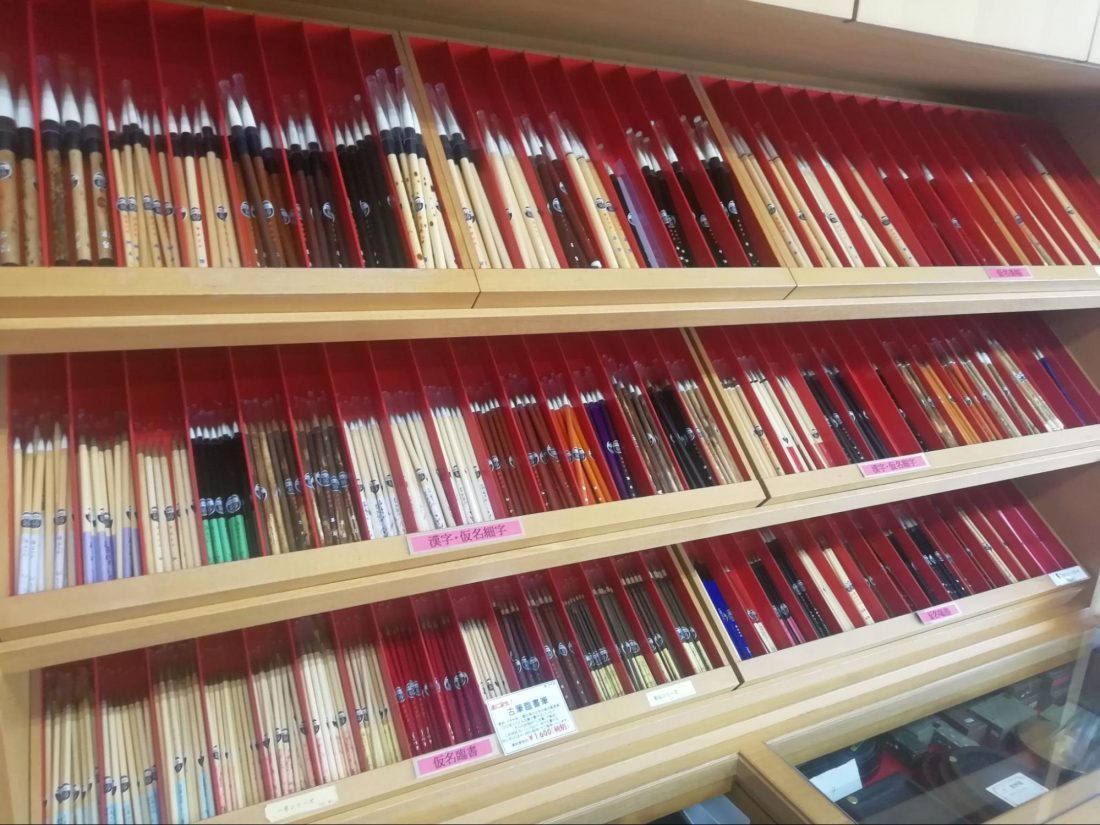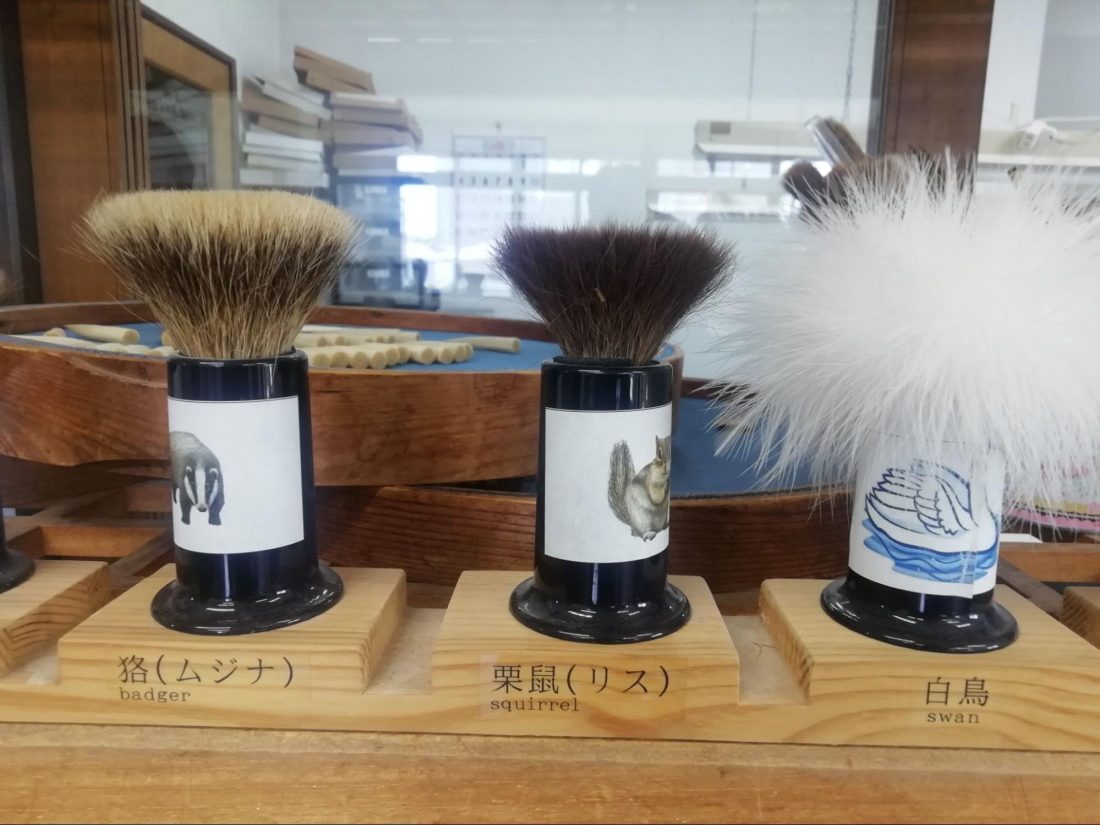 THE PROCESS
   So beginning the actual experience, I was walked through the process step-by-step. Beginning with station one, the winnowing, sorting and confirmation of the hair. From a massive collection of one particular animal hair, it is one worker's job to assure that all the hairs are a uniform length, have a relatively uniform feel (occasionally there are hairs coarser or softer than the others), and are not clumped or fused in any way. It's a careful feeling out and combing process that must be done with a high regard for quality. As I was to learn, none of the steps can be done half-heartedly or haphazardly. Quality is the top priority, and every step is therefore painstakingly done with that in mind. This is not the job for a casual part-timer at all.
            In fact, as an aside, I was told that no new staff are ever hired to a full-time position. Only part-time. Essentially as an apprenticeship, that part-time status continues for up to two years. As one cannot support a family on a part-time income, this limits the hiring pool. And while it is, in fact, interesting and challenging, though not strenuous part-time work, the long part-time status plus stress of always doing the highest quality work means that most workers do not last long enough to become full-time. This is an example of the exacting standard of quality sought for in each brush. One is expected to be relatively quick about each process in the step, but to be able to do so while meeting the precise quality standards.
Back to the process. Once the hairs have been approved another worker combs them out again, while sorting them into the precise amounts needed per brush. After that, a third worker needs to wrap the hairs around a cone-like cork center of the brush. This involves dipping the hairs in water lightly, then slowly and carefully wrapping them around the cork achieving a relatively uniform shape and length to each brush. This is another technique that looks challenging and precise, leaving no room for the occasional poorly done job. How amazing the concentration of these ladies is!
            Finally, the cork and hairs are inserted into the brush handle and then the final process is setting the glue that allows the hair and cork to be permanently fused with the handle. This is a several step process. First, the handle is held thusly (as with so many things Japanese there is a correct way even to hold the brush during all of these steps. One doesn't do things as they like, or "whatever works." One does things as tradition dictates) and forcefully yet gently (technique!) pounded multiple times into a special jar of a liquid glue. This is to push the glue far up into the handle to hold the hairs in place all the way at their tips. I was informed that one can tell when enough glue has settled into the brush handle by a change in sound of the splash made as you pound your handle in the glue. I think I kind of sort of heard it, but that seems like a master level skill to me.
            After the glue is set in, it is time to hold the brush just so, and use a comb to cull out any of the hairs that didn't take. This is done using a combination of a comb and finger, sandwiching the brush as you gently turn your handle to work all around and be sure all of the excess hair is gone, and to begin working the shape of your brush tip. When it seems ready, the final step was quite a surprise to me. It is simply a piece of string hanging down from a bar. Nothing more technological or sophisticated or modern than that. A string. The trick here is to dab some glue near the tip with your fingers, then wrap the string around the brush tip with your right hand. When ready you slowly pull down with your left, keeping the string taut with your right. The result is the removal of all excess glue and also a perfect tip for your brush. So simple, yet elegant – and a little daunting. Explanation and demonstration finished, it was now my turn to show that I had learned something.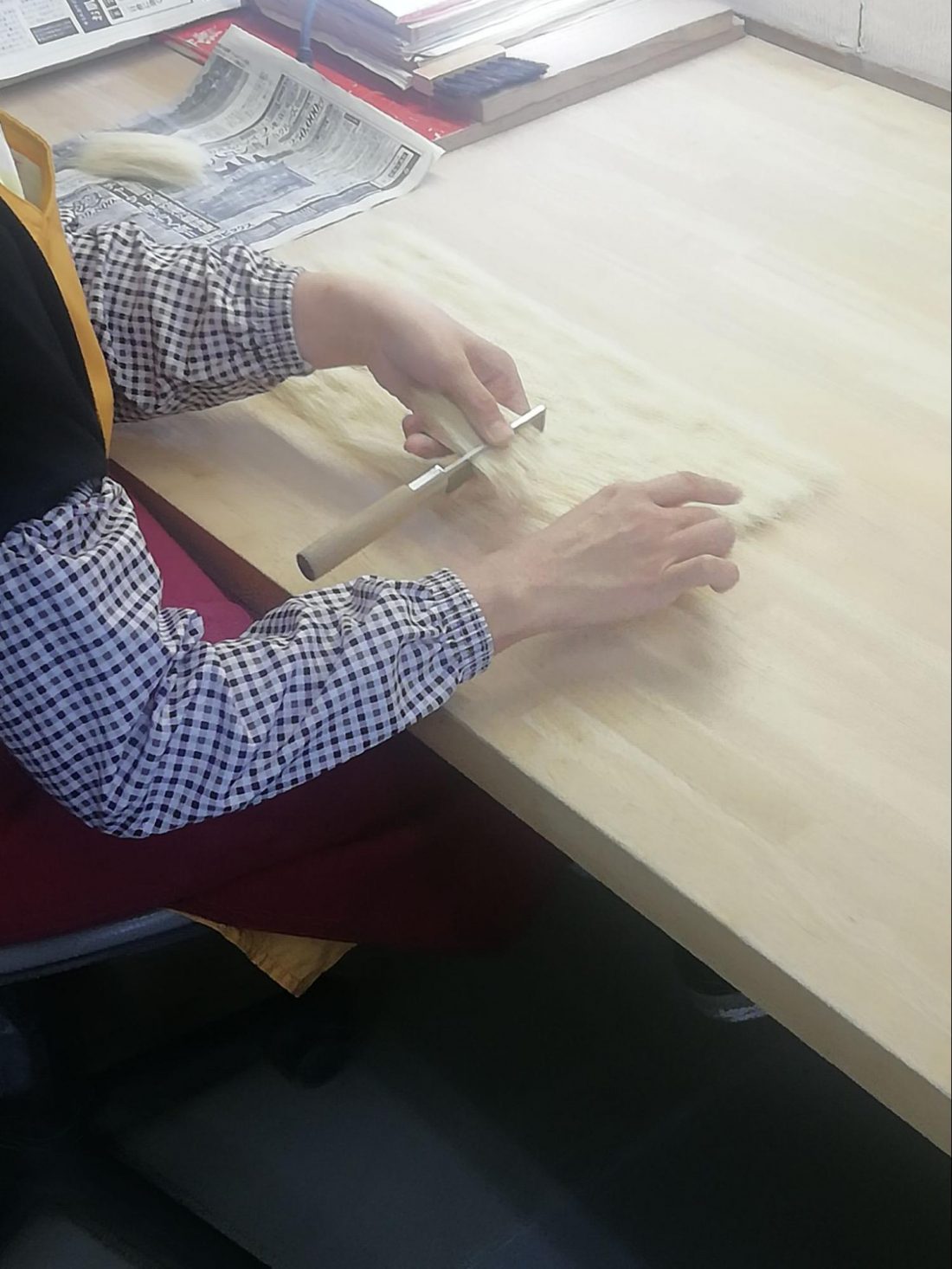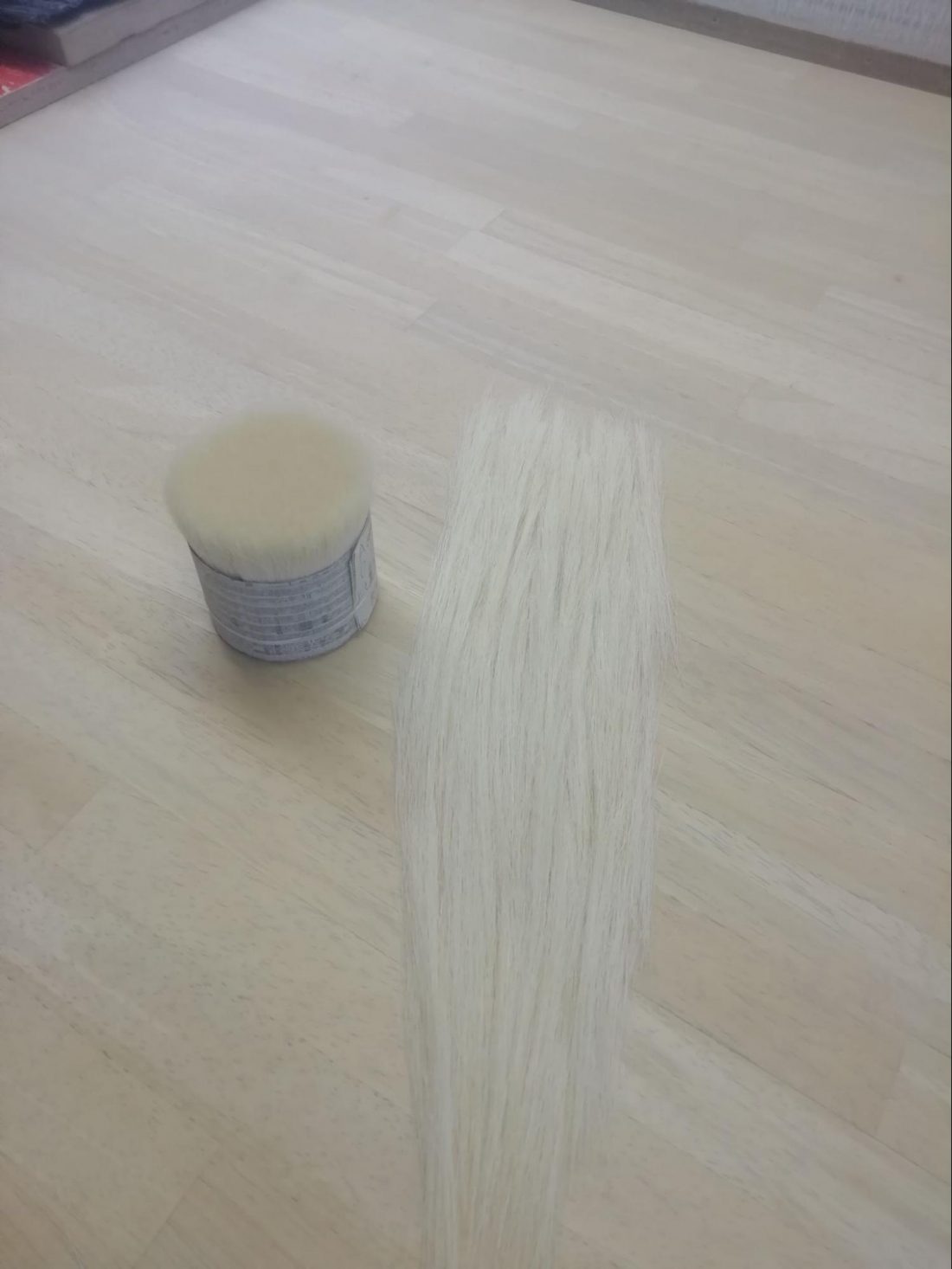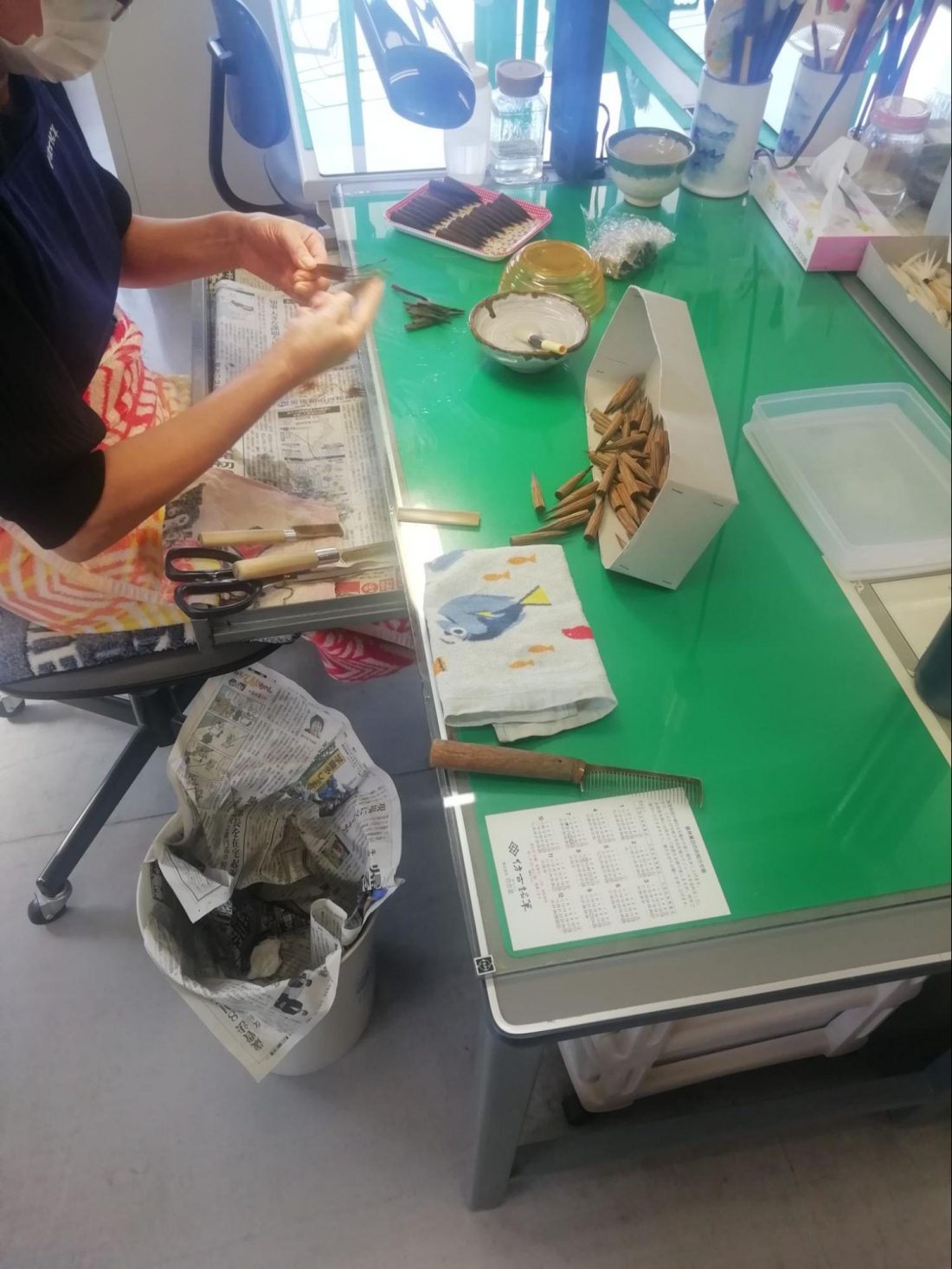 MOMENT OF JOY
  They told me I was ready. They told me my brush was ready. Then they completely and totally unexpectedly pulled out a brush with my own name on the handle, pre-prepared. I was a bit stunned at the generosity, not expecting whatever brush I did to become a permanent keepsake to display in my house. I was quite touched. (A joy not lessened to know that this is done for all those doing the experience. Others might know in advance. I hadn't. So I loved it.)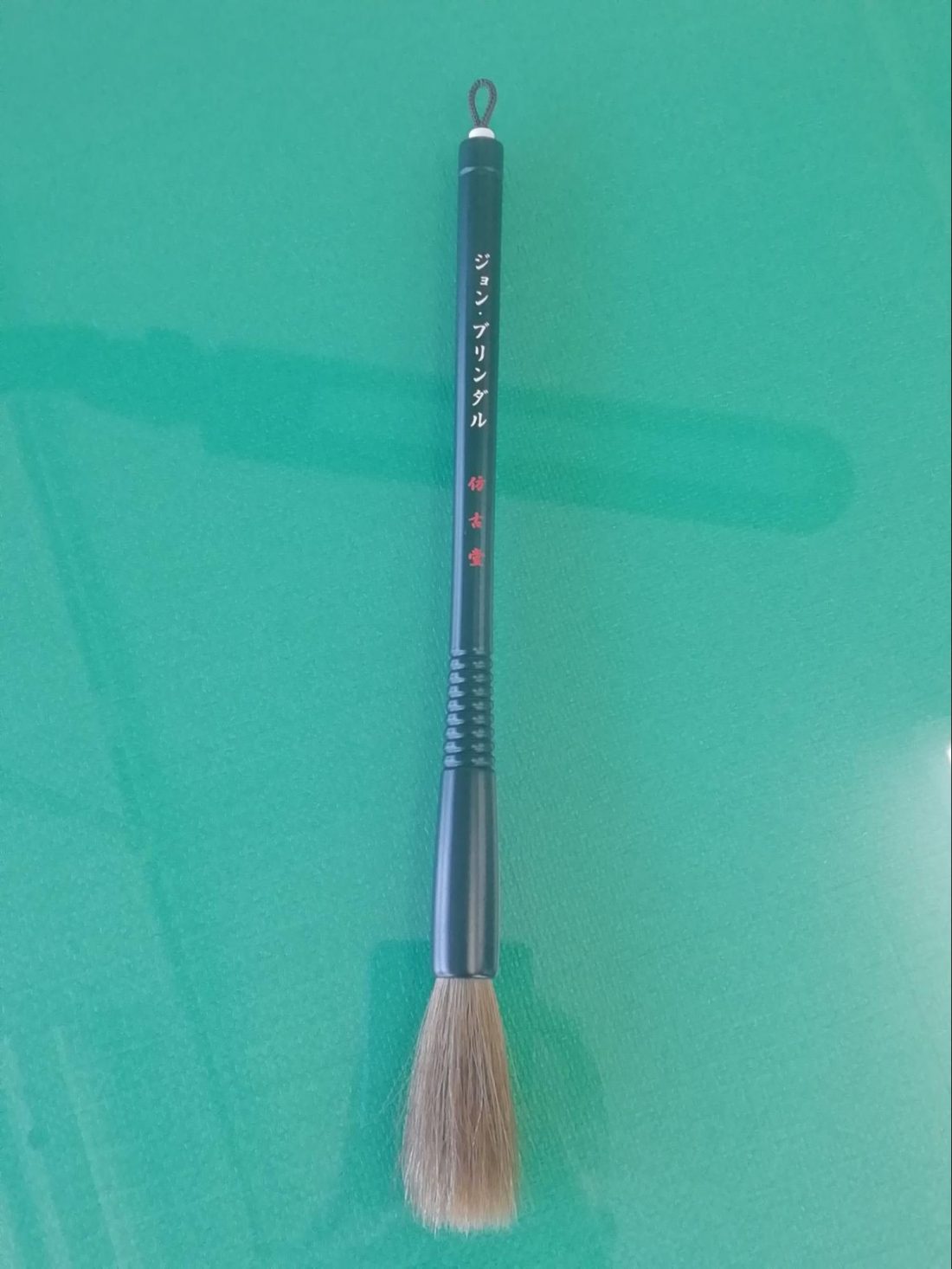 MY TURN
   A special shout out to Takeda-sensei (teacher) now. This wonderful lady has been working at the shop for over 30 years. I questioned her on output, since everything is hand-done and there are no machines. She said it depends a bit on the brush size and the type of animal hair and other factors, but roughly speaking she does up to 500 brushes in a day. I was in awe when I started doing some math. My calculator assures me when my brain fails to believe, but that would be 2,500 a week, or 10,000 a month. Allowing some time off for holidays and such, that's still 100,000 a year. For more than 30 years. At an estimate, there are three million brushes out there in the world that were crafted by Takeda-sensei. Respect! Intimidation!
            That level of a master craftsman observing me was a little nerve-wracking, but she was as gentle and encouraging as I could hope, and full of praise, warranted or not, and without criticism. It was actually quite delightful to prepare my brush under her guidance. I pounded my brush, having my grip adjusted to the right way, made the correct squishing sound in the glue it seems. Then I combed it out, being told my technique with comb and finger was good, and that I followed instructions well. My brush began to take shape and my pleasure grew. Then it was time for the string. Surprisingly more difficult than I expected I had my string wrapped a bit too low or much around the base. By the time I had got the technique going and pulled the brush through the string just right, I ran out of string before getting completely to the tip of my brush. Oops. With a gentle laugh Takeda-sensei had me start again, showing me how to wrap the string a bit more precisely. This time I pulled it through perfectly and had my correctly finished and uniquely personal brush, complete with name on the handle. Tiny string loop on the top end of it made it perfect for becoming a wall decoration, hanging next to my desk now as I write this. A truly unique experience.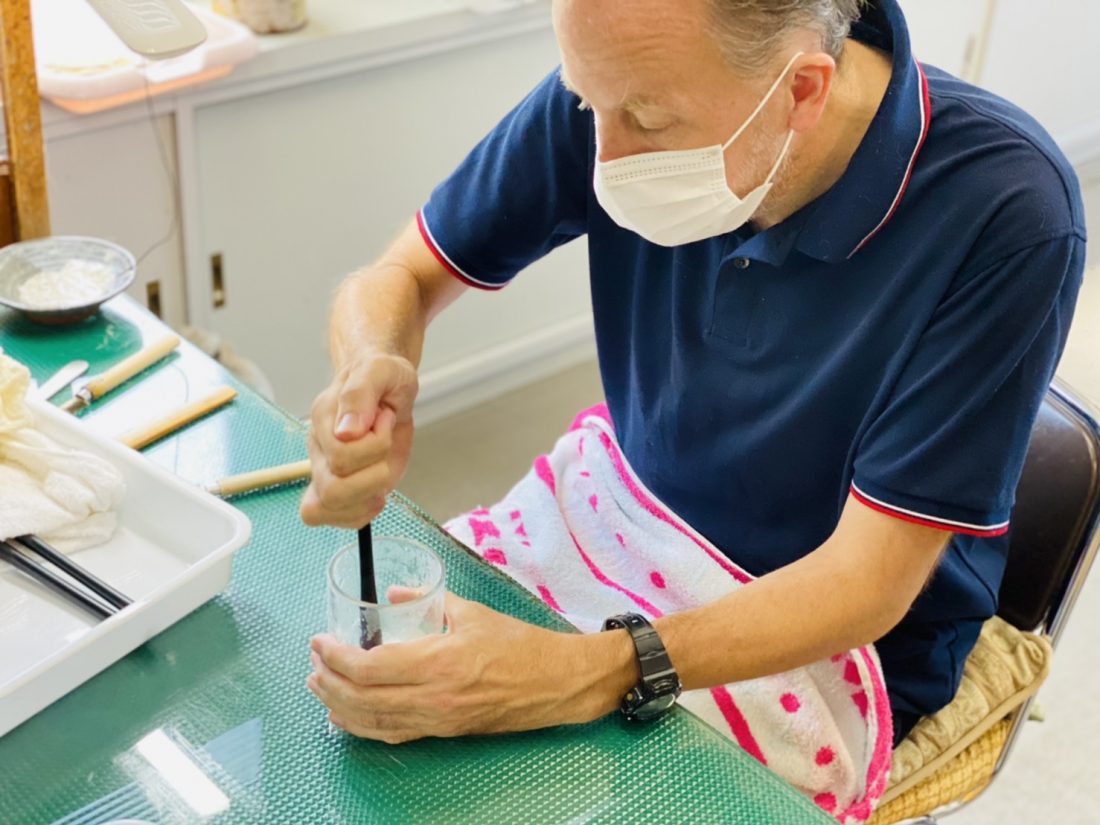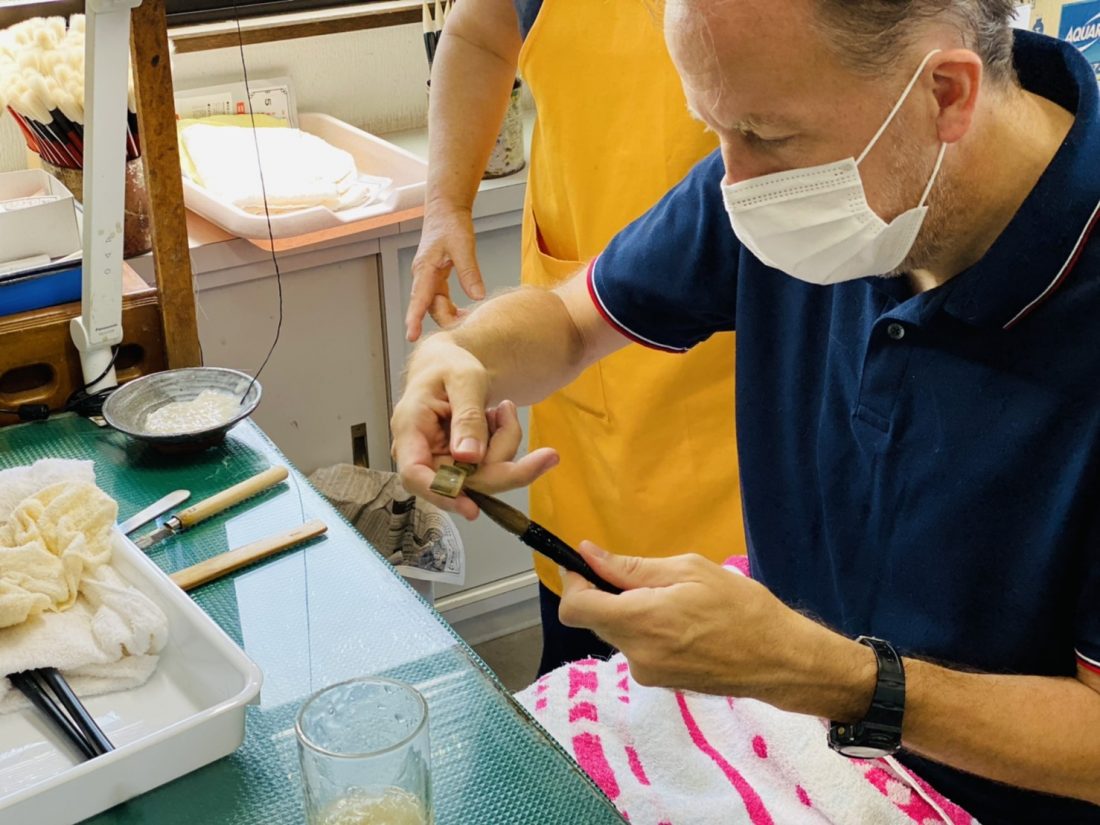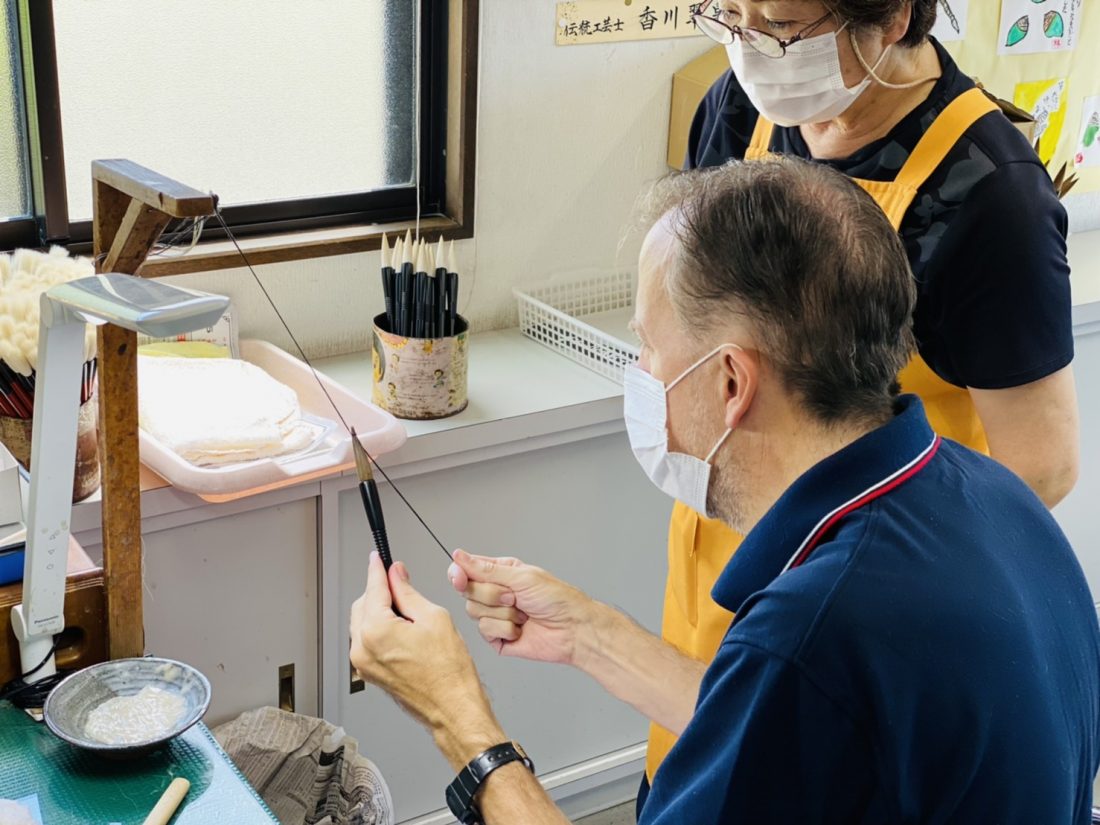 (INSERT VIDEO HERE)
THE EXPERIENCE OPTIONS
    For those interested, I participated in what is called "The Finishing Experience". As described above it involves being able to observe and learn about the entire process, and then to sit down and "finish" a brush as I did. Overall, it's about a 30-minute process. As the company staff itself says, "It might feel that the experience is over quickly, but everyone will be able to bring home a brush with their own name on it, and make special memories." If you are wondering, my own name on the handle was written using the Japanese alphabet for foreign sounds (katakana), but Houkodou is more than able to also create brushes with your name in the English alphabet if you prefer.
            Those hoping for a little more of a challenge and longer experience, there is also "The Clothing Experience". Above I described the step of wetting the hairs and wrapping them around a cork before being fit into the handle. This 45-minute long experience will allow you to challenge that step first, before moving on to the Finishing Experience as above. And, of course, you'll be taking home your very own made brush, with your name on the handle.
            For more details and contact information, Houkodou's website is https://houkodou.jp/wp_2020spring/experience .
            A low fee, a truly unique experience you'll probably not be able to get anywhere else, plus a chance to meet some remarkable ladies, and then also take home a personalized souvenir keepsake … What a great opportunity this is.