Jikoji, about a five-minute walk from JR Onomichi Station, is the first temple to be visited on the popular Onomichi Seven Buddhas Tour. The temple is said to be beneficial for prolonging one's life, and it is said that passing through the stone gate at the entrance of the temple will prolong one's life. At Jikoji Temple, you can also enjoy the experience of making nigiri-butsu. A nigiri-butsu is a small Buddha statue made by squeezing a piece of clay that can fit in one hand. Each person's palm is shaped differently, thereby affecting the shape of the statuette, and the nigiri-butsu has a warm and heartwarming appearance.
---
Admission Fee: ¥300
Nigiri-butsu experience – ¥1,500
Moment of Joy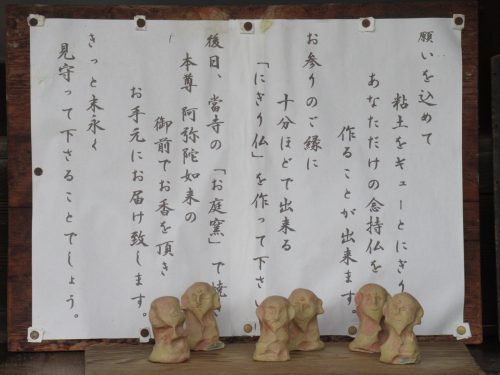 The nigiri-butsu you can make at Jikoji Temple is a nenmochi-butsu, a kind of Buddha that you make with your wishes in mind. You can make your own unique nigiri-butsu by squeezing the nigiri-butsu only once while thinking of your wish to be fulfilled during the process of making the body of the nigiri-butsu. The nigiri-butsu you make will be fired in the temple's kiln by the priest, and can be sent to your home by post (an additional shipping fee is required).
Category
Address

9-2 Nishitsuchido-cho, Onomichi, Hiroshima Prefecture, JAPAN
Tel

Tel: 0848-23-2411
Fax: 0848-23-2417
Open

Visiting hours: 9:00 - 16:30
Prayer hours: 9:00 - 17:00
Closed

Never closes
Official