100 STORIES
Peace Memorial Park: Haunting Yet Mesmerizing
While walking through the hustle and bustle of downtown Hiroshima, with its traffic, tall buildings, and shopping strips, you may think it's not much different than any other small city in Japan. However, if you keep wandering westward, towards 元安川 "motoyasu gawa", Motoyasu River, the city will suddenly open up into a beautiful park. This park is called 平和記念公園 "heiwa kinen koen", The Peace Memorial Park. 
What is Hiroshima's Peace Memorial Park?
While walking through the hustle and bustle of downtown Hiroshima, with its traffic, tall buildings, and shopping strips, you may think it's not much different than any other small city in Japan. However, if you keep wandering westward, towards 元安川 "motoyasu gawa", Motoyasu River, the city will suddenly open up into a beautiful park. This park is called 平和記念公園 "heiwa kinen koen", The Peace Memorial Park. 
Large green spaces are rare in Japanese cities, especially in busy downtown areas. This in of itself, makes the Park special. There are many trees to take refuge under during Hiroshima's infamously hot summers and those same trees change into a vivid array of red and yellow hues in the autumn. The cherry blossoms along the border of the Park are also spectacular in the spring. It is a popular place for picnics, joggers and walkers, and people who simply want to sit on a bench by the river and relax. The Peace Memorial Park is a wonderful place that locals and travelers alike enjoy all year round. 
As you may know, The Peace Memorial Park is no average park. Its purpose, to put it simply, is to commemorate those who lost their lives as a result of the atomic bombing on August 6th 1945. The Park is a beautiful space and it attracts many happy gatherings, but it was built on a memory of mass violence and loss. It is encouraged that visitors enjoy the park and build happy memories here, but we must never forget why it exists nor its message of peace. 
At exactly 8:15am on August 6th 1945, an atomic bomb was dropped from an American B-29 plane and it detonated approximately 600 meters above Hiroshima's city center. At that time, Hiroshima had a population of around 250,000 men, women, and children who were going about their daily lives, and just like that, at least 50,000 of them were dead (likely much more than that). Tens of thousands more died in the days, weeks, and months following from radiation poisoning and severe burns. In the following years, countless more died from various cancers that were a direct result of radiation exposure. For the survivors; PTSD, keloid scars, and stigmas are a constant plague on their lives. This was the event and the people that inspired The Peace Memorial Park, its museum, and its many monuments. 
Before the bomb, what is now The Peace Memorial Park was the populated 中島本町地区 "nakajima honmachi chiku", Nakajima District, with homes, shops and restaurants. Now, Nakajima doesn't exist outside photographs and the memories of those who are old enough to remember it. Right after the bomb, the ruins of Nakajima were a major gathering point for bodies because of its proximity to the hypocenter, which was anywhere from 200 to 400 meters away depending on where you were in the district. In the years immediately following the bomb, Hiroshima City started the development of The Peace Memorial Park in the former Nakajima District, with Kenzo Tange, a now famous Japanese architect. They covered the scorched and decimated ground with fresh soil, planted trees, and got to work on designing monuments. More monuments and structures would be added over the years, but the Park was "completed" in 1954. If any construction takes place in the park today, it has to be treated like an excavation site. There are still artifacts and bones left from the time of the bomb under our feet as we walk through the park, it is important to be mindful and respectful of that when we visit.
Nuclear weapons, their use on Hiroshima and Nagasaki, and World War II in general are all controversial topics. Hiroshima City and The Peace Memorial Park do not completely escape controversy in their efforts to talk about the bomb, but there is an obvious strive for clear and factual information, and respect for those who lost their lives. As you walk through the Park there are no messages of hate or blame to be found, there are only messages of peace and kindness. After the bomb, to the people who created this Park and continue to look after it, the true enemy is nuclear weapons and the loss of all humanity is at stake so long as they exist. So, the Park is clear about being anti-nuclear weapon, and in a desire to appeal to everyone, it addresses the topic through an international gaze, not just that of Hiroshima and Japan. Regardless of your personal opinions about these controversial topics, and as sad and unsettling as it is to visit The Peace Memorial Park's museum and its monuments, I strongly recommend that you do so at least once in your life. If you allow yourself to embrace what the Peace Memorial Park has to offer, it can be a very powerful and life changing experience. 
原爆ドーム "genbaku domu", The Atomic Bomb Dome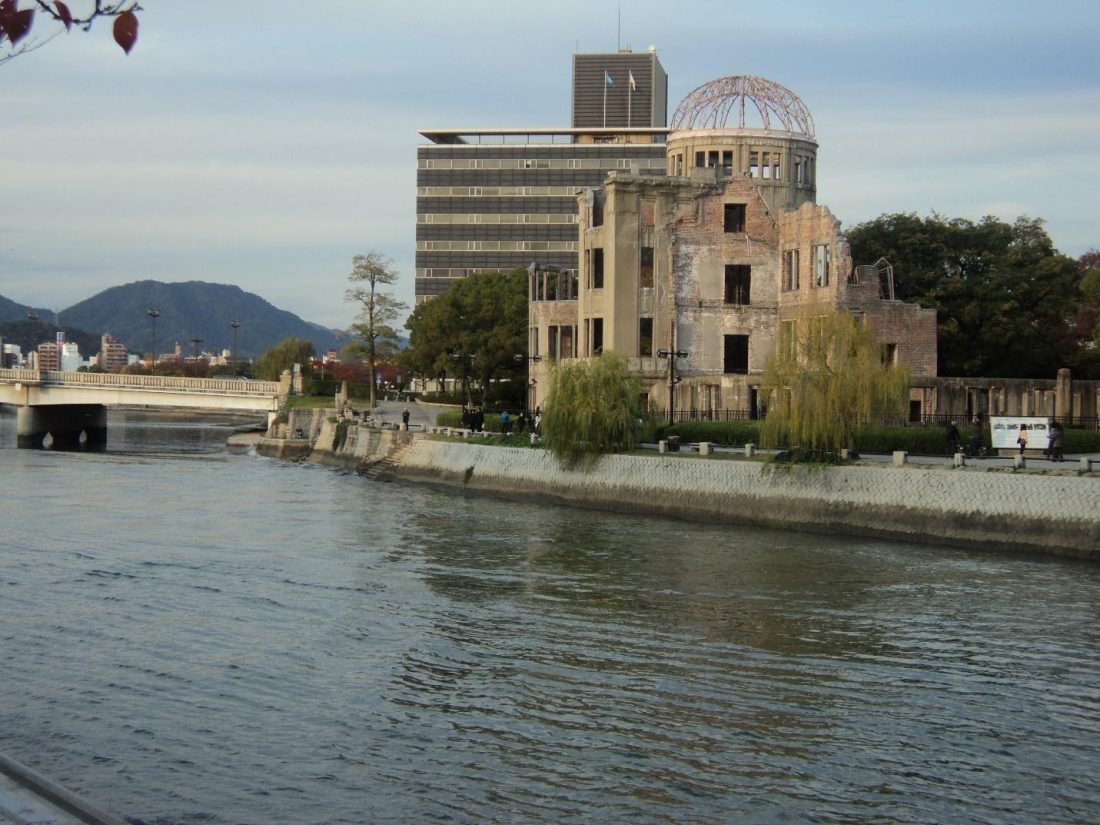 It is probably safe to say that the Atomic Bomb Dome is Hiroshima's most famous atomic bomb monument. It was designated as a UNESCO World Heritage Site in 1996, and since the bomb, there has been a huge effort by Hiroshima City and different national and international organizations to maintain the structure. 
Before World War II, this building was called the Hiroshima Prefectural Industrial Promotion Hall and it was a place to promote and display local products. It was designed by a well-known Czech architect, Jan Letzel, and so it had a western look and appeal that was rare in Hiroshima at the time. 
It was heavily damaged by the bomb and everyone who was inside at the time died, but it was one of the few structures in the city left standing. There was a huge and controversial debate over whether or not to preserve it as the city was working on both rebuilding and putting together plans for The Peace Memorial Park. Some people wanted to completely wipe away any sign that there was an atomic bomb, others wanted to keep something that would always stand as an ugly reminder of the horrific power of nuclear weapons. It is obvious which side won the debate because now, the Dome faithfully stands guard at one of the main entrances into The Peace Memorial Park. Its crumbling and scorched bricks and the twisted metal that was once stairs is certainly an ominous greeting. 
The Monuments

There are dozens of monuments scattered around The Peace Memorial Park. These monuments are dedicated to individuals, groups, and specific events. Some are more well-known than others and there are definitely a handful you shouldn't miss. 
原爆の子の像 "genbaku no ko no zou" Sasaki Sadako and the Children's Monument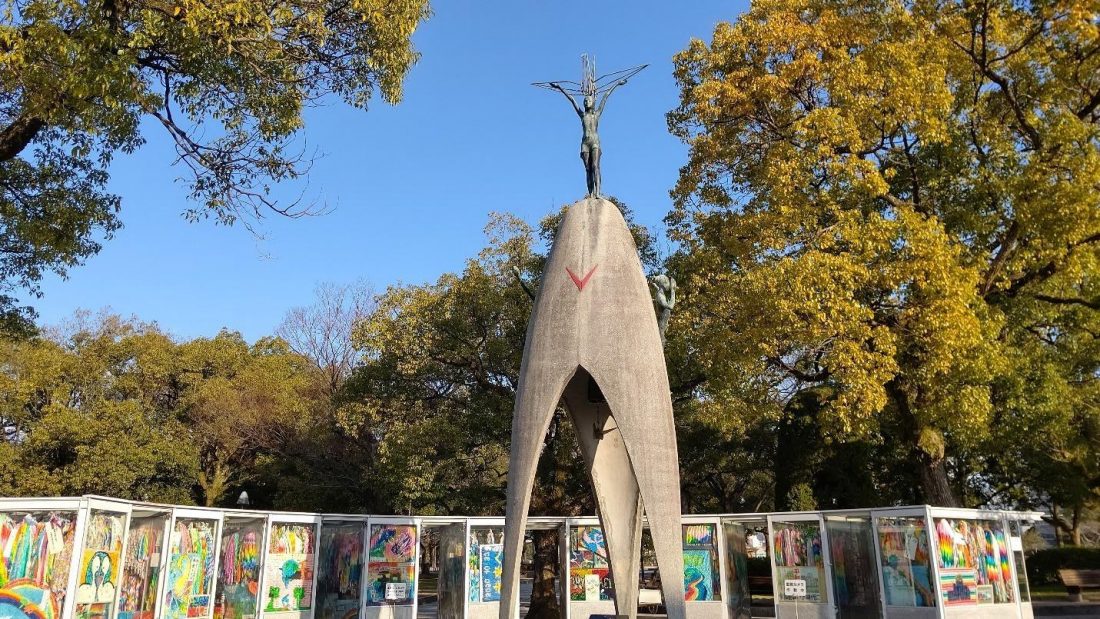 Sasaki Sadako survived the bombing but her exposure to its radiation resulted in leukemia several years later and she died at the age of 12. While she was being treated in the hospital, she folded a thousand おりづる "orizuru", paper cranes, because of an old story that says if you do so your wish will be granted. Of course, she wished to survive the cancer and, in the end, she did not. However, you could argue her wish was granted in another way. Her classmates were so upset by her death that they organized an international fundraiser to build this monument, dedicated to Sasaki Sadako and all of the children who lost their lives as a result of the atomic bomb. Sadako has also been immortalized by a Canadian author, Eleanor Coerr, who created the famous children's book, Sadako and the Thousand Paper Cranes. Today, tens thousands of paper cranes are donated from all over the country and the world to Sadako's monument every year. They are displayed in the glass cases behind the monument. After a certain amount of time, the paper cranes are recycled into paper and bookmarks in order to make way for newly donated paper cranes, it is a constant cycle. The paper crane has become a symbol of Hiroshima and of peace over the years because of Sasaki Sadako's story. 
原爆死没者慰霊碑 "genbaku shibotsusha ireihi" The Cenotaph, Memorial Monument of Hiroshima, City of Peace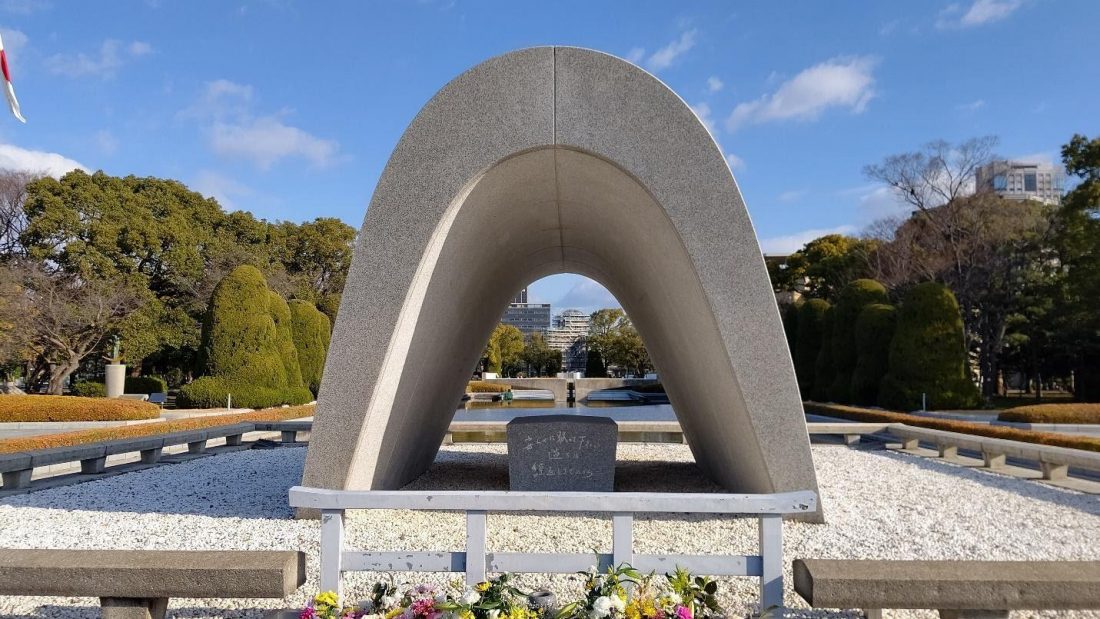 The Cenotaph is located in the heart of the Park, and the annual Peace Ceremony on August 6th, that attracts hundreds of people, is held in front of this monument. Its unique shape is modeled after a 埴輪 "haniwa", a spirit house, and it protects the spirits of the dead from the wind and rain. There is a stone chest under the Cenotaph with an inscription that says; 安らかに眠って下さい 過ちは 繰返しませぬから "yasurakani nemutekudasai ayamachiha kurikaeshimasenukara", Let the souls here rest in peace, for we shall not repeat the evil. This chest holds the register of everyone known to have died because of the atomic bomb and every known 被爆者 "hibakusha", a-bomb survivor, who has died since. This register is updated every year on August 6th. As of August 6th 2020, there were 324,129 names in the register. 
原爆供養塔 "genbaku kuyotou" The Memorial Mound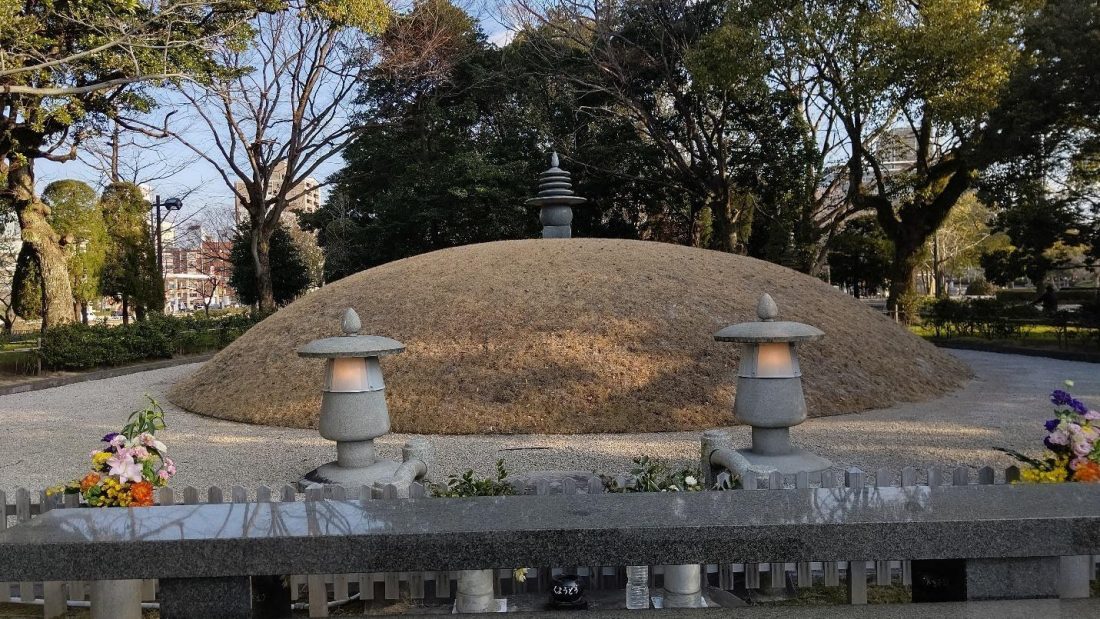 The atomic bombing and the days following the event were chaotic. There was so much death and destruction that the city was rendered unrecognizable. As a result, there were remains no one could identify and identified remains that no family came forward to claim. These remains were cremated and placed in a vault inside this mound. The vault holds the remains of 70,000 people and includes individuals from different races, nationalities, religions, and backgrounds. So, every year on August 6th, religious leaders from different faiths come and hold a ceremony in front of this mound. 

平和の鐘 "heiwa no kane" The Peace Bell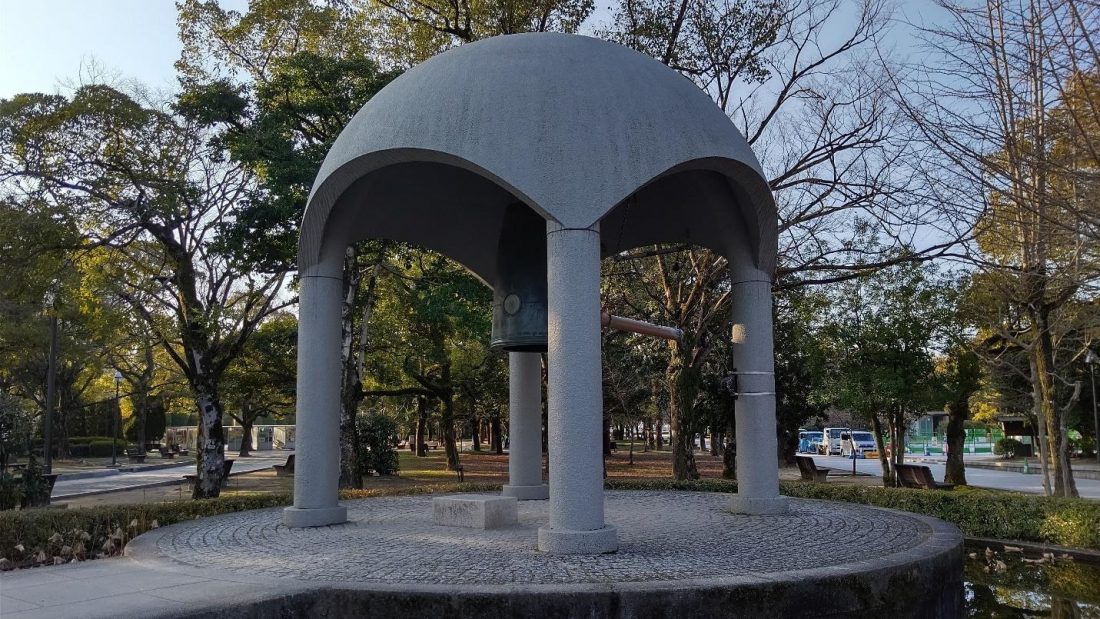 The sound this bell makes has been added to the Environment Agency's "One Hundred Sounds the Japanese People Wish to Preserve" and the bell itself is a physical symbol of Hiroshima's will to rid the world of nuclear weapons. The surface of the bell is covered with a relief of the world, but one without national boarders, and the atomic symbol. Anyone can walk up and pull back the mallet to ring the bell. When the mallet strikes the bell, it strikes the atomic symbol. So, every time someone rings the bell, they are slowly hammering away the world's atomic symbol. 

相生橋 "aioi hashi" Aioi Bridge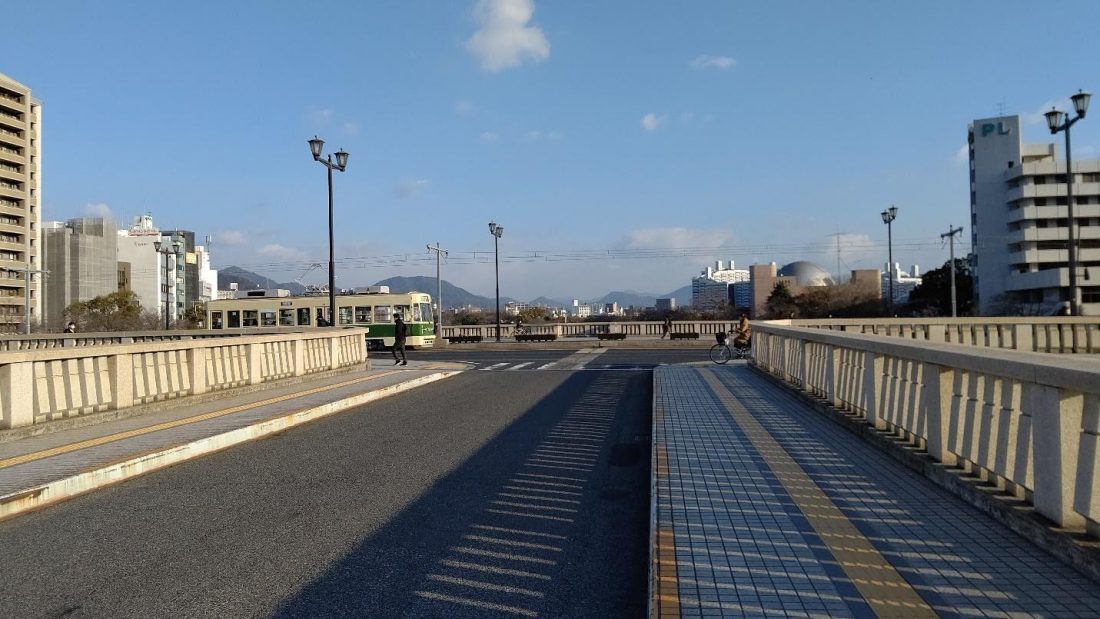 This bridge is well known because it is said the Allies used it as a target for the bomb. Indeed, from the sky the bridge has a distinctive "T" shape that's easy to spot. If the Allies did use it as a target, the pilot of the B-29 wasn't far off because the bomb's hypocenter was only 300 meters away from the bridge. The bridge was heavily damaged by the bomb but it has been rebuilt to look much the same way it did and it still has its famous "T" shape.
平和の門 "heiwa no mon" The Gates of Peace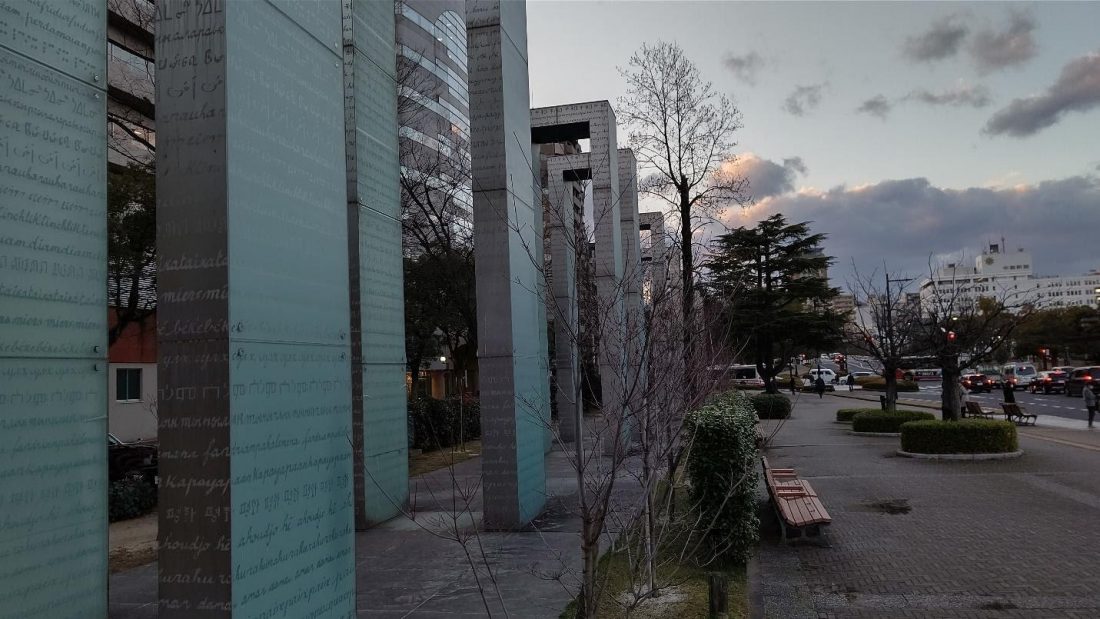 Ten, glass "gates" stand impressively on the other side of 平和通り "heiwa dori", Peace Boulevard, facing the Peace Memorial Museum. Each gate has the word "peace" written on it in 49 different languages and at night the gates light up, making them stand out brilliantly. They represent Donte Alighieri's poem Nine Circles of Hell and an added tenth "circle of hell", which is to experience the aftereffects of an atomic bomb. 
原爆資料館 "genbaku shiriyoukan" The Peace Memorial Museum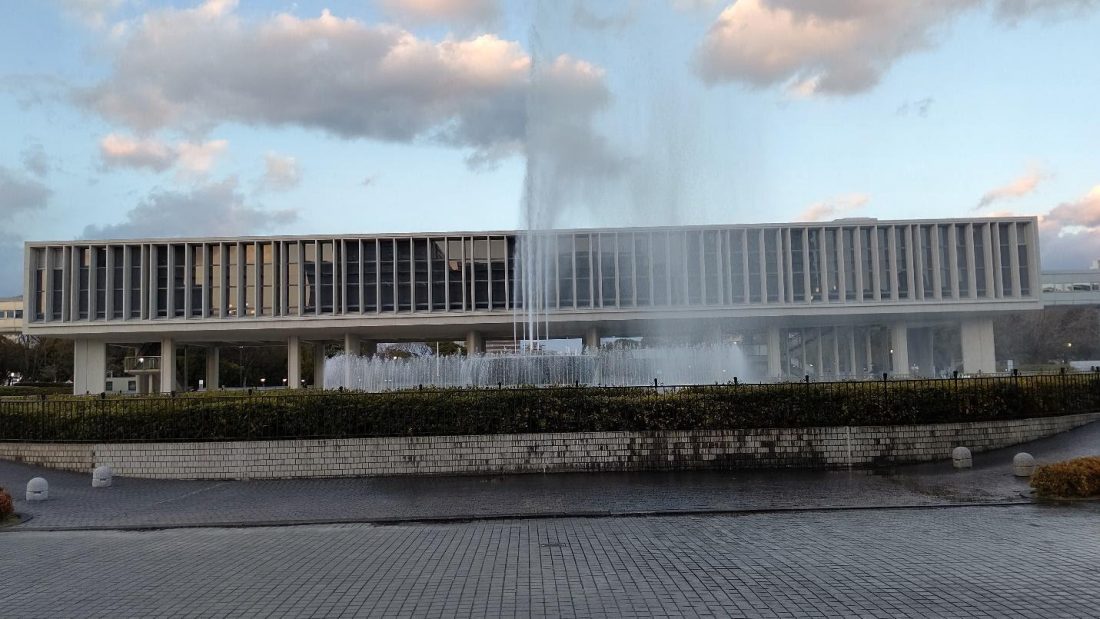 The Peace Memorial Park's monuments are powerful and informative, but the Museum has all this and more. It is a beautifully designed building by Kenzo Tange, which is a stark contrast to the dark content it displays inside.
The layout of information and exhibits was well thought out, walking through it is a haunting experience. The museum contains detailed timelines of what was happening locally, nationally, and internationally leading up to the bomb. There are factual diagrams explaining the damage the 1945 bomb created and the damage a modern nuclear weapon is capable of, regarding temperature, wind speed, and radiation levels. A huge portion of the museum is dedicated to the dead and to the survivors. Objects found after the bomb are displayed, like tricycles and lunch boxes, along with a story about who they belonged to and what happened to them. There are also videos of survivor's testimonies, explaining what they went through and how they survived. The Museum also hosts survivor's testimonies in person. If you are interested in talking to someone who survived the bomb, ask the front desk at in the Museum for the schedule. 
The museum does display some optimistic exhibits. For example, there are exhibits that focus on events and movements inspired by Hiroshima's peace and anti-nuclear weapon initiatives. The Museum's design is meant to make you feel shocked and angered about the past but also hopeful about the future. 
The Peace Memorial Park is a public space and it is free to enter and walk around, but the Museum does have a small entrance fee, about ¥200 for an adult. The hours differ slightly depending on the season but it is usually open from 8:30 to 17:00. 
Here is a link to the website so you can check it out before you go:
Tours and Other Things to Do Around the Peace Memorial Park

There is so much to know and understand about the Peace Memorial Park, you miss so much if you walk around alone. I recommend going around with a guide at least once. There are a handful of good, English guided tours to choose from. Here are a few recommendations based on my personal experience. 
Peace Park Tour @ The Rest House by PCV
This guided tour option is run by young Japanese and foreign nationals living in Hiroshima. They are part of a bigger organization called Peace Culture Village (PCV), which is a Hiroshima based non-profit organization (NPO) that promotes peace education and anti-nuclear weapon movements. Their tours are based out of the Rest House, a historical building that was one of the few structures left standing in the city after the bombing. This tour takes you around the most famous monuments in the Park but their focus is humanizing the neighborhood that used to stand where the Park stands now, the Nakajima District. The Rest House has access to some colorized photographs of the Nakajima District and CGI recreations of what the Nakajima District looked like before the bomb. PCV's tour is informative and engaging and their tour guides are very friendly and knowledgeable. They also know a lot about Hiroshima in general so feel free to ask them anything, they'll be happy to help you.
Here is a link to their website so you can learn more and book your tour:

Sokoiko! Hiroshima Cycling Peace Tour with a Local Guide
If you have a bit of time and you're up for some exercise, the Sokoiko! Hiroshima Cycling Peace Tour with a Local Guide is fantastic! This tour goes around the main sites of The Peace Memorial Park but it also takes you across the city to see a couple significant monuments and some buildings and trees that withstood the bombing. This is a good way to see how far reaching the bomb's destruction was as you ride kilometers away from the hypocenter. You cover a lot of ground, but if you're worried about not being physically up for it, don't worry too much because the bikes are electric, meaning they do most of the work for you. This is also a good tour if you are interested in trains and streetcars. They take you to Hiroshima's historical streetcar hub, that is still in operation today. The guides are really fun and energetic, they are all from Hiroshima and some of them have parents or grandparents who survived the bomb. 
Here is a link to their website so you can learn more and book your tour:
川の遊覧船 "Kawano yuransen", River Cruise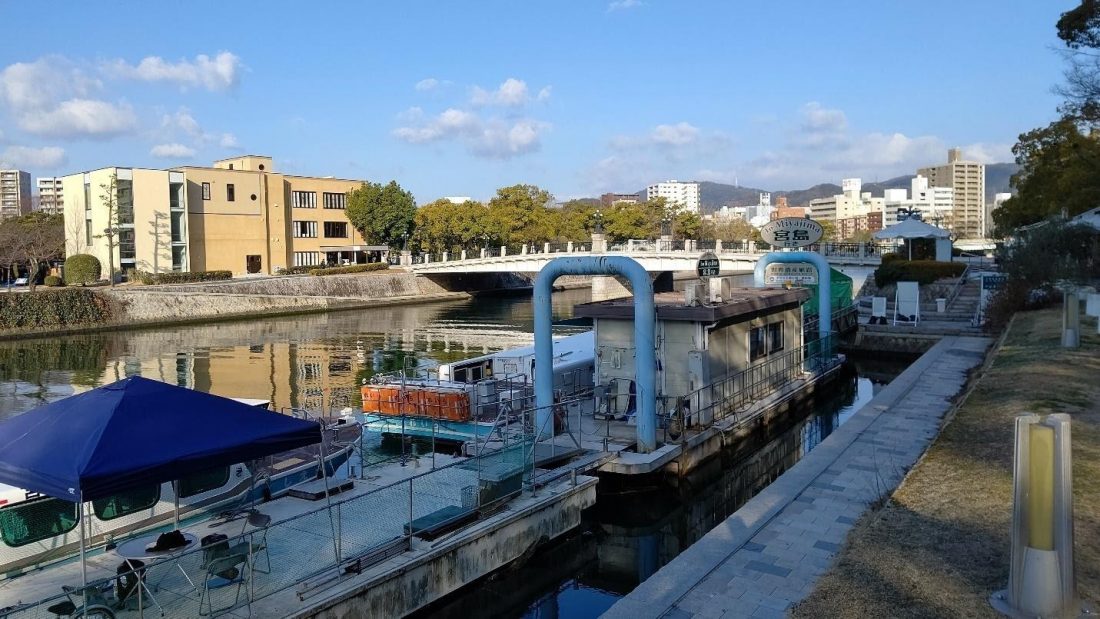 If you're looking for an ultra-relaxing tour, I recommend the River Cruise. They have a variety of options. All of the tours start at The Peace Memorial Park, along the Motoyasu River, but some tours go up the river about 15 minutes and back, and other tours go all the way to Hiroshima Station and back, which takes about an hour. Along the way, a guide will explain a little bit about the sites and history of Hiroshima. The staff are friendly and well informed, but they speak to the whole boat from the back, it can be difficult to ask questions, especially when the boat is full. It is usually possible to book a tour the day of, in person at their booth. However, during the really busy months, like August, it might be smart to book a tour online in advance. Also, as a side note, in the same location as the River Cruise, you can take a boat to Miyajima. This boat is not the cheapest option but it is the fastest and most straight forward option if you are downtown. You can pay one-way or round-trip and it does include a brief tour of the sites as you cruise along towards Miyajima island, but it is not a very in-depth tour. 
Here is a link to the River Cruise website so you can learn more and book your tour: 
Caffé Ponte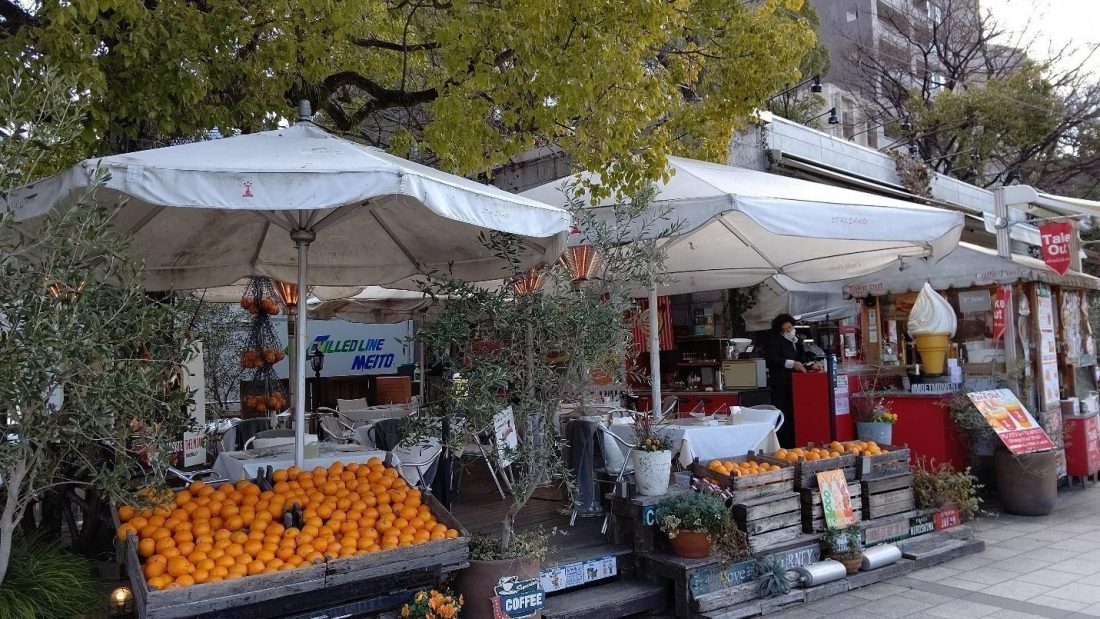 There is an overwhelming number of restaurants within walking distance of The Peace Memorial Park but very few restaurants actually boarder the Park. Caffe Ponte is one of those few. It is an Italian restaurant with both indoor and outdoor seating all year round, and it is very prettily situated along the Motoyasu River, on the eastern side of the 元安橋 "motoyasu hashi", Motoyasu bridge. I really like the food; they have a good variety of pastas and pizzas, and the serving sizes are reasonable, I'm never stuffed or still hungry when I leave. There are aspects of Caffe Ponte that would qualify as "fine dining", such as its nice, white table clothes, cloth napkins, and food that is particularly placed on fancy dishes. However, there are also aspects that give off a more casual atmosphere, such as its close proximity to the foot traffic into the park, which makes for good people watching, and the grab and go fresh juice and ice cream stand the restaurant also runs. The prices are not "cheap" but for the quality of food, service, and atmosphere, I think it's reasonable. A word of warning though, the place is always packed, especially in the summer months. Be prepared to wait for a seat and/or have a backup restaurant to go to. 
Website Link so you can check out the restaurant before you come: