100 STORIES
Main Station Staycation: Ekinishi's Nocturnal Gourmet Eatery District
The concept of a staycation has become increasingly popular in the modern day, as some families may be unable–for reasons like cost, difficulty taking paid time off from work, etc.–to travel far for a vacation. Even once tourists make it to Japan, a few days jam-packed with walking down the streets, chasing one temple after the next can get exhausting on the body and mind. As a result, some visitors to Japan–Hiroshima being no exception–will want to take a breather and stay within the vicinity of their accommodations, enjoying the hotel facilities or nearest shopping centers. Those staying close to Hiroshima Station are in luck if they're looking for things to do close by, especially if there's a Carp baseball game underway at Mazda Zoom-Zoom Stadium, but even if there isn't, the shops, eateries, and other points of interest around the station don't disappoint! In addition, as far as nightlife is concerned, the city center isn't the only part of town that has something going for it.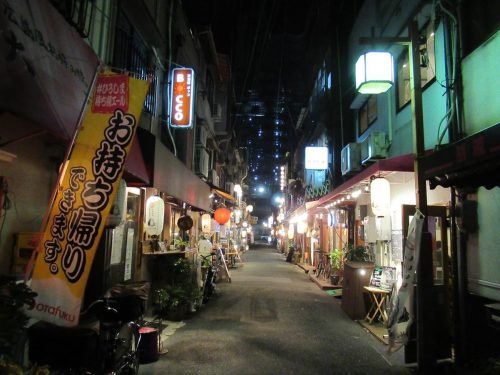 Inside Hiroshima Station there's "ekie," a commercial and culinary complex with a plethora of restaurants and stores selling Hiroshima souvenirs to bring home for friends and family. Hiking trails, Shinto shrines, and a couple of notable establishments exist north of the station building, but the most noteworthy shopping centers are clustered around the south entrance. Southeast of Hiroshima Station is Ekicity, a fusion of a bookstore and electronics store spanning three stories, with a city of restaurants dominating the first floor. However, all of the above are best enjoyed during the day and close when the night is young, so for dinner and nightlife, I recommend trying one of the izakaya west of the station. If one continues west after exiting Hiroshima Station from the south, walking past all the bus stops, the Full Focus Building–yet another restaurant complex equipped with a karaoke parlor and a pachinko parlor–will be across the street. Cross the street that passes under a highway entrance, then turn right to reach Ekinishi, a bazaar of izakaya restaurants only active at night. The instructions I provided to get there might prove a bit complicated, so you know what? I'll show you the location the Japanese way: by taking you there myself.
The restaurants in Ekinishi are typically open from 6:00 p.m. to 11:00 p.m., if not later, and are popular among office workers in the area looking for eats before going home. Ekinishi gets busiest come the weekend, so I picked a Friday night to invite some friends and check out the gourmet scene. The streets here are dimly lit and give off an ominous vibe, but looks can be deceiving. In reality, Ekinishi is a wonderland of taverns serving up cuisine of many ethnicities, leaving patrons spoiled for choice and eager to eat at every place that strikes their fancy. Thus, the ideal way to enjoy Ekinishi is to engage in "tabearuki," or eating while walking (basically bar hopping, but with food in addition to or instead of alcoholic beverages). While some establishments are standing bars to facilitate tabearuki, most eateries have seats for the authentic restaurant experience.
Baltan: Thai-style Izakaya
One of the first restaurants visitors will encounter is Baltan, an izakaya that specializes in Thai cuisine with a Japanese twist. I arrived earlier than my friends, who were still on their way to Hiroshima Station, so I entered this place first to whet my appetite and wait on them. As Baltan is one of the first places they would encounter and I sat near the entrance in plain sight, this eatery makes for a great meetup spot before beginning the izakaya crawl in earnest.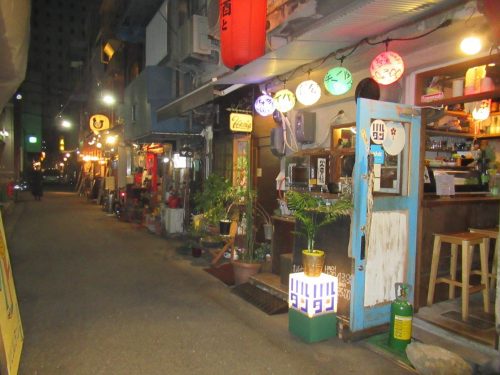 I was immediately seated, and the bartender wasted no time in taking my drink order. As I typically don't like to drink alcohol alone, for the moment, I figured I would partake in one of their non-alcoholic concoctions. There's not much on the menu with regard to virgin drinks, but if customers know what they want, the bartender could mix them something special. Tonight, I was served a grapefruit juice-infused iced jasmine tea, and neither the grapefruit juice nor the jasmine tea was written on the menu!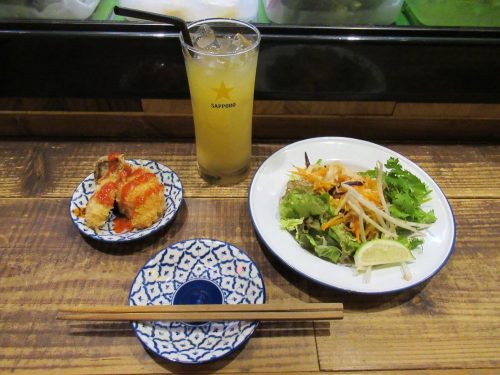 I then ordered "som tam," which is supposedly a Thai-style green papaya salad, but instead of papaya, the restaurant utilizes marinated, shredded carrot and daikon radish for a distinct Japanese zest. Along with came a side dish consisting of a deep-fried mushroom and a fried piece of meat, drizzled with hot sauce. This side dish is called an "otoshi," a not-so-free hors d'oeuvre that acts as an admission fee of sorts. The otoshi itself is announced to the customer whereas the price is not, and you'll be charged for it whether you eat it or not. In any case, guests always end up spending more than they anticipated, and the cost adds up as a group hits up additional izakaya during the night. My friends spotted me in the middle of my snack and came in to grab their share of Thai grub, and when all appetizers were down the hatch, away we went, searching for another place to eat and drink more seriously.
Moment of Joy: Vigilant Fun
As we prowled the streets looking for another tavern to pop into, one of my friends commented that there was a creepy air about this place, to which I agreed in the sense that it constantly kept us on our toes, and therefore made us pay more attention to our surroundings. We encountered many locales with bright lights, some restaurants that were dark and blatantly closed, and some that were dimly lit, making passersby question whether they were still in business.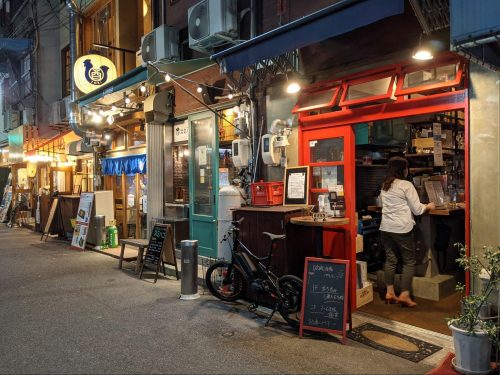 The parade of lights and sounds in these obscure alleys by the station makes simply searching for food an adventure, regardless of whether one is a local or just visiting. That goes double when going out with friends or co-workers, and this form of pre-meal merriment culminates in a superior dining experience once a suitable restaurant is found.
Wining and Dining at DENIRO
We finally settled on a place called DENIRO, which is famous for good wine that can be paired with your standard izakaya fare. The front entrance is pretty inconspicuous, so it's easy to miss, but the restaurant makes up for it with its daring interior: a seemingly endless display of wine bottles along the wall reaches all the way up to the second floor. All we could do was marvel at the sheer number of bottles as we ascended the stairs to our table, and even after sitting down and looking over the menu, one cannot help but repeatedly glance back to the wine wall, wondering just how long it took the staff to accrue so many bottles, let alone display them so neatly, undisturbed for who knows how long.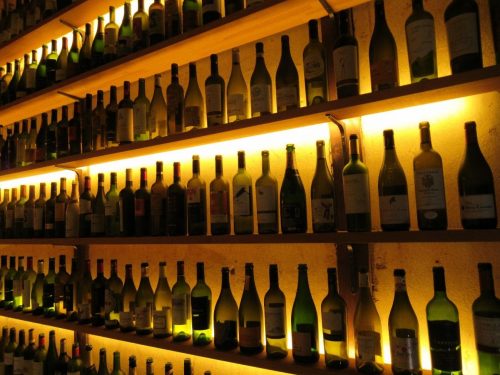 As with Baltan, DENIRO also served up an otoshi, this time in the form of a potato salad. I took a look at their daily specials, and immediately decided to order all three for us to share: deep-fried horse mackerel, cheese-topped gyoza, and karaage firefly squid. Guests can choose from a wide variety of wines (by the bottle or glass) and other beverages to go with their food, but since my friends weren't heavy drinkers (and neither am I), we just ordered single glasses of sparkling wine to accompany our meal. When sitting down to eat in an izakaya, diners have a chance to get comfortable with the seats, general atmosphere, and of course, their companions, so the hours will fly by, and after the meal, they may realize that they didn't eat as much as they thought they did due to all the chit chat that kept everyone busy. Naturally, this meant that I was still hungry after we finished eating here, but since my friends seemed to be spent for the night, we said our goodbyes and I called it a day here too.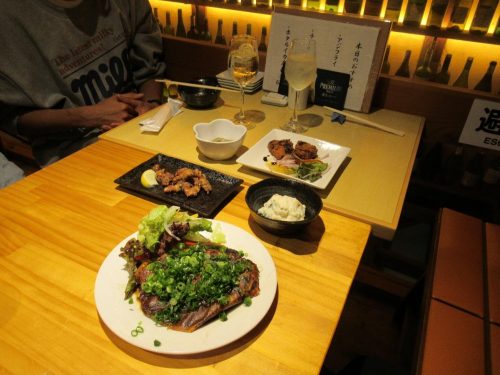 Enjoying Ekinishi Alone
Ekinishi is obviously best enjoyed as a group outing, but that isn't to say that it's boring to go as a party of one. For the purpose of comparing and contrasting experiences, I elected to revisit Ekinishi by myself–and on a more mundane weeknight–to see just how the overall feel would change. There were fewer people this Wednesday evening for sure, but as I expected, wandering these alleyways was still exciting and the food was every bit as delicious as it was the Friday before.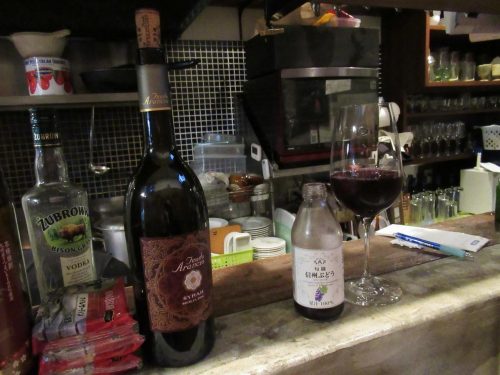 My first stop tonight was an Italian-style standing bar called "Perezoso," which dishes out authentic recipes (inevitably with a Japanese twist) and even has some products imported from Italy. I typically don't like to drink [alcohol] by myself, so I started things off with a bottle of fresh grape juice, which came not from Italy, but rather, Nagano Prefecture, which is nationally renowned for basically all fruit products. When poured into a wine glass, it's easier to drink and adds to the authenticity of the food to come.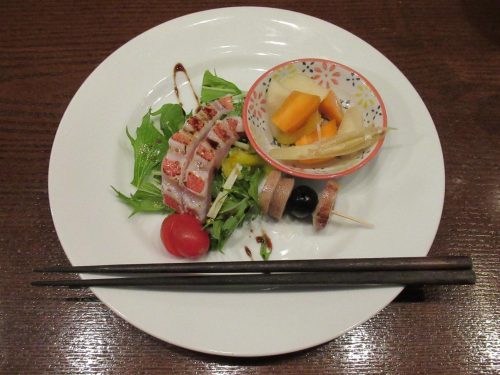 I started off with an appetizer platter, which tonight consisted of stuffed spear squid rings impaled with a black olive, lightly seared golden eye snapper on a bed of salad greens, and a dish featuring assorted pickled veggies. It wasn't much food, but I took my sweet time savoring every bite of each item whilst sipping my grape juice at a deliberate pace. I eventually cleaned my plate, however, and with plenty of grape juice to spare, so I got myself a plate of prosciutto crudo, imported from Italy.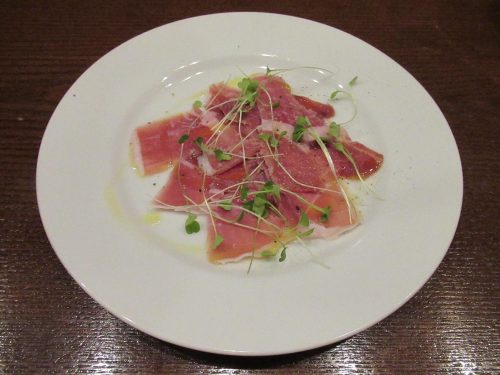 The plate came with plenty of slices so I was able to make it last. The first floor of Perezoso is a standing bar while the second floor has seating for groups, but being in the standing bar area makes it easier to casually chat up the bartender or other customers, and perhaps even make some new connections. Wednesday is a slow day, according to the bartender, but even if nobody else is in the restaurant but you, the TV right above the staircase provides enough entertainment while eating and drinking, so it's fairly easy to spend a significant chunk of one's night here alone.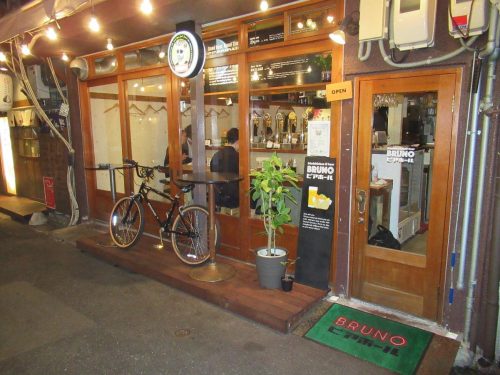 Of course, the food at Perezoso was merely buildup for a substantial meal elsewhere, and tonight, I chose BRUNO, a beerhall with a lively atmosphere and an impressive selection of craft beer. Once again, I didn't feel like drinking, so I went for a glass of their homemade ginger ale, which, unlike most ginger ales in Japan, actually had a pungent ginger taste rather than the usual diluted, sweetened flavor of big-name ginger ales. The bartender handed me my drink along with a stylish coaster, and I placed my food order soon after.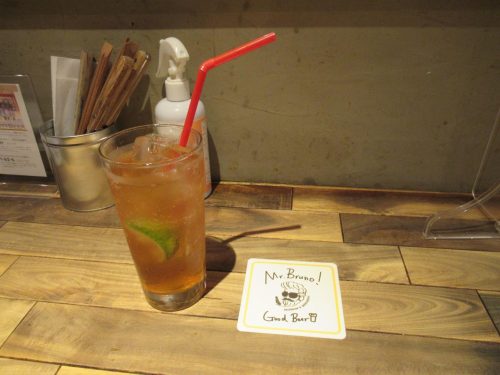 One of BRUNO's many specialties is their fried chicken; their standard order comes with three pieces of chicken breast karaage style, one wingtip, and a wing drumette. The chicken seems to be fried twice to achieve such a light crispiness to it, and drizzling on lemon juice with the wedge enhances the already rich, juicy flavor within. There were quite a few other items on BRUNO's expansive menu that I also wanted to try, but that high-calorie basket of chicken hit the spot, and I was officially done eating for the night.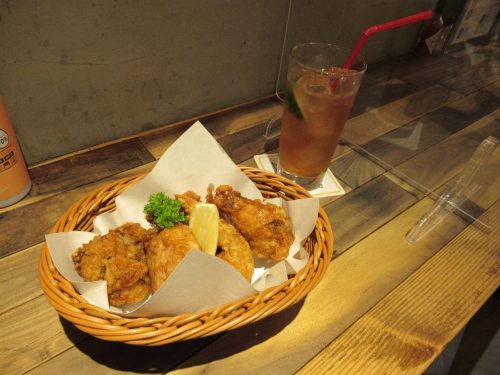 Miscellaneous Businesses
While most frequent Ekinishi for the izakaya establishments, there are a couple stores in the area that sell things besides food and drink. Of note are Lazy Lightning and bluered, two quaint boutiques that sell used clothing and other interesting trinkets. I dropped by both and was quite impressed by bluered in particular, which already had a group of people inside and in front of the store.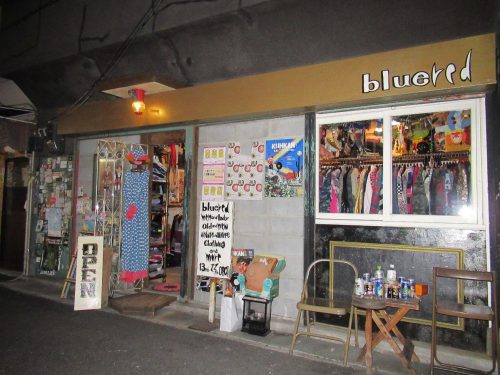 The style of the apparel inside could probably best be described as "vintage and alternative," a style that was also reflected in the store staff. They were remarkably attentive, asking me what I was looking for, inquiring about my fashion tastes, and recommending sweaters of all colors and sizes to prepare for the suddenly chilly weather that snuck up on everybody. I entrusted some of my belonging to them as I tried on various sweaters in front of the mirror; some suited me well, and others felt funny. Halfway through my sweater modeling, I looked up at what I thought was a heater, and instead found a rotating robot suspended in midair!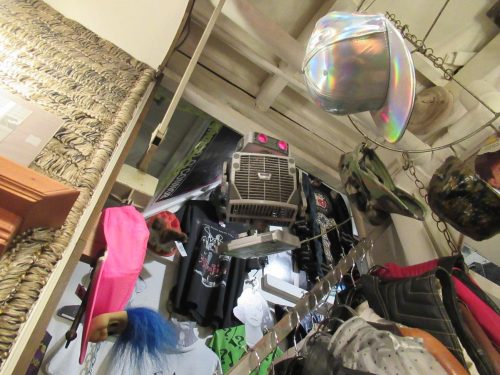 I found their choice of décor astounding at first, but that thing up there stole the show (in a good way)! Nice as some of the sweaters were, I wasn't appropriately dressed to match the sweaters that night, so I told them I'd mull it over, and that I might return when I'm wearing more appropriate pants. They handed me a stylish business card before I walked out the door, and even gave me permission to photograph the store, items and all. If I don't go back for one of those glamorous sweaters, I'll at least have the memories of my time spent inside that one-of-a-kind boutique.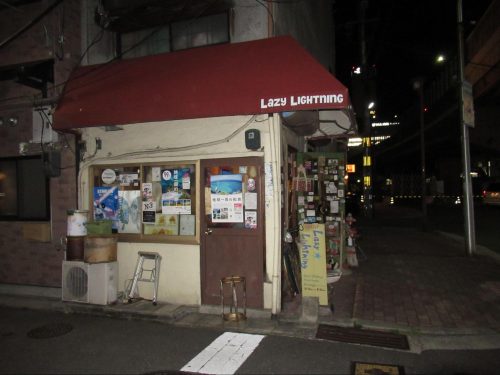 Long story short, there's enough to do here for tourists staying by Hiroshima Station to make a staycation out of Ekinishi, either over the course of one night or multiple nights. If possible, try to gather as a group for maximum fun at an izakaya, and don't forget to witness the wicked style of the used clothes stores before, during, or after your izakaya crawl. Even if not staying by the main station, visitors and locals who tire of downtown Hiroshima can find a new and refreshing form of entertainment right here, just west of the station. Hiroshima's standard tourist sites are definitely something to write home about, but on the other hand, don't underestimate the fun factor of a staycation in our peaceful city.