100 STORIES
Investigating Itsukushima: The Obvious and the Obscure
Pretty much any tourist or resident in Hiroshima Prefecture will swing by Itsukushima (nicknamed "Miyajima" due to the shrine on the island), but with just one visit or two, how well can one possibly know the place? As a seasoned resident of Hiroshima City, I visit Miyajima several times a year on average, and even after all these years, I find the wonder of all the sites on the island to be inexhaustible. Of course, there's the shrine, which everyone sees whether or not it was part of the plan, but these days, I tend to gravitate towards other interesting places besides the shrine. If you've also seen Itsukushima Shrine and have familiarized yourself with the shopping streets in town, I urge you to explore deeper on subsequent visits in order to enjoy Miyajima to its fullest in every way possible. To help with that, I've compiled an inexhaustive list of the inexhaustible fun to be had on this enchanting island, roughly divided into separate categories of interest.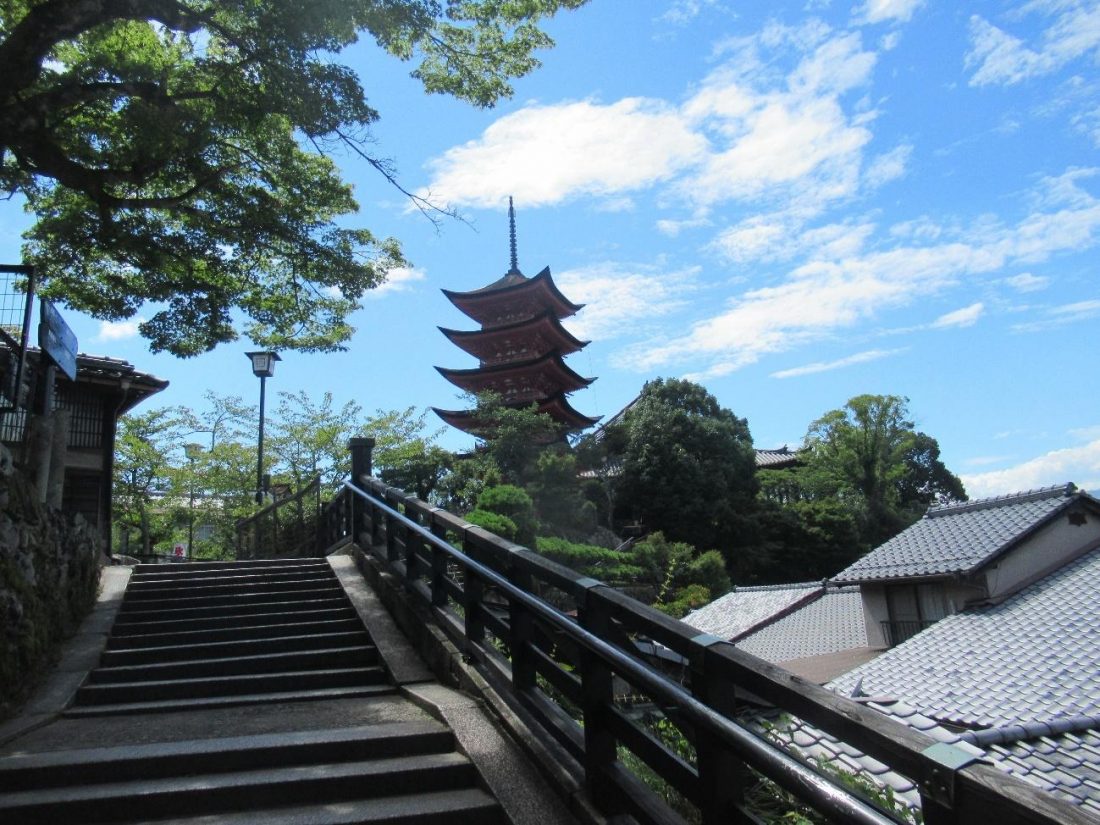 Accessing Miyajima is easy, and the method of access largely hinges on whether the visitor has a JR Pass. If so, hop on the JR Red Sanyo Line at Hiroshima Station (if starting from downtown, board a Meipuru-pu sightseeing bus to get to Hiroshima Station) and ride it to Miyajimaguchi Station, all for free. Those who don't have a JR Pass may either still opt for the JR train from Hiroshima Station for the quicker journey, or take the Hiroden streetcar all the way to Hiroden Miyajimaguchi Station for the cheaper fare. Once at Miyajimaguchi, there are two options for the ferry to the island: JR and Matsudai (run by the same company as the streetcar), both of which charge similar prices, cruise at the same speed, and depart at equal frequencies. Tourists with a JR Pass can ride the JR ferry free of charge, whereas those who don't can go with either company, though riders with a PASPY IC card get a ¥10 discount on the Matsudai ferry.
For History Buffs
The nickname Miyajima (宮島) literally means, "shrine island," due to the iconic Itsukushima Shrine and its seemingly floating torii, which permeate the memories of all who lay eyes on them. Visiting the shrine is an obvious item to check off on anyone's Miyajima to-do list, but the key to enjoying this site on a whole other level is to drop by on certain days throughout the year when events take place. You may catch a bugaku performance on the stage or be just in time for the Kangensai festival in summer, but the easiest event to see would probably be the Shosaishiki that's held on the first and seventeenth day of every month. I happened to show up on the first of August well before 9:00 a.m. when the ceremony would begin. Since the torii and the western part of the shrine was under refurbishment, greatly impacting the scenery, I would have to count on something exciting within the shrine to pique my interest today.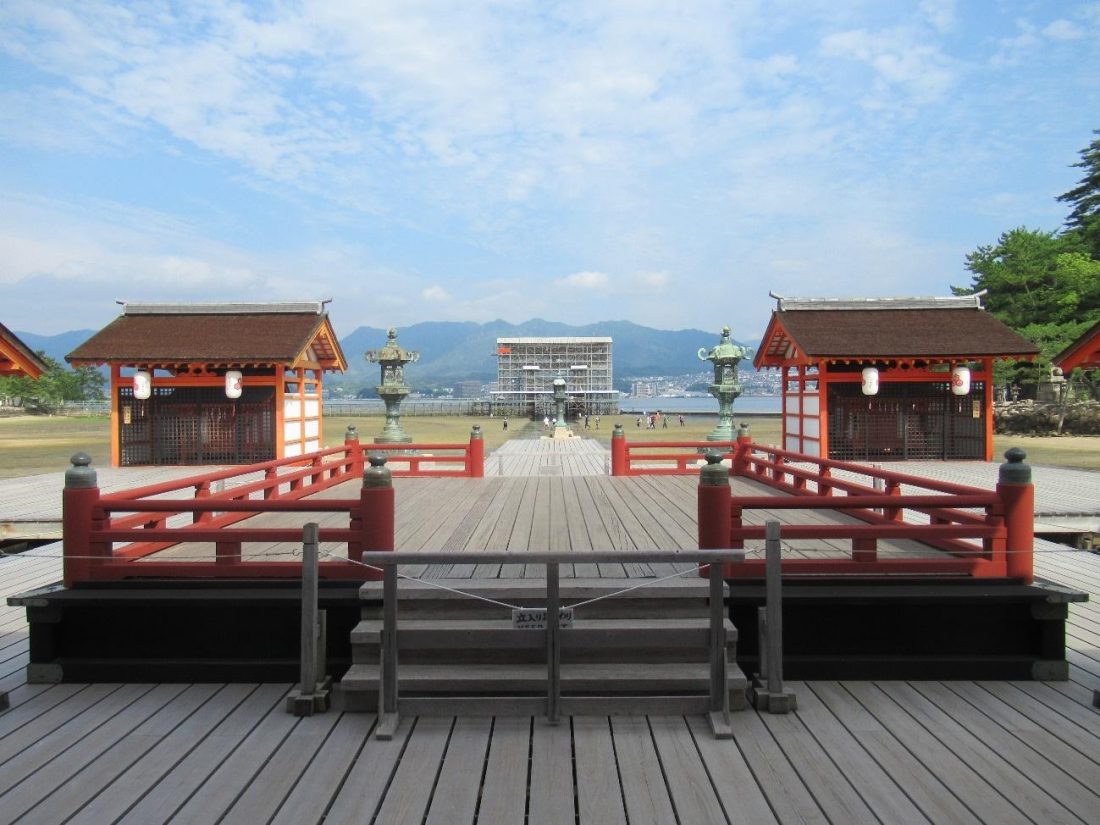 There wasn't much of a difference in layout when I entered the shrine, but there were definitely more priests walking around, signaling the presence of something special. I wasn't sure exactly when or where it would happen, so I walked through the shrine as usual, seeing the items on display I'd seen multiple times in the past and taking my obligatory photo of the torii from the platform, covered as it may be. Suddenly, I looked west toward the five-storied pagoda in the distance, and I noticed an entire row of priests congregating. I quickly followed them to the Marodo Shrine on the western end where sure enough, a ceremony was beginning, with food offerings, traditional gagaku music, prayers being recited to the gods, the whole shebang.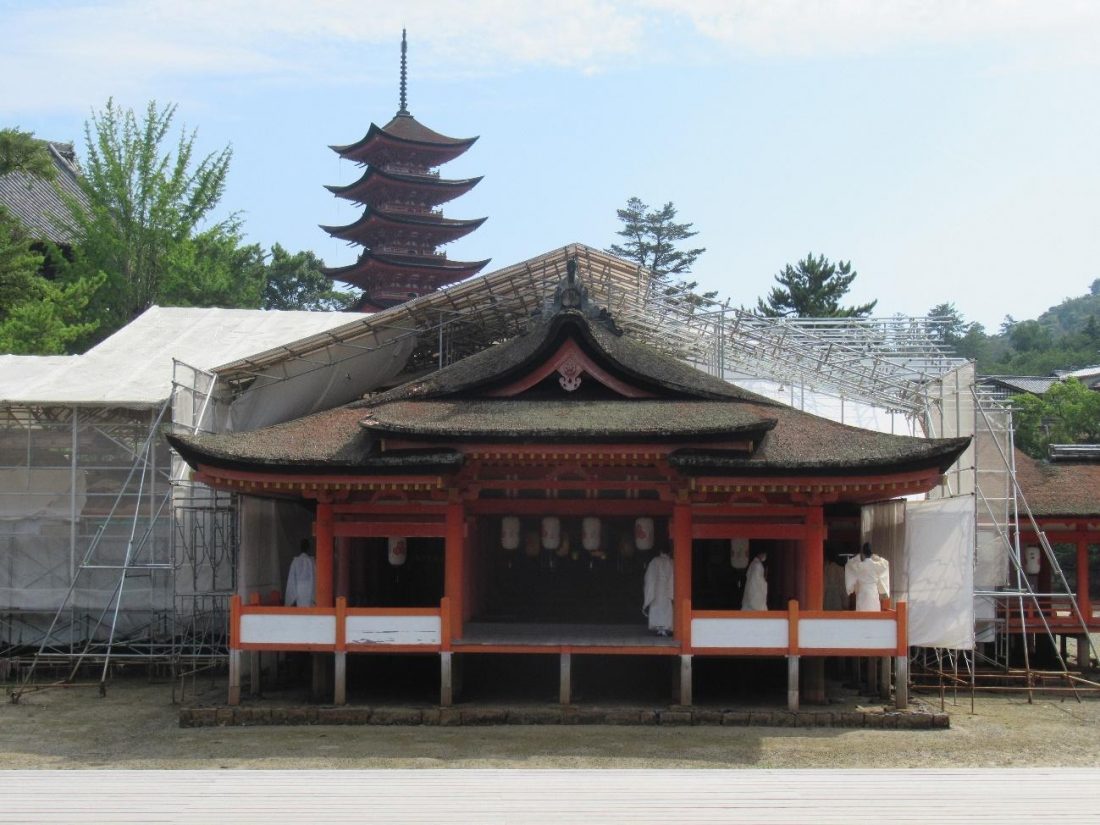 The spectacle drew the eyes of everyone who passed by, and a significant chunk of those onlookers–myself included–paused to watch the ceremony in its entirety, make a donation, and say an extra prayer in the presence of the priests. After they finished, the men in Shinto garb made their way over to the main hall of Itsukushima Shrine in the center, with all the spectators following them and some taking pictures on the way. I would've loved to stay until the end of the festivities, but as I had a packed schedule, I decided to leave the shrine, passing the counter selling lucky charms, the Daikoku Shrine dedicated to marriage, the Tenjin Shrine dedicated to the scholarly deity Sugawara no Michizane, the Noh theater (the only Noh stage in Japan built over water), and an elegant, vermillion arched bridge (unfortunately closed to the public) on my way out.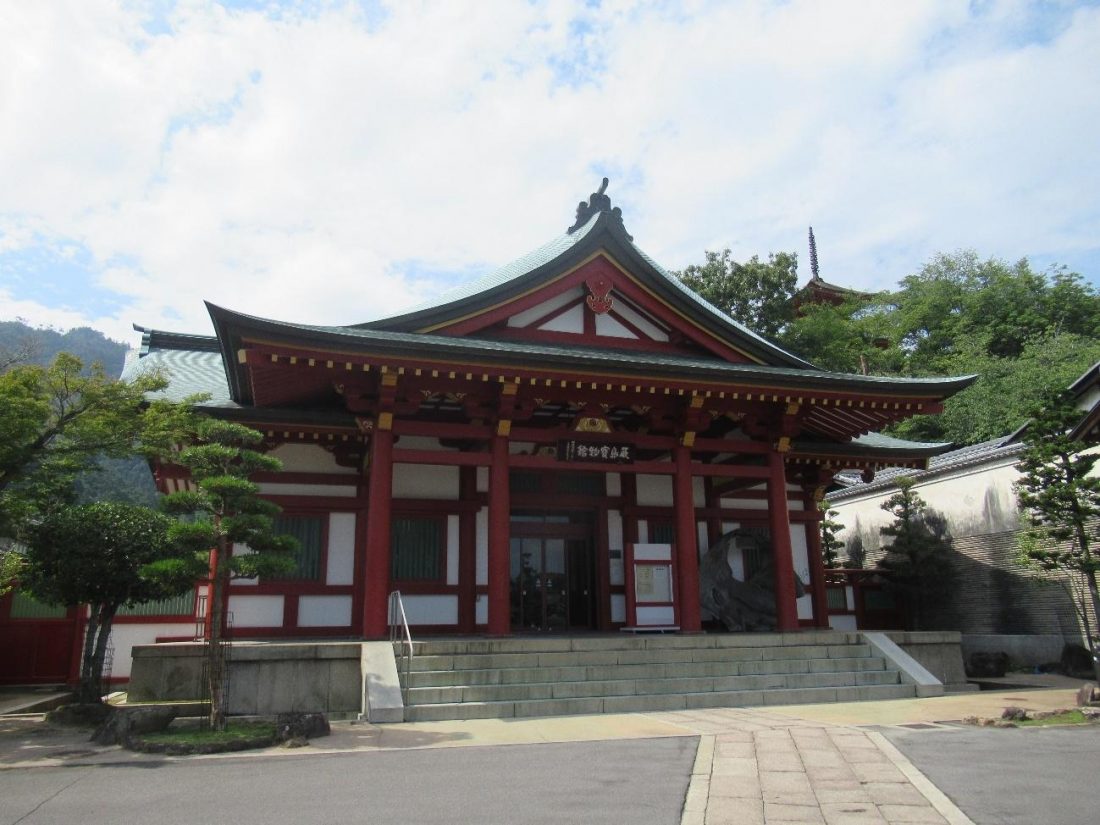 At the entrance to Itsukushima Shrine, it's possible to buy admission into only the shrine or a combo ticket that also includes admission to the treasure house, and if you're interested in learning more about the history of the shrine, I highly recommend putting down the extra cash to check it out. The treasure house is straight ahead after leaving the shrine, and is a decent option for escaping the killer summer sun I was feeling even this early. Photography is completely forbidden inside, but the treasure house features relics such as plaques formerly mounted on the torii, folding screen paintings featuring Miyajima's landscape, weapons and armor, and old costumes used for Noh performances in the past. Not everything has information in English, but from the descriptions that had translations, international tourists can learn the history behind the island, the shrine, Noh culture, craftsmanship, and the ema (wish tablets) tied to some parts of the shrine. For those who can speak and understand Japanese, the man sitting inside will also give deeper oral explanations on some of the artifacts, like telling visitors which are exclusive to this place (pretty much the entire collection) and recounting how the torii plaques of yesteryear used to not feature any color at all. In place of pictures, I ended up taking notes instead to enrich my knowledge of a place I already love and thought I knew well enough up until today.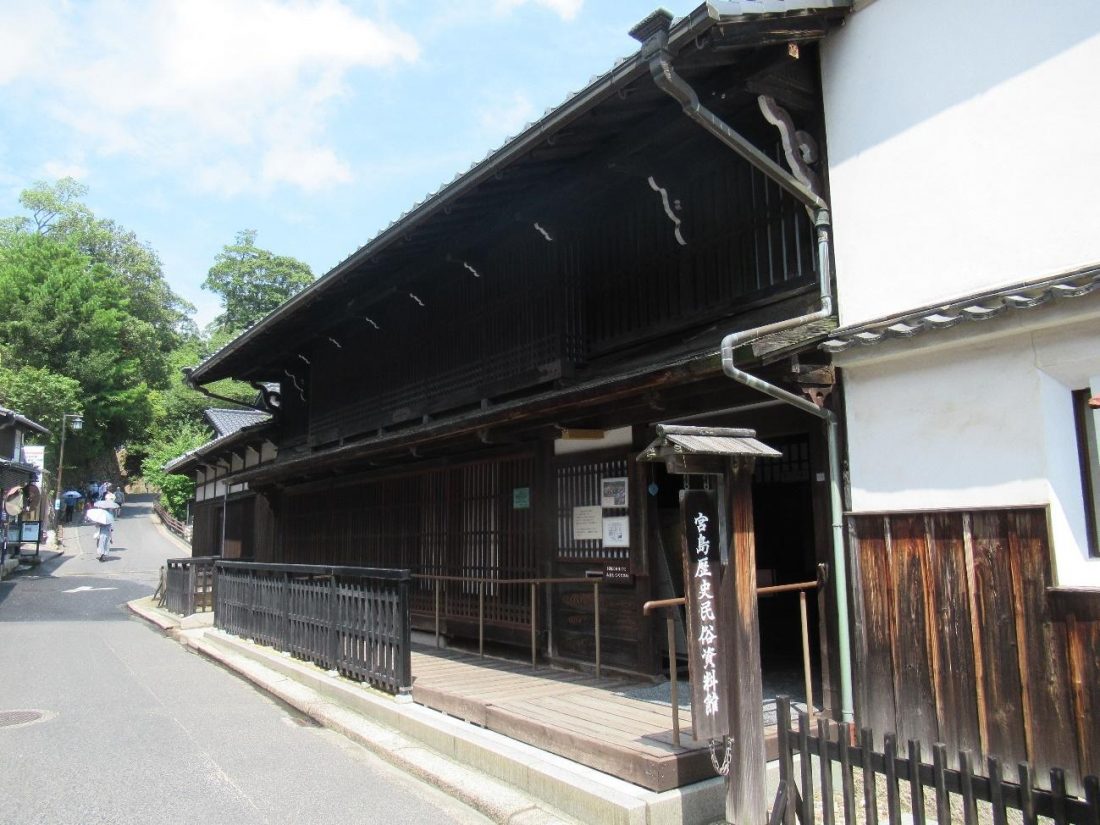 Speaking of history, if you exit the treasure house, turn left, and continue down the street for a couple of minutes, you'll find the Miyajima Museum of History and Folklore. The front of the museum used to be the house of a merchant that made its fortune manufacturing and selling soy sauce, and the facility is divided into sections telling the history of life on the island through mundane objects from the people's daily lives, miniature models of festival boats, paintings, and more. Only a select few objects can be photographed; look for a pictogram of a camera inside a green circle. Unfortunately, there aren't as many English explanations as I had hoped, and the quality of the translations leaves a little to be desired. At certain points in the museum, there were stands with informational leaflets that provided additional information in multiple languages: Japanese, Traditional Chinese, French, and Spanish, but oddly enough not in English. I'm sure they would've provided them if I'd asked, but since I didn't want to waste time or bother the staff, I just took the Chinese and Spanish ones and continued on my merry way.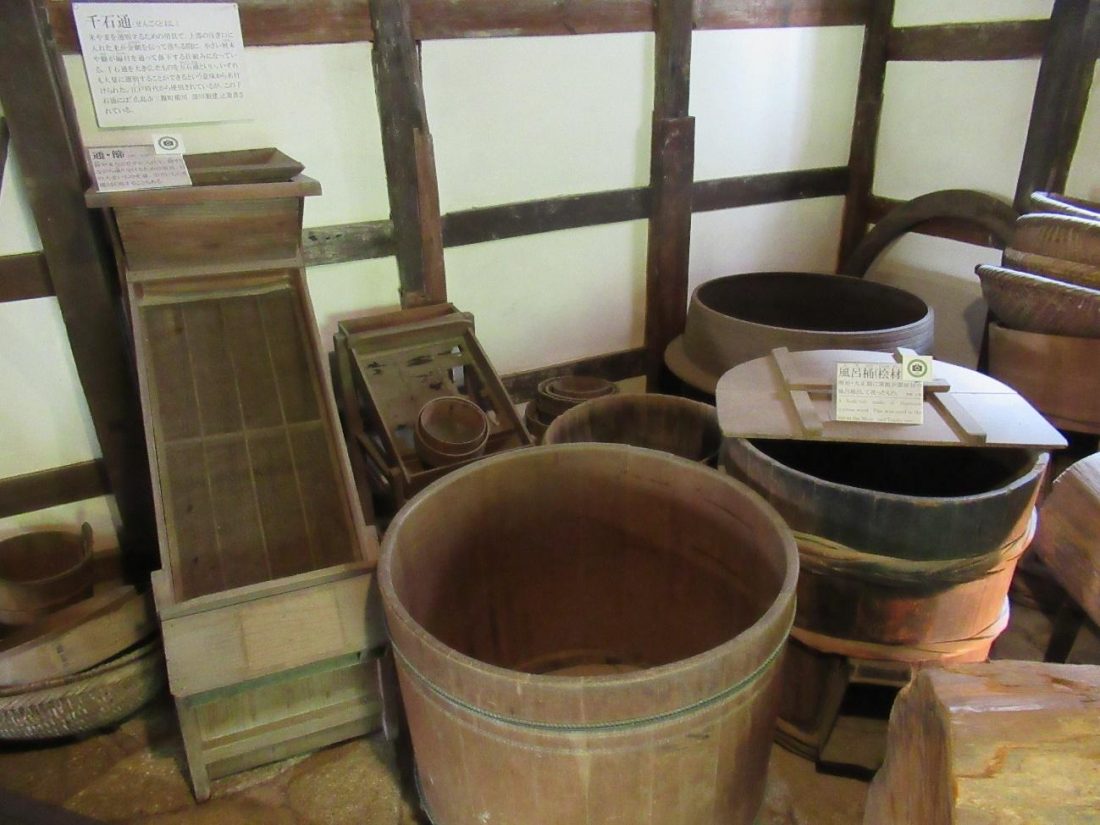 The first three exhibit rooms are small enclosures filled with old instruments like these wooden bathtubs and this rice sieve that have survived into the present day. The fourth exhibit room is larger, air-conditioned, and recounts the tales of the reconstruction of Itsukushima Shrine by Taira no Kiyomori in 1168 as well as the Battle of Itsukushima, which occurred in 1555. The first floor has pictures of the shrine in the past, a short film (with English subtitles) explaining the structure and history of the shrine, and a short section explaining the current renovations taking place. The second floor is filled with paintings and realia dedicated to the Battle of Itsukushima, in which Sue Harukata attempted to invade Miyajima, which was occupied by Mori Motonari, failed, and committed seppuku (ritual suicide) on the island.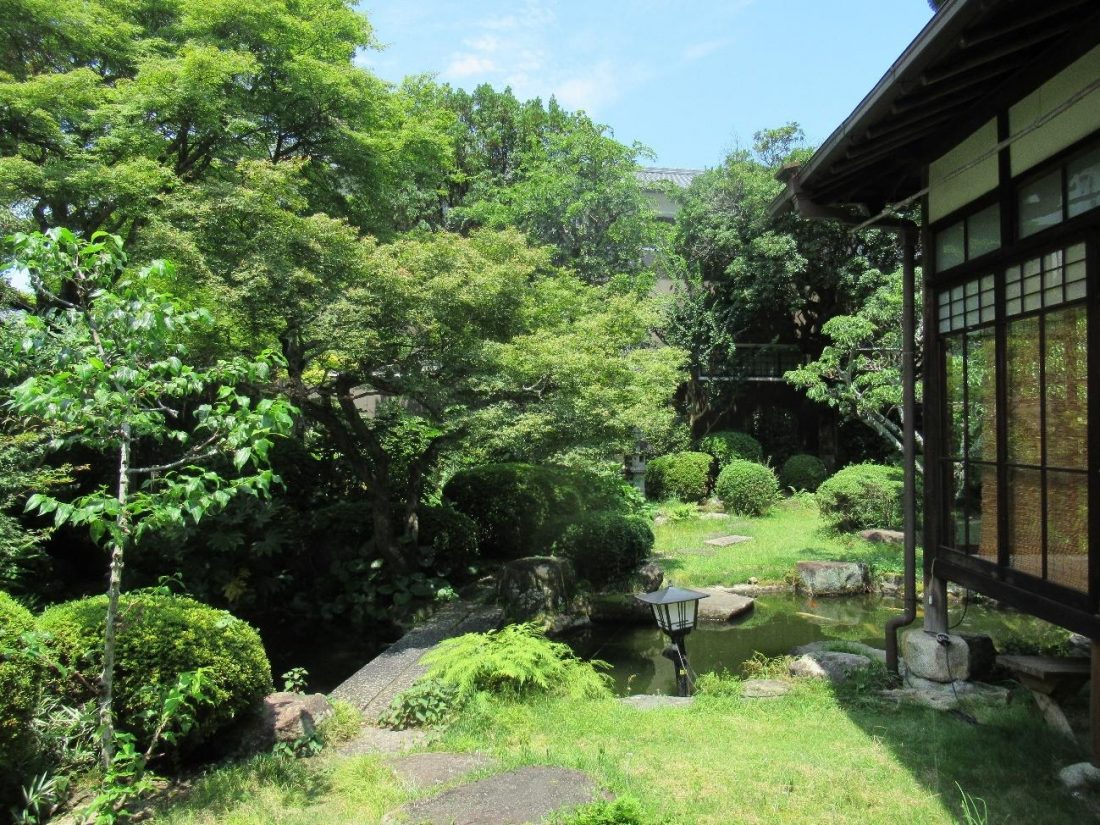 After exiting the fourth exhibition room, visitors will come upon a typical house from the Edo period, which was narrow and had distinct rooms with set purposes. Past that is a courtyard garden of the next house and final part of the museum, the residence of the Egami family, which rose to fame in the soy sauce business. Tourists can admire the old furniture and tatami floors, rest their weary bodies by sitting on a floor cushion, or even try their hand at folding a paper crane, with origami, instructions, pencils, and hand sanitizer provided on the table. Visitors must remove their shoes for this segment of the tour, carry them in a plastic bag for the duration of their stay, and put them on upon exiting back into the first exhibition room. A visit to the Miyajima Museum of History and Folklore can be as long or short as the visitor wants it to be; I spent almost two hours in there, and after taking in all that tradition and history from the sites above, it was time for lunch.
Moment of Joy: Divine Trance
I'm entranced by the scenery of Miyajima every time I visit, especially when I gaze out at the floating torii from within Itsukushima Shrine, but the enchantment I felt this time around came from looking in rather than looking out. Being able to watch Shinto priests performing a ceremony live to harmonious gagaku music seemed to put me in some sort of trance as I watched and listened. I know I wasn't the only one inspired to pray right on the spot, as I felt compelled to stay until the robed men had finished worshipping. Knowing that these events happen on predetermined days has now got me thinking of being selective about what days to visit Miyajima just to catch a spectacle like this once again.
Hole-in-the-Wall Eateries
Since I'm writing this for those who already know Miyajima to some extent, I'm going to skip the obvious restaurants and shops on the Omotesando shopping street and the snacks being sold at stands around the shrine. If you haven't even been there, then I recommend you pick up a deep fried Momiji Manju, available in flavors like chocolate, custard cream, cream cheese, and lemon. As if the normal Momiji Manju aren't tasty enough, there's something else about eating them piping hot on a stick, with a crispy exterior to boot!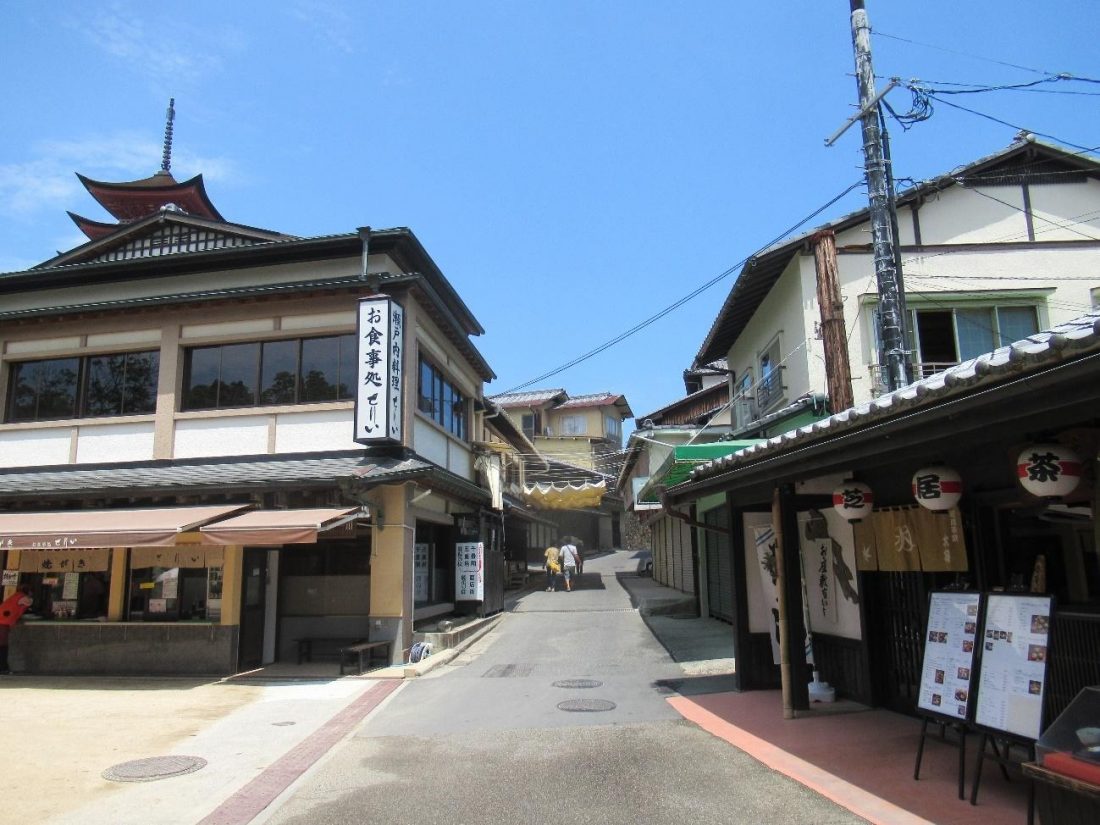 If you're looking for a good place for lunch that's a little off the beaten path, it's worth checking out 宮島いちわ (Miyajima Ichiwa) for their signature dish: clam and conger eel rice bowls! As I exited the Miyajima Museum of History and Folklore, I made my way back to the exit of Itsukushima Shrine, from which it's a short walk to the restaurant. First, I walked along the souvenir street behind the shrine until I came to a short bridge on my left. I crossed that bridge and continued on the dirt path, hugging the outer gate of Itsukushima on my left and eventually, I could see the restaurant 水羽 (Mizuha, another personal favorite) on my right and a five-storied pagoda off in the middle distance (as pictured above). Next, I went straight until I came upon a white tunnel, and entered it. I immediately turned right after coming out of the tunnel and kept walking down Machiya Street, then saw Miyajima Ichiwa on my right.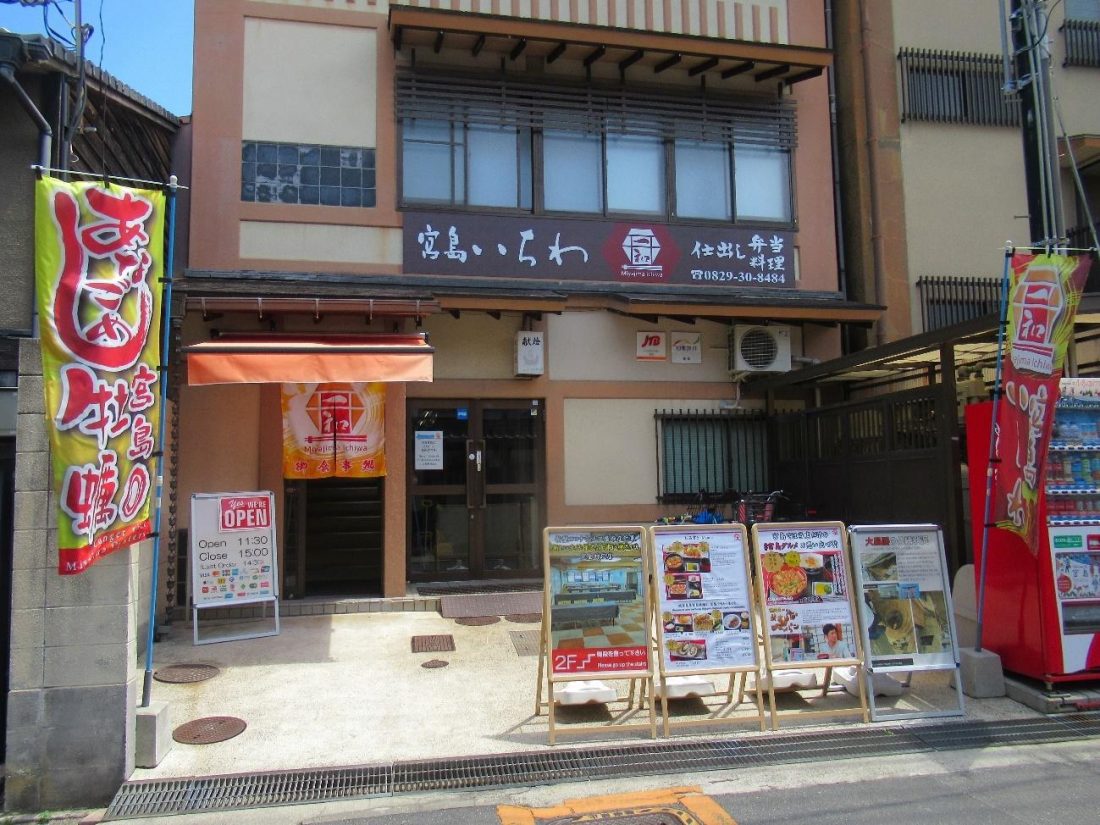 This restaurant was actually featured on a Japanese TV show called "Kokubuntaichi no Osanpo Japan," wherein the host tried the clam and conger eel rice bowl lunch set, which comes with one side dish, a cup of soup, and some Japanese pickles, all of which change on a regular basis. My side dish that day was marinated, shredded daikon radish and miscellaneous veggies, topped with what seemed to be pickled eel. The soup de jour was suimono, a clear, slightly salty broth filled with seaweed and pieces of wheat gluten, made fluffy by absorbing the soup. For my pickles, I got two slices of takuan, pickled daikon radish, and one umeboshi, a sour, pickled plum. Miyajima Ichiwa is equipped to take reservations of large groups, but as I was the only diner at the time, I could savor everything on my tray in peace and solitude.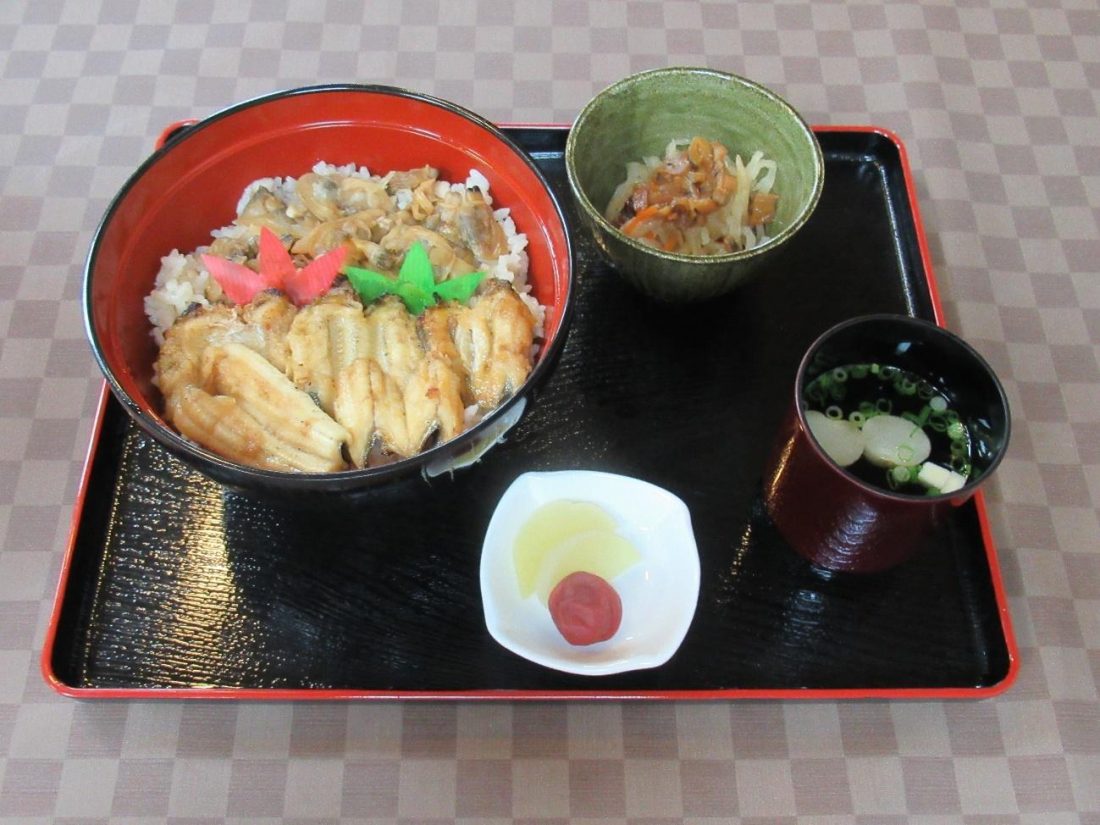 If a café is more your speed and you don't mind higher altitudes and prices, allow me to introduce 牡蠣祝 (Kakiwai), a gourmet destination hidden from plain sight, but so worth the search and the climb. Remember that five-storied pagoda from before? The first step to reaching Kakiwai is to climb some stairs to reach the pagoda, and there are multiple avenues of approach. A bit east of the pagoda, there should be a sign directing tourists to 光明院 (Komyoin), which is a quaint, lesser-known Buddhist temple close to the café. Then, follow the sign up an inclined path until you reach Kakiwai. If you think the storefront is photogenic, just wait until after you're seated inside!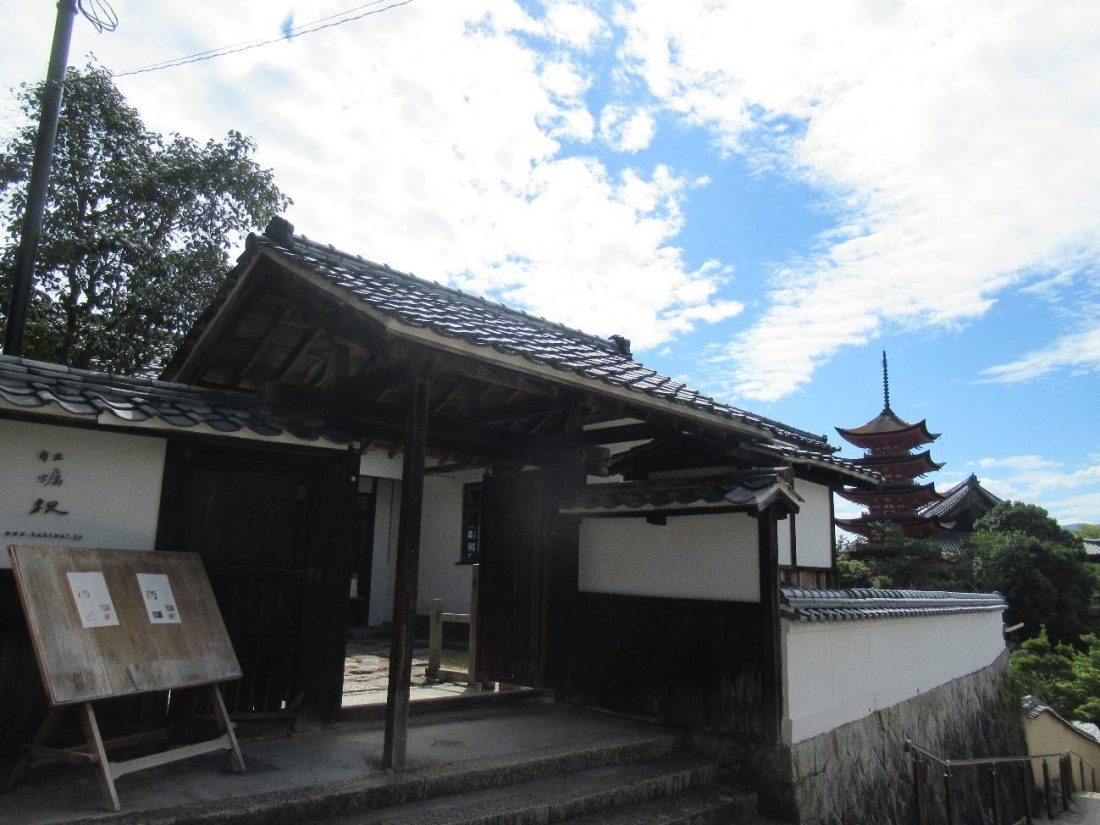 Although Kakiwai sells food, it's not ideal to have lunch here, and even if you could make a lunch out of it, it'd be too expensive for my tastes. People typically come here for two things Kakiwai excels at: dessert and oysters pickled in oil, the latter of which can be purchased by the jar from their online store. I got myself a seat close to the window and started off with a plate of three of their oil oysters, served with a twisted slice of lemon and garnished with a leaf.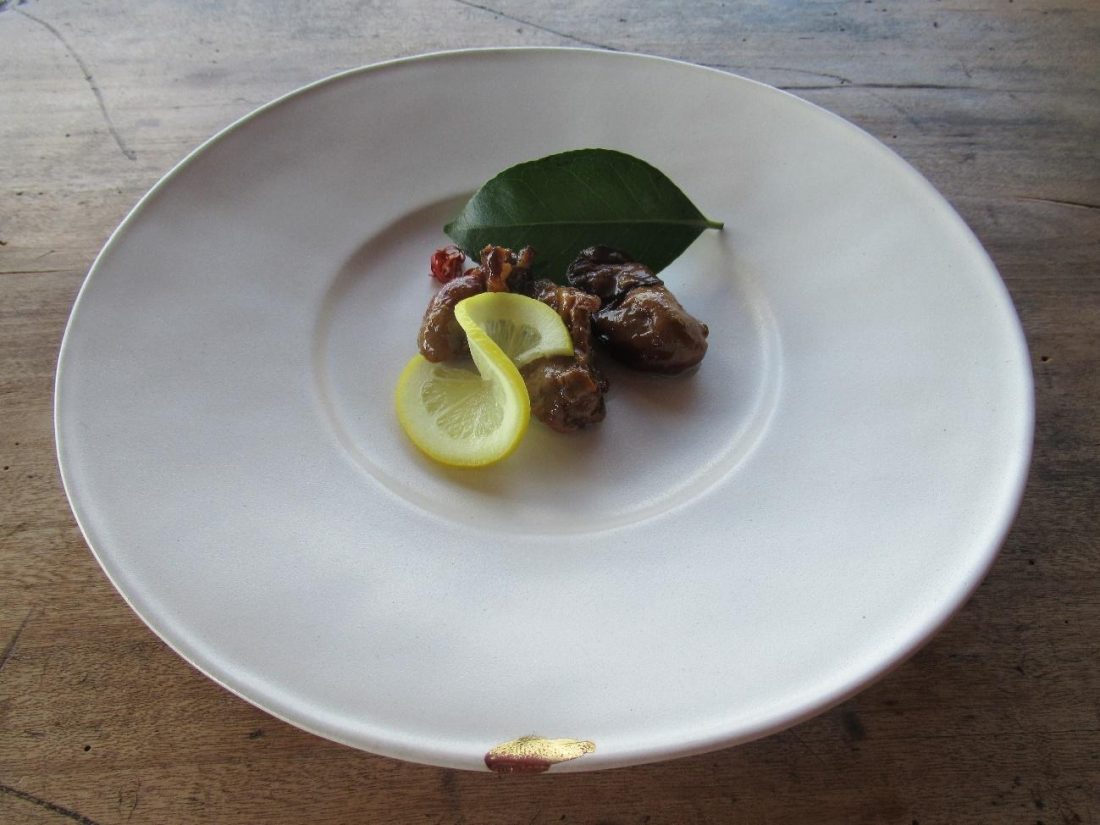 I must say, I was moved by the presentation of a product so simple, and after a brief seafood photoshoot, I drizzled lemon juice onto the oysters, picked up my chopsticks, and popped an oyster into my mouth. It tasted unlike any other oyster recipe I'd ever had, and if I had eaten it with my eyes closed, I might've mistaken it for another sea creature. Compared to steamed, grilled, or fried oysters, these oysters pickled in oil are more compact, with a texture that's dry but rich in flavor, and possess a certain degree of hardness while still being easier to chew and swallow. Overall, I found them to have a uniform taste, and though the unique flavor and long shelf life may tempt me to buy a jar in the future, I still prefer oysters cooked to order that I can enjoy from other restaurants on the island. Three pickled oysters set me back ¥1,100, which is fair considering the presentation and the price of oysters, but next time, I'd rather buy a jar of five to enjoy at home.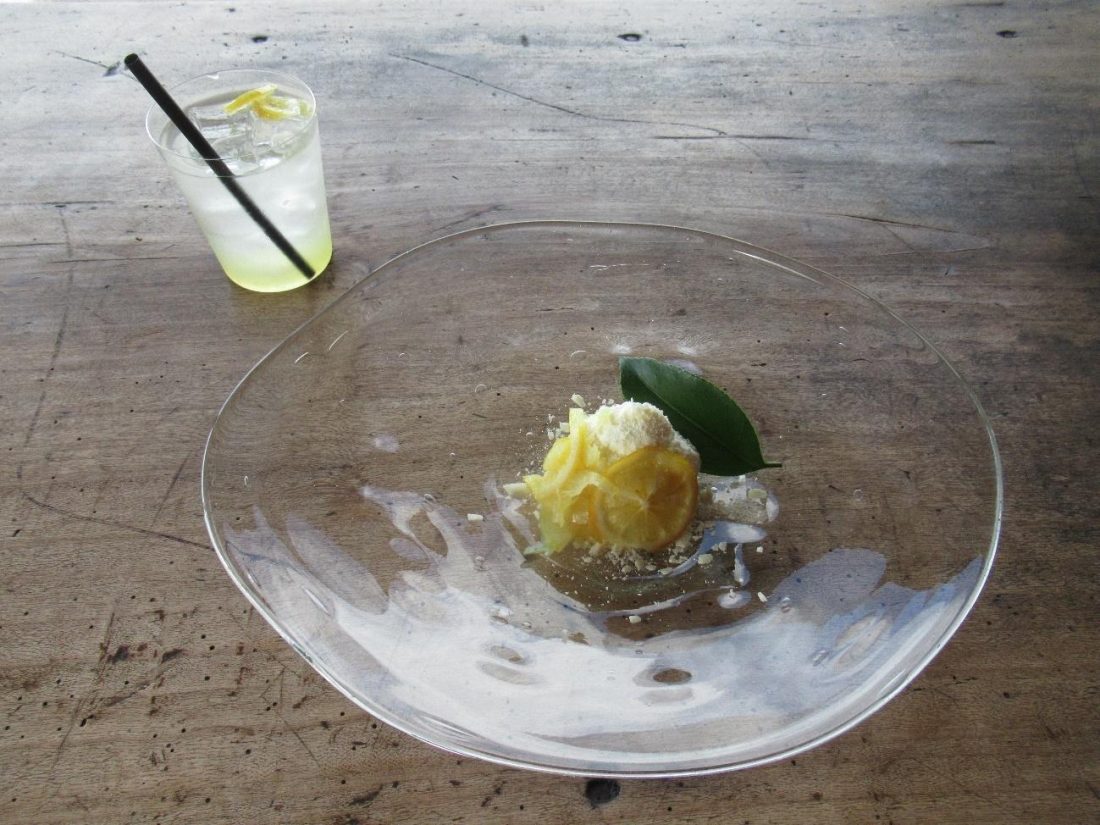 Not too long after I finished my oysters, the waitress took up my plate and served me my cake set: a lemon cheesecake with a glass of lemonade. The customer can also choose a chocolate cake or a different drink, like coffee or orange juice, but when in Hiroshima, eat all the lemons! My initial impression of the food was a fair amount of disappointment in the size of the cake; I forked over ¥1,100 for this!? However, once I dug in, I found the price to be slightly justified, also taking into account the lemonade, presentation, and setting. I'm normally not much of a cheesecake person, and I prefer to use the crust to counter the subtle cheese taste, but this cheesecake was entirely devoid of crust, featuring only fluffy, lemony fresh cheese. Fortunately, the lemon flavor drowned out the cheese flavor, and my favorite part was the candied lemon slices that topped the cheesecake, with sweet, edible peels. Meanwhile, the lemonade provided a gentle sweetness and a strong lemon zest that wasn't sour at all. It was delicious, but as a person who prefers sour lemonade, this glass left me wanting something with more citrus tang.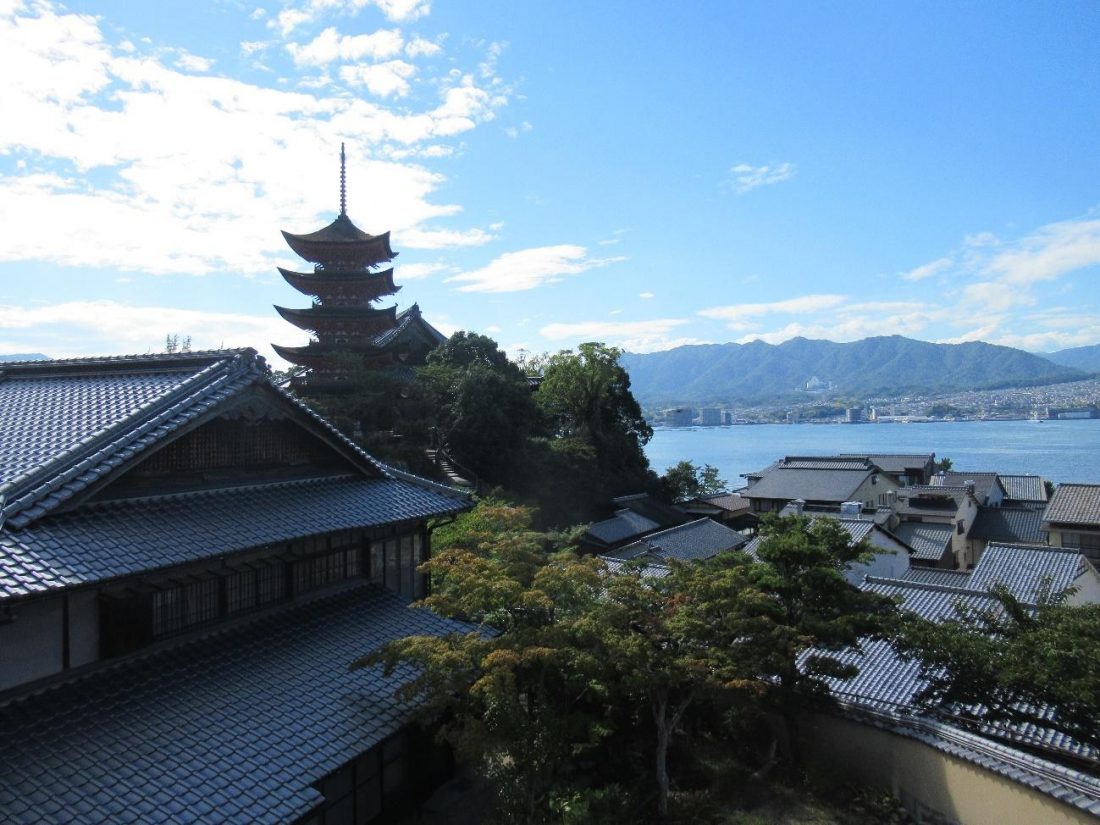 The whole time I was enjoying my snacks, I had a marvelous view of the five-storied pagoda and Hiroshima Bay right before my eyes, and in between bites and sips I constantly had the urge to look out the window and take pictures. After I finished all my food, the waitress opened a door leading onto an outdoor terrace so I could snap photos of this breathtaking seascape. There's also a bench outside so guests can sit and take in the fresh air for as long as they want, but with it being so hot this afternoon, I shortly headed inside to pay. If only considering the food, the bill of fare is rather pricey, but with a terrace like that, Kakiwai is essentially a hidden tourist attraction where visitors can make unforgettable gastronomic and aesthetic memories.
For Nature Lovers
With a full belly and only a few hours left in my afternoon, I decided to take a walk in Momijidani Park and on Misen, the most famous mountain on Miyajima. I made my way back to the reverse side of Itsukushima to find the entrance to Momijidani Park, which I passed on my way to Miyajima Ichiwa. Enter through this gate, turn right, and then left to reach Momijidani Park and a shuttle bus that drives tourists to the ropeway station, where one can take a gondola up to near the summit of Misen. As the maple leaves won't be turning red for a few months, I decided to take the bus and immediately ride the ropeway up the mountain.
The journey is twofold: first, visitors take a steep aerial lift partway up the mountain to Kayatani Station, where they then take a mostly horizontally moving gondola to Shishi-iwa Station.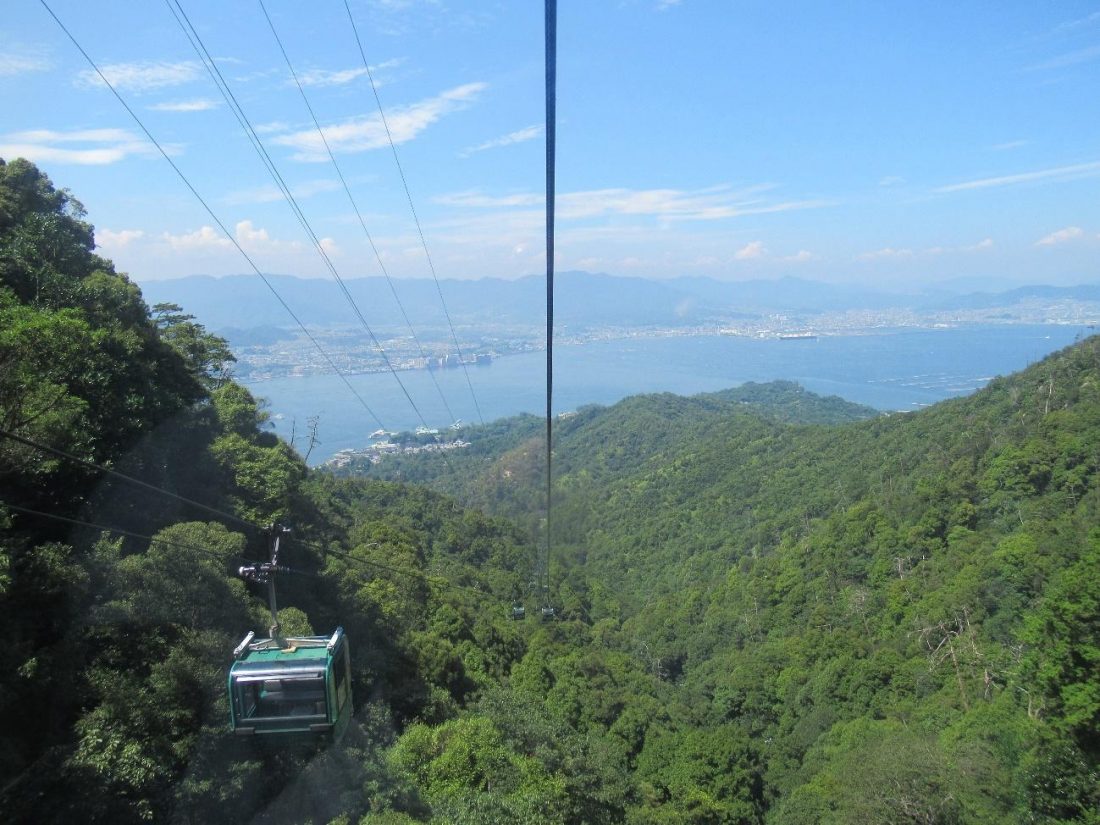 This terminal is about a half-hour hike from the summit, and features numerous vending machines, a restaurant upstairs, and an outdoor observatory where one can gaze out towards tiny islands in the Seto Inland Sea, and also spot Kayatani Station among the forest below. There's also a place in the building where couples can take part in an experience making heart-shaped Momiji Manju, but this single guy's got no business there. I took in the view from the Shishi-iwa Observatory, then saddled up for the summit.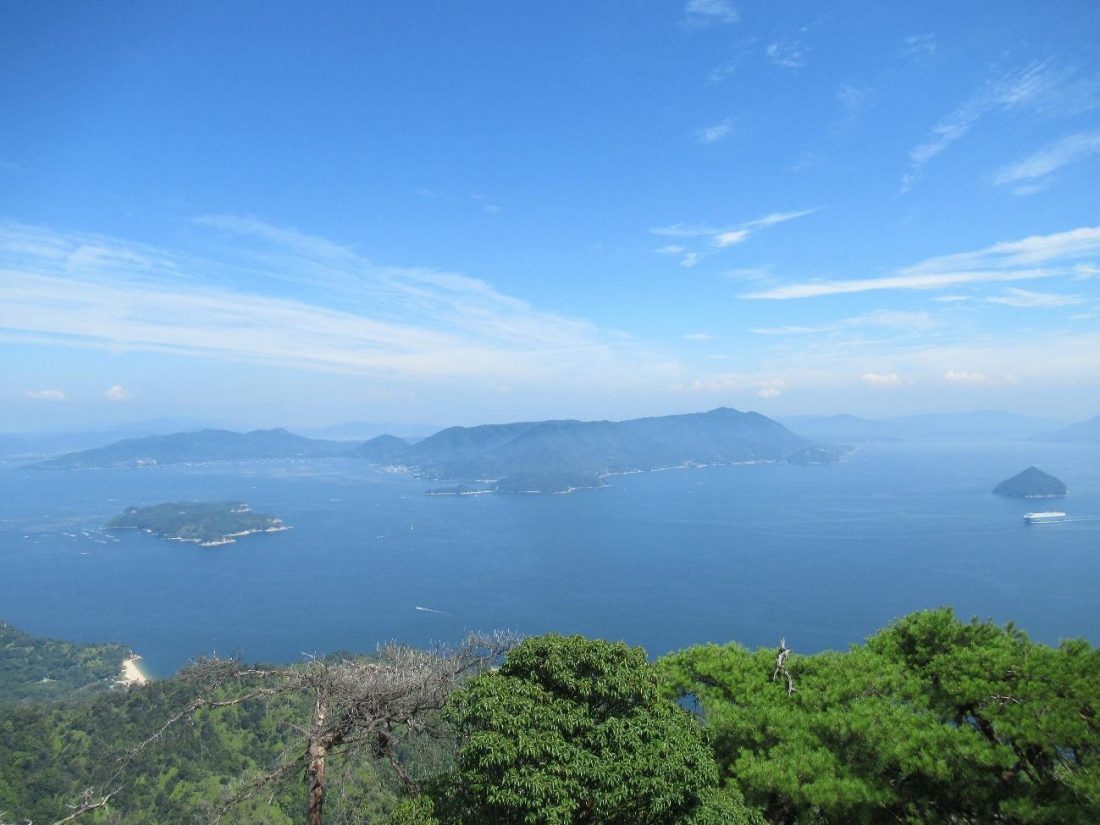 The hike may be time-consuming, but it's not so difficult for the average person who has little hiking experience. Close to the summit, tourists will come across three noteworthy temples: Misen Hondo, Reikado, and Sankido. The plaza in which they are located is also an idea place for a pit stop to sit down, pray, get a cold drink, or buy some lucky talismans or fortunes.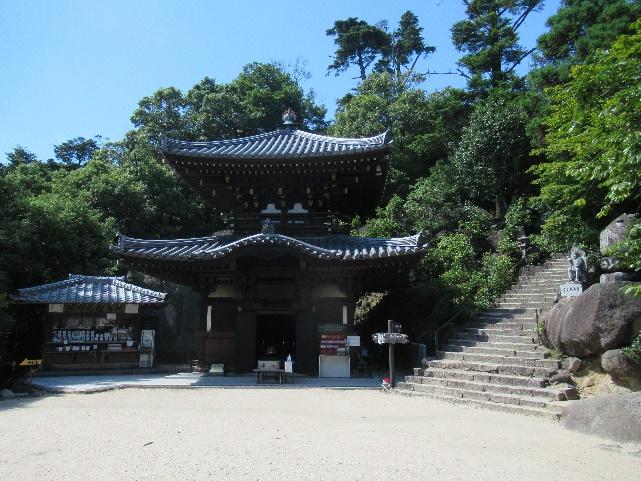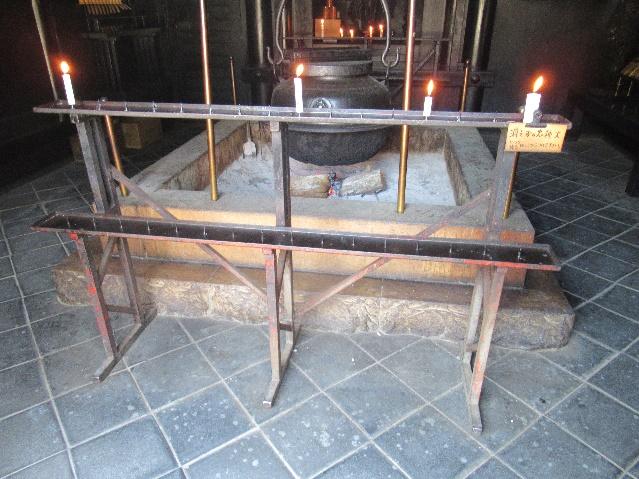 Of particular interest is Reikado, mainly for the flame that burns within. The name of the temple (霊火堂) means "spirit fire hall," and the fire heating the pot in the center has supposedly been burning continuously for centuries, and will never go out. This same flame was borrowed to heat the Flame of Peace in Hiroshima's Peace Memorial Park, which won't be extinguished until nuclear arms are completely abolished. For a small donation, visitors to Reikado are also welcome to light a candle to place on the altar or write a wish on a wooden talisman to hang on the wall, adding to the eternal peaceful spirit of the place.
Right across from Reikado is Misen Hondo, the main prayer hall of the mountain. The interior is filled with elaborate, gilded Buddhist artwork that I considered too holy to photograph, so I instead snapped this enormous prayer bell outside the hall that guests can ring for a fee. This bell is dedicated to the 900th anniversary of the birth of Taira no Kiyomori, regarded as the patriarch of Itsukushima Shrine and possibly Miyajima as a whole as we know it.
Further up some stairs stands Sankido, which may appear underwhelming in comparison, but it's what's on the inside that counts. Upon entering and looking to the right, I found a door leading outside to a private terrace with a fantastic vista. Come for the view, and you may also want to say a prayer while you're at it, since that costs nothing at all (donations are not obligatory).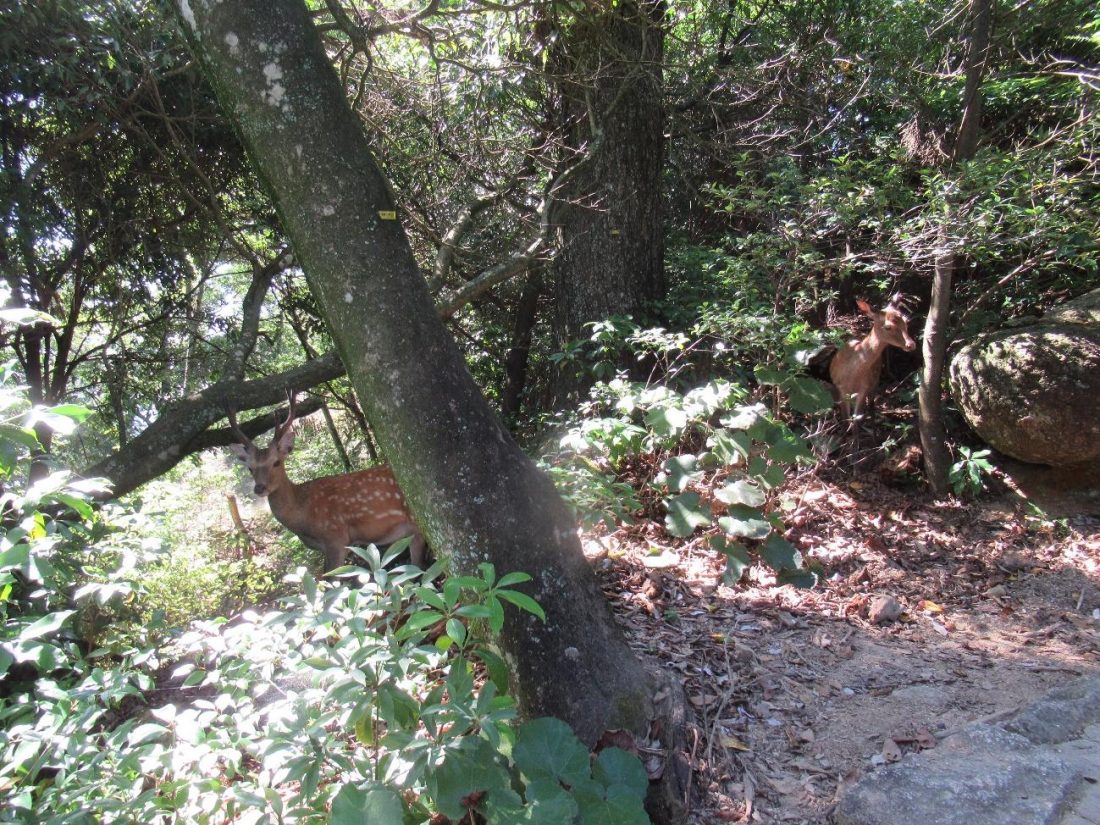 As I got closer to the summit, a buck caught me off guard, and I greeted the resident deer before reaching the end of the journey, the Misen Observation Deck. This terminal rest stop has two levels from which hikers can gaze in awe in all directions, with scenes including the boulder plaza right outside the observation deck, Shishi-iwa Station from whence many hikers came, various islands in the Seto Inland Sea, and depending on the level of foliage, even the floating torii of Itsukushima Shrine! There's only standing space on the top level, but the mid-level is loaded with spacious benches where weary travelers can sit or even sprawl (with shoes off) to recover from their blazing ordeal. I myself lay on a bench for quite a while, tossing and turning, hoping for my sweat to at least partially dry, before making my way back to Shishi-Iwa and riding back into town. The observation deck on the summit closes at 4:00 p.m., so try not to wait too long before hiking. Also worth mentioning is that there are three different hiking trails one can take from sea level directly to the summit, completely foregoing the ropeway, but I'd try those in spring or autumn if I were you.
Rest & Relaxation
Some tourists want to explore, some want to eat until they drop, but others simply want a spot where they can stop and watch the world spin around them. For that purpose, there is no site I would recommend more than Senjokaku, adjacent to the conspicuous five-storied pagoda. Also known as Hokoku Shrine, its original fate was to be a religious institution, but as its commissioner Toyotomi Hideyoshi died before its completion and his successor Tokugawa Ieyasu didn't continue the project, Senjokaku remained unfinished, and today serves as a big, empty historical relic and place to rest.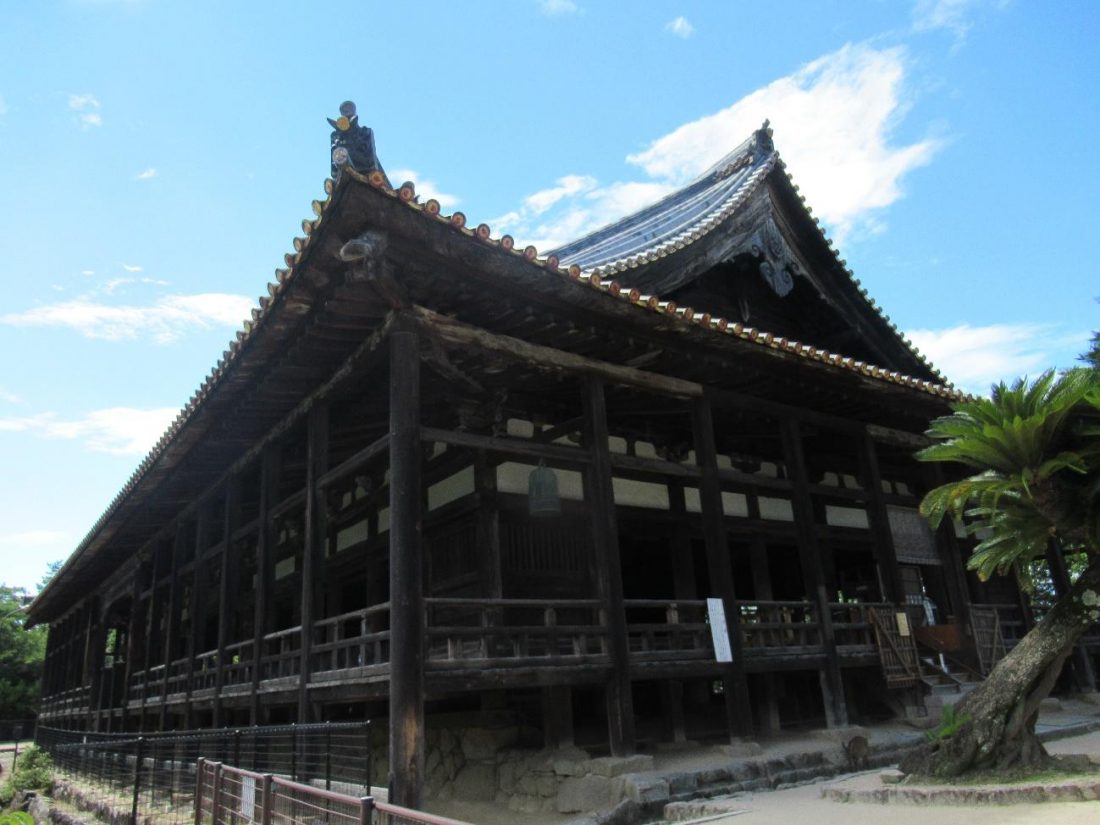 In addition to historical artwork adorning the beams where walls and ceilings would be, there is also a small shrine inside where guests can pray. The name Senjokaku (千畳閣) refers to a building that is one thousand tatami mats in area (one "jo" is typically used to measure dimensions of a room even today). For comparison, the bedroom in my apartment measures eight "jo," as there are eight tatami mats on the floor, so I humored myself thinking of how many of my rooms could fit into Senjokaku. Step onto the balcony in any direction and be rewarded with landscapes of town or the sea.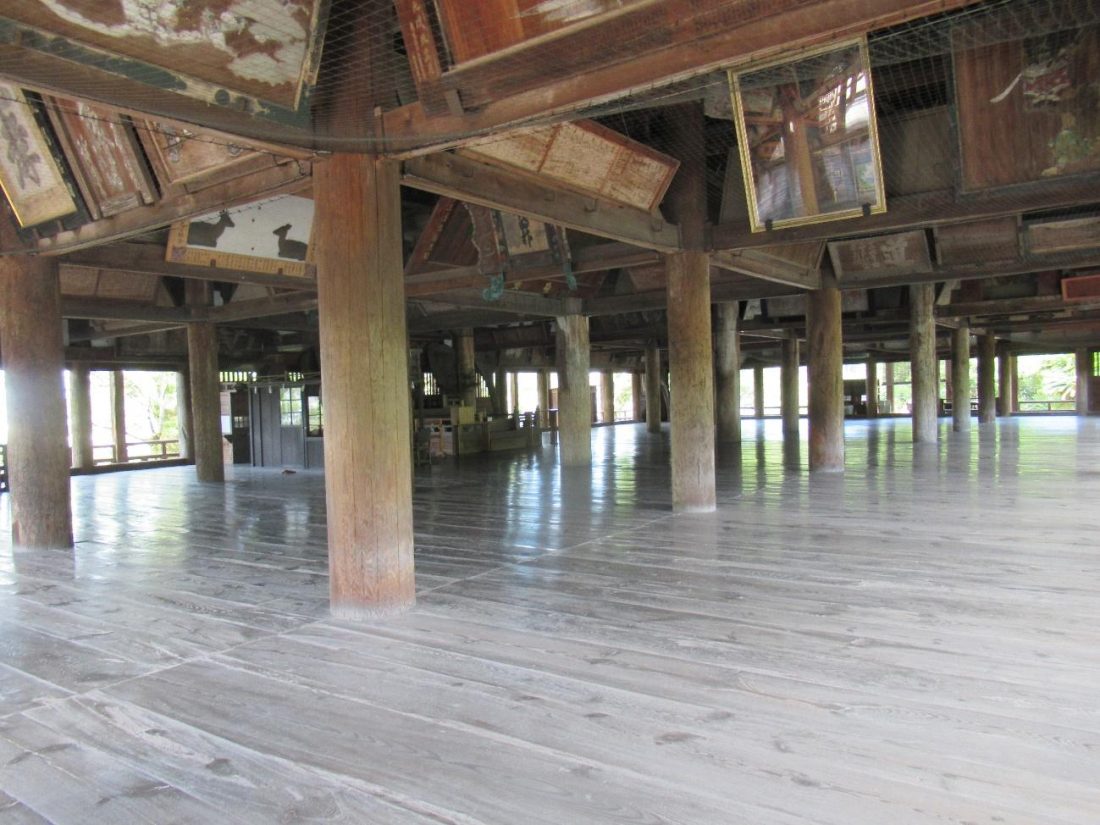 If you're looking for a more hole-in-the-wall place to relax, might I recommend a literal hole in the wall? Follow the signs in town to a temple called Daisho-in, a Buddhist temple at the base of Misen with a hiking trail right beside it. Upon entering the main gate, you'll be greeted by a long staircase with a special railing in the middle. This railing sports wheels with Buddhist sutras inscribed on it; if one spins all the wheels while climbing the stairs, it's said to be equivalent to reading them all. Along the way and after reaching the top, there are many grand buildings to visit and interesting statues to see, but the hole in the wall is call Henjo Cave, which is located near the back of the temple grounds.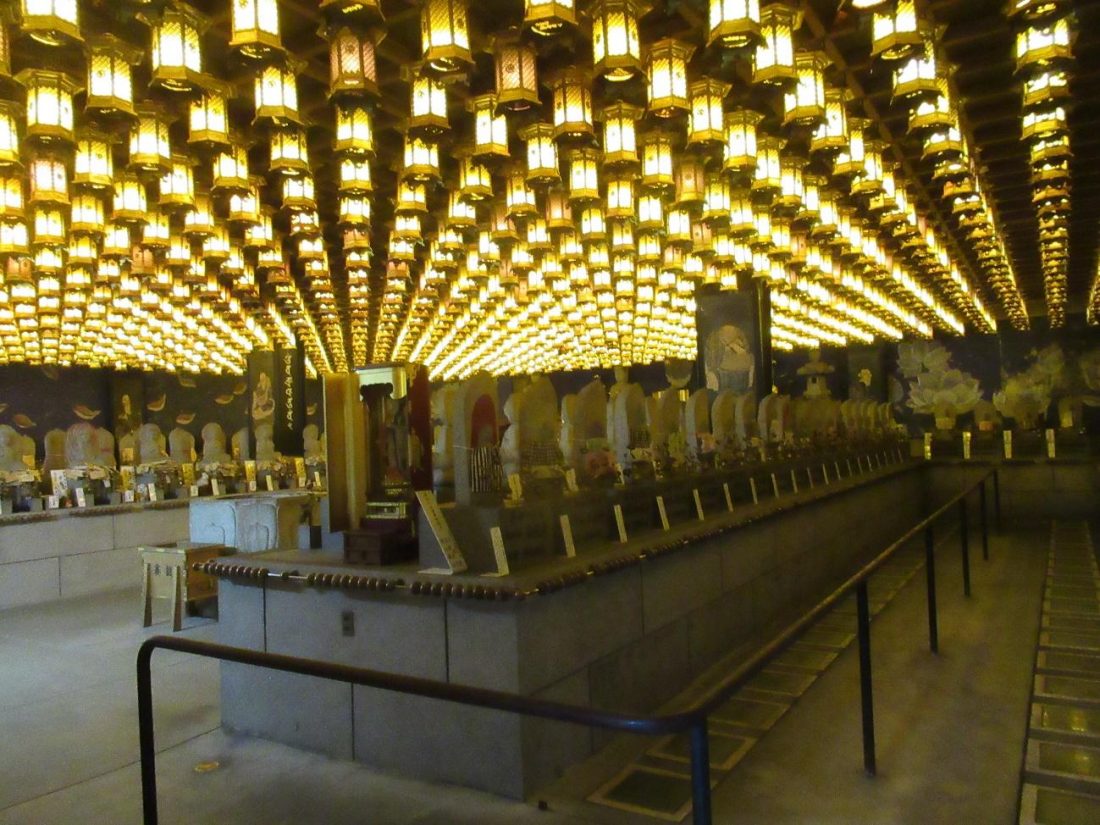 I eventually came upon a doorway, which is the entrance to Henjo Cave. Inside are probably over a hundred shining lanterns hanging from the ceiling and eighty-eight altars, each dedicated to a different Buddhist temple on the Shikoku pilgrimage. Legend has it that simply walking past all these altars–each of which contains a trace of its corresponding temple–is akin to visiting them all, saving worshipers a boatload of time and sanity. A visit here isn't necessarily limited to walking the indicated path, as visitors are free to pray at any of the altars, or otherwise just repose and think deep thoughts in a tranquil place. Compared to the other parts of Daisho-in, this hole in the wall seems to not be frequented as often, so those interested in Japanese religion but don't want to line up or crowd around will feel right at home in here.
Miyajima is a captivating place for too many reasons to list, and even locals like yours truly can never be apart from this island for long. One final piece of advice to give is that you shouldn't try to hit up all these wonderful sites in one go, as the limited time will diminish the experience to be gained from each locale. Most of my favorites (including the ones mentioned above) were discovered on repeat visits to Miyajima, so drop by the most famous spots your first time, and come for the hole-in-the-wall places on subsequent trips if possible. Should you do so, your knowledge and impressions of Miyajima will grow deeper, and since you'll always find something new, the island will never get boring. In due time, with enough investigation, you may come to know Miyajima even better than most Hiroshimarians, and be able to introduce us to your preferred holes in the wall!