100 STORIES
Hirata Tourist Farm: The Fruits of Their Labor
I trust that we are all familiar with the story of the birds and the bees. No, get your mind out of the gutter! I'm talking about literal pollinators like bumblebees and hummingbirds inadvertently transporting pollen from flower to flower as they search for nectar, fertilizing these plants in the process and paving the way for them to bear fruit down the line. These pollinating animals work hard to procure food for themselves, and in doing so, also indirectly put labor into producing food for other species, including human beings. Farmers can replicate the process on a grander scale in their fields and greenhouses, which can supply enough fruits and vegetables to feed the rest of us city folk. The fruits of animals' and farmers' labor may be actual fruit, but for the majority of humankind, the fruits of our labor take the form of money, and the most interaction we have with crops is in a supermarket.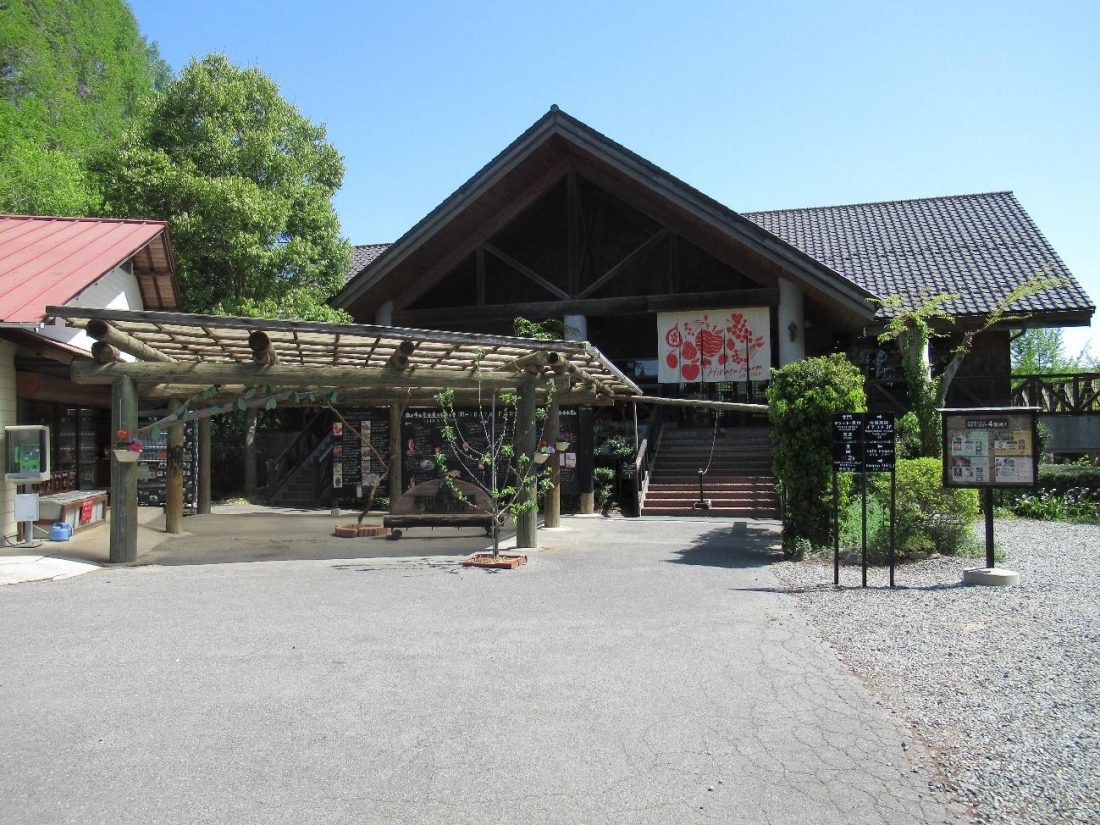 Be that as it may, those of us who live in urban or suburban areas have opportunities to directly earn our fruits while they're at their freshest if we were only willing to make the journey. In the case of Hiroshima Prefecture, that dream is possible at the Hirata Tourist Farm in the city of Miyoshi, located in the northeasterly area known as Bihoku. The farm boasts a vast area of arable land and is capable of cultivating loads of crops whose availabilities vary by the season, meaning that tourists can look forward to partaking in different fruits throughout the year. Reservations for fruit picking can be made online at Hirata Tourist Farm's own website, and the process is rather straightforward, albeit entirely in Japanese. If you cannot read Japanese and would rather not stumble through the booking process with crude computer-generated translations, fear not, for Hirata Tourist Farm is also a popular destination for tour groups, and if you can join one you've got this trip in the bag.
My Arduous Trek
The first time I visited Hirata Tourist Farm for apple picking, it was with a tour group, but I wanted to see how I'd go about it solo so I wouldn't have to line up my schedule with other people or travel agencies. Getting to Miyoshi from Hiroshima is the easy part, as one can either take a bus from the Hiroshima Bus Center (faster) or ride the Geibi Line from Hiroshima Station (cheaper), both of which would take you to Miyoshi Station. As much as I hate to say it, it's near impossible to make a day trip out of this place without a car or a taxi from Miyoshi Station, but if there's a will, there's a way! I pored over local bus routes and timetables to ensure all the legs of my trip would fit together, and in the end, found out that I only had one shot to make it to Hirata Tourist Farm and back swimmingly, which involves an early morning start, a one-hour hike up a hill, and quite possibly a GPS system to avoid getting lost. Even I thought I might be crazy while I was putting this plan together, but if it works, the round-trip from Miyoshi Station would only set me back ¥1,500-¥2,000, whereas hiring a taxi to shuttle me there and back would probably cost four times as much, if not more. However, as a tourist visiting Hiroshima Prefecture, IF YOU VALUE YOUR ENERGY AND SANITY, TAKE THE CAB AND SKIP TO THE NEXT SECTION! On the other hand, if you're frugal, in good physical condition, and lack the ability to drive in Japan (like yours truly), read on and take some notes!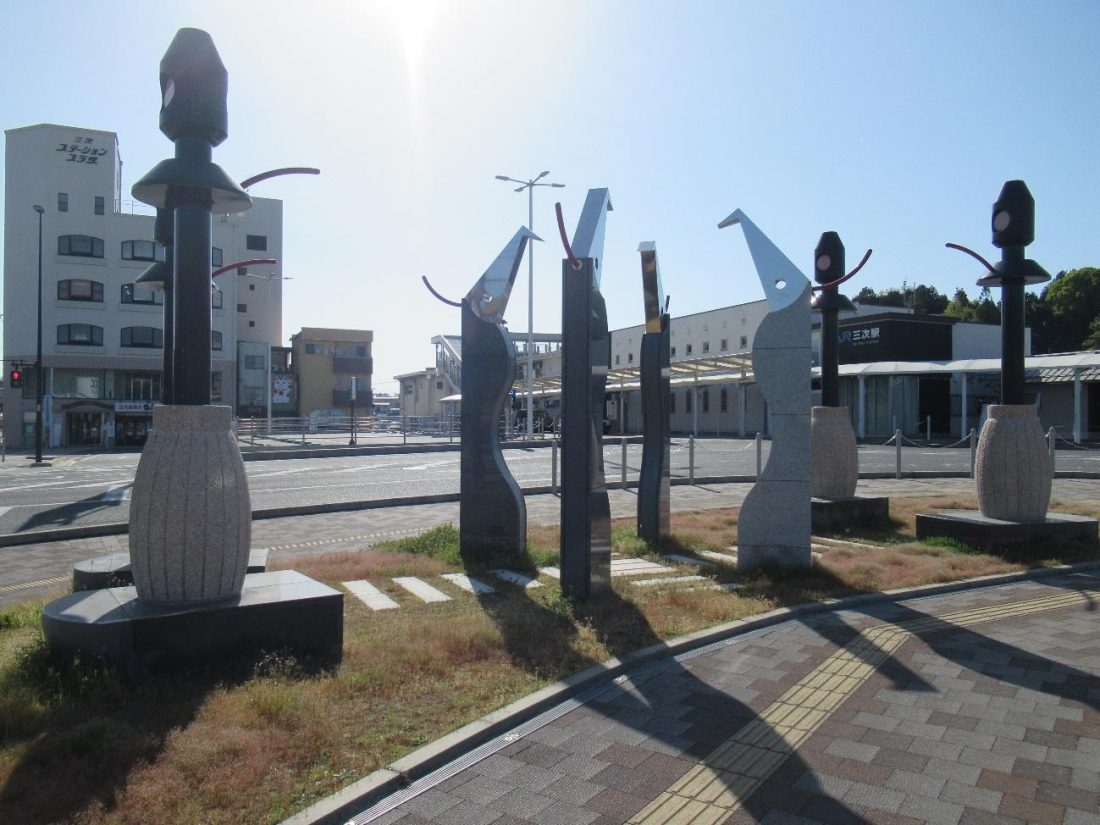 Seeing as not getting stranded at Hirata Tourist Farm is of paramount importance, this trip should be planned around the last bus from the farm back to Miyoshi Station, which departs at 12:35 p.m. With this in mind, I booked a 30-minute all-you-can-eat strawberry picking spree (the seasonal fruit from February to May) starting at 11:00 a.m., which would give me time to rest my bloated belly before waddling to the bus stop. Getting to Hirata Tourist Farm in the first place is even more complicated, but to make a long story short, I had to catch a 06:45 bus from the Hiroshima Bus Center. That bus dropped me off in front of Miyoshi Station around 08:15, where I awaited my transfer, so to speak. At this time of day there are no busses that pass anywhere near Hirata Tourist Farm, so the objective now is to get to the bus stop closest to the destination (not close at all) and walk the rest of the journey. Now do you see why I'm advocating the taxi option?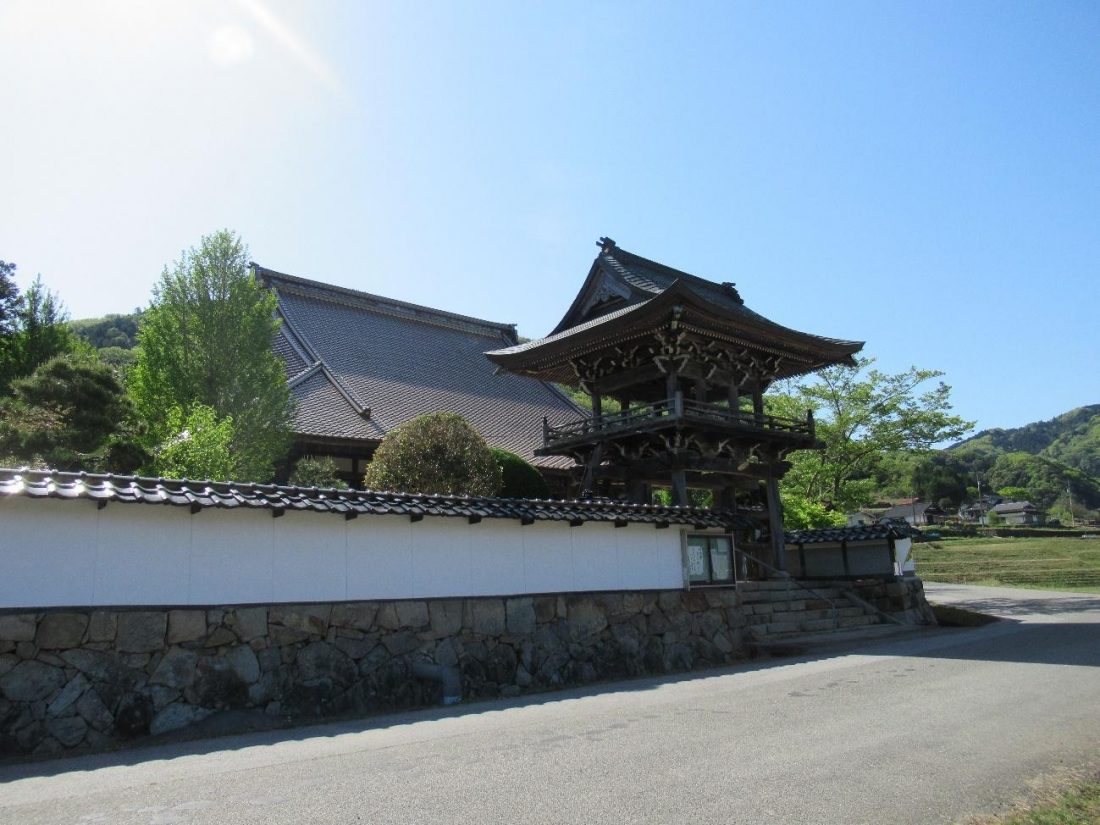 If you too are feeling brave and wish to work up an appetite before gorging on strawberries straight from the source, you'll be taking an 08:35 bus from Miyoshi Station's bus platform 1 and disembarking at a stop called 善立寺下 (ぜんりゅうじした – Zenryuji-shita). This is a vital step in the journey; IF YOU MISS THIS STOP, THE BUS WILL VEER FARTHER AWAY and you might end up missing your appointment! Once you get off at the aforementioned stop, if you take a few steps forward and look left, you'll see Zenryuji Temple in the distance. From here, I walked towards the temple, but as my trek was projected to take 80 minutes I didn't stop to pray. After passing by Zenryuji, it's a straightforward path until the road merges with a major regional highway, after which point you need to watch out for cars as you climb.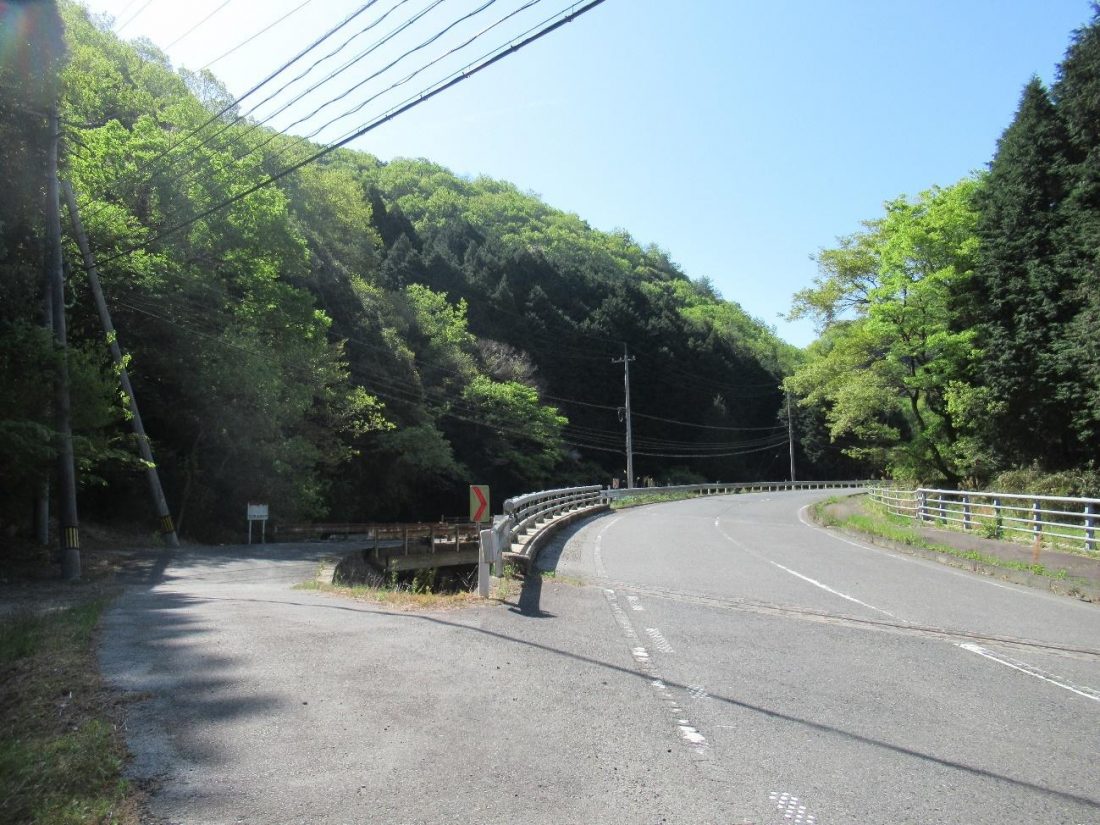 I kept to the left as I hiked, but hugged the guardrail as the other path on the left went through someone's private property. Despite feeling hot, hungry, and still slightly sleepy from waking up early, the anticipation of endless strawberries and the stunning rural backdrop on my left inspired me to keep trudging on. Since I was visiting in late April heading into May, I was able to catch a glimpse of several wisteria starting to bloom.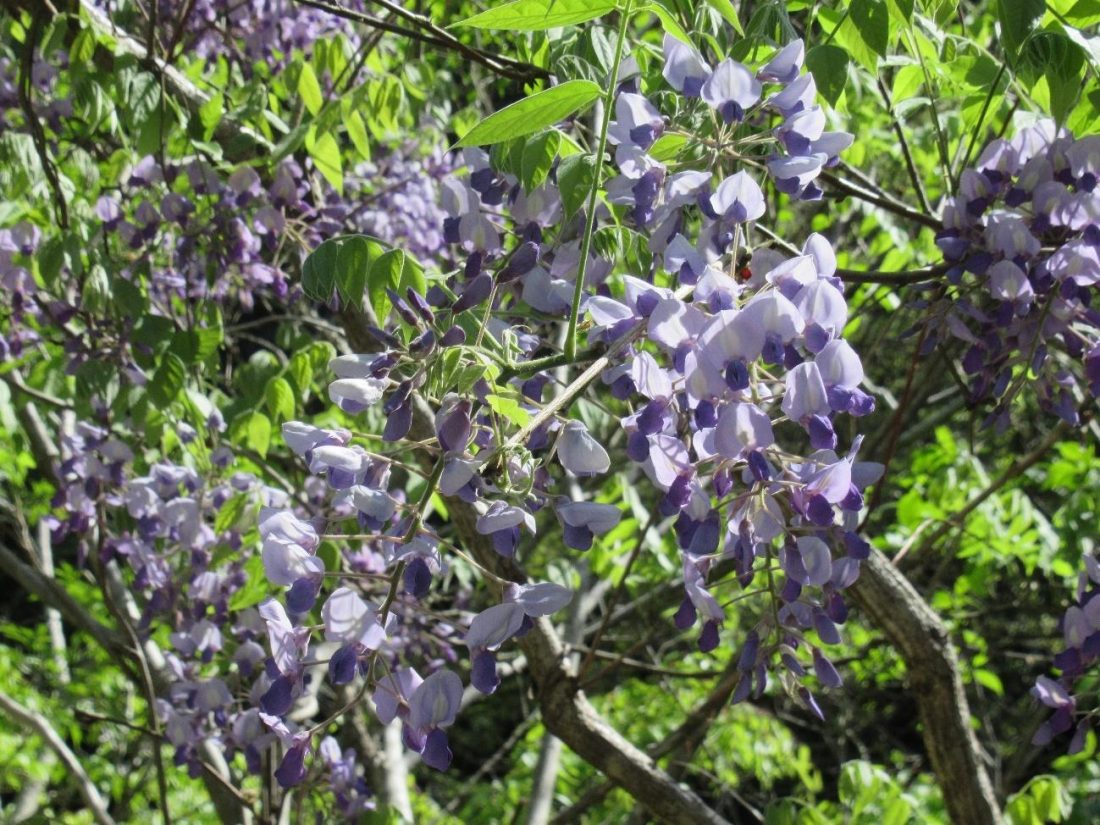 It was a little over five kilometers from Zenryuji to Hirata Tourist Farm, but with the occasional sign telling me how much longer I had and the incredible vista here and there, it didn't feel so long. In addition, with the constant passing of automobiles and audible wildlife in the trees, I never felt alone or scared. When I finally reached my destination, I realized I had arrived fifteen minutes earlier than anticipated, giving me more time to catch my breath and explore the farm grounds before picking strawberries.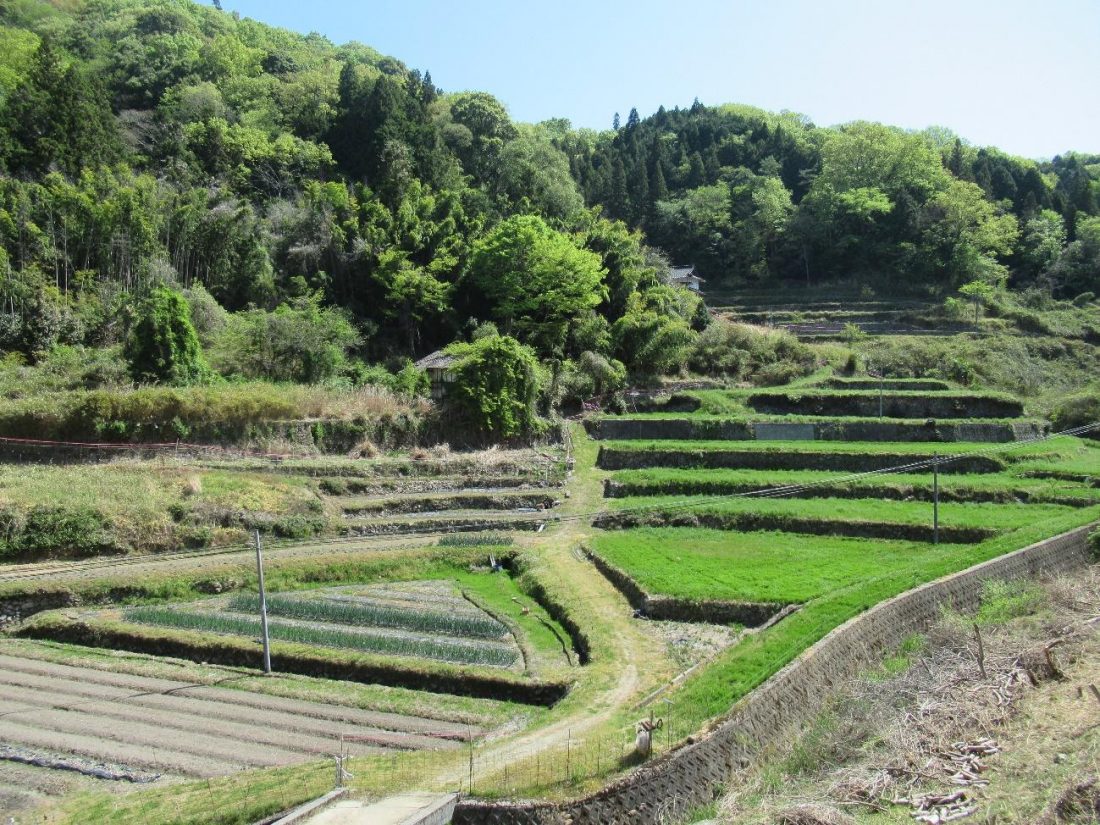 On the Farm

The grounds on Hirata Tourist Farm are extremely expansive and their facilities numerous, so the first thing I did after resting underneath the shelter by the gift shop was to check out the farm map. The circle with blue text indicated my present location and the circle with red text pointed me towards where I would be picking strawberries today, in strawberry gardens 4, 5, or 6. The circle with the green text is meant for those on the fancier plans where guests can make strawberry pizza or parfait in addition to picking the fruit. Besides their gift shop and their innumerable fruit and vegetable fields, Hirata Tourist Farm also hosts a couple eateries, grilling spaces and Dutch ovens for guests to hold their own cookouts, a playground and petting zoo for the kiddos, and even an apple shrine next to apple garden 2! Guests can either bring their own food for a picnic or cookout, or buy ingredients and rent equipment from the farm, saving a lot of hassle.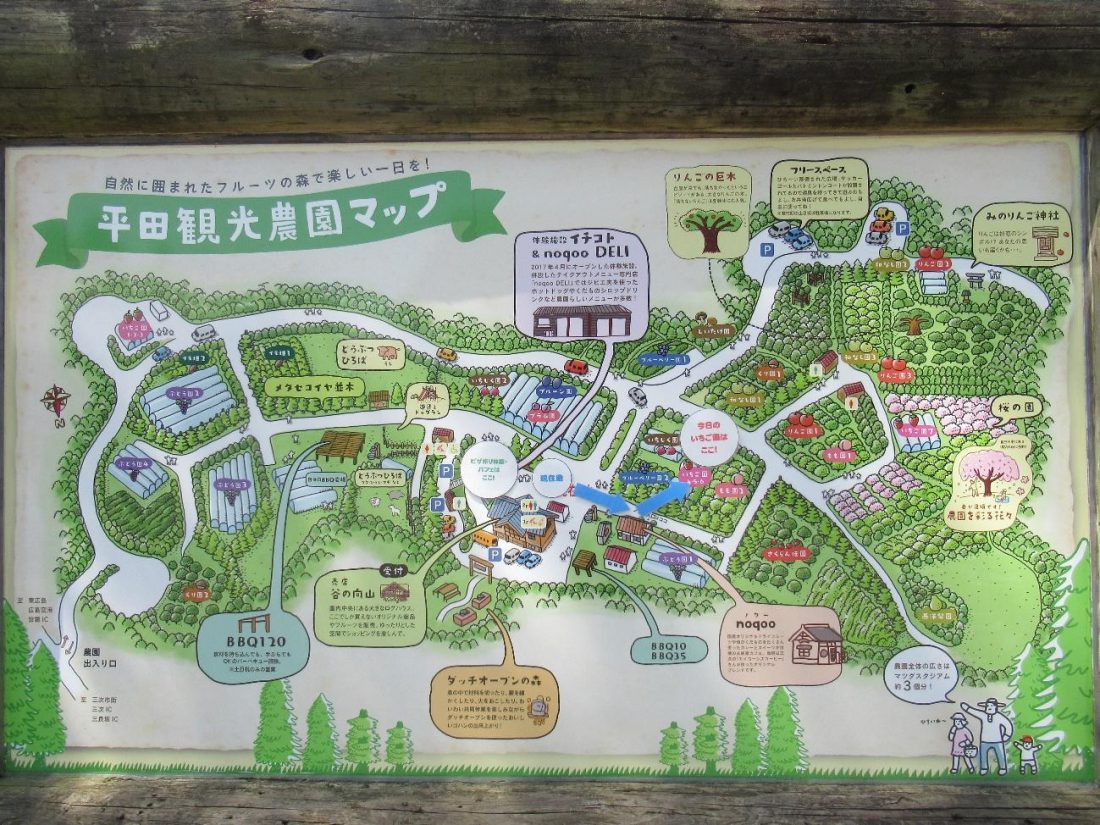 I made a 180° turn and entered the gift shop to confirm my reservation. The inside of this building was chock full of fruit products, some manufactured on this very farm, and others from elsewhere in Hiroshima Prefecture or different parts of Japan. Every single item looked tasty, and I was tempted to buy something for the road then and there until I reminded myself that the strawberries that I was about to ingest would sate my lust for fruit for the rest of the day and possibly the days after. I told the lady at the register my name and start time, and since I had paid by credit card beforehand, she simply handed me a plastic tray with a tiny cup of condensed milk and told me to make my way to the site before 11:00. With the spare time I had before I had to be there, I decided to check out the rest of the farm grounds.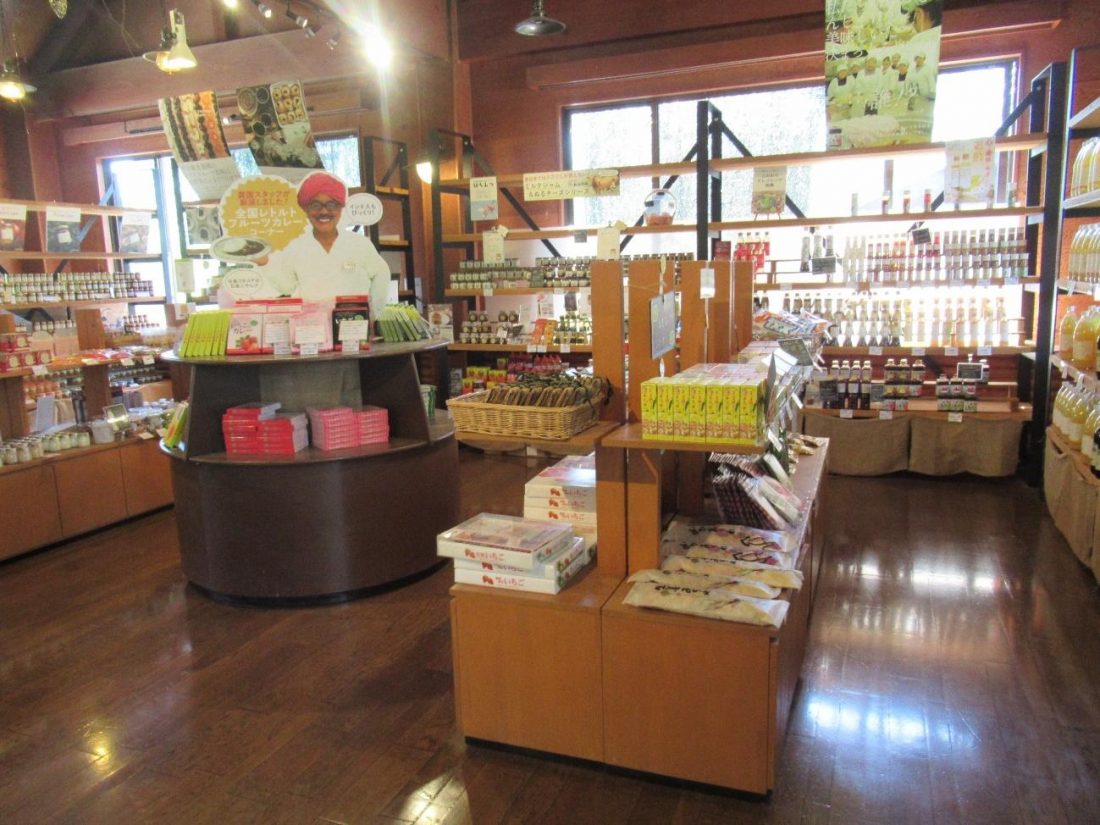 Moment of Joy: Hungry Kid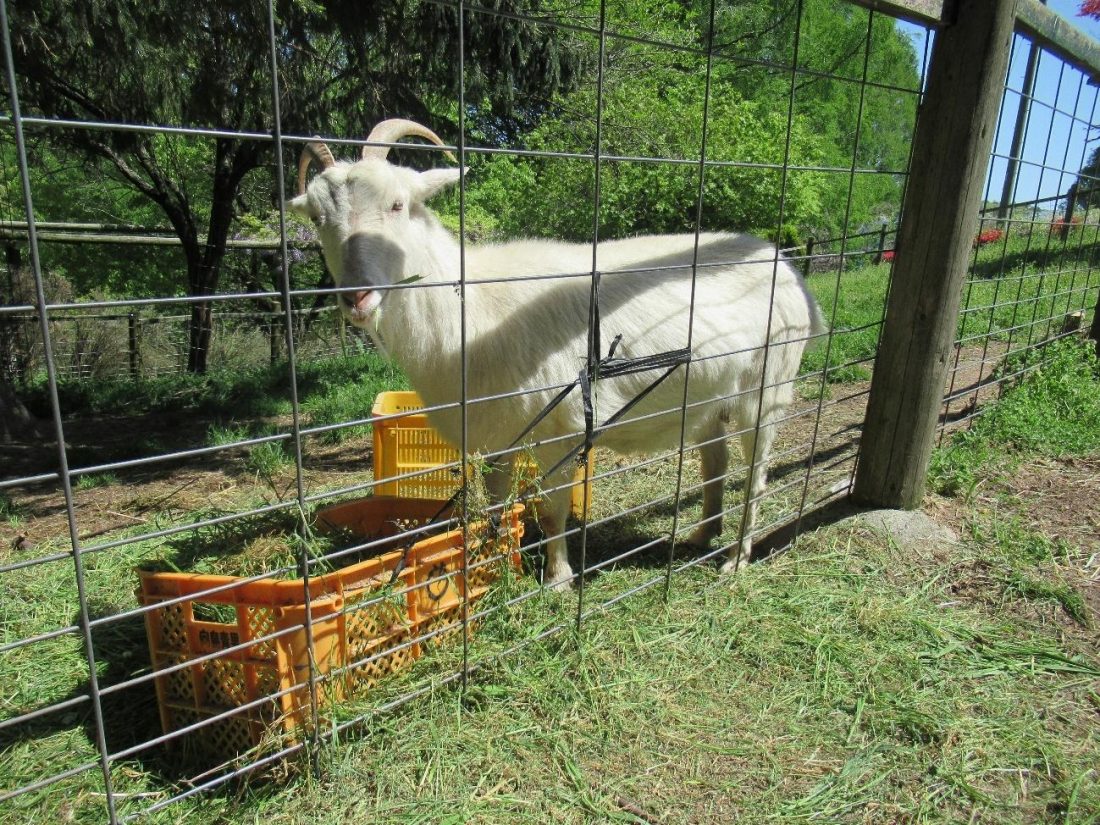 Hanging a left from the sign with the farm map, I came across the petting zoo, home to animals like goats, cattle, and ponies. I just so happened to catch this one goat in the middle of its lunch hour, happily munching on grass and occasionally giving me a blank stare as I stared back. During this moment, I was as entranced by this petting zoo as the typical children for which it was intended. Watching animals eat also hyped me up for the pigging out I was to engage in shortly.
Strawberry Fields Forever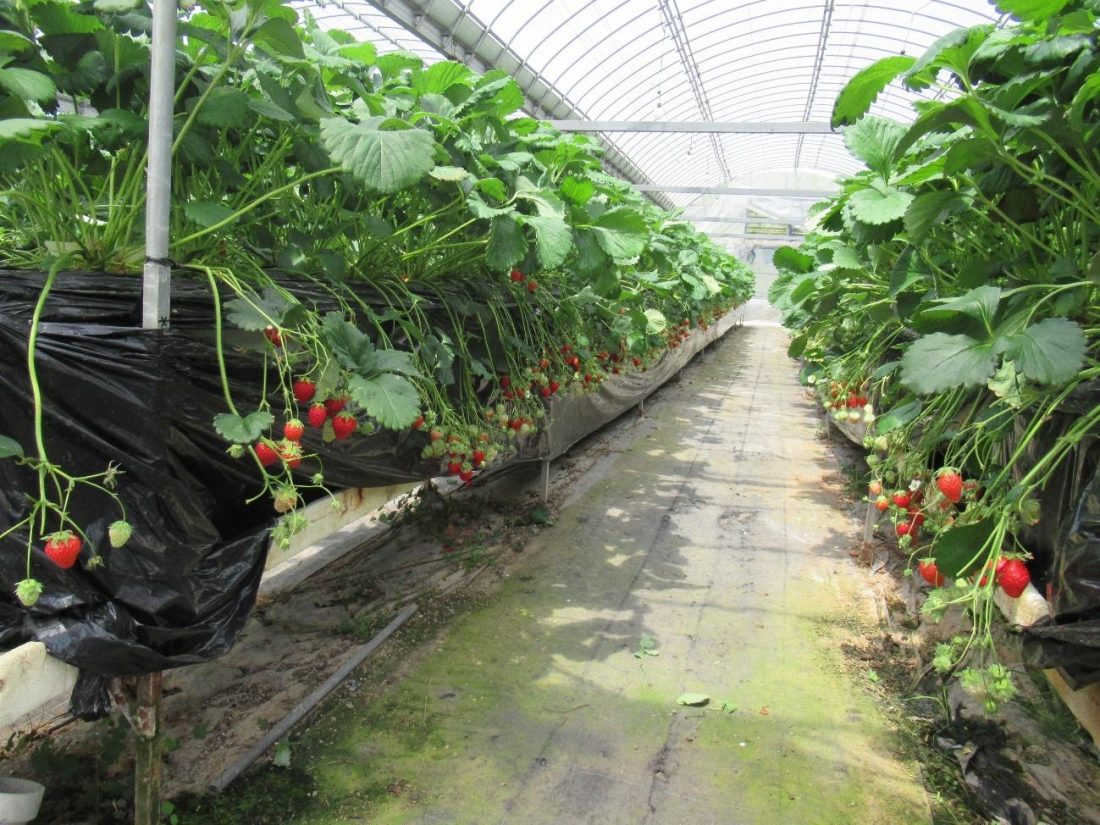 Seeing the hungry animals reminded me of my own hunger, which prompted me to make my way to the designated strawberry gardens. I started punctually at 11:00 and was given some hand sanitizer, a tiny pair of shears, and thirty minutes to eat as many strawberries as I could. The strawberry bushes were lined up neatly inside the greenhouse, not unlike aisles in a supermarket.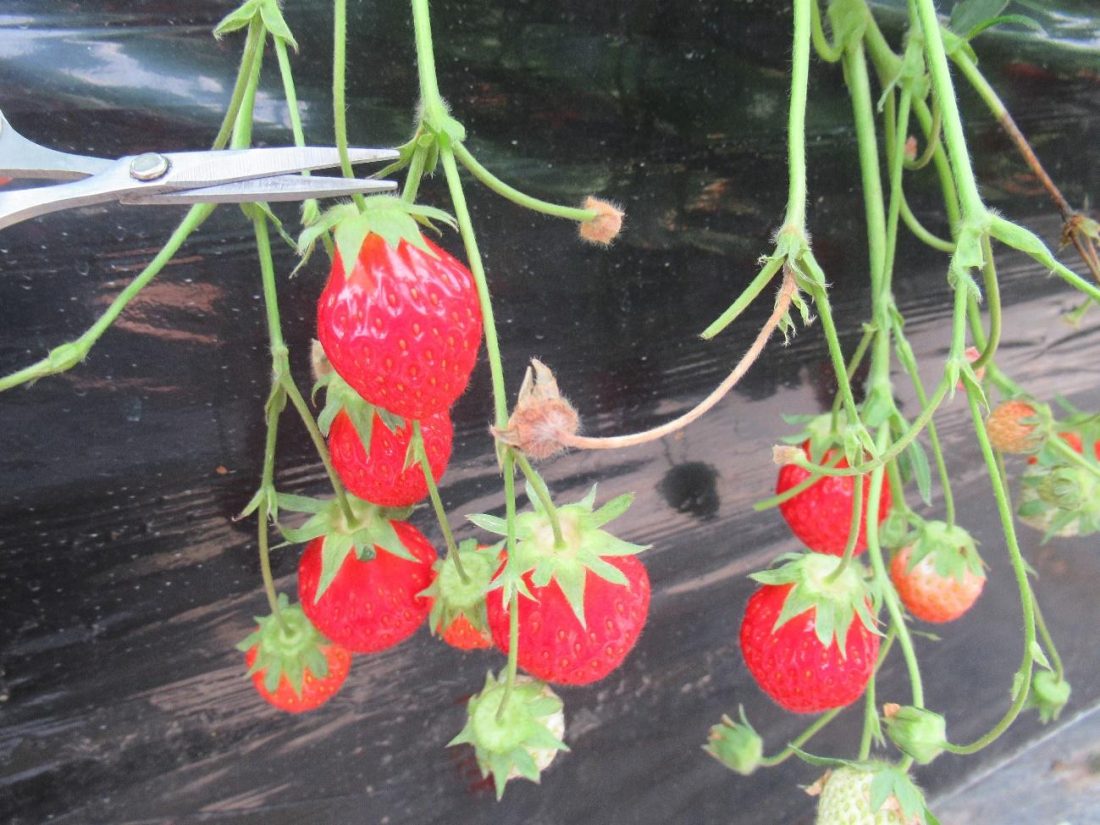 Visitors should pick the strawberries by holding the fruit gently with one hand and cutting the stem with the other using the shears. Everyone eats them on the spot and stores the caps and leaves in the plastic tray for easy disposal later. One tidbit of advice I overheard as I was pondering was that the key to finding the sweetest strawberries lies in their roundness rather than their color; it's easy to be fooled by a sour or bland strawberry with a funky shape despite being big or deep red. For added sweetness, I tried dipping some of the strawberries I picked into the cup of condensed milk provided earlier, and it definitely made the difference.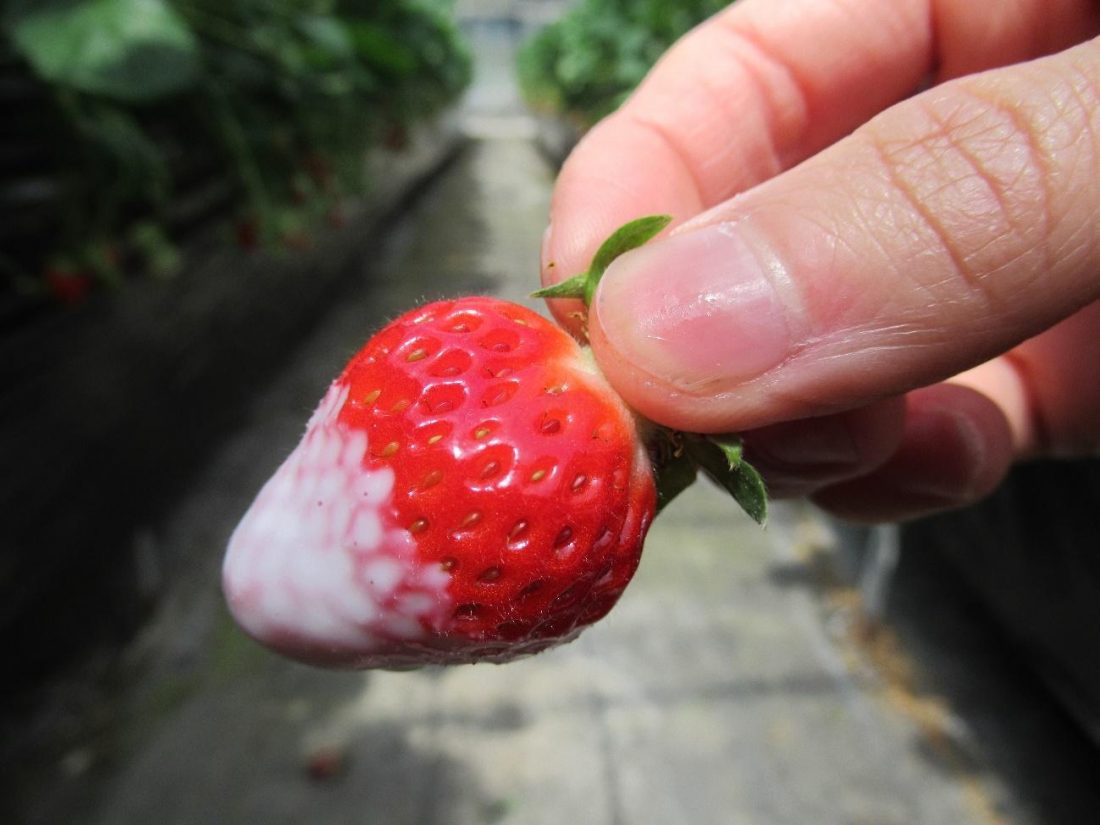 Thirty minutes and sixty-five strawberries later, I stumbled out of the greenhouse almost ready to burst. At this point I was getting kind of sick of strawberries, but I know I could've eaten more in the same timeframe if I didn't stop every now and then to take pictures of what I was doing, but if anything, that's an incentive to return next year. Outside, there was a large bucket for guests to dump all their strawberry caps and count how many strawberries they ate. I trust this will all be turned into compost or animal feed rather than simply wasted.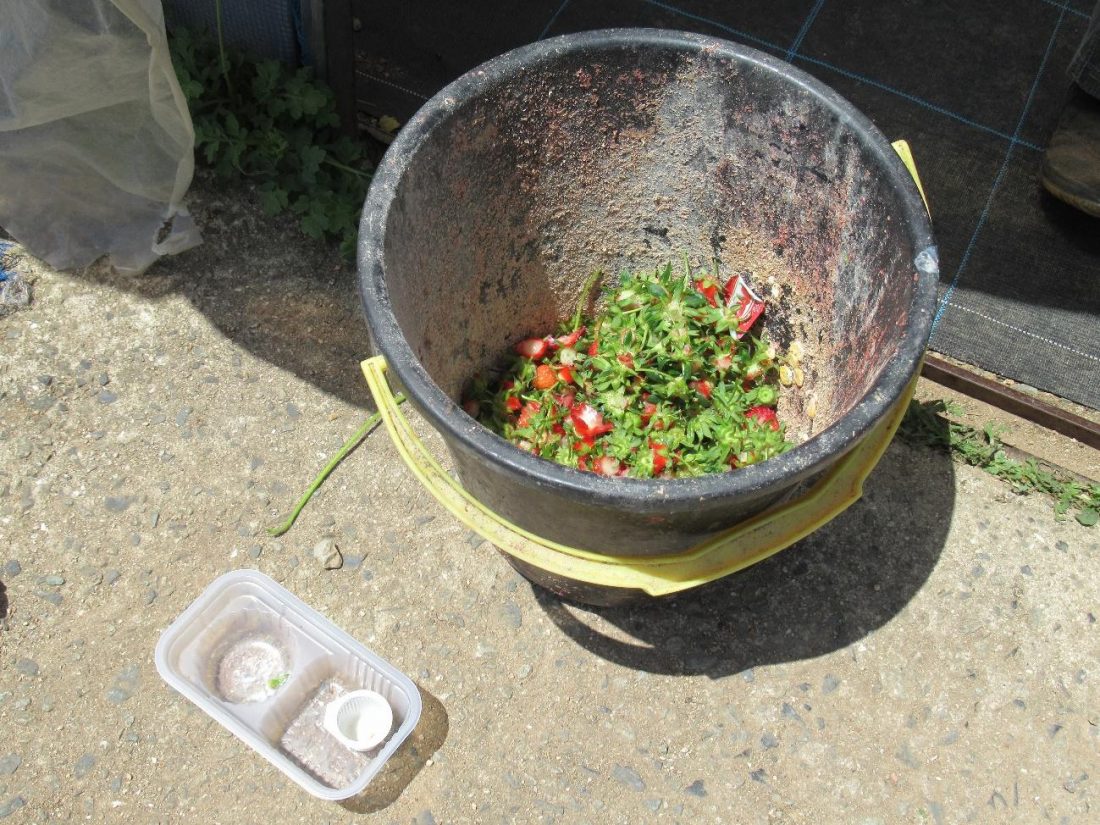 The Journey Home

The time was now 11:30, which gave me about an hour before the only bus back to Miyoshi Station would pass by the farm. I decided to walk off some of the calories around the farm and went back to the petting zoo. This time around, I saw that they had animal feed for sale, and I almost wanted to buy some food to give to the critters until I saw a sign saying that the ponies are currently on a diet. However, these same ponies were also walking about their pen and looking for spots to graze, though that could have just been them walking away from the sounds of the grass cutter.
I remained at the petting zoo until it was time for me to walk to the bus stop, which I passed by on my way up here. The nearest bus stop is called 破堂 (はどう – Hado), and is located about one kilometer out from the gift shop. As this was my only ticket home, I made sure to be ready and waiting well before 12:35, though the bus actually came by a couple minutes after. I got back to Miyoshi Station safe and sound, and awaited my transfer back to the Hiroshima Bus Center. While it is possible to have lunch at Hirata Tourist Farm after picking fruit, I instead opted to eat a lunch I packed the night before, because I knew I'd be too full from all the strawberries to eat at high noon.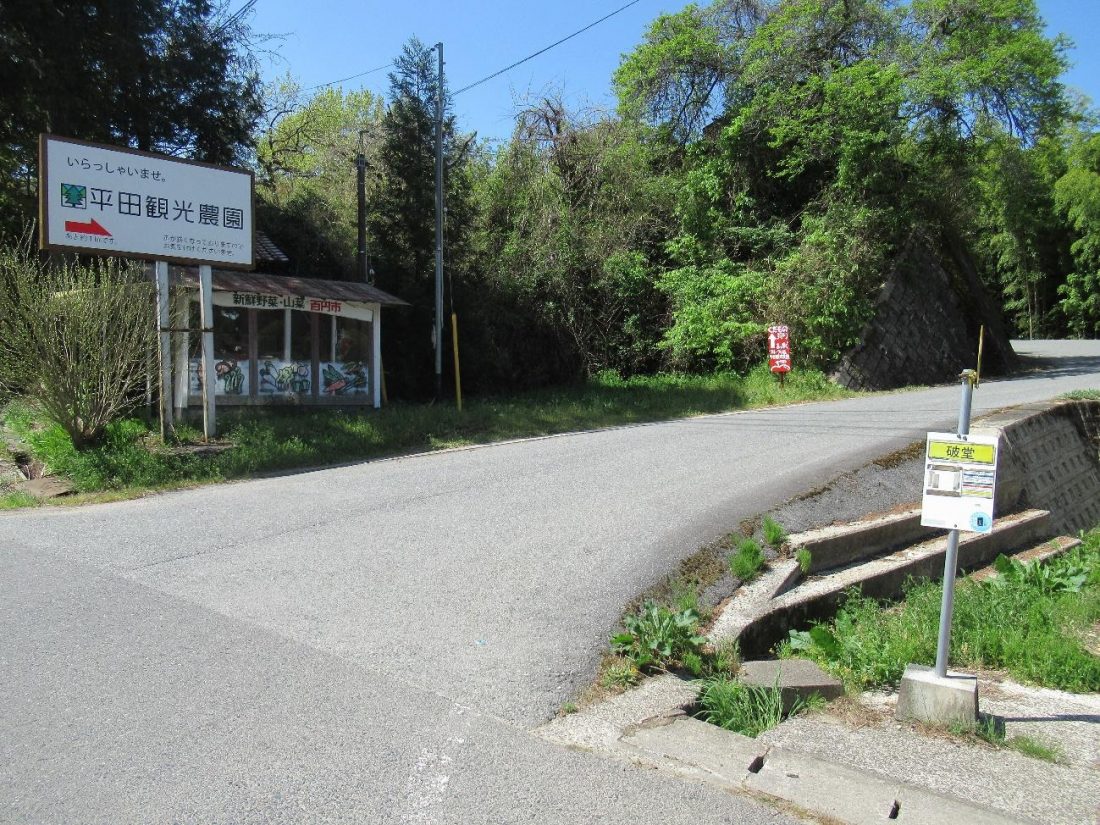 No matter what type of job you work, I'm sure you do your fair share and deserve a break every once in a while. After all the planning, bus rides, and hiking I went through for the sake of this excursion, I knew I had earned every strawberry I got my hands on that day. Hirata Tourist Farm is a fitting location for tourists who desire an escape from city sightseeing for that laid back country lifestyle, and since the above plan can have you back in Hiroshima by 15:00, there's still a little more time to wander around town if you still have the energy. It may not be the easiest day trip out there, but if you're willing to put in the effort to visit this grand farm in Miyoshi, I can assure that you will taste sweet, sweet victory, which I imagine probably tastes like strawberries.