NOW & NEW
Fig Season on Mukaishima: Eating While Riding All Day
September is a fine time to bike along the Shimanami Kaido in terms of temperature, but as it is also prime typhoon season, cyclists are essentially taking a gamble when they commit to the whole gauntlet. Trust me, I speak from experience, so I would bike between Onomichi and Imabari any month besides September. On top of that, cyclists who take the challenge of the Shimanami Kaido by bicycle tend to swiftly zip through the six islands, failing to fully appreciate any one particular stop, save for the island where they spend the night (if applicable). Big or small, any one island along the Shimanami Kaido can warrant a full day trip, especially when circumnavigating the island by bicycle. For such excursions, the most frequently touted destination would be Mukaishima, the island closest to Onomichi that is more famous for its quaint eateries than anything else.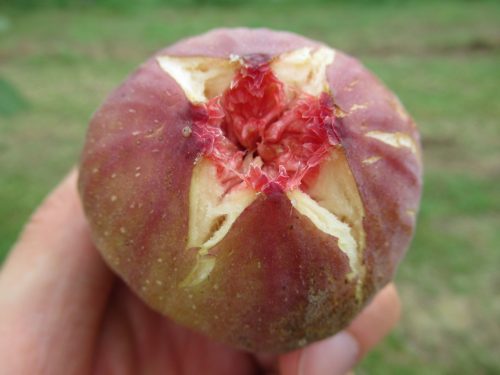 There are many cafés and stores selling locally-produced meals and snacks, so travel guides advertise Mukaishima as a culinary circuit to be traversed by car or bike. What's more, September is when fig season starts at the island's Manchou Farm (万汐農園 – まんちょうのうえん), where the pickings are bountiful until the typhoon mangles the trees and fruit come mid-September. Once the typhoon subsides, the second fig season starts back up in early October and lasts through to mid-November, but the subsequent harvest is never as impressive, so I took it upon myself to make a reservation (required and done over the phone, Japanese ability necessary) for September 2nd, the first Saturday of the month. As Manchou Farm is on a hill in the middle of Mukaishima and no bus stops there, I would have to rent a bicycle in Onomichi and pedal hard to partake in this seasonal experience.
Pre-Trip Route
Early that Saturday morning, I packed my bag with a sufficient water supply and my trusty bicycle helmet (I personally like to avoid icky rental wear) before walking to Hiroshima Station to take a circa 100-minute train ride along the JR Green Sanyo Line to Onomichi Station. Since I had a rather early breakfast and was about to go cycling around an island, I made a detour from Onomichi Station to Koro Bakery on Onomichi's Hondori for a humble second breakfast. It was barely past 10:30 a.m. and other shops were in the process of opening, but Koro Bakery had been brightly operating since 7:00 a.m. and upon entering, my nose was met with a smorgasbord of aromas from their freshly baked goodies.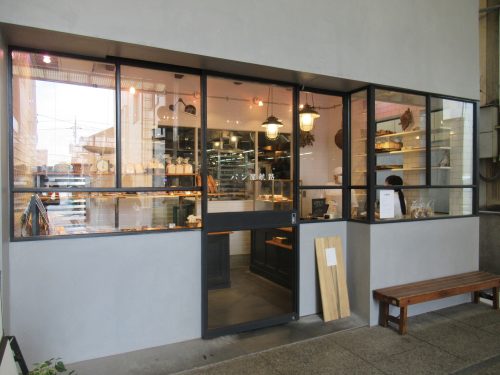 I was at a loss as to what to get, as everything looked yummy, but I was also trying to save my money for lunch and snacks on Mukaishima. In the end, I settled on this tiny sweet potato flatbread disc, which wouldn't make me full, but at least sate my appetite for another hour. The wooden bench outside the bakery provided the perfect spot to munch on my bread while watching the first shoppers of the day stroll by (I was probably good advertising for Koro Bakery as well). The name Koro (航路) is actually a reference to the sea routes between Onomichi Port and the other Setouchi islands, so having my first bite in Onomichi here was befitting for the journey ahead.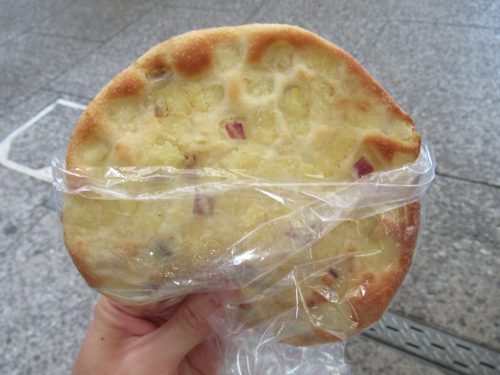 Following my second breakfast, I backtracked past Onomichi Station to the Onomichi Port Bicycle Rental Terminal, where I signed some papers, paid the rental fee, busted out my helmet, chose a bicycle to ride for the day, and made my merry way to the pier. Eager as I was to start riding straight away, the path between the bike rental garage and the ferry stop is short and often clogged with pedestrians, so cyclists are advised to walk their bicycles to the pier and calmly await the next boat. In just a few minutes, my ride docked, and as soon as passengers from Mukaishima got off, I boarded along with other cyclists, paid the fare partway through the ride, and before I knew it, the ferry called at Mukaishima.
Checkpoints for Chowing Down 
When I got off the boat, I had to get my bearings straight before heading off, but since the road going around Mukaishima is marked with a blue line for tourists on bikes, I didn't have such a hard time navigating. I decided to travel clockwise as my first point of interest was on the western end of the island, and luckily, the road here was smooth with little to no traffic lights or inclines. Not much time elapsed before I reached tsubuta SANK!, a seaside café that only opened in September 2022.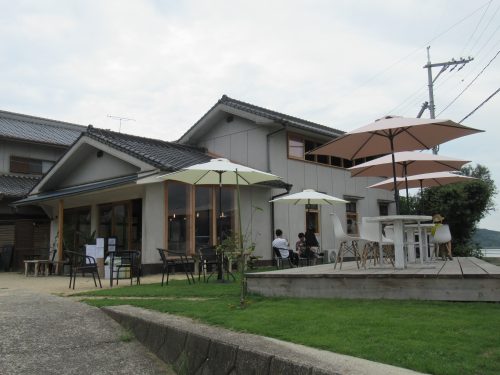 As the weather was still muggy in early September, an ice cream break here was a perfect cooldown from the ride thus far and a welcome warm-up to lunch elsewhere. With fig season underway, one of the gelato flavors available was undoubtedly "The Forbidden Fig," so I got myself a scoop of that and one of "Black Grape and Beet," a delectable, dark purple sphere of juicy, fruity goodness. Adorned with a small wafer and served in a cup with the café logo on the side, my gelato was nothing short of photogenic. I took my frozen treat to the white table closest to the Seto Inland Sea and enjoyed my gelato with a view of the seascape while watching other tourists go by and stare at us.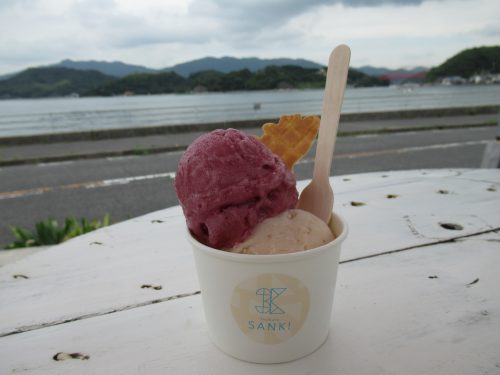 The gelato recharged me, and after disposing of my trash, I got back on my bike and pedaled to my next destination, the Tachibana Diner, for lunch. This restaurant is located on the southern end of Mukaishima just past the bridge leading to Innoshima, but the entrance is somewhat inconspicuous and I ended up unknowingly whizzing past it. After speculating and retracing my steps, I ended up at the Tachibana Garden, which houses the restaurant. They had a rack for visitors to lock their bikes, so I parked there and entered the diner.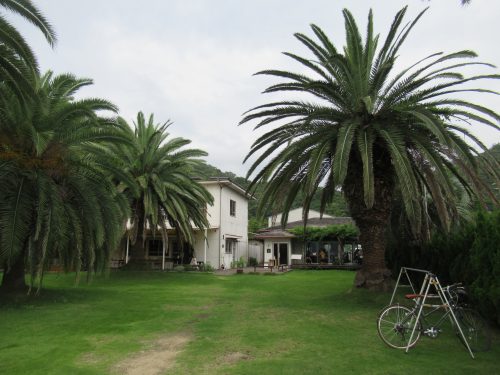 There are a few items on the menu, but most everyone goes for the plate lunch special, which is entirely made from fresh, local ingredients, and changes on a regular basis. Not only was there a description of what would be on the plate, but a complete map of said plate with the ingredients of some foods listed. I studied said map intently at my table as I waited for lunch to be served.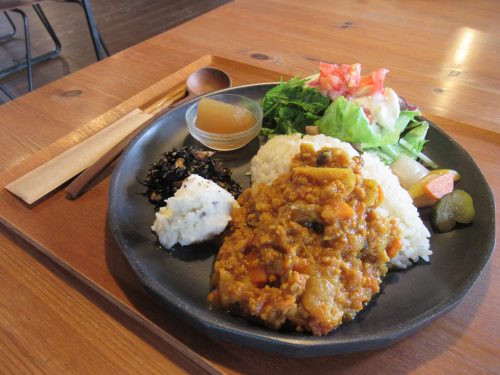 Let's start from the green salad at the top of the plate and move clockwise. The salad is dressed with a salsa sauce made from tomatoes, red onions, herbs and a citrus mayonnaise sauce. To the right of that, I had some homemade pickled vegetables to accompany the multi-grain rice, which itself was covered in a soy meat-based keema curry. The white blob to the left of the curry was mashed potatoes with two kinds of olives, and behind that was a hijiki and okra salad with a plum and peanut dressing. Last but not least was a piece of apple compote, which possessed a mild sweetness characteristic of a dessert, but I already had dessert before lunch in the form of gelato. In retrospect, it wasn't a lot of food despite the variety, but I slowed down hardcore to savor every bite of the individual dishes, between taking pictures of my plate and the view outside, that is.
Moment of Joy: Sea of Green
Speaking of the view, the water wasn't the only thing that was expansive when looking out from the terrace, as the green lawn of the Tachibana seemed to stretch on forever, just like the Seto Inland Sea. After my meal, I opened the door and stepped outside to have a closer look at this sea of greenery and let the fresh air blow through my sweaty clothes. I could've left the Tachibana Diner much earlier, but as I saw this time as a well-earned rest from the cycling I had done so far, I opted to unwind at my table for as long as I could before my appointment at the fig farm. Much as I wanted to stay there for the rest of the day, I knew Manchou Farm was a long way from here, so I begrudgingly packed up my things and hopped back on my bike.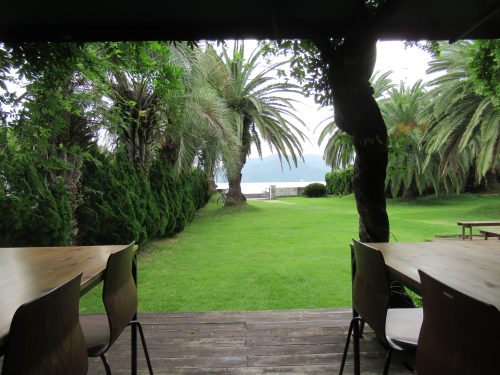 Fig-ger It Out
Manchou Farm isn't on the Shimanami Kaido route, so there were no markings to indicate how to get there, which left me having to rely on my map app to navigate through Mukaishima's winding, unclear, uphill streets. At one point, the incline was so steep that my legs gave in and I resorted to walking my bike up the hill, and when I asked an on-site construction worker for directions to Manchou Farm, he explained that he wasn't from the area, so I was truly on my own. Back when I was at the Tachibana Diner, I lounged about based on the estimated time it would take me to cycle to the farm, but I assumed there wouldn't be much time spent figuring out which way to go. At this rate, I knew I would be late to Manchou Farm, so I phoned them notifying them of my tardiness, and they assured me that I would still be able to pick figs by the time I got there.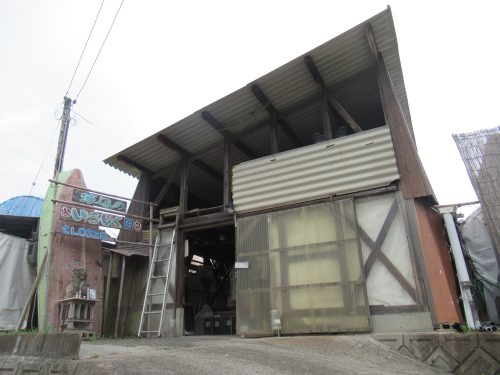 I eventually reached the farm unscathed, and parked my bike at the bottom of the ramp leading to the entrance as there was no other space for bicycles (it seems everyone drives there). As soon as I entered and announced who I was, I was seated with a registration form, and after filling that out, I joined another family there and listened to an explanation on how to pick figs. Firstly, we were given an answer sheet to quiz questions that were placed all over the orchard, and I pulled out my own pens to mark my answers. When the worker explained that some of the better figs may be higher up in the tree, I had to stifle my laughter when she referred to "magic staves" we had to use to reach the fruit, when in reality, the implements were mere walking sticks. She accompanied us as we all plucked our first fig, then told us we could pluck nine more before returning to the reception area; with that, she had to run off to attend to other guests, leaving us on our own.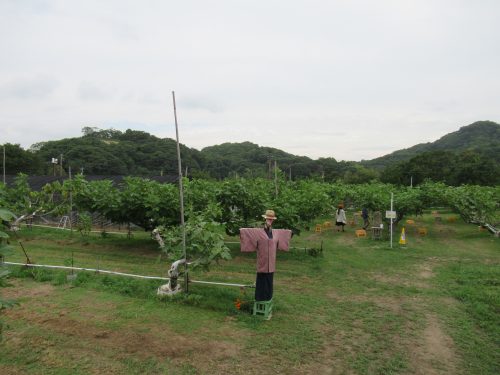 The orchard wasn't all that large, but it was spacious enough to allow each party to wander off and pick their figs away from others. The farm grounds were decorated plainly with scarecrows and cute statues here and there, and there was even a makeshift observation deck made of stacked crates that allowed visitors to get a tiny glimpse of the Seto Inland Sea or a low bird's eye view of the farm. On another note, picking the other nine figs was more challenging than I had anticipated, as the good-quality, low-hanging fruit were mostly taken by other tourists in the morning, which meant I had to search harder while looking up at the treetops. If anything, that meant more chances to use my "magic staff" to knock down figs, and I got pretty good at it, if I do say so myself.
Upon picking my tenth fig and answering all six quiz questions (I was a good boy and didn't cheat by using the Internet), I returned to the reception area to check my answers and have my fruit weighed and packaged. I ended up getting three out of six questions right, which wasn't so bad considering how little I know of fig trivia. The worker spotted a couple of bad figs in my basket, and offered to replace them with tastier fruit, which I gladly accepted. I could have stuck around to eat my figs, but instead chose to take them home, so I turned in the quiz paper (which also had a survey on it), paid for the experience, then got on my bike and rushed downhill toward the northern port.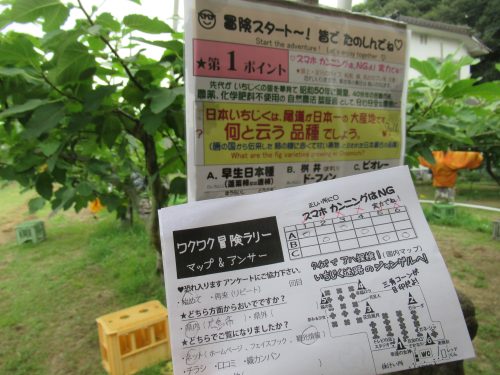 Final Fill-up
On my way back, I contemplated stopping at just one last eatery before sailing back to mainland Onomichi and returning my bicycle. I did a little more research and found that a locally famous café, Onomichi Kannon-yama Fruits Parlor, was on the way back to the pier, so I decided to make a detour there for an afternoon snack. Judging by the number of bicycles parked at the bike rack, I knew there were a lot of customers inside, but I went inside and waited anyway.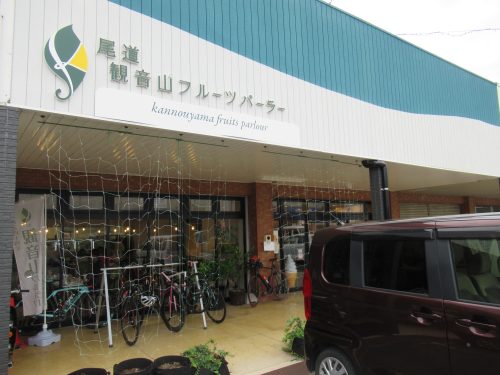 This joint opened up back in 2021 and is famous for the delicious fruit parfaits they painstakingly craft one by one. Naturally, with September being fig season, their limited-time special was the fig parfait, which I decided to order. The café just so happened to be understaffed that day and there was a table with many cyclists ahead of me, so it took quite a while for them to assemble my parfait. At that point, though, I was too tired to care, so I sat absentmindedly until my parfait came.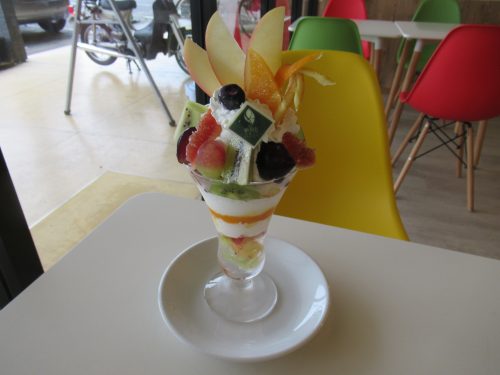 The parfait looked gorgeous when it arrived, to the point where it would be worth it to order this item just to take pictures of it. From the apples to the oranges to the kiwis to the figs, every piece of fruit was succulent, pairing excellently with the whipped cream and sponge cake underneath. With my belly full once again, I decided to call it a day here and return to the pier to take the ferry back to the mainland.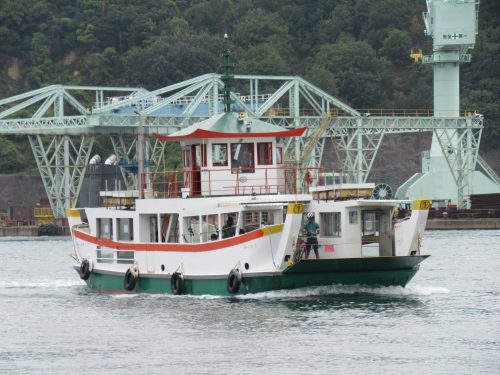 The timing of my arrival back at Onomichi Port was perfect for an Onomichi ramen dinner, but alas, the fig parfait spoiled my appetite somewhat, so that would have to wait until another day. All in all, Mukaishima is indeed an entertaining day trip that justifies being featured in domestic travel guides, even if all the famous places are just places to eat. When all that food is combined with cycling around the island, there is still a net loss of calories, so travelers on diets, rejoice! The moral of this adventure is that doing the Shimanami Kaido doesn't have to involve going from one end all the way to the other, as getting to know just one segment of the route can be just as—if not more—rewarding than a straight shot across the sea. For those who need a sweeter incentive to do any form of exercise on vacation, Mukaishima is calling your name, and a bicycle with your name on it is waiting for you in Onomichi.
Written by the Joy in Hiroshima Team