NOW & NEW
HIJ's 30th Anniversary Celebration: Cool Events Around the Airport
Hiroshima Airport, frequently abbreviated as HIJ, is a beloved transportation hub used by residents all over the prefecture. Nestled in the mountainous reaches of Mihara, it was established in 1993 and replaced the airport in western Hiroshima City, which is no longer utilized by the public. For Hiroshimarians, HIJ is a cost-effective gateway to Tokyo, Sapporo, Naha, Taipei, Shanghai, and Seoul, to name a few destinations, and for those coming from the aforementioned cities, HIJ provides a smooth connection to the sought-after tourist sites in Hiroshima City and Miyajima. Small and humble as it may be, we Hiroshimarians treasure HIJ, so when the airport's 30th birthday landed, there were certain to be loads of events to commemorate it.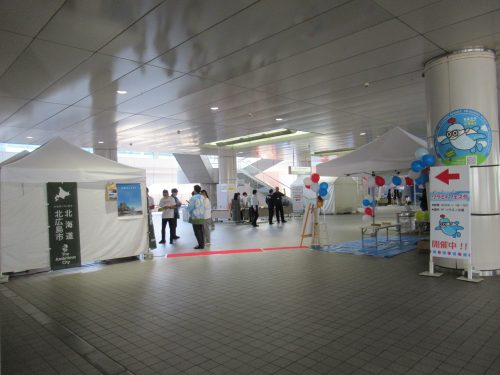 The biggest of these events, the Soramy Festa, was held on the weekend of the 17th and 18th of June in the Soramy Plaza, which encompasses the outdoor space of the first and second floors of HIJ. The festival was named after Soramy, the mascot for HIJ, but it wasn't just centered around him; HIJ partnered with organizations in Hokkaido to promote destinations all over the prefecture as well as the flight routes to New Chitose Airport (abbreviated as CTS). I made sure to take an early Airport Limousine Bus to HIJ from the Hiroshima Bus Center on the morning of the 17th to get to the festival site before it began. There were shows being held on both days of the Soramy Festa to promote places of interest in Hokkaido, featuring ice sculptures reminiscent of their winter festivals, as well as famous characters like Doraemon (Saturday only) and Pompompurin (Sunday only).
Cool Shows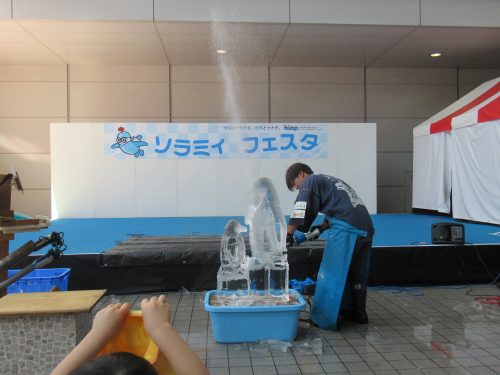 The first show on the lineup that day was an ice sculptor who used a bunch of power tools to replicate some of the awe-inspiring works I saw during the Winter Festival in Asahikawa. This artisan employed apparatuses such as a chainsaw and a special sculpting drill to turn a titanic, rectangular block of ice into a penguin parent and child on raised platforms. Before the show began, there was a disclaimer that spectators sitting in the front row may get showered with ice and water particles; I was seated in the second row and got sprayed, but that was welcome considering the early summer heat. Regrettably, video recordings were forbidden for all shows that day, so these snapshots of the sculptor at various stages of demonstrating his craft were all I could capture.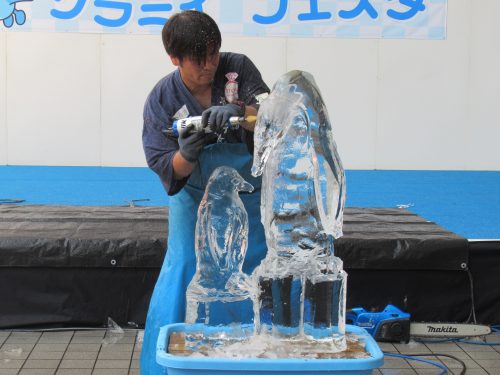 However, those penguins were not his only creation, as he would give the audience a freebie with the help of some child volunteers from the crowd. First, he used a power drill on a small block of ice to create several holes and petal-shaped nicks within, like a 3D painting. We all immediately knew he was making flowers, but then he pulled out some bottles of dye and held a massive rock-scissors-paper showdown to determine who could color said flowers. The children who won (adults could play too, but I wanted the little ones to have their moment) chose to dye the ice flowers pink, yellow, and blue, and the leaves were tinted green. When all was done, the artisan showed the finished product to the audience, and even sawed off the pink flower to give to one lucky family (decided by communal RSP once again).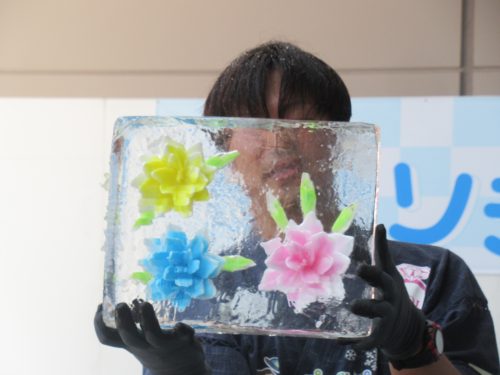 The second show of the day was Doraemon, and it would be safe to assume that most of the families present at this time came to the Soramy Festa just for this alone. In order to promote the Doraemon Sky Park wedged between the domestic and international terminals at CTS, Doraemon and friends came to HIJ to perform a short skit in the morning and in the afternoon. Before that got underway though, the MC made a short announcement to the kiddos reminding them not to climb onto the stage or throw anything down from the second floor of the Soramy Plaza if viewing from above. With that explanation out of the way, the kids were prompted to shout Doraemon's name to start the show, and sure enough, he came out to greet the audience!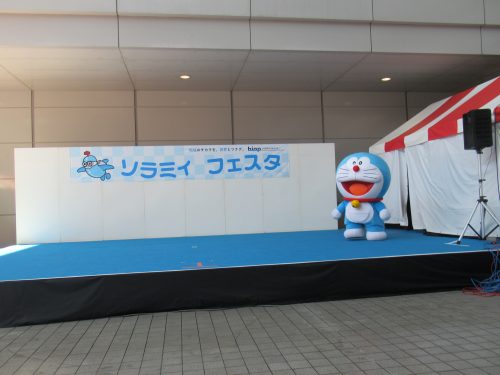 Doraemon was looking for his friend Nobita, an elementary school-aged boy who is always pressured by his mother to study, but avoids doing so at all costs. When Nobita meets up with his friends to hang out, they try practicing a dance they learned at school, but since Nobita got left and right mixed up, he continually messed things up for his companions, some of whom chewed him out for it. A frustrated Nobita pleaded with Doraemon for a device that makes everyone around him leave him be, which Doraemon begrudgingly lets him try. When Nobita activates the device, which he was unable to remove, Doraemon and everyone in the world forgets about his existence, tempting Nobita into causing mischief to his friends who berated him. However, that grows stale and Nobita begins to long for others to notice him again and he watches their lives continue in his absence. While he broke down and started sobbing, the device inadvertently fell off, causing everyone to notice him again, and his friends invited him back to dance practice. The moral of the story is that come rain or shine, taking part in activities together beats sulking alone any day.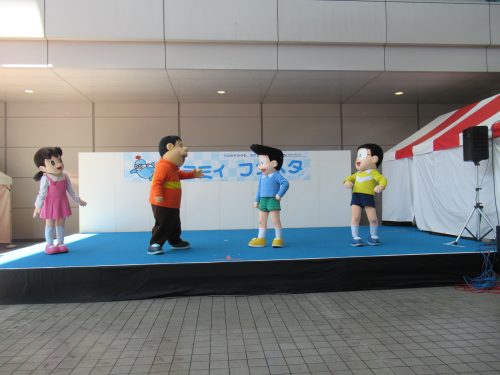 The More You Know Hokkaido
After the Doraemon show, I got up and decided to check out the festival tents one by one, and luckily for me, there was a quiz rally so I had a reason to visit every single tent. The answers to the questions could be found by reading the info at both indoor and outdoor sites, but the smartphone app allows unlimited guesses to the multiple choice questions so it isn't actually necessary to hit up every location. Each tent had some bit of info to share about Hokkaido, such as all the airports that can be accessed from CTS, or the histories and points of interest in various municipalities of Hokkaido, such as Kitahiroshima City. Did you know that Kitahiroshima in Hokkaido was founded by pioneers from Hiroshima City? 
A Hiroshimarian man by the name of Ikujiro Wada had a dream of founding a village in the wild northern frontier, so in 1884, he brought over 25 households consisting of 103 people to start their new lives in Hokkaido. It was originally to be called "Wada Village" after the founder, but Mr. Wada insisted that it be named "Hiroshima Village" in honor of the residents' origins. As Hiroshima Village grew, it was elevated to a town in 1968 and then promoted to a city in 1996. However, in order to avoid confusion with Hiroshima City in Hiroshima Prefecture, this Hiroshima of the North was renamed "Kitahiroshima City," which literally means "North Hiroshima City." Kitahiroshima in Hokkaido Prefecture has been the sister city of Higashihiroshima in Hiroshima Prefecture since 1980, which further solidifies the bond our prefectures share.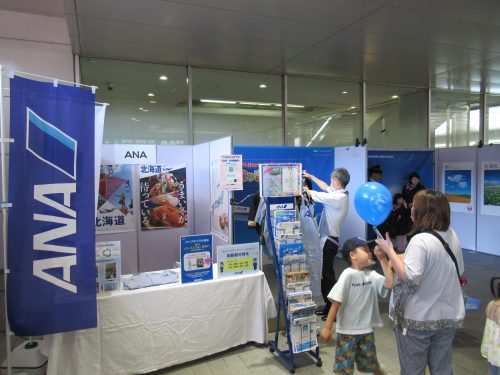 Other stations gave kids and their parents the opportunity to dress up as ANA or JAL pilots and cabin attendants, try their hand at ice fishing, or build a snowman. Meanwhile, people in costumes depicting the HIJ mascot Soramy and Hokkaido Prefecture's mascot Kyun-chan were walking about the plaza and posing for photos. It was at this time that I started to feel a bit peckish, so I completed the quiz rally, got some freebies from a couple tents, and headed into the airport's departure lobby to forage for food.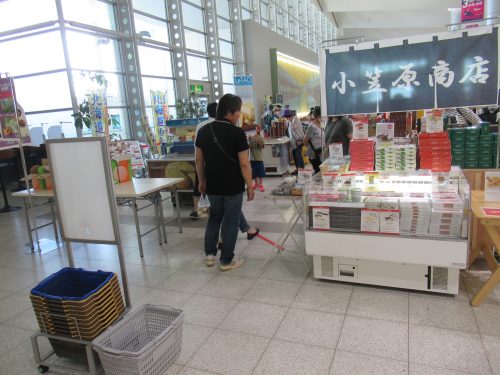 Going up the stairs of the Soramy Plaza and entering the airport from the second floor will have one face to face with the Hokkaido food fair. They had almost everything from Hokkaido one could want, from snacks to seafood products to fresh Yubari melons. Naturally, this meant that the line at the register was out the wazoo, so I opted out of shopping here today. I instead decided to dine at Oyster Farm, where I partook in an oyster rice bowl with a bowl of miso soup and Japanese pickles.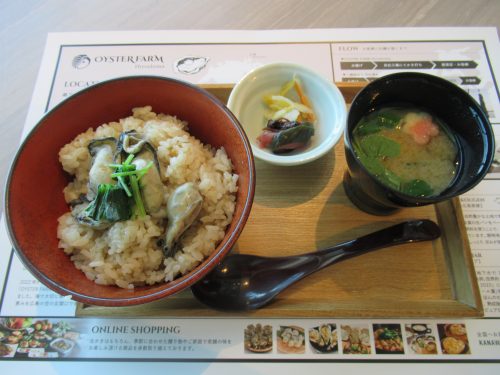 Moment of Joy: Something for Nothing
When I was exploring the Soramy Festa outside earlier, this one tent behind Kyun-chan was doing a lottery for those who added a Hokkaido promotional account on LINE. There were various prizes awarded depending on the color of the ball that came out of the container; when I spun it, a gold ball, the highest tier, graced me with its presence. I was overjoyed to know that I had won the biggest prize, which was a Kyun-chan eco bag, but the satisfaction mattered more than anything. All the somethings I got for nothing from the Soramy Festa justified taking the trip out to HIJ that day, and left me content for the rest of the afternoon.
Hilltop Lookout
The rest of my day was spent not at HIJ itself, but at nearby tourist sites also celebrating HIJ's 30th birthday. For instance, Sankeien, the garden opposite HIJ, not only had hydrangeas at their peak in June, but anyone who bought a ticket to Sankeien got perks at select shops inside HIJ and around Hattendo Village. Since I had plans to see the garden in the late afternoon but planned to buy food before going, I bought my ticket in the morning before having lunch and souvenirs, which got me a discount off my oyster rice bowl and a free momiji manju (with purchase) from Nishikido. At Sky Station Orchard at the top of a hill, where Hattendo Village is located, I was able to redeem a tiny cup of vanilla soft serve ice cream, no strings attached.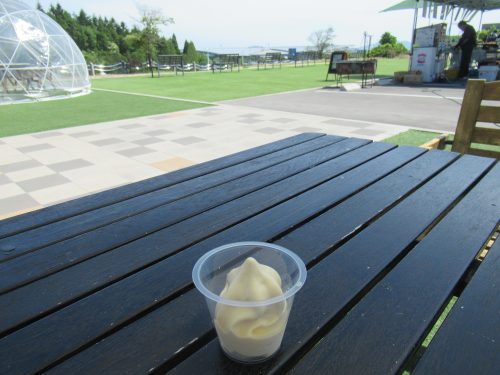 Those who time their visits here right can watch planes take off from or land at HIJ while enjoying their food. Besides the stores that sold food, there was a stand outside selling meat skewers with Sera beef, a spacious grassy area for tykes and dogs, and a playground that was popular with small children. There was even a stable inhabited by two ponies, and although they get fed by a caretaker at specific times of the day, visitors sometimes bring their own vegetables to give to the equines. I had nothing on hand that a pony could safely eat, but seeing others feed them was entertainment enough in my book.
Purple Sun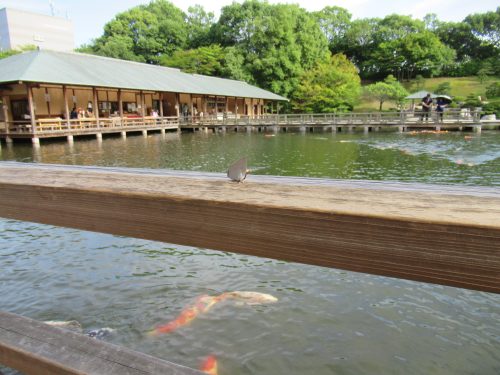 It wasn't until close to closing time that I hit up Sankeien, but in retrospect, that was the best time to stroll the garden. The sun was setting and most visitors were heading home, so it wasn't too hot or crowded and I could find solitude under the pavilions. As usual, there was fish food for sale for ¥100, but if there's anything I learned from Okunoshima, it's that dropped animal feed can be picked up off the ground for free. I managed to find some pellets on the ground and sat under a pavilion, admiring the aquatic and insectoid life until the other visitors left. As one other visitor kindly pointed out, one of the carp had a heart-shaped pattern on its head; I made sure to snap a photo of that fish (can you find it?) before tossing my pellets into the pond.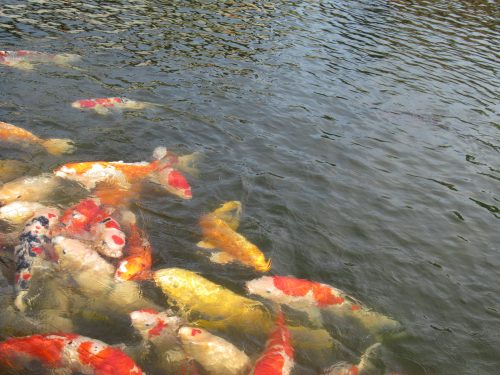 My main motive for visiting Sankeien was the hydrangea, which were tucked near the back of the garden, so I followed the path along the pond where these sunny, purple and white pom poms seemed to lead the way. The Japanese name for hydrangea is ajisai (紫陽花), whose kanji literally translate to "purple sun flower," even though hydrangea can be white, blue, pink, or any other hue. They are in no way related to sunflowers, but their round shape and the fact that they peak early in the sunny (maybe rainy) summer may remind onlookers of the sun itself.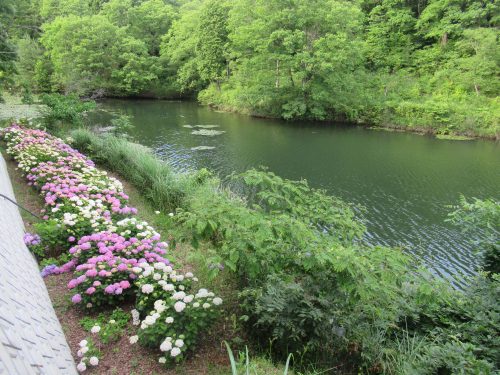 All along the wall on my left were hydrangeas in a plethora of cultivars, leading to stairs going up the hill, where they continued. Many of them looked so flawless and fluffy I had to resist the temptation to touch them, but I did touch one of them and it truly had the texture of a pom pom like I had imagined. They were all so pretty that I wanted to take pictures of every single variety, but had I done that, I wouldn't have made progress through the garden.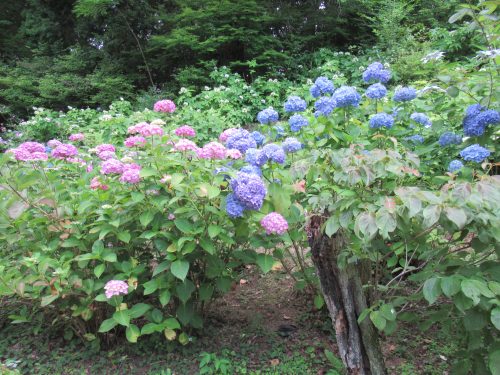 Minutes before the announcement came out attempting to kick out all visitors, I made it to Kangetsutei, the pavilion at the top of the hill. I had done lots of walking that day, from HIJ to Sankeien to buy the admission ticket in order to get perks back at HIJ, and then to Hattendo Village before strolling all over Sankeien itself. To say that being able to sit and rest at Kangetsutei would be an understatement, and in addition, the weather today was more pleasant than it was when I visited two years ago. If an airplane had been flying past, this view of HIJ's control tower in the distance would have been picture perfect!

For an airport of its size, HIJ has been known to take its birthdays seriously, as can be seen from this weekend's event. Collaborating with the Hokkaido Prefectural government as well as ANA and JAL were also the right things to do, as everyone's desire to fly to CTS and visit Hokkaido was renewed (not that I needed convincing, but all the more reason to return). Conversely, that also means that visitors from Hokkaido, Tokyo, Taipei, Seoul, and other advertised destinations will eventually touch down at HIJ and get to know its humble charm. For an airport that only turned 30 this year, HIJ has a bright future ahead in attracting more tourists to Hiroshima and increasing worldwide admiration for our sunny prefecture.
Written by the Joy in Hiroshima Team