NOW & NEW
food
tradition
experience
okonomiyaki
shopping
Special Meals in Hiroshima: Accommodating Guests with Dietary Restrictions
Japan is not a vegetarian-friendly country, period. Not only do most restaurants not accommodate vegetarian diners by adding some meaty or fishy garnish to what could've been a completely plant-based dish, but your average Japanese person doesn't seem to be aware of the phenomenon that is vegetarianism. I have heard something along the lines of the following conversation (in Japanese) in this country too many times to count.
"Is there anything here for my friend to eat? He's a vegetarian."
"What's that?"
"It means he doesn't eat meat."
"So…he doesn't eat meat, but he can have fish, right?"
"No, he can't have fish or any seafood either."
"What about chicken? He has to at least eat that."
Most Japanese people's idea of a vegetarian seems to be a pescatarian, or someone who simply includes a lot of vegetables in his or her diet. This may be due in part to the diet Japanese people traditionally had prior to modern times, when they started emulating Westerners in their increased consumption of beef, pork, and other land animals. At the other extreme, some folks mistakenly believe that vegetarians only eat vegetables (in other words, no fruit, beans, nuts, bread, etc.), which is not only wrong, but insufficient for the human body. The icing on the metaphorical vegan cake would be how so many restaurants in Japan are adding vegetarian items to their menu, but not taking into account cross-contamination or animal-based sauce ingredients.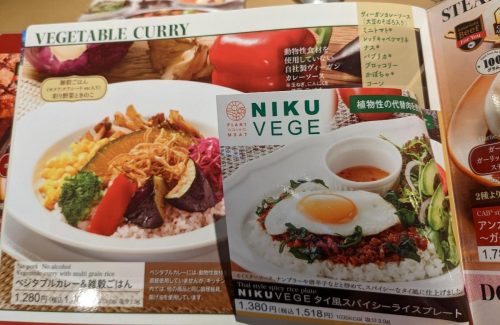 The above menu from a family restaurant chain advertises a seemingly halal and vegetarian curry with multi-grain rice, but has a fine-print disclaimer to the side admitting that all vegetarian items are prepared in the kitchen using the same cookware and frying oil for everything else (which means acquiring traces of fried chicken, pork, etc.), rendering these special items unfit for people on certain diets. Next to that is a Thai rice plate that contains soy meat rather than animal meat, but because it is seasoned with oyster sauce, this so-called plant-based dish is only suitable for pescatarians, not vegetarians. When almost every restaurant in Japan is this oblivious and insensitive to those with dietary restrictions, can foreign tourists (who cannot speak Japanese) truly dine out in peace when they come to Japan?
At the very least, they will be cared for by the airlines on their way here, provided they state their dietary restrictions when reserving their plane tickets. When I flew to and from Germany to check out Hannover, I told a white lie and requested a vegetarian meal for each leg of the journey: a Vegetarian Lacto-ovo Meal and a Vegetarian Oriental Meal. As lacto-ovo vegetarians have a more flexible diet, that meal was rather decent, but the Vegetarian Oriental Meal (pictured above) had to be the blandest thing I had ever ingested 40,000 feet above sea level. Surely this wouldn't be the type of food vegans would be stuck with when they touched down on Japanese soil, would it?
Compared to other principal cities in Japan like Tokyo and Osaka, Hiroshima is sorely lacking in places that are friendly toward diners with special dietary needs. Even if said diners find an acceptable item in a restaurant, their choices are few and the staff may act awkwardly towards them. In fact, I can probably count all the reliable places in downtown Hiroshima on two hands, but allow me to introduce some of these trusty local joints and the various special diets they cater to on their menus.
Karsiyaka (Halal, Vegetarian)
When it comes to religious diets (especially those that only prohibit meat from certain animals), Japan isn't in the know and doesn't make special arrangements to avoid cross-contamination. Customers who are Muslim, Hindu, et cetera, ought to announce their dietary restrictions beforehand, inquire about the ingredients of items, and ask if arrangements can be made to remove forbidden ingredients and/or have their food cooked separately from others'. I still wouldn't trust most Japanese restaurant staff completely on said arrangements, so though I hate to say it, the best bet for visitors to Japan on religious diets will still be ethnic cuisine.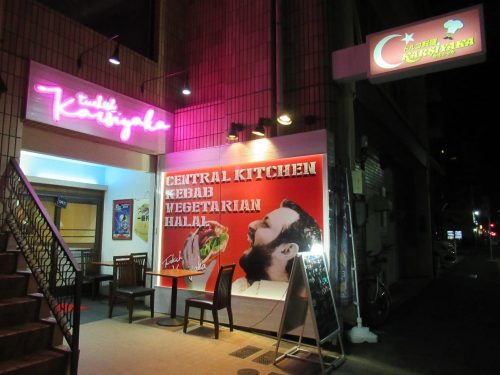 Luckily, such options exist in Hiroshima City, and the Turkish restaurant Karsiyaka delivers yummy food in a central location, offers halal and vegetarian options, and is open late. To reach this place from Hondori, turn left when you come upon the Animate store and continue south until you see the storefront on your left. I dropped by one weeknight for dinner, and was highly impressed by everything about this restaurant.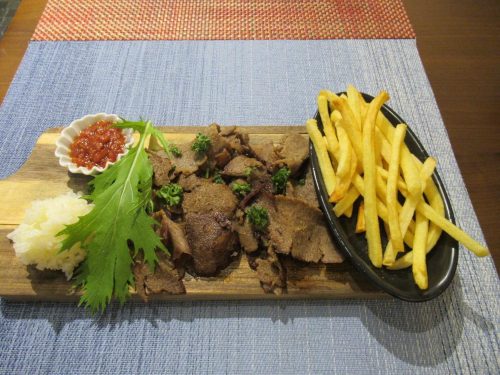 Karsiyaka serves alcoholic beverages, but all of the food items are halal, which means said beverages are not used to flavor the food. The meat options include chicken, lamb, and beef; I ordered myself a beef döner plate, complete with fries, a scoop of buttery Turkish pilaf, and some rich tomato sauce for spicing up the meat and potatoes. Everything tasted so good it went down with just plain water, but do know that Karsiyaka does possess an extensive drink menu with an array of alcoholic and non-alcoholic options.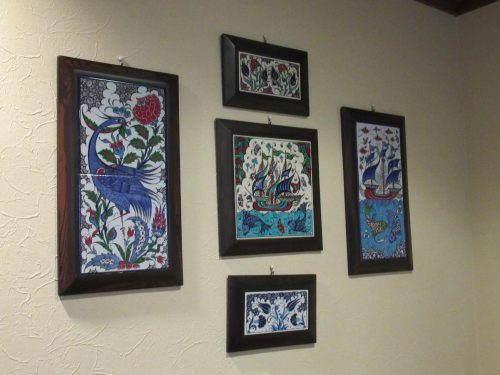 The interior has some eccentric décor, and there's this homey ambience inside the restaurant that makes every table dining there look like some sort of family gathering. While the music playing may not be Turkish, it's still upbeat, family-friendly, and not too loud, so I felt comfortable staying as long as I wanted, even after I finished my food. Guests can experience the exact same food and ambience for a better price during lunch, when Karsiyaka offers free lentil soup, homemade bread (for non-sandwich items), and Turkish chai as part of their lunch set. They give diners a cup of sugar with a tiny spoon so they can sweeten their post-meal drink to their hearts' content and watch the crystals dissolve in their elegantly-shaped glass as they stir.
Vegetarians can rejoice, as there are plenty of entrées and sides to choose from, all marked by a green "V" on the menu. My personal recommendation would have to be the falafel salad, but their various dips for bread are also a solid go-to choice. The lentil soup and desserts are also marked with a green V, but as for what is vegan as opposed to lacto- or lacto-ovo vegetarian, it would be wise to ask the staff, who are Turkish but also speak Japanese and English.
YOU & I TATEMACHI (Gluten-Free, Vegan)
My next suggestion qualifies as authentic Japanese cuisine, but it's a take-out store rather than a true restaurant. YOU & I TATEMACHI is a bento store two blocks north of Hondori that is open about five days a week (be sure to check in advance what days they are closed). To reach the store from the eastern end of Hondori (with Starbucks on your left), turn right past a store selling taiyaki and turn left at the first intersection, at which point the store will be on your right. Although YOU & I is thought of as a place to grab lunch, since they are open until 19:00, one could technically pick up a bento here in the evening and have it for dinner at home, in one's hotel room, or even on the bench right by the front door.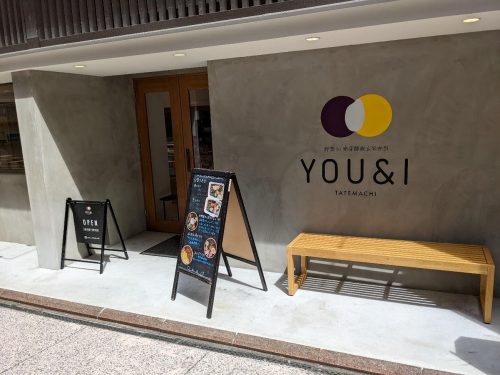 They have a colorful selection of bento boxed lunches, some of which are vegan, and all of which are gluten-free. I was impressed by all of their choices, but because I was feeling spendy, I opted for the most expensive and luxurious item, the Nadeshiko Bento (reservations by phone required; not vegan). Tourists who don't speak Japanese may wish to have their hotel concierge dial 082-298-3846 on their behalf to secure this beauty of a bento.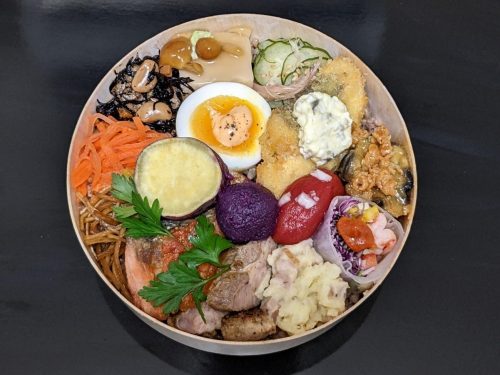 Starting with the hardboiled egg and spiraling out counterclockwise, we have half a gooey, boiled egg topped with a hot oil mayonnaise solution, a steamed slice of sweet potato, a scoop of purple mashed (even sweeter) potato, one marinated peeled tomato, a piece of fried sea bream topped with tartar sauce, marinated cucumber slices with ginger, peanut tofu topped with mushrooms and wasabi, hijiki and bean salad, marinated shredded carrots, shredded burdock root kinpira, grilled salmon topped with tomato sauce, pork sautéed in halal soy sauce (ironic, I know), smoky potato salad with bacon, a vegetable raw spring roll, and mapo tofu made with soy meat. Below all that is some germinated, fermented brown (actually multi-grain and slightly purple) rice, which was bland by itself but whose blandness was countered by the spectrum of flavors of all the entrées. Of course, one could always order any of the other, not-so-busy bento lunches, and the flavors are sure to be just as adventurous.
Kissa Saeki (Gluten-Free, Halal, Vegan)
Next up is probably the most sensitive restaurant in the entire city when it comes to special diets, Kissa Saeki, which is located in Kamiya-cho. This restaurant is mainly open for lunch and technically open for dinner, but it doesn't stay open late so a reservation is highly recommended for an early evening meal, just in case the owner decides to close early on a whim. Kissa Saeki one-ups the aforementioned restaurants in that it not only offers halal and vegan items on its menu–all of which are clearly marked and some of which can be made gluten-free upon request–but also in that these items are the rule, not the exception.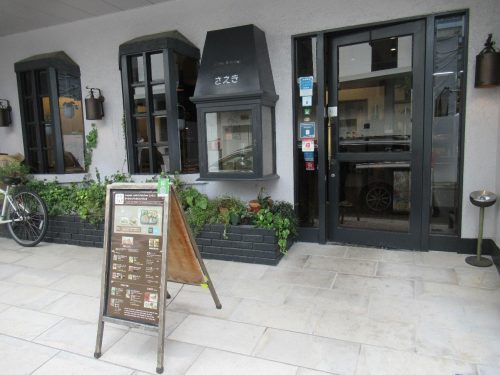 Kissa Saeki specializes in alternative protein main courses, from chickpea croquettes to tempeh, but also offers some chicken entrées to diners who absolutely must eat an animal. I got myself something I had never seen in my life, kuruma-fu cutlets, which are made by shaping wheat gluten into a wheel, cutting off half-moon-shaped slices, and deep-frying them to a golden crisp. The kuruma-fu cutlets were garnished with a savory dressing and served alongside a variety of vegan side dishes such as mashed pumpkin salad and roasted green pepper, then accompanied with a bowl of fermented brown rice and a cup of plant-based miso soup.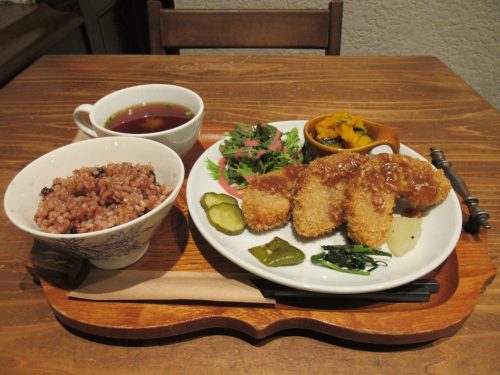 I actually came in at a later part of their lunch hour, so there were barely any other guests inside and I could eat in quiet solitude. The interior design is simple and soothing, and while I was eating, I could see steam coming from the kitchen, a sign that they were brewing their signature organic coffee. Truly, this is what the café experience should be; customers lean back with their food and drink, forget about the daily rush and deadlines, and casually let time slip by as they eat, sip, and lounge about at their own pace.
Moment of Joy: Must-Read Menu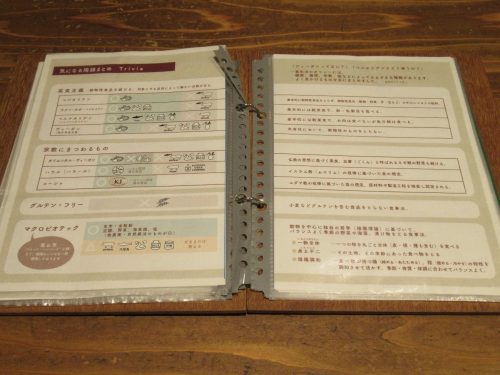 People usually read menus to decide what they want to order, and menus will provide information on ingredients in so far as allergens, extra charges, and substitutions are concerned, but the menu at Kissa Saeki more closely resembles a magazine or textbook entry with all its info. To say that the restaurant owner did the necessary research would be an understatement, and I took home some bits of knowledge from the menu's trivia section. In addition to teaching about veganism, gluten allergies, and the halal and kosher diets, these pages even mentioned the vegetarian oriental diet (vegan, but also avoids pungent vegetables like garlic, leeks, and shallots) that I unknowingly and regretfully ordered with Japan Airlines. This culinary study session had to be the best part of my experience at Kissa Saeki, and the pages in this menu are something every restaurant owner in Japan should read so they can best accommodate customers with special diets regardless of country of origin.
Vegetarian Okonomiyaki
I'm absolutely sure that some vegetarian would-be tourists to Japan are wondering if they can have a taste of Hiroshima's soul food when they swing by, and luckily for them, there are a few okonomiyaki joints that are starting to cater to that customer base. My top recommendation would have to be OKOSTA, an okonomiyaki workshop geared toward tourists that doubles as a restaurant. When I dropped by about a year and a half ago, I went undercover as a lacto-ovo vegetarian, but vegan guests would make the same vegetarian okonomiyaki without the egg. People with dietary restrictions (vegetarian, halal, etc.) need only state so when making the reservation online (available in English to boot), and when they show up to the cooking studio, their okonomiyaki will be cooked on a griddle separate from the others'. The best part is that vegetarian diners will be given some tasty soy meat substitute to add to their okonomiyaki as well as special non-egg mayonnaise so their finished product won't appear lacking compared to the original recipe.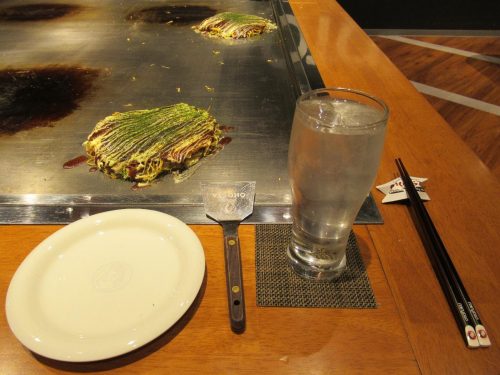 Vegetarian tourists who don't wish to attend a cooking class or can't pin down exactly when they would enjoy Hiroshima-style okonomiyaki may wish to dine at one of the restaurants downtown that offers a vegan version of the dish. One of those restaurants in Nagata-ya, which can be found a stone's throw away from Peace Memorial Park, but I hit up the second place to start selling vegan okonomiyaki, Jirokichi. This restaurant is situated right off of Namiki Street; to reach it, head south from Parco, turn right onto the street right before Peace Boulevard, and keep walking until you see a spiraling staircase across from a 7-Eleven. Jirokichi is on the second floor and sports a yellow neon sign, but unfortunately, there doesn't seem to be an elevator.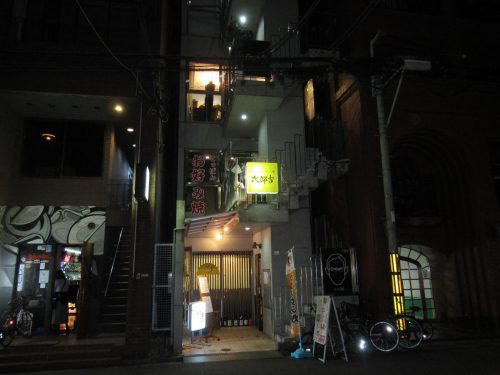 The store manager only started developing a vegan menu this year, so he offers up more than just okonomiyaki for vegan customers. Unfortunately, since I dropped by unannounced, none of the vegan teppanyaki options was in stock so I just ordered a simple vegan okonomiyaki. I was seated at a table for one with a hot plate, surrounded by Hiroshima Carp memorabilia and signatures on the wall scribbled by past satisfied customers. As I glanced across the restaurant to the griddle, I realized that the chef had cordoned off the far-right section of the grill just for me to protect my okonomiyaki from cross-contamination, a sign that this restaurant truly is vegan-friendly. In addition, as a tasty bonus, my okonomiyaki was being made with special orange spicy soba noodles, a more exciting and confirmed vegan alternative to the usual soba.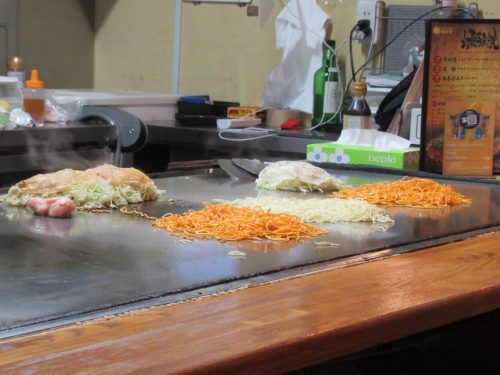 When the finished okonomiyaki reached my table, I was eager to dig in, but realized this vegan variant diverged greatly from the usual recipe. I was expecting the omission of egg, but the unavailability of vegan mayonnaise and the lack of that bottom pancake certainly came as a shock. In place of pork that would be in the middle, this restaurant substitutes perilla leaves for a different flavor kick on top of the spicy noodles. The lack of protein in this okonomiyaki means that a vegan diner may leave hungry if this is the only item ordered, so I highly advise a reservation (dial 082-249-8632) so the staff can procure ingredients for the other vegan items and ensure that a space on the griddle can be blocked off for your food (I was lucky that the restaurant was relatively empty at the time). It is a bit disappointing that the full vegan menu isn't available at the drop of a hat, but Jirokichi is a small restaurant that doesn't get much demand for the vegan items just yet, so that's understandable.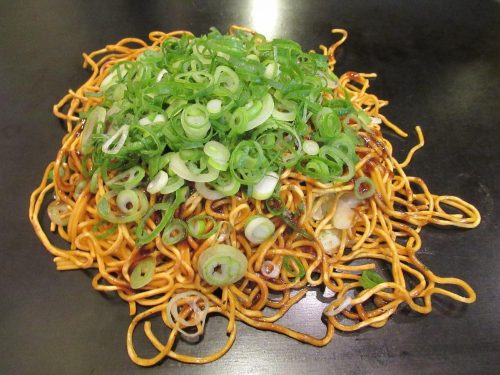 In conclusion, it pains me to say that Hiroshima isn't fully ready for the vegan scene or understanding of special diets in general, so people with restrictions may be limited to certain places like the ones mentioned above if they wish to eat out. While I myself don't have any specific dietary restrictions, I was inspired by my recent interactions overseas with my acquaintances who have to avoid a lot of ingredients in restaurants. I was also amazed at how inclusive American and European restaurants are nowadays with gluten-free and vegetarian options on their menus, prompting my quest to document places in Hiroshima where those on special diets can safely dine during their stay here. After all, good food is an essential part of experiencing Japanese culture here, and restrictions should not have to lead to exclusions. I have faith that in due time, with more and more diverse diners hitting up restaurants in Hiroshima, that menus here will eventually diversify in return and make Hiroshima even more of an open-minded, international city of peace that attracts tourists worldwide in the first place.
Written by the Joy in Hiroshima Team