NOW & NEW
nature
temple
shrine
wildlife
hiking
Mountain Day 2022: Light Summer Hikes in Hiroshima
Seasons in Japan are typically associated with a color palette that reflects the appearance of the landscape—pink for spring thanks to sakura, green in summer, orange in fall on account of maple leaves, and white in winter due to snow-capped areas. Though trees turn green during the spring, summer is indubitably when vegetation is at its greenest, especially in mountainous areas. In fact, back in 2016, a public holiday called 山の日 (やまのひ – Mountain Day) debuted on August 11th, smack dab in the middle of what is the Obon week off for many Japanese companies. Mountain Day is generally promoted as a day to venture into the great outdoors to appreciate the mountains, since mountains do comprise the majority of Japan's territory. Activity ideas include driving along mountain roads, playing sports outdoors, having a cookout, birdwatching, visiting shrines and temples, and my absolute favorite: hiking.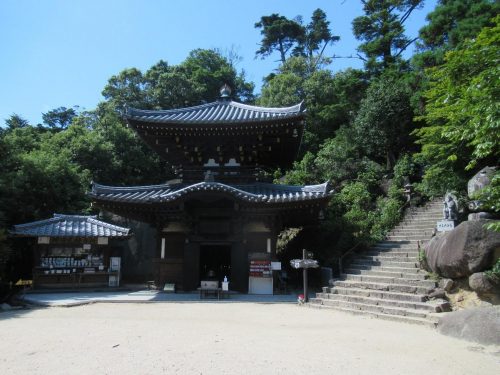 Then again, as summer in Hiroshima can get sweltering from June all the way through September, hiking on this so-called Mountain Day can be fatal if proper preparations aren't made. This thought alone deters most of the population from going into the great outdoors in the first place, and days of gorgeous summer weather are wasted locking ourselves in our homes or sunbathing in the fluorescent lights of shopping malls. Granted, there's nothing wrong with spending your summer like that (I too am guilty of being an indoor person for huge chunks of the summer), but I believe that a least one day out of one's entire summer should be spent admiring a mountain or two, even if it's not on Mountain Day. For starters, one can make due with climbing a lower peak so the journey won't be as arduous, and I cannot stress enough the importance of sunblock, a steady water supply, a cap or visor, a towel for soaking up cascades of sweat, bug spray, comfortable sneakers or hiking boots, and some rations to supply the body with protein and sugar to ensure nobody blacks out from hunger or fatigue. Allow me to introduce four short mountains ("glorified hills" to a seasoned hiker, but they shall be called mountains for the sake of this article) that are well within reach of Hiroshima's city center.
Miyajima Misen (Any Course)
Let's start with the one tourist site everyone comes to Hiroshima to see: Miyajima, which isn't even within the city limits of Hiroshima, but would be a crime to ignore. Of course, there's the shrine with the floating torii (which by the way is still covered in scaffolding), as well as the Omotesando and Machiya shopping streets. Maybe you're disappointed by the covered gate and wish to save shopping for last, so why not spend the morning or early afternoon on Misen and one of its well-paced hiking trails? I would personally go for the Omoto trail if I were alone because I go hard, but I would recommend the Daisho-in and Momijidani course (take one course up, the other down) to the average tourist who wants a short hike and/or is hiking as part of a sizeable group. What's more, because there is a ropeway in Momijidani Park that takes visitors to the Shishi-iwa Observatory, which is a mere half-hour jaunt from the summit. No matter which trails you decide to hike, just know that the upward leg is more demanding on one's stamina, whereas the downward leg will be harder on the knees; with that in mind, you can decide if you want the ropeway assist one way or both ways should a round trip on foot prove too rigorous.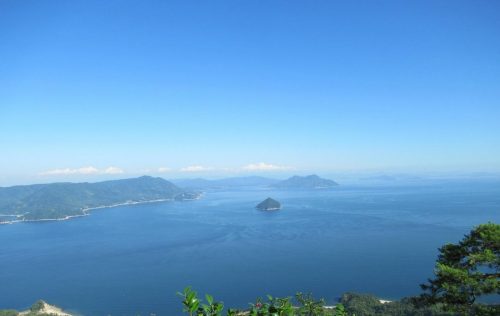 I covered each course in detail back in the spring, so this time, I'm going to assume that the tourist reading this was lazy and decided to buy a round-trip ticket on the Miyajima Ropeway (for a discounted price to boot). The first thing to be enjoyed would be the vista from the Shishi-iwa Observatory, from where one can look out at various angles to find a trove of tiny, emerald islands, which look like they were placed on a cerulean carpet that we call the Seto Inland Sea. Signs and telescope-like tubes on stands educate visitors about the names of all the islands visible to the naked eye, and as you can see, phenomenal photo opportunities are seemingly endless. After a lengthy photoshoot with and without people, it's time to head in the direction of the summit, which is more or less thirty minutes away if one doesn't stop to see the other temple buildings on the way. Of course, if you paid to take the ropeway, you would do well to take your sweet time up here and see sights such as the Reikado, which houses the source flame for the Peace Flame in Hiroshima City's Peace Memorial Park. Light a candle, say a prayer, and sit on one of the scalding benches to take a water break before starting toward the summit again.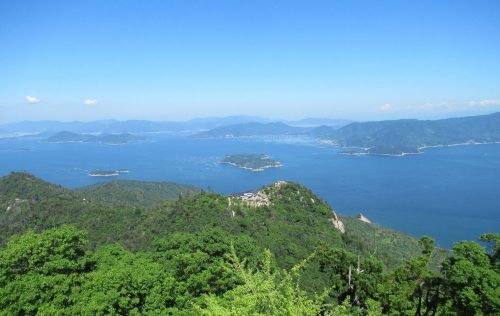 Sooner than later, tourists will find themselves at the summit observatory, which has three stories, tons of seating space, and a top deck where people have a 360-degree view of the surrounding Seto Inland Sea. Signage on the floor displays the names of islands straight ahead, and if one looks carefully, one will spot the Shishi-iwa ropeway station from whence countless tourists came, the vermillion torii of Itsukushima Shrine (or at least its scaffolding), and Komagabayashi Peak, which is considered a separate mountain from Misen. When finished taking their selfies, panoramas, and videos, visitors can descend to the second floor, where there is ample space to lie down and have lunch. Alternatively, tourists can sit on one of the rocks in the plaza to have a picnic in the blazing sun, but do note that it is no longer allowed to climb on the tall boulders as it has now been deemed too dangerous to the hikers themselves as well as to the vulnerable stone statues resting atop a couple of them.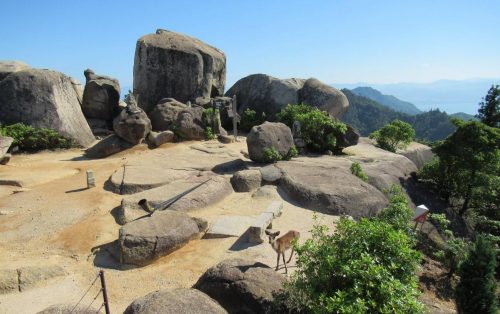 Moment of Joy: Rare Sightings
I make it a point to hike Misen on weekdays, when there are almost no other people and the local deer may even come out to play. Yes, there are deer up this high, but they're usually hiding in the brush because they're scared of humans, unlike the feisty cervids in town that'll jump at the chance to take bites of your food and shopping bags. On one such quiet day, I had the honor of encountering not only some curious deer, but a Hiroshima-based musician who was filming himself playing the alphorn at the summit of Misen. There couldn't have been a more perfect instrument to give me that sense of satisfaction from having climbed all the way from sea level, and best of all, it was practically a private, outdoor concert for me and the deer!
Ekikita Futabayama
Another wise choice for first-timers to Hiroshima would be Futabayama, situated just north of Hiroshima Station. Not only is it the easiest to access transportation-wise, but this is actually the lowest mountain on my list today so those lacking in physical prowess may surmount the trek with few difficulties. In spite of its low elevation, the view from the top of Futabayama is still magnificent thanks to the Hiroshima Station complex and adjacent high-rise buildings in plain sight, and on clearer days one can catch a glimpse of Hiroshima Bay.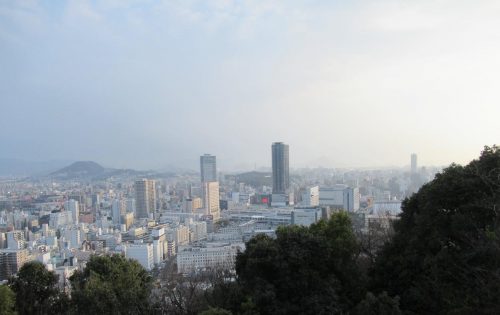 From the Shinkansen exit of Hiroshima Station, simply head northwest toward Toshogu Shrine (a map of the area can be found at the tourist information center on the station's second floor). The torii at the front entrance is quite imposing, and the steep staircase is where I consider the hike to begin since one can walk straight through the shrine to the head of the trail. It is also possible to walk around the Toshogu Shrine to immediately start the hike, but a couple minutes admiring the shrine grounds never hurt anybody, right?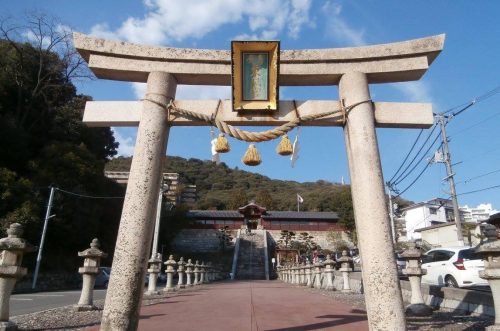 Once you get going, signs of an Inari Shrine will be prevalent as a wildfire; a tunnel of vermillion torii reminiscent of Kyoto basically shout, "pray here," but simply walking through the tunnel can provide enough of a surreal experience. Those who wish to stop and pray will find no shortage of altars where worshippers make monetary contributions to Inari, the deity of harvests. Also on the shrine grounds are interesting fox statues (messengers of Inari) and a lookout point by the main altar where hikers can gaze upon the Hiroshima cityscape after saying their prayers. It's worth it to take a picture from there, but the best vista will obviously be at the top.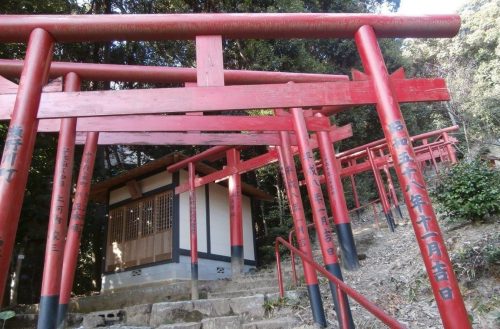 Before long, visitors will reach the summit, marked by the Peace Pagoda that they probably saw on their way to Toshogu Shrine. The Peace Pagoda is a round, silver structure with a white base and a golden Buddha statue encased inside its window. Below the window is a tiny altar where folks pray for, well, peace, after taking their fair share of photos of the structure and the view of downtown Hiroshima's concrete jungle. There are benches where weary hikers can sit and have a chat, eat or drink, and scroll through the pictures they just took. Returning to town is simple, as one need only go back the way one came, but do mind the makeshift cinder block steps on the way down, as there are some segments with metal rods sticking out into the open, something I think may be more accident-prone during the descent.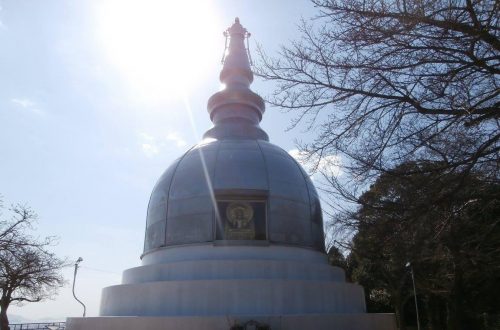 Takedayama
This is one I want to suggest to those in Hiroshima City who want more of a challenge than what the above two mountains provide, and a superior view of the city all the way to the Seto Inland Sea. It takes roughly half an hour by bus to reach the suburbs where this mountain resides, but service is rather frequent and you can get on from Hiroshima Station or any of the major bus stops downtown. You're going to want a Hiroko (tan and orange bus) bound for Yamamoto and Kasugai; those who want to start hiking right away will ride all the way to the Kasugai terminus, whereas hikers who wish to stock up on provisions at a convenience store first would benefit from disembarking at 山本小学校前 (やまもとしょうがっこうまえ – the front entrance of Yamamoto Elementary School). When I went with a friend, we headed northwest to the 7-Eleven on the next block for some snacks, ice cream, and beverages before continuing northwest up the sloping path to the start of the trail. Tourists going this way will pass by countless houses, but the first landmark to indicate you're going the right way is 立専寺 (りゅうせんじ – Ryusenji), a modest temple with your usual main hall, statues, bell tower, and a horizontally-growing pine tree.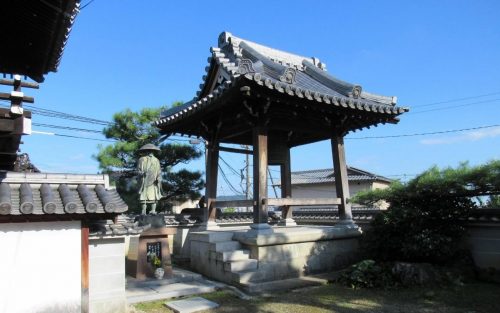 Take some time to appreciate the temple grounds, then advance on the path to the left of Ryusenji's front gate. The number of houses will dwindle as visitors approach the trailhead, and the second landmark will be this dilapidated shack with a watermill. This place features a short bridge crossing over a pond inhabited by carp, and due to how few people frequent it, a good number of spiders have spun their webs here and call this lot home.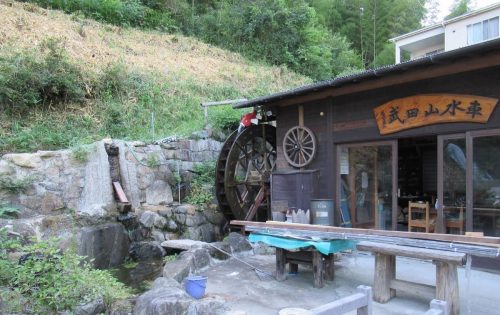 There were some construction vehicles out in the open when I went, probably due to so much undeveloped land where people could build more houses, and past those is where the Takedayama hiking trail starts. Along the way, one can find lots of little waterfalls and even more bugs, a constant reminder that Hiroshima City still possesses a lot of unperturbed nature that allows for easily accessible adventure. Somewhere in the middle, signs will start pointing toward the Kamitakama Viewpoint, a ledge where one can look out and see the AEON Mall Hiroshima Gion, the Ota River that flows all the way down to Peace Memorial Park, and the mountains beyond to the east.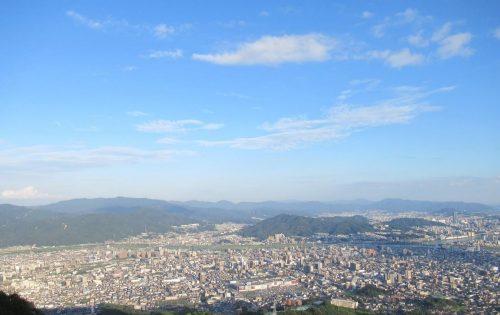 The view from Kamitakama is stunning, and the ledge from where hikers stand is an ideal spot to have one's photo taken in majestic and goofy poses. Alas, this isn't even as good as it gets, so don't get too caught up here that you forget to reach the top of the mountain! From the summit, the view is similar, but you'll have even more shrunken buildings in sight, as well as a better look at Ujina and the islands floating in Hiroshima Bay. To get down the mountain, instead of going back the way you came, continue on the trail and descend toward the AEON Mall you saw earlier. I highly recommend using a GPS on your smartphone once you're at street level; you should head past another residential area and the Hiroshima University of Economics before you hit the mall, which is a hop, skip, and a jump to the JR Shimo-Gion Station that will whisk you back to Hiroshima Station.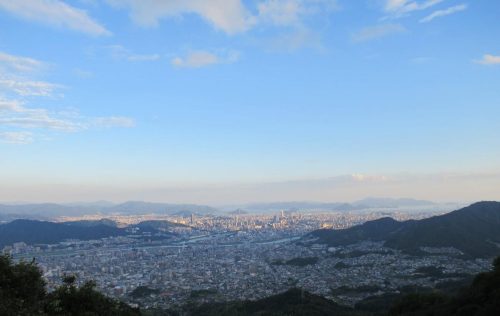 Akikofuji on Ninoshima
Those who cannot get enough of the Seto Inland Sea would do well to hike on one of its islands, and Akikofuji, Ninoshima's northerly peak, gets the job done. Innoshima is an island smaller than Miyajima with no meager amount of modern history attached to it, as German prisoners of World War I were interned here. It's where Karl Juchheim baked the first Baumkuchen in Japan that was sold at the Hiroshima Industrial Promotion Hall (which became the Atomic Bomb Dome), and where the first international soccer match in Japan between German and Japanese players was held. Just take the number 1 or 3 streetcar from Hondori all the way to Hiroshima Port, then hitch a thirty-minute ride on a ferry to reach Ninoshima. The minute tourists step off the boat and look to their left, there will be signs indicating the way to the trailhead of Akikofuji. It runs in between the locals' houses, but trust the signs and before you know it, you'll find yourself in this verdant tunnel of vegetation.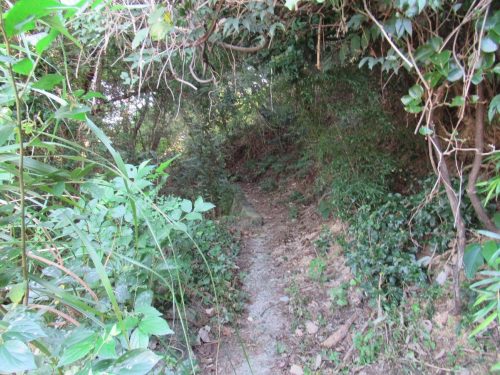 Akikofuji's elevation may not be a severely large number, but the slippery slope more than makes up for it; your jeans will have plenty of dirt on the knees and rump by the time you're done. The trail will take people through dense woods, bamboo groves, and rocky cliffs, and although many paths lead to dead ends, signage and common sense should keep you on the right path at all times. Near the summit, there will be a sudden change in terrain (a welcome change, as the ground stops being slippery), at which point, climbing on all fours may be quicker.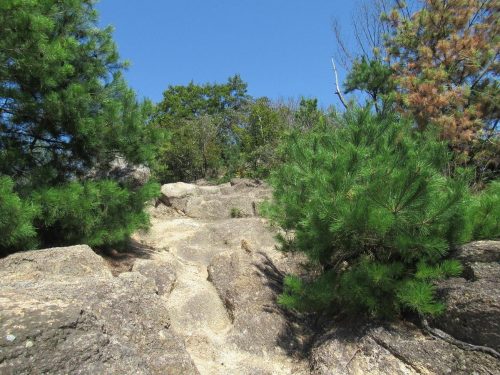 Keep at it, and eventually, you'll reach the top, conspicuously indicated by the red control tower. As this summit is covered in trees, hikers can have a lunch break in solitude while peeking out through the vegetation at the Seto Inland Sea. What I found most amusing is that when looking out to the left of the red tower, the world-famous island of Miyajima comes into view. That island's iconic mountain as well as this one's signature "Little Fuji of Aki" have both become favorites of mine, and I look forward to hiking them again and again.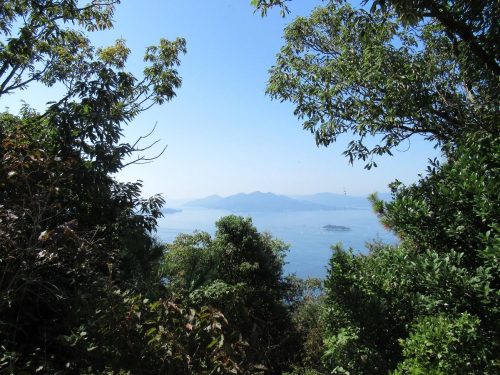 Of course, since Ninoshima is such a tiny isle, you're bound to finish the Akikofuji hike by midday and may not be ready to go back home. First of all, I should mention that because there are so few dining options for tourists on this island, it pays to bring a packed lunch or perhaps some bread bought from the bakery at the Hiroshima Port ferry terminal. You could eat your food at the summit, or descend to Ninoshima Rinkai Children's Nature Reserve to eat it by the spacious playground. There are countless things to do here besides hiking, such as taking a dip in the saltwater pool (the pool water flows in from the Seto Inland Sea), or heading back to the tourist information center by the pier to sign up for kayaking or rent some fishing equipment. If you simply cannot get enough of insular mountains, then I suggest renting a bicycle and zipping down south to Mount Shimotaka, Ninoshima's second peak. This island packs more fun than its size would suggest, and spending the whole day here is not a challenge at all.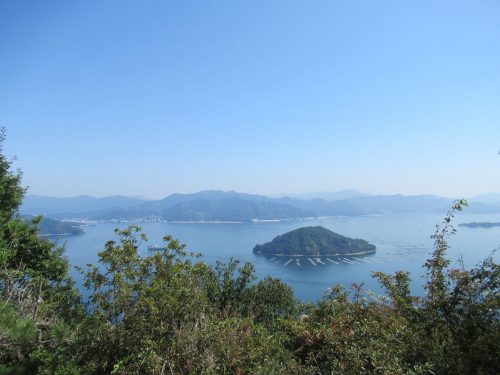 I know it's tempting to lounge about during the dog days of summer, but since vistas like this are too much of a waste to forego, I urge those who visit Hiroshima City to go on at least one active, outdoor adventure. Hikes on the mountains I mentioned in this article will no doubt be accented by the family and friends that accompany you on your trip and lead to better memories on your vacation here. At the same time, be sure to take the same precautions as you would in your home country so that no incidents happen, but if you can overcome the heat and soreness in your legs as you climb, I am confident that the riveting Obon stories you will be able to tell others will be worth the blood, sweat, and tears, but mostly sweat.
Written by the Joy in Hiroshima Team