NOW & NEW
festival
food
kids
entertainment
tradition
Hiroshima Bon Dance: That One Overdue Summer Activity
In spite of all summer festivities that have taken place thus far in 2022, with all the restrictions and downsizing on account of the pandemic, these celebrations just haven't felt the same as they used to. I could think of one stereotypical summer activity in particular that I wanted to do above all the others, and it did not involve swimming, watermelon, or fireworks. What I am referring to is the quintessential Bon dance that was canceled for this year's Toukasan and a staple at several other summer festivals, without which one cannot fully feel the summer mood in Japan. Thankfully, that one overdue ritual finally rose from the graveyard of canceled events in mid-August, coinciding with Japan's Obon holiday period. Most Japanese employers will give their employees about a week off to return to their hometowns, relax in their own homes, visit their family graves, and/or dance the hot estival nights away at their local festivals.
Naturally, Hiroshima City had its own Hiroshima Bon Dance event this year (for the first time in three years, like every other festival), which was held at Hiroshima Minato Park in Ujina, a southerly neighborhood close to Hiroshima Port. It would normally be held at the Old Hiroshima Citizens' Baseball Stadium Ruins, but on account of another ambitious construction project there, the dance party had to be relocated to a slightly less accessible locale. If going by streetcar, one should get off at "Ujina Kaigandori," from which it is still a 10- to 15-minute walk to the park. Personally, I couldn't be bothered to pay to take a streetcar and then walk, so I instead chose to walk a full hour from my place directly to the festival site.
Event Square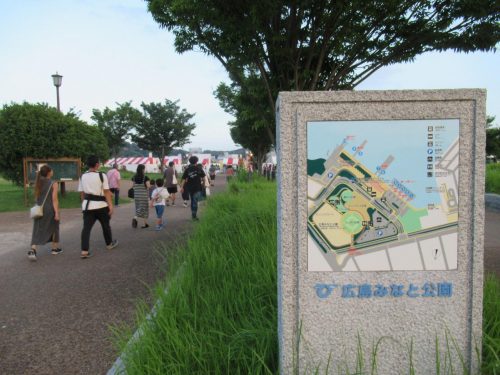 I chose to visit on the second day of the festival, which was a sunny Sunday that saw a slew of spectators seeking a splendid show. Given how long it takes to get to Hiroshima Minato Park, the evening festivities had already begun by the time I reached the park entrance. Hiroshima Minato Park is a spacious, circular field of pavement interspersed with grassy areas, which made it ideal for a summer festival. The two northern entrances to the park were designated as "Exit Only" paths, whereas the two southern entrances were used exclusively for entering the event grounds.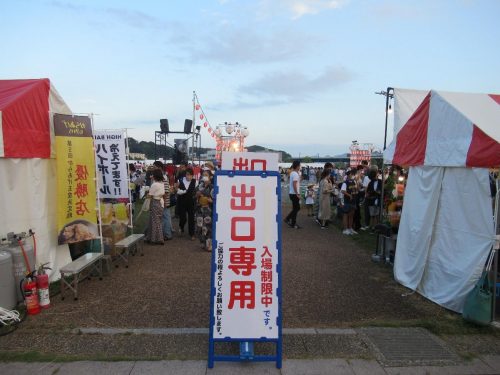 As I approached from the north and found out I couldn't enter from here, I had to circle around to the correct entry point where I sanitized my hands and had my temperature taken before being let in. Right past the entrance was a sign with a map of the venue, a selection of some of the gourmet grub for sale, and performance schedules for both August 13th and 14th. I took a good long look at the locations of stands that piqued my interest, which included (clockwise from the bottom left): food trucks, food stands, carnival-style activities, and advertising space for sponsors.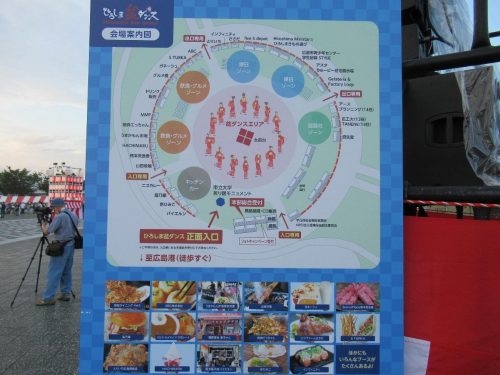 Meanwhile, the Bon dance—the main event that drew everyone here in the first place—was to be held smack dab in the center, with a variety of performances by local celebrities in between dance sessions. By the time I was on the festival grounds, the opening taiko act had finished and the next group, Hiroshima Ministar✫, had already taken the stage. These lovely little girls in their yukata upped the summer festival ante with their style and songs before we all gathered for the first group Bon dance session.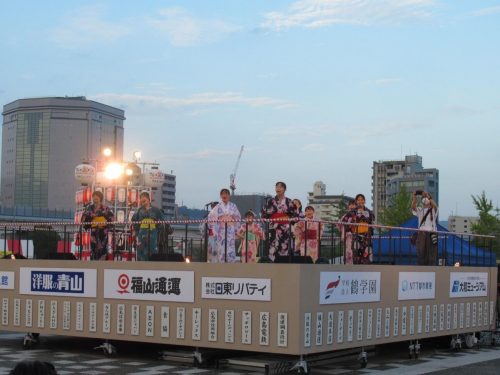 Circle Dancing
Throughout the afternoon and evening there were two MCs: a woman who gave the normal announcements in Japanese and a man who provided excellent English translations (he was a native English speaker). This helped all guests regardless of nationality understand every event that was about to happen, so when the yukata girls finished their number and it came time to do the Bon dance, we all gathered around the center stage and made a circle facing counterclockwise. The explanations given for each step of the dance were in Japanese only, there were some [mostly] older women in kimono on the stage to demonstrate the movements so that all participants could follow along. Truth be told, although this dance is a Japanese tradition and is done at a summer festival every year, most Japanese laymen have trouble remembering all the steps, but dancing together with everyone else and learning through trial and error is part of the fun.
We all danced to the Hiroshima Ondo, a simple and repetitive routine that was still easy to jumble up midway through. It starts with dancers clapping their hands in front of them, raising both hands above the head to make a roof with the arms while stepping forward with the right foot, bringing the left foot up to the right while making a diagonal slash with the arms, and clapping once more. People then take two steps (right, then left) forward while drawing quarter circles with the arms counterclockwise from the bottom, then clockwise (the quarter circle moves in the direction of the advancing foot). They then take two steps backwards while swiping diagonally down with both arms, the arms moving towards the receding foot each time. 
After that, the dancers grasp an imaginary oar with both hands and "row" themselves twice to spin in a complete circle (move the "oar" from top right to bottom left and spin the body with the left foot). Next, they step forward with the right foot while stretching their right arm forward and placing their left hand in front of their forehead, as if looking at something far away; the arms switch positions with the subsequent left step. Finally, the dancers take three steps forward starting with the right foot (right, left, right) while making two clockwise circles with the arms and lifting the left foot on the third step. Repeat going left, right, left, with the arms making two counterclockwise circles and lifting the right foot on the final step.
Are you lost? I thought you would be; dance is something best learned with a live example that spectators can imitate. They say a picture is worth a thousand words, but I say a video is worth a thousand pictures!
Moment of Joy: Fake It 'til You Make It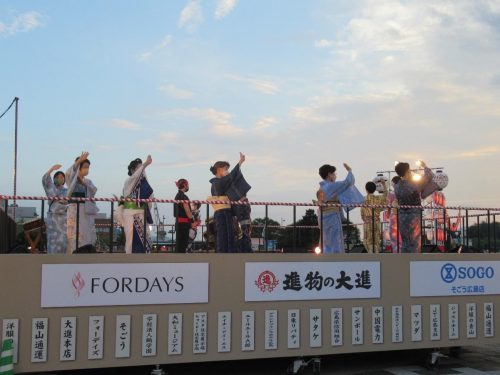 Like I said earlier, most Japanese mess up the movements too, but everyone joining in on the dance in one giant ring and messing up together is very much the appeal of the Bon dance at summer festivals. After I finished taking my pictures and videos of everyone else, I too had the irresistible desire to jump into the ring, which anybody can do at any point in the song or between songs. The key is to follow the motions of the elderly ladies in kimono since they know best; they could be on stage or within the outer circle, but stick close to one of them and keep her in plain sight. It might have taken some ten laps or so around the stage for me to get the hang of the routine, but I had plenty of laughs from witnessing my own—as well as other people's—failures and eventual improvement.
Fair Fare
After doing my share of dancing, I took a walk around the festival stalls, looking for a suitable place to dine. While I mulled over my choices, I caught sight of a wide array of things for kids to do, including timeless carnival games and craft stations where families can make their own trinkets to take home. One classic that can be found at every festival and never gets old is the "Super Ball" game, where little tykes scoop little bouncy balls out of a pool and into a plastic or metal bucket using a net. The kids can take home all the balls they scoop, but because the net is made of paper and rips easily, participants must be deliberate in their movements to efficiently scoop as many balls as they can and get their money's worth.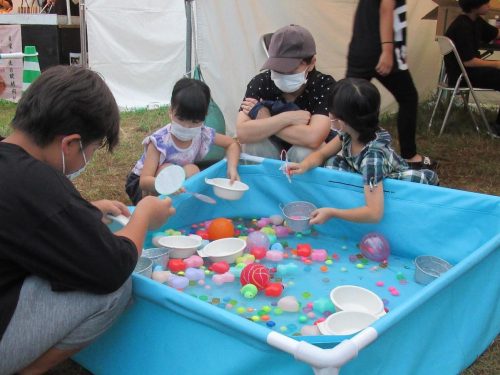 Elsewhere was a space with tarps and tables where children and their parents constructed and colored paper lanterns together. I suppose this could count as consolation for those who couldn't make their lanterns on August 6th at the Atomic Bomb Dome, or just act as a lantern that one can keep instead of floating down the river. The process involves quite a bit of cutting and gluing, so smaller children will need adult supervision, but at least that means that the whole family had a hand in the lantern's manufacture.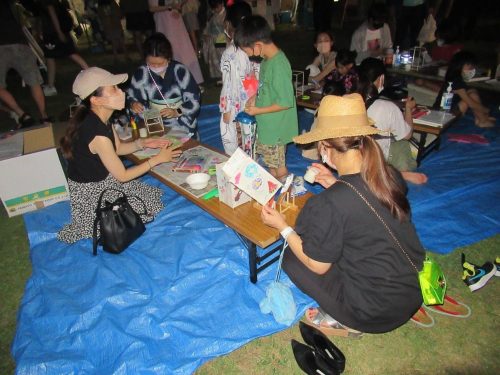 The food stalls sold a wide array of dishes, which included—but were not limited to—grilled chicken legs, takoyaki, Japanese-style sweets, ice cream, burgers, karaage chicken, and Indian curry with naan. After scoping out prices and serving sizes for the foods that caught my attention, I pulled the trigger on this yakisoba stand. Not only was there a variety of recipes on offer, but the price for large or extra-large portions was the same as for a regular portion, which was already generous as it was.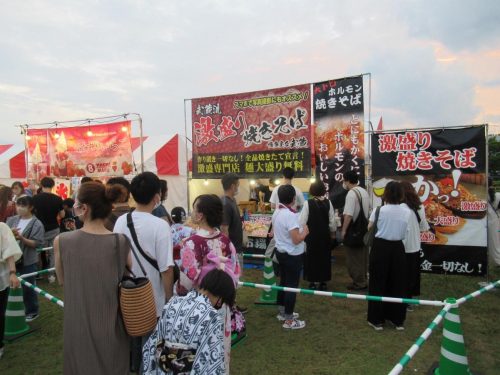 I did what any hungry and sensible festivalgoer would do and got myself an extra-large helping of yakisoba with a generous heap of Japanese black-haired pork (think wagyu, but with pigs instead). The man packed so many noodles into the box that it wouldn't shut all the way, so I had no choice but to carry this scalding, open plastic container that was burning my hands all the way to an empty, adjacent table to chow down. While I was eating, I enjoyed seeing a Hawaiian dance team strut their stuff on stage, and after downing all the yakisoba, it was safe to say that I didn't need any more entrees for the night. This was hands-down the most cost-effective item I could have purchased at the Hiroshima Bon Dance festival, and possibly any other festival I have attended in Japan.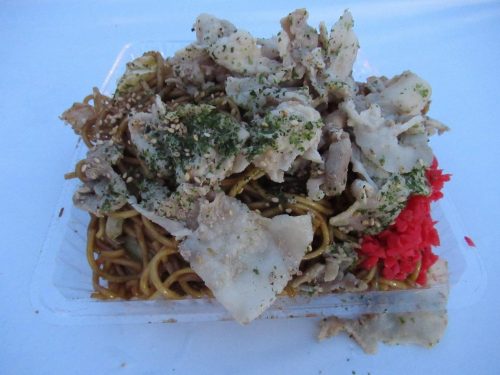 The only thing left to find was dessert, and at a festival like this, choosing is harder than seeking. As day turned to night, I got a message from a friend asking me to meet them at the festival, but before rushing off to find them, I made a detour to buy some kakigori (shaved ice), as no summer feels Japanese without it. Ironically, given how ubiquitous kakigori usually is, I could only find one stand that sold it, and sure enough, there was a bit of a queue. However, that queue was next to the one for cotton candy, and since both snaked left and right a little, it was hard for me to tell which was which, and it took me a few minutes to realize I was waiting for cotton candy and line up all over again. Meanwhile, a duo of comedians was entertaining the crowd with corny jokes and puns about Hiroshima and summer, but they were firing jokes at such rapid speed some of us didn't have time to get the punchline. At long last, I purchased my kakigori and rushed over to where my friends were so that we could eat and chat together whilst watching others do the Bon dance.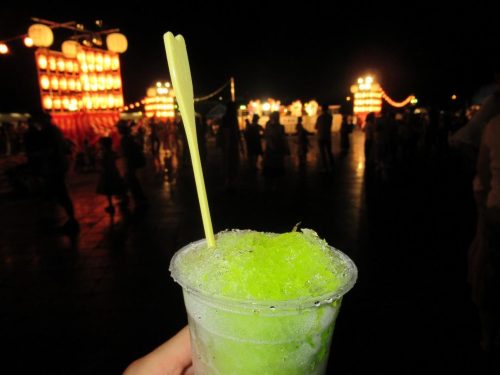 Ending On a High Note
Eventually, my friends had to go, so I hung around the festival grounds by myself after finishing my dessert to scope out the nighttime situation. Kids were captivated by the paper crane display by the food trucks, and on the center stage was a band serving up a live musical performance. The musicians consisted mostly of one female vocalist, a man with a clarinet, and one other man on the keyboard, but that was enough to get the spectators into full concert mode. Just the clarinetist alone with his solo was riveting, and the final note at the end had the audience captivated in suspense and awe.
When I finally decided it was time to head home, the next performer—and the highlight of the night for me—was when the man who usually makes an appearance during Toukasan showed up to sing. He would have made an appearance at Toukasan's Bon dance back in June, which was canceled, but his reappearance here made it feel like June again and brought back memories of summer festivals prior to 2020. Out of all the shows that day, this one was the one I didn't know I needed, and after listening to him sing for a while, I was satisfied enough to walk the full hour all the way back home.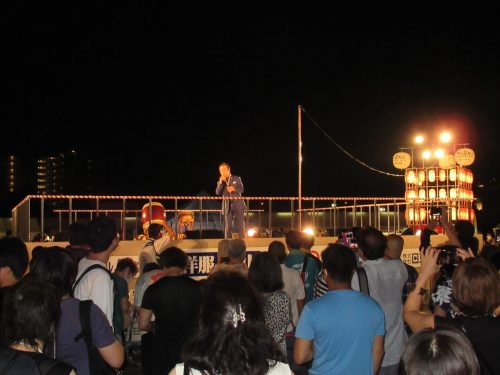 This year's Hiroshima Bon Dance was an exception in that the venue was out of the way even for locals such as myself, but it has the potential to be even bigger and more popular in the future if it can be brought downtown again. During summers when I spend the Obon week mostly staying at home and doing nothing significant (especially when it rains for most of the week), a festival like this is necessary to round out the feel of summer break, so anyone who intends to be in Hiroshima City over Obon ought to take part in this event. I knew I had fun that night, and on my way home from the festival, one of my lingering thoughts was how much livelier it's going to be in subsequent years as event restrictions go away one by one. Weather and personal schedule permitting, I might even be inclined to don my yukata again like I used to and have myself the most Japonesque summer ever!
Written by the Joy in Hiroshima Team