NOW & NEW
festival
food
entertainment
museum
marina
65th Annual Kure Port Festival: Interrupting Three Years of Dormancy
The past two years in Japan have not been kind to those who organize and frequent festivals, as these events were canceled entirely in 2020 and mostly held without spectators in 2021, if at all. Fortunately, 2022 looks to be the year things begin returning to normal, with cities finally having the courage to hold events in light of decreasing COVID-19 infections, albeit still with the usual preventative measures in place. Festivalgoers still have to wear a mask, sanitize with alcohol, have their temperatures taken, fill in a form with contact information in case of an infection, and practice social distancing at event venues. In spite of all that, though, spectators are eager to finally be able to watch performances live, and the performers themselves have in turn been itching to show off what they've got to a real audience instead of merely playing and dancing in front of TV cameras or webcams. The scale of these usual events may be small in comparison to what they were pre-pandemic, but come Golden Week, the number of festival attendees is bound to explode, pandemic or no, and on April 29th, which is Showa Day and typically thought of as the first day of Golden Week, that's exactly what happened at Kure's Port Festival.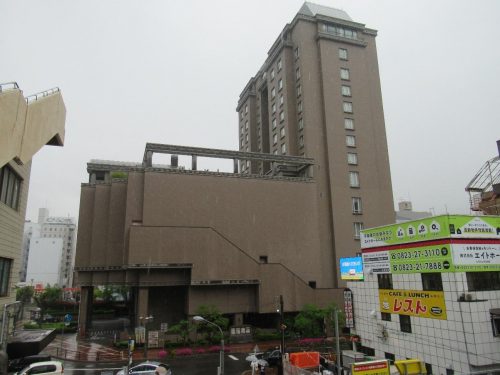 This year marks the 65th time Kure has held its Port Festival, and for the first time in three years. As it is always held on the 29th of April, the Port Festival is perfectly timed to kick off the Golden Week vacation period and bring as many tourists to Kure as possible. Most of the visitors may hail from Kure itself, but as the city is in close proximity to Hiroshima City, Higashihiroshima City, and other municipalities, people can easily come from anywhere in the prefecture to spend the day here, admiring the sea, ships, and entertainment. Getting to Kure is the easy part as it's just a short train ride from Hiroshima Station, but the venues this year were in two event halls north of the station, and the morning weather was rather dreary. Nevertheless, neither was too far away, and I had packed an umbrella, so the only thing I had to do was tread carefully before coming up on the first event hall.
Morning Marvels
The closer of the two venues was the Kure Credit Bank Hall (also known as the Kure Cultural Hall), but both halls have dazzling shows going on concurrently so it doesn't matter which one people visit first. I cautiously hurried into the above brick building to stay dry and make it on time for the first show. To nobody's surprise, they had me sanitize my hands, took my temperature, and directed me to a form where I would fill out some information to hand in before entering the concert hall. The cool thing about this form is that there was space for people to write the information three times, so if one fills it out twice or more, it can be used for entry into the other venue or re-entry into the first. When I showed my paper to the people at the door, they tore off the top half, gave me the rest of the paper, and let me into the concert hall just in time for the opening ceremony to end and the first show to begin.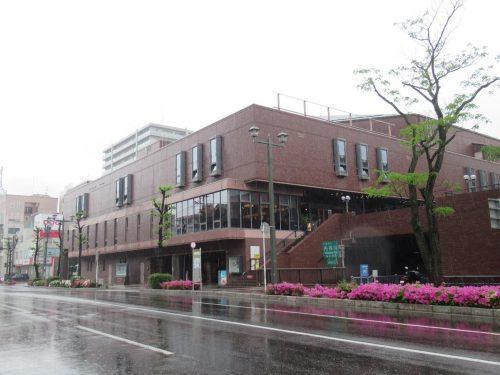 Kure, being true its history as a naval district, had musicians from the JMSDF (Japan Maritime Self-Defense Force) playing for the audience first thing in the morning. As a standard rule, all performers had to wear masks, and the only ones who didn't were those playing brass or woodwind instruments. Initially, they were playing standard marching band fare, but soon delved into contemporary Japanese hits by bands such as YOASOBI, as can be heard in the video below. Also, you've got to love how enthusiastically the conductor was moving while guiding his band.
When they were done playing, the curtain came down for an intermission, the MCs came out to give commentary, and when break time was over, the curtain rose to give way for the second show. These girls were from a local baton-twirling school that has students of all ages, from elementary school-aged kids to college students. I loved how energetic the dancers were right from the get-go as soon as the lights came on!
After that was a solo performance by one of the older girls, which was also impressive. However, the last performance by the ladies in blue was so amazing and the music so riveting that I got goosebumps watching them!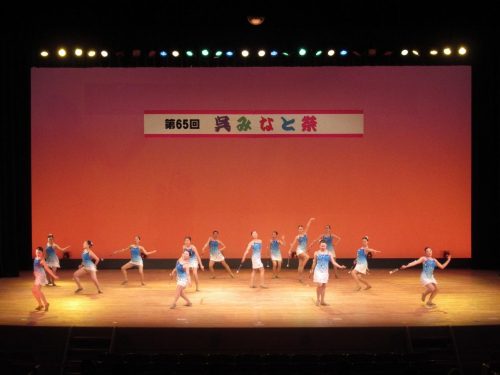 None of the dancers wore masks while performing, but that comes with a promise not to speak, sing, or shout during the show. However, once the show was over, all the girls were called up for an interview, and it was then that everyone donned a mask. Anyone who didn't have one wasn't allowed to talk, and thus stayed out of the interview.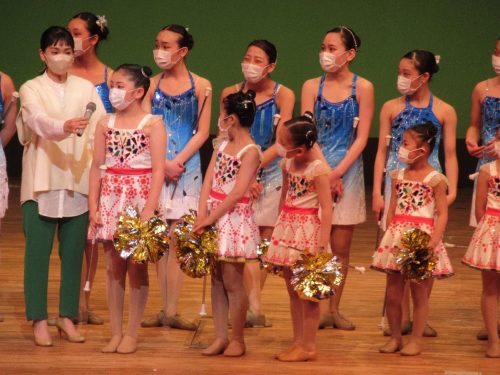 Nostalgic Naval Noms
I stuck around for a little while longer watching some other dance performances until my own stomach started a chorus of its own. At that point, I left the event hall to search for something to eat in the city. I left the building and went east across a bridge until I hit Rengadori, a covered shopping street much like Hiroshima City's Hondori in appearance and purpose. There were food stands, kitchen cars, and stores galore selling yummy bites to eat, but I had already decided what I wanted. I walked past the crowds and makeshift stage with dancing kids, then turned right to my destination, 田舎洋食いせ屋 (いなかようしょくいせや – Countryside Western Cuisine Iseya), which was listed in the latest Hiroshima Prefecture travel guides for its prized nikujaga (simmered meat and potatoes).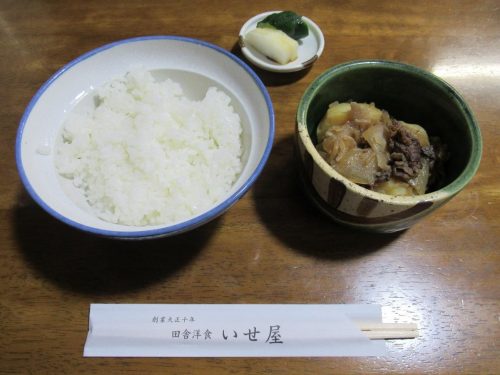 This is an old-timey place that has been in business since 1921, and the interior reflects the restaurant's history. Upon entering through the sliding door, I placed my umbrella in the rack, removed my shoes, and ascended to the raised tatami area with classic low tables and cushion seats. I actually wanted to try naval-themed fare from several places in Kure, so I opted only for the nikujaga above and tacked on a bowl of steamed rice for a small fee. That came with a tiny dish of four Japanese pickles: two pieces of radish and two pieces of cucumber. The pickled vegetables were only lightly marinated so they didn't have such a strong taste, but if anything, that further accentuates the flavor and crisp or fresh veggies. Combined with the soy sauce they drizzled on, and the pickles had a taste so rich I wished for more rice. Of course, the nikujaga was piping hot and tender from being boiled in its own juices, making me wolf down the rice even faster.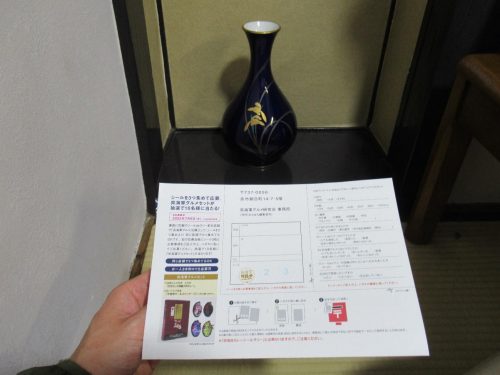 When my food was served, I was handed a pamphlet like this with one sticker affixed to it. On the inside of the pamphlet was a guide to restaurants in Kure serving up naval cuisine, and buying a certain from each restaurant would earn the customer one more sticker. Anyone who accrues three stickers, fills out the form, cuts it out, glues it onto a postcard, and mails it would be entered into a drawing to win one of a variety of prizes. I may not be one of the locals here, but I thought, "what the heck?" I used the guide on the inside to determine where I would eat next for my second sticker, then hit the old rainy trail.
I settled on something I had never had or heard of before: a salmon and mushroom croquette with a side salad and a plate of rice. This special recipe was sold at City Plaza Sugiya Jardin, a restaurant right around the corner from the second festival venue, the New Japan Engine Construction Hall (otherwise known as the Shin-nipponzoki Hall in Japanese). They served me a cup of corn potage as a starter before bringing out the main course, neither of which took too long. The croquette was firm and crisp on the outside, but had a creamy texture on the inside so it was easy to cut. Although it may have been on the small side, I did just have nikujaga, so this dish actually hit the spot. I obtained my second sticker at the register, then went on my merry way to the next event venue.
Subsequent Spectacles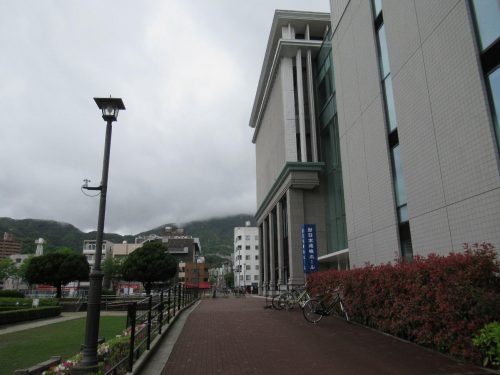 After only a minute or two of walking, I came upon the Shin-nipponzoki Hall, which faces a wide-open park. When I entered, I was greeted with the same COVID-19 prevention protocol, but this time, I presented the same form I had filled in from that morning, which they kindly took off my hands. I entered the concert hall while a group of kids was dancing to hip-hop tunes, quietly took a seat, and awaited the next performance. This afternoon saw a couple of yosakoi troupes take the stage, with every single dancer masked, even the little ones. Out of all the performers here, the best were undoubtedly this man, woman, and child, who may or may not be related, but they definitely had some family dynamic going on. In addition, they used props such as castanets, fans, and even a Noh mask in their musical numbers.
Moment of Joy: In Sync?
There may have only been three of them on stage, but this tiny group of performers danced their hearts out the entire time. I think it's safe to say that the little boy stole the show with his fervent efforts to keep up with the grown-ups and pull up his mask because it kept dropping below his nose.
They were all so in sync that even this wasn't two parents and their child, they could've fooled me. What a wonderful childhood it must be to have such talented dancers for a mommy and daddy!
The Actual Port
In an interesting twist of fate, the port of Kure was not part of the Kure Port Festival this year. To make up for this, I left after the second yosakoi troupe finished dancing and decided to make for the harbor. Much to my pleasant surprise, not only did the rain outside stop, but it was bright and sunny, as though it had been such the entire day!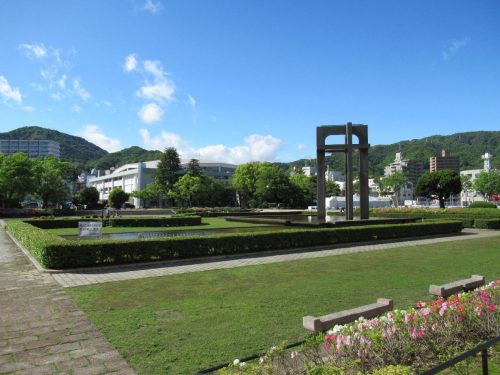 Before making tracks for the harbor, however, I stopped by one last locale by Kure Station for my third and final sticker. A local bakery was selling these square manju-like things with red beans and chestnuts inside. I don't see how this has a connection to what Japanese naval officers used to eat, but it was cheap, I was hungry, and there was a sticker to be had, so you'll get no complaints from me.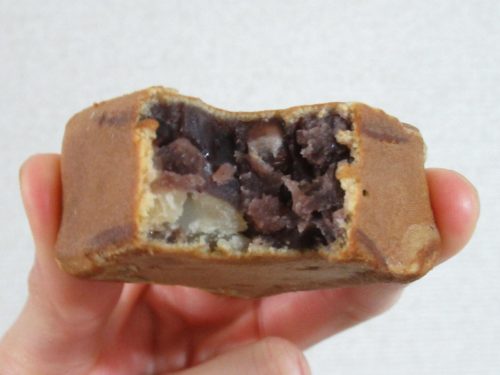 I made my way up to Kure Station and through the YouMe Town to the harbor area where the two most renowned museums in the city were. At this point, there was only time to visit one museum before they closed for the day, so I went with the JMSDF Museum because admission is free. Once again, I read about the valiant efforts of post-war minesweeping efforts in the Seto Inland Sea, the daily lives of contemporary Japanese submariners, and the requirements and timelines for boys and girls to get into the JMSDF. I took my sweet time absorbing as much information as I could, and stuck around until closing time.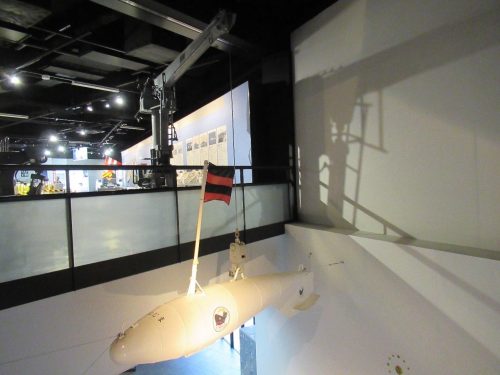 In the seaside area right outside the Yamato Museum, there were a bunch of objects on display that relate to old naval equipment, such as a tiny submersible vessel and a raised platform where a lone lookout tower stands. It was from this platform that I got an optimal view of the museum where I was just a few moments ago.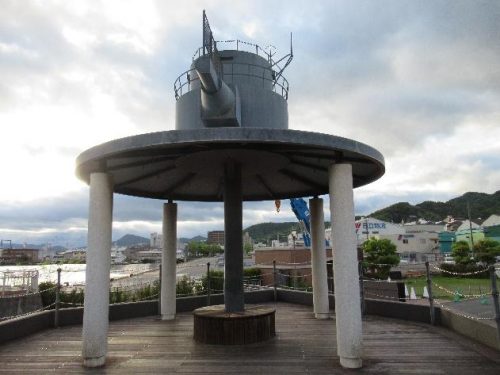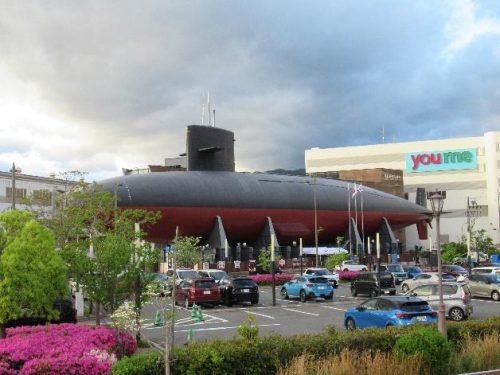 I looked to my left at the grassy patch adjacent to the Yamato Museum to find a most peculiar sculpture. This one piece is seemingly several pieces featuring the same dog walking along a landscape before disappearing into some mysterious portal. It's good to know not all the artwork around here is naval.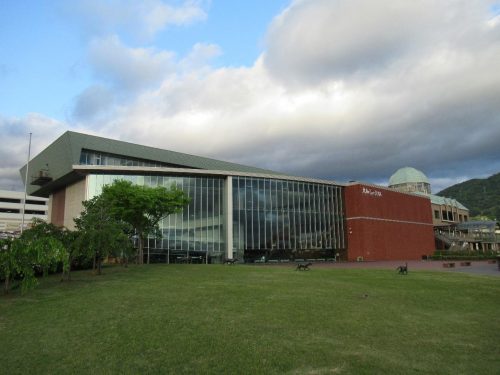 As I approached the end of the pier where the land meets the sea, one boat after another was arriving and departing. Watching these ships fade into a blip on the horizon was a soothing sight that was only enhanced by the setting sun. Ending my Port Festival day at Kure Port in such fine weather was definitely a good call, and I can only imagine how much livelier this part of town would be in subsequent years when festivals can actually be their former selves.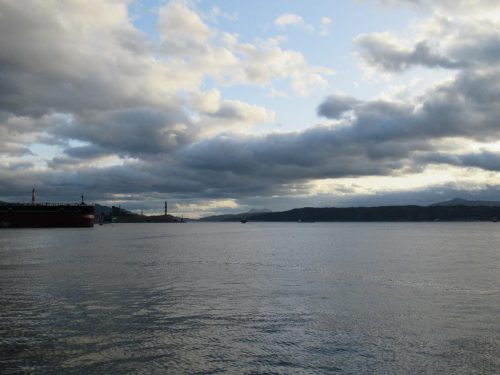 Despite lacking the quintessential parade and food stands that grace nearly every festival in Japan, the Kure Port Festival was still a blast this year. Besides, trying out local eateries that are there year-round is the tastier option, whether one visits during a festival or not. At the end of the day, what I witnessed in 2022 was merely a fraction of what the festival has been and is capable of, pumping me up all the more for future Port Festivals. If you find yourself in Hiroshima Prefecture over Golden Week, I cannot recommend a day trip here enough as the festivities combined with the museums will make for an unforgettable, jam-packed day. The city of Kure has already begun to awaken from its COVID-19 slumber, and when this country's borders finally open up, it'll be ready and waiting to dazzle all visitors who call at its magnificent port!
Written by Kevin Peng