NOW & NEW
festival
food
kids
nature
spring
Ueno Park's Cherry Blossoms: Late Bloomers in the Mountains
Sakura season is a delicate time of year in all of Japan, subject to the volatile forces of nature (mostly rain) that can end it unexpectedly. This makes it quite a chore to plan out a hanami (flower-viewing) party or take a trip to any place renowned for cherry blossoms. As a general estimate, sakura bloom from late March to early April in most of the country, with the peak occurring in southerly regions first and progressing slowly northward. However, one fact that is constant is that the blossoms in mountainous areas tend to bloom later in the spring, so tourists who miss out on the mainstream sakura season can still bank on seeing pink and white cherry trees elsewhere. In the case of Hiroshima Prefecture, that place is Ueno Park in the inland city of Shobara (not to be confused with the famous Ueno Park in Tokyo). 
Although still mostly unheard of, Ueno Park in Shobara, Hiroshima, is a famed site to see sakura, and has rightfully secured its place on the list of 100 Famous Sakura Sites in Japan. The city of Shobara is well-aware of said reputation, and since 2016, has started hosting its own Sakura Festival on April 9th and 10th of every year except for 2021, in light of the pandemic. Despite its rural location, Ueno Park is rather easy to access, as those based in downtown Hiroshima need simply board a bus from Platform 9 of the Hiroshima Bus Center and disembark at 庄原中学校前 (しょうばらちゅうがっこうまえ – the front entrance of Shobara Junior High School). From there, walk south until you see a green restaurant called "Drive-in Mickey" across the street, cross the street, and continue walking with the restaurant on your left. Eventually, banners advertising the festival will come into view; follow the banners to the grand, green gate of Ueno General Park, the main site of the festival.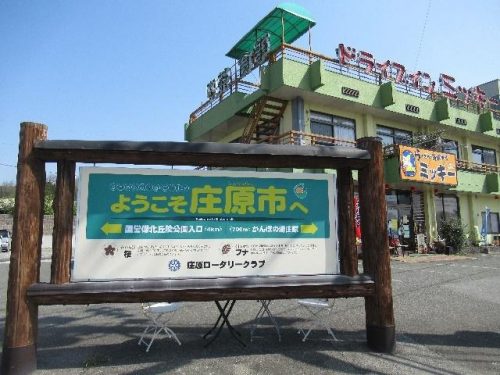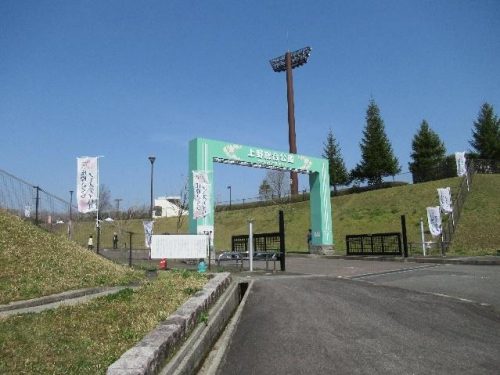 The Ueno General Park Site
Upon entering through the gate, I had my hands sanitized with alcohol and my temperature taken before I was handed a pink mask as proof that I was approved to attend the festival. All visitors are asked to wear the pink mask–even if they came wearing their own–for the duration of the festival to let the staff know that they have the green light to be there. I thought they could've implemented proof of examination better, especially since most visitors will have already worn a mask to the event, and frankly, I like my own mask better.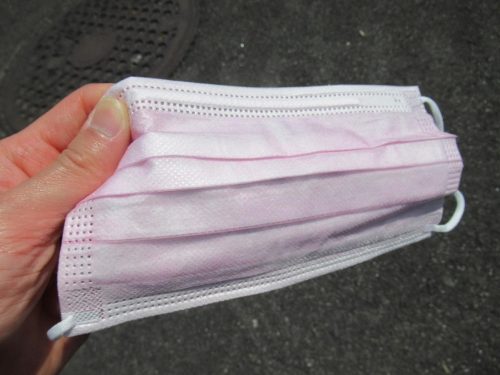 One quick switcheroo later, I was ready to partake in the festivities. The first thing I noticed was a throng of food trucks lined up on the street, each serving up locally-produced fare and attracting queues of hungry customers. Beyond the trucks, an even greater number of food stands and tents providing other services (like games, advertisements, and handicrafts) set up shop on the park's grassy area.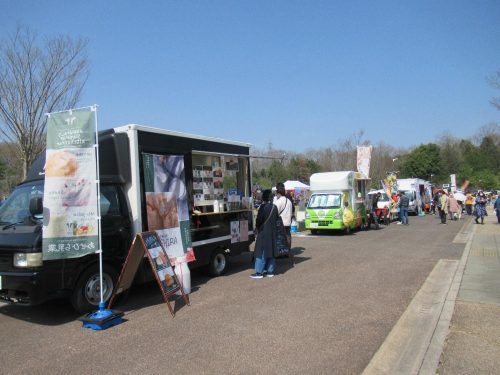 As I walked a lap around the park, I passed a playground, people seated underneath the cherry trees, and a sign pointing towards the rest of the cherry trees surrounding Ueno Lake. The lake would have to wait, however, as for the moment, I wanted to concentrate on the livelier parts of the festival. Besides, the scenery was pink enough where I currently stood.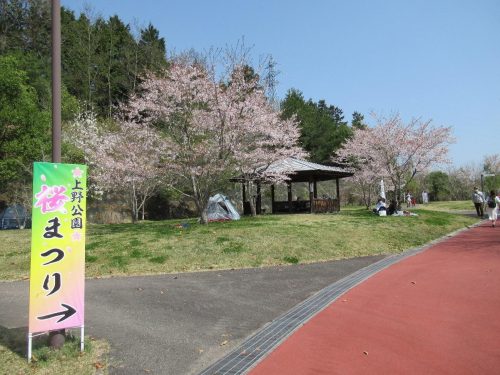 At the far end, there was a stage where kids from local dance schools strutted their stuff, with performances lasting until 3:25 in the afternoon. Their dance numbers were pretty humble, but for some, this might be the start of a career or lifestyle. The surrounding sakura serve as the perfect metaphor for the stage in these kids' lives where they begin to blossom.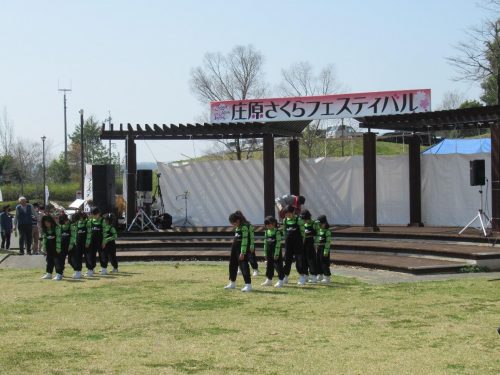 The highlight of this festival site, in my opinion, would have to be the open-top bus, the Maple Sky, that visitors can ride for free. There were no tickets; it was simply first-come, first-served, and there were a total of eight departures taking visitors through the part of Ueno Lake surrounded by cherry trees before dropping them off at another festival site: Ouka no Sato La Forêt Shobara. I lined up with everyone else, and one by one, we were checked for the pink masks we were issued before boarding, buckling up, and taking off.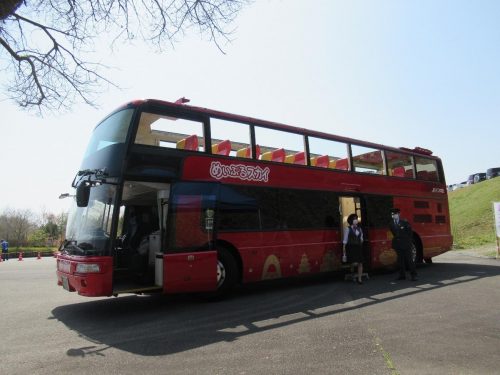 Did you know? This bus was the same type that the players of the Hiroshima Carp rode around town to celebrate a Central League victory some years back. The guide on the bus repeated this several times, but it seemed to be common sense to everyone on the bus that day. When driving past passersby in Ueno Park, we were encouraged to wave to them (they waved first!) in the same way that the baseball players waved to the residents of Hiroshima City during that celebration. Meanwhile, being on the second floor without a roof also meant we were so close to the road signs and cherry blossoms that we could almost touch them!
Moment of Joy: On My High Horse
Being able to enjoy the sakura in Ueno Park from a new angle was literally the high point of my day. If not for our seatbelts, I'm certain quite a few of us would have stood up and attempted to reach for the cherry blossoms that were now so close, but thankfully, we had the wind blow sakura petals into the bus, saving us some trouble there.
On top of that, everyone who caught sight of our Maple Sky bus waved at us, so we were all able to feel that star treatment for about fifteen minutes. Those fifteen minutes of fame lasted all the way to Ouka no Sato La Forêt Shobara, where the resort staff gave us a warm reception upon arrival.
The Ouka no Sato La Forêt Shobara Site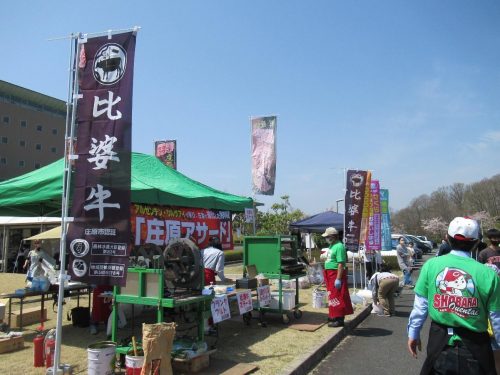 The sakura festival continues here, right in front of Ouka no Sato La Forêt Shobara, a local hot spring resort. There weren't as many food stands at this site, but some of the foods on offer were not replicated anywhere else, such as authentic Neapolitan pizza made by a real Italian resident of Shobara, and asado featuring various meats, including Hiba beef, a Shobara specialty. As the theme for this site was "Meat Fest," other stands in the area were also touting savory meat dishes, such as yakitori, sausages, and wild game. I was tempted to try something from the meat stand above, but decided against it and went inside the resort building.
The front lobby looked classy and clean, and it was no wonder, since this place was recently renovated and opened on April 1st this year, just in time for the Sakura Festival. Guests can sit down with a book and a beverage as they admire the back garden, or buy souvenirs and some homemade ice cream from the gift shop to the right of this lounge area. Upstairs, one will find the hot springs, restaurant, karaoke parlor, and game corner, amongst other facilities. Seeing as this was a brand-new place, I was curious about the quality of their food, so I entered the restaurant for a gourmet lunch set.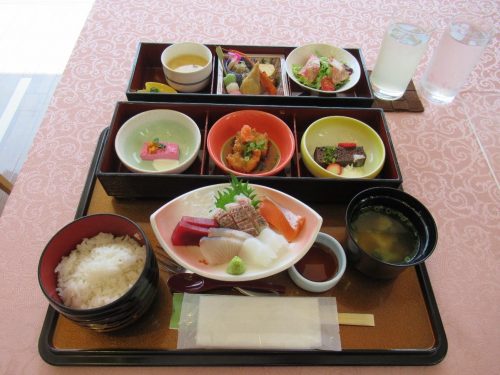 I went for their highest grade of set meal, and to say it was overwhelming would be an understatement. Along with my rice and miso soup, I was served five kinds of sashimi featuring delicacies such as young yellowtail, squid, and tuna. In the row behind them, they served up some mushy, savory pink rectangle, deep-fried sesame tofu with a fried shrimp, and the dessert of the day: a chocolate brownie with strawberries and cream. In the very back were a salad, a dish filled with various sides like a spring roll, a marinated shrimp, one piece of rolled omelet, some marinated whitebait, three sweet dumplings on a stick, and a bowl of chawanmushi accompanied by Japanese pickles (hard to see in the photo, but it's that tiny yellow dish). I got myself a glass of yuzu juice to help wash it all down, and by the time I was done, I figured I was full enough to not be tempted by any of the food stands outside. When it came time to pay, I was told that the register inside the restaurant only took cash, and that if I wished to pay by credit card, I had to pay at the front desk downstairs. If you wish to pay with plastic, don't forget to stop by the front desk before leaving the building!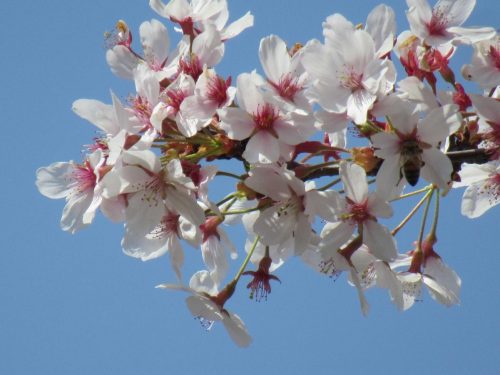 Since the open-top bus doesn't take people back to Ueno General Park, I would have to walk back from the resort. Upon exiting the building, I turned left and walked in the direction of the outdoor tennis courts, at which point the trail went downhill. The path was lined with cherry trees in full bloom, and I even caught sight of a bee pollinating the flowers. On my way down, I looked to my left and saw the third festival site on the opposite side, so I dashed across the street and into the parking lot of Shokusaikan Shobara Yume Sakura.
The Shokusaikan Shobara Yuma Sakura Site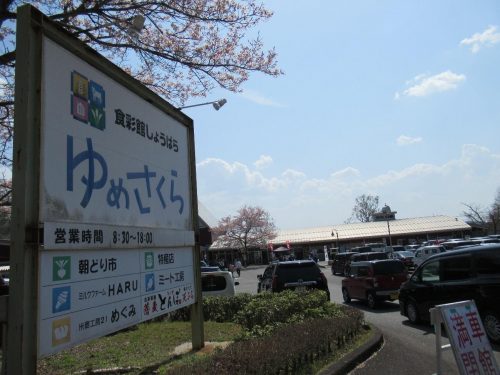 Shokusaikan Shobara Yuma Sakura is a general market of sorts that sells a wide range of foodstuffs, from fresh meat to bread, ice cream, and other regional souvenirs. This site of the Sakura Festival is by far the most meager, with only two stands set up just for this event. Both sold recipes that incorporated the famed Hiba beef, but I decided on the more affordable Hiba beef curry bread with a rough, crouton-covered exterior. After buying my bread, I went out to the back terrace of the building, where visitors can sit at one of the tables and enjoy whatever food they bought in peace. I pulled a chair to the edge of the balcony so that I could look out at the sakura and surrounding scenery as I munched on my snack.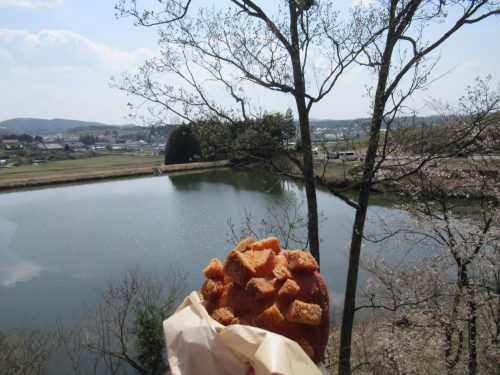 Ueno Park Sakura Matsuri
Despite coming here mainly for the Sakura Festival, it would be remiss of me to overlook the reason why this festival even exists in the first place. After finishing my curry bread, I made my way back to Ueno General Park, where I followed the sign from earlier to Ueno Lake, where the majority of the cherry trees are located. The lake is rather enormous, and it takes a good while to circumnavigate, but along the way, I found several points of interest, including a cherry tree donated by the Hiroshima Carp on November 24th, 2019.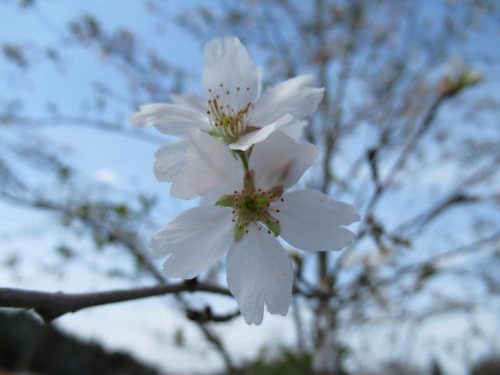 A few paces beyond the Carp sakura, I came upon a red torii labeled "Itsukushima Shrine." Like its counterpart on Miyajima, the torii here is also built over water, as so long as Miyajima's torii remains covered by scaffolding, tourists will have to make due with the next best thing here. There are even steps leading down to the torii for those who wish to wade through the lake to approach it.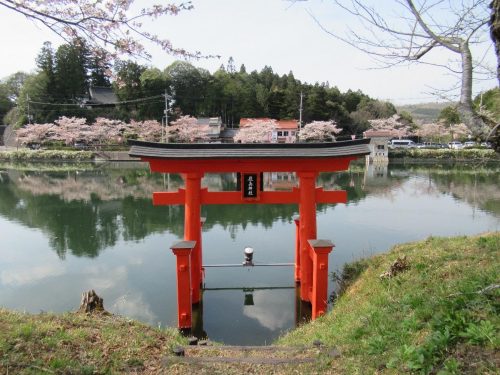 As I continued my stroll, I also came upon a pavilion where flower watchers can rest their weary legs. To the left of that was a bridge leading to the west end of the lake, where some food stands were set up. Every single item being advertised looked tasty, but since it was all your standard carnival fare, I decided to hold out until the next festival I attended. I'm bound to find the exact same foods in Hiroshima City over Golden Week.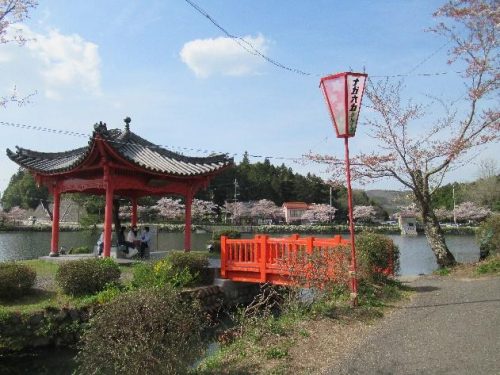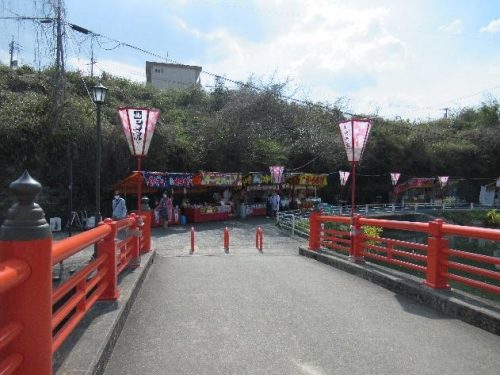 At long last, I came upon the same tunnel that the open-top bus took us through, and seeing the same trees at street level is definitely something else. This stretch of road is long enough to where even cars stopped at select points so visitors could get off to take their pictures along the sakura tunnel. Cars also drive through the street pretty often, but when there were no cars, I seized the opportunity to walk into the middle of the street to snap what the bus driver probably saw when I was on the upper deck earlier.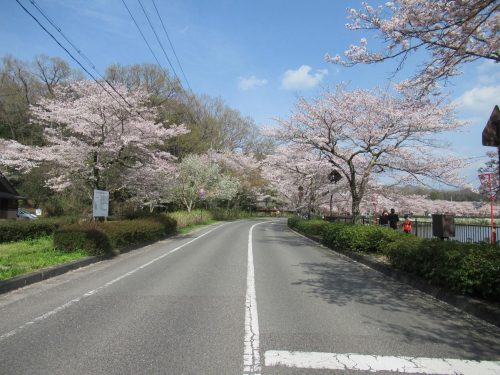 When I reached the end of the sakura tunnel, I turned back and made my way back towards the bus stop where I disembarked to catch my ride home. Along the way, the wind grew stronger at times and fiercely blew the petals off the trees, creating what's called a "hanafubuki (花吹雪)," or a blizzard of flower petals that enhances the beauty of the surrounding nature. It's a bit difficult to capture in a photo, so I recommend capturing it on video every time it happens. Nevertheless, I could imagine no better way to end my hanami experience in Shobara today.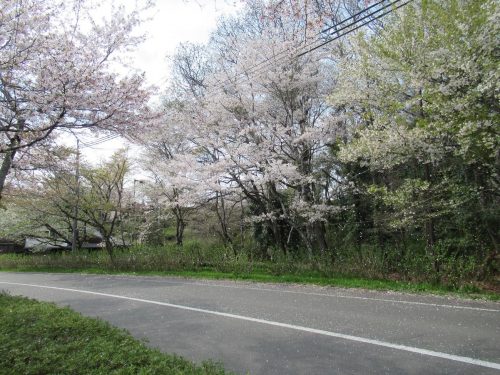 In most of Hiroshima Prefecture, cherry blossoms would be gone by April 10th, but those who arrive here after prime sakura season, fret not! Mountainous Shobara has more than enough sakura for everyone who swings by, along with a delicious, entertaining festival to last an entire day as well as the night before, when the sakura in Ueno Park are illuminated. Tourists can maximize their fun factor by staying the night at a nearby hotel like Ouka no Sato La Forêt Shobara where they can take a hot soak after seeing the sakura illumination, get a good night's sleep, and do it all over again the next day. If you can make it to Hiroshima Prefecture in April, consider checking out Shobara's Sakura Festival so you too can get your sakura high!
Written by the Joy in Hiroshima Team
Tags: festival, food, kids, nature, spring