NOW & NEW
Singles' Awareness Day – Romantic Getaways for Lone Travelers
Some of you out there may be aware, but in many countries around the world, the middle of February is SAD (Singles' Awareness Day), though the mood of the season doesn't necessarily have to match what the acronym spells out. Although Japan doesn't acknowledge this alternative occasion that takes place at the same time as Valentine's Day, there is an abundance of ways for those who are not in relationships to celebrate by themselves and feel the love all the same. For one, all the limited-time chocolates go on sale after the 14th of February, so how could one possibly be sad in the presence of discount sweets? Besides that, we've got an entire bevy of businesses in Hiroshima City alone furnished with heart-shaped décor, waiting to celebrate Valentine's Day with parties of one. If you try hitting up some of these places by yourself next time you swing by, you too might be thankful to be single for the time being.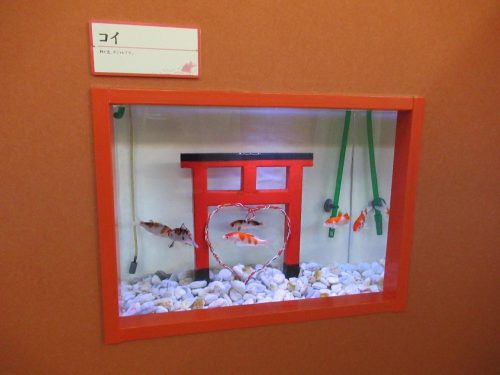 S.O.S: Scouting Out Sweets
In this country, I'm considered what the locals call a スイーツ男子 (すいーつだんし – "sweets boy"), which is used to describe any man who is particularly partial to desserts, apparently a rarity in Japan because sweets are supposedly "for women and children." Visitors to Hiroshima who have a sweet tooth won't be let down, as they'll find no shortage of bakeries, cafés, candy shops, and ice cream parlors to quell their confectionery cravings. Diners on a budget who still wish to indulge in a sedentary dessert derby can look towards family restaurants for the best deals on glorious, gourmet goodies. Some of their sweets may only be available until Valentine's Day (or White Day on the 14th of March), whereas other places may offer discounts on their seasonal desserts around the same time. Being that they're family restaurants, there's not much of a romantic atmosphere about them, thus making it perfectly acceptable for a lone diner to indulge solo.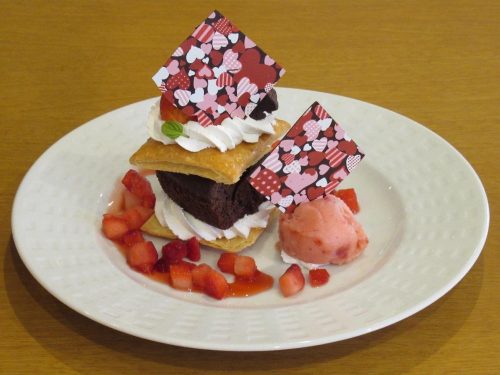 Family restaurants that serve fare similar to the beauty above are in great numbers downtown, but are also commonplace in the vicinity of train stations, so there's no real specific part of town I need to recommend. If you're in Hiroshima past Valentine's Day, or if chocolate just isn't your thing, February also marks the start of strawberry season in Japan, with markets and restaurants large and small stocking the freshly-picked crimson delights. Save yourself a laborious trip to the farm and dig in at your closest eatery!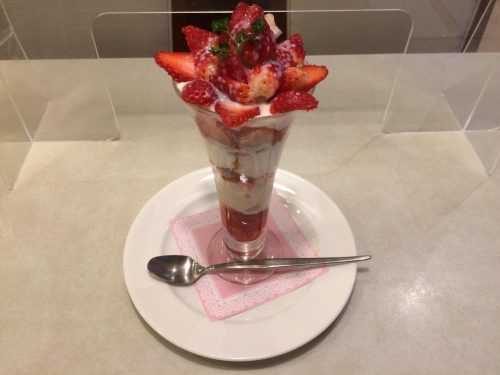 Solitary Refinement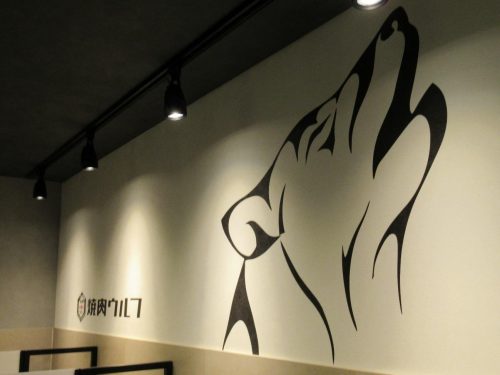 Maybe you're not a sweets boy (or girl), but you still want an extravagant ensemble of eats that don't need to be shared with anybody. In that case, yakiniku might be more your speed, but not to worry; you won't need to gather any companions for this joint. As of a few months ago, 焼肉ウルフ (やきにくうるふ – Yakiniku Wolf), the city center's one and only barbecue bar for only one, opened up in Tatemachi. Guests are seated at private booths tailored for lone wolves like yours truly, where they can order meat and side dishes to their heart's content to be grilled and devoured in solitude. The host directed me to my seat and kindly hung up my coat for me, and after that, left me alone to order using the tablet to my right.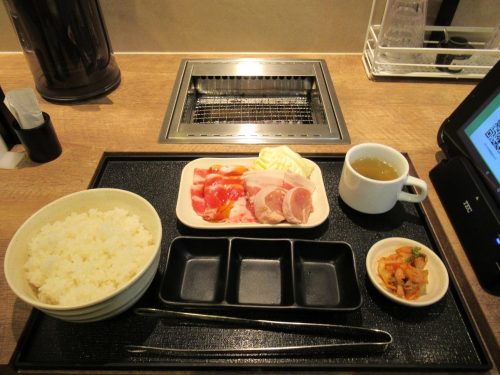 I got their standard Wolf Set Meal, which came with cuts of beef and pork kalbi, a couple pieces of chicken, and some cabbage leaves for grilling, along with a bowl of rice and a tiny dish of kimchi to accompany it all. Right by the grill is a small rack with water cups the customer can repeatedly refill at any time as well as an array of dipping sauces for countless combinations when enjoying every piping hot bite. A true yakiniku party for one only requires this much, and as more food is always at the ready with a few taps of the touch screen, the party can last as long as you want it to (within business hours, of course).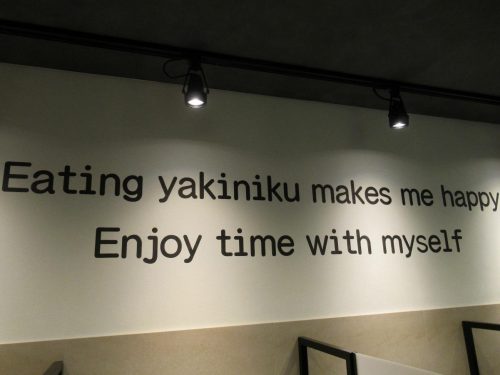 Goldfish Date
Okay, so shopping and eating meat are things people do on an everyday basis, and therefore not romantic to some, so allow me to introduce an actual date spot that doesn't require a partner. If no human being will go out with you on Valentine's Day, how about a marine organism? When it comes to a fun outing in Hiroshima City, there's no going wrong with the Marina Hop, where the highlight is undoubtedly the aquarium. I've become somewhat of a regular here as I have an annual pass, but even I can be surprised at the seasonal tanks that pop up every few months throughout the year. At this point until White Day next month, they've got platefuls of fake sweets and colorful sea creatures that resemble them.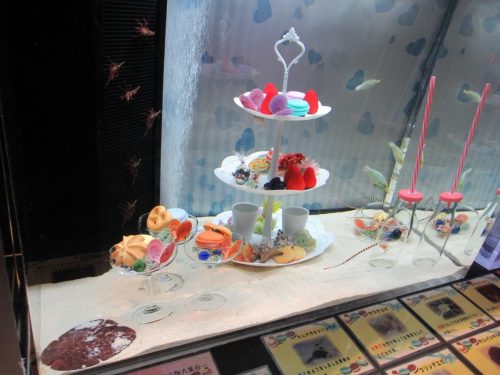 While Hiroshima Prefecture is still under quasi-lockdown, all shows at the Mariho Aquarium have been canceled, so the above display may be as good as it's going to get. Don't despair, however, as some of the organisms themselves can put on a show with their very existence. The color jellyfish in this tank could be mistaken for swimming scoops of vanilla and chocolate ice cream, and seemingly change color when they swam under a light, a phenomenon that dazzled as they changed from white to blue, or blue to brown.
Adjacent to the regular exhibit and the aquarium gift shop is the special exhibit room, which only requires a miniscule supplement with a day ticket or an annual pass to view. The theme from mid-December to early May was "Goldfish Date," which centers on the history of goldfish husbandry as it relates to Japanese people and the myriad outlandish varieties of goldfish. Did you know that our pet goldfish didn't originally exist in nature? The first goldfish are said to have been bred sometime during the Tang Dynasty in China, and made their way over to Japan around the Muromachi Period, and since then, goldfish in all sorts of shapes and colors have started popping up in both countries. The exhibit hall featured numerous tanks, each with a different breed of goldfish, and was adorned with countless goldfish lanterns and educational plaques outlining the history, geography, and biology of all the featured breeds.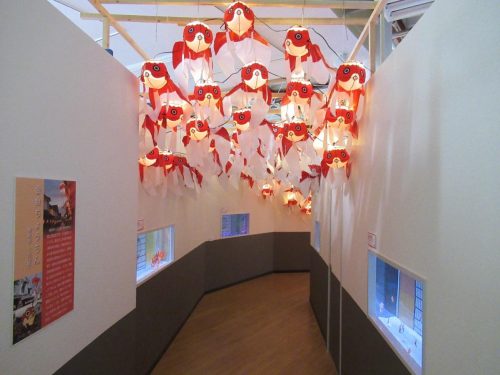 Some goldfish were behind windows and lived out their days swimming in a tank with intricate wallpaper. Others were placed in open bowls and wondered if every next human might break the rules and scoop it out. Most were orange and white, but some were brown or had black spots. A few were bred to have unusually large heads, and others had evolved gargantuan eyes or cheeks. As I leisurely walked through the exhibit room, there were many times that a goldfish's appearance made me chuckle.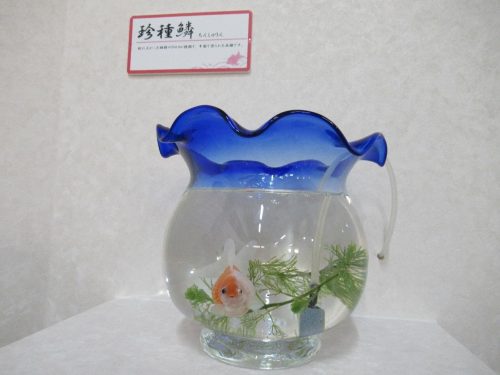 Near the end of the exhibit was a simple personality test created by the aquarium staff, with a flow chart that told the viewer what goldfish they ought to keep as a pet. To the left of that was a table indicating people's compatibility with their partners; couples could take the test together to see if they were truly meant to be.  As I had nobody else with me at the time, I didn't bother with the table, but at least now I know what kind of goldfish is recommended for me.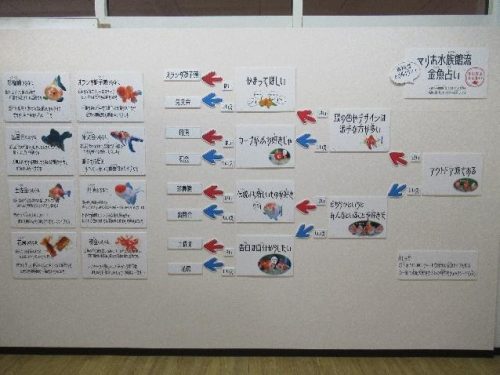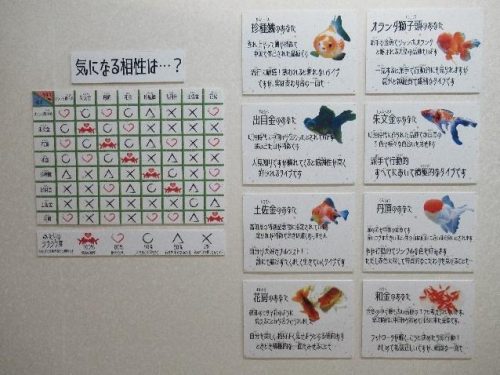 Seeing all those dessert lookalikes and fish made me a bit peckish, and as the aquarium was closing anyway, I had no choice but to make for the restaurant quarter. Diners will be pleased to know that every restaurant by the sea offers a view of the marina, so be sure to nab a window seat if at all possible. Almost all of the businesses at the Marina Hop have some perk for those who purchased an aquarium day ticket or annual pass; at restaurants, be sure to show it to your server when placing your order. The freebie depends on the establishment, but after some contemplation and comparison, I realized that the rice omelet place that gave out free soda floats gave the best bang for my buck.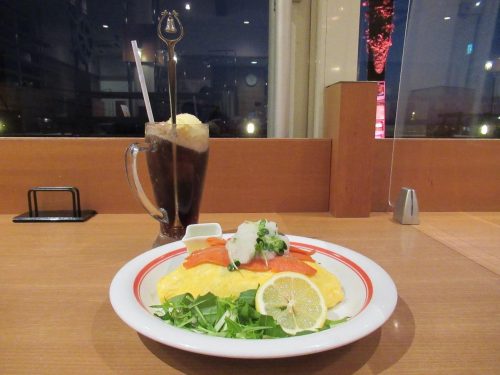 After having seen so many fish, I was feeling like fish for dinner, so I got myself a rice omelet topped with salmon and a pile of oroshi (grated daikon radish), garnished with some greens and some lemon juice to drizzle on top of it all. The sight of my meal and float while gazing out the window at night brought back fond memories of my first time here, like history was repeating itself. So much so, in fact, that I had just as much fun photographing my dinner as I had eating it. To be honest, I was surprised the ice cream in my cola float didn't melt by the time I was done taking pictures.
Moment of Joy: Down-to-Earth Fireworks
Halfway through my meal, I started to hear lively music from the outside, which was part of the projection mapping show the Marina Hop puts on starting at sundown. Shows start every twenty minutes and last ten minutes each, so I was really tempted to time it right and finish my food right before the start of the next showing. My waitress was cool with me leaving my stuff inside to check out the show before paying, so out I went with my camera in hand. The images displayed on the floor of the promenade were your typical symbols of Hiroshima, like maple leaves, carp, and paper cranes, but the part that amazed me the most would have to be the mesmerizing fireworks that could warm anybody's heart on a chilly February evening.
Those Who Matter
The projection mapping show and the luminous Ferris wheel are what make up the Marina Hop's buzzing, family-friendly nightlife, and are definitely worth sharing with any special people in your life. Sure, my day at the Marina Hop by myself was remarkable, but I can only imagine how much better it would have been had I come here with my friends or family. As I paid for my dinner and boarded the bus back downtown, I started thinking about how I could gather a posse of my own down here one day, but until that happens, the souvenir I got from the aquarium gift shop will have to do (and maybe give them an clue on where we should hang out next time).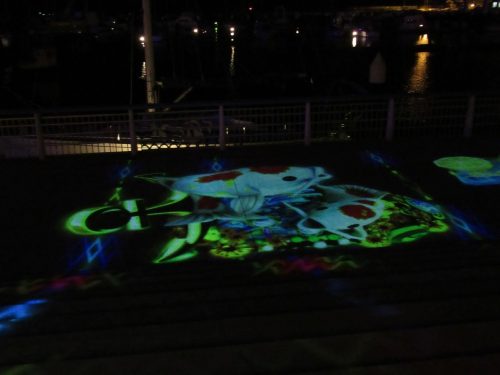 Indeed, anyone here in Hiroshima on Singles' Awareness Day (SAD) can be entertained all day, but just because you're a party of one doesn't mean you're truly alone. There are still people in your life who think about you, so do remember to pick up a souvenir for the folks back home, or better yet, call your loved ones around this time and share the glorious stories of your holiday in Japan. Failing that, it's easy to wish anyone you meet a Happy Valentine's Day; even a complete stranger, with or without candy and cards. I actually tried that this year to help get me into the holiday spirit, and there's no pressure at all, for the only present necessary is love.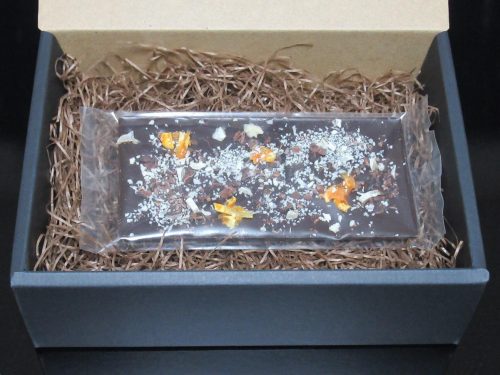 I'll conclude with a quote I found on a box of Asahi Chocolate I bought earlier this month: "Love is a fruit in season at all times, and within reach of every hand." That said, Valentine's Day is what you make it, so whether you have a date or not, it's important to show some love to as many people as you can, yourself included. Here's hoping some of the ideas above can serve as inspiration for tourists to choose Hiroshima as a date spot during their vacation, whether it's as a group, a couple, or a party of one. People may visit our lovely city at any time of the year, but regardless of where in the world you may be on February 14th, let me just take a moment to wish everybody out there a Happy SAD, from Hiroshima with love.
Written by Kevin Peng