NOW & NEW
Quarantine Wanderlust – Emulating Travel Through Local Cuisine
It wasn't too long after the turn of 2022 that the governments of several Japanese prefectures declared a quasi-state of emergency that would last throughout the month of February and into early March. During this time (and other periods on and off since the spring of 2020), not only has unessential overseas travel been nigh impossible, but travel to other prefectures has also been discouraged for the time being. Furthermore, even the main tourist sites in Hiroshima Prefecture are closed to prevent the spread of the virus. In spite of all that, being the travel bug-bitten individual that I am, I had to find a way to imitate the delightful feeling I get when exploring someplace new, and I figured the closest I could get to a quarantine vacation would be none other than Hiroshima Airport in Mihara, otherwise known as HIJ by those who fly in and out often. As it had been quite a while since I last came here due to the lack of far-flung journeys these days, I was eager to see how the facilities and surroundings had changed in my absence.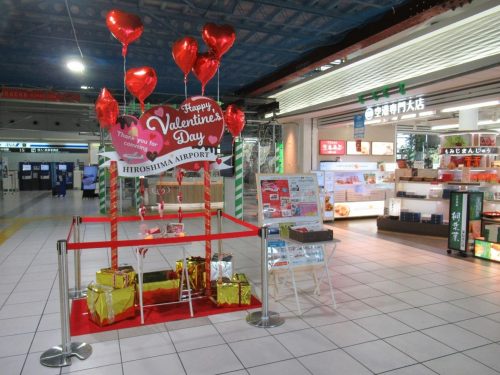 As soon as I stepped off the Airport Limousine Bus and into the second floor of HIJ, my eyes were met by this lovely display. Although barely anyone is flying these days (and international flights are indefinitely on hold), HIJ remains open with a reduced number of flights for the few who need to get to and from Tokyo, Sendai, Sapporo, or Naha. With Valentine's Day being exactly one week away, the airport lobby and shops have been getting prepared with themed decorations as well as limited-time pop-up stores and products. Visitors can get a flier detailing all that's currently going on in the airport from the information counter behind the balloons, but since it was lunch time, I made my way past the counter to a staircase leading up to the third floor, where the bulk of the eateries are.
Runway Eats
I discovered that the airport food court had recently been renovated, and the vivid, red walls and signs were certainly befitting to the month of February, considering the types of holidays that occur around this time. A new name has also been ascribed to this place to make it sound more like your neighborhood restaurant district: Tachimachi Yokocho. It's not just the look that has changed, however, because when I came up the stairs, I caught sight of an entire row of seats at a new counter that serve as a resting and working space for people waiting for flights. On the walls to the left of this pillar, there was plenty of imagery invoking the specialties of Hiroshima Prefecture, and even some amusing phrases in the Hiroshima dialect to lend some extra local flair. I was familiar with almost every eatery here except for one that opened some months ago, so I decided to have lunch at the newest restaurant, HIROSHIMA SORA DON.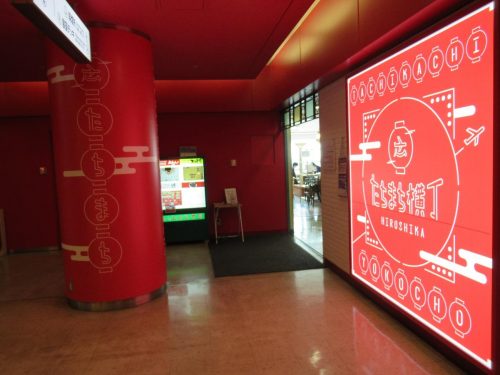 This place specializes in a dish called "belly button rice bowls," but trust me, it tastes a lot better than its name lets on. The recipe hails from a neighborhood called Toyosakae-cho in Higashihiroshima City, which claims to be smack dab in the middle of Hiroshima Prefecture, and therefore, the prefecture's belly button. The ingredients for belly button bowls are rather humble, originally consisting only of hot oil, sliced green onions, a perilla leaf, and a single egg yolk on a bed of rice, with the yolk naturally in the center to symbolize the belly button. Inspired by this simple-but-effective recipe, the Hiroshima Airport Hotel's cooks added a dollop of their own signature beef mincemeat to the bowl and started selling it in this restaurant. Guests order from a variety of belly button bowls (or other standard bowls without navels) using the vending machine outside, choosing whether they wish to dine in or take their food to go. Getting takeaway is cheaper, but customers who sit down to eat will have their meals accompanied by a bowl of "tonjiru," which is a rich, pork-based miso soup loaded with root vegetables and sliced konnyaku.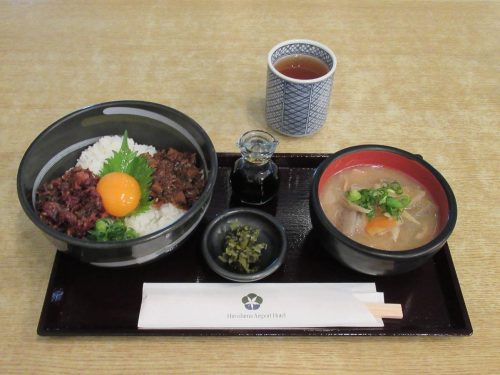 Moment of Joy: Bloated Belly Button
The above dishes may be humble, but the quantity was substantial without ever compromising on the quality. To top it all off, I also got myself a plate of fried oysters, because when in Hiroshima, am I right? It was well past the lunch rush by the time I was dining, so nobody was in the restaurant save for me and the staff, which allowed me to munch at my own carefree pace. This ensemble of Hiroshima cooking managed to fill me all the way to the belly button and ensured I would not need any more food for the remainder of my time at HIJ.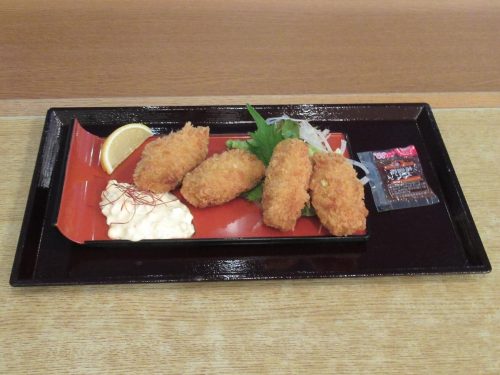 Worldly Treats
After my typical Hiroshimarian feast, I went back downstairs to take a proverbial walk around the world by touring the shops in the lobby. My first stop would be France, represented by the new Made in Pierre Hermé stand near the security checkpoint to the domestic departure terminal. Pierre Hermé is a pâtissier from the Alsace region who made it big in Paris and whose pastries and chocolates later came to be widely sold in Tokyo. This humble shop touched down in Hiroshima Prefecture not too long ago, and with Valentine's Day right around the corner, the French-inspired Japanese pâtisserie is dishing out seasonal products consumers can share with their loved ones, including–but not limited to–heart-shaped chocolate cookies, gâteau chocolat, and the colorful, world-renowned macarons. As strongly tempted as I was to pick up a little something for me, myself, and I, my bloated belly talked me out of it, and my window-shopping journey around the world continued.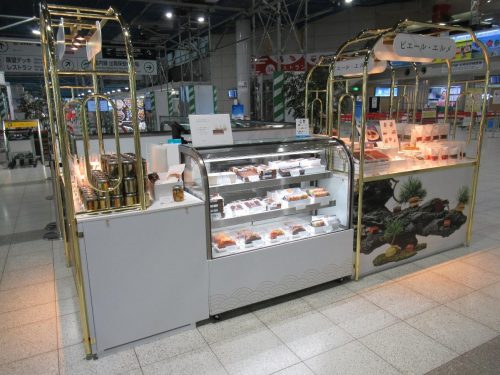 Meanwhile, in another corner of HIJ's departure lobby, a small, temporary table was set up in front of one of the usual souvenir stores. These specialized building blocks supposedly hail from Germany, and each set contains the right amount of the blocks necessary to assemble one's own airplane, complete with a fully-functioning propeller. A completed example was on display, and to the right of it was a pile of blocks waiting to be put together, so I figured: why not? I locked the pieces in place according to the instructions inside the sets for sale, but halfway through the process, I realized that not all the blocks that come with the set were on the table for me to use. However, I made due with what I was provided; the contraption on the right was the proud result of my craftsmanship.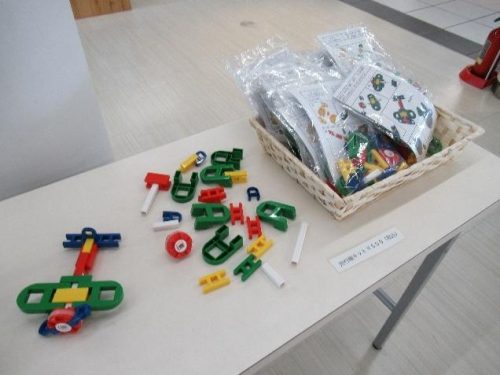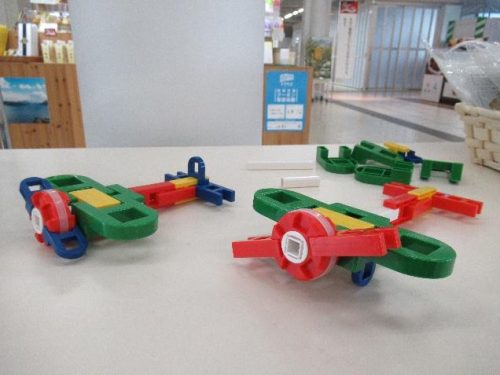 A table adjacent to the German planes took me back to Hiroshima Prefecture, once again through the power of chocolate (no surprise, given the month). Asahi Chocolate is a company based in Takehara and prides itself on the bean-to-bar process it employs. When processing the cacao beans, the company hires people with special needs to manually remove the husks and seed germs that machines could not otherwise pick out entirely, resulting in a purer chocolate as well as more jobs all around. On the left, we have the standard Asahi Chocolate bar, and to its right, a candied lemon peel-encrusted variety that was the result of a collaboration with the Iwasaki Farm on the island of Osakikamijima. To the far right is a gift box that was sold in limited quantities, which contained a packet of cacao nibs, some chocolate-covered dried figs, and a block of sweet and tangy chocolate bark embedded with candied lemon and tangerine peel. Naturally, all the fruit contained in the chocolate here was the product of Osakikamijima. The gift set felt like too good of a deal to pass up, and the opportunity to support local business also convinced me to pull the trigger and take a box home with me.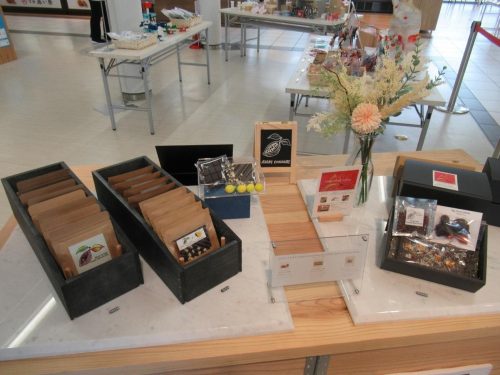 Dessert Oasis
Despite being too full to cram any more food into my tummy, I continued my culinary expedition outside of HIJ. The wooden signs in front of the building took me around the parking lot, across the street, past Sankeien (currently closed on account of the virus), and through a winding path to Hattendo Village, which is host to several eateries offering tantalizing sweets. I walked through the parking lot and up the stairs to the outdoor section where I would begin my tour.
Upon reaching the top of this staircase, visitors can turn right and be greeted by a variety of playground equipment for the kiddos, and beyond that, a pony farm. On weekends, Hattendo Village holds a pony-feeding experience, but since I was here on a Monday, all I could do was watch the miniature ponies Marron and Cream go about their mundane routine. Cream here was grazing at the ground for some odd reason even though there's clearly no grass on the ground; maybe she didn't get enough food during feeding time.
East of the pony farm lies some more wide-open space for little kids to run around to their hearts' delight. The green, artificial turf ends at one of the eateries, Sora no Eki Orchard, which puts out bubble tents in the winter to shield outdoor eaters from the elements. From these seats, you can get a good view of HIJ in the distance, but you may be hard pressed to be able to see planes taking off or landing.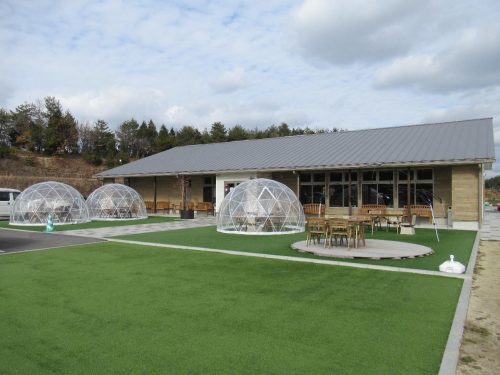 Inside Sora no Eki Orchard is a massive gift shop equipped with a café, all of which specialize in Hiroshima specialties. Of particular note is the café's menu, which changes up periodically according to the fruits in season; this time around, it was citrus fruits such as lemons and tangerines. To match the bubble tents outside, they also had citrus bubble waffle crepes on the menu, stuffed with lemon sorbet and mandarin oranges. The bubble waffle allegedly originated in Hong Kong and has since spread to sweet shops worldwide, so when I saw it on the menu, I knew I had to try it, hungry or full. Unfortunately, as the bubble waffle iron was undergoing maintenance on the day I dropped by, I couldn't order one, so this promotional poster will have to suffice. I'm sure it would taste every bit as good as it looks, though.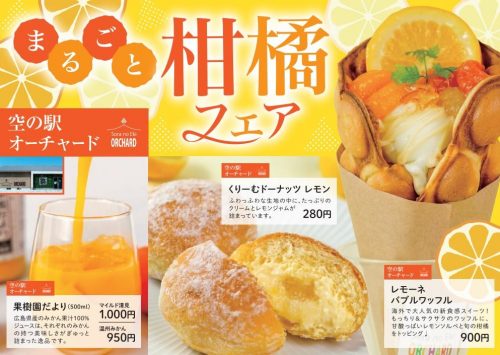 Unsatisfied with the other items on the menu, I left and walked to the other side of Hattendo Village, where the Hattendo Cafelie and shop where located. I was previously here nine months ago to take part in a baking workshop, but this time, I just wanted to see what was for sale. The dine-in area of Hattendo Cafelie has a quaint and cozy atmosphere, and they even have a serving robot on wheels to bring order to customers at any table. I walked past the diners and began to browse the baked goods for sale on the shelves, but what caught my eye immediately after was the view through the windows, where customers can watch bakers manufacturing and packaging the sweets live. The chefs in the back were in the process of making heart-shaped Baumkuchen in time for Valentine's Day, and as it was late afternoon, they were just finishing up, cutting the Baumkuchen and stacking them to be placed into boxes later.
Baumkuchen was originally a German delicacy, but as the first Baumkuchen in Japan was baked on Innoshima before being formally introduced in Hiroshima City, from whence it spread to the rest of Japan, many Japanese people may associate Baumkuchen with Hiroshima Prefecture as well as with Germany. I debated buying one myself since it's not every day we get to see a heart-shaped Baumkuchen, but alas, I determined that my confectioneries from Asahi Chocolate would be enough. Before leaving Hattendo Village, I took one last walk past the children playing, ponies chilling, and families eating, before I ended up at the parking lot east of Sora no Eki Orchard.
Mihara Gateway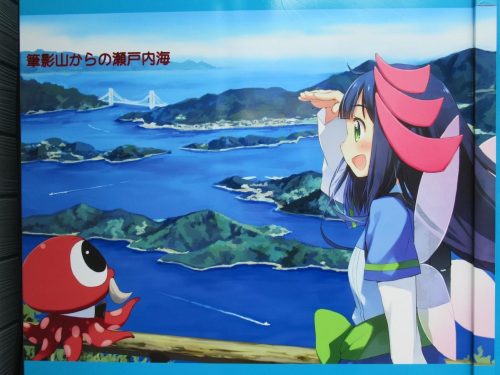 I went to use the restrooms out back when I caught sight of the vending machines, which were decorated to advertise Mihara as a tourist destination. On the front and sides were pictures featuring points of interest and events that can be found somewhere in the city. Some places–such as the above view of the Seto Inland Sea from the top of Mount Fudekage–I had seen before, but others–like the Buddhist temple Buttsuji or the Yassa Festival–I have yet to lay eyes on, prompting me to extend my Mihara sightseeing checklist.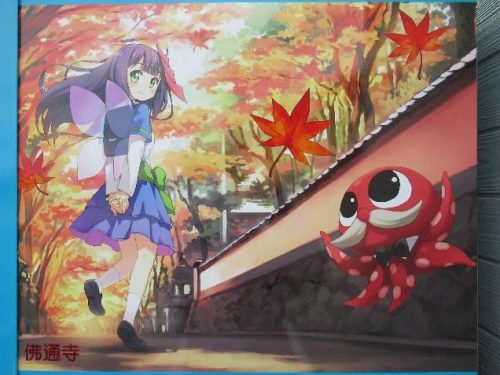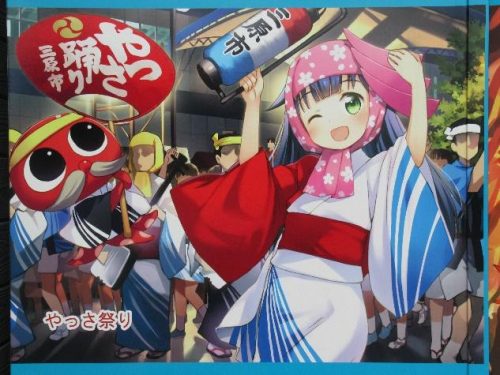 After all that window shopping, I made my way back to the bus stops in front of HIJ, but not before checking out the one corner of the airport devoid of people: the international arrivals lobby. The sight of nobody coming from beyond the automatic doors was disheartening to say the least, even though I knew it was only temporary, and for the best at this time. On the other hand, waiting for and riding the bus back to Hiroshima City allowed me to reflect on how easy it is to have a fun outing even in the middle of a pandemic.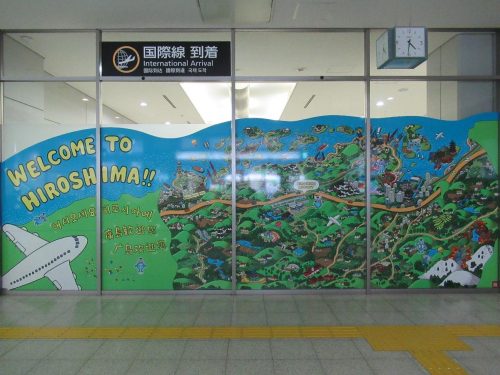 No matter where one lives, being able to entertain oneself in the midst of a crisis is an indispensable way to keep hope afloat. While it may still be months away, my hope for the foreseeable future is to be able to welcome guests from abroad to Hiroshima Prefecture once again through our humble-but-charming airport and its lovely surroundings. To all our readers out there, stay safe and healthy until international flights start back up, and perhaps one day you'll be walking out these doors into Mihara, our petit gateway to the world.
Written by Kevin Peng