NOW & NEW
New Year's in Hiroshima: An Overview of Auspicious Firsts
A common saying in life is that there's a first time for everything, and there tends to be an emphasis on these personal firsts at the start of every year. Japan especially stresses the first of many things over the first few days of the New Year, with several even donning dedicated titles (and even those that don't can have one made up for them). The Japanese have traditionally celebrated New Year at the same time as the Chinese Lunar New Year), but since the Meiji Era, the date has switched to the first day of the first month of the Gregorian calendar: January 1st. Officially, only New Year's Day is a national holiday in Japan, but most businesses will close on the days before and following January 1st, and schools will let off for approximately two weeks, making Japanese New Year their winter vacation. This period of rest is primarily used for staying home to spend quality time with the family and to take kids to see their grandparents. Those whose hometowns are in other cities or other prefectures will utilize the near-universal time off to go out of town, which leads to traffic jams on the highway between late December and early January.
However, there may be others who choose to take a family vacation or a trip with friends, either within the country or overseas. Immigrants (especially those without family in Japan) such as myself may also utilize the winter break to reunite with our loved ones back in our home countries, ring in the new year there, and make it back to Japan in time to start work again. That was exactly what I did right before the COVID-19 pandemic struck, and since 2020, I've had no choice but to celebrate the New Year by myself, limited only by my imagination. I really wanted to take a grand vacation this year, but since Japan hadn't fully recovered by December 2021, I decided to stay in Hiroshima and emulate the feeling of a vacation by staying in a hotel downtown. Nowadays, hotels and other places that usually see a large number of tourists are offering competitive packages and discounts subsidized by the government to encourage consumers to revitalize the tourism and hospitality industries, and since the tourist saves money while stimulating the economy, it's a win-win situation. My hotel room came with a lovely view of the Toukasan shrine, situated in the bustling commercial center of Hiroshima, but in spite of the location, it wasn't noisy at all because unlike in other countries, Japan doesn't do New Year's Eve fireworks (there are exceptions, such as in theme parks or resorts).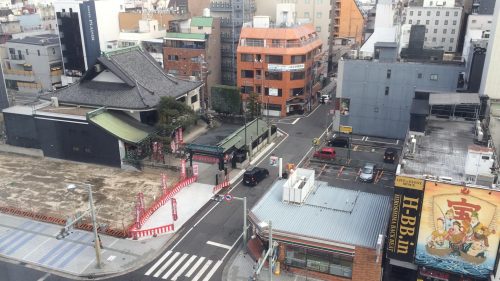 During my stay, I knew I wasn't the only one with this plan, and it's easy to see why. In addition to New Year's Eve and Day being a special occasion, eating out is easy as urban hotels are close to restaurants, and since Dreamination was still underway, tourists can follow up dinner with some family-friendly, nighttime entertainment. Having already seen Dreamination, though, I instead opted to buy some dinner to go and eat it in my hotel room, playing video games and watching TV shows until it was time to say goodbye to 2021. Once the clock struck midnight, it was lights-out, as I had an early start in the morning.
初日の出 (Hatsuhinode, the First Sunrise)
At midnight on the first day of the year, bells at temples are usually rung 108 times, and visitors can partake in the bell-ringing, but such events were once again discouraged this year on account of the pandemic. Therefore, the first first that I would participate in for 2022 would be the viewing of the first sunrise on January 1st, dubbed Hatsuhinode (初日の出) by the locals. The sunrise can be best viewed near the sea, but as public transportation doesn't run that early in the morning, my only recourse was to walk all the way there from the city center. I had actually done this the year before, so I had a rough idea of when the sun would rise. In order to account for the time spent getting to my destination, I had to set my alarm for 6:00 in the morning, which also meant no partying the night before.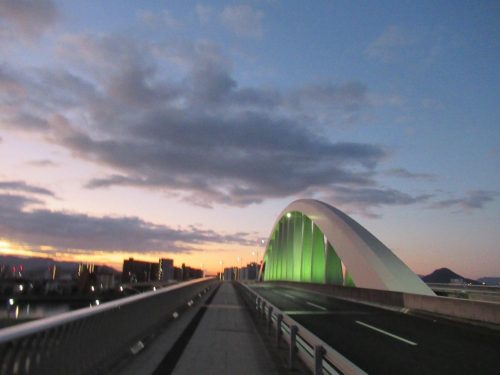 The sunrise can be seen from a variety of locales around the city, but my lookout point of choice is the Ujina Bridge near the southern end of Hiroshima. From my hotel, I walked south on Chuo Street until I reached Miyukibashi Station on the streetcar line. At that point, I crossed the street over the Hiroshima Beauty College and continued down the road with the campus on my left side. After passing a 7-Eleven, I came to a bridge that passes over the Motoyasu River, but rather than cross that, I turned left and continued until I reached the Ujina Bridge, pictured above. Along the way, the sky was already beginning to light up, but as the sun had yet to peek over the horizon, I figured I wasn't too late. About halfway across the bridge, there's a staircase leading down to the riverbank; I parked myself at this halfway platform and waited for the sun to greet me from behind the buildings.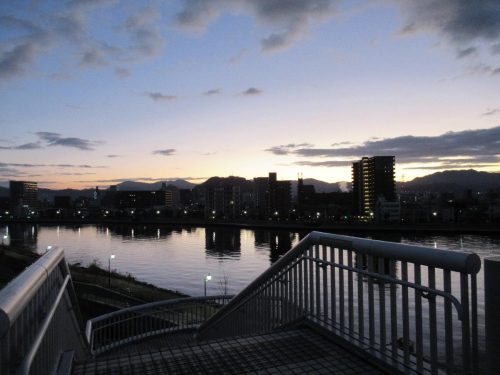 Last year, I arrived too early, and because it had snowed, I had to endure both the bitter cold and the freezing ground as I awaited the sun. This year, however, was a bit warmer, but I still recommend gloves and a hot drink from a vending machine or convenience store to keep warm until the sun rises. Other people were also gathering on the Ujina Bridge at this time, but it never got crowded in any one spot. Time passed at a snail's pace as I continued to stare in the same direction, but by 7:20 a.m., the sky was aglow with the appearance of our beloved morning star.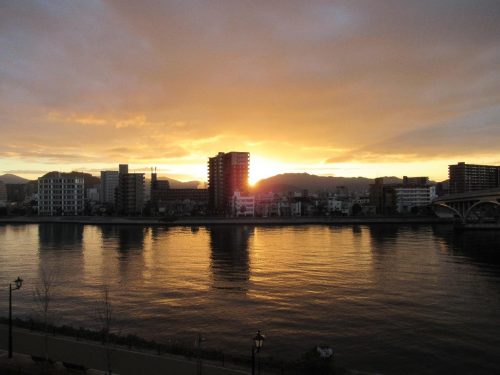 初詣 (Hatsumoude, the First Shrine Visit)
On my way back from the Ujina Bridge, I squeezed in a detour to a shrine downtown to complete Hatsumoude (初詣), the first shrine visit of the New Year. It doesn't have to be done on January 1st, and most people just go to the shrine closest to their residences. However, I wanted to be one of the first to complete this first, so I went to the Shirakami Shrine, which was close to my hotel. At this time of year, the shrine entrance is decked out more elaborately than usual, and priests are present to conduct exclusive ceremonies pertaining to the start of the year. Worshippers looking to participate in Hatsumoude would do well to bring some coins and think up some wishes beforehand, as the first few days in January are when folks usually pray for how they would like the rest of their year to turn out.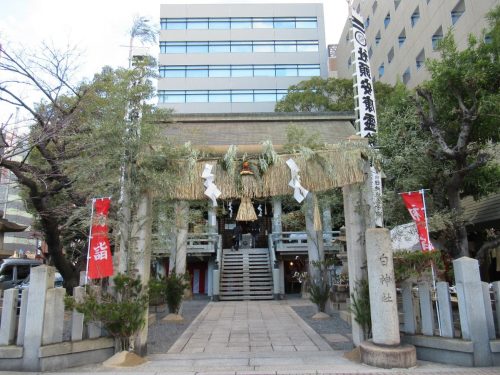 I bowed once before passing under the straw rope, thereby entering diving space, and then proceeded up the stairs to the altar. Once it was my turn to pray, I tossed a coin into the alms box, rang the bell, bowed twice, and began to pray as the priest blessed me. Technically, worshippers are supposed to clap twice before bowing, but as that's rather hard to do with a camera in hand, I forewent that step and compensated by slapping my thigh twice with my free hand.

With Hatsumoude out of the way, I returned to my hotel for breakfast, which was served buffet-style, but with the addition of some New Year's foods. After breakfast, I went back up to my room to lounge about until check-out. The remainder of my New Year's Day was spent doing virtually nothing at home, which is the way it should be as almost nothing is open on January 1st.
初売 (Hatsu-uri, the First Sales)
The fun continues on January 2nd, when a great many stores open up for business again and conduct Hatsu-uri (初売), the first sales of the New Year. Select items in most stores are significantly marked down in early January, and almost every store will offer what's called a "fukubukuro (福袋)," or lucky bag. The contents of these lucky bags are traditionally a secret, even to the store staff, because they're packed elsewhere before being shipped to the branch in question. However, these days, depending on the type of business, the contents may be listed on a sign inside or outside the store, which can entice would-be buyers even more. In any case, the combined value of the items in the lucky bag will always exceed the price being charged for the mystery bag, so the customer always wins. It all boils down to whether the customers believe they will have a use for whatever may be inside the bag, but it's not all that difficult to surmise the contents based on what the store usually sells.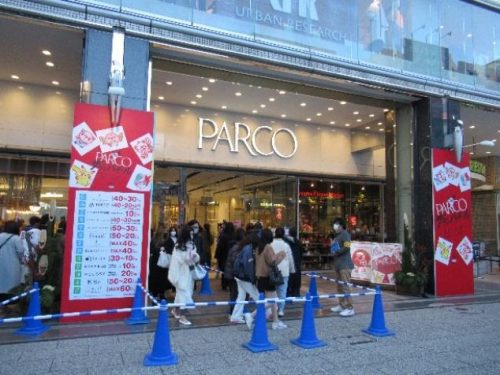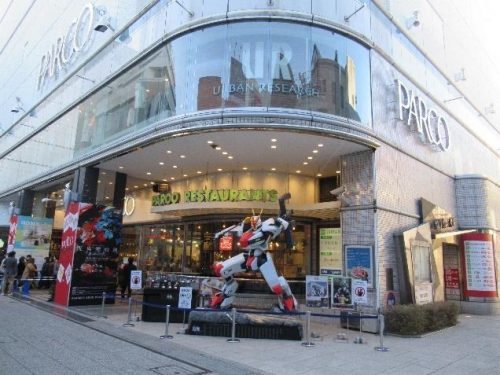 Over the course of several days, I hit up several stores and shopping centers in the city for their New Year's sales, but the first place I dropped by on the morning of January 2nd was the Parco department store on Hondori. There was a coiling queue by the front door long before opening time, and workers were outside indicating the end of the queue as well as regulating shopper traffic. When the shopping center opened up, we calmly trudged single file inside and began our hunt for bargains. I stopped by a shop that sold bags and debated buying a fukubukuro from them.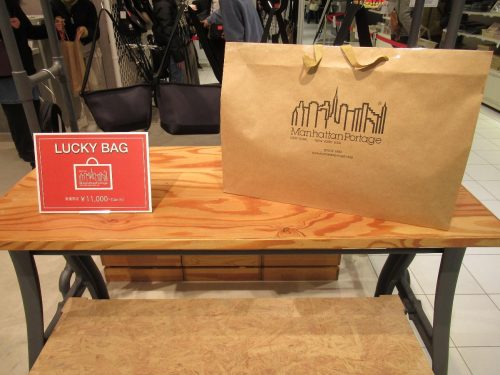 "Hi there! Would you like to buy a lucky bag?" asked a young lady as I was pondering.
"What's in the bag?" I asked in a tongue-in-cheek manner.
"Why, bags, of course! Each lucky bag contains four bags, which means you're getting each bag for super-cheap!"
"Sounds like an excellent deal, but I'm just one man. What would I possibly do with four bags?" I questioned, wanting to hear some sort of sales pitch.
"Well, you can give some as presents, or if you choose to keep them all, you'll have a lot to rotate through! You could carry a different one for every day of the week!" she giggled.
After much internal debating, I was sold on the lucky bag of bargain bags. Who knows when or for what I would use four bags, but I guess I'll cross that bridge when I come to it? Given the astronomical savings, it's no wonder fukubukuro fly off the shelves at lightspeed, so even if I end up not using all the bags in the lucky bag, I still consider myself the victor that day.
Moment of Joy: More Than I Bargained For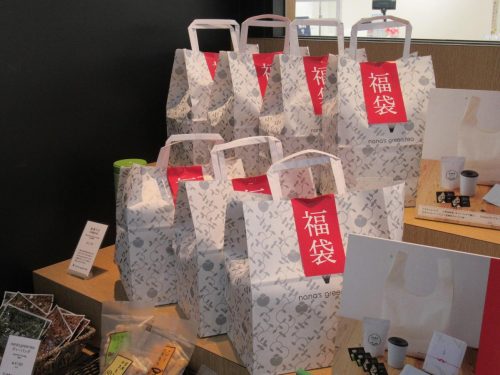 Ever since the pandemic trapped me in Japan, I found myself visiting shopping malls more often than I used to, and before I knew it, I became a regular at some establishments. Thus, by the time New Year's Sales rolled around, some employees already recognized me, resulting in some more interesting dialogues in the midst of my bargain-hunting. That on top of successfully nabbing fukubukuro or other heavily discounted items definitely made my day whenever I dropped by a familiar store. Having a connection as well as comical conversations with the shop attendants makes for an enhanced shopping experience and keeps me coming back time and time again.
New Year's Symbols
While on the topic of shopping, some malls may hold New Year's events involving traditional items such as food or toys. This year, The Outlets Hiroshima put on a toy-decorating event in which shoppers who spent so much had an opportunity to receive and color their very own tops and battledores for free. For better or worse, I splurged at The Outlets that day, so they gave me an astounding four battledores with shuttlecocks, as well as a top to color with markers.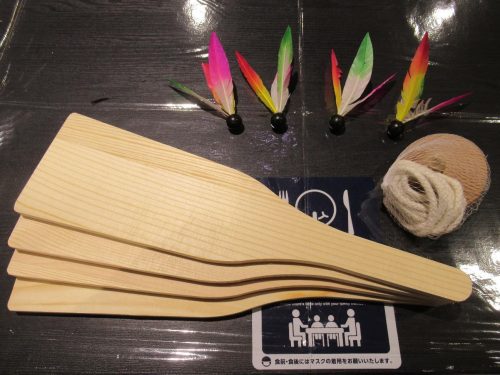 As you can imagine, it took a long while, but I eventually managed to color all five wooden toys. I'm rather pleased with the rainbow color scheme I thought of for the top. The top is one toy that's typically played with during New Year's, but as I'm not all too good at spinning it, perhaps I'm better off displaying it somewhere or giving it as a present to a child.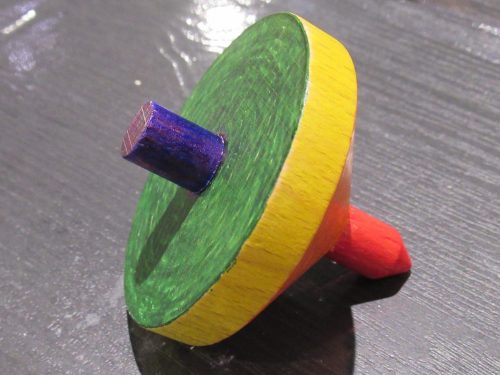 The battledores and shuttlecocks are used to play a game called "Hanetsuki (羽根突き)," a variation on badminton. Hanetsuki is played without a net, and can either be a single-player or multiplayer game. The object of the game is to keep the shuttlecock in the air as long as possible, but when playing with others, every time a player lets the shuttlecock hit the ground, other players draw on his or her face with India ink. Many battledores sold in shops may be lavishly decorated on one side, so these days they have become collector's items more than they are toys.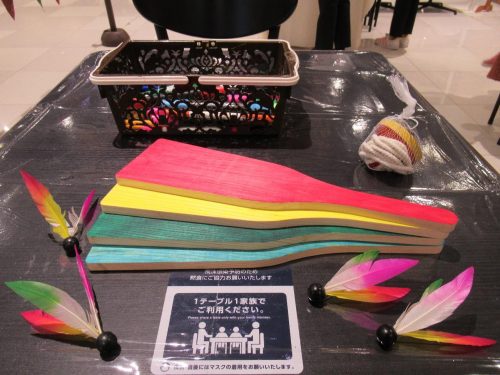 A variety of special foods is also enjoyed during this period. On New Year's Eve, people tend to eat what is called "toshikoshi soba (年越し蕎麦)" in order to ensure longevity in the coming years. Despite the special name, it really is just a normal bowl of soba that you'd find in a plethora of Japanese noodle restaurants. On New Year's Day, one popular recipe is "ozoni (お雑煮)," an auspicious New Year's soup filled with vegetables and mochi. The mochi ends up tender and gooey from pooling in the hot broth for so long, but on the other hand, because it can easily slide down one's throat, choking on the mochi is common, and every New Year, there are always reports of elderly people dying from asphyxiation from failing to properly chew the mochi. Regardless of age, do exercise caution when eating the mochi in ozoni; take small bites of it and chew thoroughly before swallowing.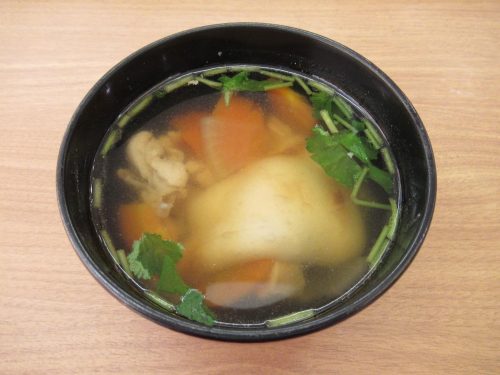 The highlight of New Year's cuisine would have to be "osechi (おせち)," a smorgasbord of dishes exclusive to this holiday season. Originally meant to let mothers avoid cooking on New Year's Day, osechi dishes tend to be preserved and have a long shelf life. In addition, the colors and names of the dishes tend to be auspicious, and eating certain foods is said to symbolize certain good wishes for the eater. Traditionally, these were all homemade, but in modern times, supermarkets, convenience stores, and other places that sell food offer boxes of osechi foods (reservations required), and these osechi boxes sell out so fast that it's wise to book one in November. The price tag gets pretty hefty, but the presentation and taste justify the cost. Would you believe that the osechi box pictured below came from a 7-Eleven? Furthermore, considering the portion size, for one person, all I have to do is boil rice, and osechi can feed me over the course of multiple days!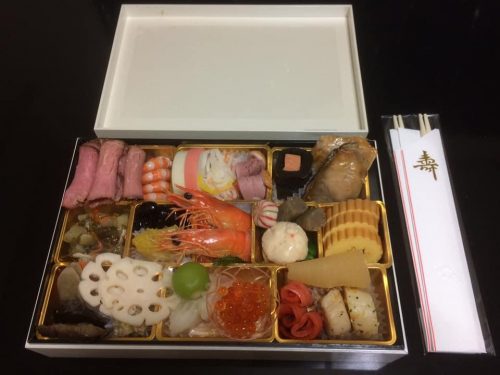 In conclusion, Japanese New Year may fall on the same date as New Year's in most other countries, but the method of celebration is a world apart. However, the holiday season in Japan is by no means uneventful given all the traditions and symbolism involved, especially those centered around the theme of firsts. Once Japan's borders open up again, I hope to see an increase in international tourists coming to experience Japanese New Year for themselves. If you're tired of the usual noisy concerts and fireworks and ring in the New Year in peace, Japan may be your calling. After all, if there's a first time for everything, then you might as well aim to celebrate New Year's like a local here first thing you can!
Written by Kevin Peng