NOW & NEW
Dreamination 2021: Peace Boulevard's Pageant of Lights
When it comes to points of interest in Hiroshima City, the first few ideas to float to the surface are Peace Memorial Park, Hiroshima Castle, and Okonomi Village, all adjacent to the city center and sprawling with tourists spanning a spectrum of citizenships. Many a native Hiroshimarian may not care for the above places (and even remark on the sheer number of foreigners frequenting them), but if there is one destination downtown that is popular with residents and tourists alike, it would be Peace Boulevard, a lengthy road that runs from Nishi-Hiroshima Station on its western cusp to Hijiyama Hill at its eastern extreme. The most popular segment of Peace Boulevard would have to be the section comprising the southern tip of Peace Memorial Park continuing east all the way to the Fuji Grand supermarket, where notable seasonal events take place. In early May, the Flower Festival's parade spans this length of road, and one month later, the Toukasan yukata festival's food stalls spill onto the block bisected by Chuo-dori. Needless to say, the part of Peace Boulevard near Peace Memorial Park will be adorned in remembrance of the atomic bomb victims on the morning of August 6th, with tents on the green areas provided for spectators to listen to speeches and performances. Come autumn, and festivals will once again make their stage on the parts surrounding Shirakami Shrine, where passersby can sit enjoy free yokagura ("night kagura) plays while munching on delectable carnival fare. Pass through Peace Boulevard at any season and you have a fair chance of seeing it decked out in some way or another, but if photogenic moments are what you're after, when the year ends is when the magic begins.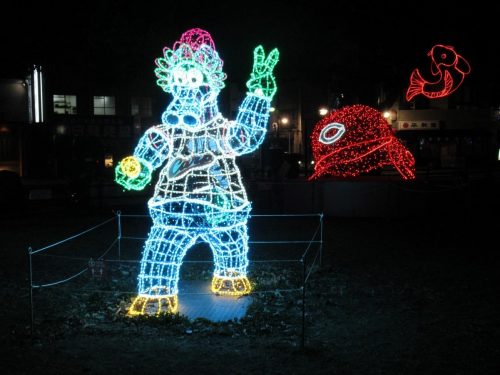 Dreamination is a winter illumination event that graces Peace Boulevard between the dates of November 17th and January 3rd every year. I live right off of the chunk of road where all the displays are and must pass by the illumination on my way to and from work (partially explaining why I have the dates memorized), so I see it whether I like it or not, but thankfully, I do. Dozens of luminous structures line the verdant sidewalks from northwest of Fuji Grand to the bridge over the Motoyasu River leading to Peace Memorial Park, and while the bulk of the objects that appear are roughly the same year in and year out, their placements change and there may be slight aesthetic modifications, which means even those of us who are well-acquainted with the display still have something to look forward to. It doesn't hold a candle (no pun intended) to other similar events in Japan, such as the Kobe Luminarie or Kingdom of Light in Nagasaki's Huis Ten Bosch, but it remains one of Hiroshima's most highly-anticipated events, and is especially a hit with couples and families with small children. The feel one gets when paying a visit to Dreamination differs based on the type of visit (i.e., alone, with friends, on a date, etc.), so in order to have multiple experiences from the same event, I decided to tour some parts of Dreamination by myself and save others for when I would be accompanied by my own posse.
Peace in Solitude
One can begin marveling at Dreamination from any point in the illumination, but I found that starting from the east side and progressing west results in a better buildup of fervor as the glimmering structures get more and more elaborate. For this reason, as well as for ease in listing off the objects, I will begin my tour from the standpoint of a lone traveler approaching Dreamination from Ekimae-dori, a major street that stretches out from in front of Hiroshima Station and intersects Peace Boulevard. With this spectacle beginning in the tail end of autumn, it seems more than fitting to commence my excursion with a symbol of autumn and of Hiroshima: the maple leaf. This is one of the structures whose placement is predictable as it always gets placed on the north side of the most easterly segment.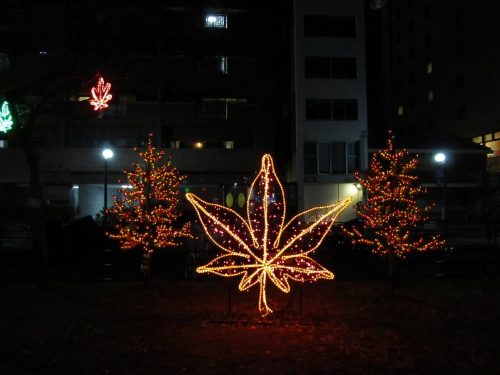 Walking west from here, visitors will come face to face with Slyly, a mascot of the Hiroshima Carp, holding up a peace sign, with a red baseball helmet and a red carp right behind him. The theme of peace and the carp are also integral components of our city's identity (Hiroshima Castle was historically nicknamed "Carp Castle"), and as such, this one block of Dreamination is aptly dubbed the "Cloud of Peace." A few paces past Slyly lies the "Peace" human pyramid backdrop, where visitors can have their picture taken as part of the human pyramid or try fitting into one of the shining humanoid silhouettes adjacent to it. White doves flash on and off above the figures, and brilliant origami cranes were placed next to the human pyramid to assist in conveying Hiroshima's pacifist message. Almost everybody who passes by this thing wants a picture with it, so I patiently waited in the bitter December cold to take the vacant photo below.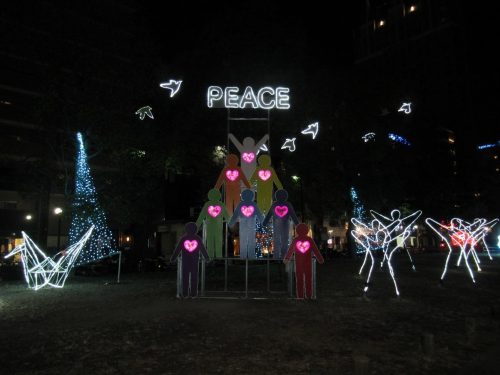 Meanwhile, across the street from all this is "Snow Island," where it looks as though the creators of Cinderella, Frozen, and Frosty the Snowman decided to get together and make a crossover Christmas TV special. As one would expect, the snow queen (princess? fairy godmother?) here has an empty head where visitors can insert their own face to get into character, and on weekends and winter school holidays, this section can produce quite the queue of children and women eager to live out some sort of fantasy. There was no one around to photograph me tonight, and blue dresses are nowhere near my style, so I passed on this photo op and proceeded along the promenade.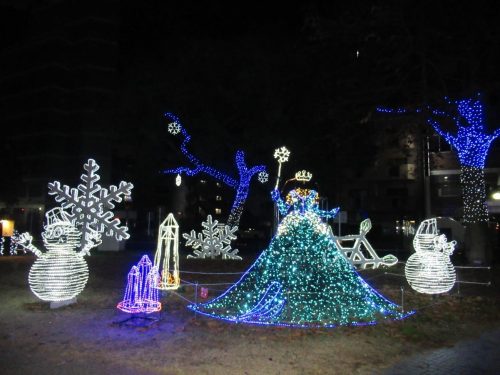 R&R: Rest and Recreation
Crossing the street west of the frigid scenery gives way to a scalding contrast that is known as "Phoenix Hill." As the name suggests, this block is inhabited by a flaming, avian beast loosely based on the Chinese mythical creature 朱雀 (Suzaku in Japanese, Zhūquè in Mandarin) hovering above a boulder, possibly to roost. Most of the displays at Dreamination are rather large and are best photographed from a distance; even when taken from the opposite sidewalk, this bird has a fierce gaze that locks on to its viewer, lending an ominous, final-boss feel to itself.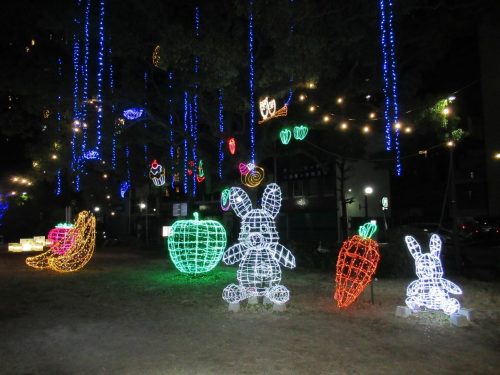 Back on the northern side, in a section called the "Witch's Yard," woodland animals dwell in a magical forest where fruit and vegetables are overgrown, and baked confectionaries hang from the treetops. To the right of these rabbits is a carousel, but due to either the pandemic or simply from being old and fragile, visitors are asked not to ride the horses. What we can sit on, however, are the roll cake-shaped stools to the left of this saccharine, sylvan setup. Guests can indulge in any eats, sweets, and beverages they brought with them next to the giant gateau; in past Dreaminations, there was a stand by these cake tables selling hot libations and simple snacks for cold and weary tourists, but for I imagine that had to be put on hold this year for epidemiological reasons. In spite of that, a vendor cart selling hot sweet potatoes is still operating in front of the super-sized produce. If you insist on café food or a sit-down meal, the Starbucks near the west edge of Dreamination may be more your speed, or any eatery along this strip of Peace Boulevard ought to do.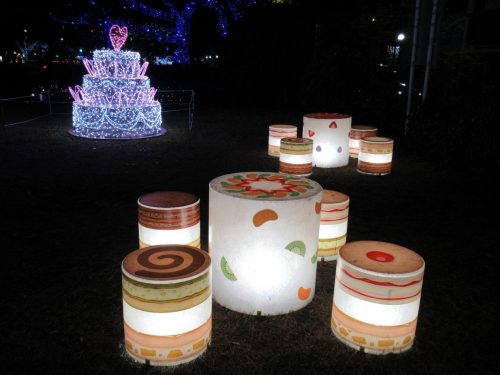 Moment of Joy: Dreamy Tree
It was after this point that I decided to explore the rest of Dreamination with some friends of mine and their children, and we started our walk smack dab in the middle of the illumination, with "Sky Flower Garden" on the north side and "Green Wood Man Forest" on the south. As I crossed the street to the south side to meet with them, one of their kids noticed me and grabbed my hand, wanting to show me something.
"There's a tree that talks! Come and see!"
I came upon what would be a normal tree on Peace Boulevard at any other time of year, but this Dreamination, a carefree, animated face was projected onto the trunk, and the projection periodically switched between the talking face and brief, colorful light shows. What I found even more entertaining than the Green Wood Man itself were the awe and reactions from the folks who have witnessed the anomaly of a voice supposedly coming from a tree in recent Dreaminations.
"Daddy, lookit! The tree's speaking!" chimed many children.
"That face is kind of creepy," remarked other onlookers.
"Yeesh, this thing's going to show up in my dreams," said one girl as she walked past.
The fact that this tree effectively incorporates viewers into the spectacle easily makes it the most riveting component of Dreamination in my book.
Regal Radiance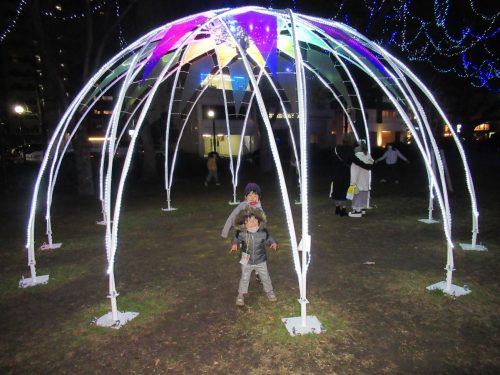 After that episode, we advanced in the direction of Peace Memorial Park and the streetcar stops, pausing every now and then to photograph and play in the structures of "Aqua Mountain" and "Gold Relic" on the south side. There's always at least one new structure that makes a guest appearance every year, and this time, it was this dome-shaped, metal framework with neon lights shining down from the top. It acts like an open-air discotheque, and my friends' kids had a ball chasing the lights that shone on the ground. It may appear simplistic, but the design is sleek and modern-looking, so I hope to see this thing again next year if space permits.
Past that was a tried-and-true display and a personal favorite of mine, the pirate ship and whale. Though climbing aboard the ship is prohibited, it remains possible to duck inside the mouth of the whale and pretend to be swallowed. I see this vessel every single year, but I will never get tired of taking pictures of it.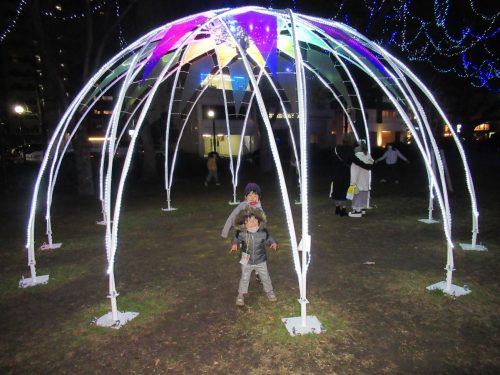 On the next block, there are two glowing pyramids, seemingly assembled with electric candles. To their right is one of the most anticipated icons of Dreamination, a super-tall tree decorated with strings of light whose color and arrangement changes annually. The strings of light are actually on a frame around the tree rather than on the tree itself, so visitors can walk inside the structure for glamorous photo ops. I took a photo of my friends while their kiddos ran around the tree trunk before humorously photobombing the snapshot, much to our amusement. At this point, it was past the children's normal bedtime, so we parted ways here as they walked toward the streetcar stops to return home.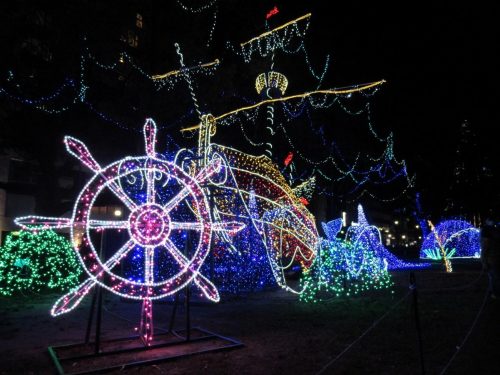 Immediately after seeing my companions off, I retraced my steps to the sections north of where we just were. Of particular interest is the block entitled "Kingdom of Cloud," which features elements from medieval fantasy stories, such as a horse drawn carriage and a grandiose, glittering palace. Since it was a Saturday night, families were lining up to have their picture taken inside the carriage, which bears a striking resemblance to the one in Cinderella.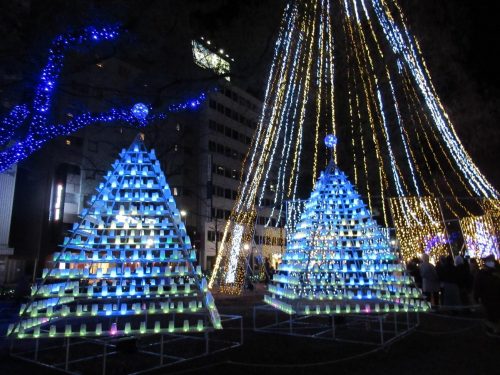 To the left of the carriage, a soaring dragon greets the crowd, and to the left of that lies a mesmerizing, rainbow tunnel leading into a sparkling palace. There was a line here tonight too, but it generally moves pretty fast as people smoothly through the tunnel and out the palace exit. That isn't to say that visitors don't savor the moment though, as the light tunnel is pretty trippy when viewed from the inside. Groups will stop to take photos and videos, and on days when it's not crowded, kids and even young adults may attempt to run through the tunnel and palace. The sheer number of lights and colors is enough to make anybody's imagination run wild, regardless of age.
"If you dash from here to the end, you'll find yourself a new boyfriend!" I once overheard what must have been a college student exclaiming to her friends as well as random strangers.
I can't say I blame her, though, as the palace truly looks romantic up close. A palace in this exact spot is guaranteed every year, but there are always a couple subtle changes in the design so that comparing pictures of the palace from different years makes reminiscing all the more enjoyable. I have yet to follow the above advice regarding the tunnel, but sprinting through does sound like a fun idea no matter one's relationship status.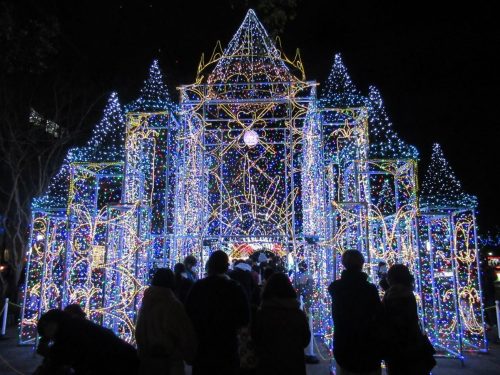 The End of the Cloud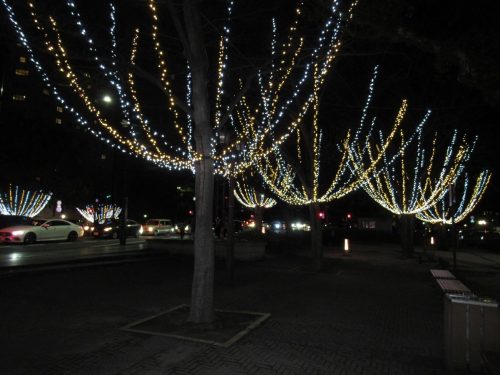 I finally crossed over to the block in front of the NHK building and its Starbucks, which is deemed "The End of the Cloud," and objectively defines the borders of Dreamination. There are four segments with such a name: one on each side of Peace Boulevard both here and on the east side where I started my tour. The lit, leafless trees here create a simple, yet elegant atmosphere, and better yet, there are plenty of benches for tourists to take a break from all that visual stimulation. This segment creates a smooth transition into Peace Memorial Park to the northwest, symbolic of gradually waking from a dreamland and finding oneself back in the reality of Hiroshima, a city with a harrowing past that unfortunately wasn't a dream.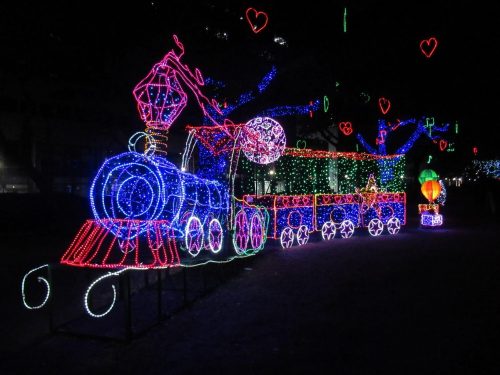 However, the show doesn't have to end here, as there are more dazzling displays to be seen downtown, such as on Hondori or in front of Pacela, so go ahead and jump on the luminous bandwagon to take in all the holiday lights! In addition, outside of a pandemic, there are also German-style Christmas markets scattered throughout the city where one can partake in winter comfort food and get some interesting gifts, so celebrating the holidays to the fullest in Hiroshima will certainly have tourists zipping all over the place. In spite of living so close to Dreamination and gazing upon the same structures year after year, never once have I tired of it. Considering that there is indeed a huge gap between visiting on my own and going as a group, my Dreamination experience can be whatever I want depending on how I plan it. If a warm, fuzzy feeling is what you're after during the holiday season, I can say with confidence that Peace Boulevard is the hottest place to realize that dream!
Written by Kevin Peng