NOW & NEW
ItsuAni Fall 2021: Seasonal Cosplay and Anime Songfest
When one mentions Japan, what are some of the first images that surface? In one corner, a slew of stereotypes relating to the traditional culture, including samurai, sumo wrestlers, and Buddhist monks may come to mind. On the other end of the aisle, futuristic notions such as robots, the Shinkansen, and self-driving automobiles also prevail. In between those polar opposites lie the contemporary tidbits of typical Japan as seen from the outside: anime, video games, idol groups, and so on. Tourists the world over can come to Japan for any of the above reasons (and many more not mentioned) to see these oft imitated, never duplicated phenomena with their own eyes. As the major metropolises of this nation (Tokyo, Osaka, Fukuoka, etc.) are hotbeds for events dedicated to Japanese pop culture, they tend to be a target for foreign tourists with a geeky side, but unbeknownst to them, Hiroshima has also been a noteworthy player in the anime scene.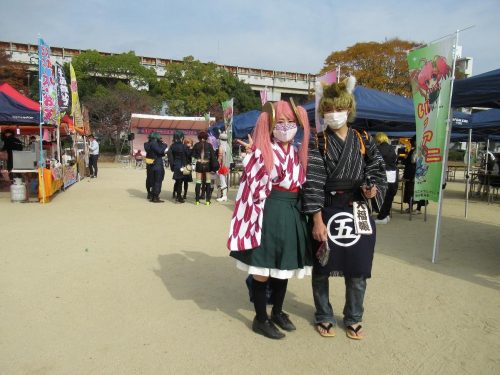 For starters, there's Fukuyamanime in Fukuyama, where a significant number of renowned cosplayers and voice actors converge to celebrate their love of manga and anime. Meanwhile, here in Hiroshima City, visitors may inadvertently run into folks in costume conducting photoshoots using iconic backdrops such as the Yuka-en Chinese-style garden east of Chuo Park, or Hiroshima's Dreamination, a winter light-up display running along Peace Boulevard. As for our events, one of the most anticipated is the Itsukaichi Anime Comic & Anime Songfest, or ItsuAni for short, which is held biannually in the neighborhood of Itsukaichi, nestled in westerly Saeki Ward. Here, event goers will find a multitude of anime enthusiasts in costume, posing for group photos, singing their favorite anime songs, and busting off funky, fresh moves on the dancing stage. ItsuAni's mascots are the pink-pigtailed Sakurako Daikokuten and her foxy companion Fukusuke, who patrol the grounds of the event all day to extend a warm welcome to all visitors.
Setting the Scene
On the morning of the 21st of November, I met some friends at Itsukaichi Station, from which we walked to the event site together. It's a bit of a walk to get there, strolling up Coin-dori and passing the Japan Mint Hiroshima Branch before we finally reached the Saeki Ward Cultural Center. The venue actually took place in the adjacent park, but since cosplayers used the rooms inside here to change into their getups, we stopped by the building first. At the front door was Dragon Ball's Master Roshi, welcoming guests to ItsuAni and directing cosplayers to the changing rooms. This old man is more than just a live billboard; Master Roshi organizes a great plenty of cosplay events all over Japan and has made appearances at key events in several foreign countries. I wasn't cosplaying today, so I passed through the building and straight to the outdoor event site.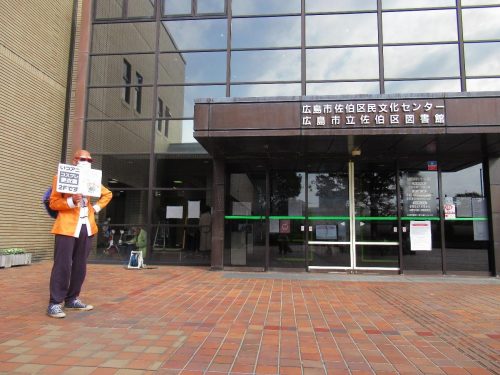 Tents and banners abound on the sandy ground where the main festivities would take place. Upon arriving at the registration counter, I filled in a form, sanitized my hands, had my temperature taken, and then was given this badge to prove that I was healthy enough to attend. The one I got featured Sakurako indicating that I have a normal temperature; there's also a Fukusuke version with a similar message.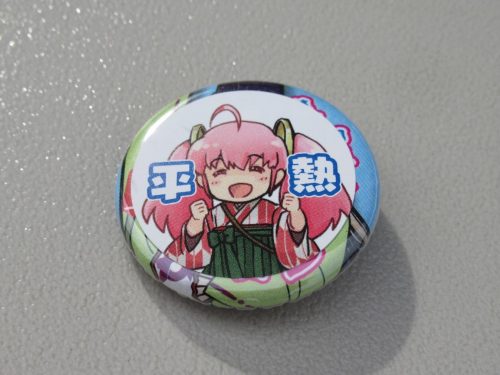 The festivities wouldn't begin for a few minutes, so I took the time to wander around and see what was on offer. There were about five vendors total, selling a fair range of general Japanese carnival fare: French fries, grilled meat skewers, yakisoba, and chocolate-covered bananas, to name a few. Smack dab in the center was the eating space, filled with tables, chairs, and tents to shield guests from the weather. At select locations on the ground were also waste receptacles that segregated different types of rubbish, artistically indicated by easily recognizable characters like Kyojuro Rengoku from Demon Slayer.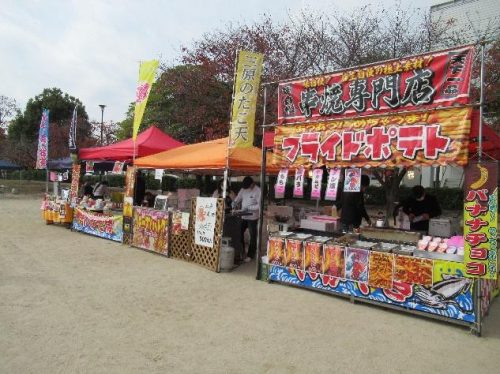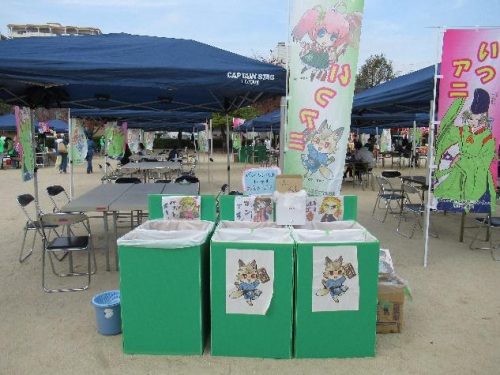 Right before the official start of the event, I approached the stage area where the performances would take place and secured myself a seat front and center. I was actually surprised to be the first one there, and that nobody else was trying to hog the front row. Oh, well, I'm not complaining!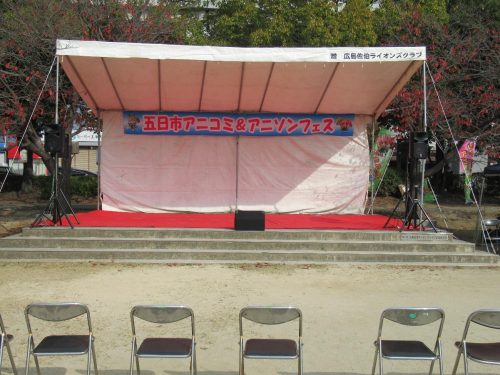 Kicking Things Off
ItsuAni commenced with a brief introductory speech by MC SACHI, who kindly and thoroughly explained the course of events and gave a shout out to all the vendors on site. The day would begin with some locally famous figures singing everyone's beloved anime songs, followed by the cosplay performance contest, in which the spectators will vote for the winners. Shortly after MC SACHI finished her spiel, in came cosplay group BNW for a pre-game show to liven things up!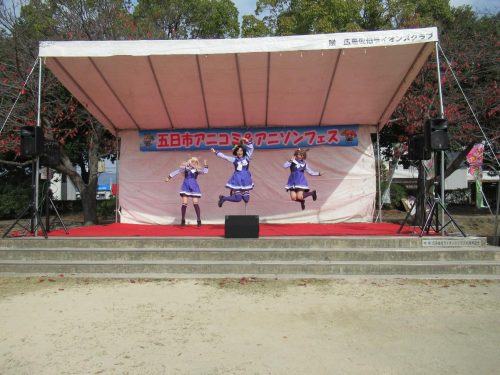 I had been looking forward to everything at ItsuAni prior to coming, but after seeing what BNW was capable of, I knew I was going to be in for a real treat come contest time! It was fast approaching noon and my belly was rumbling, so I dashed to the concession stand to nab a fried cheese on a stick (also known as a "cheese hot dog") to enjoy while listening to Ryo amaze the crowd with his voice. This definitely wouldn't be the last time I'd eat while watching these captivating spectacles!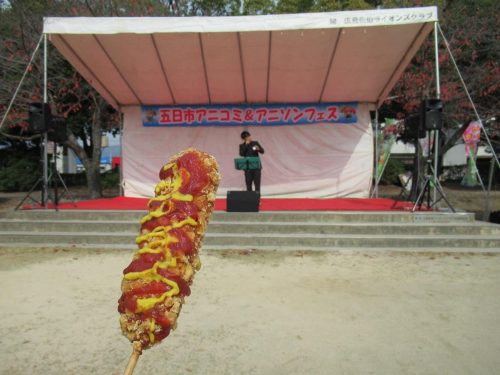 Next up was ASAMIN, an acquaintance of mine whose performance I had been looking forward to for the longest time. Her repertoire was so extensive that she had to narrow down what she'd sing that day, so she took a poll from the audience. I was delighted to find out that she chose to perform "Feuerroter Pfeil und Bogen," the opening theme to Attack on Titan's first season.

Cosplay Performance Contest
After the dazzling demonstrations of vocal range came the main event, the cosplay performance contest. Cosplayers could perform either solo or as a group, singing or dancing to anime musical numbers of their own choosing. There were eleven entries total that day, and although the crowd cheered on every performer, in the end, it was up to us to vote for the entries that impressed us the most, of which three would be declared winners. In order to vote, spectators need to spend at least ¥500 at one of the food stands to receive a ballot. Those who wish to vote multiple times can make multiple purchases from the same or different vendors to rack up as many ballots as they want.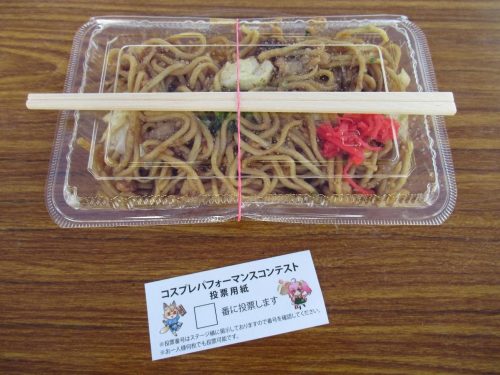 I previously obtained a ballot when I bought my cheese on a stick, but as I was still feeling peckish, and because I was also on the fence as to whom I wanted to cast my vote for, I went and got myself a box of yakisoba for another ballot. Of course, for an eater like me (especially at festivals), no meal is complete without dessert, so I stopped by a food truck selling taiyaki parfaits and got myself a premium one, filled with strawberry and vanilla swirl soft serve ice cream. That earned me a third ballot, which I deemed sufficient for alleviating my indecisiveness. My friend was taken aback at how much I ate and spent just to be able to vote three times, but in my defense, I honestly was that hungry over the course of the day.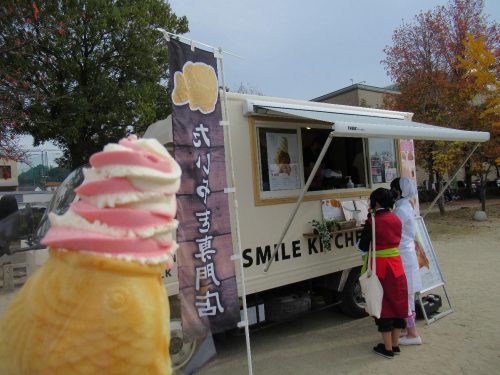 Moment of Joy: Sampler Platter of Costumes
Yummy as the food was, the highlight of the contest was without a doubt the performances themselves. Costumes ranged from super frou-frou colorful dresses to a simple man in jeans and a jacket sporting a Vegeta wig, but looks were deceiving when it came to the quality of the performances. There were cute groups, cool groups, shows that blew me away, and shows that made me laugh out loud. There were so many qualified candidates in my opinion that I had to have multiple ballots to make any sort of decision, and even with three ballots in my hand, it took me quite a while to think of three entries to which I'd give my vote. Alas, I wrote down my choices and dropped the slips into the ballot box, and no matter which performances won, those eleven displays of talent were all a joy to witness.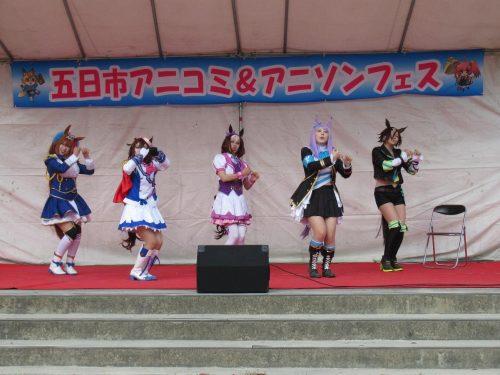 Declaring the Winners
During the interim wherein spectators voted on the best cosplayers, there was time for a photoshoot of any of the cosplayers present that day who consented to photos. In fact, ever since the start of the event, cosplayers had been posing for photos elsewhere in the park, either in the grassy areas or by the playground equipment. While I'm on the subject of taking pictures, please allow me to make somewhat of a public service announcement: COSPLAY IS NOT CONSENT! Before taking photos of any cosplayer, you would do well to ask permission first, or if you choose to snap first, show the photo to the cosplayer and delete the picture if permission is denied. Furthermore, taking photos and posting photos to social media should be treated as two separate issues, so if you intend to share your photos online, you must also ask the cosplayer if he or she is okay with have his or her picture uploaded to a website. For the record, I have approval of all the performers featured in my photos and videos here.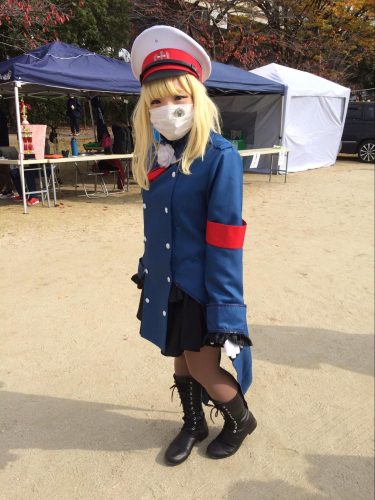 To top it all off, every cosplayer on site that day was invited to the stage area for a gargantuan group photo. Naturally, as asking permission of every single person in this picture would be quite a chore, everyone who chose to appear in the group photo gave their consent beforehand to have their likeness captured and shared. Unfortunately, I couldn't capture every single cosplayer in a single frame, but I still managed to get the bulk of the crowd from the front row despite having to weave past the cameras of other eager photographers.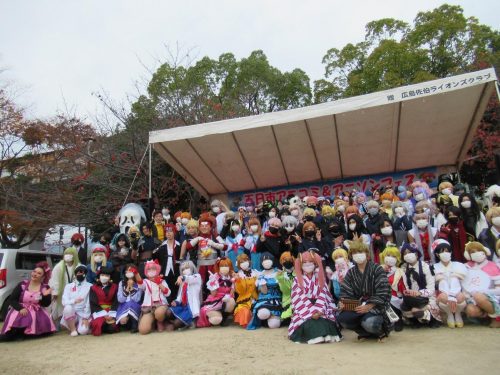 Even after the photoshoot, they were still tallying up votes, so the cosplayers returned to their posts and the program resumed with shows by anime songstress のぞ美 (のぞみ – Nozomi) and cosplay troupe KING王国 (きんぐきんぐだむ – King Kingdom). Today, the members of King Kingdom were dressed as the main cast of Jujutsu Kaisen, breaking down in sync to the opening and ending themes of the show, as well as putting on a short skit inspired by a scene in the show. While the group as a whole didn't take part in the cosplay contest, the actress posing as Nobara Kugisaki (the girl with brown hair) did participate as a solo entry, and proved that she could shine even without her companions.

During this time, there were still event goers frantically running to the concession stands to get ballots and vote. In some cases, they didn't even eat the food they bought, instead opting to give it to their favorite performers as a reward for a job well done. With the last of the ballots finally in, the results for third, second, and first place were finally announced. Each group that participated paid a ¥1,000 entry fee, but the prospects of winning ¥3,000, ¥5,000, or the grand prize of ¥30,000 were more than an incentive for participants to give it their all. The suspense ate at me as the announcer named the winners, but I was pleased to know that two of the entries I voted for actually won.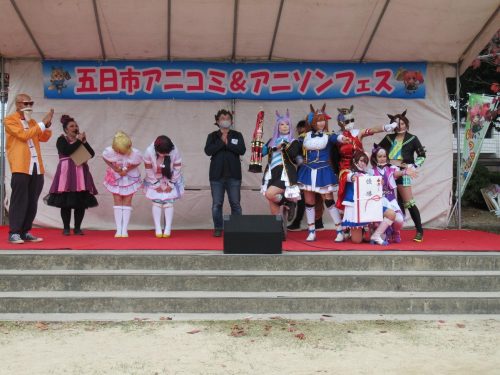 Both Master Roshi and MC SACHI congratulated the victors on stage, and the winners themselves gave some heartfelt and humorous speeches as they received the spoils of victory. After one final photo opportunity, the event was disbanded, and the cosplayers headed indoors to change back into street clothes. If you didn't obtain permission to take and post photos of certain cosplayers during the event, it's now or never to find the people featured in your pictures to get the green light. A stream of permission-seeking, congratulatory wishes, and witty banter later, my friends and I were ready to hit the road. Under normal circumstances, there's usually a huge gathering at some nearby restaurant following ItsuAni, but in the midst of a pandemic, we instead made it a private get-together at a small, cozy diner. Being able to attend ItsuAni today with my friends who are in the know was an honor and a thrilling experience, and I'm still a bit surprised that an anime event this big was right under my nose. If you're planning a vacation in Japan, be sure to check ItsuAni's website for dates to see if you too have the chance to taste Cool Japan in our peaceful city of Hiroshima!
Written by Kevin Peng