Explore
Kikko Park (吉香公園)
Kikko Park is a wide-open green space situated northwest of Kintaikyo. Facing the northwest end of the bridge is a statue of the park's namesake, Kikkawa Hiroyoshi (吉川 広嘉), the third lord of Iwakuni under whose oversight Kintaikyo was completed. Scattered around the grassy area are shops and restaurants selling souvenirs, soft serve ice cream, Iwakuni-style pressed sushi, and more. The prevalance of benches means visitors can easily find a seat to relax and have a bite while enjoying the great outdoors.
There are stunning flowers in spring and radiant foliage in autumn, but in summer, it can get deathly hot. The fountains further into the park help ameliorate the sweltering conditions by providing spaces where both children and adults can cool off and play in the water, with some even having swimsuits ready underneath their clothes just for this feature. In addition, Kikko Park is surrounded by the remnants of residences belonging to lords past, as well as by museums like the Iwakuni Art Museum and White Snake Museum that offer insight into yesteryear's way of life.
Moment of Joy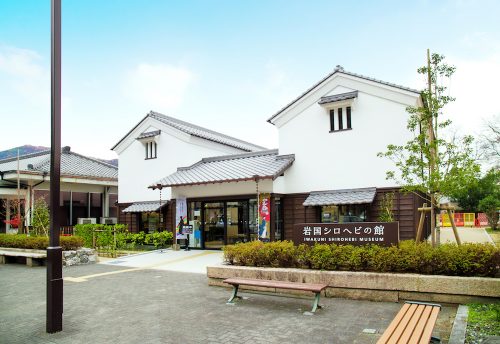 Those with kids in tow will definitely get a kick out of the White Snake Museum, which acts as both a historical exhibit and a herpetarium. These albino snakes are native to the Iwakuni area and have been highly esteemed by the locals for as long as anyone can remember. Inside the White Snake Museum, guests of all ages will be captivated by the models, videos, hands-on exhibits, and live snakes on display. Its location also makes it a fitting pit stop in between a leisurely stroll in Kikko Park and a ropeway ride up to Iwakuni Castle.
Category
Address

2-6-51 Yokoyama, Iwakuni, Yamaguchi Prefecture, JAPAN
Open

Open 24/7
Closed

Nature never closes!
Official